Delhi. This is where it all began and this is where it all ended! Today as I jot my travel memories, I saunter. Sigh!
3000 odd km, 3 bullets, 1 car, 6 folks, 17 days winding through the perilous roads from Kashmir to Leh to Manali, where the distance will test your mettle, shock you, inspire you and leave you spellbound. The entire stretch promises a jaw-dropping experience, flanked by the most picturesque skies, mighty mountains, enchanting glaciers and meadows! With no civilization in sight for miles and miles, you will be the only soul wandering through the entire stretch of 490 kms, crossing 5 of the highest mountain passes, which would consume a driving time of approx. 16-18 hours. In fact, for 365 kms there's no petrol pump. So your planning will need to be perfect; right from what time to start; where to refuel; and when, where and for how long to halt. If not, your itinerary will fall flat on its face and fail you.

Pick this sojourn journey if you are up for a challenging 17 days. This ride is no joke as millions of things can go wrong even with most perfect plan. One might have to survive on Maggie and Omlet and some days you might not even get that. One has to be plucky and stubborn to survive this triumphantly.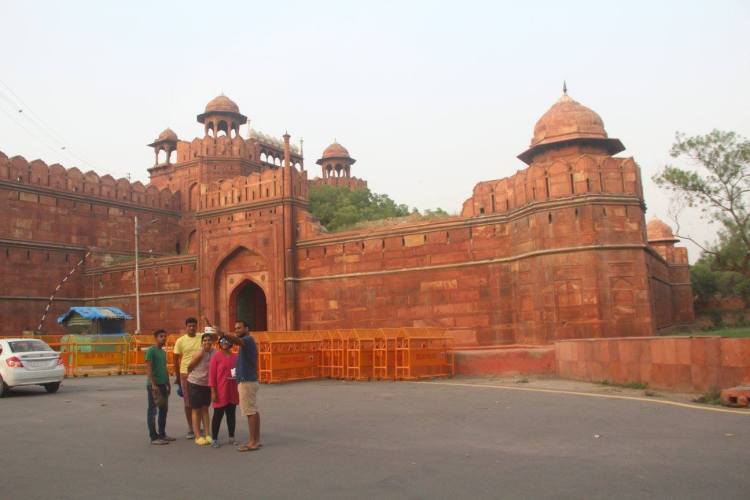 Day 1: Delhi to Amritsar (480km)
We started our ride from Delhi early morning around 6. 460 odd km in the merciless weather condition is no joke. The sun can stultify you to an extend that every 10 min you will have to stop to hydrate yourself. The roads were brilliant and the journey would have been perfect if it wasnt for the sun. After regular breaks and continuous in take of water, lime juice and sugarcane, we reached Amritsar in the noon. After feeding ourselves we drove to Wagah Border to experience the flag lowering ceremony. If you do not reach Wagah Border by 1 or 2 in the noon, you will not get a seat in the auditorium, so be prepared. As we just reached on time, we couldnt witness the ceremony and we were left stranded among the crowd in the sweltering heat. After a disappointing experience we drove back to the Golden Temple. By now the sun was down, but the heat persisted. It took us 2 hrs to find a parking place near the temple (either walk to the temple or take bikes). After visiting the temple we were back at hotel for a good night sleep.
Day 2: Amritsar to Patnitop (300km):
The next day we started towards Patnitop. The road from Amritsar to the base where the ghats begin is surreal. And it rained due to which the the ride was fantastic. We reached Patnitop around noon. After haggling at a couple of places we settled at Hotel Patnitop for 2400 bucks. This is a touristy place, so expect things to be expensive, else try to go a little downwards where stay options are little cheaper. In the evening we took a stroll at the park and later feed our hungry souls with some tandoori roti, dal and aloo sabji.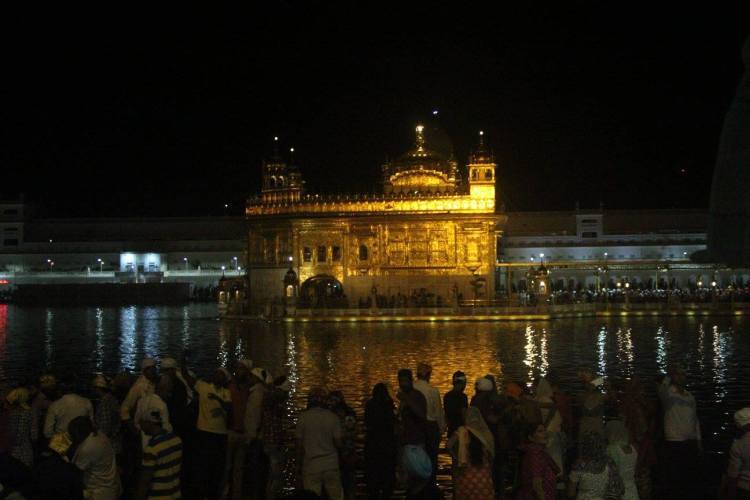 Day 3: Patnitop to Srinagar (200km):
The road towards Srinagar was again a zig zag one. The ride was smooth and the weather was friendly. As we were nearing Srinagar, we could feel the presence of military. Every 100 feet there will be a bunch of military folks patrolling the ground. The roads were filled with army convoys shuttling army men back and forth. For someone like me who is not so much use to be surrounded by the army men, the experience was enthralling yet a bit scary; half of the population of Srinagar must be filled with army folks i suppose.
Srinagar is one of the place i would love to visit again. There is something about this place that magnets me towards it. The place is so so serene and beautiful, adorned with a beautiful lake, alluring boat houses and shikara's against a green magnanimous mountains in the background. I wish i had more days to explore this place.
Srinagar is very much a safe place for tourist folks, atleast that's what i am told by the army folks and the localites, so it must be true. The only draw back is, if you end up here and a curfew breaks in; well in that case you are stuck here until the curfew is over.

Day 4: Srinagar to Drass (200km):
Our initial plan was to drive till Kargil. But we spent more than permitted time in Sonamarg which delayed us to reach Kargil. The ride upto Sonamarg is an uphill peaceful drive. Ones in Sonamarg, you can rest for a while, visit the Thajiwas Glacier, which i highly do not recoommend (read why here) and then start you ascend towards Zojila.
In the entire 16 days ride, i felt Zojila was the toughest among all. BRO is highly trying to get the roads ready, but the constant landslides makes it difficult to maintain a perfect road throughout the year. Zojila is prone to constant landslides, the roads are made of fine sand: the bike tyres slips in those sand, the inclination of the roads are high which makes it difficult to accelerate, the constant pothholes and uneven surface filled with dust and mud, and the constant dust thrown at your face by the heavy vehicle (in front of you) makes it difficult to ride and concentrate and survive; one wrong move, you will end up in the huge gorge where finding traces of your body would be impossible. This was the first time i realized how tough this whole trip is and what is at stake.
After making our way past Zojila we stopped a little further for a breather. The road until Drass was pretty bad. It was from Zojila the landscapes drastically changed. Greenery was no where to be found. We were constantly surrounded by humongous barren mountain that looked like a mighty brown beast. My usual experience with mountains has been very peaceful and serene. Mountains though huge always helped me reach a state of soltitude paired with a sense of tranquility. But these barren mountains agitated me. They are quite intimidating and disturbing and would caution you to be careful.
We reached Drass by evening and missed the cut out time to visit Kargil War Memorial, which closes after they take down the flag, which is at sunset. Since this was way closer to Drass than Kargil we decided to bunk in Drass. Most of the places were completely occupied and out of the few that was left, we picked JKTDC. They provided us with 2 rooms (no beds) with a yoga mat and sleeping bag. Since we were running out of options we had no choice but to settle for something, atleast this put a roof over our head. The sleep wasnt that uncomfortable like i assumed it to be.
After freshening up we visited Kargil War Memorial and made our way to Leh.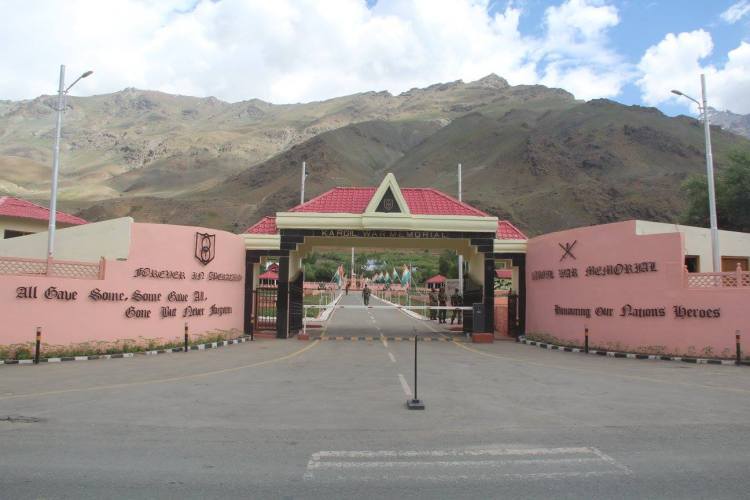 Day 5: Drass to Leh (300km):
Covering 300km in one day, passing through 2 of the high altitude la's (pass) was quite a challenge. And by the time we left Kargil it was already noon, plus we had a huge list of places to visit on the way. The road towards leh is serene and beautiful, the BRO has done an excellent job here. But one cannot speed up as the roads run zig zag. We skipped few of them as we were pressing on time and finally reached Leh around 9. It was quite late and we were yet to find a place to stay. By coincidence we were left stranded on Fort Road in Leh, and we went around checking for stay and finally ended up in Ashoka Guest House.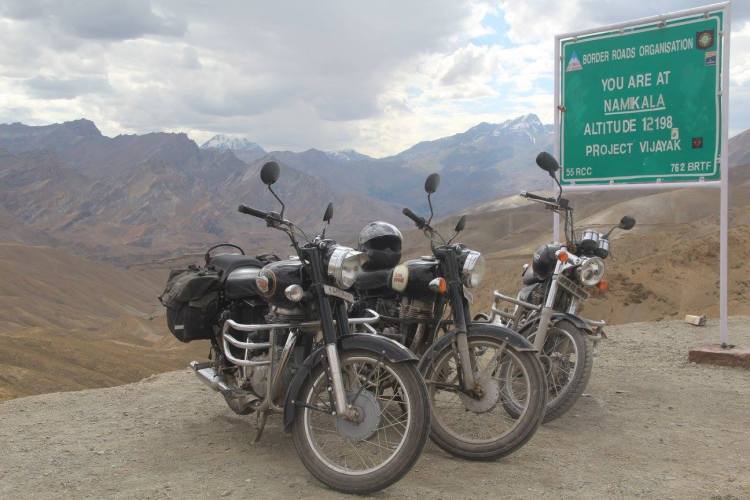 Day 6: At Leh
As it was a rest day in Leh, we were in no hurry to get up in the morning. After a good night sleep, I along with couple other went to the DC office to get the Tso Moriri permits as we were taking a restricted route that needed permits, and couple of other folks went to the RE showroom to get there bikes checked.
RE showroom was one of disaster experience for all of us,instead of mending our bikes they ended up screwing the brakes, also they are pressed on manual resources. So kindly think before taking your bikes to RE. Instead take them to any local mechanic who would do a better job.
To get the permit, you need to fill out 2 forms and submit a self attested copy of your id proofs. This routes are allowed only for Indians and it will cost you roughly 300 per head for the permit. Make sure to get atleast 10 copies o the permit as you have to submit one copy at every check post. One can choose to go to Pangong directly from Nubra (we dint, but i would suggest it if you can carry enough petrol) and also visit Hanle. To visit Pangong from Nubra, you will need one permit, again to visit Hanle, you will need another permit and then to visit Tso Moriri another permit, so overall 3 permits if you decide to do Nubra-Pangong-Hanle-Tso Moriri via the restricted route. Getting the permits are fairly easy ones you have the filled up forms with attested id copies and enough of cash. But remember, depending on what route you take, carry an equal amount of petrol as there are no petrol bunks between Leh and Tandi (none on the restricted routes too, except the exorbitant priced petrol sold in shops, which again is available only at some places).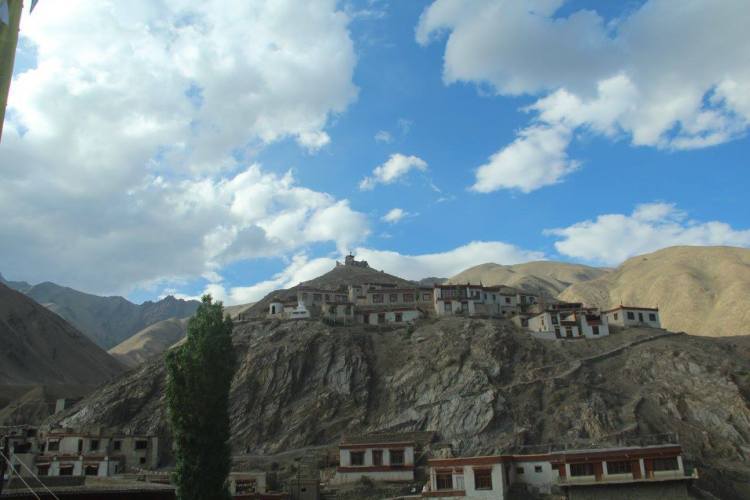 We used the 2nd half of the day to try some of the cafes in Leh and then visit the Shanti Stupa. While in Leh try not to exert yourself much. The high altitude can definitely take a toll on you. Walk around, do not over sleep and drink lots and lots of water.
Day 7: Leh to Nubra (145km)
Leh has a very strong taxi union who wouldnt allow you to drive any rented car/bikes (other than the one that is in Leh) to Nubra/Pangong/Tso Moriri. There are regular checking at the check post along the way to Nubra/Pangong. And if you try to resist they will vandalize your car/bike. The bike/car you are driving should be registered either on your name or you immediate family.
Since we had a yellow board car, we decided to park it in Leh and take bikes to Nubra. We took only the essential luggage in our saddle bags and few extra liters of petrol.
The 20km stretch before and after Kardungla is pretty bad. Uneven surface, pebbles and sharp stones, and the stream of water flowing because of the constant melting of ice makes it very challenging to drive this stretch. At some places the water level and the force of water is so high that one needs to be extra careful not to get washed away with it. In addition, Kardungla is at an altitude of 18k ft which adds on to the plight. This was the 2nd toughest day experienced after Zojila.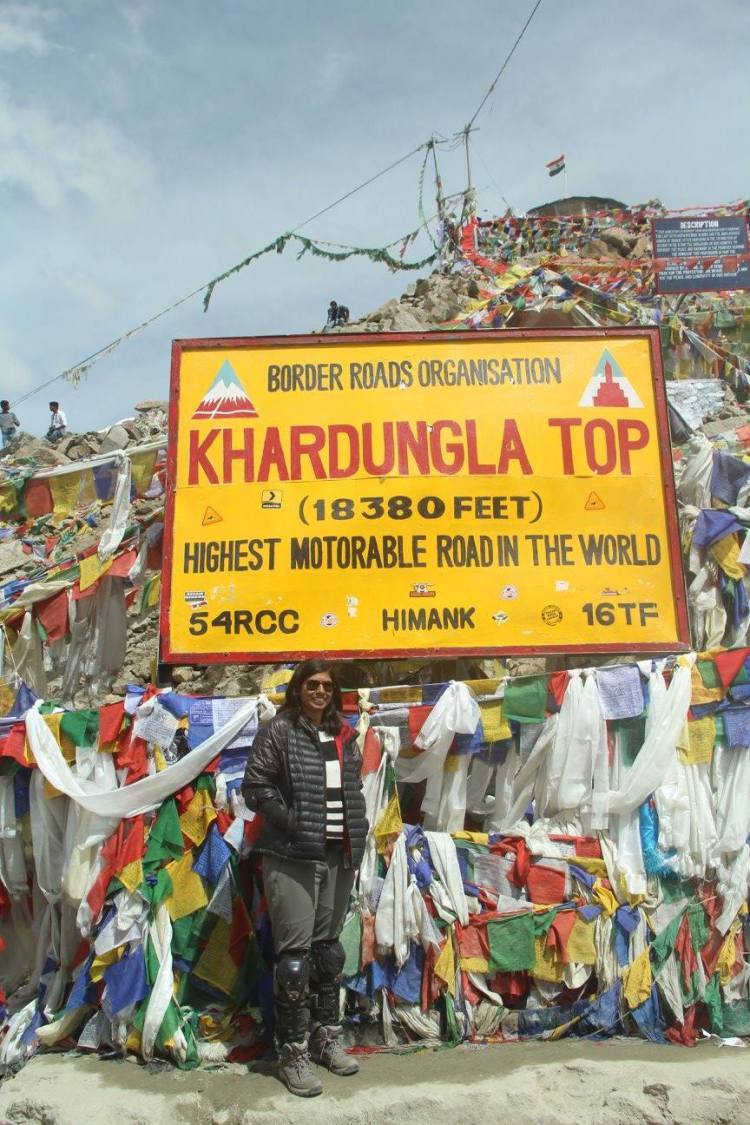 But ones this stretch is over the roads are pretty darn good and the ride is beautiful along the long stretched zig zag roads. We reached Hunder by noon and found a cosy place to stay.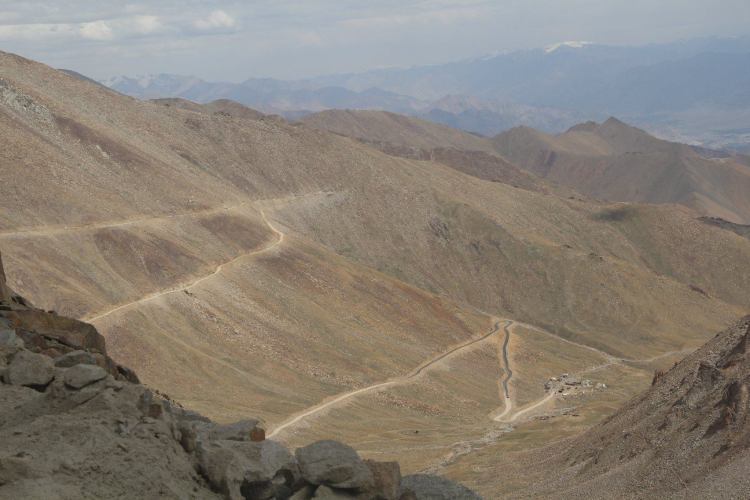 The next on our list was to ride the double humped camel. We also entertained ourselves with bow and arrow game and after spending some time on the sand dunes, we retired to the comfort of our bed.
Day 8: Nubra to Leh (145km)
After a scrumptious breakfast we visited the Diskit Monastery. Since we wanted to reach leh before dusk we skipped Panamik and Sumur and directly headed towards Leh. Today the ride was better as we knew what we have ahead of us. We spent some time at Kardungla and then headed back to Leh. Since we crossed Kardungla after noon, the water level on the road was high and at one point we struggled to cross a stream of water.
We were back in Leh by evening. Back in the land of food, we gorged on some delightful eateries before retiring to our room for a good night sleep.
Day 9: Leh to Pangong (150km)
Note that hired non-leh vehicles are not allowed to go to Pangong/Nubra. If you have to evade these union folks leave Leh as early as 3 in the morning, thats what we did. Our car left Leh at 3 in the morning and they reached Pangong by 12. Bikers started around 7 and reached Pangong by 3-4 in the evening. One has to cross Chang La to reach Pangong which is another high altitude pass. The roads near Chang La is again quite bad and with pillions it gets a little difficult. After Chang La the road is pretty good towards Pangong with bits of broken roads in between. The serene surrounding is an added bonus.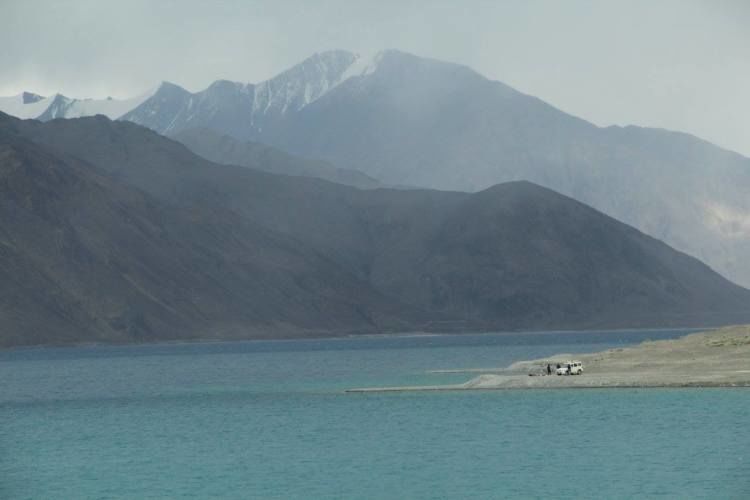 Pangong can get real crowded at this time of the year flooding with tourist folks, but by evening the place turns quite as most of them retire back to Leh. We headed towards Spangmik where our stay was arranged. After refreshing, we spent some time at the banks of the lake and took some photo. The water was ice cold and the weather was getting colder. Sleeping along the banks of the lake was an ideal choice but the chilling weather makes it impossible.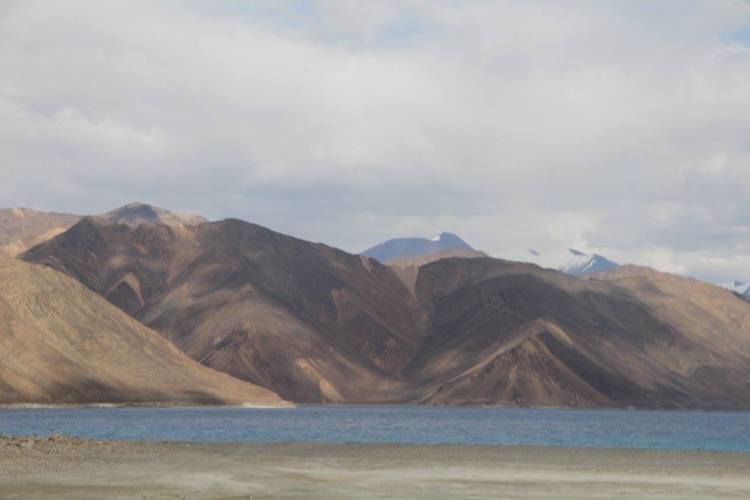 Day 10: Pangong to Tso Moriri (250km)
Th most adventurous day of the entire journey.We drove on pebbles, with absolutely no road for atleast 100km, between a wildlife sanctuary where horses are grazing in the background and you drive along the banks of the lake. One is likely to face 1 or 2 punctures along the way (we dint, we were lucky) as the roads are filled with sharp edge stones. Another tough day, as it took us a long time to cover the 250km stretch. By the time we reached Tso Moriri it was late and we just picked a guest house and hit the bed.
Day 11: Tso Moriri to Sarchu (250km)
After visiting Tso Moriri lake, we headed towards Sarchu. Another long ride was ahead of us. The road was as usual bad till we reached this intersection where one side goes to Leh and another side towards Pang. From then on the road was good but to reach that intersection we took a lot of time. We reached Sarchu at night. Sarchu is a make shift town (or whatever it is called). They have setup a temporary B&B (not the traditional ones) or tented accommodation. This town exists only in the non winter season. The entire town is built from scratch every year from May to Sep. So do not expect anything luxurious. Also Sarchu falls on the Border of J&K and HP, so one can choose to stay either on the J&K side or HP side. Since we werent happy with the J&K accommodation we checked out a few on the HP side, and found a comfortable 3 bedded tent for 800 bucks per tent. If you have time i would recommend to drive to Jispa or Keylong for better accommodation.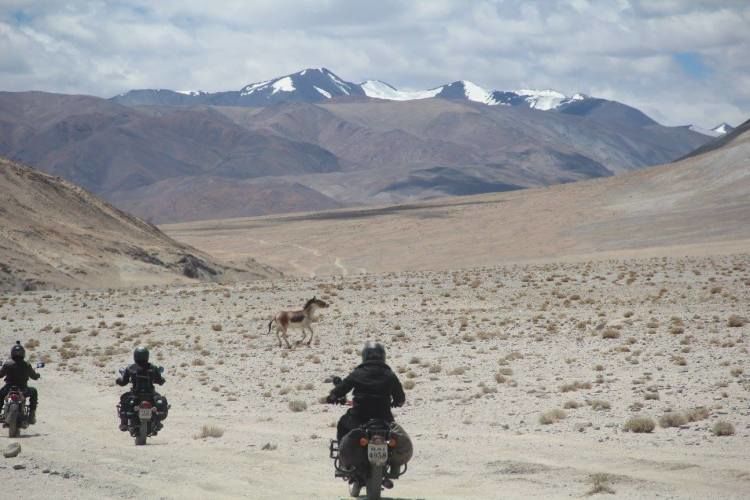 Day 12: Sarchu to Keylong (100km)
Driving in HP was a welcoming site. Greenery was back and the mountains looked friendly again. I was just beginning to enjoy the ride, when we had a flat. This happened just before we were suppose to cross Barachala. We tried to change the tyre, but the screws wouldnt budge. A lot of people passing by tried to help us with the screws but they wouldnt come out. The puncture shop was 30 odd km's away, so one person went to find the puncture guy while me and another girl stayed back with the car. The area was landslide prone and the water level was increasing as the day passed, which was something to worry about. After a lot of effort and help from some kind folks we were able to change the tyre. The Stephanie that we used was not fully blown up which was a cause to worry. But we started anyways. We were just starting to feel optimistic again when the unsaid happened. During a turn the tyre hit a rock and got brutally murdered. We were out of Stephanie and we dint have a spare. The only option left was to get the punctured fixed. We took out the tyre, loaded in on one of the Indian oil truck and took it to the puncture shop. After 2-3 hrs of striving we got everything fixed and drove to the town that was 30km away, where our other folks were waiting for us.
By the time everything got fixed it was evening. We dint have time to drive to Manali before dusk, so we stayed at Keylong.
Day 13: Keylong to Kasol (200km)
I loved Keylong. But it was time to bid goodbye and move to Manali. We had to cross Rothang Pass which was the highlight of the day. The drive through Rothang was not that scary as i anticipated, i have had worst experiences. But nonetheless the drive was good. The drive till Kasol was quite good although we had to drive in ghats. After a much exhaustive day, we were in the land of hippie culture, a place where people come only to enjoy the food at the cafe's, get drunk and smoke weed.
Day 14: Kasol to Kirathpur (200km)
We visited Manikaran and a Gurudwara near Kasol and then started towards Chandigarh by 11. We did a huge blunder starting late as our calculations didnt mark what we faced next. Plus it rained profusely for almost couple of hours. Our bikes started giving trouble and our rain wears were not of much help. Our car was stuck somewhere behind in traffic and one biker had his rain wear inside the car. So he stayed back waiting for the car and the other 2 bikes left. The distance gradually increased and our group got split into 2. To make matters worse, our car had a flat again and by the time they got it fixed it was late. So they decided to stay in Bilaspur and we decided to go to Chandigarh. By the time we reached Kiratpur we were famished and exhausted. So instead of going to Chandigarh we decided to halt at Kirathpur and started to Delhi the next day.
Day 15: Kiratpur to Delhi (357km)
We started early around 6 as we had a lot of ground to cover and very little time. After reaching Delhi we had to parcel our bikes back to Bangalore, and as it was a Saturday we had to get it done the same day, as Sunday is a holiday. Riding in heat is very challenging and enervating. We made a pact of stopping every 50km to stretch and re energize. But none of these strategies seemed working. As the day progressed so did the heat. It was getting more and more unbearable to survive.
After numerous effort to beat the heat and try to survive the day, we finally reached Delhi by noon and parked our bike at VRL and booked a stay at Pahar Ganj to freshen up. Meanwhile our other folks reached VRL and started with the paper work to parcel the bike. When it came to money VRL charged us roughly 9k for parcel which is why we had to take our bikes to Gati who charged us 5200/-.
After freshning up and eating stomach full lunch we packed our luggages. Me along with another friend of mine decided to fly back to Bangalore the same night while the others planned to visit Agra the next day.
As I sit in the flight from New Delhi to bangalore, my thoughts still hover around the trip. How there were surprises every day, at every bend, at every path and trail…? A regular Pandora's box. I can't help but ponder that isn't life similar? Unpredictable and surprising all the time. But one can't keep on worrying about what is going to happen next instead le: arn and enjoy the journey as we did while getting Leh'ed.
Wnt more detailed info?
Picking the route: CLICK HERE
Mode of Transport: CLICK HERE
Picking a Stay: CLICK HERE

Places to see: CLICK HERE
Things to Carry: CLICK HERE
Expense List: CLICK HERE
Note:
1. Pre-paid sims do no work anywhere in J&K. Carry post paid sims especially BSNL.
2. No network is available between Pangong and Sarchu stretch.
3. Most of the other places have good Airtel and BSNL network, although 3g in Leh is difficult. Even their wifis are not that promising.

4. Try the numerous dhaba's on the Delhi-Amritsar stretch that serves paratha's with a dollop of butter. And the tandoori roti's in the Patnitop-Srinagar stretch. From Zoji La to Leh food options are limited, but ones in Leh, its a cornucopia of cafe's. Again Nubra, Pangong, Tso Moriri, Sarchu the options are limited, but ones you reach Keylong and later Manali or Kasol (try the numerous cafes) the options are abundant.
5. Try not to drink (alcohol) in and around Leh area as dehydration can accelerate the altitude sickness.