Disclaimer : Not a regular blogger. But loves to ride. Infact this is my first attempt (Shri ganesha of writing) to write a travelogue. I know its bit too long but wanted to share each and every emotion I felt throughout the ride…Photographs are taken with mobile. If you like it do follow me…. ;)
Flashback
"Ashta" means eight. Blessing of Ashta means Eight blessings of God Ganesha Popularly known as Ashtavinayak Darshan. Every rider in Maharashtra craves for this pilgrim ride. Whole journey of about odd 700 + kms. Being unplanned ,undecided was on a solo ride . Did I managed to do this in a Day ride? Stick around to find out more…
An Ashtavinayak ride was always on mind as earlier since a bike was bought. The running in of the bike completed with my training on bikes. Me and my bike matured together. Did ride to Pali and Mahad during my early short rides (which were much long distance rides at that time ;) )
The bells rang got married , then it was the time for duet rides. Did kokan rides and few rides here n there. Plans for Ashtavinayak ride started popping up once again. But busy schedules made us ride on Sundays only. Once again did Pali and Mahad on Sundays this time together me , my bike n my wife ;). As the news came of our angel arriving in our world the future rides were suspended. A year just flew in fun, diapers, cuddling love, then once again plans started popping up on mind but Angel being too small started Sunday drives in Ertiga. This time was able to complete Pali, Mahad, and Theur…. Hush…..
Preface
The year 2015 started with series of unwanted events mother in law met with an accident, my angel was down with fever, transfer on the cards,etc. Mind started boggling and frustration was building up like hell. A need for a long ride started honking @ the back of a mind. Riding a bike is like a meditation to the riders. Love friend's quote for this #when in doubt ride it out#. Eureka !!! came the long weekend 24,25,26th Jan. Alas the urge to meet the idols started building up to have inner peace. Earlier decided to do it in 2 days starting with Lenyadri, Ozar, then ranjangaon and stay overnight at pune, remaining idols in the next day as all are nearby pune.
On Friday my sweet angel was down with a slight fever so plans were dropped, but had an inside feeling that it shall not go in vein. Luckily by god's grace her fever started residing down by end of daylight itself but still was worried. I made preliminary preparations like gathering documents, gears, tyre pressure, tank fill up, chain tightening and lubricating and decided in case the fever doesn't pops up overnight then I will leave early morning and start my journey to cover as many as possible in one day, atleast the ones I haven't visited on bike.
The Ride
A night went with a pinch sleepless checking baby every hour and thanking god the fever didn't popped up. By 4 o'clock I was sure that the angel has recovered fully. Now it was time to leave before she wakes up. Had my shower and all, a little bye bye to wifey and I was all set to start the day at 5.15 am. Mounting bag on pillion seat with bungee and gearing up took 10 more mins and by 5.30 am I hit the start button and Said Ganapati bappa Morya!!!!
Started my onward journey towards Lenyadri from Thane. It was still dark and freezing cold. Thanks to winter shield of cramster ,I was able to sustain the cool breezes moderately. Plan was to have a cup of tea at Murbad and then continue. But except bus stop nothing was open till then. So I decided to move forward without tea break. The first sunlight was seen when I reached the base of malshej Ghat. Being in a hurry to cover distance as much fast as possible I didn't waited for a 'click' break. The mountain peaks of Malshej were enlightened beautifully with 1st rays of sunlight alas the Beauty!!. To my surprise the morning daylight calmed the chills in the wind and was feeling a slight warm at ghat. Continued cruising on makkhan roads of malshej ghat.
I decided to have a break at top of Ghat ,near the mandir just before the only tunnel enroute, where u get tea and corns easily. To my dislike there was no one there except few villagers who came to offer prayers at small temple. It was high time for a butt break ,stopped just outside the tunnel. The calm serene nature just leaves u speechless, chirping of birds in the morning soothens your soul. Took some photos with mobile.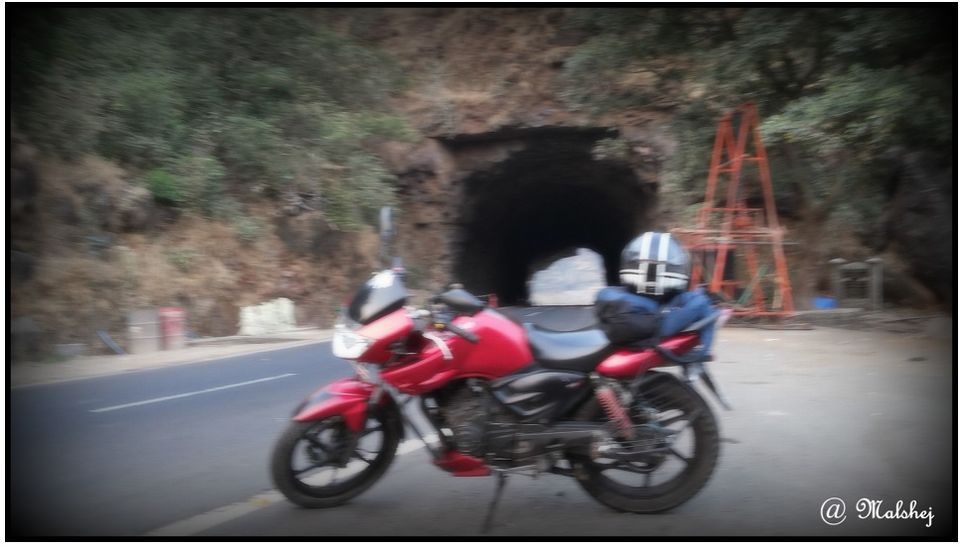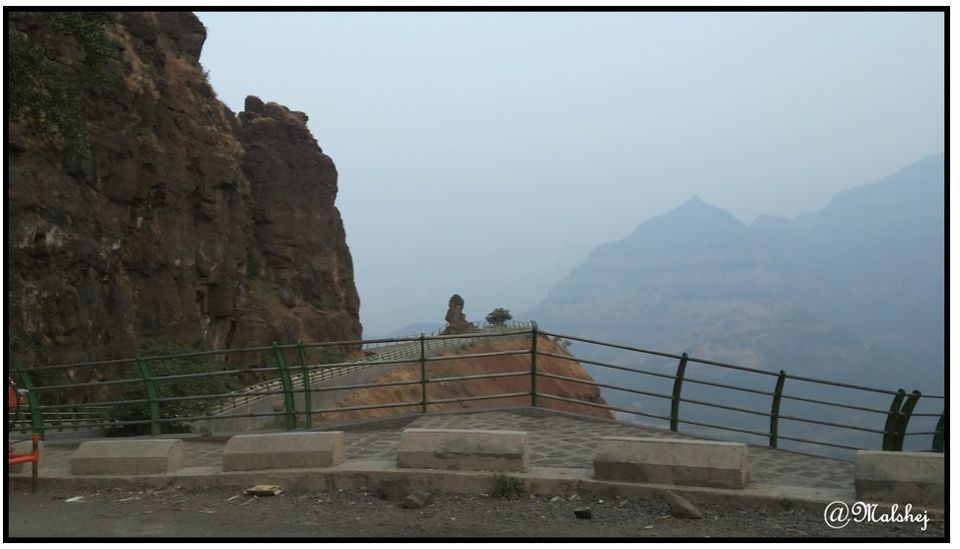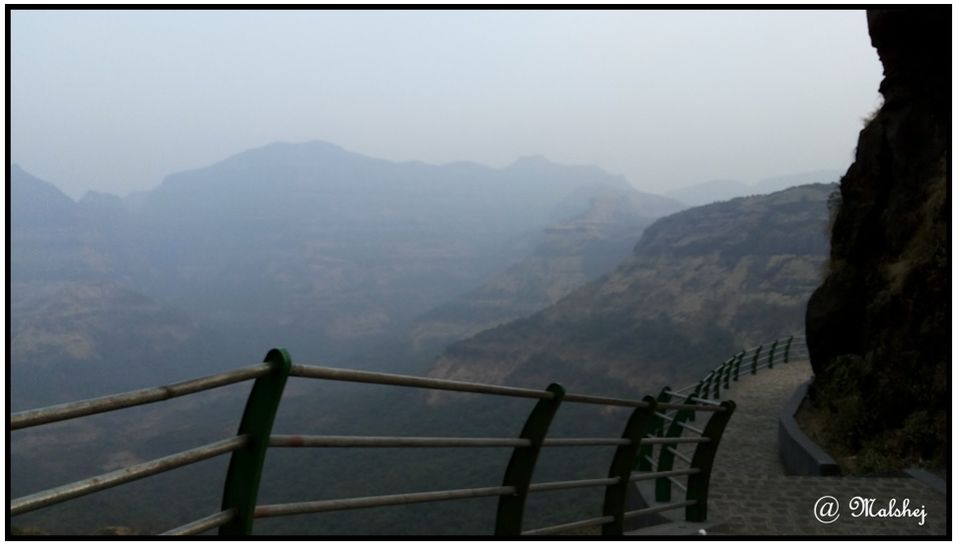 For a moment I raised balaclava and waited for few peaceful moments enjoying the nature. MISTAKE!!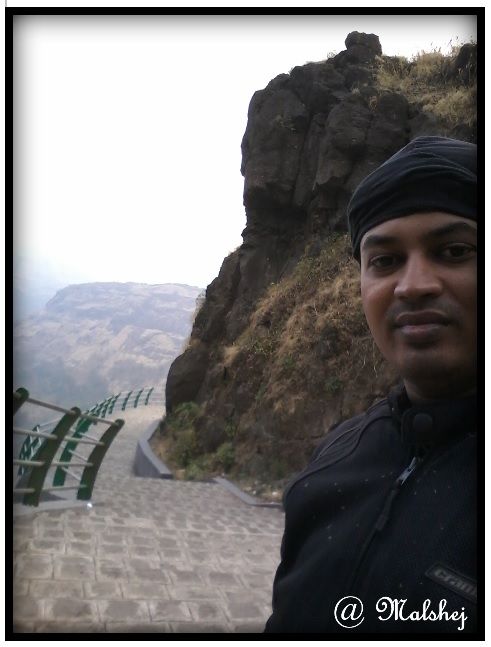 The chills in the air caught me as I started my ride again. The warm feeling was all gone and my teeth were singing the only song which goes "tatad tatad tatad tatad tatd tatd tatad tatad". Took a turn towards diversion heading to shivneri fort and Lenyadri. The chills were increasing with the twists in the Ganesh khind. Once khind was crossed the look of Madh gaon stunned me. A typical village with sloping roof houses and a dense fog layer just above them, it was a sight to watch. Cool breezes were unbearable. Again I didn't stopped and continued ahead. As I was moving ahead the chill in the air was getting on to me and teeth started singing faster. Saw a milestone board 2km Lenyadri and was relaxed. Quickly covered the same and I was at the base of temple Lenyadri.
Parked my bike. In the first open stall I had two cups of hot tea which helped in raising body temperature. The shop owner told me I need to climb around 350 steps to reach the idol temple. Was happy I clocked the kms in desired time. Dropped my gears, bag at the stall owner's counter and started climbing the steps towards the idol.
As the sun was coming up the sunlight was giving the warm feeling. Quickly reached the top . First was a darshan of a Chaitya stupa in the cave no 6, typical structure u find in ancient caves. Simply took the blessings and entered Ganesh temple in cave no 7, Being the early morning there was no rush or crowd, was delighted about my first blessing of the day. The Lenyadri temple is carved in the mountains and the Ganesh idol here is known as "Girijatmaj". There are around 30 ancient caves carved alongside the mountain which are of archaeological importance. Quite maintained. Saw routes leading to other caves but monkeys all around frightened me a little. Quickly took some pictures and selfies and started descending. One must be careful about the monkeys enroute steps as those are really aggressive. Luckily didnt had any incidence..!!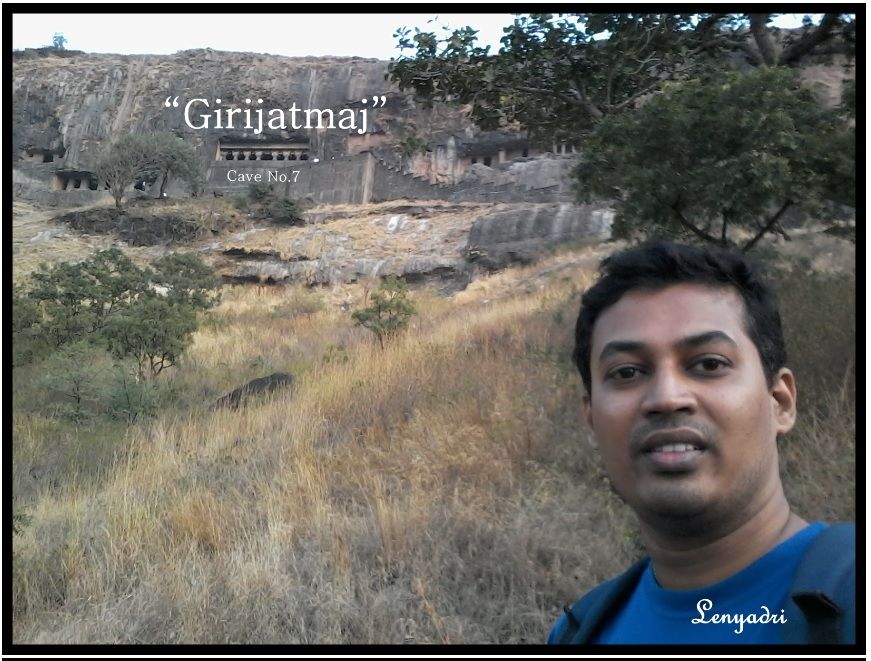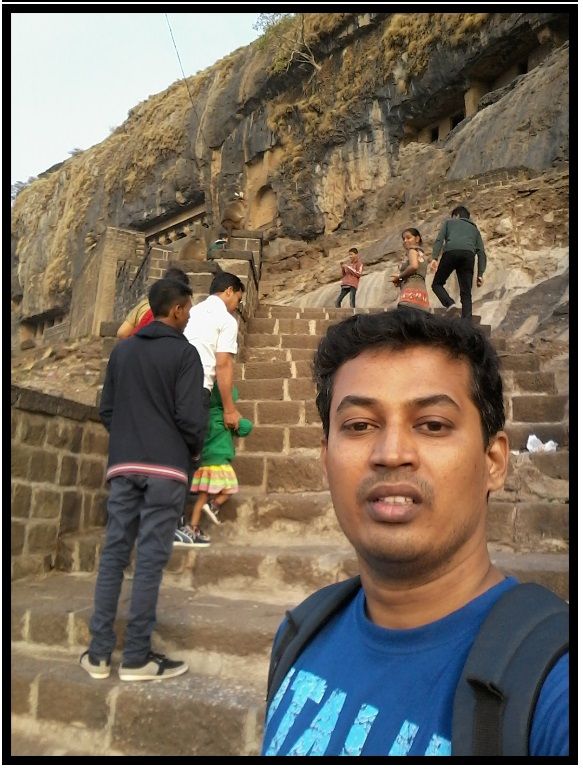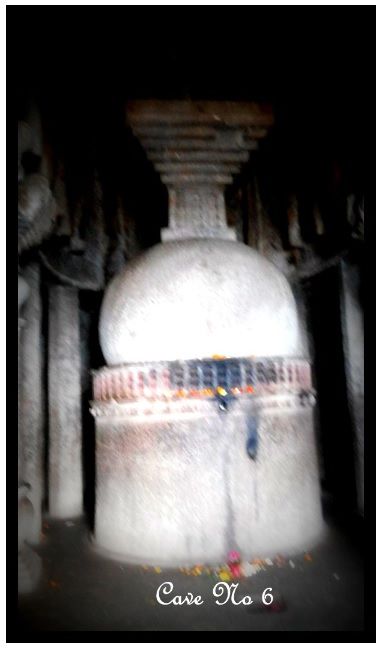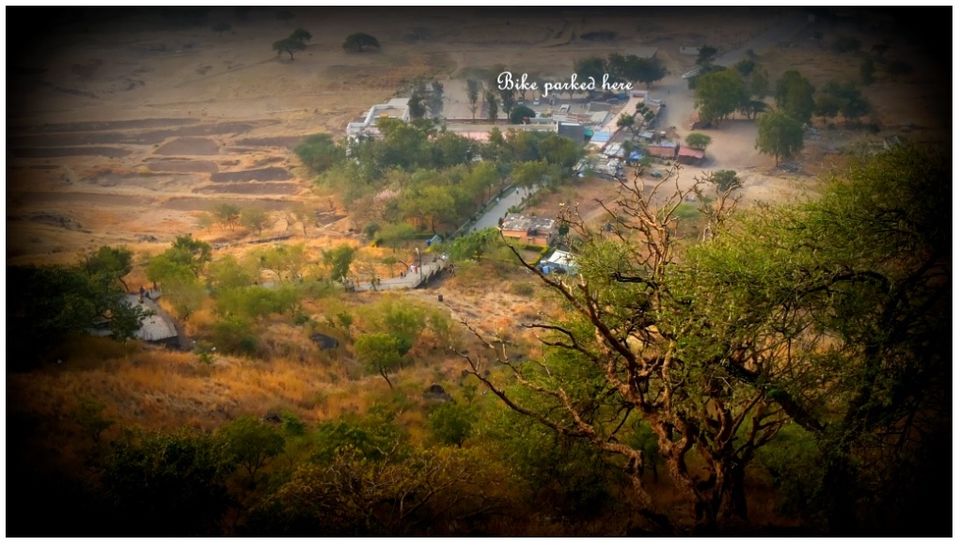 Had a breakfast the famous maharashtrian food after vada pav i.e. missal pav. The hot serving calmed the morning hunger. Took my jacket , thanked the owner, gears loaded , and i moved on.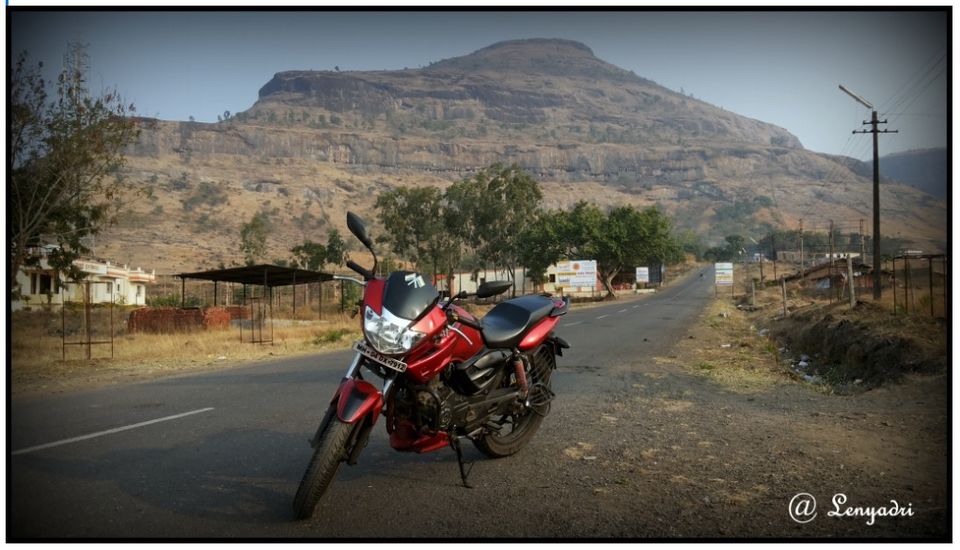 2nd Blessing
Next destination was the Ozar. The Ganesha idol here is known as "Vighnhar". Means the one eradicating your sorrows,worries,difficulties and giving you happiness. Its just 14 kms away. Reached there in few mins. The temple here is simple and the entrance to temple was covered with pandal. Parked the bike, unloaded gears at one of the offerings shops. Kirtan was going on in the pandal. I personally love the sound of Taal and mrudunga, famous maharastrian instruments for bhajan kirtan. Wasn't paying attention to the words ,listening to the symphonic music proceeded to the temple. Being just the day after Ganesha Chaturthii. B'day of God Ganesha, the temple was beautifully decorated with fresh flowers. The decoration pleased me. Again there was no crowd or rush. Took the blessings of 2nd Ganesha for the day and left.
As I was packing my bags a gulp inside stomach did upset me. No no no the sleepless night made me hungry and ask for more . so went for a petfull nashta again. Asked for the directions to the local and left from Ozar at around 10 am.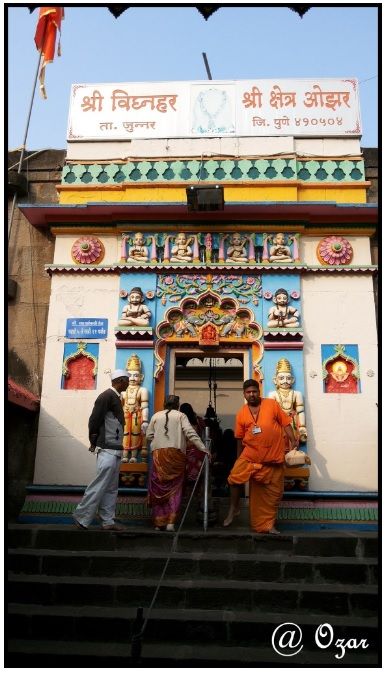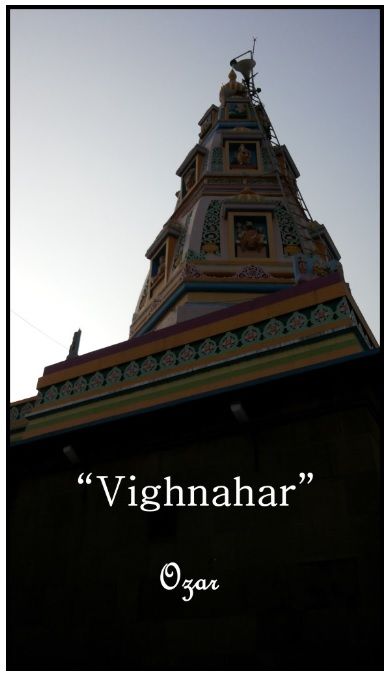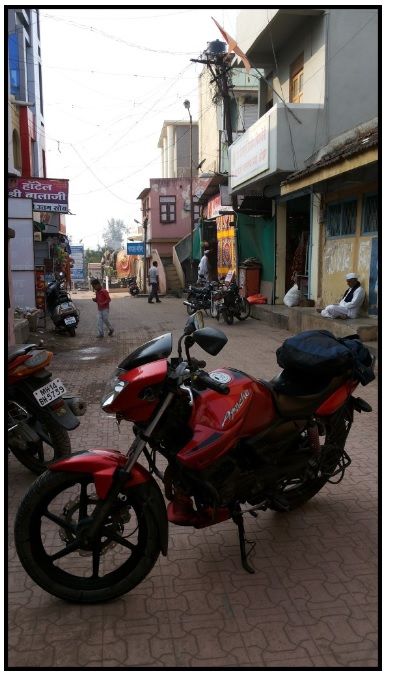 3rd blessing
Enroute saw this unique crop farming technique.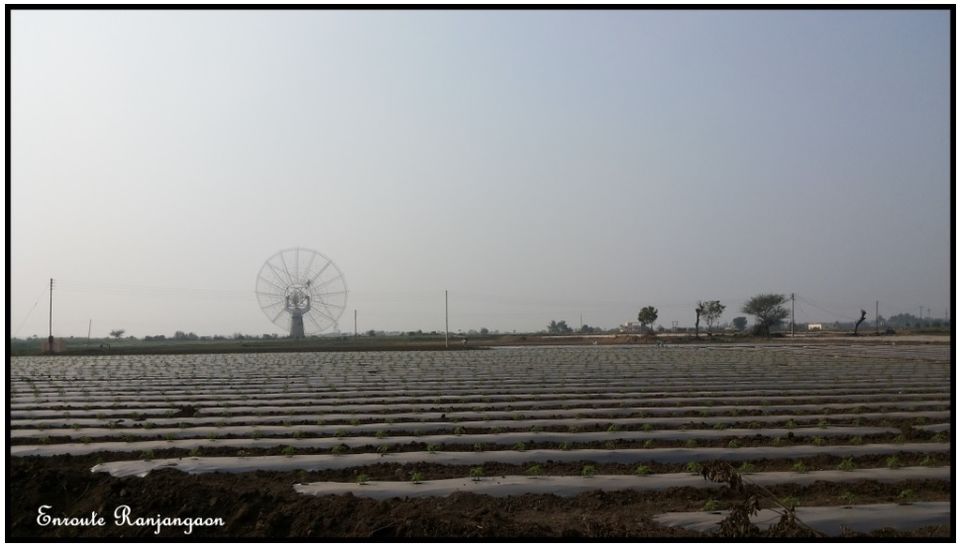 One guy asked me for a lift but bag being mounted on pillion seat I refused(1st refusal).Ozar narayangaon malthan ranjangaon some 65 km route I reached the Ganesh temple known as "Ranjangaon cha MAHAGANAPATI" means big idol. As per name the temple and the surroundings are big enough. Surrounding is rejuvenated nicely. Here also there was no rush and flower decoration more beautiful. Mobile phones are not allowed inside. So quickly took some selfies outside and took off. By this time it was around 12pm. Sun light was directly focussing on me..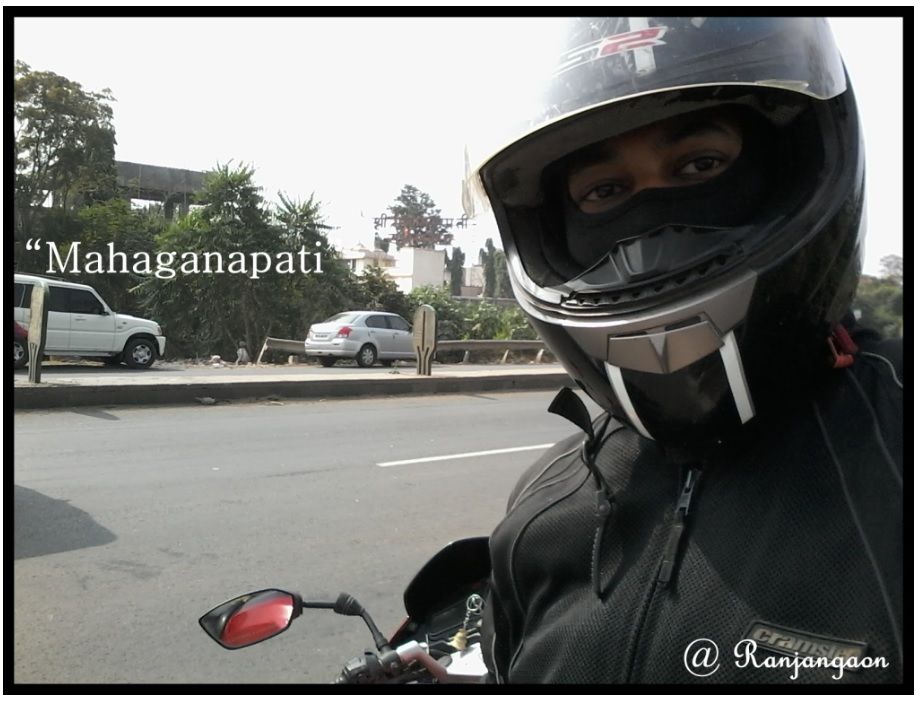 4th blessing
Next destination on mind was Siddhatek. It is one of the farthest amongst all and time taking as the roads are not in good shape. Decided to reach there before 2 pm and have lunch there. Took the daund route in between locals suggested some shortcuts which helped and I was there on the Bhima river bridge. Just across the river is the Siddhatek temple. I still remembered the boat ride I took to cross the river when I was here with my family during childhood. Now there is a bridge to cross the bhima river and even the roads are in fairly good condition.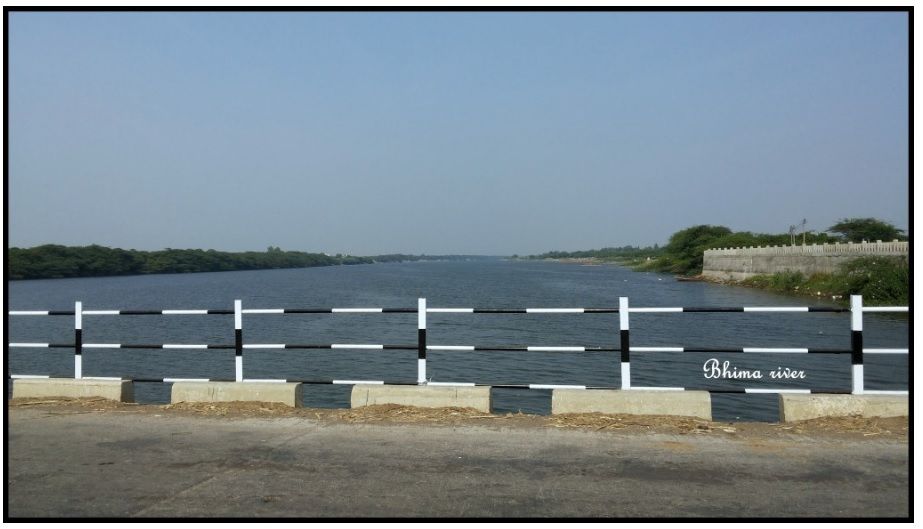 Kept my gears n went inside the temple. Here also flower decorations were made. Had a darshan at temple and had some snacks at the shacks outside as didn't find a better luch home.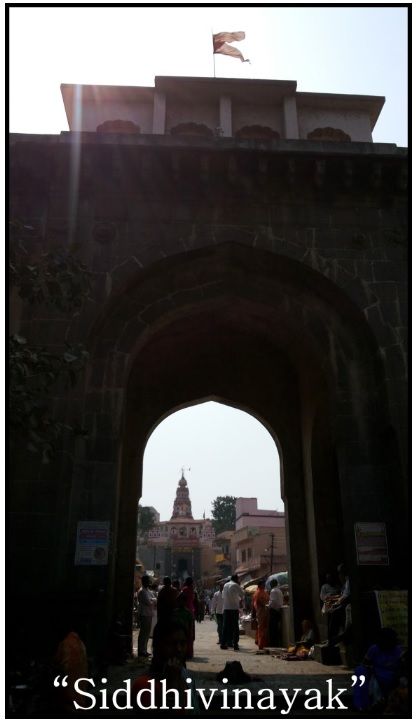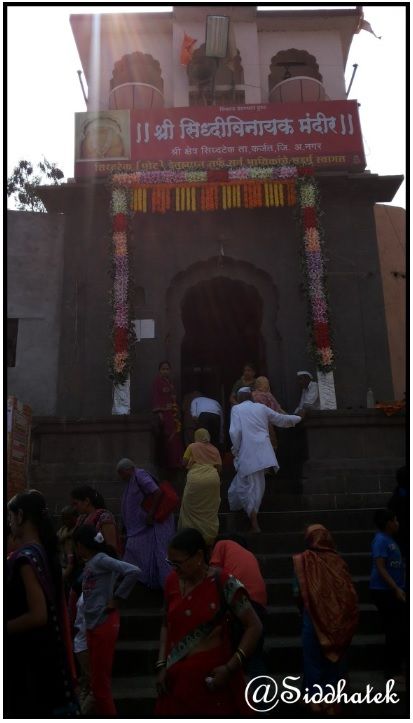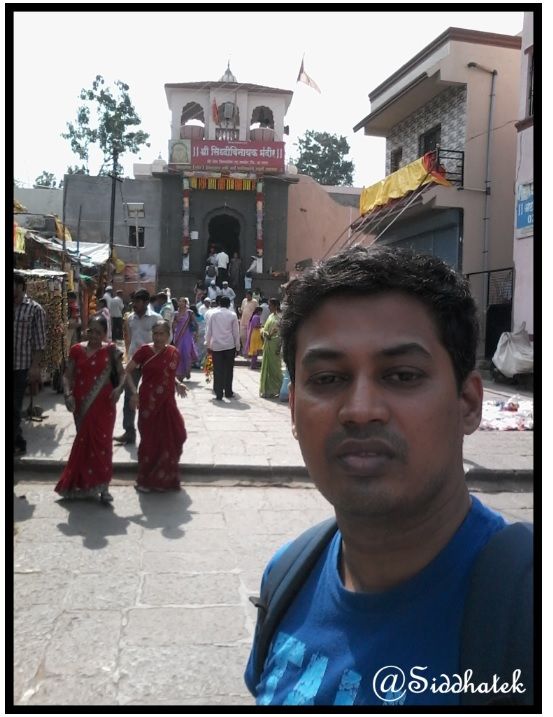 The day seemed like a good muhurat for wedding. Came across many Dj baaraats on road with heart thumping audio systems. One such groom was here for the darshan.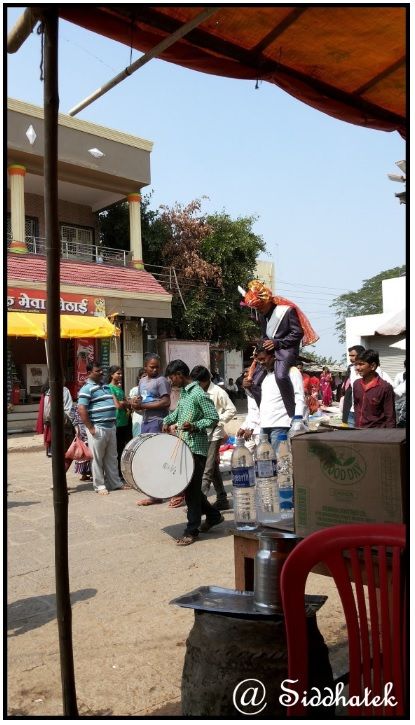 On way back stopped on bridge for few clicks and headed for next destination temple at Morgaon.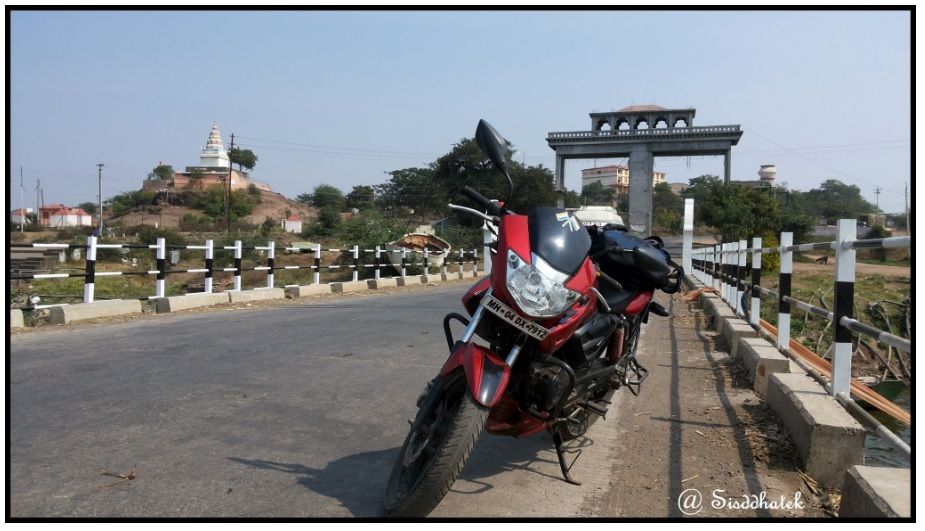 5th blessing
Reached Morgaon at around 3.15pm. The idol here is known as "Mayurehwar". This is the first time I came across the que for the darshan. There were many pilgrims visiting the temple for the blessings.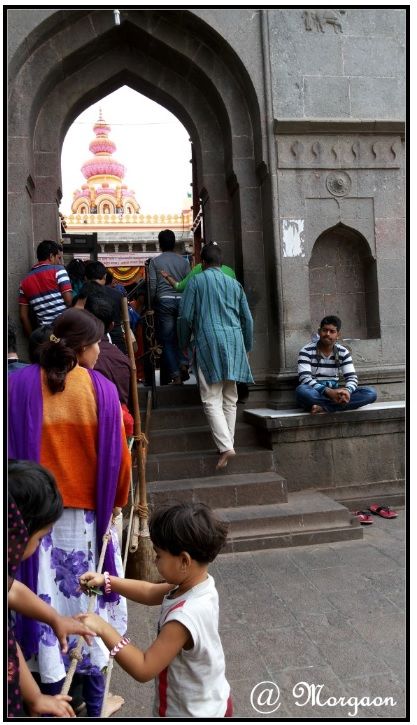 While waiting in the que a thought struck my mind its just 3 o clock and I am done with 5 of the 8 Ashtavinayak and that too the ones I haven't visited before on bike, Butterflies in the stomach due to excitement, thanked god with the happiness filled heart. Now thought popped up in mind why not try to cover all the 8 today itself?
Hmmm … in two hours I can reach Theur, another 3 hours to reach Mahad via lonavala and another 45 mins form Khopoli to Pali.......the km and the pace calculator.. I was delighted yes that can be possible. Called my best buddy Ashish ( Senior rider at Xbhp ) and asked him to check timings of temples at Mahad and Pali as wasnt getting even the 2g network. He quickly confirmed that both temples will be open till 10,10.30pm at night. Gave him idea about my plan. (he is always the backbone of my rides even if not travelling with me).
The Darshan took another hour and I quickly departed towards Theur.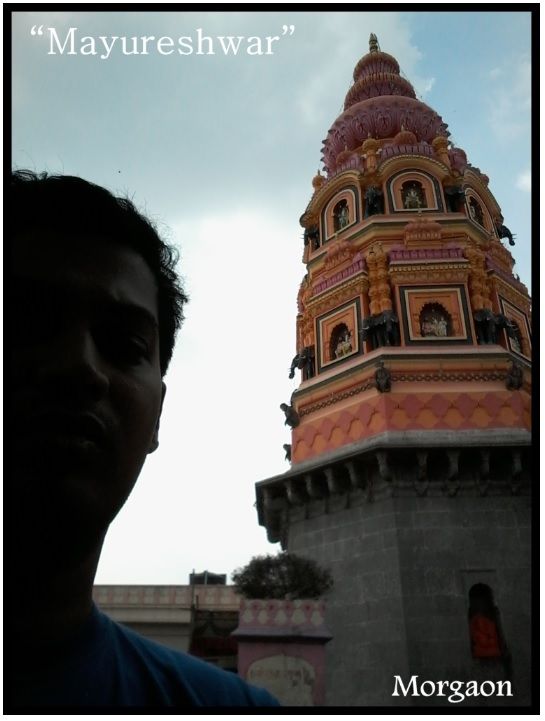 6th blessing
Next destination was Theur. Two routes lead to solapur pune highway, I took the Jejuri route to reach via Uralikanchan. Enroute clicked some pics at jejuri and continued journey towards Theur. The roads seemed specially developed for pilgrims on ashtvinayak darshan a makkhan road till diversion for Uralikanchan.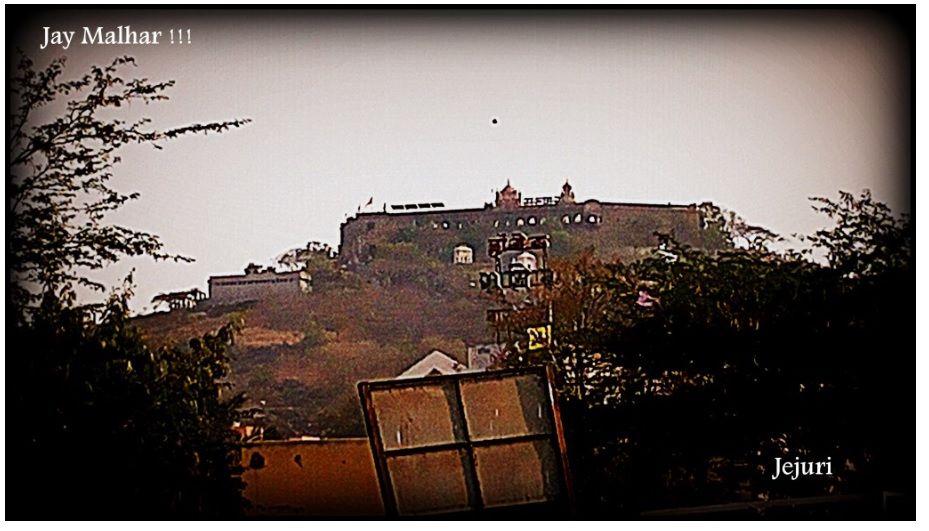 It was 5 pm and I was really hungry on the diversion road had heavy lunch at mauli dhaba. Once again a guy asked me for a lift but bag being mounted on pillion seat I refused (2nd refusal). Some rough patch and you reach superb Pune solapur highway.
Reached Theur. The Ganesh idol here is known as "Chintamani" means the one who wipes out all your worries. At All the Ashtavinayak temples u will find a typical cultural build. Rejuvination has been carried out by Peshwas for most of them and you can clearly see that from the structure statue and art of carving pillars. Gives a warm homely feel.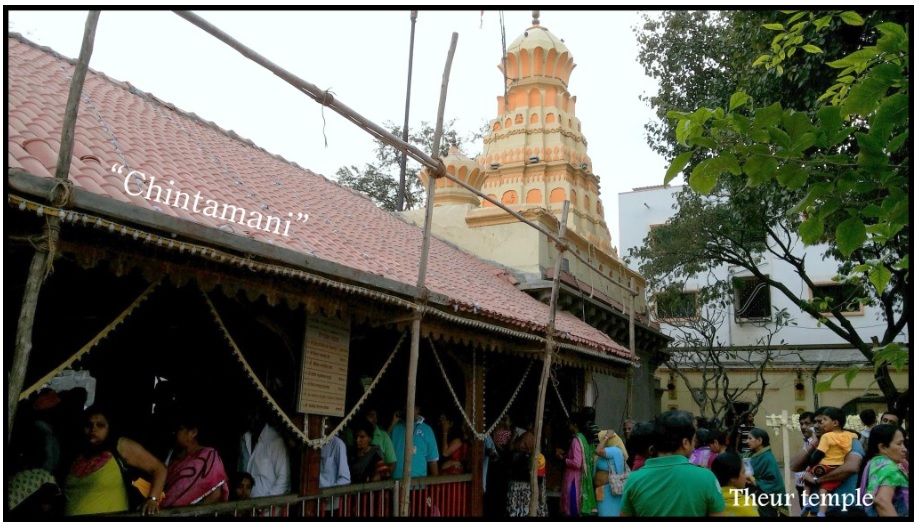 Special big Rangoli was crafted for the ocasion of Vinayak chaturthi.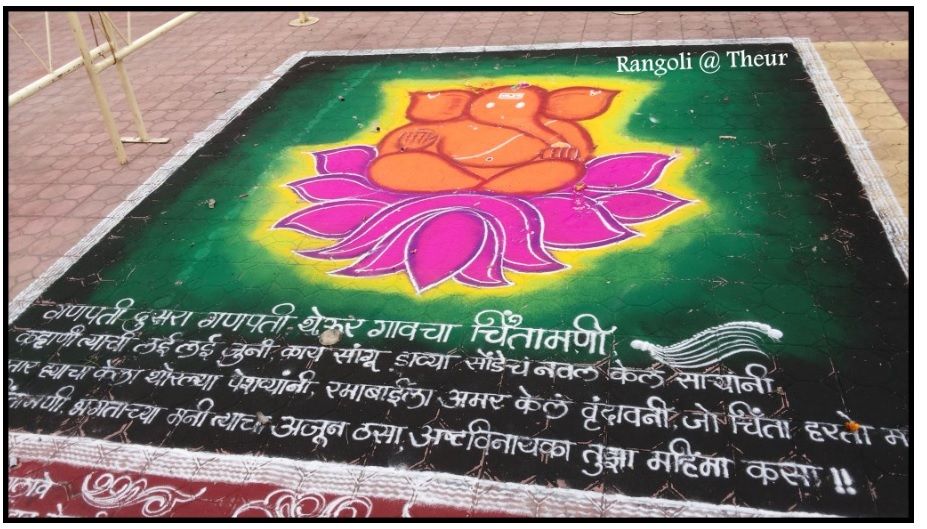 Left Theur at around 6.30 pm
7th blessing
Now came the toughest part of the journey to cross over the complete Pune city as fast as possible from Solapur highway to Mumbai Highway. No matter how many times I travel in Pune I still get confused about how to move around in Pune. Tried my best but the city traffic caught me like anything. Did call my buddy form Pune Saurabh for the directions as even GPS confused me . Trying being a typical city rider dodging the heavy traffic somehow managed to reach Lonavala by 8.20 pm. Throughout the ride was in constant race with the time and every signal or traffic jam was panicing me. As I wanted hard to complete all Ashtavinayak on the same day, I did set the target to complete darshan at mahad by 9 pm itself.
By 8.55 pm I was nearby khopoli and was feeling very happy that yes now its possible, will have darshan in few mins and will leave immediately for Pali. On NH4 took a diversion towards Mahad and roared towards it.
Night drive without street lights, suddenly saw a man waving for a lift. Thought for a sake to stop butrealized a bag mounted on pillion seat and that will kill some time(3rd refusal) so roared again. A thought was circling my subconscious mind, suddenly a sharp turn came towards right I tried to dogde it with brakes but being kachha road bike started slippling . I tried to maneuver by tilting it more but couldn't help and I slipped badly . Me and bike were dragged around 5-10m .Had a horrible bump on helmet. Went blank for few seconds. Foot rester was piercing in my leg due to bikes weight . I stayed lying for few moments then dragged my body out and stood up. Wasn't in a state to lift bike just turned the ignition off and stayed . Few locals passing by stopped and helped me picking up the bike. Wrist and legs were paining due to sprain. They inquired about whereabouts told them about the heading to Pali after Mahad. Thanks to the biking gears cramster jacket gloves LS2 and knee guards I stood up scratchless. Otherwise it would have been a disaster. Bike lost both side indicators and big scars…aahhhh….
Lessons learnt
I) Avoid overconfidence
II) Don't chase the time too much (Ati Ghai sankataat Nei…..!!!)
III) Concentration should be always on road ( Najar Hati durghatna Ghati!!!)
IV) Always wear safety gears that saves you….
Locals helped me to get to mandir by riding with me and informed me about dangers of Pali khopoli road no lights ,forest route, lootmaar n all. I knew the road isn't that dangerous but physically I was exhausted and shaken. Checked my bike in the street light fortunately wasn't a big damage. Checked myself. Did call Ashish informing incident he was ready to rush there but told him if required I will let him know. Removed gears and marched slowly towards the Temple.
It was decided to call it a day off. As I reached to enter the gabhara poojari stopped me for the aarti.The aarti started Sukhkarta ,dukhharta. The toungue and hands automatically starts moving for the aarti of our faviourite god since childhood. The sound of bells, claps and Aarti calmed me entirely and Blessed feeling overwhelmed me.
After Aarti entered inside. Only me inside and the pleasent idol in front of me. So heartfully thanked god for this wonderful journey for taking my care and saving me. Stood there for few moments. The temple and the surrounding was beautifully lighted up for Vinayak chaturthi and its reflection in the water was looking marvelous.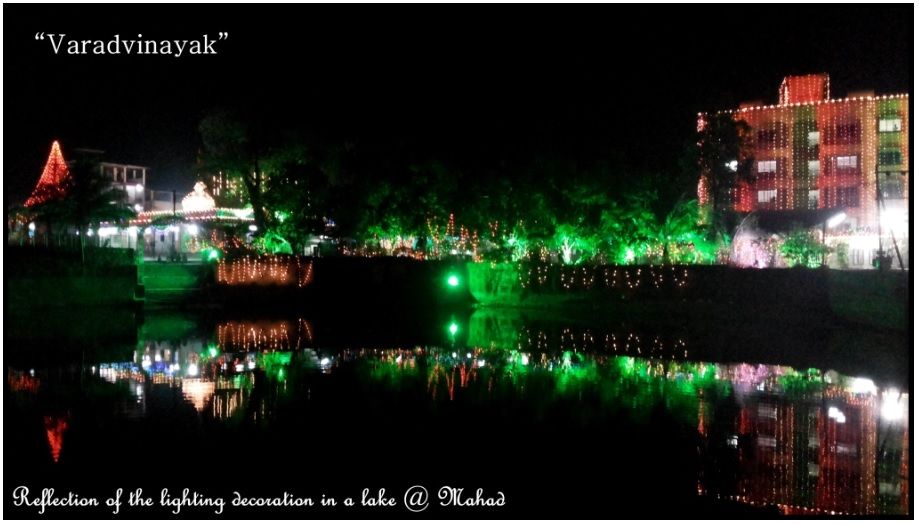 The local rituals were in progress a pradakshina of a Palakhi was in progress. Enjoyed the pilgrimage of the devotees.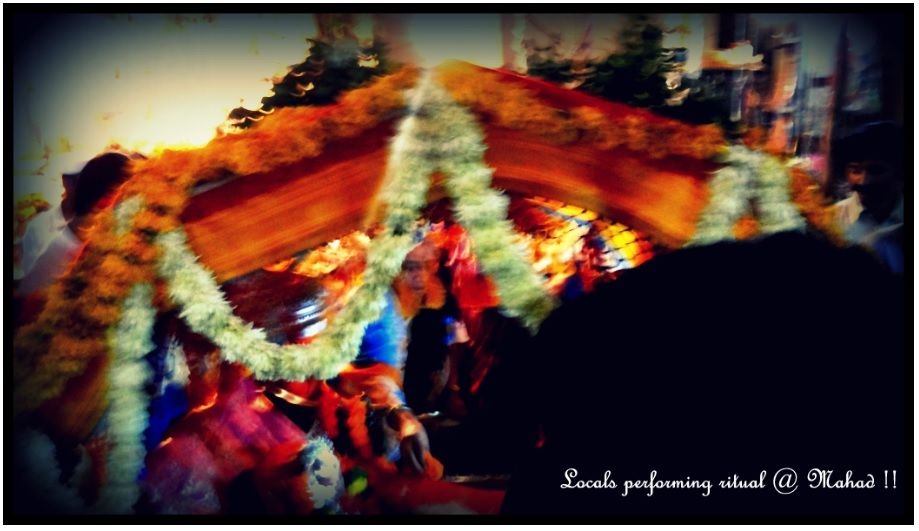 Heart was filled with emotions of joy for such a wonderful darshans of 7 Ganesha's ,a long awaited ride and over a 600+kms in a day ride, a little sorrow about remaining 1 idol, blessed feeling by gods grace……….. Left mahad and continued my last piece of journey slowly at a moderate pace to reach home safely.
ATTEMPT WAS NOT SUCCESSFUL BUT THE ATTEMPT WAS MADE !!!!!
Urgue :
31.1.2015 8th blessing….
Day ended with a lot of stress about various issues at office .it started looking like a never ending story. Had a thought in mind to complete remaining idol darshan by weekend. Left office little early and reached home. Had a good cup of tea and left home at 6 pm in the evening from Thane. Took Airoli route and this time instead of vashi ( Palm beach road, JNPT route which I take mostly )went ahead along khargar route and at the end took JNPT route for Panvel bypass and reached Datta snacks. Met with a traffic enroute ,took pit stop for tank filling up. It was already dark by the time I reached Datta snacks.
A horrible journey began onwards.
i) A dark night
ii) Worst scratches on windshield of helmet
iii) Under construction Goa highway
iv) No visible strapline markings on road
v) Deeper beam headlights of the on coming traffic
Congrats You are on a "BLIND RIDE". ;)
This ridiculously reduced the overall speed and I ended up reachin Nagothane by 8.15 pm. Another mistake didn't wear the winter shied of cramster huduhuddddhudddhdhd… The chill just hit me like crazy and I was shaking like a mobile on vibrator mode with cool wind blows. Somehow managed and reached Pali at 8.45 pm Parked the bike . Left gears and bags at a shop nearby, took mala and prasad for offerings.
The temple was calm and peaceful. Realised one thing, its actually blissful feeling, to take darshan of the idols at early in the morning or late in the evening. You get a hustle free darshan and its peaceful. Thanked god with full of heart as my heart was pounding with the excitement and thankfulness for ashta blessings I got. The blessed feeling calmed the entire soul. Waited there in the gabhara for few moments and left. Took some pictures.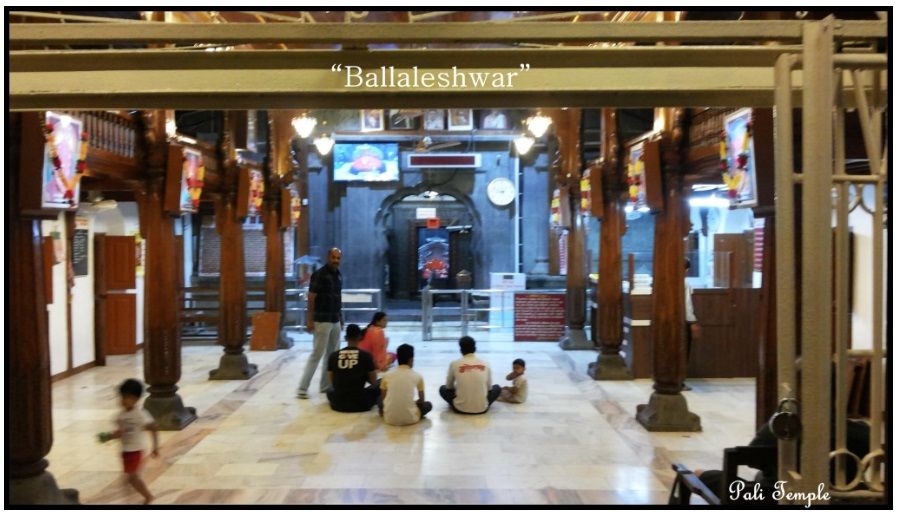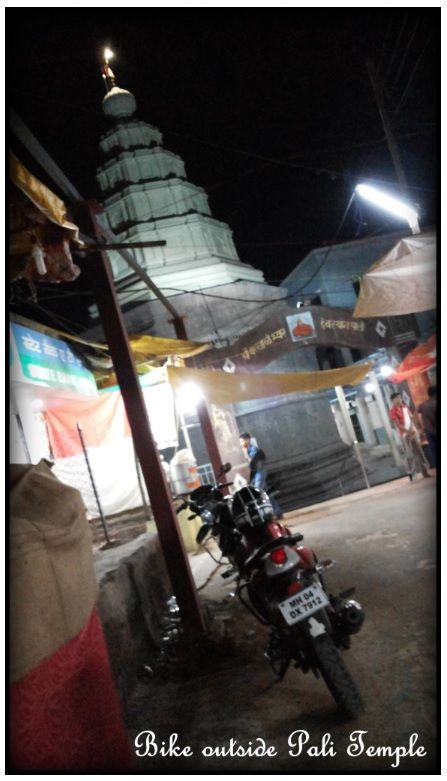 At the shop inquired about the good food restaurant ,went there had my fav. Malai kofta and end with a soft drink. On return journey packed my bag in front on chest to have protection against chill. ( A message learnt from movie "Batman Begins" to protect against cold take care/cover your chest,as hands and legs can handle chill on their own ;) ) . it really helped to tackle the cool wind breezes. Another blind ride till Panvel then roared fast to home completing the ride just before midnight,clocking 235kms.
ALL IS WELL THAT ENDS WELL ;)......