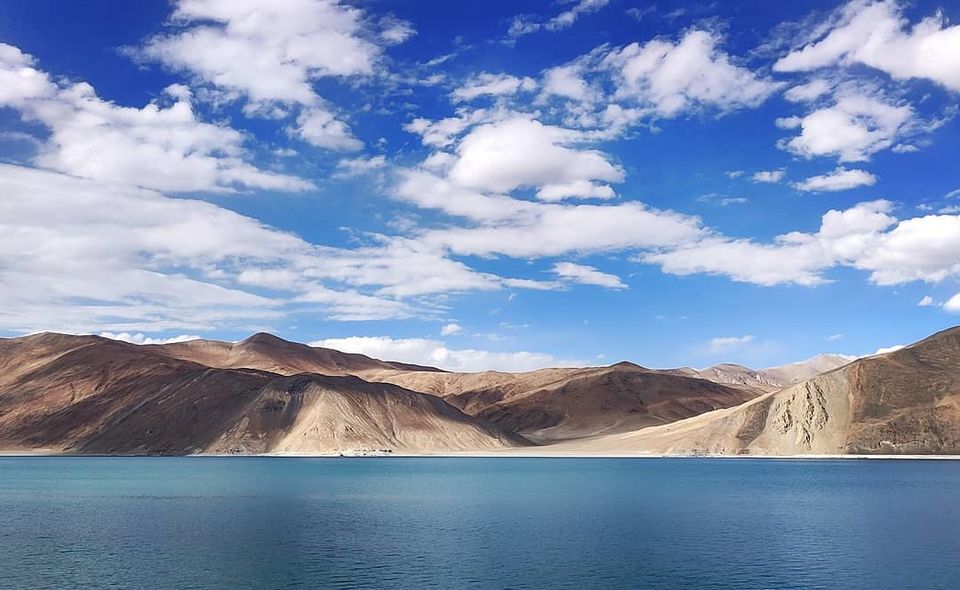 Ever wished to visit one those beautiful picturesque mountains that you only see on your desktop wallpapers? I don't know about you, but at least I have always dreamed of it since I was a kid! And after my last short trip to Himachal Pradesh in April, I grew even more fond of those mighty, snowy mountains of north India.
After that trip I somehow knew I just had to come back as soon as possible. Little did I know, I'll be back in those mountains within just 3 months! And this time, even go a little further beyond my capability and end up somewhere I never imagined to go!
You already know which amazing place I am talking about here as the blog title says it very clearly!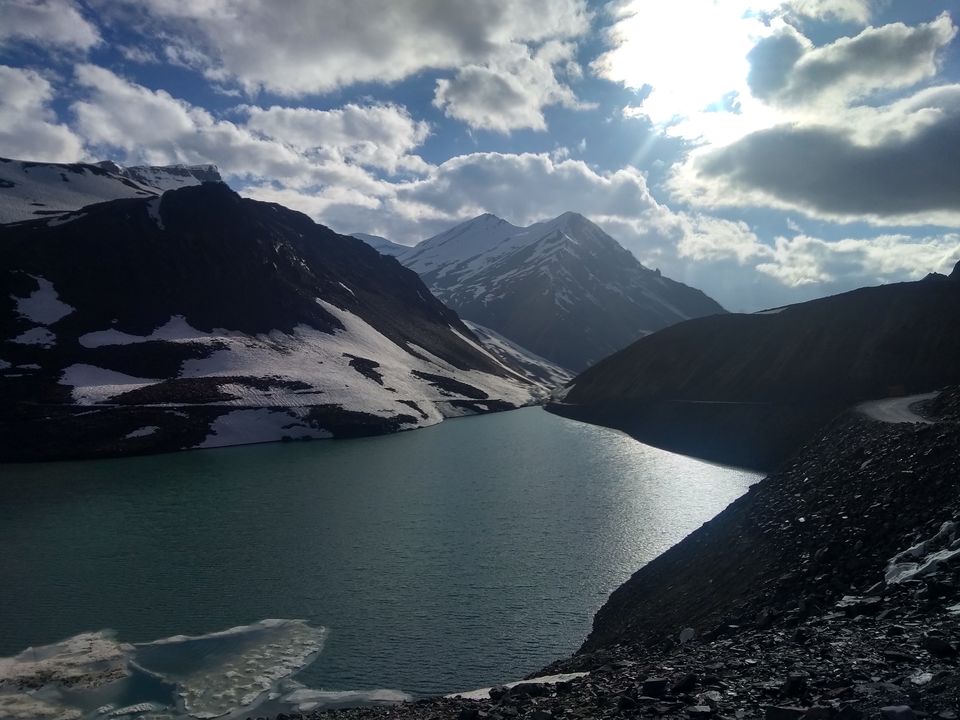 A road trip to heavenly Ladakh is on every adventure junkie's bucket list for sure. Situated in Jammu and Kashmir, Ladakh will leave you speechless with its snow capped mountains, mesmerizing landscapes and serenity. Everything you see in Ladakh seems like looking at a painting sometimes! No kidding!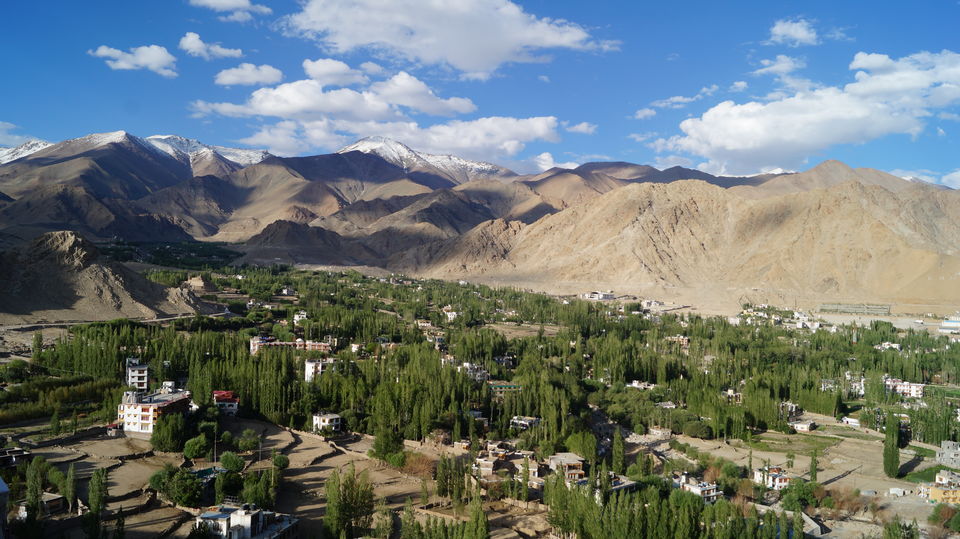 Ladakh can be ideally visited from April to November as weather can be really harsh during winters, and roads inaccessible due to heavy snowfall. I visited it in July when I could experience sunny, pleasant as well as slightly cold weather. The famous Chadar trek along the Zanskar valley takes place during January to February and is a must have experience for avid adventurers and trekkers.
Note – I travelled with a group of 30 people and it was all planned and guided by team WanderOn. You can visit their profile on Instagram and get in touch to book your next adventure!
Must see places:
Pangong Tso, Nubra valley, Zanskar valley, Khardung La, Hanle, Leh Palace, Monasteries, Shanti stupa, Moore plains, and Magnetic hill.
From Delhi you can book a Volvo bus and opt for an overnight travel to Manali to kill your time. It may take 14-15 hours max to reach your hotel early morning. This is what greeted us just few hours before we reached Manali.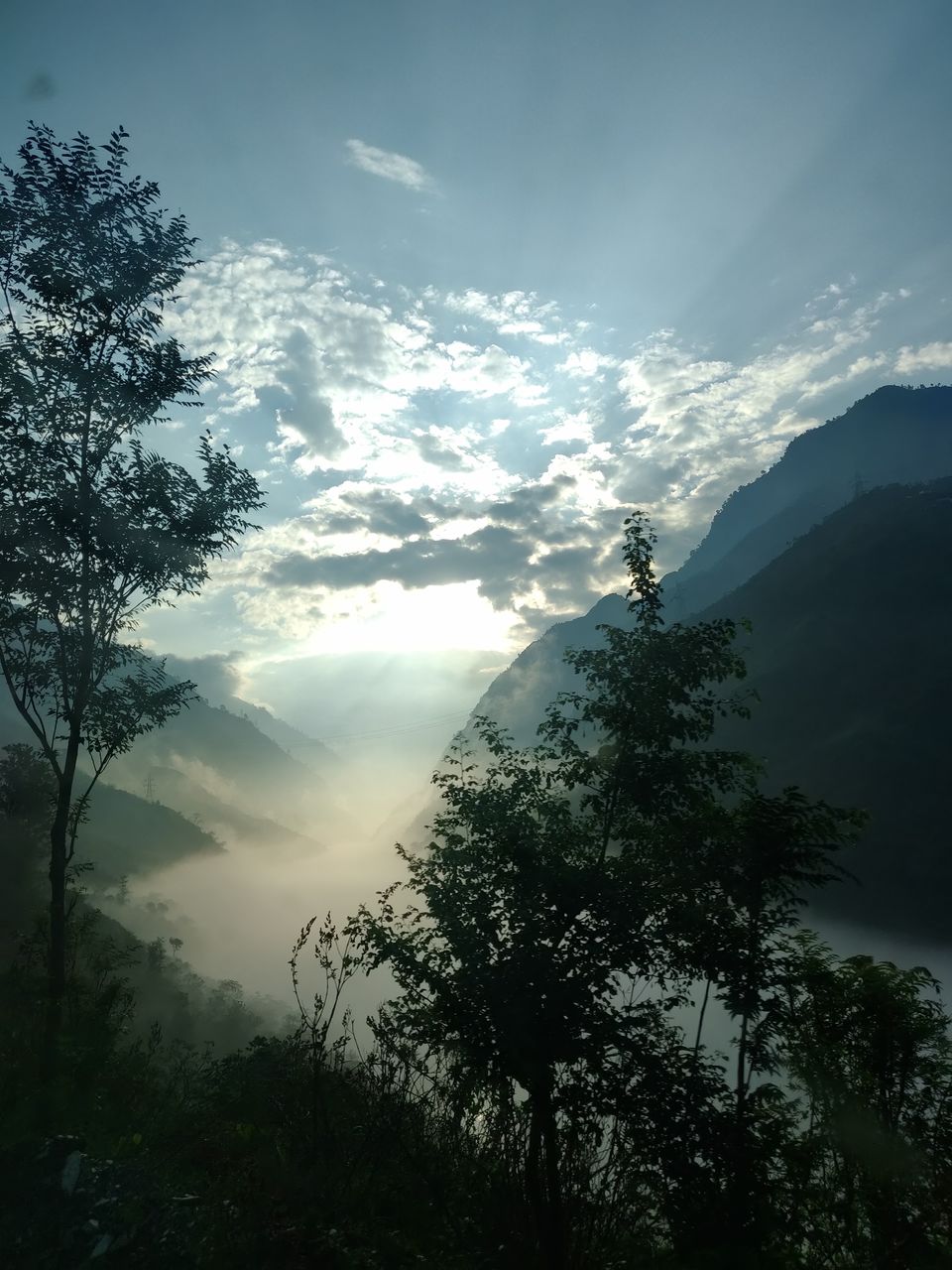 Before you start your epic trip to the mighty mountains, spend a day in Manali. You can visit Hadimba temple which is a common tourist attraction, followed by exploring mall road for some shopping.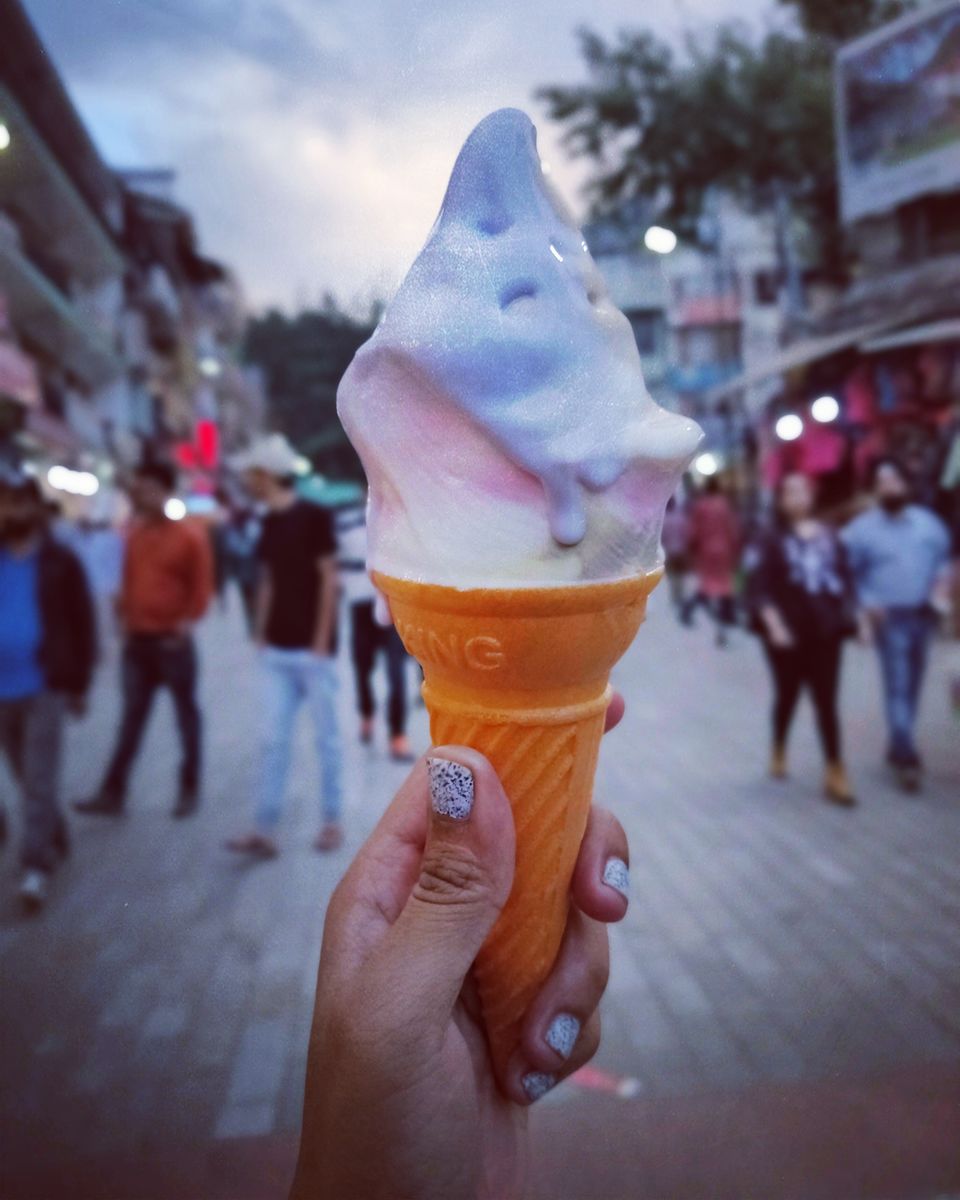 Later in the evening you can visit various cafes of your choice. I'd suggest Lazy dog for some chill live music and good food!
This is the day your actual trip begins. Once you leave Manali, you hit the road and travel to Sarchu via Rohtang pass and Baralacha La. Today's travel might take approximately 12 hours but you are also accompanied with breathtaking views. The narrow snowy roads along Rohtang pass are a treat for your eyes along with the mountains and river flowing further down your journey. As you travel towards your destination, you'll get to know what's really in this trip for you while you'll be busy climbing up and above!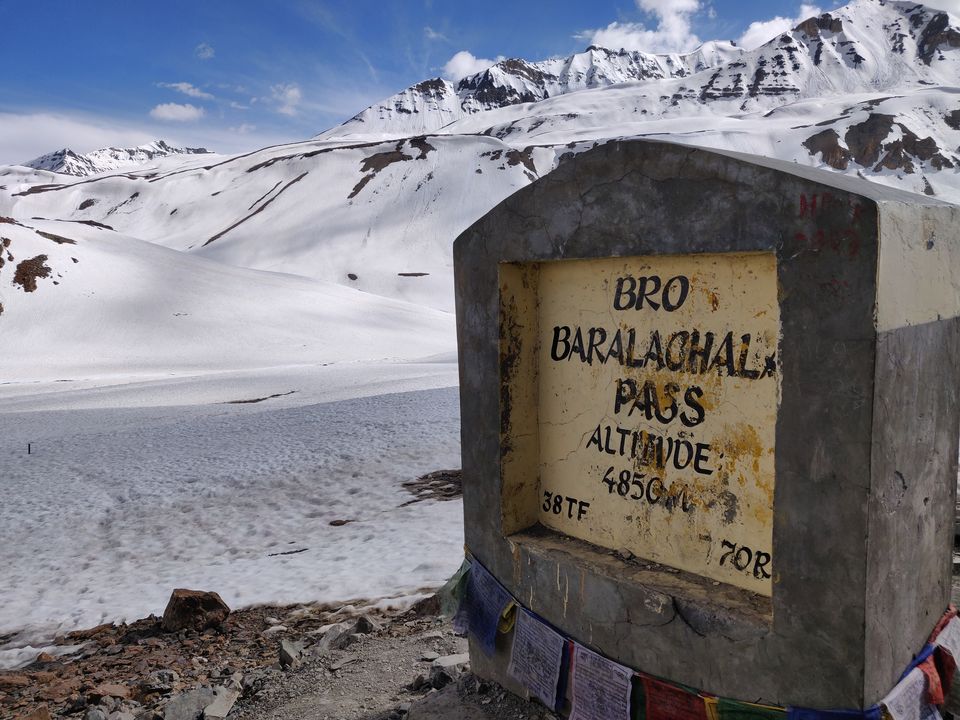 Sarchu is a high altitude point (14,070 ft) and it being the first one to experience, it won't be very easy to deal with. Not many people can handle even a night at Sarchu! Due to altitude conditions, you will experience a constant headache (which is common and manageable), altitude sickness and breathing problems. I personally faced few problems and kept counting the hours until morning. But it was an experience on its own and of course, we all made it!
Accommodation - Camping is your only option in Sarchu. You can opt for camps which provide Swiss tent facilities but the windy weather might still be very harsh on you. So you better be prepared with all your essentials!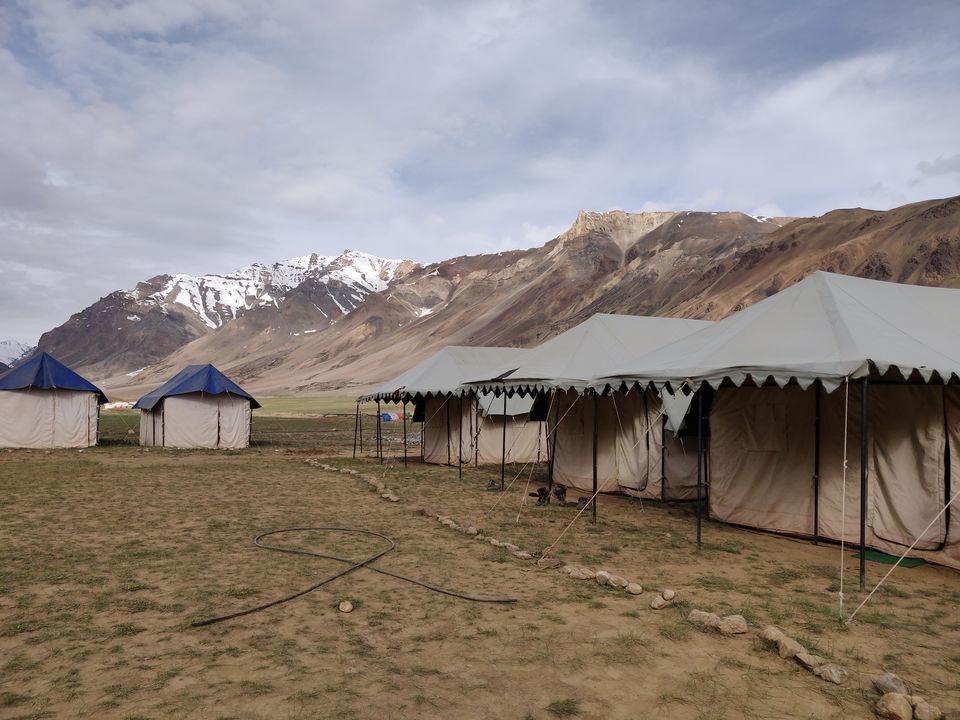 Alternative – If you feel a sudden rise in altitude is something you won't be able to handle, take a stop at Jispa for one day to get acclimatized.
After you have managed the rough night at Sarchu, the pleasant view in the morning will make you feel a whole lot better. Trust me! And once you are all set to leave, you hit the bumpy road again to travel to Leh!
Now you'll be used to the view that's been accompanying you at all times. Today's day will also be filled with travel and awe inspiring mountains. Some stops recommended are Rumtse and Tanglang la. Rumtse, for some amazing chai and breathtaking view. Tanglangla, because it's considered to be the second highest motorable pass!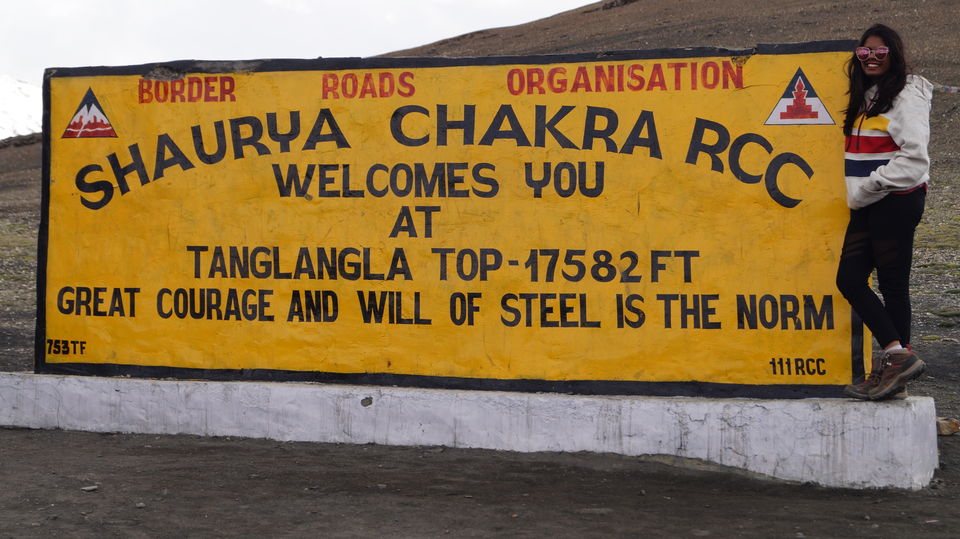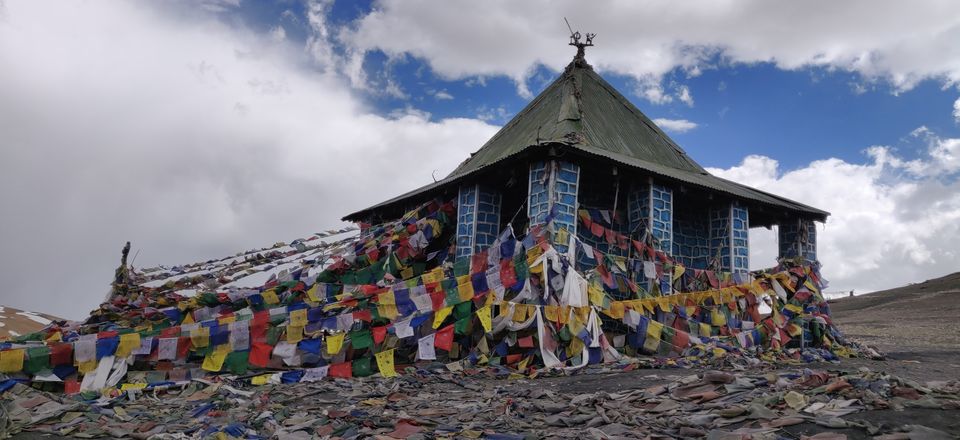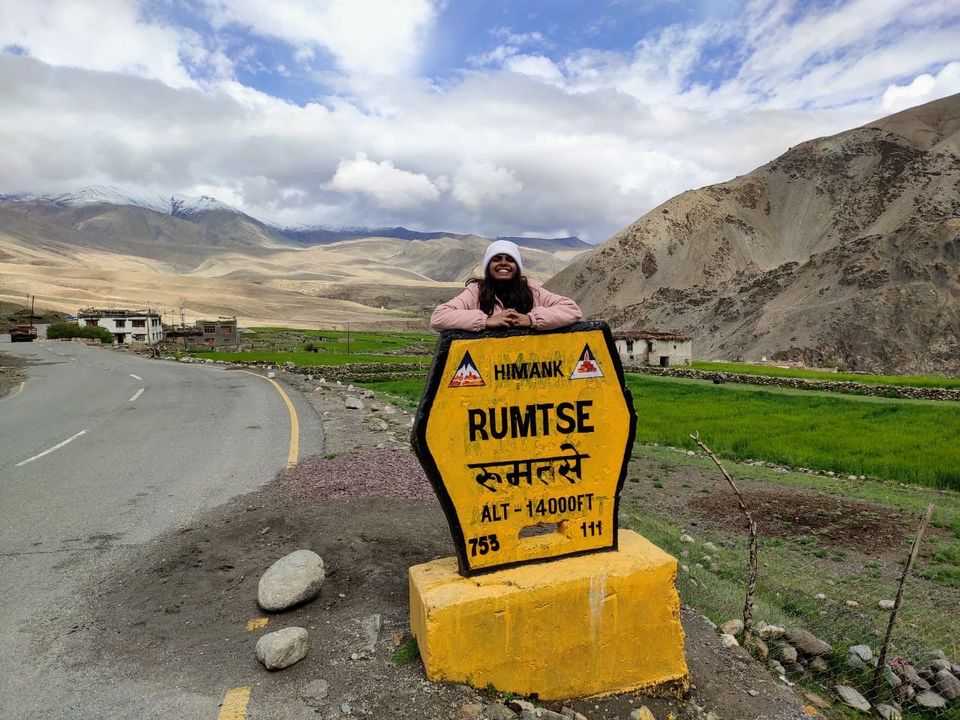 Today you explore Leh. We booked rental bikes for one day as the travel time was least compared to other days and the roads not bumpy at all!
Following are the places you should visit that are not located far away from each other:
1) Sangam Point – Confluence of two rivers; Zanskar and Indus river. It's also a rafting point but we didn't opt for it as the flow of river wasn't ideal for rafting. And just in case if you are now curious about amazing rafting spots you should try, go for Rishikesh!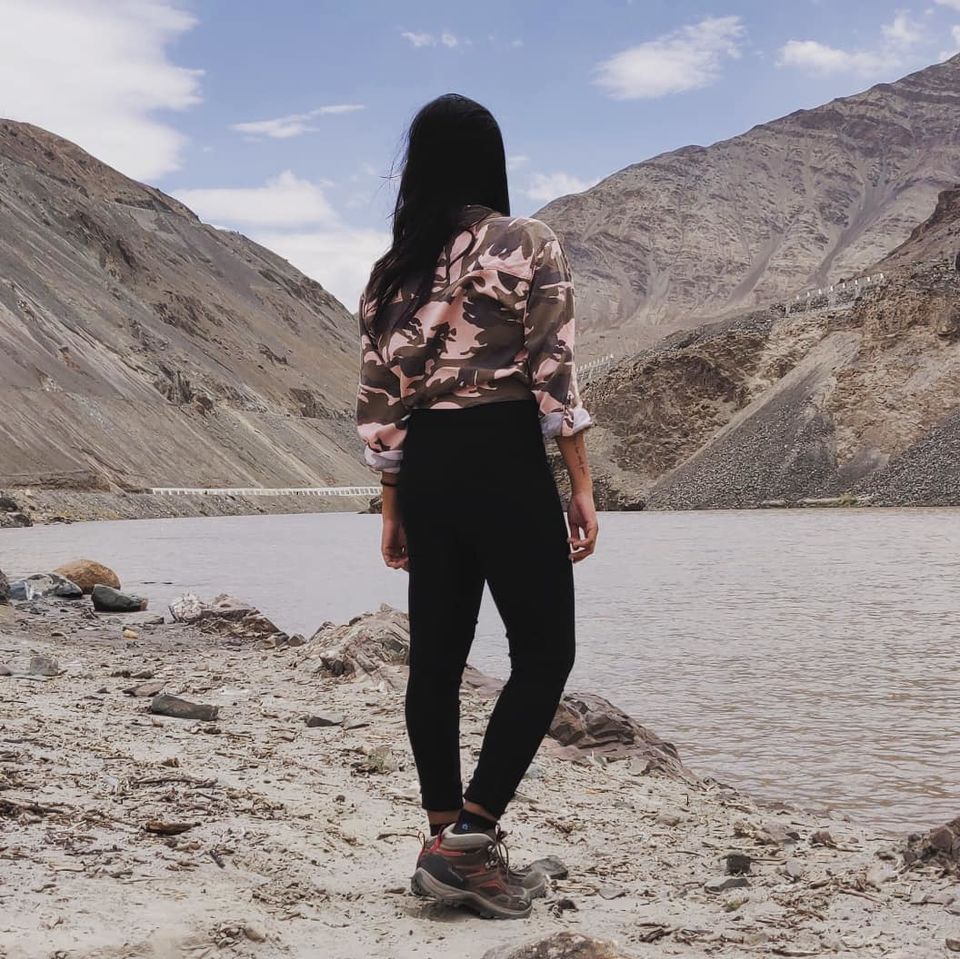 2) Magnetic field – Located at Leh-Kargil highway. This is actually a downhill road but the objects and cars on the hill road may appear to roll uphill in defiance of gravity when they are in fact, rolling downhill!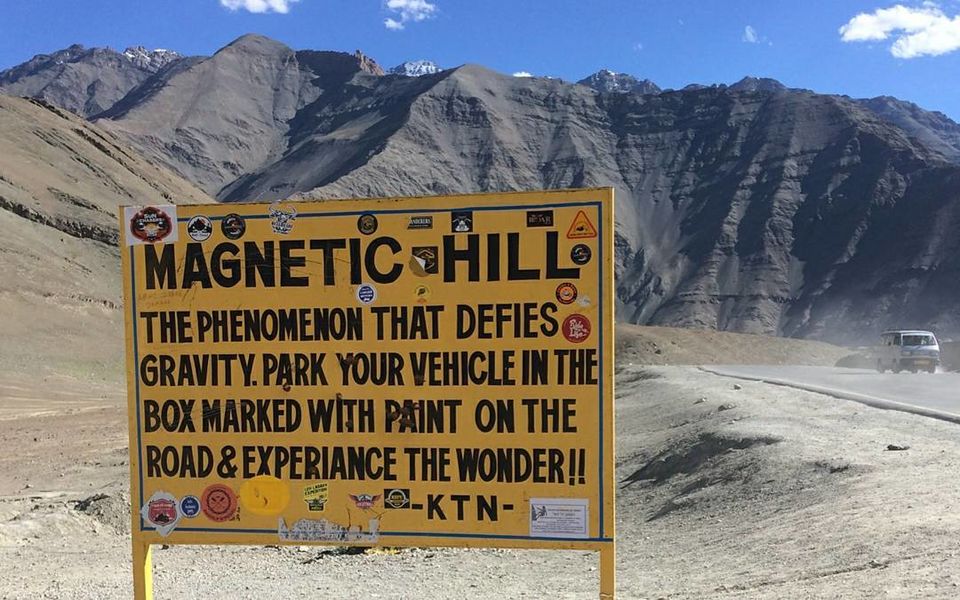 3) Pathar Saheb Gurudwara – A pleasant Gurudwara built in the memory of Guru Nanak. It holds a story of its own. And if you are visiting a Gurudwara during lunch time, you just can't miss out on the langar!
4) Spituk Gonpa - A peaceful monastery to explore and take in the beautiful view it has to offer.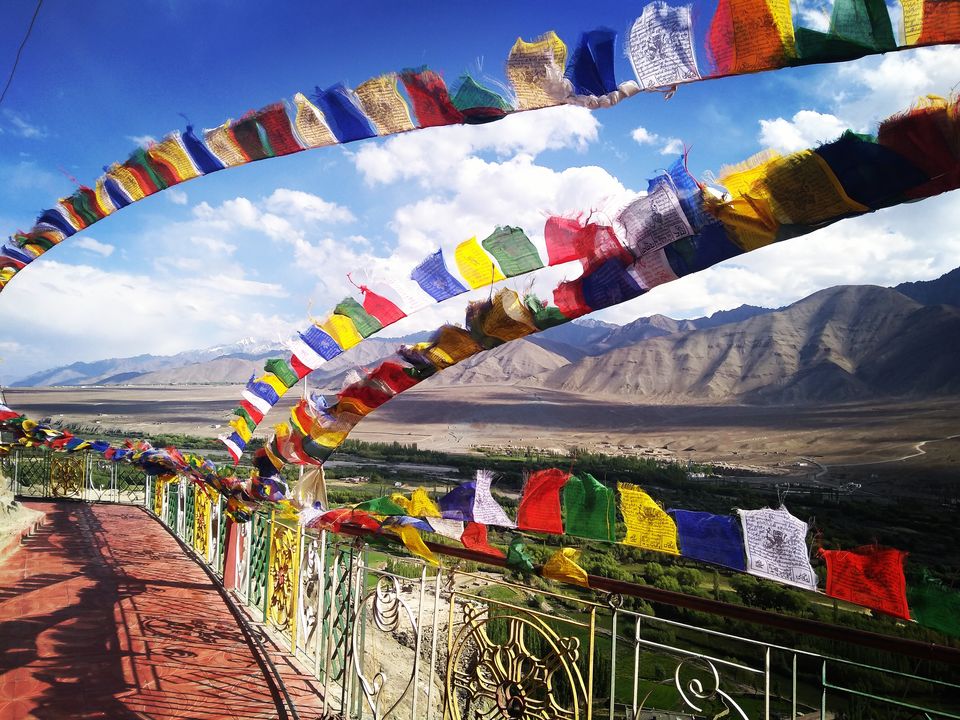 5) Hall of Fame – A museum constructed by the Indian army in memory of the brave Indian soldiers who laid down their lives defending our country in Indo-Pak wars. The museum is divided into various sections displaying a brief history of Kargil war, weapons and amenities used by Siachen soldiers etc. Please do pay your visit to this museum which is sure to leave you with mixed feelings of pride and respect. The entry fees is only Rs. 100/-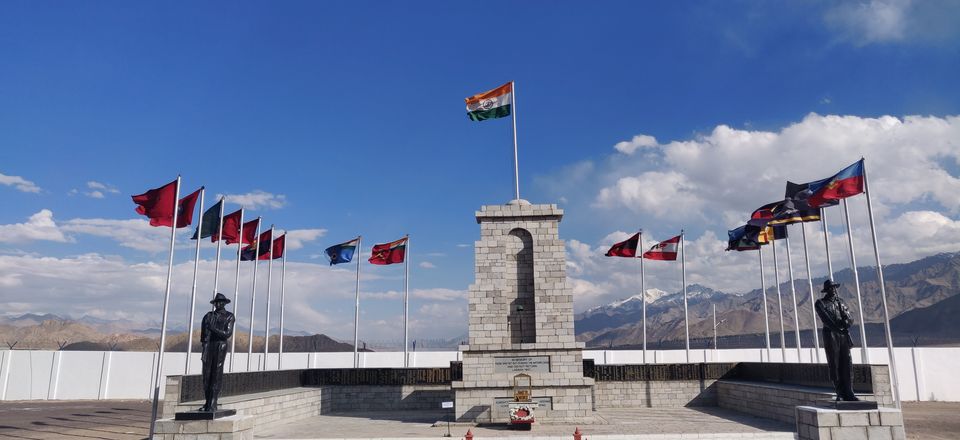 6) Shanti Stupa - A Buddhist white dome stupa known for it's beautiful architecture and picturesque view that it has to offer. It is a part of peace pagoda mission, which aims to spread peace through the preaching of Buddha.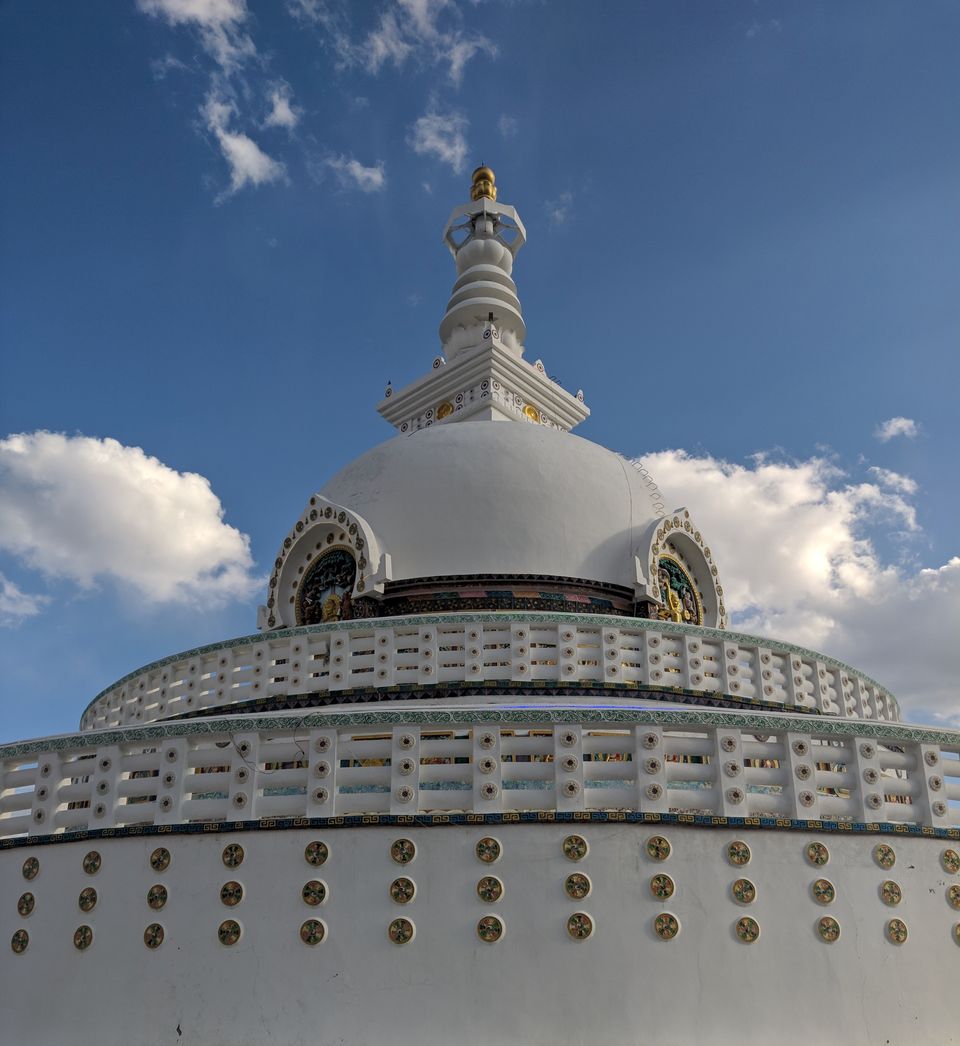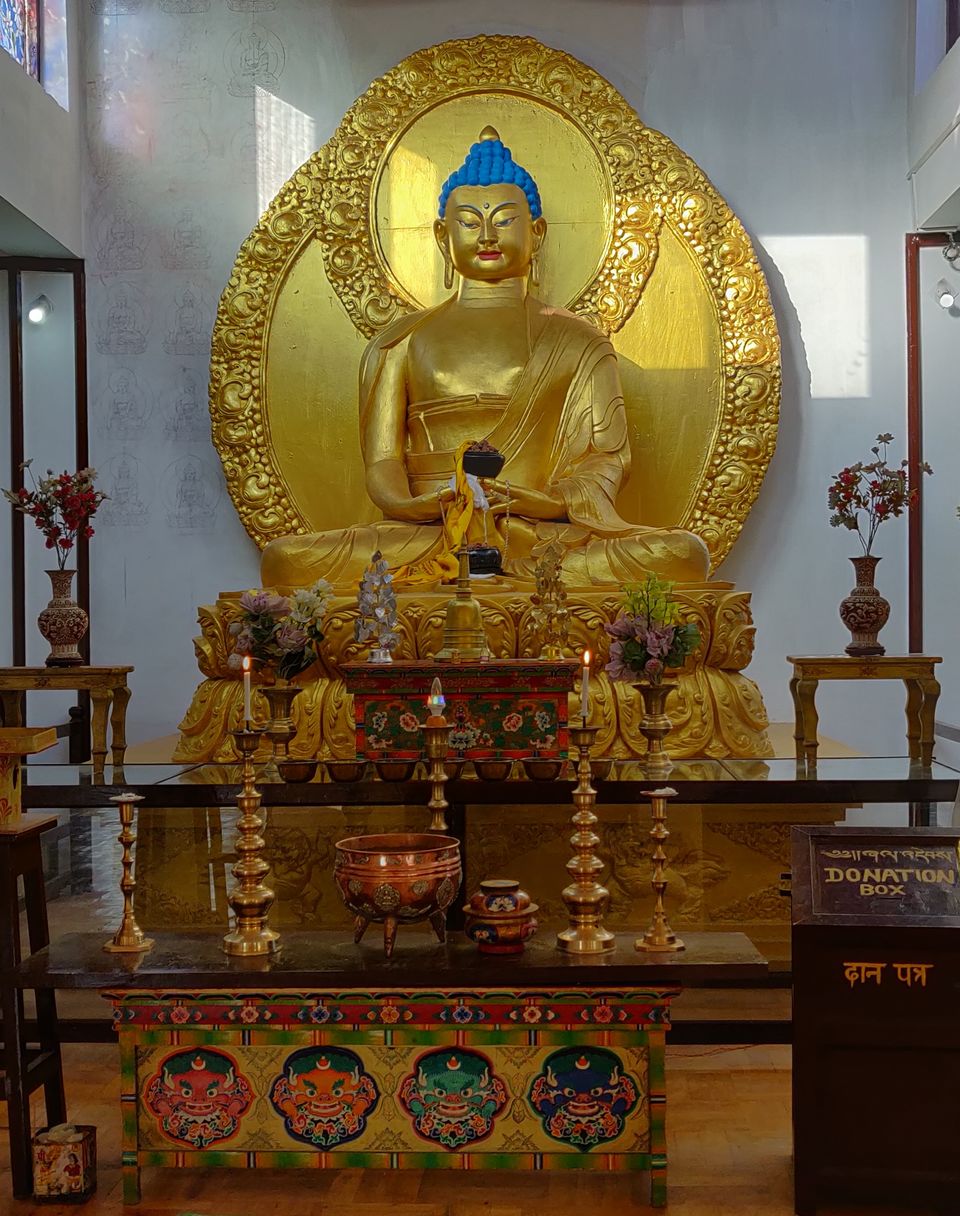 Accommodation for the night: Hotel K.2 continental, Leh
Today you travel to one of the best destinations of your trip which you wouldn't miss out for anything!
Pangong lake is one of those picturesque crystal clear blue lake surrounded by mountains whose 1/3rd part lies in India and rest in Tibet. It's the most visited tourist attraction of Leh and I am sure you'll spend at least 2 hours clicking pictures and soaking in the view and the beauty around you. Rather than describing it in few words, I'll just share pictures to give you an idea of what it looks like. And of course, pictures won't do justice and you should really visit Pangong to witness its true beauty.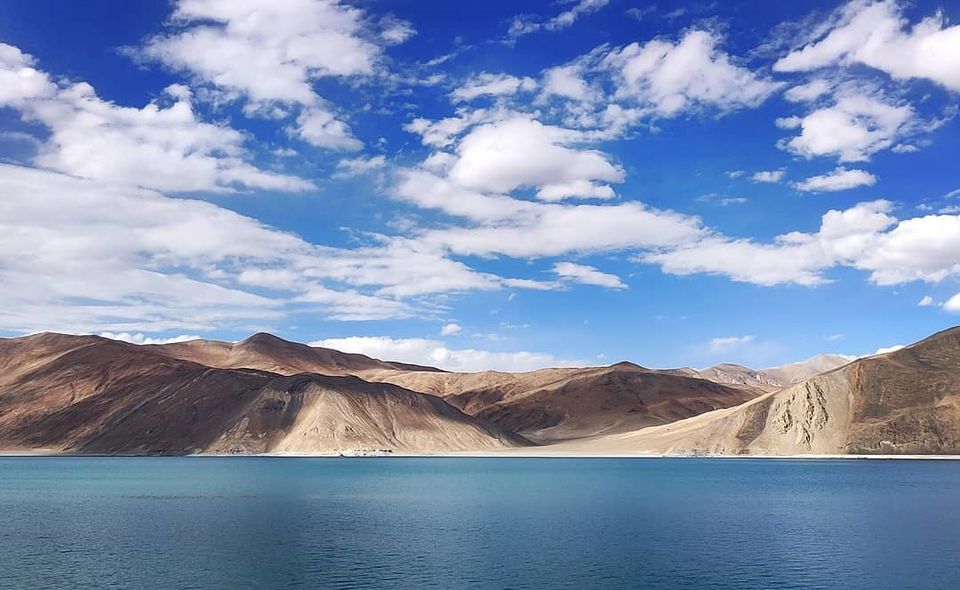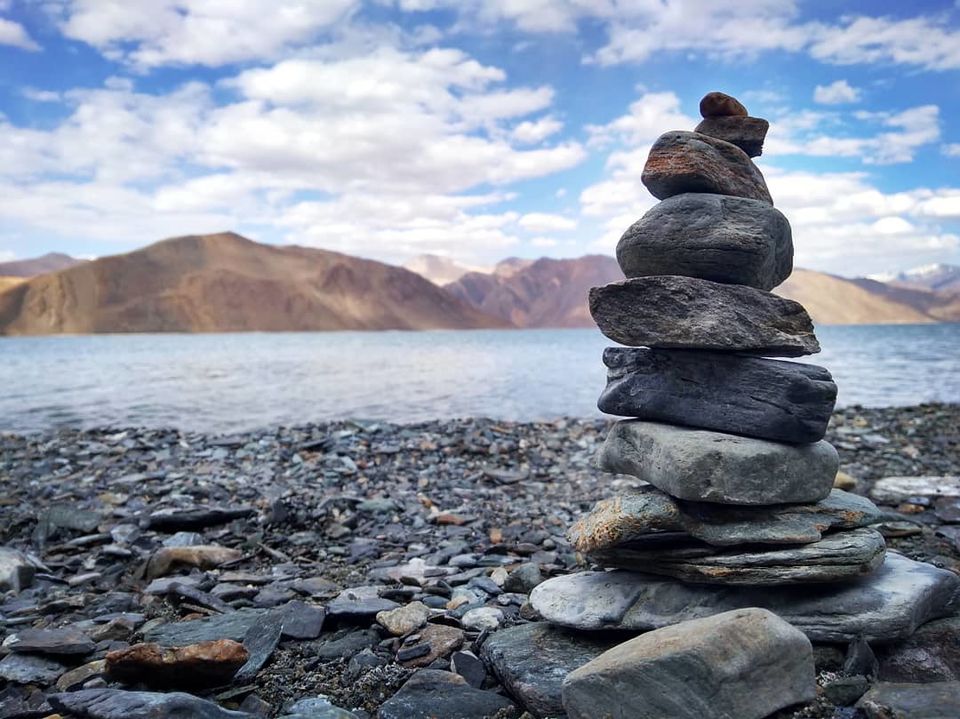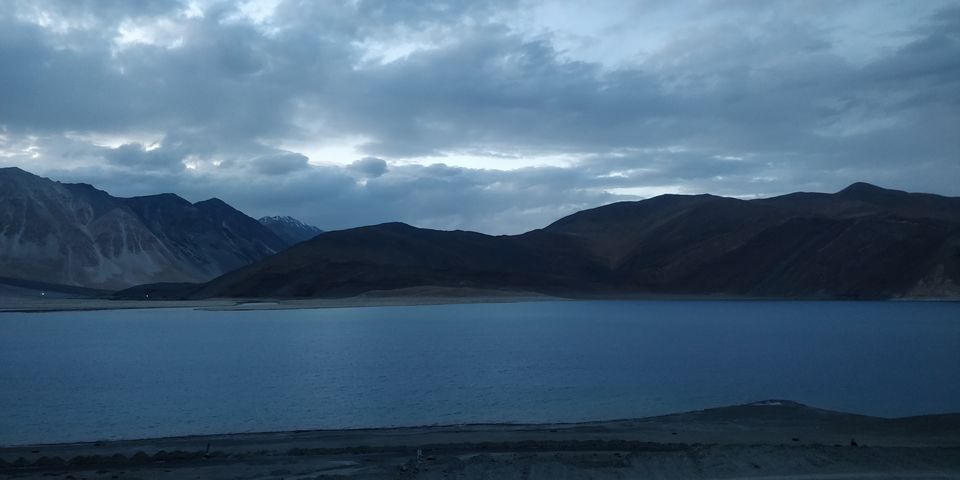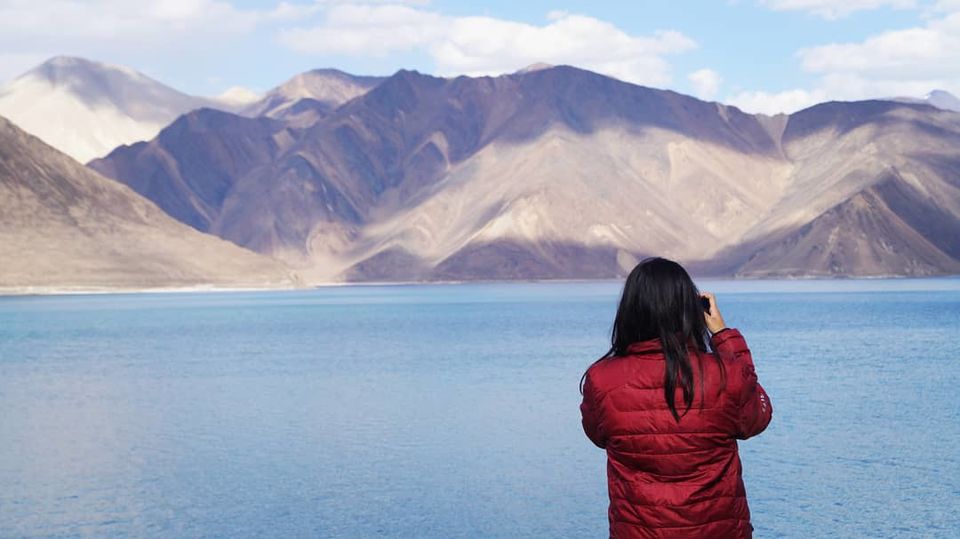 Your accommodation for the night would be somewhere close by and you'll need to opt for tents or cottages. We stayed in Himalayan wooden cottages.
My personal best experience in the entire trip was the next day morning when I woke up to the below view from the window while still lying on my bed! I mean, how many times does your Thursday morning look like this?!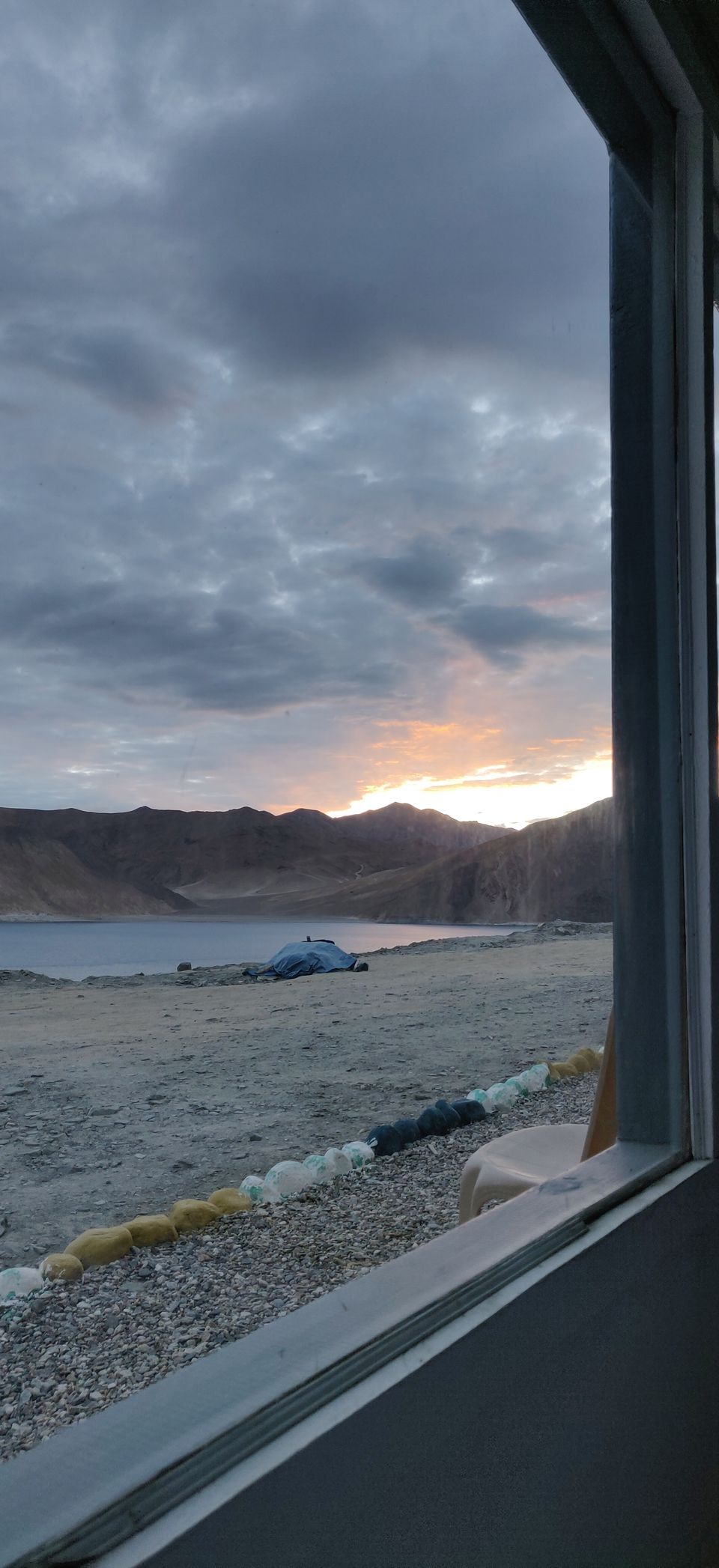 You leave from Pangong early morning, taking in the view for the last time, and head to Nubra which will only take 4-6 hours to reach. You can either first check into your hotel or directly visit the famous Hunder sand dunes.
A little different spot from your usual sightseeing in Ladakh, these sand dunes are totally worth visiting, but a little touristy. Here you can opt for ATV rides that costs 1000 bucks per person or a simple camel ride just to take you around in this vast beautiful desert.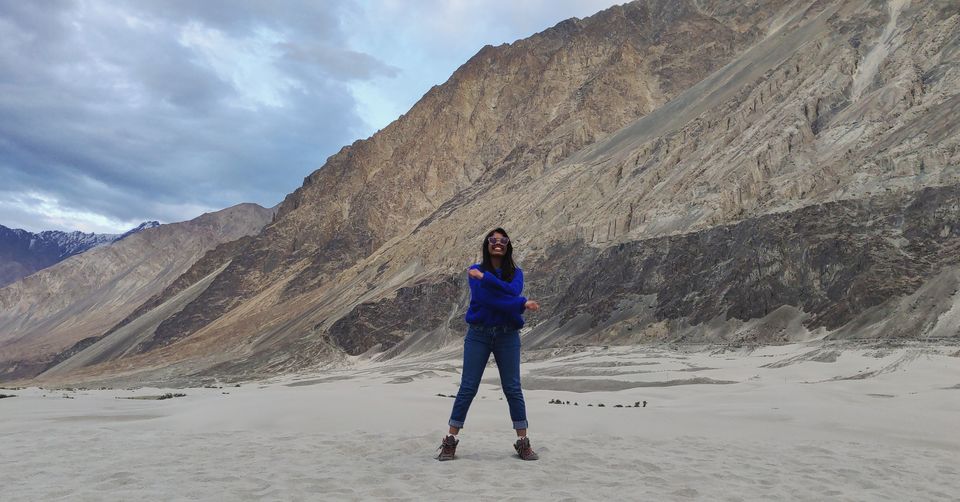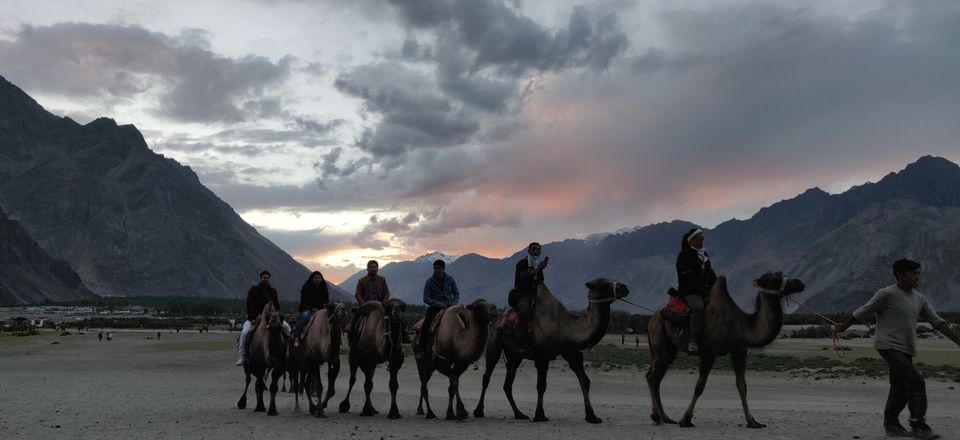 There isn't much to explore apart from sand dunes. So you can spend the night in your hotel and enjoy born fire and some great music along with your friends!
Today you leave from Nubra and travel back to Leh. But first you can visit the Diskit monastery on your way which is the oldest and the largest monastery in Nubra valley. This is another famous tourist spot you can find. The unique attraction of this monastery is the gigantic statue of Lord Buddha overlooking the entire valley.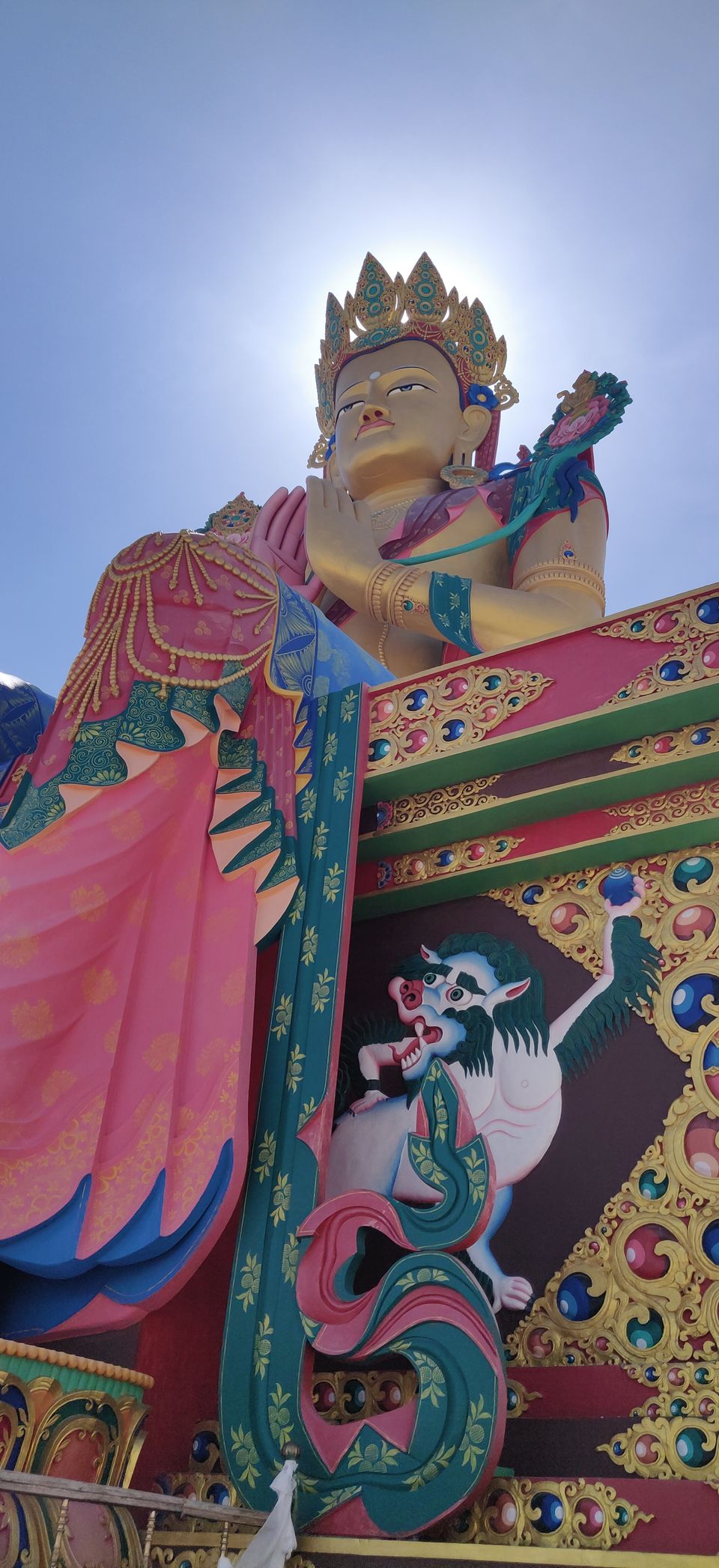 On the way further, you pass one spot you cannot miss for anything if you are on this trip.
And it's none other than, Khardung La!
Located at an elevation of 18,380 ft, Khardung La is considered to be the highest motorable pass in the world! Though you can't spend a lot of time there due to altitude conditions, you can still make the most of it and enjoy your little achievement that you won't ever forget!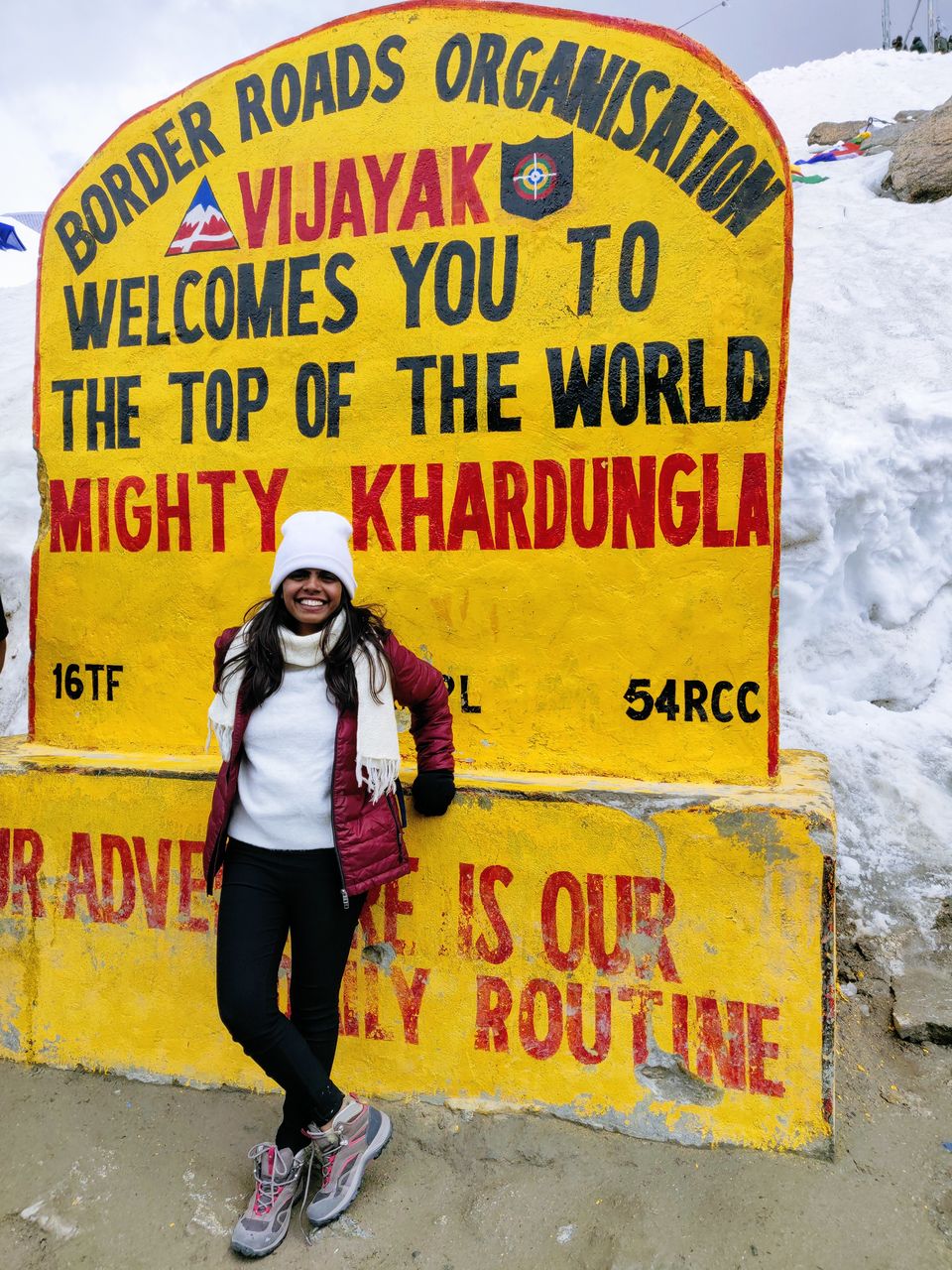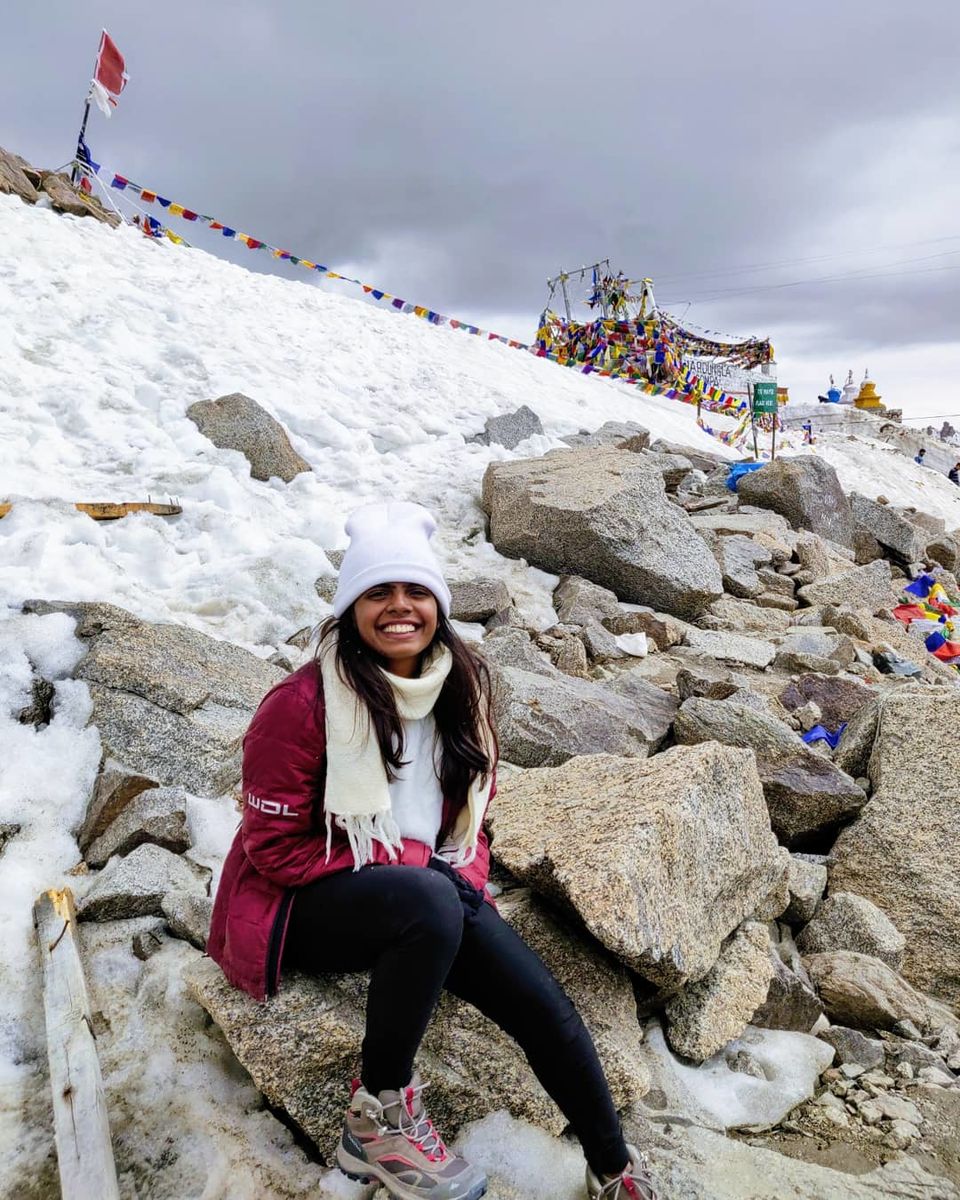 After you reach Leh, in the late evening you can go visit Leh market. It's pretty commercialized as it's the best spot to buy small souvenirs, various accessories, shawls, and tons of other stuff!
Accommodation for the night: Hotel K.2 continental
Today we left from Leh and travelled to Jispa for an overnight stay in camps which took us around 12 hours to reach!
This was the last day of our actual trip and luckily, it was a memorable one for me because I experienced my first ever snowfall!
Everything around me almost felt magical and the smile from my face hardly ever left! I truly experienced my many 'firsts' in this particular trip and I am glad to have gotten out of my comfort zone just to get lost in this beautiful heaven called Leh Ladakh!
On the 10th day, we left early in the morning and traveled back to Manali which only takes 4-5 hours from Jispa. But due to traffic, we were stuck at the same spot for 3 hours! But of course, we made the most out of it by enjoying this beautiful view for one last time!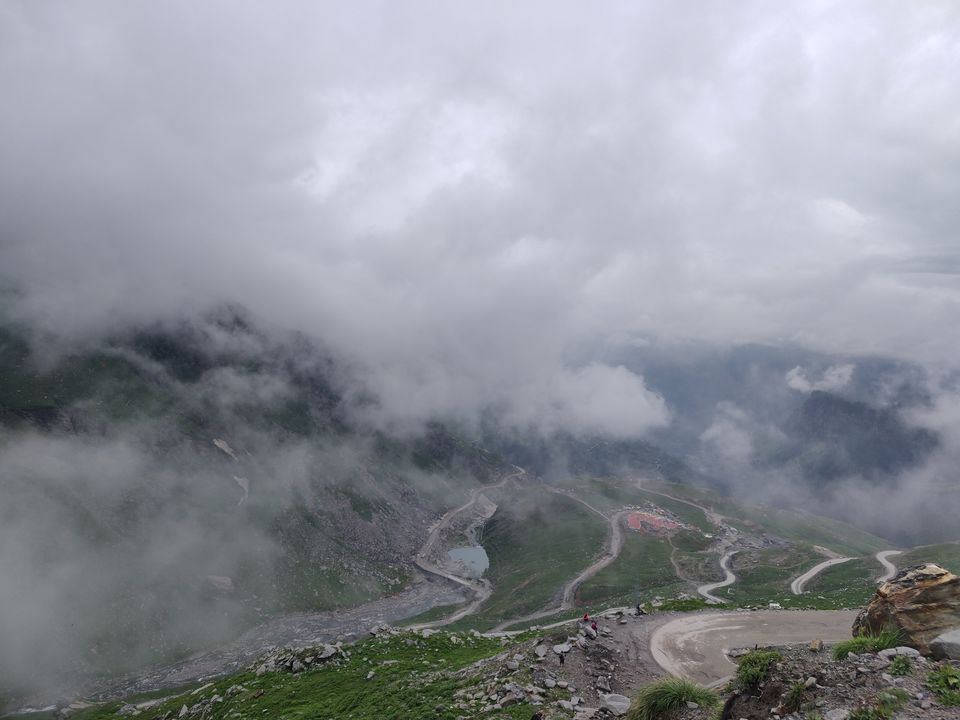 ***
Accommodations to opt for:
Hotels - Manali, Leh, Nubra
Camps and cottages - Sarchu, Pangong, Jispa
Vehicles to opt for:
Rented bikes, if you are a bike enthusiast. Or you can book a car or traveler for a comparatively comfortable journey.
Permits required to enter several spots:
It was already managed by team WanderOn for us. Do carry your photo ID's, driving license (if you are opting for bikes) and few passport size photographs.
Food:
During your entire journey, you'll find multiple simple cafes along the way located at a good distance. Don't expect anything fancy but only simple cooked food which is enough for you to keep going. Thukpa, is a famous Tibetan dish you can try which is basically just noodle soup. Also, when in Kashmir, never miss out on Kashmiri Kawa! And obviously there's always Maggie and momos!
Other points to consider:
1. Be mentally prepared for a lot of travel! I mean, a LOT! And it isn't very pleasant or comfortable at all times. Mountains do have their own charm but they also carry a lot of hurdles and difficulties along the way; especially if you are opting for a bike ride.
But I'd like to mention and give a virtual salute to BRO (Border Roads Organization) for all their efforts they put in to maintain and develop road networks in such areas. If it wasn't for them, we couldn't have such an 'once in a lifetime experience' in the first place!
2. Altitude sickness can be faced by every person with different intensity. At very high altitudes, even breathing could be a problem. Make sure you carry proper medicines and healthcare at all times.
*** FIN ***