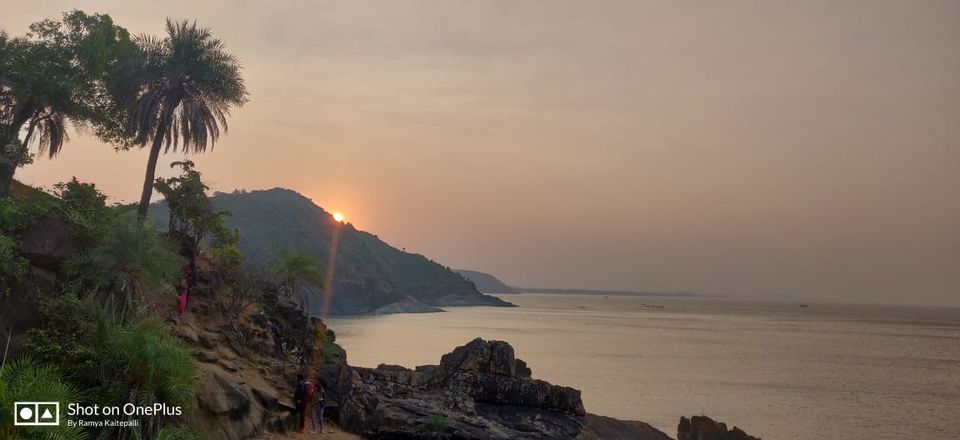 Does a fish ever realize that she has been surrounded by water? Similarly, a software employee is a fish. He may not realise but there is stress all around just like the air we breath.
It has been quite a few days I had been thinking of taking a break. Just to go somewhere and relax. There came an invite from Hyderabad Trekking Club(HTC) for a trip to Gokarna and Vibhuti falls. I instantly pinged my friend Ladi Manideep to come along. Ladi and I have been friends from Intermediate days and were very close. One reason for our close understanding could be that we are both from Srikakulam with similar intellectual abilities and studied in the same class for 2 years.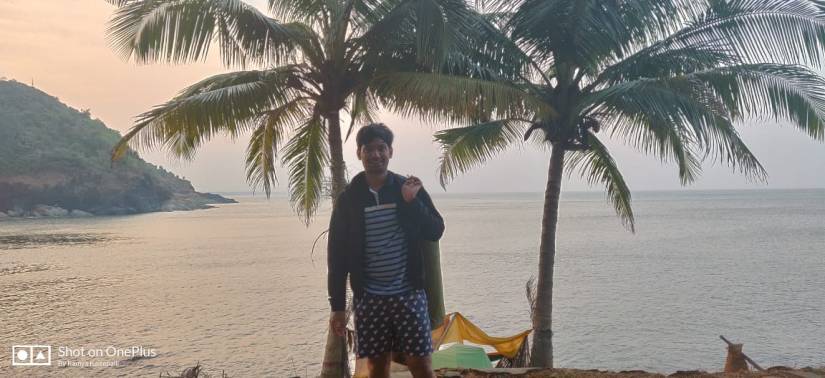 I am a properly structured guy whereas Ladi is lethargic, packed his stuff in the last minute and forgot a few important things to carry. With his grace, we had to board a running train which I never did in my life. Finally, we met the HTC gang at the Lingampally station. Our captain of the gang, Nagasai is a young lad, friendly from the very beginning and assigned our respective tents. It's not just tents we carried but also the hopes to make this trip a memorable one. There were some other groups from HTC who boarded the same train.
One of the primary reasons, people go to these kinds of treks is that we get to meet new people with different perceptions. We met a bunch of 4 girls from the same HTC group like us. Conversations started, fun fully loaded. They are all IT employs and hence we can share our pain. A single line for each as an introduction
Ramya - the whistleblower for interaction with us, sarcastic and a self-proclaimed introvert which she is definitely not.
Usha - Parents from different states, talkative, fun loving, cute.
Priya - Calm and serene. It's often this kind of people who are smart and killers.
Druthi Talini - Big eyes, pretty smile and quite talented. A pure Telugu girl. Looks like a classical music student.
Anurag - Googler, smart and dances well.
You don't want to get too wrapped up in that final destination. You want to enjoy the journey, enjoy the process. We started playing a lot of games like Dumbsharas, Antyakshari and what not. We had great fun altogether and I guess the line between strangers to friends started fading with time.
Oh yeah, there was a German teacher, Rajesh in the group. He is the sweetest among us and got a great sportsman spirit. I give him a complete 100 on his skills in antyakshari. He covered all songs from the prehistoric era to modern era. A genuine guy from the heart. Ladi was quiet all the way on this train journey but I knew this guy is not going to stop once he gets into form. I remember Ladi and Kiran(friend from Intermediate) use to make fun of almost everyone in my class those days.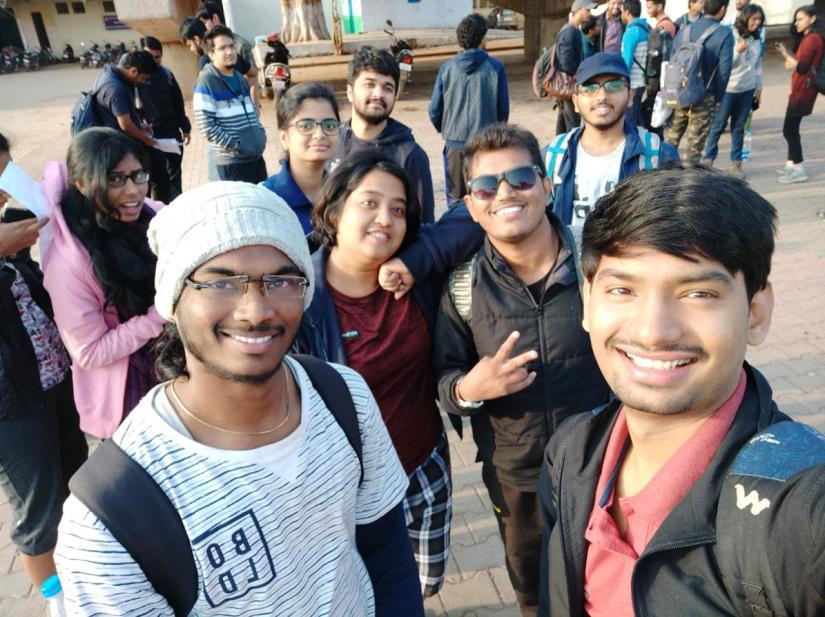 We can feel the cold winds from the chilly winters of Karnataka and Maharastra but had a lot of hot topics to talk to neutralize it. Later Nagasai joined us in the games. Hemanth joined too. Hemant looks like Sarwanand, a hero in Telugu industry. A nice guy though. Our enjoyment went to peaks after these two guys joined the group. Swetha, a kiddish, active Vizag girl tried explaining MAFIA game along with NagaSai but no one was responsive.
Later we slipped into our bedsheets to say good morning the next day in Hubli. The railway station was artistic, clean. We waited for a bus which carried us to Vibhuti falls.
Vibhuti is a beautiful waterfall. I took around 20 minutes to get into the water as it is freezing cold. It has no flat surface underneath. Uneven slippery rocks and was quite hard to stand still in it. Although you enter, you realize there are small fishes brushing your feet, a small tickling sensation. Later Nagasai revealed that there were some crabs too inside. We splashed water on each other, screamed, shouted, took a dip together, clicked pictures and later left for Paradise Beach on foot from Belkin beach at night using torch lights.
Paradise beach is a feast for nature lovers. It was quite a long time since I saw constellations so clearly. One can spend hours just gazing at them. Sounds of waves from one side, cold winter winds, bonfire, camping, all sources of happiness combined at a single place, it is a true paradise.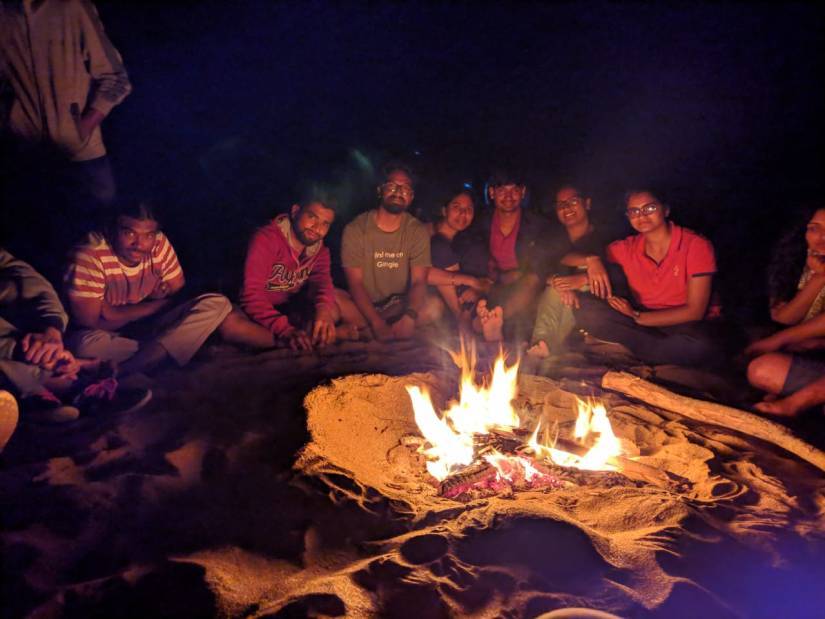 Some were dancing along the shores, some were building sand arts and some were singing retro songs. It was bliss.
Half Moon Beach, Full moon Beach and Om beach
The next day early morning, we left for OM beach. The cold breeze kissing your cheeks, the sun rays reflecting over the sea with golden shades, black rocks, beautiful girls. Altogether it was completely worth to travel to this place. OM beach was clean with fewer people, mostly foreigners. We had to wait for 1:30 hour for breakfast there. Some ordered Indian breakfast where puri sabji was served, I ordered English Breakfast.
We left for Hubli station from OM beach by noon and boarded the train for Secunderabad in the evening. Had a chit chat with Vizag cuties Ramya, Monika and Swetha throughout the return journey.
A joyous journey came to an end creating innumerable memories and priceless experiences.