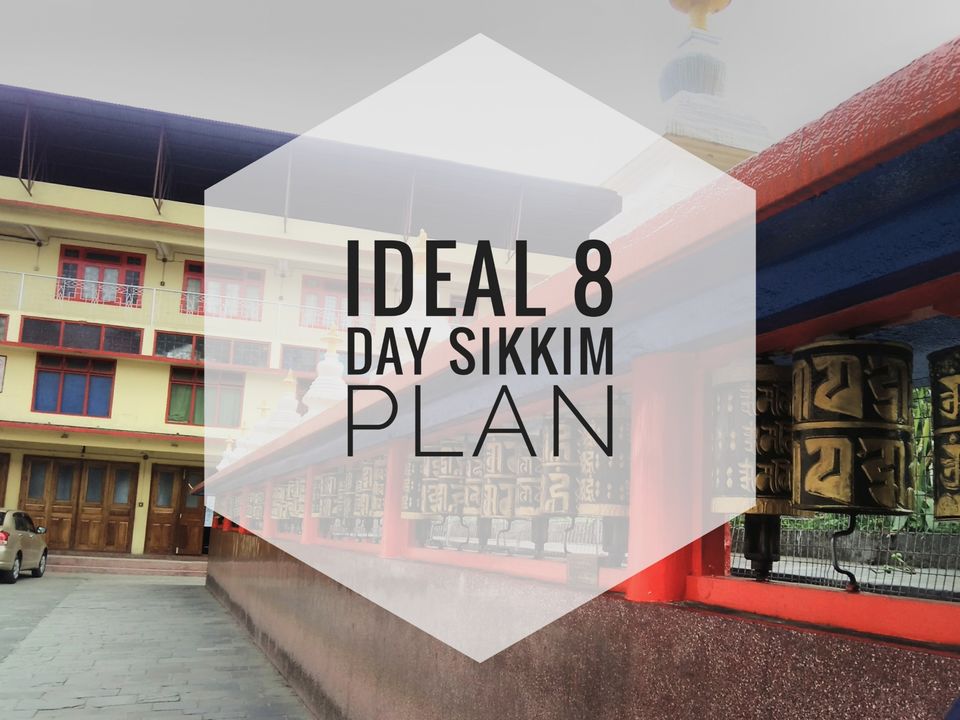 Arrive at the Bagdogra Airport or the NJP railway station, and proceed to Gangtok. Flights generally reach the airport by mid afternoon, and journey till Gangtok is a minimum of 4 hours from both, NJP or Bagdogra. So rest of the day, is at leisure!
Today, get your permits from the tourism department of Sikkim to Nathu La pass, Gurudongmar Lake, Lachung and if possible Zuluk. Generally, it takes couple of hours for granting permit, so in the mean time, you can go on a local sightseeing tour. (Refer my YouTube channel).
A small piece of advice here. Just get all of this done through a local travel agent. They're very nice and kind and will help you plan your trip accordingly and also, they arrange for the permits etc.
Today, proceed to Tsomgo Lake, Baba Mandir and Nathu La pass. Nathu La is generally closed during snowfall, and mostly inaccessible during winters. More about Nathu La and Baba Mandir after the itinerary. It almost takes up a full day to return back to Gangtok.
From now on, your North Sikkim trip begins. Start towards Lachen early in the morning, so that there's not much of a traffic on the way. It takes almost 6.5 to 7 hours to reach.
Note: No lowgrade plastics are allowed beyond Chungtang. Not even mineral water bottles. Make sure to either carry or purchase them from the local stores.
Early in the morning at around 4, will you be proceeding towards Sri Gurudongmar Lake. It takes around 6 to 7 hours to just reach the Lake. Therefore, the drivers make it a point to start early and breakfast enroute. Come back to Lachen by afternoon for lunch. Post lunch proceed to Lachung. Stay at Lachung.
Today, visit Yumthang valley, and zero point (generally not included in the package, unless otherwise mentioned), so in the latter case, make sure to negotiate with the driver and visit that place. From November to mid June, there will certainly be snow, but they say that it's snow covered throughout the year. Come back to Lachung, have lunch and visit Katao. If the visitor timing at Katao is at morning, then put it first, and then plan the rest accordingly. Stay at Lachung.
Today is when you're returning back to Gangtok. Start in the late morning, leisurely and reach Gangtok by evening. Rest of the day is at your disposal. Stay at Gangtok.
Proceed back to NJP station or Bagdogra Airport for transfers to your city. Tour ends with happy memories! :)
Some important things:
- Do not forget to carry some food to munch on, as the drivers hardly take a break apart from lunch, also, there aren't sufficient restaurants or cafes to satisfy your cravings, so it's much better to satisfy your cravings with your carried food!
- Cameras with enough memory are a must!
- Nathu La is the Indo - China border and only 60 civilian vehicles are allowed everyday. So if you aren't able to go there, it's fine, happens with the most!
- Baba Mandir has an interesting story behind it naming as Mandir, which is about Baba Harbhajan Singh, an army officer at the border, who was killed(or mysteriously disappeared) at the border area. Must read! Or hey, the drivers will narrate the whole thing before taking you there! :)
- As mentioned earlier, lower grade plastic is not allowed beyond Chungtang.
- Warm clothes are a must! Carry them with love ;)
For more information, here's my YouTube video: https://youtu.be/DbUCN7ocOCo
YouTube channel: https://youtube.com/827ss