#CoffeewithTripoto
Not all trips are always planned and not all trips turn out the way you planned. We decided to go to Coorg (hill station near Bangalore) for our friend's birthday but due to sudden change of events that morning, we had to cancel and search for another location which was near to Bangalore and exciting at the same time. This was in the month of August. We jumped into the car not knowing where to go and decided to figure out the destination on the way itself. After a lot of research (about 10km worth of research) we decided to finally go to Bheemeshwari.
Bheemeshwari, a perfect destination for nature lovers and eco-tourists, is about 105km away from Bangalore. The drive for the last 20-30km was a very bumpy one but the destination was as beautiful as it could get. The ideal time for visiting Bheemeshwari is from July-October (just after the monsoons). We started from Bangalore at around 2P.M. in the afternoon and reached the place at 5:00 P.M. Our main motive was to go for white water rafting of Cauvery River. As soon as we reached, we were told that rafting was closed and it also needed prior bookings. The Bheemeshwari Jungle Lodge (bit expensive) was also full and there were no rooms left. The manager suggested us to take a room in the Hotel Mayura Gaganchukki shimsa (Shivanasamudra falls) handled by the KSTDC. The lodge was around 65km away and we headed towards it. This took us another 1-1.5 hours and we finally got a room and settled there by 9:00 PM. Since there was no other activity to be done there we ordered dinner and went to sleep.
The next morning, to our absolute amazement, we got up to this view (picture below).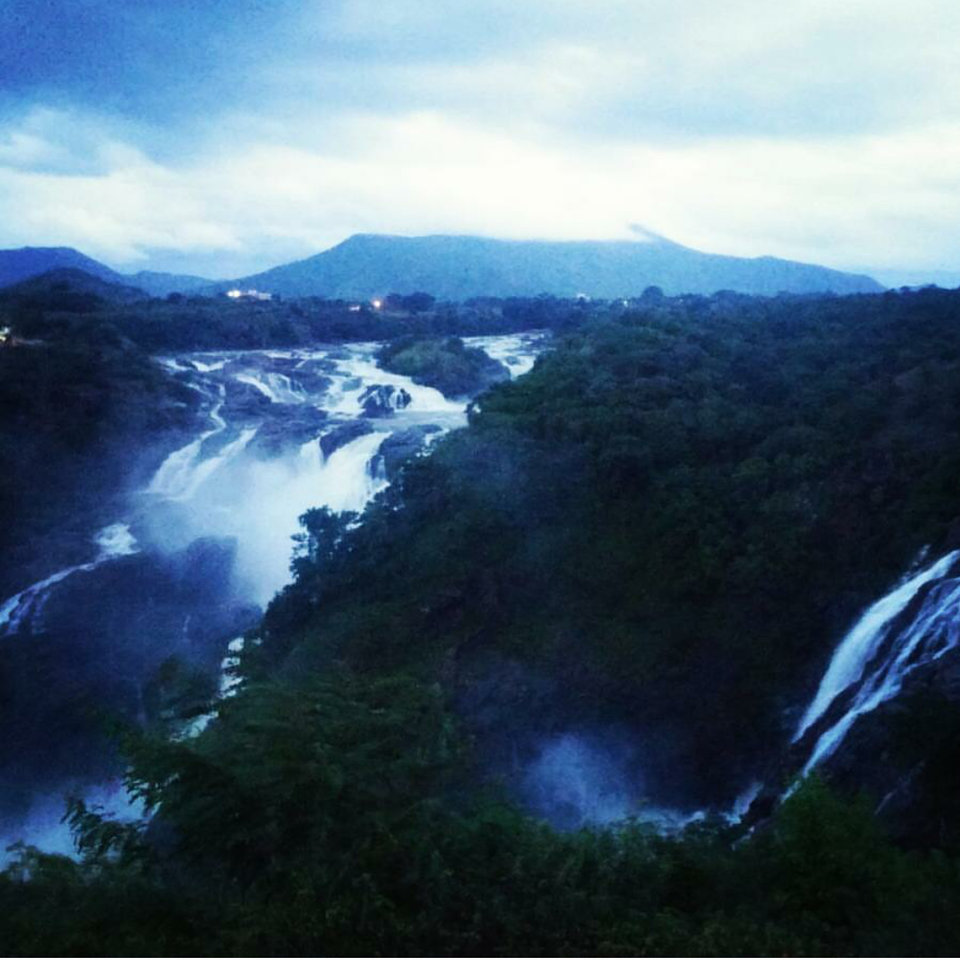 It was something extremely picturesque and extra-ordinary view. We were glad to have taken a room in this lodge and the next thing we knew, we freshened up, had our breakfast and headed towards the falls. We also went for coracle ride there, drenched and played in water and headed towards the rafting activity in Bheemeshwari. We reached there at around 11:00 AM and booked our rafting tickets. The rafting was around Rs. 1000 per person and lasted for about 2 hrs. It was an 8km stretch and of level grade 2+.This was by far the most memorable experience we had. We thoroughly enjoyed ourselves through the rapids and even jumped into the water. For people who have already done rafting in Rishikesh this might not be as thrilling since it is just grade 2+, but if you are a first timer you would surely enjoy this activity. It is thrilling and adventurous but if you are worried about the safety, let me tell you that you are given life jackets and there will be a guide (ours was a professional from Rishikesh who often comes to Bheemeshwari in off season to earn money) throughout the journey. If you follow the instructions of guide and not do any stunts of your own, well you are safe and good to go!
We finally completed the stretch in less than 2 hrs and headed back to the jungle lodge for having lunch there. The jeep journey was another awesome part of the journey. The lunch buffet was equally awesome and since we were really tired and hungry we gobbled up like anything. Finally we left at around 4:00 PM from there and reached Bangalore at around 7:00 PM. We continued the birthday celebration of our friend in Prost brew pub in Koramangala and returned to our respective homes after enjoying ourselves thoroughly for 2 days!