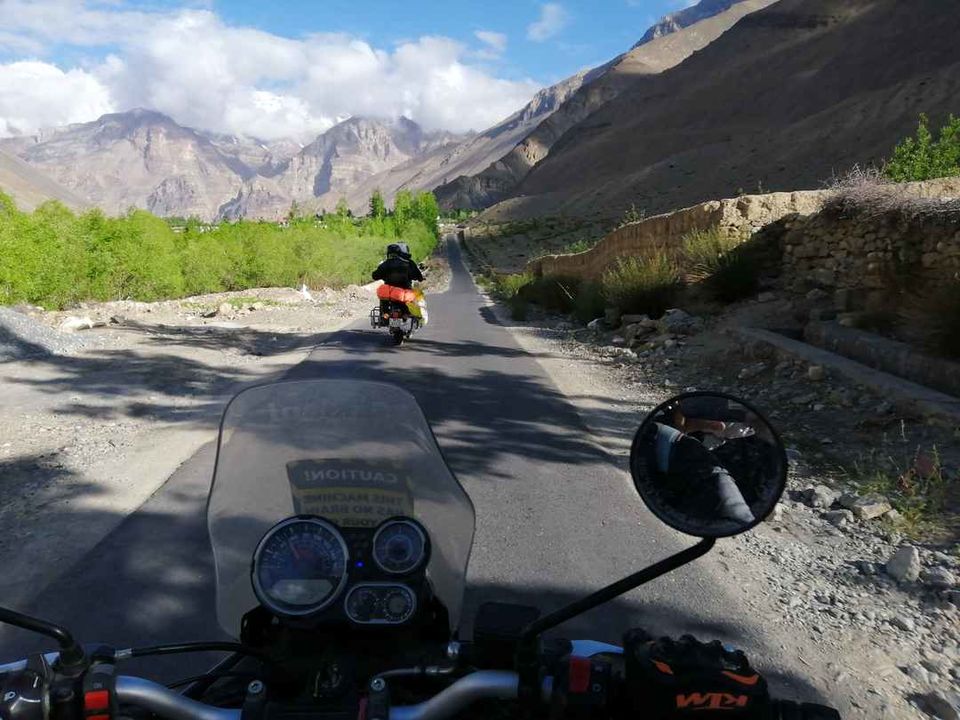 Riding on Himalaya is a "dream come true" trip for bike enthusiast across the world. People plans for months (if not years) to execute this trip, and it demands a hell lot of planning. My group has been wishing (not planning) to go on this dream trip for last 3 years, we have been reading different blogs, talking to different tours and travels, meeting up with riders who have experienced the thrill FIRST hand. But due to some reason other our wish couldn't see the light of the day. As luck would have it, recently all four of us decided to plan a trek somewhere on Himalaya, we had 3 complete months to complete the planning, but lazy us! We didn't plan anything until the last week. We wanted a challenging trek in our budget, but our odd travelling dates and smaller group of 4 people made is really challenging for us to crack an acceptable deal. Again we lazy asses didn't care much about doing some booking or planning.
Five day before our non-planned trek Vivek suggested to go to SPITI valley on bike. Tempting though it was! We were not sure because we didn't do any planning or booking, but we didn't have any other option left. We hurriedly booked our tickets to Bhunter (near Kullu), luckily we were travelling on a Monday, so we got last few seats. Vivek booked 2 bullets from Bhunter. The Rohtang pass was closed (actually the Kunzum pass that connects Rohtang pass to Leh was not opened due to heavy snow), and going through Rohtang pass required taking written permission from authorities, that again we didn't take, moreover the overenthusiastic travelers had already crowded the Manali and Rohtang so we thought of avoiding that route. Our little research enabled us to plan an alternate route to Spiti valley, a road less taken by bikers! The route starts from Bhunter, here is the map of our route!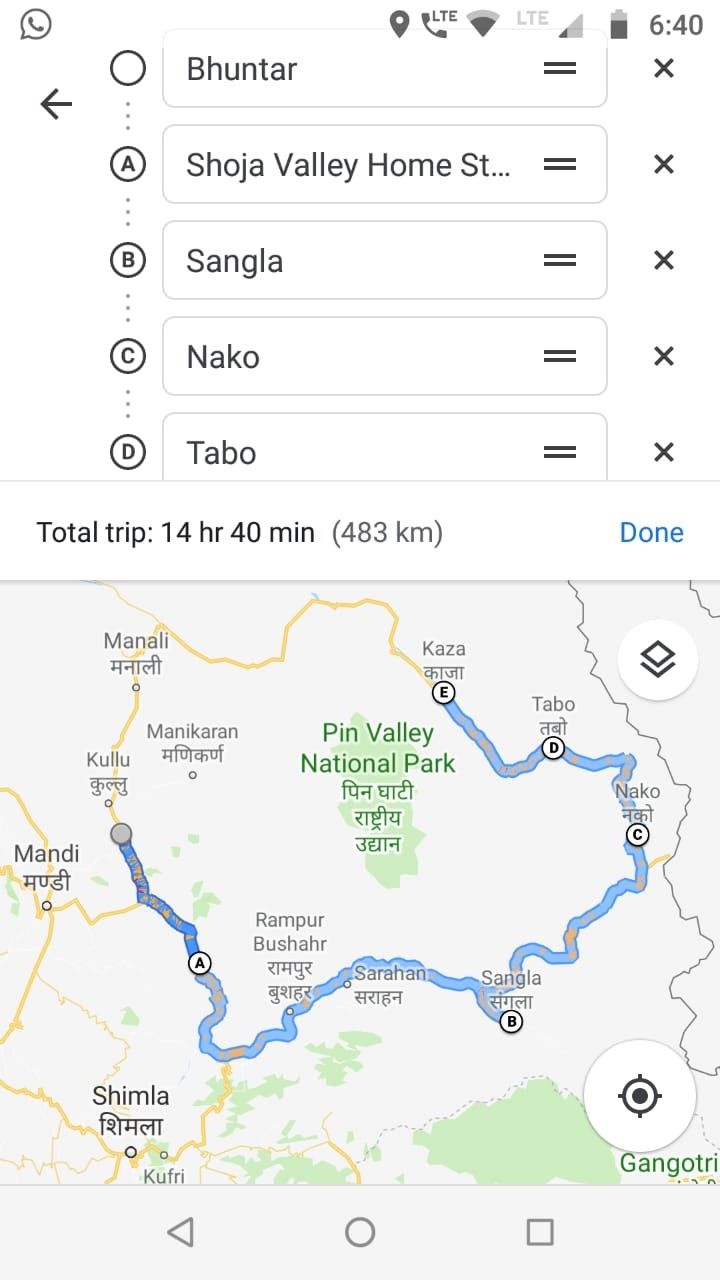 Sunday 9th June: Two of us had to travel to Delhi from Bengaluru, we boarded our late evening flight and reached Delhi late night. Our misery started right from our flight, the airplane had some fault in the engine, as soon as it landed we saw the mechanics popping the plane engine and fixing it vigorously. 1am at night at Delhi, we were greeted with 40 degree temperature, but it couldn't melt our love for the capital city! We boarded our Ola cab and off to our friends' place, where we plan to rest before catching our bus to Bhunter at 7pm. Our cab driver was a typical Haryana guy making sure to touch 100km/h whenever he got a chance. Our speedy journey soon met with a bump when our cab broke down midway,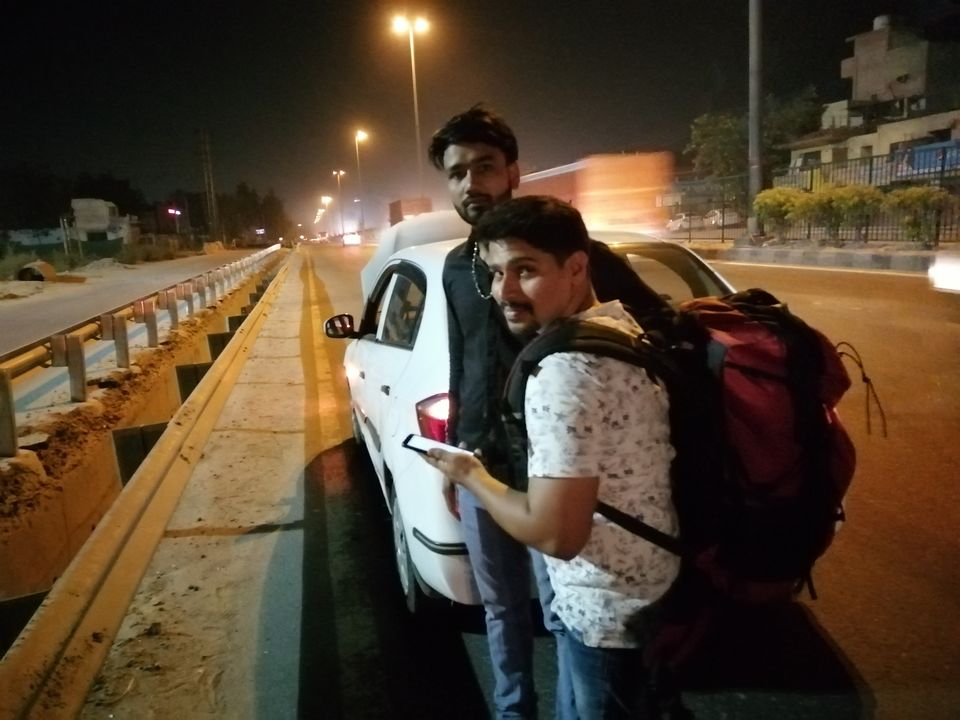 But the readily available Ola helped us sail through and we reached our destination around 2:30 am.
Monday 10th June: We decided to leave the house by 5:00 pm to catch our bus, but thanks to our laziness and super positive attitude we could only leave the house at 5:20 pm. All four of us had to go from Manesar to Kashmiri gate bus stand, metro was the only option if we were to reach on time. On a very tight schedule, we reached metro station, Anish rushed to get tickets for two of us, the other two were responsible Gurgaon citizen and were carrying metro card. Hurriedly we reached the platform and boarded the metro, only to realize that Shishir's metro card was not working and he couldn't catch the metro, we engineers decided that Vivek would get down at the next metro station and bring Shishir along, the rest two would go to Kashmiri gate and try to delay the bus. The metro however was moving fast and we reached Rajiv chowk in 30 mins, submerged in the discussion Anish felt some un-comfort with his bag, when he looked closely he realized that it was not his backpack that he lifted at metro station. Panicked! we started tracing the bag, upon speaking to Vivek and Shishir we realized that even Shishir's backpack was misplaced at the metro, it took us 5 mins and 2 metro station to figure out that Anish's and Shishir's bags were interchanged with each other, Thank God! We reached the bus stand, again our sheer luck, we not only got the last seats but the emergency seats (no support in front of the seat)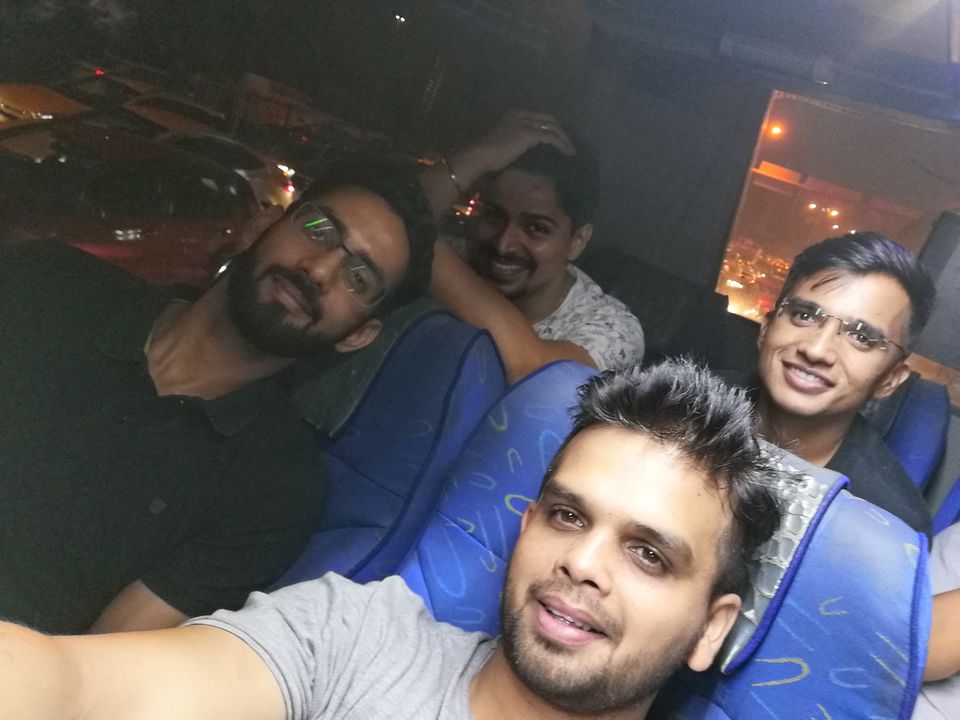 and every time the bus driver pushed the brake pedal two of us seating on the emergency seat were getting dislodged from our seats.
Tuesday 11th June: Our bus was stopped for quite a while, we were still an hour and a half away from Bhunter, a little inquiry made us aware that the bus was broken down, the bus helper asked 12 of the passenger to board another bus, the rest would be transferred in the next bus, half sleep we 4 rushed to towards the new bus! We were getting seriously late to start our ride! We already called the bike rental and requested them to keep our rides ready as we were getting late. Satyam Bike Rentals, is located just opposite to the Kullu airport,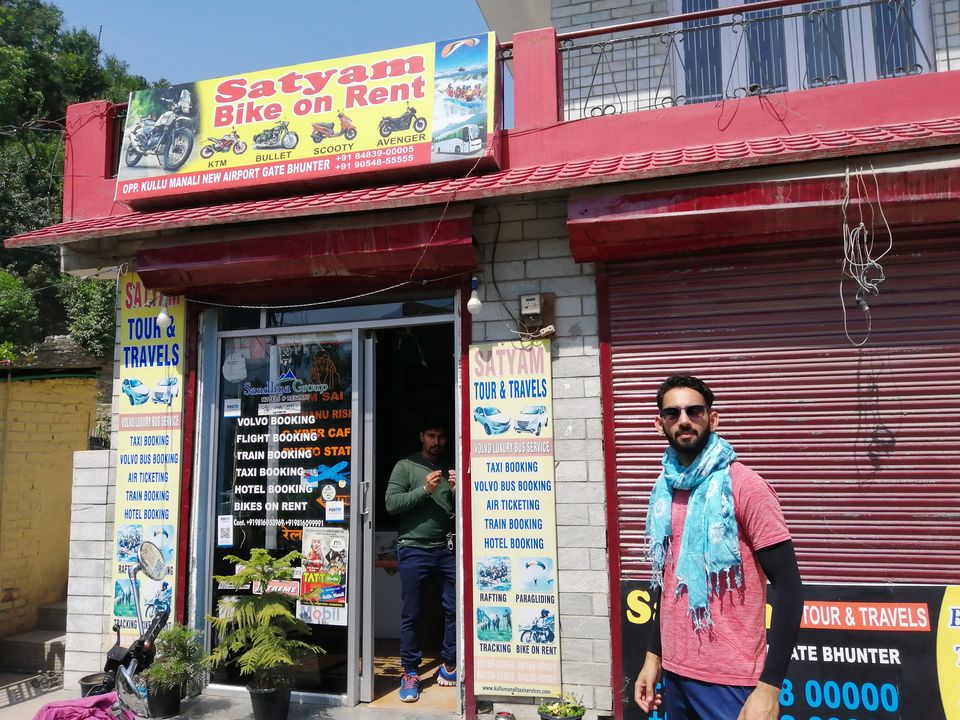 Our bus dropped us right in front of the shop. We met Aman, our bike rental guy, everything was set expect for one of the bullet, its key was missing, he requested us for 30 more mins. We decided to take our breakfast and get ready meanwhile.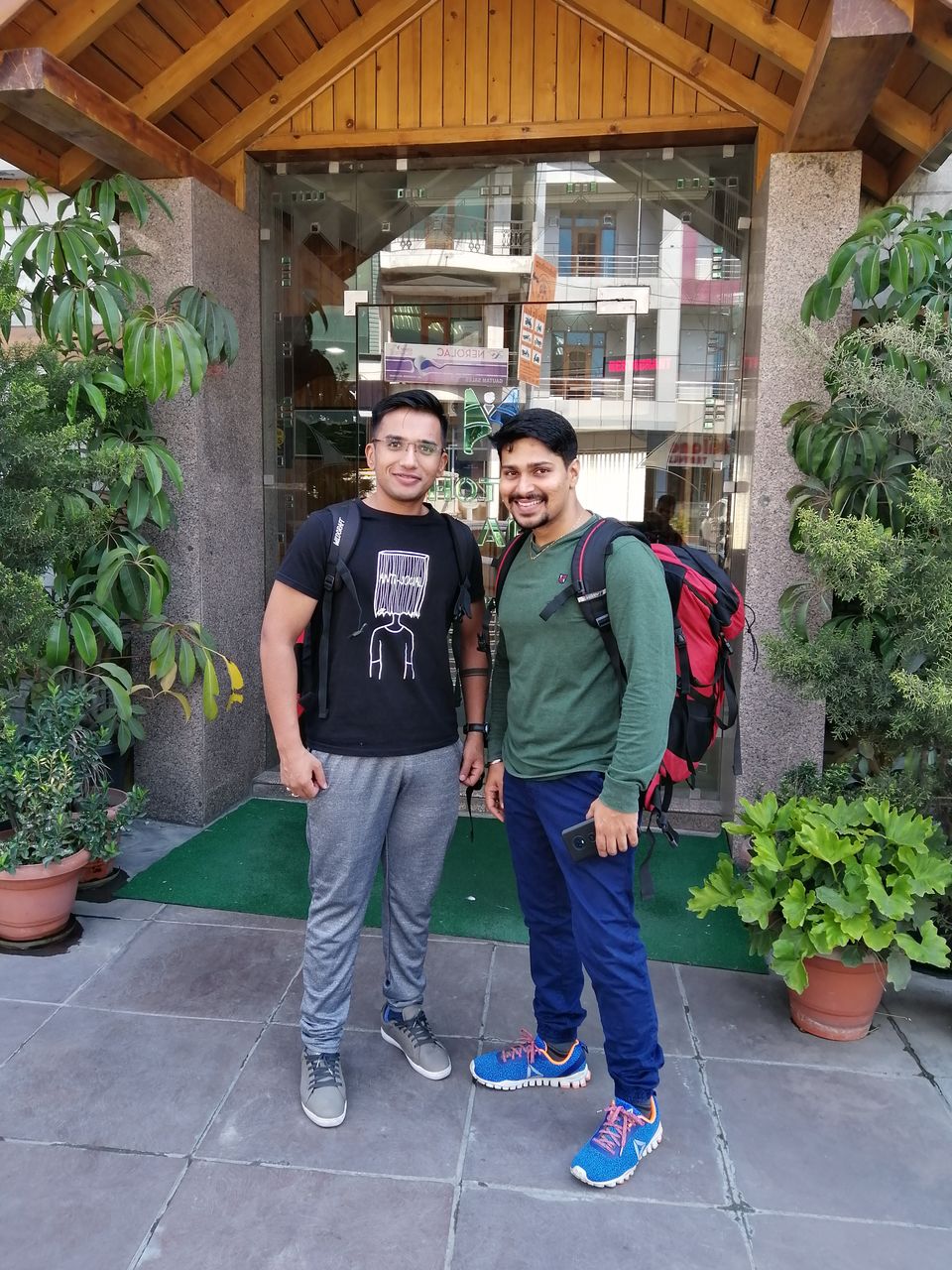 After an hour when we reached the bike rental shop, the key was still not ready, Aman had called up some duplicate key maker guy and he already broke 2 keys before deciding to give up! Aman started giving stupid reasons like, "You guys should have come by 7", and "I am struggling because of you guys" (Guys, please don't book your bike from Satyam Bike Rentals, they are cheat and careless). After arguing for 40 mins, we decided to take one Himalayan for extra cost and leave that place.
The journey begins: 1 Royal Enfield Bullet, 1 Himalayan, 4 torn out bad smelling helmets without visors (thanks again to Satyam Bike Rentals) and 4 of us. The bike rental guy suggested to buy 2+2 petrol vessel and a pair of clutch and break wire for both the bikes. We fueled bike tanks and purchased 2 petrol vessels, we also bought a break and clutch wire for Bullet, we didn't find clutch and break wire for Himalayan though. Our bikes loaded with luggage, fuel and excitement we rode off.
Our first stop was Shoja village, Shoja is approx. 57Kms from Bhunter, we started around 11:30 in the afternoon and decided that we would make our first night stay at Shoja. Bhunter was hot and dusty, we tried speeding up the bike to leave the main high way and hit the road to Shoja. The road starts right after the Kullu tunnel, take the left turn and there you go. The weather gradually transitioned from hot sunny to mild windy to rainy in next two hours. Shoja is around 2692 meters from sea level nearly 500 meters above Bhunter, which meant that we had to make an ascend. The plain roads worked as a warmup ride for us before we started riding on elevations. Few Kms up the mountains we realized that Royal Enfield bullet was not able to pull the ride, repeatedly we had to put the bike in 1st gear, Himalayan performed above expectation (Please prefer Himalayan over Bullet for riding on mountains, it offers better power, handling and ground clearance). On the top of it was - mountain rains and below that our un-prepared asses! -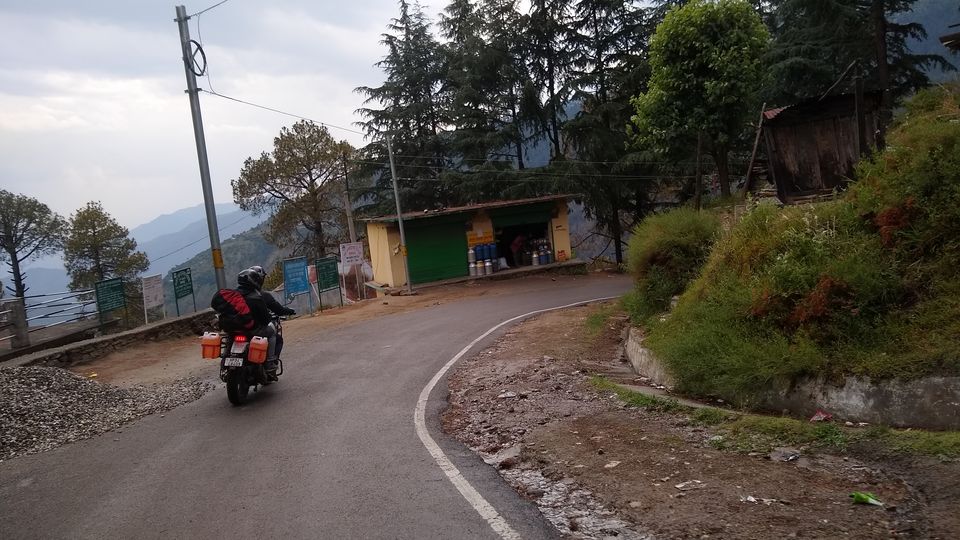 We didn't even bought rain coat or polythene covers for bags. Thinking our clothes in bags would get soaked, we stopped for the rain to subdue, Anish went looking for some polybags to cover our luggage- desperate time desperate measures – Anish looked for polybags in dustbins, on roadside, on small shops, finally he found some old empty cement bags, after little engineering we were able to partially cover our luggage using that bag and decided to move ahead.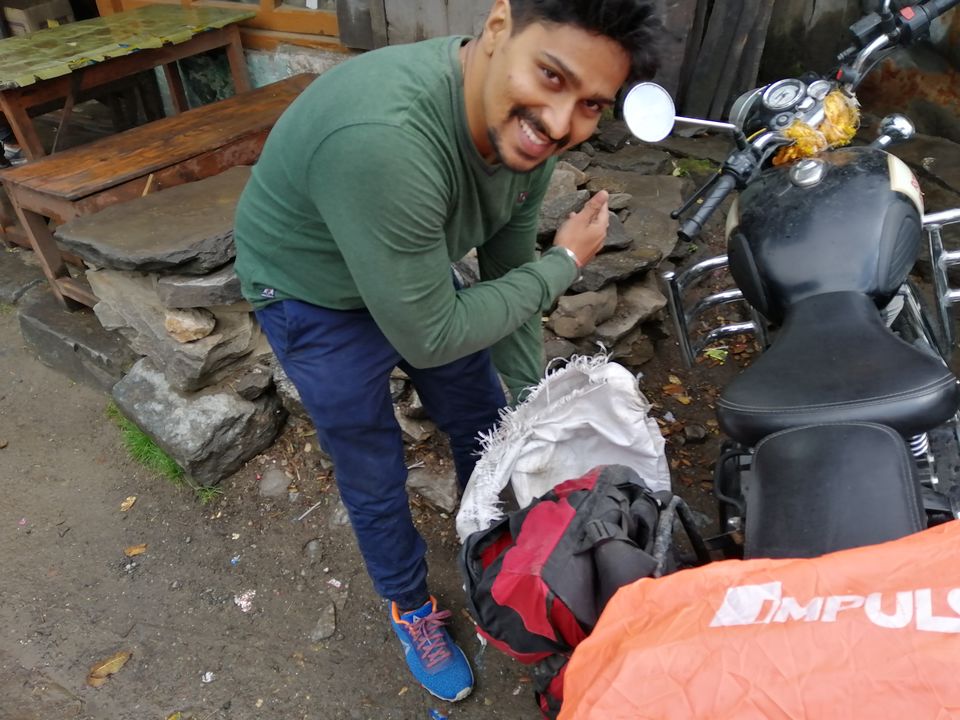 The bullet was giving up again and again, we somehow managed to pull it up to Jalori pass. Jalori pass is around 5Kms from Shoja with an approx. elevation of 3120 meters from sea level. 5Kms on narrow Himachal road took us 30 mins. The pass is at an elevation w.r.t. surrounding area, so the problem of Bullet not being able to pull up at the elevation was not much of a problem for next 100 Kms. Tired, soaked and hungry, we decided to take our lunch at Jalori pass, there are few dhabas near jalori temple, we had the famous mountain maggi, omelette, chai and rajma chawal.

Jalori pass was quite cold, our rainy ride made it even colder. Jalori pass is famous for 2 short treks – one leads to Serolsar Lake and other will take you to a Fort.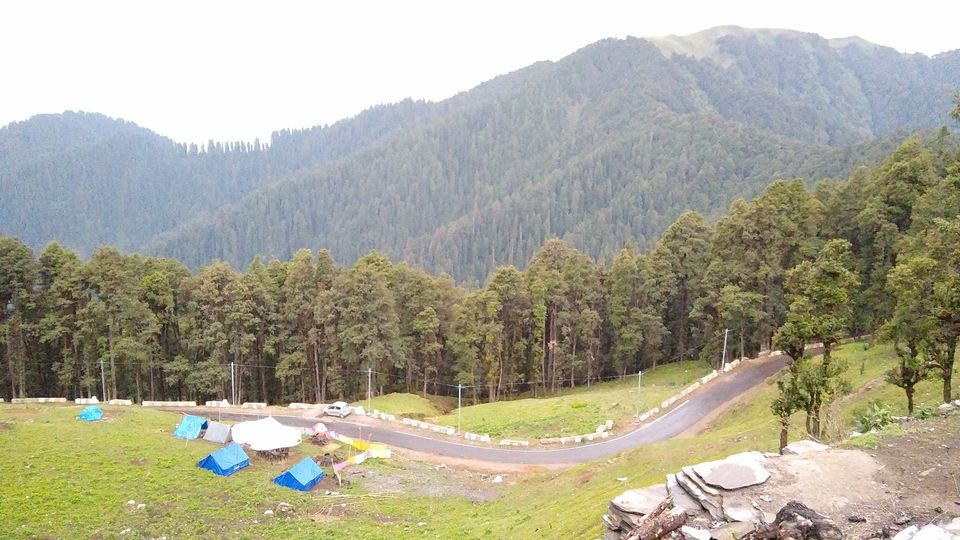 We spend approx. 30 mins at Jalori pass, we also enquired about home stays near the area and got to know that 5kms down the pass we would find nice homestays. We decided that we would check those homestays and chose one for our stay! Road coming down from Jalori pass, leading to Rampur was a picturesque treat! Coupled with a nice windy weather, with yellow flowers outlining both side of the road and mountain bending into a majestic valley just under our bike, the whole setup was an absolute beautiful!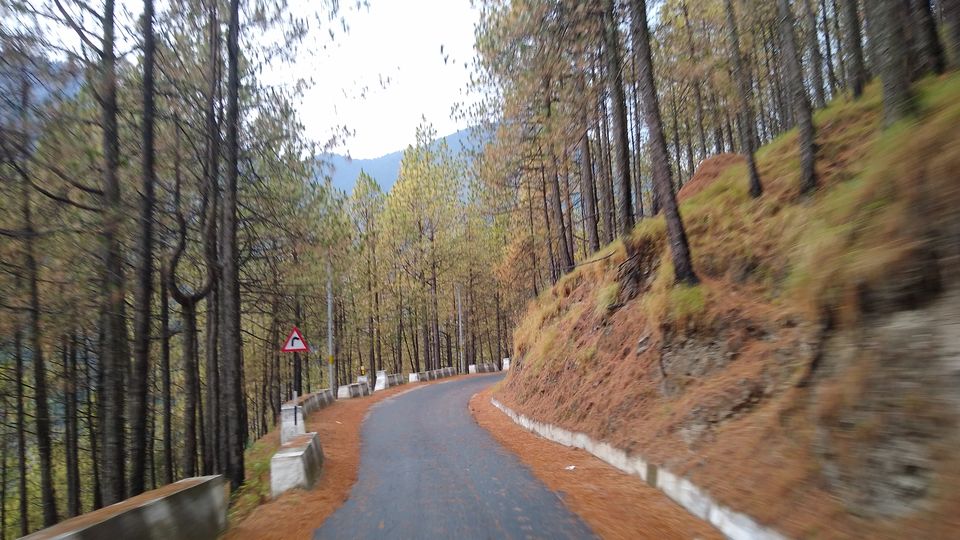 We were enjoying the ride so much, we decided to pull it beyond Jalori village and find some homestay ahead on our route. We crossed Khanag, Luhri and couple of more small villages, at one of the village we found a bike repair shop (the guy couldn't fix the issue but he did some engineering with the brakes, again that was not fixed). There are plethora of homestays, chai joints, small restaurants and few mid size markets on this route. As we kept crossing the small villages and kept inquiring about the homestay we realized that we could pull the ride upto Rampur, being a city we were hopeful to find good homestays/hotels and restaurants. Journey from Bhunter to Rampur is just 149 kms, but it takes 7+ hours to cover the journey, owing to mountain terrains. Shoja to Rampur is an absolute splendid terrain, with small settlements, deep mountain slopes, less traffic and a small river giving the whole tough landscape a feminine touch, the river met us at Nagan and merged in to main Sutlej River at Maholi. Meandering on the narrow breathtaking mountain roads we hit NH5 (that joins Rampur to Shimla) after Luhri. The view of a concrete NH after 5+ hours of slow and tedious ride was big relief, we stopped for a small tea break before conquering Rampur. The Highway is a real beauty, you can easily hit 100kmph on that smooth roadway. 35 kms after hitting the highway we reached Rampur, situated on the bank of river Sutlej, the city is colorful and has all the amenities. Sutlej running through the midst of the city and houses built on top of one another gives an exquisite look to the city.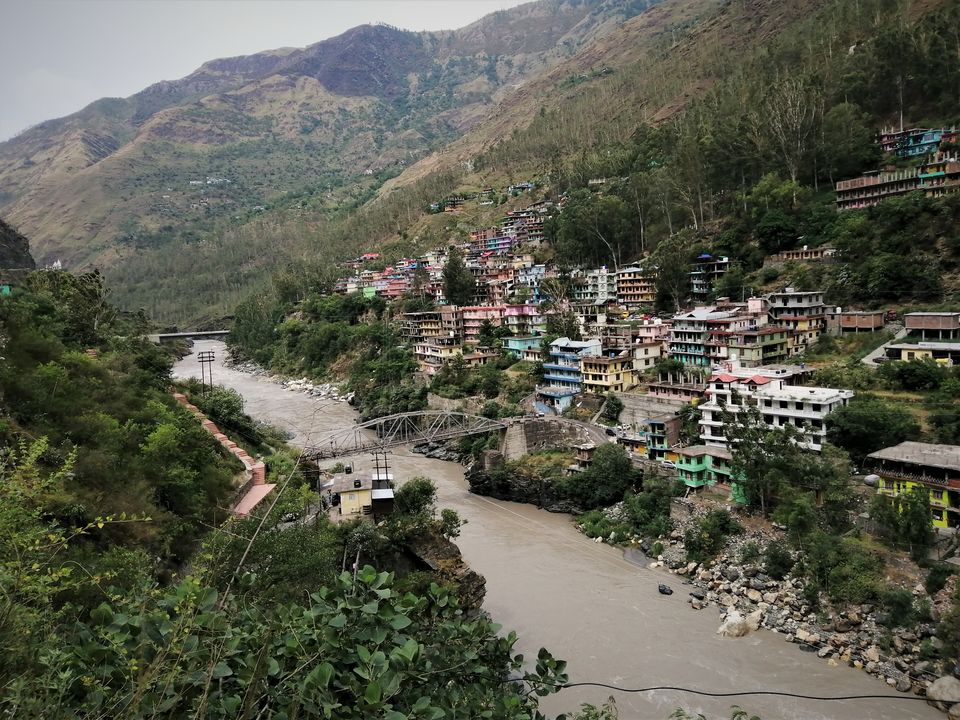 There is a small market situated completely on stairs, it is again a fascinating place to visit at Rampur. We reached Rampur at 7:30 pm, the evening has already set in and we didn't have any place to stay for the night. Frantically we started checking out hotels and homestay. Looking for about an hour we were able to book Shangri-La hotel (it is located at around 7kms from the center of Rampur towards Shimla (yes we moved back and forth to find it), the hotel is decent and is located just beside the road. It has a nice view overlooking river Sutlej, the room service is little slow but manageable. The hotel's restaurant is nice and cooks tasty food. Tired, hungry and soaked in sweat mixed with rain water we reached our room (they charged us 1800 for 2 rooms) and served dinner for 800 more. Talking, planning, playing our first day was ended!
Wednesday 12th June: We decided to leave earliest as we wanted to reach Nako by the end of the day. The real dream journey starts from here! The journey that will change the definition of beauty and reality for us! But before that we were in serious need to get the bikes fixed. Bullet – not able to pull through mountain slopes, Himalayan – Brakes were giving up on downhill due to heat getting generated around wheel discs. The bike repair shops all across Rampur opens at 9 am, we luckily located a shop next to our hotel, it opened at 9:15, by that time we got ready, all set to start the exploration. The bike mechanic rode both the bike and concluded that bikes were good to go, not sure about his capabilities, we decided to take the leap of faith and move forward with our journey hoping that the bikes would not break. We started at 10, before leaving Rampur we decided to get some cover bag to protect our bags from rain, some raincoats for us and fuel for the bikes. Arranging and buying everything took close to 1 hour and we left Rampur by 11:00 am (again late starters). The next day we planned a bike journey of 185kms till Nako, the journey would require 7+ hours, with really demanding terrain and uncertain whether. We managed to get plastic sheets and ponchos from Rampur's local market. By 12:00 pm, the rain was unmanageable, we stopped to put our rain gears to use, we waited for 1 hour for the rain to lessen in thickness, although we utilized the time having our breakfast, the restaurant was a good one serving delicious food and relaxing tea at a reasonable rate.
RK Restaurant is located just on the road, the place has a carwash facility which utilizes the water coming from a small tributary falling from a height, the waterfall makes the place more lively, eating food with the background sound of a waterfall gives you the feeling of a true mountain expedition!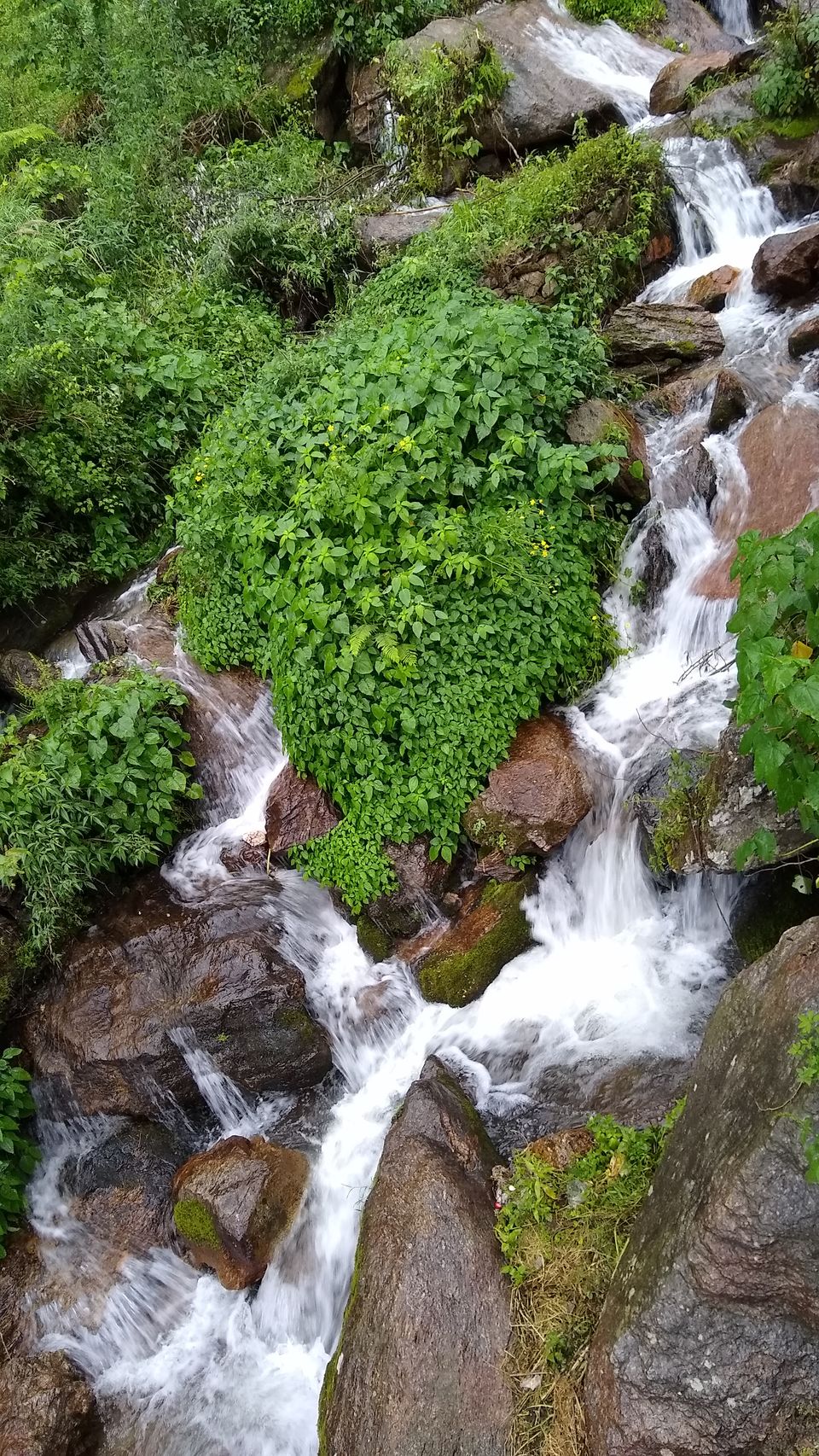 All set after our breakfast, we left as soon as the strong mountain cutter rain subdued into drizzle. Good thing about mountain rain – you can avoid it by changing valleys. Poncho-ed we moved on our machines.
The area from Rampur to forward till Pooh is heavily dominated by Rampur Hydro Electric Power, built on Sutlej, the developed infrastructure of the area is easily visible with wide roads and robust buildings!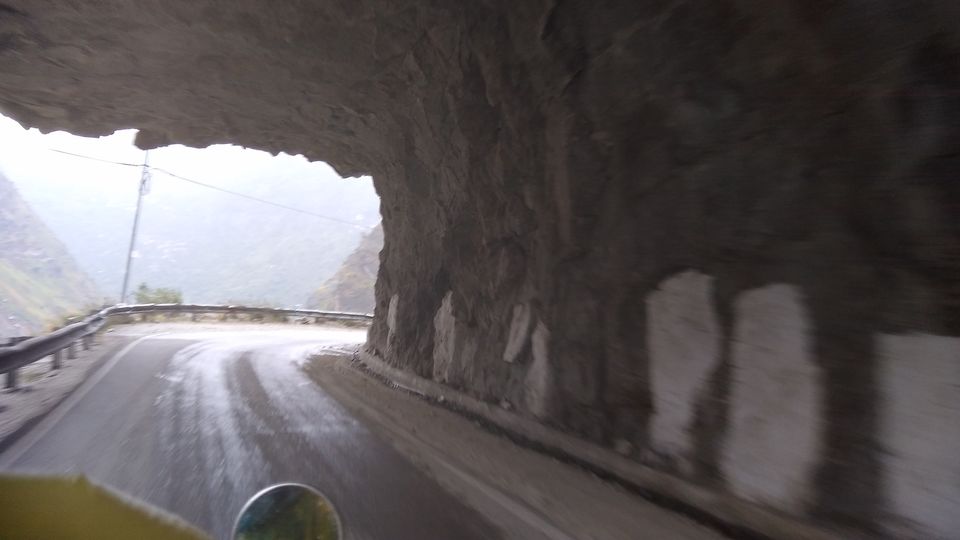 Coupled with cloudy weather and soft rain, a perfect ride one cloud aspire for.
The mountains are lush green throughput the stretch with snow top views at few turns. The ride is magical, one has to be there to believe it, it took us close to an hour to believe what we were seeing, a pure treat to body senses - the cold mountain breeze, freshness of the sun, sound of the river, and sight of mighty Himalaya covered in snow on the top and lush greenery at the bottom. We wanted to capture it all, in our mind, on our phone where ever possible. Though Sutlej seemed tamed for a short distance of our ride, the place where dam is constructed over the river, but for the rest, Sutlej is fierce, especially when the road meanders into an upward slope and leave the Sutlej flowing in between valleys. The NH05 connects India to China, the famous Pooh district oversees this highway, the proximity of a not so friendly neighbor on this route explains the installation of a military base in Pooh district and military checkpoints throughout the Spiti.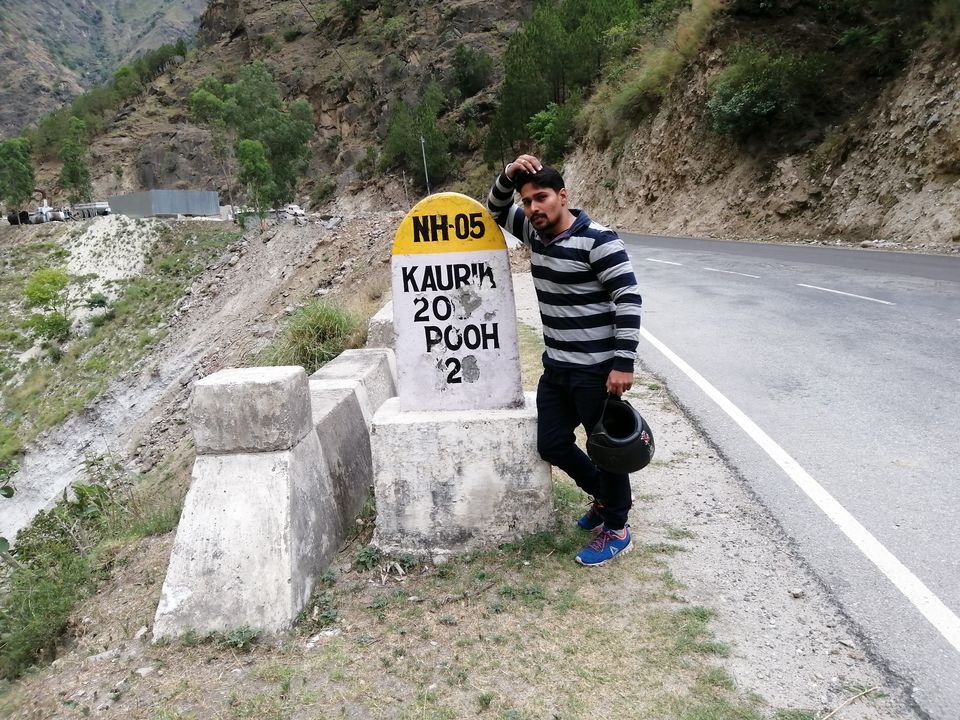 The rain created a sort of small muddy waterfall on our road to Nako! It gave us the first chill feel of Ladakh expedition.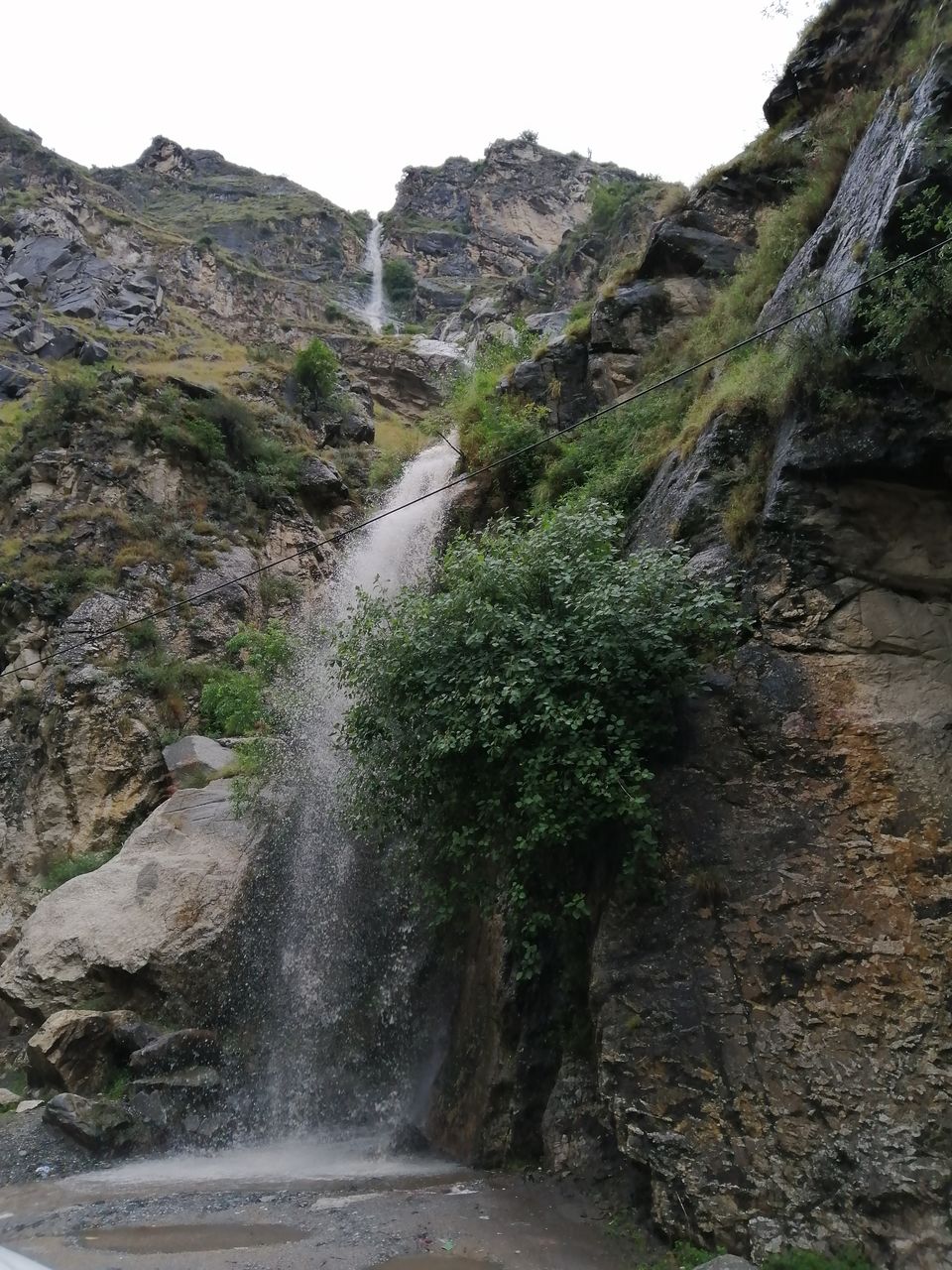 Appreciating the beauty of unrealistic Himalaya we crossed small towns – Jhakri, Ganvi, Tapri, kalpa, Pooh, near Khab NH05 takes a turn toward China and few Kms ahead disappears near the border!
We shifted to highway no. 505 and continued our journey towards Nako. On our way we also found a bike mechanics, frankly the bullet was a pain, it made us really skeptic about our decision of moving ahead, and all the mechanics we consulted on our way suggested that the bike is rideable, luckily the mechanics we found on this mystic route diagnose the problem as chocked fuel pipe, he replaced the pipe and took 650 for that!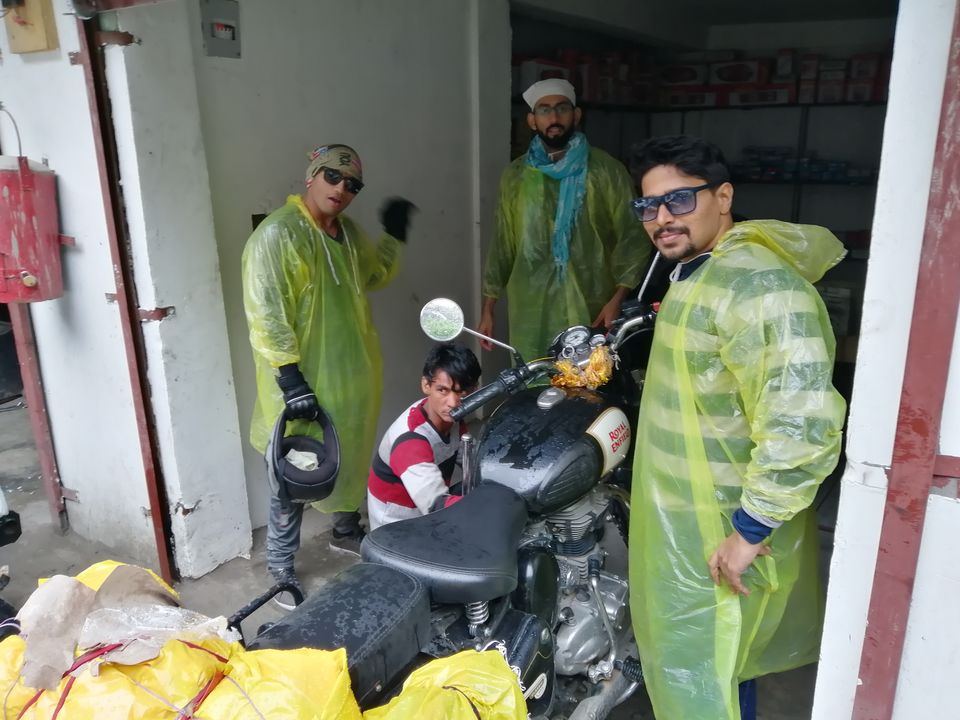 Somehow riding the bike felt less frightening after that operation! On the highway to Nako after Pooh there is a long stretch where there is no cafes, dhabas, maggi, there are a lot of mountain sliding areas, many a times the road disappear into broken ground with small rocks scattered around.
The stretch also has small river streams running across mountains, at places we found water dripping and scattering after falling on a rock above the road giving short water shower to passers. We planned to stay at Nako, we calculated that by 5 pm we would reach Nako and would find some homestay, after Khab, river Sutlej moves towards China and leave India with its tributary – Spiti River, once we reached Khab, it felt that we have arrived in Spiti! Few Kms after Khab came a loose concrete uphill, it was a work in progress, maneuvering through that terrain was one of the toughest task for us, and the stretch was around 5 to 6 Kms. Driving, skidding, falling, it took us close to 30 mins to cross that terrain,
we named it as an achievement for us and right after the stretch stopped at a dhaba to celebrate our victory.
We found few locals there, boasting about BJP!
Interesting thing happened after that cruel uphill stretch – we lost mobile signals! Hoping to get it back after few Kms, we asked the locals at dhaba about the mobile network, what we learned gave us a mixed feeling – Spiti only has BSNL mobile network! Meaning, we were stranded – no contact with outside world and no google maps navigation!
We were on our own from there! Time was around 5:30 pm when we reached Nako, for the actual Nako town we were required to take a right turn from our main road, we decided to find some home stay on our existing road instead of going into the village.
We moved forward, checked out some homestays from outside, spoke to few locals – none of us wanted to stay at Nako, we had time, even the route was clear with better roads, mutually we decided to head to Chango village. Chango was approx 30 kms from Nako, and we had to ride downhill so even if the bikes would have broken we would have possibly dragged them (thank God it didn't happen).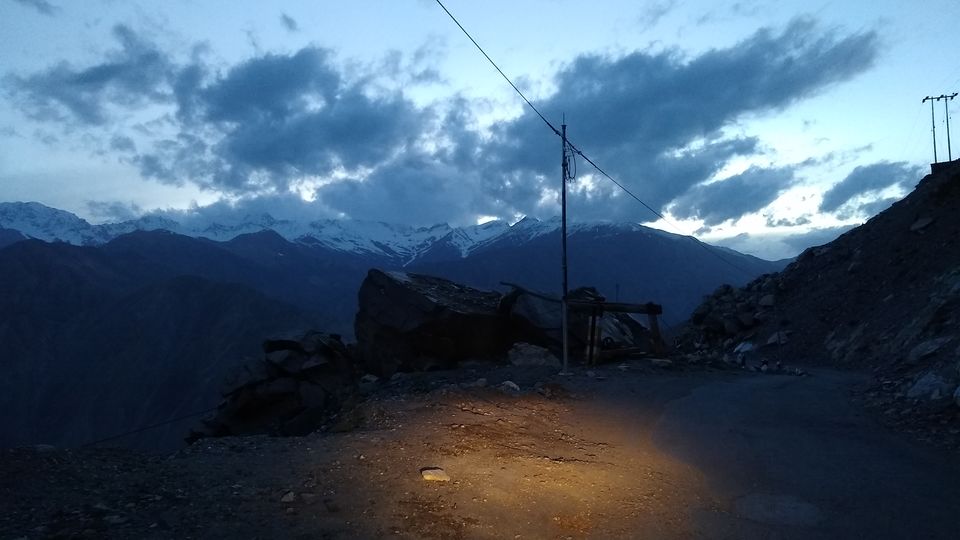 Nako village is situated on the upper part of mountain (not the peak though). We started our journey again, all tired and hopeful of getting a good dinner at Chango – in Nako we didn't find any good food joint on our highway and we were least interested to explore the village. Riding down, asking for directions from locals, drivers, travelers we reached Chango! Few Kms after we reached the downhill of the mountain we found a nice homestay- The Yellow Leaf! We also found "Spiti River" again, we lost it when we started riding uphill towards Nako. The Yellow Leaf is situated right on the road, a decent homestay, they charged 1000 for a nice room.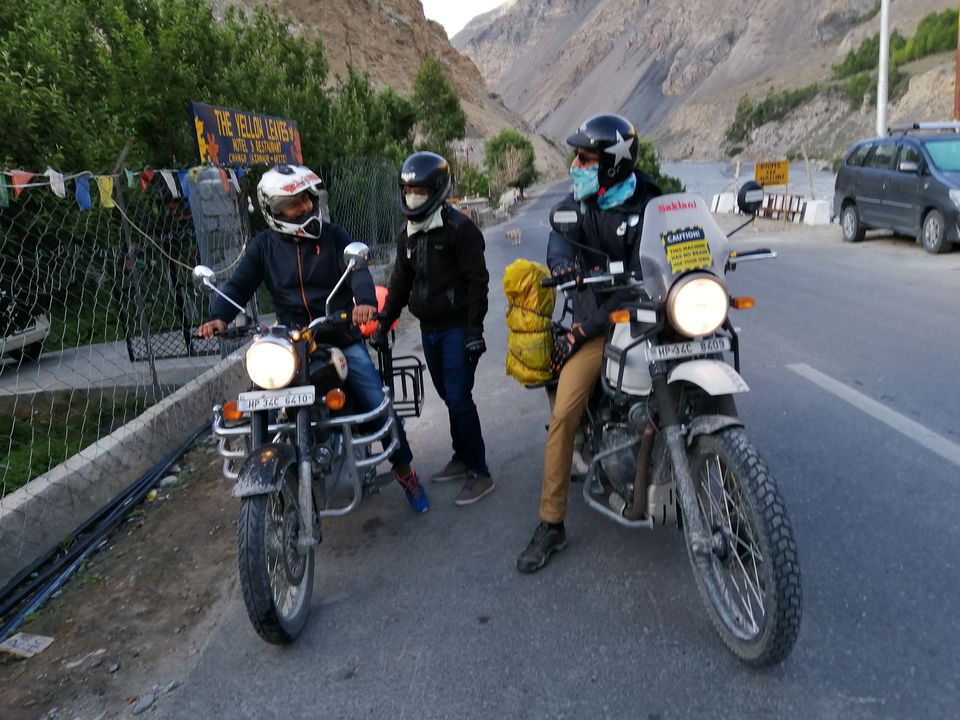 We requested an extra bedding, again they happily provided it, they also cooked us a sumptuous dinner and the caretaker had a BSNL mobile phone that he readily gave to everyone for calling at homes! Tired and exhausted we nod off! But before we could sleep carefree, Shishir found out that he had lost his ring somewhere while untying bags from bikes. Then began our search in the cold evening of Chango village! We looked everywhere but couldn't find it – hopeless! We slept!
Thursday 13th June: Tough day! We were supposed to ride from Chango to Kaza and back to Chango!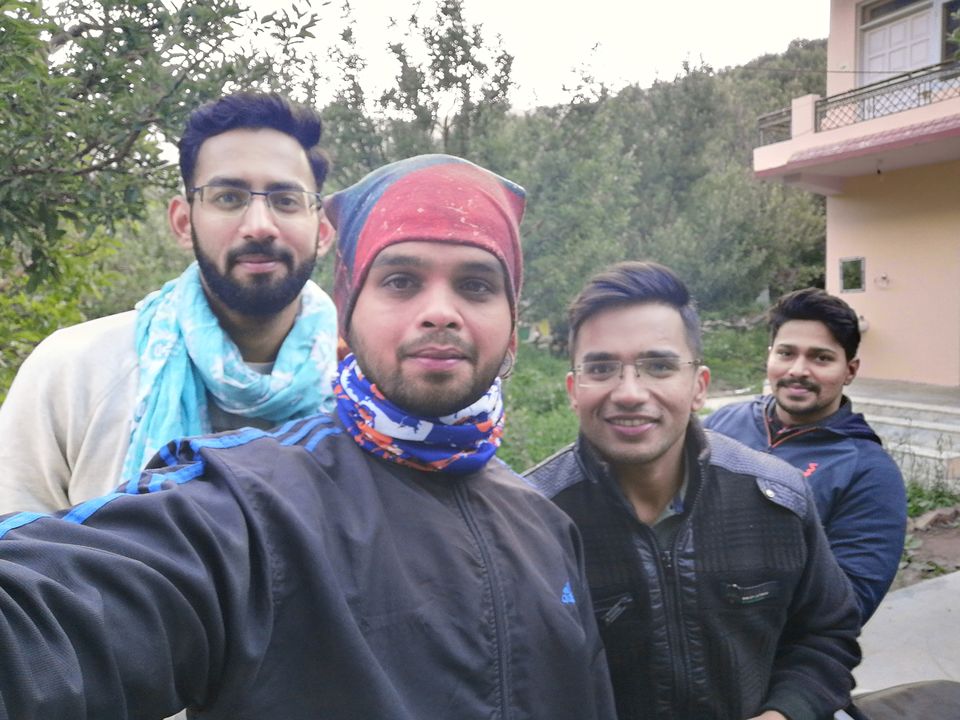 Chango to Kaza is around 90 Kms stretch, so we were supposed to cover close to 180 Kms that day. We earlier decided that we would probably come back to Tabo if we couldn't make it to Chango by the evening. We decided to start by 8 am in the morning! "The Yellow leaf" had few more travelers that day and we were sharing a common bathroom, so getting ready on time was a bit of challenge for us! We however left Chango by 9 am, Shishir found his ring in his bag, so we burned few more mins celebrating the treasure hunt victory! We decided to take our first break at Tabo and have breakfast, Tabo is around 50Kms from Chango and it takes around 1 hour to reach there. The road from Chango is a wide four lane, maintained very well by BRO. The morning cold, mountain freshness, Sound of Spiti River flowing beside and view of snowcapped mountains is a cream topping on the cake of imagination. The real terrain starts from few Kms ahead onto Kaza journey!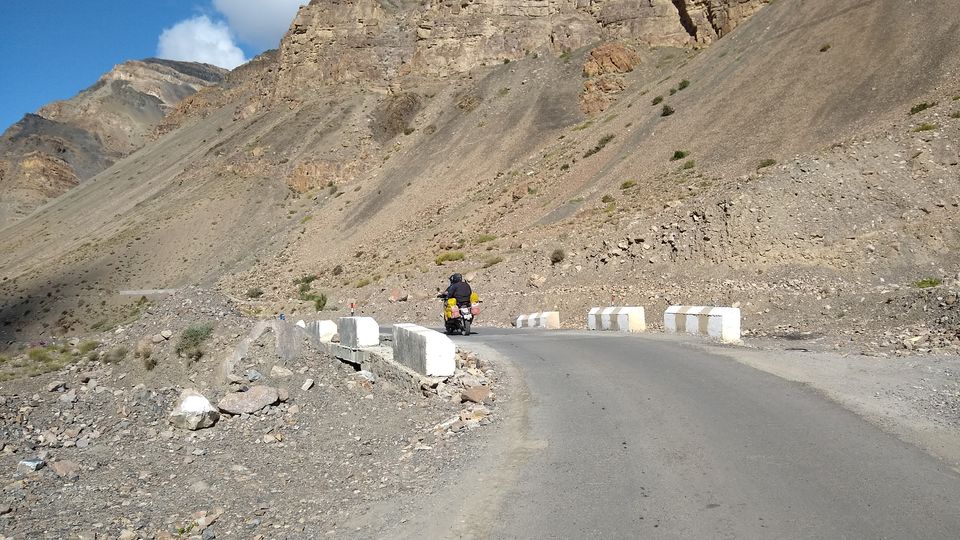 The lower mountains are no-more green, they actually seem frightening, the top is covered with white snow giving an impression of crown worn by mighty Himalayas. The view is too beautiful to be believed! The cold winds were making it difficult to ride at a higher speed even with riding gloves on. Few Kms down our route we discovered that we were low on fuel! Not sure if we cloud get any petrol pump on our way or in Kaza, our worries escalated! We however continued to move forward (we had no other way), the route to Tabo is a treat for riders, with roads less damaged, the ride is a combination of roads on the hills, and roads on the plains. The river flowing at a visible distant, and the police check posts stopping us before making an entry into a new village, made us feel that we were onto some serious deal. Best thing about riding a bike especially Royal Enfield products, you involuntarily join a virtual Clan, the Clan of the daredevils who ride their machines on the toughest terrains, the bonding among this unspoken group increases with every riders crossing you and giving you a thumps up! Best feeling! It feels like you belong to somewhere, you belong to a community! Back on our roads, Tabo arrived earlier than we calculated, we stopped for our breakfast at a nice and clean restaurant near Tabo monastery -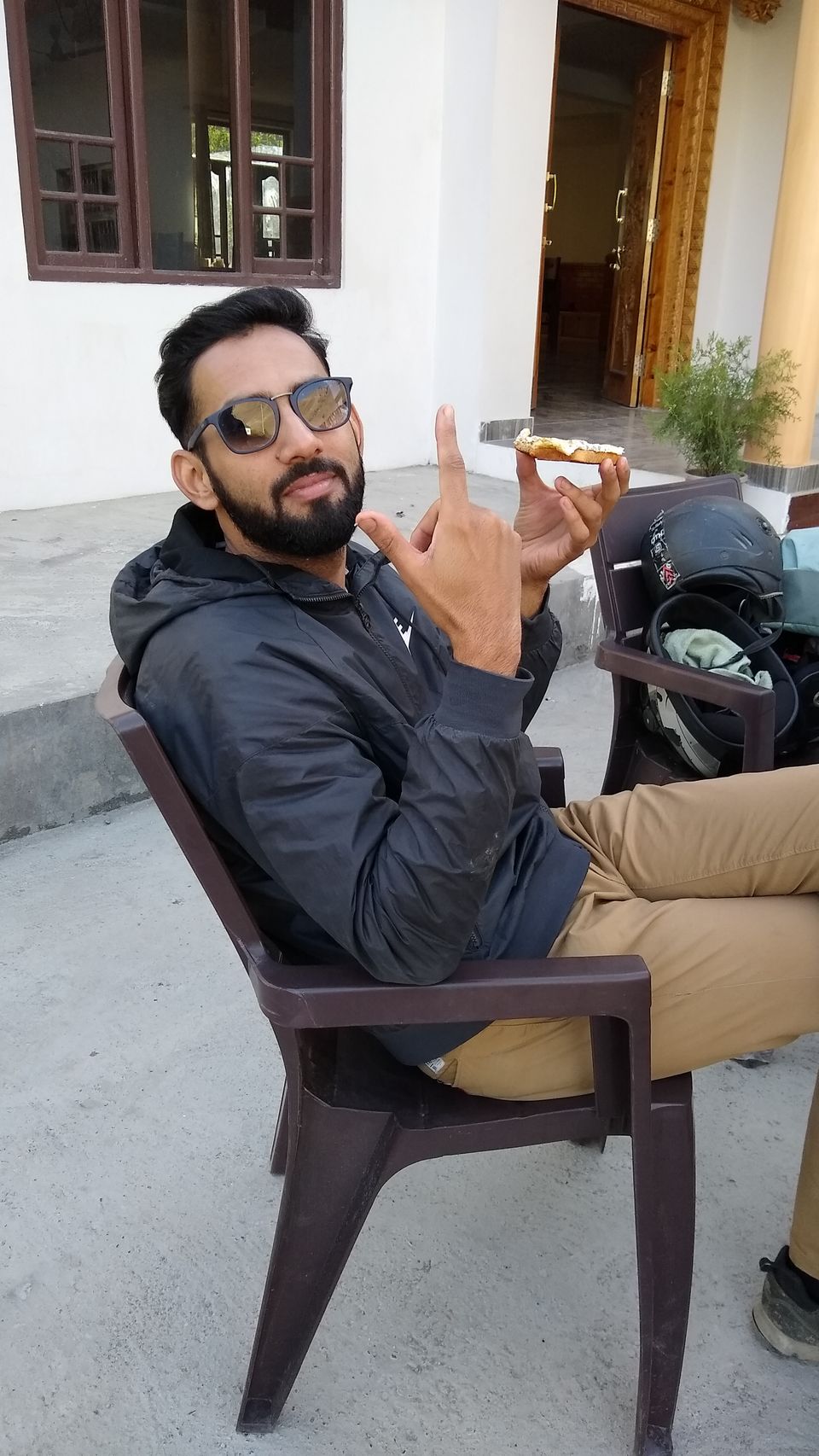 the food served at the restaurant was indeed tasty and the open air view was mesmerizing,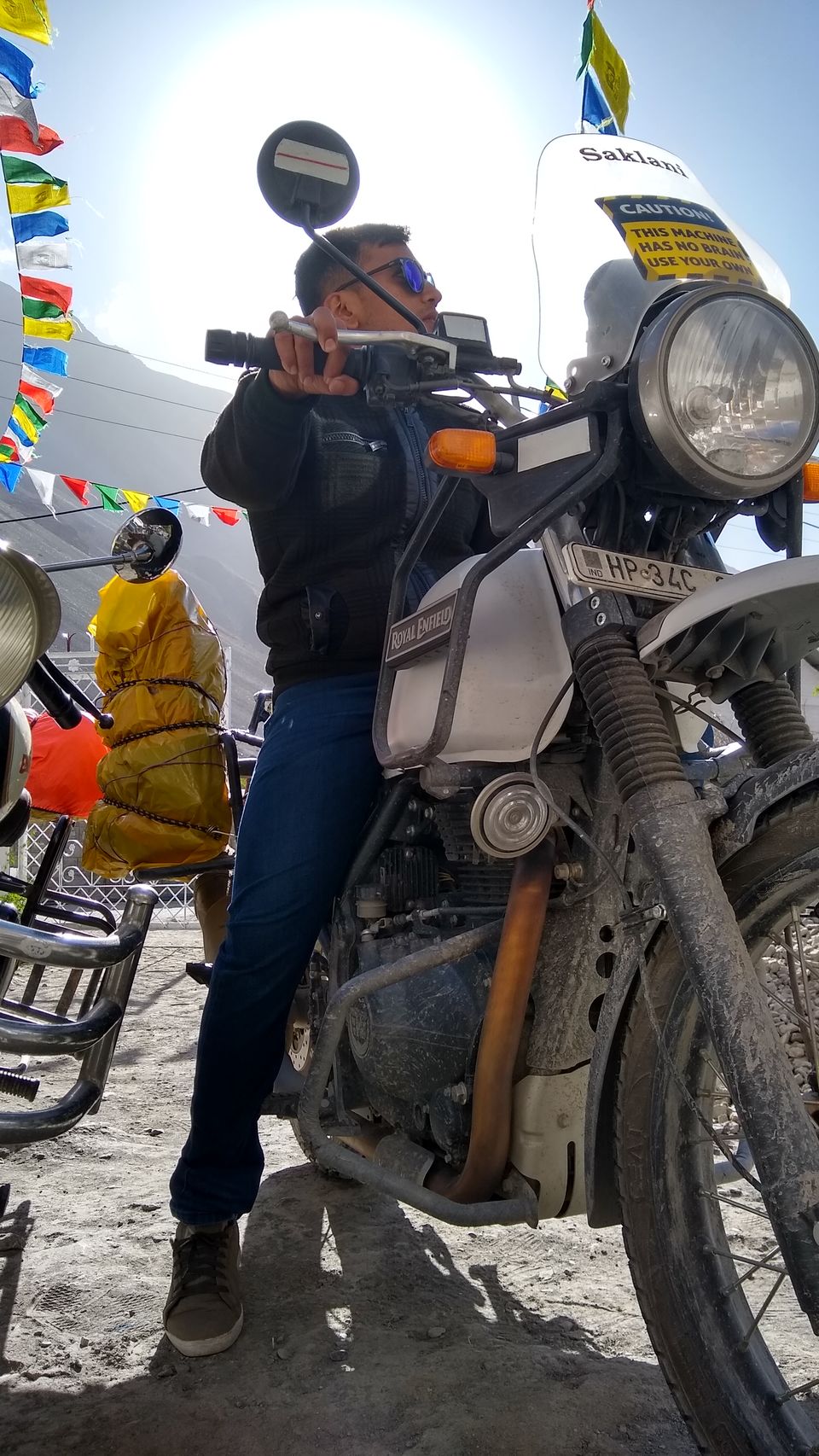 we took a small break before moving ahead to Kaza.
Ride to Kaza starts with a motorable terrain and it soon turns into roads overpowered by land sliding mountains!
There are a lot of small villages on this route, and by small I mean villages with a population of 256 or 130!
These villages host cottages made to survive the incessant snow during winters, every village starts with a gate- sometimes big and many a times smaller in size!
The villagers, especially kids and women, they tend to give a wave and hand-fi whenever bikers pass across them. We crossed Siluk and Dhankhar on our way, these small villages offers tea shop, small eateries etc.
Military vehicles clutter the highway all along due to proximity of China border. As we approached Kaza, we could notice the fuel meter showing decreased fuel reading! As we got closer to Kaza we noticed increased number of riders strolling around,
we saw tents beside Spiti river, mountains turning lesser hostile and villages turning into bigger settlements. A Royal Enfield station welcomes riders to the Kaza town!
Situated on the foothills, the tough snowcapped Himalaya adds an extravaganza to the colorful RE station, the station tells you that you have arrived! Happy, excited and satisfied we were! We took a roundup of the station, enquire about the fuel station from one of the riders and Voila! Kaza has the world highest fuel station! We drove straight to the Fuel station, got the bike's tank full and drove like maniac to Key Monastery. Key Monastery is around 15 Kms from Kaza town. We headed straight to fuel station, Kaza was filled with riders! Coming to Kaza via the route that had countable number of bikers, suddenly seeing a flooded Kaza with Bikes, Tourists and locals gave us a sense of relief and excitement! The fuel station is located on the way to Key monastery, A bit crowded, the fuel station proudly hosts the banner reading "The highest Petrol Pump in the world."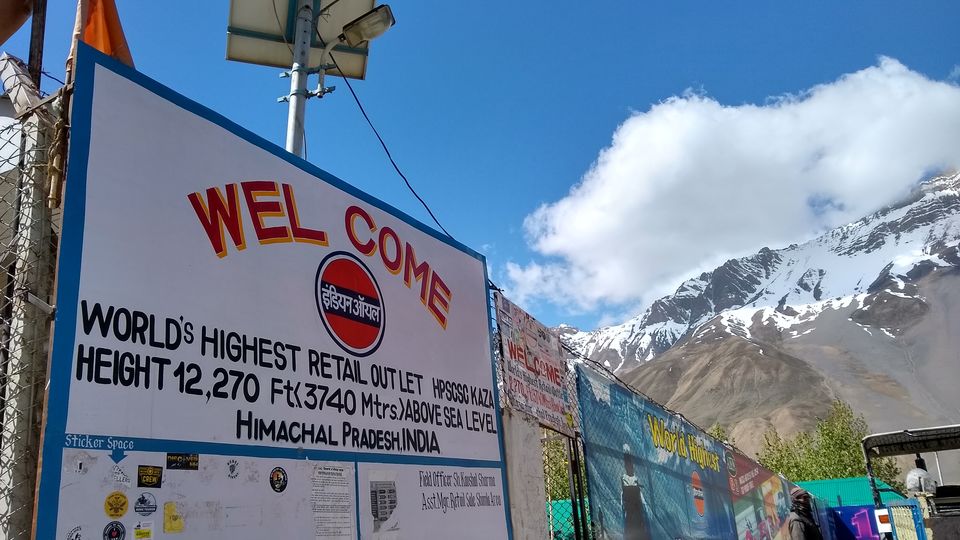 We got the tank full of petrol and started our ride to the Key Monastery. The road to Key Monastery is decent (according to our mountain terrain standards) at places we could easily touch 80 Kmph, by 11am we were in Key Monastery.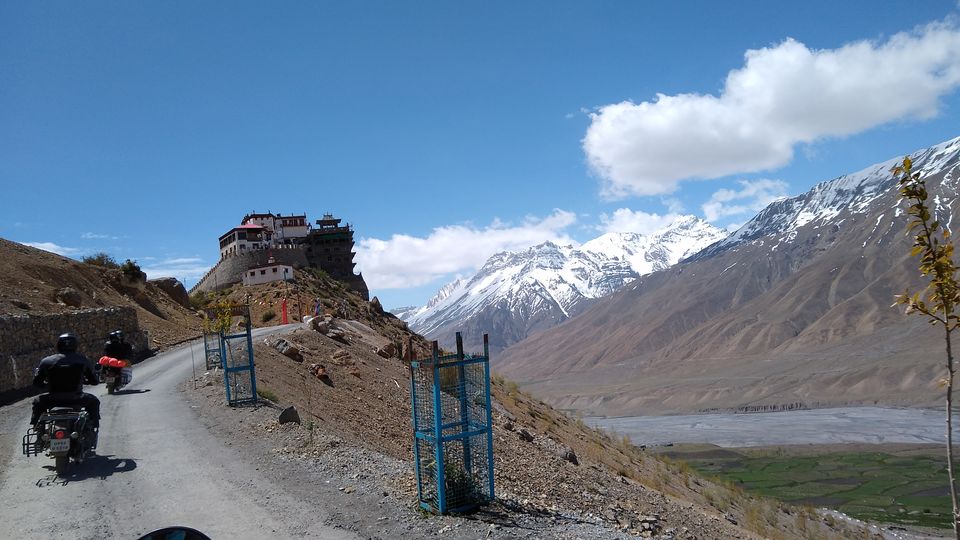 The Monastery is located at the hill top and gives an amazing panoramic view of the snowcapped Himalayas.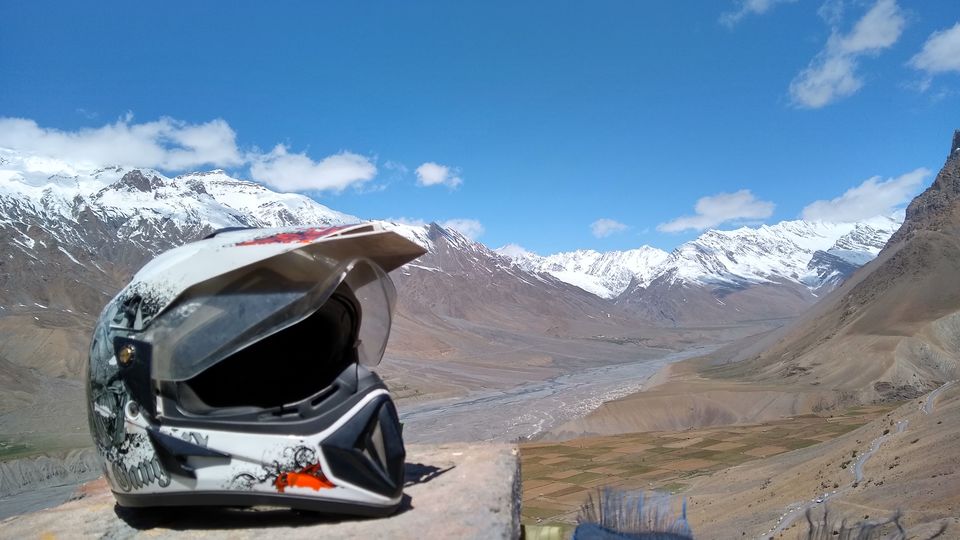 The place is quite, less crowded and beautiful, we strolled around the Monastery, clicked few photos, explored the gift shop, and spent few minutes acknowledging the landscape of the place before leaving.
Feeling of accomplishment filled our hearts as we started our descend.
Besides visiting Key Monastery, few things that we wanted to do in Kaza included visiting "world highest Restaurant", "World highest village", "world highest post office" and exploring "Kaza market". We left key Monastery at 12 and reached near Kaza Soma, the route that leads to "World highest stuffs" starts from few kms before Kaza Soma (when coming back from Key monastery). The detour leading to villages – Langza, Hikkim and Koumik is a stretch of around 30 Kms, the route starts near Kaza Soma and end at the same point, on enquiring we learnt that covering these villages would take close to 3 hours. We had time and motivation, we decided to experience the thrill of riding to the "Highest village of the World - Hikkim". On the route to Hikkim there are actually three villages – Langza, Hikkim and Koumik.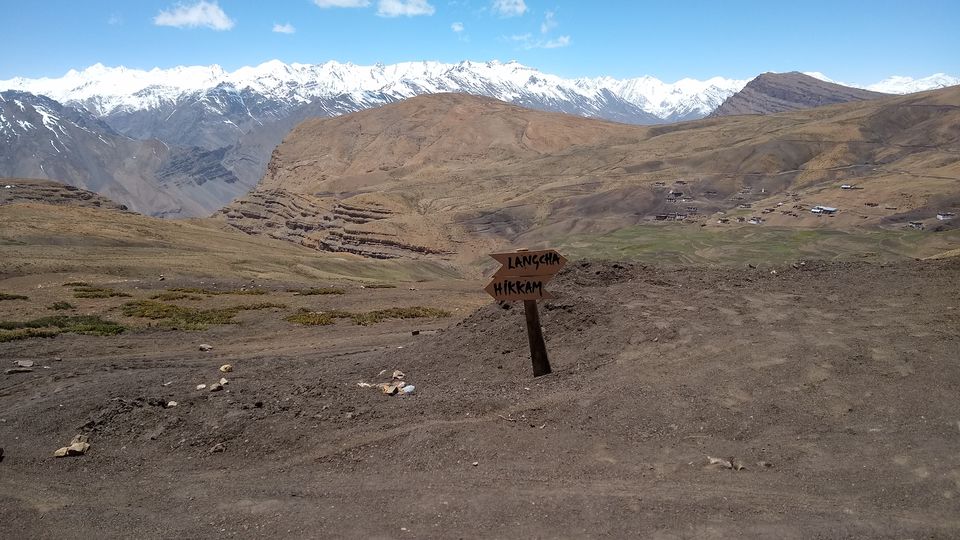 Hikkim has the world highest 'Post Office' and Koumik hosts the world highest 'Restaurant'. The ascending terrain leading to these villages is muddy, covered with gravel with short patches of narrow concrete road. The road makes a complete circuit – Langza to Koumik then Hikkim – from Hikkim there is a straight road that takes you back to Kaza Soma. The road was mostly deserted with few bunch of riders crossing past us during our onward journey. The road was scary, we couldn't ride past 30Kmph, at junctions we thought there was nothing ahead, only to realize that the next village was on that particular path. We drove past Langza, there is big statue of Budha placed at the edge of Langza, it was surrounded with tourists obviously – making us wonder how come we didn't see any riders on the way and so many tourists here! Due to our tight schedule we couldn't take a detour and go near the statue, we continued our journey to Koumik.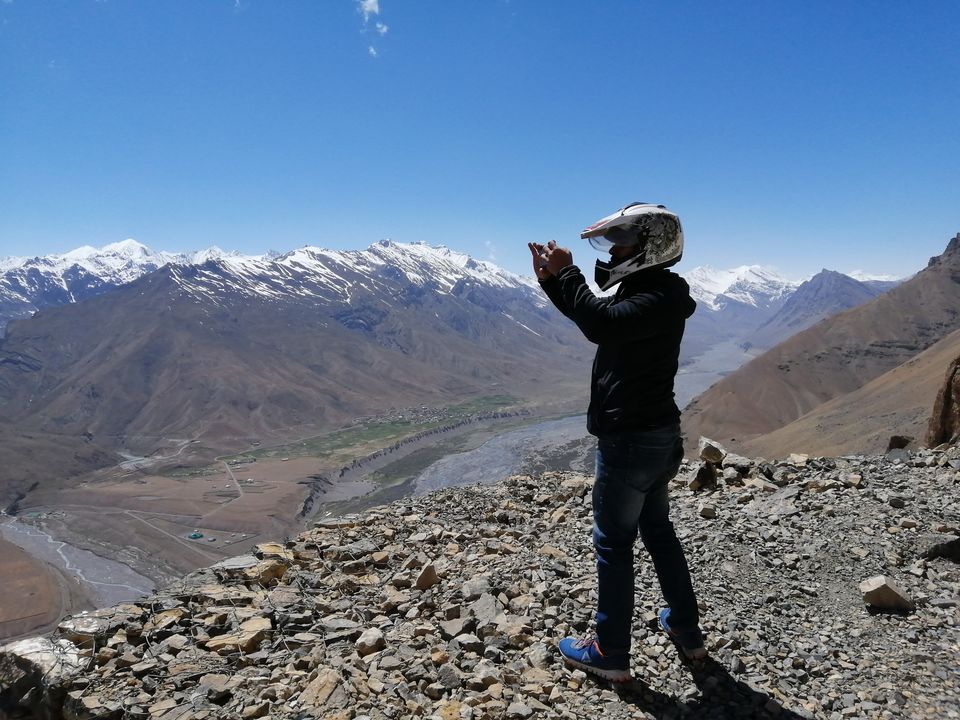 These villages are a bunch of 40-50 huts located in small valleys with a back drop of snow covered Himalaya – giving it a feel of some abode or lost mythical civilization!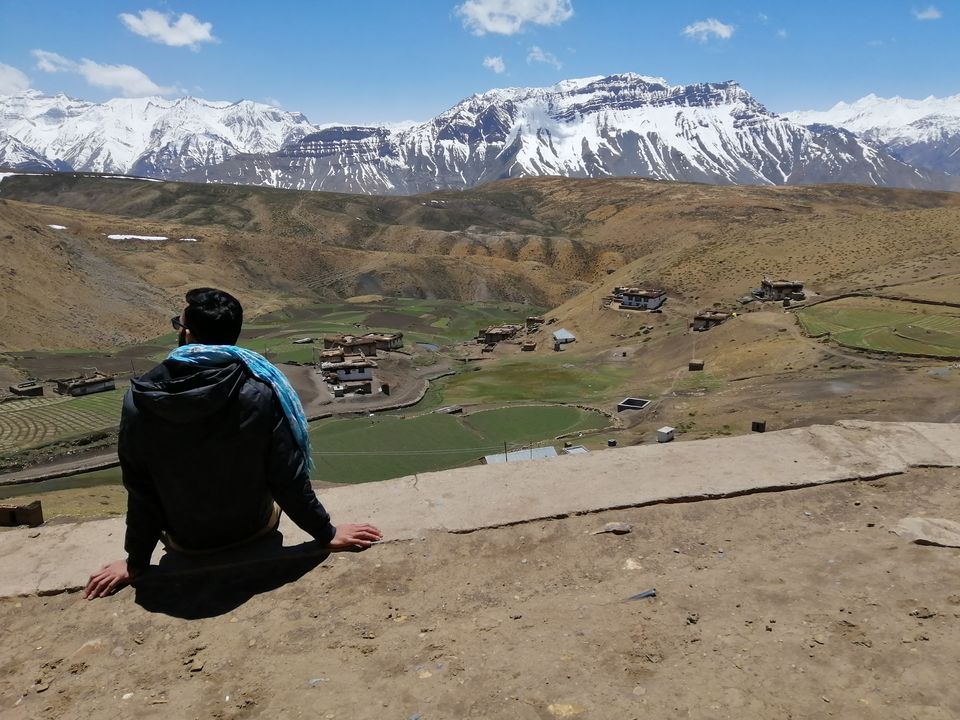 If only some Netflix crew could spot it, they would definitely shoot their next series on 'Ice-age' or 'Superhero' or 'Inter planet civilization' here.
At points the road vanishes and turns into black gravel distinguishing itself from the soft shinning white snow and making the place a scenery out of some postcard!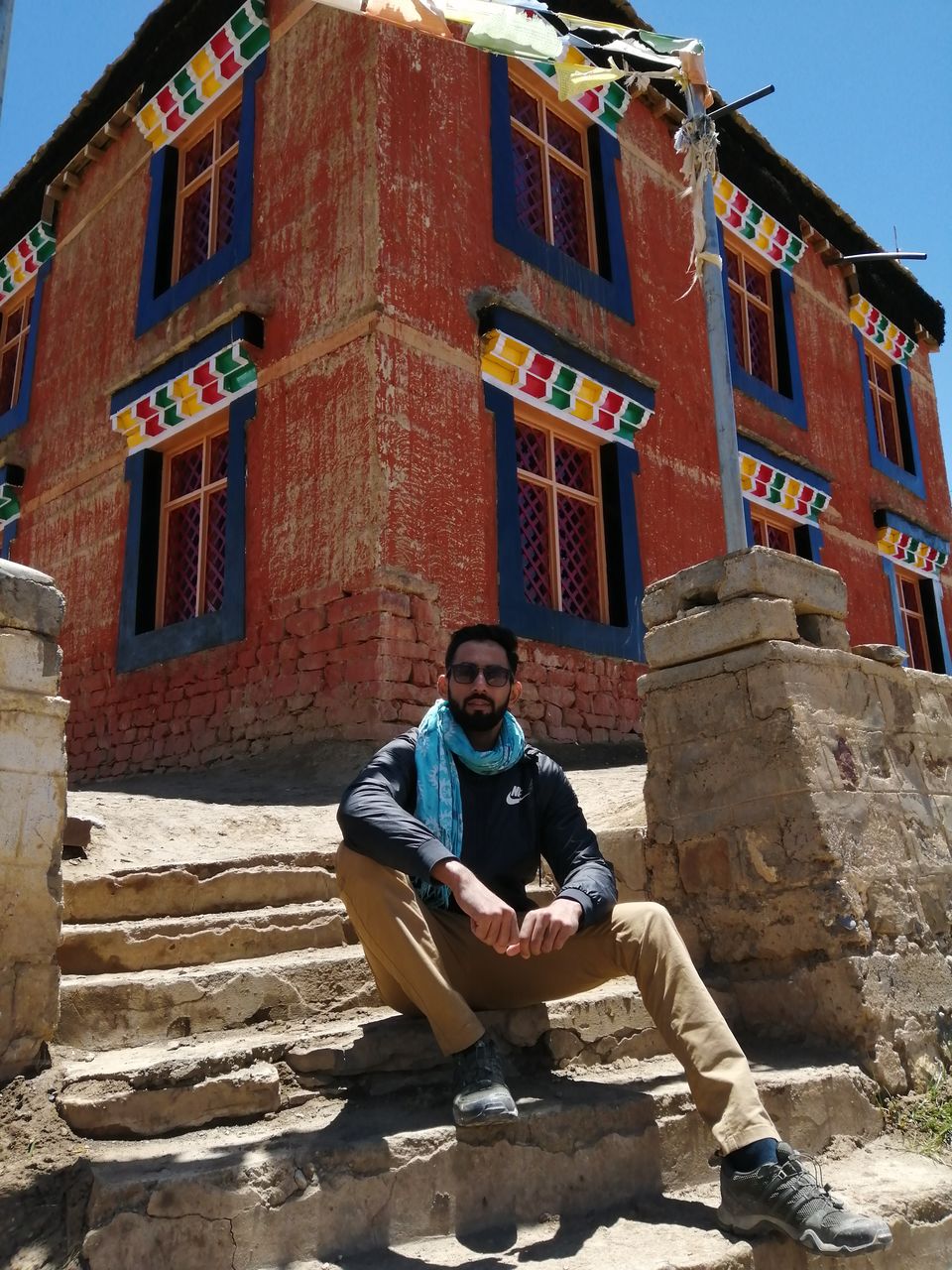 The picturesque healed our tiredness and motivated us to ride to Koumik.
Koumik had some 100 tourists exploring the 'World Highest Monastery' and 'World Highest Restaurant'.
The place is ethereal, so colorful, windy and quite! The food at the 'World Highest Restaurant' is the most delicious one that we had in our entire journey, the restaurant serves a wide variety of tea and fresh snacks and by the time we finished our photoshoot of the real life wallpapers our food was ready!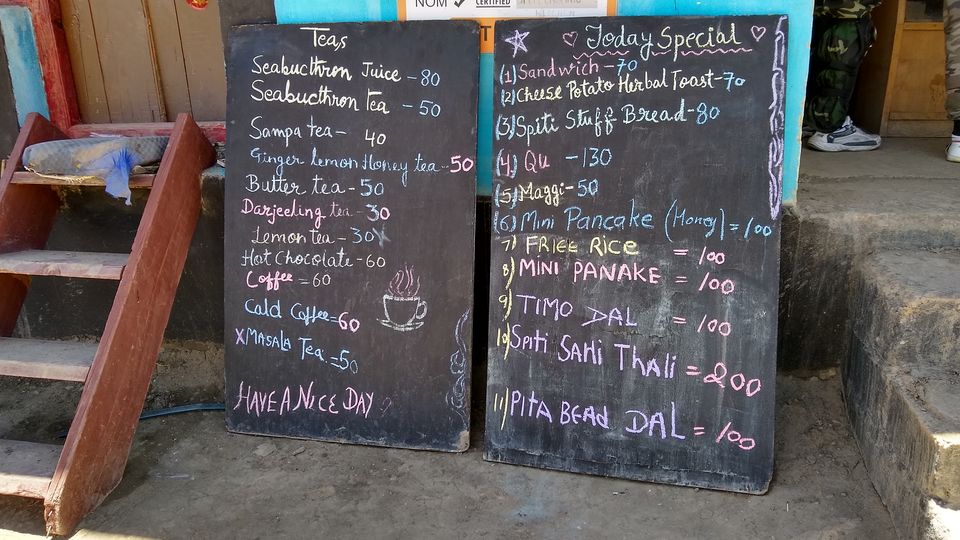 We spend close to 1 hour at Koumik – we captured it all in our smartphones,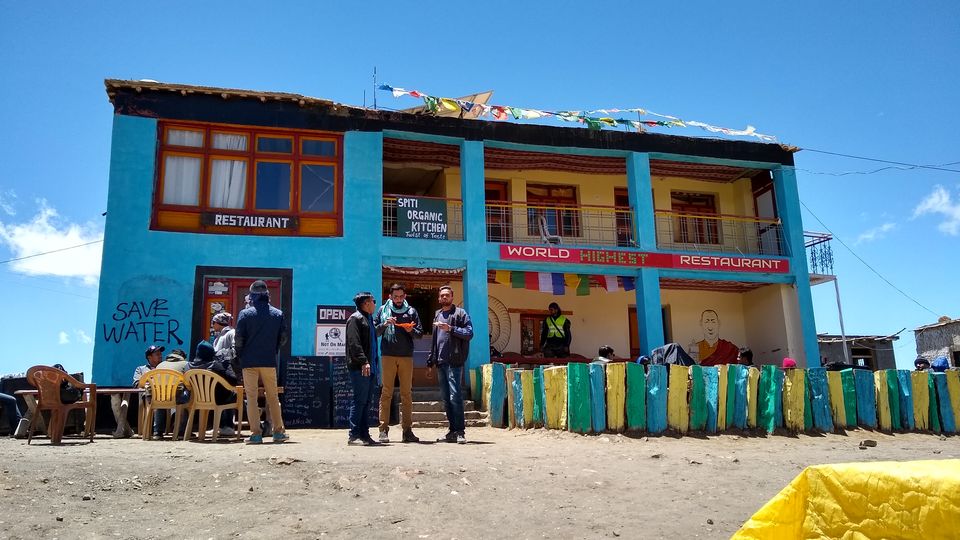 everywhere we were looking we could spot a wallpaper!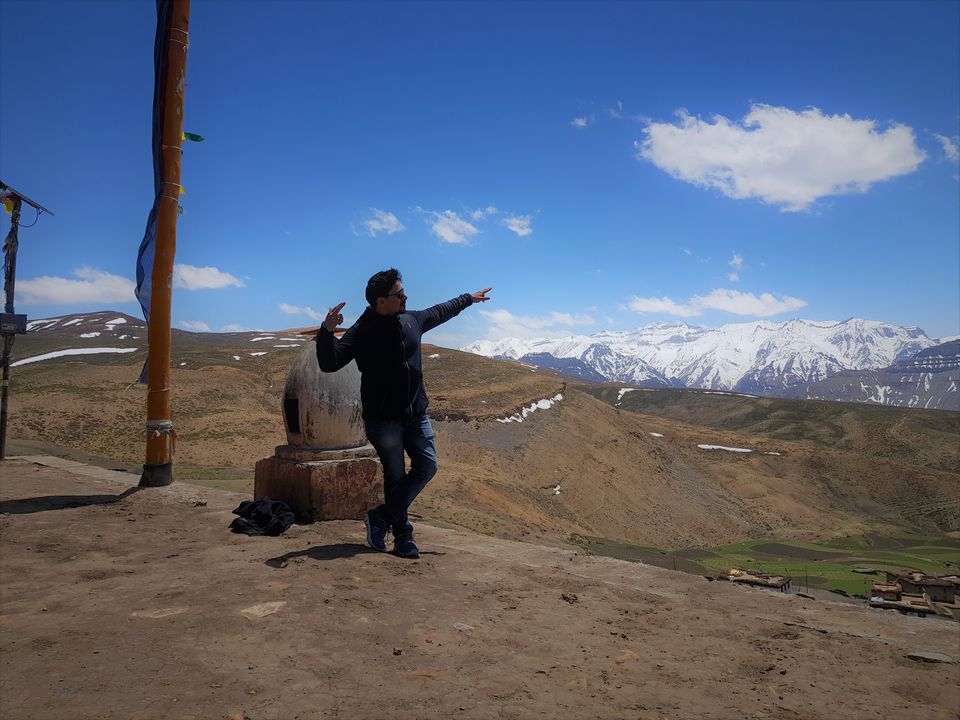 One should stay at the monastery in Koumik to actually enjoy the place!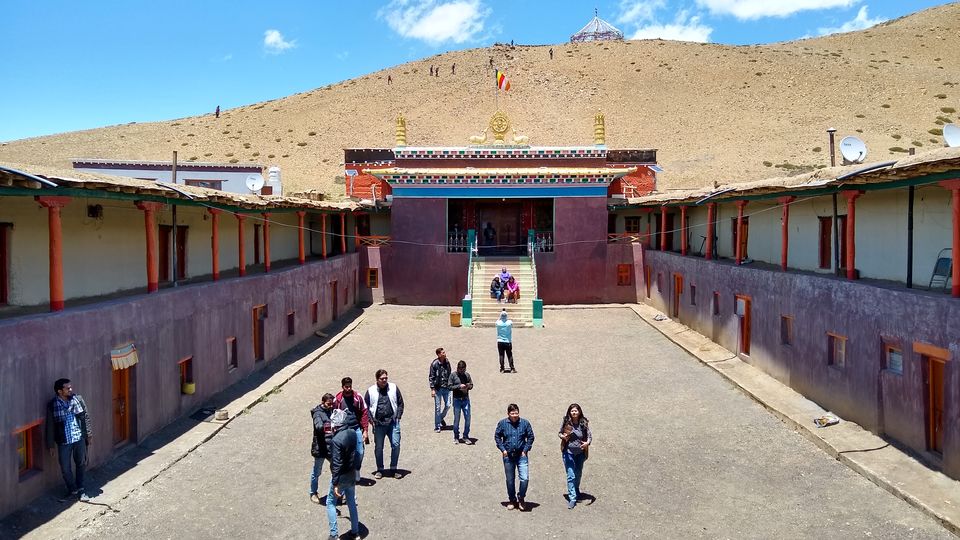 However our tight schedule made us leave the place and head towards Hikkim, we went straight to the "world highest postoffice" in Hikkim – it was crowded! But colorful.
We bought few postcards, few stamps, wrote to our friends and family saying proudly - "we are posting this from world highest post office" and left the place.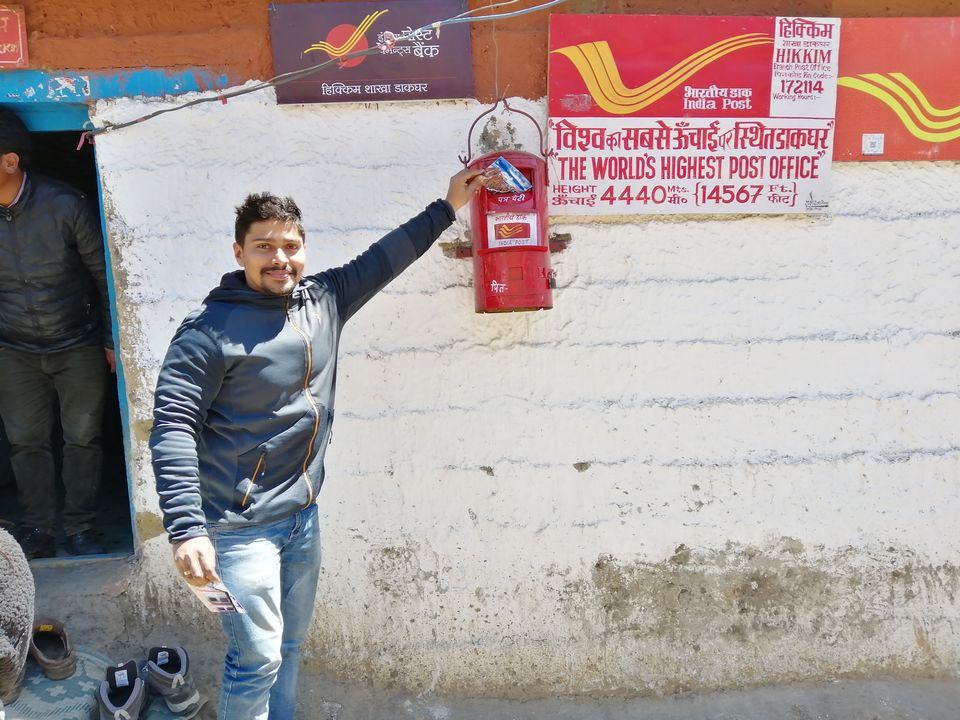 From here we started our real Descend! The road to Kaza Soma from here is very steep downwards! And very muddy at places – I remembered our bullet getting disbalanced and falling in mud!
Playing our life on brakes, we reached Soma and shoot directly to Kaza market – our last destination at Kaza!
The market was a mix of local and riders, with shops selling gift items. There is a lot of homestay and hotels around Kaza market with Monastery bells being places throughout the market area!
We found a beautiful restaurant "The Himalayan Café"
We rested a bit, ate a little, bought some gifts before leaving Kaza!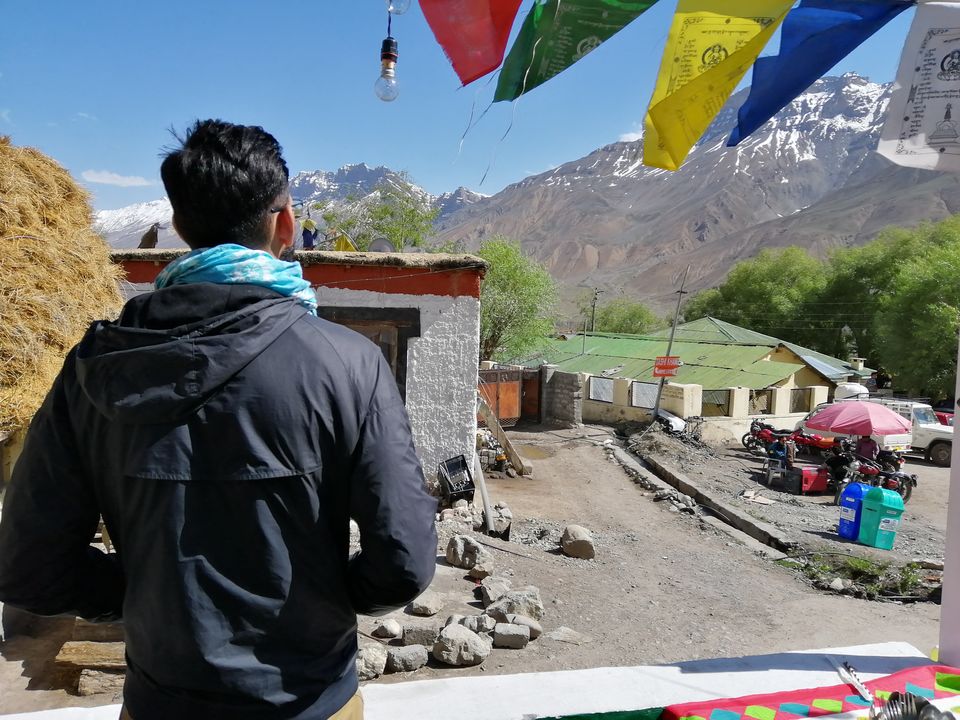 We wanted to visit Tabo monastery, the monastery gets close at 6 pm
So we rode hard to cover 50 kms (Kaza to Tabo), we had left Kaza at 4 and we wanted to reach Tabo by 5:15 ish. The route was now a known one, we knew what to expect where! We could see riders coming in to Kaza – giving us a thumps up- which now felt more accomplished and satisfying! We touched Tabo around 5:15 and went directly to the monastery.
The monastery is quite and clean, the sound of wind touching the monastery bells was adding a heavenly aura to the place! The monastery dates back over a century, while reading the inscription on the introduction stone we heard some song, coming from behind an old monastery door, we couldn't resist to go inside! it was old section of monastery where local folks were sitting around talking and praying – we also went inside a chamber where local people were worshipping and enchanting mantras!
The whole place was filled with positive energy and good vibes! We spent around 45 mins in the monastery then went for a quick snacks to our restaurant that we discovered on our ascend to Kaza! We planned to reach Chango – The yellow Leaf and took rest there for the night! As planned we reached Chango by 7:30, took bath and went out to explore Chango market before calling the day off!
Friday 14th June: We planned to leave Chango early in the morning and explore Sangla and Chitkul. For Sangla and Chitkul we had to take a left turn from Karcham, Karcham comes on the way from Chango to Rampur, it's around 120 Kms and a 4 hours drive from Chango. That was the plan we had in mind when we left Chango on 14th early morning. We took our first stop at Nako, had tea and little snacks! We wanted to reach to the area where we could get mobile network so that we could judge whether Sangla and Chitkul were worth the visit, because visiting those places would mean a detour of 80 Kms for us! We found our beloved mobile network just around Khab, and frantically started reading about the reviews of Sangla and Chitkul. Owing to few discussions, tiredness and better plans, we decided to move ahead and do the unexplored "Jalori Pass trek". Once we made our mind, we drove like crazy until we left the Highway number 5, and turned right towards Jalori pass. Few Kms down the road, the journey seemed different, we had taken the same route while coming and appreciated the beauty of the road and hill, but Man! The path looked absolute beautiful while returning, the narrow roads, with sharp turns looking down deep trench. Riding on such a terrain was a fearful goosebumps-y experience. Around 5 Kms before Jalori pass we spotted a homestay, talking to the caretaker we decided to spend the night there. The homestay turned out to be a beautiful mini resort!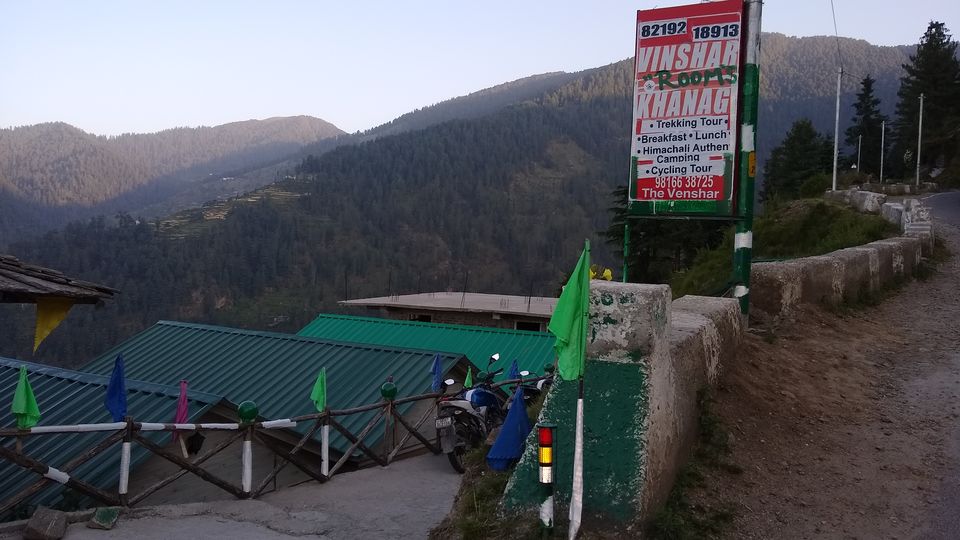 Situated on the mountain slope and facing a breathtaking valley, the homestay is a little paradise. Tired from our long and hectic drive we decided to relax, take bath, eat sumptuous mountain food and rest.
Saturday 15th June: We planned to cover Jalori pass trek, it's a 5Kms long trek that starts from Jalori Jot and ends at Serolsar Lake. Though the trek is short, the ascending path makes it moderate! We left the homestay early in the morning around 8. It took us 15mins to reach Jalori Jot, we demounted our bags from our bikes and kept it at a dhaba at Jalori Jot, as per suggested by our homestay's caretaker. We took small snack at the dhaba, parked our bikes and started the trek. The to and fro trek duration is 3 hours. The trek route is covered with green pastures, trees, few old cottages and plethora of restaurants and camp sites!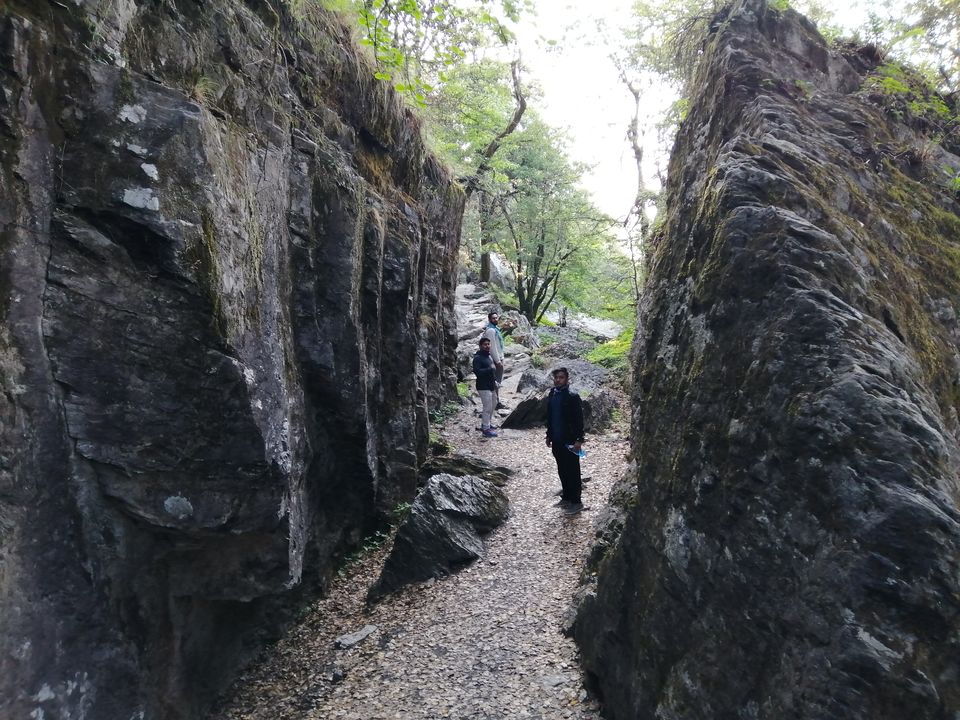 The trek is rejuvenating with fresh air, chirping of bird and smell of grass and tea flooding the path!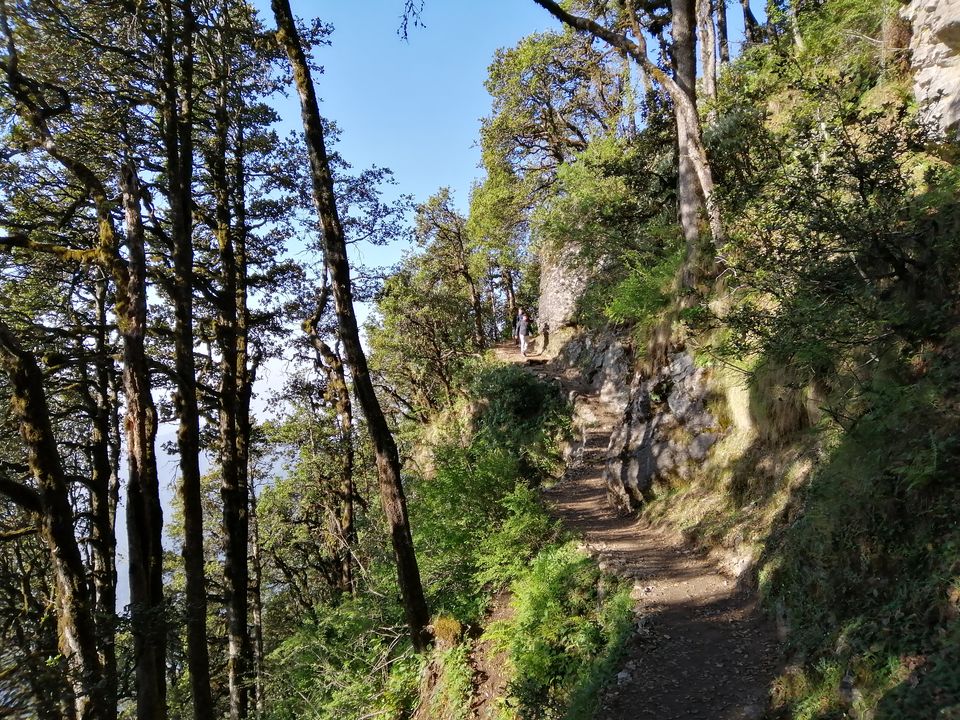 As we got closer to the lake, the landscape kept getting more beautiful and fresh!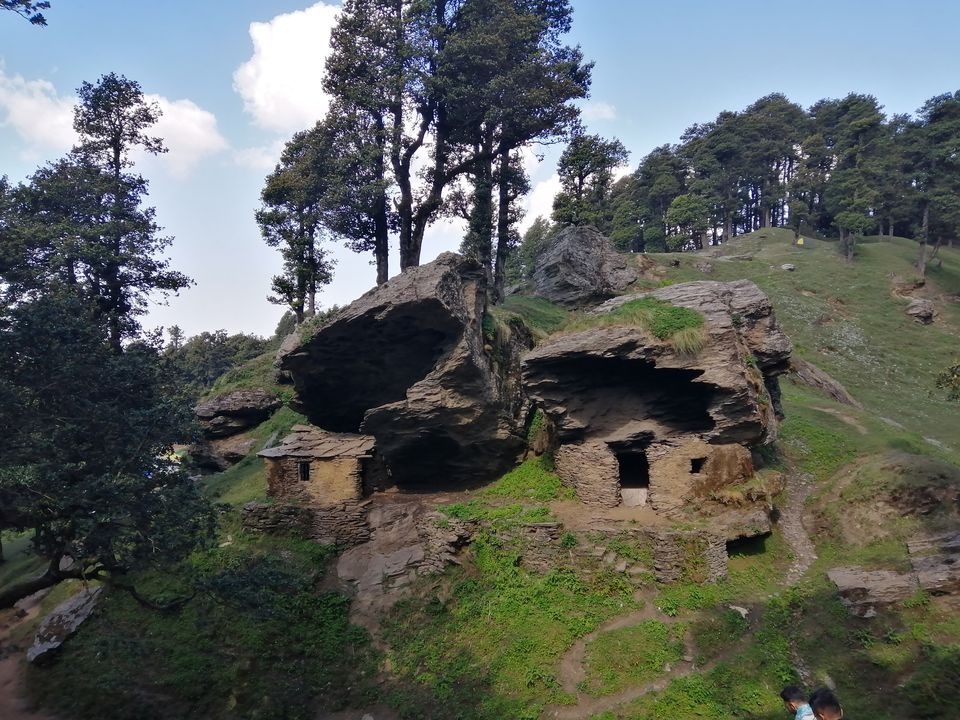 Finally, the Serolsar lake, stretched between a temple and a small cliff, the view is absolute stunning, and a treat to eyes!
The lake is surrounded by artificial fencing and a footpath, surrounded by greenery with scattered reflection of sunlight on the lake, it looked so lively and full of energy, we spent around 30 mins absorbing the beauty of the lake, we also visited the temple before leaving the place.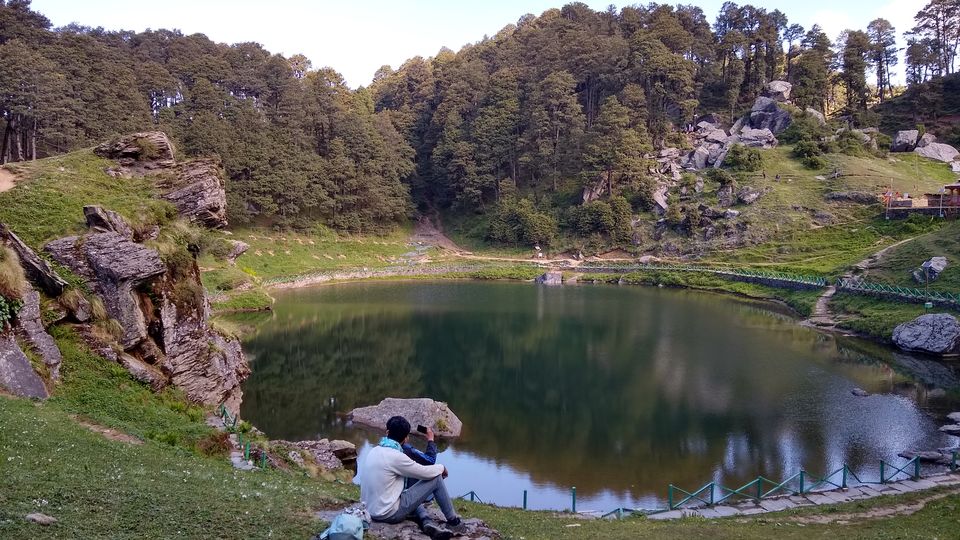 On our way back we stopped at one of the restaurant for breakfast.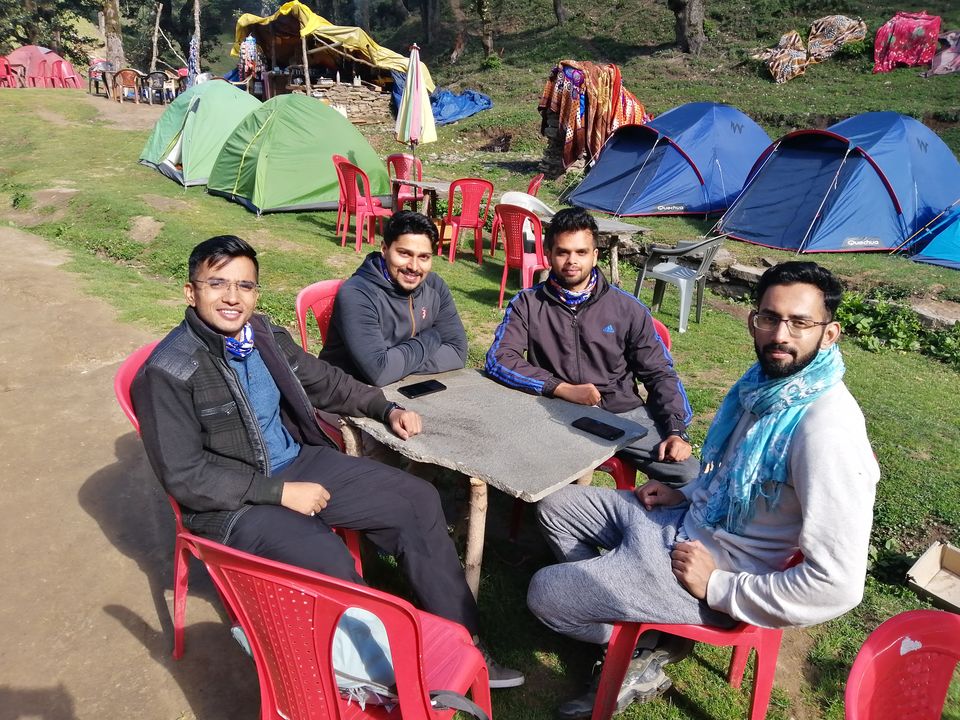 By the time we came back to Jalori Jot, it was already 11 and the sun was out, we wanted to cover the other trek that leads to a fort (the trek too starts from Jalori Jot but in a different direction than Serolsar lake trek. We again went to discussion mode and decided to head back to Bhunter.
But we didn't want to end the trip like that, we decided to take a roundtrip to Kasol, we had to return the bikes before 7pm, and Kasol is around 30 kms from Bhunter. Once we made our mind we drove off to Bhunter, it was a downward drive from Jalori pass to Bhunter, and the leg brakes of Himalayan was giving up due to heat being generated around the dics. And the bullet was anyways underperforming, those issue slowed down our speed. On our route we also stayed to cool off on the bank of Beas River, actually we were observing the beautiful river for quite long, all of us wanted to take a break and spend sometime near the river bank but one of us wanted to halt! Ultimately when we say a group of bikers taking bath in the Beas, we couldn't resist ourselves. A small break and we were set again for Kasol. The road to Kasol was in pathetic condition, we didn't enjoy driving on that route plus the Traffic! Seemed like the whole of North India has reached Kasol! The weather too was playing hide and seek-sometimes stormy, sometimes sunny! We hurriedly covered Momoes, German bakery and Isrealian café and left Kasol! We reached Bhunter by 7, we had to take the bus to Delhi at 10:30 pm, we returned the bike, took our security money from that corrupt Bike rental, explored Bhunter a little before boarding the bus!
As we nodded off, each one of us had the feeling of accomplishment! 1200 Kms bike ride on mountains in 5 days! It was indeed a journey of lifetime, we were planning that trip for so long and finally we did it! One milestone completed from our bucket list!