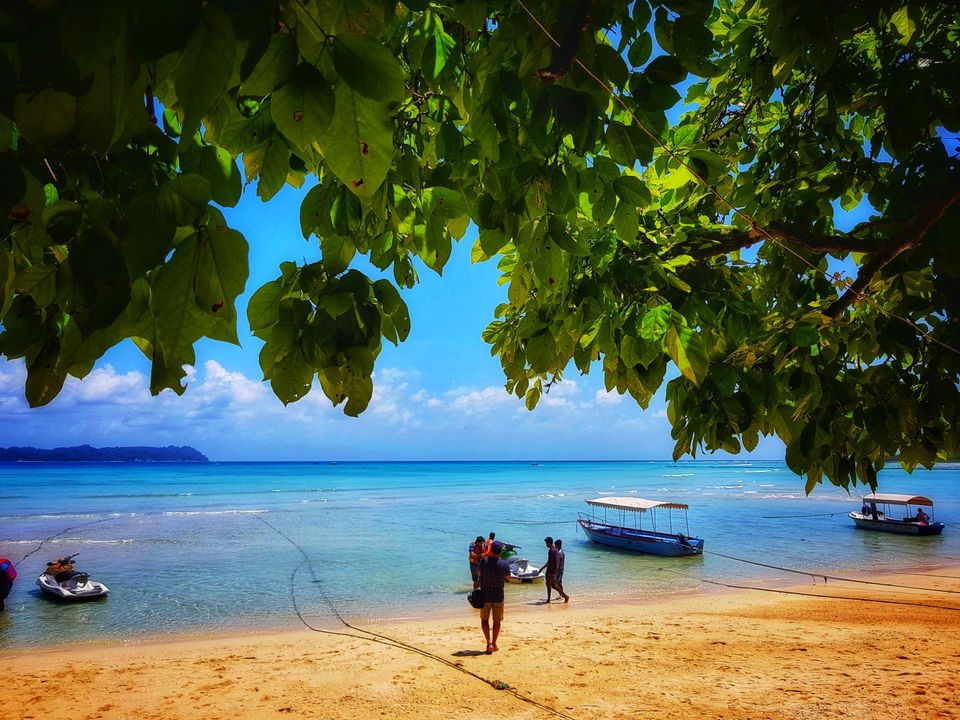 Famous among the travelers for its gorgeous beaches, underwater wonders and primeval location in the middle of nowhere, the Andaman and Nicobar Islands are still the ideal place to get away from it all. The Andaman Islands form an archipelago in the Bay of Bengal between India, to the west, and Myanmar, to the north and east. Most are part of the Andaman and Nicobar Islands Union Territory of India, while a small number in the north of the archipelago, including the Coco Islands, belong to Myanmar. The island population is a mix of south Indian and Southeast Asian settlers. The most widely spoken language on the islands is Bengali followed by Hindi, Tamil, Telugu and Malayalam. The only commercial airport in the islands is Veer Savarkar International Airport in Port Blair which is under the control of the Indian Navy. Due to the length of the routes and the small number of airlines flying to the islands, fares have traditionally been relatively expensive although cheaper for locals than visitors. Ship service is also available from Chennai, Visakhapatnam and Kolkata. The journey requires three days and two nights and depends on weather.
Port Blair to Havelock
On arrival at Port Blair airport, we were greeted by a early morning shower. Since we booked our flights before cruise so we had to wait for around 4 hours in Port Blair. We utilized this time and visited the famous Cellular Jail also known as Kala Pani, Rajiv Gandhi Sports Complex and the Ross Island, now Netaji Subhash Chandra Bose Island, which is about 15-20 minutes away from Port Blair.
On reaching Havelock, first thing we did was visiting the famous Radhanagar Nagar. In 2004, it was named the Asia's Best Beach by The TIME Magazine. Fine white sand, turquoise blue waters and a lot of peace and serenity are the hallmark of this beautiful. The breathtaking sight of sunset on this beach makes the tourists forget all the woes.
Havelock and Neil Island
Visit elephanta beach Also known as Haathi Tapu, the island derives its name from the walks that the elephants of Havelock have been known to take around this region. Though there is everything same about elephant beach, there are small intricacies that set it apart from others. This place is considered to be the best place for Snorkeling and Diving because of the clear blue.
We had to do Scuba Diving in havelock but unfortunately due to a strike in Andamans it was cancelled.
Scuba at Neil Island
Wake up at 6 in the morning and dive with more than 25 Kgs equipments on your back. We finally ticked off Scuba Diving from the bucket list. We did it with a PADI based dive center. Scuba is a non swimming activity and a free dive costs between ₹4000-4500. A dive master accompanies you and guides you inside the water. Scuba diving in Andaman is all about colorful corals & diverse marine life.
Neil Island and Port Blair
Visit Laxmanpur, Bharatpur beaches and the Natural Bridge. If you are lucky and the sky is clear, you can view the Milky Way.
Trip to Red Skin Island
Mahatma Gandhi Marine National Park is a group of 26 islands of which Jolly Buoy and Red Skin Island are a part. It has a nice beach and offers spectacular view of exotic corals, colourful fishes and under water marine life. Snorkeling is now not allowed there due to crocodile sightings but you can go for a glass bottom ride and see the beautiful corals.
Depending upon the weather conditions, only one of the islands is open for tourists.
Food on islands is costly and you might not get alcohol too on islands. But it is available easily in Port Blair. Also, the connectivity is very poor everywhere in Andamans. You get only 2G network so online transactions are tough. Cash is the only possible option.
Andaman and Nicobar Island is a year round tourist destination. The area receives minimum fluctuations in the temperature and is always pleasant. The best time to visit Andaman and Nicobar Island is considered from November to mid-May. Monsoons are however recommended to be avoided because of the high tidal waves, incessant rains and strong winds.
Trip to Andaman needs to be planned according to the Cruise timings from island to island. Otherwise you would have to wait for hours. So it is recommended to book cruise/ferry then the flights.