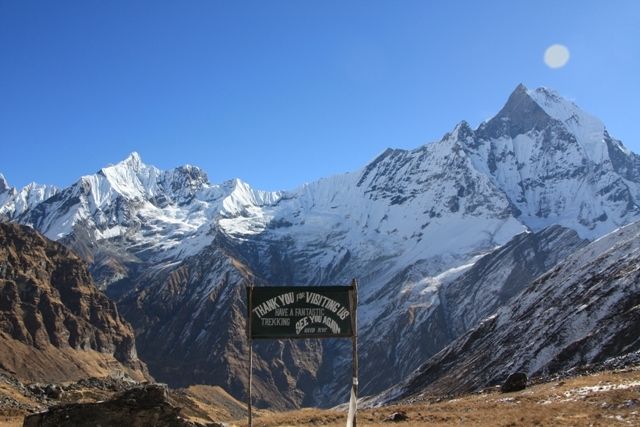 The hidden stronghold of Annapurna Base Camp Trek (also known as Annapurna Sanctuary or ABC) is another one of Nepal's scenic and adventurous trekking routes.During Annapurna Base Camp Trek,we can see cascading waterfalls, beautiful villages, terraced farmlands, lush rhododendron forests, and amazing mountain vistas before reaching the base of the mighty Annapurna.
It is a deep glacier, which gives the effect of an amphitheatre surrounded by a ring of impressive high peaks including: Hiun Chuli, Annapurna South, Fang, Annapurna l, Ganggapurna, Annapurna III and Machhapuchhre. The trail to this awe-inspiring scene ascends the Annapurna foothills through forested hillsides, where we are given a taste of Nepal's magical and majestic vistas with a spectacular sunrise over the Annapurnas and Dhaulagiri at Poon Hill. It continues through scattered Gurung settlements, cross terraced fields and abundant forests before climbing gradually into a world of ice and snow at Base Camp, the "Sanctuary of the Gods''.
Returning to Pokhara by a different route this trek offers truly fascinating scenery, with a combination of picturesque rice-fields, villages and a panorama of high peaks.
Epic Adventures Nepal (https://www.enepaltreks.com)