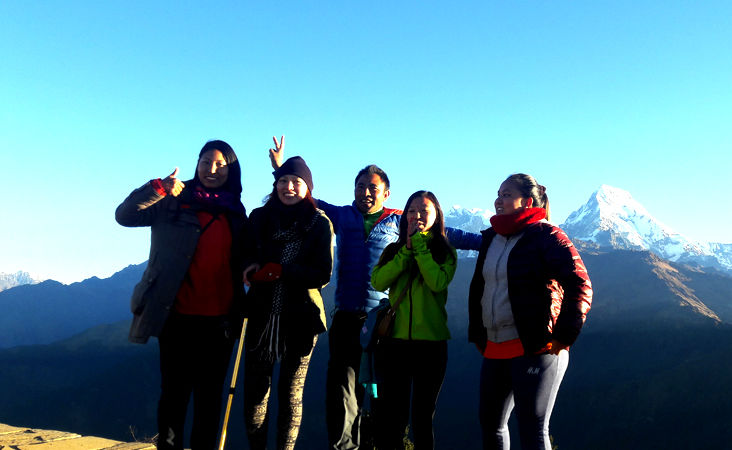 Short 3 dyas Poon Hill Trek 3210 meter Altitude, is marvellous Magnetic sunrise view trekking of Annapurna region known by short Annapurna Ghorepani trek, even you did Annapurna circuit or Annapurna Base camp without Poon Hill Trek, Then we Nepalese don't say you did completely Annapurna trekking. Poon Hill trekking is Magnetic power trekking destinations for all trekkers who love nature, Mountains, real Nepali lifestyle and interact closely with local peoples, the peoples from Ghorepani doing Tea House business, they all are Poon Magars from Shikha, Ghara and Chitre, poon hill trekking start from Nayapul Birethanti and first night will be in Tirkhe Dhunga and second day Ghorepani and next morning to visit Poon Hill, early morning 4 am start climbing from Ghorepani with head flashlight from your tea house, you will join the masses for the trip up to Poon Hill.
one hour thirty minutes climbing to Poon Hill sunrise view point, 32 white Himalayas peaks closely you will get golden chance to observe magnifications Himalayas view of Dhaulagiri, Tukuche Peak, Nilgiri, Annapurna South, Annapurna 1 Himchuli, Machhapuchhare ( Fishtails) Gangapurna, Sigachuli, Gandarbachuli, Lamjung Himal, Mardi Himal and Manaslu Himal, three mountains are more than eight thousand meters high, these are Dhaulagiri, Annapurna one and Manaslu Himal, from the top of the PoonHill, slowly when sun rising and the sun reflect different colors of the mountain every minute. Make sure you bring a warm cloth with you and digital camera to take the panoramic Himalayas and sunrise view pictures, also if you have binocular with you that will be fantastic to see the Himalayas closely.
3 day Poon Hill Top it will be really crowded and full of people at trekking season time March- April, May and Sep, Oct November because of short and suit trekking destinations of Nepal trek, please keep some small money with you when you visit Poon Hill. There is a coffee shop, locals from Ghorepani early morning climbing and make hot coffee and Hot chocolate for the visitors, after back from Poon Hill breakfast and trek to Ghandruk village unique model hamlet in Nepal that is promoting rural tourism with local resources that are available locally.
How difficult Poon Hill Trek?
The Ghorepani Poon Hill Trekking is graded moderate, it is not easy Trek, (Notice difficulty) because of its steep climbing up 1276 meters in a day from Tirkhe dhunga to Ghorepani directly high elevation, this trail demands moderately fit person having great Highlander passion. (Our suggesting is should not gain more than 500m per day if you planning Highlander or longer Treks as Annapurna circuit, Base Camp or Everest Region)
What about Altitude sickness for Poon Hill Trek?
The Ghorepani Poon hill lies at lower altitude 3210 meters only, there is no risk of Altitude Sickness. The highest elevation difference that you will face is while walking from Tirkhe Dhunga to Ghorepani. It is because, at Trikhe dhunga, you will be at a height of 1577 meters height which means you will overcome nearly 1200 meters on this day. For those who are wondering about the Acute Mountain Sickness and who are thinking about the trekking advice which says you can only make 500m of the climb on a day, work only for those who venture on the land that is more than 5000m altitude. There is absolutely no Altitude Mountain Sickness risk in Poon Hill. An altitude up to 3500m is considered safe for a normal person
How Weather is will be in Poon Hill Trek?
Poon Hill Trek weather is pretty good with clear blue sky at peak season time, September to November. and March to April are best seasons for Poon Hill Trek rest of month is the changeable weather because of much nearer to Pokhara which is famously called as Cherapunji of Nepal as it receives maximum rainfall in entire Nepal,
What type of Equipment do we need for Poon Hill Trekking?
The equipment requires for Poon Hill Trek, a pair best walking boots with suitable ankle support that have been worn-in prior to the trek, and which are waterproof, warm socks, Gaiters for the winter season, Loose, casual trousers, Thermal Leggings, a Long skirt for women as an alternative to trousers, Waterproof trousers. For body Selection of T-shirts, and long sleeved shirts, preferably not cotton, Thermal shirt, warm shirt, possibly Fleece, Fleece jacket or warm wool jumper. Windproof, waterproof outer higher altitudes, Down jacket (optional for cold nights & mornings; can be hired in Kathmandu cheaply) and for head and hand, Wool or fleece hat, or balaclava. Hat or cap for sun protection while trekking, Sunglasses or goggles. Warm Gloves.
How much is the price for Poon Hill Trekking?
The Cost of Poon Hill trek is a depending on your spending days, there are 3 days, 4 days 6 day and 8 days itinerary are listed in our site so, every page have cost detail and service details with full board package Trip,
What kind of permits require and how much it cost for Poon Hill Trek?
There is Annapurna Conservations Area Project (ACAP) permits and Trekking information management system (TIMS) Permits required for the Poon Hill Trekking which is including in our package trip.
itinerary and cost details is here 
http://www.nepalindependentguide.com/tripDetail/150-Poon-Hill-Trek.html#undefined2