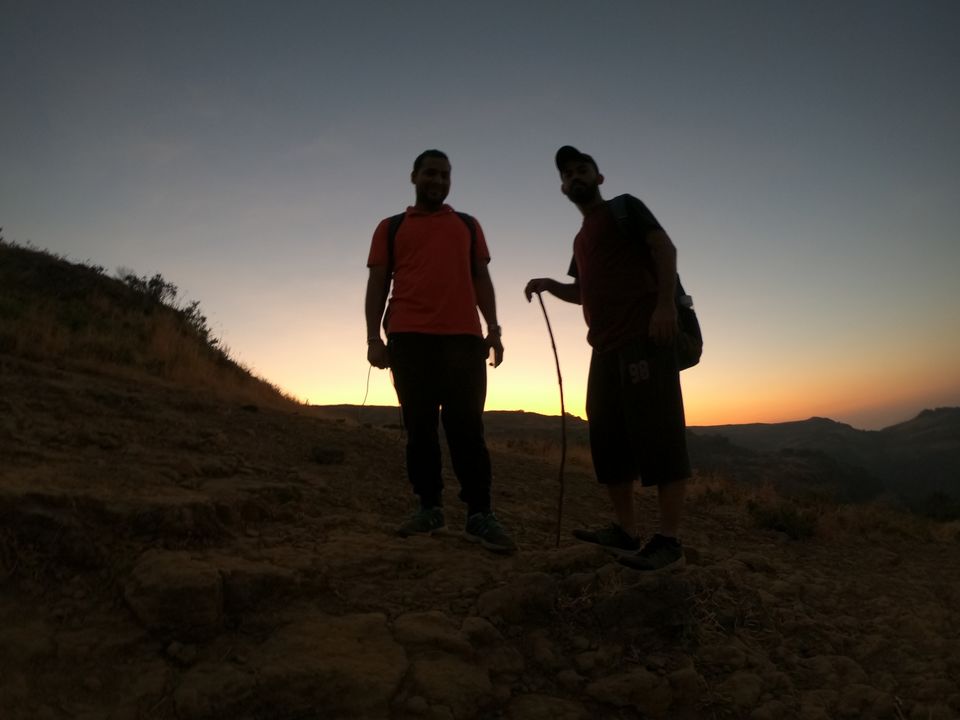 Being one of the highest peaks in Maharashtra, Harishchandra gad is sure an all in all package. This was my second trek here and it was still spellbounding.
I have already wrote a long but interesting blog for harishchandra gad so this will be succint one.
https://www.tripoto.com/trip/harishchandra-gad-night-trek-58c438f376a9a
Places to cover:
1. Harishchandra gad (setup your tents here)
2. Konkankada ( enjoy the sunset and night here)
3. Taramati peak (wake up early and catch the rising sun)
4. Shivlingam in a cave where 3 of the supporting four pillars are broken
Guide : Pandarinath (8806132640)
He will arrange transport for you from Rajur to Pachnai. Guide you through the trek. Provide you tents and food at top. Everything at a very reasonable cost.
Itinerary:
From Mumbai:
1. Train to Kasara
2. Kasara to Rajur
3. Rajur to base village Pachnai
4. Start trekking at 5 PM
5. Reach top around 7 PM
6. Setup tents and do a short hike to Konkankada. Enjoy the chilly winds and city lights in base plain village.
7. Morning trek to Taramati to witness sunrise
8. Back to Pachnai village
Two options  to reach Rajur:
1. ST Bus
-Kasara has ST services for Rajur at regular interval of around 1-1.5 hours. The ST stand is just outside the railway station.
2. Share cabs
- Share taxis run from Kasara railway station for a charge of ₹120. The taxi will start only when the driver has arranged 16 people. It's a pretty uncomfortable ride but bearable as the road is good.
Rajur to Pachnai:
1. There are only two ST buses from Rajur to Pachnai. One at 10:00AM and another at 5:30 PM.
2. You can pre-arrange a private cab to Pachnai by asking the guide. Expensive option. You can wait at Rajur for a shared tum tum ride to Pachnai village. It's an uncomfortable option.
Budget :
1. Thane to kasara (return) - ₹60
2. Kasara to Rajur (share cabs, to and fro) - ₹240
3. Rajur to Pachnai
- bus (return)- ₹70
- share tumtum (return) -₹140
- private cab (one way) -₹1000
4. 4 person tent (rent) -₹500
5. Dinner and breakfast -₹150
6. Snacks -₹100
7. Extra expenses - ₹300
Things to carry-
1. Wear full sleeves shirt and full pants (comfortable)
2. Torch (important)
3. Fruits and snacks
4. 2 litre water
5. Extra pair of socks for sleeping during night
6. Blanket (important)
Okay. So, I have shared everything to make your trek a worry free one.
Well, though this had been my second trek to harishchandra gad, it was altogether a different but much more comfortable experience. We started from Thane by 9:15 AM fast local towards Kasara. By 11:15 AM we reached kasara had breakfast and packed some snacks and chocolates. We were at Pachnai village by 4:30 PM. Due to some confusion we had hired a private cab towards Pachnai costing ₹1000 but were able to arrange for more people looking for a a transport to Pachnai so were able to bring down the charges to ₹100 per person.
We started our trek at 5:00 PM, it was evening and not dark. The sun was setting and the sky was a tinge of blue, white and the bright yellow from the sun. Since it's December it was cold so there were less worries of packing excess water. We had our torches and since this being the second time I was doing a night trek here, I wasn't worried about it getting dark.
Preferably, this time is best for starting your trek in the evening. The path is well marked and instinctive, the villagers often stroll down the path so one can find help easily. Once it gets dark, the sky is full of stars so walking under the open sky is so much hypnotic. There's no overhead sun so not much tiring or profused sweating. For any seasoned hiker this is a comfortably 2 hours hike with time included for clicking pics. The terrain is a rocky one with around 45 degree elevated walk at the start so keep slow but steady with controlled breathing. One should turn the head around after gaining some height and enjoy the beautiful view of the ranges. As the time passes, the sun sets and the houses in base village start lighting up giving an illusion of stars glowing below you. You can take some rest at the seats carved out in the huge boulders that line a part of your trek. One can find a lemonade seller here. The path uptil here and little ahead is narrower one fenced with trees and hence not at all confusing. You will find huts on your way up. Maybe a two or three. Behind the second hut if you are lucky, the evening paints a beautiful canvas. An uphill, the trekkers with bag ladden on their bag walking with the last rays of sun kissing the earth. The sight forms a scene from a life sized canvas. The base is not far from here. As we reached Harishchandra gad we kept our bags with Pandhari ( our guide) and immediately moved towards Konkankada. This is where I had got lost in my previous trek. As we moved we had been collecting firewood for the bonfire throughout our walk. We reached Konkankada in no time. The cliff at konkankada gives a soothing view of the land meeting at the sky. Both dark, lightened by the tiny shimmering light of the stars and the bulbs outside the house. The chilly winds, bonfires, chit chatter of the tired trekkers is a scene to cheer.
Konkankada is known for the sunset, but we had missed it. We had been more than an hour late. You could probably catch a 10 AM bus from Rajur to Pachnai and be at time to Konkankada to witness the beautiful sunset. We moved back to our camp, had a sumptuous Maharashtrian dinner of Jowar bhakri and thecha. Then we set out to start our bonfire and the experimenting with the photos. With the Gopro and the minimal photography skills I have we took some shots of the stars and did some light photography.
With the night we went into our tents and ended the night with shayri.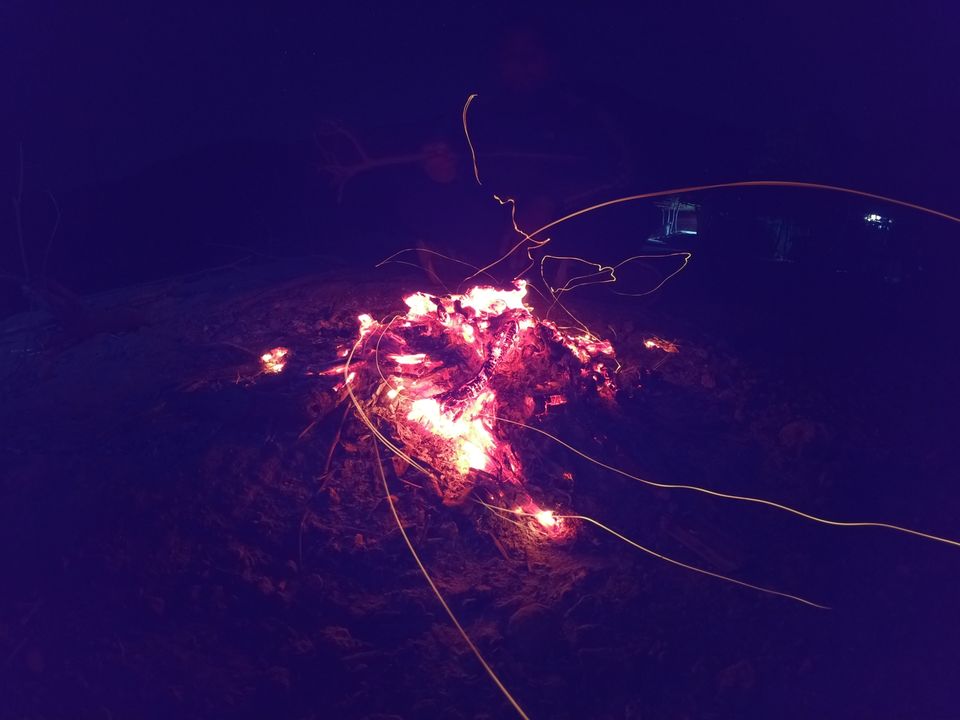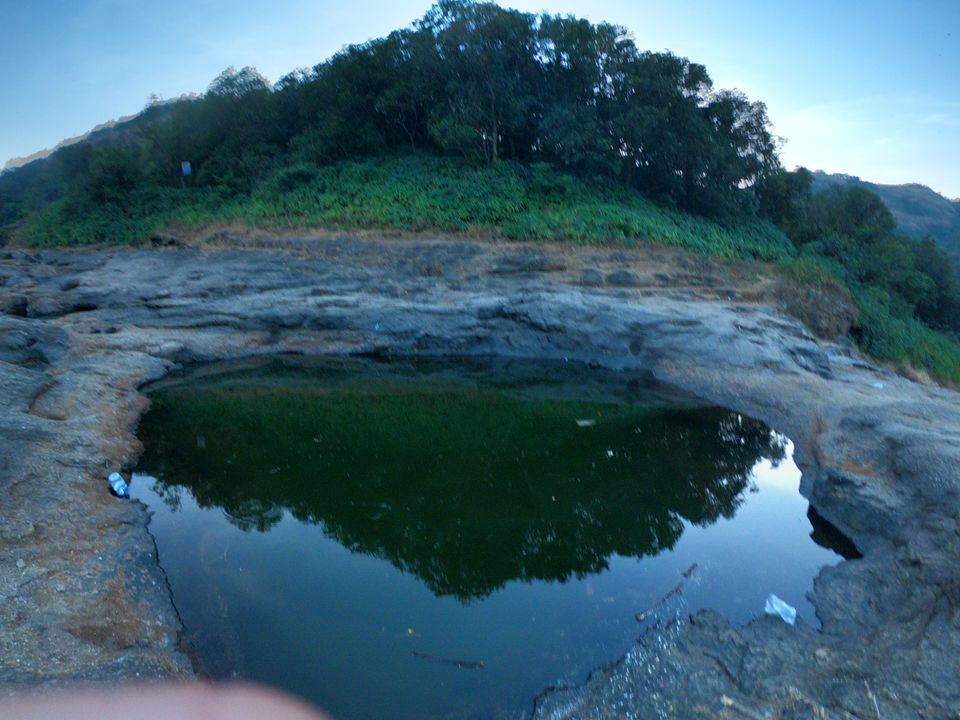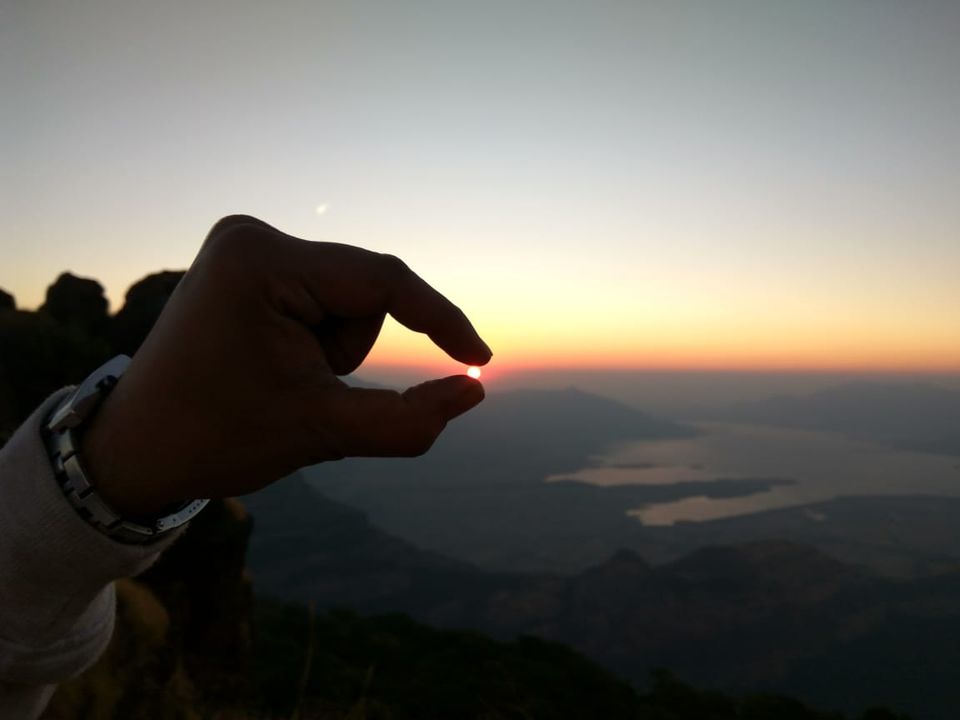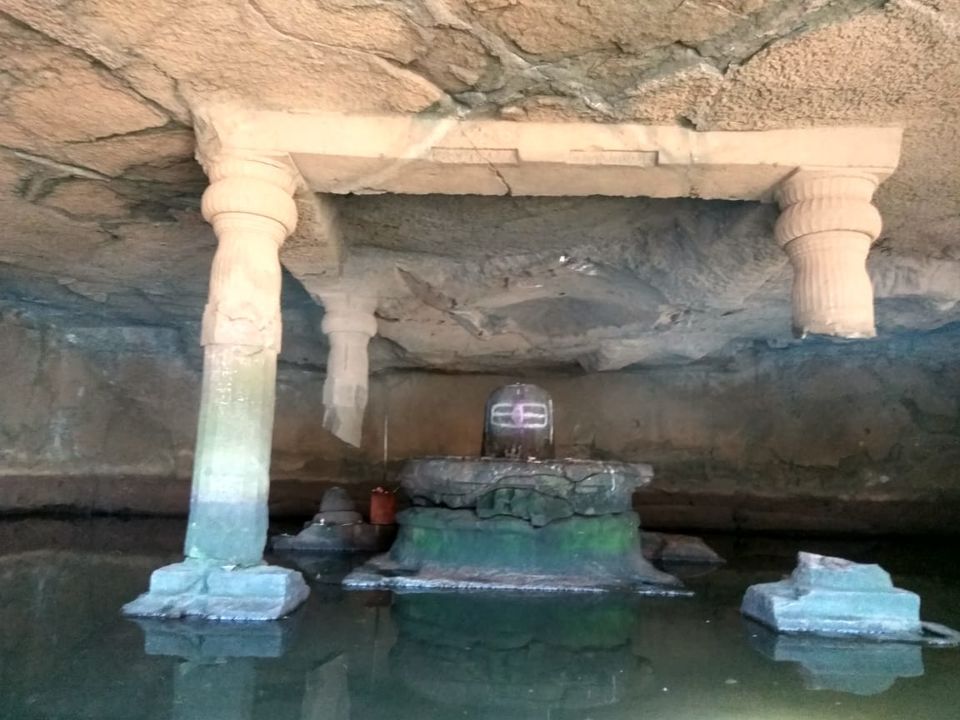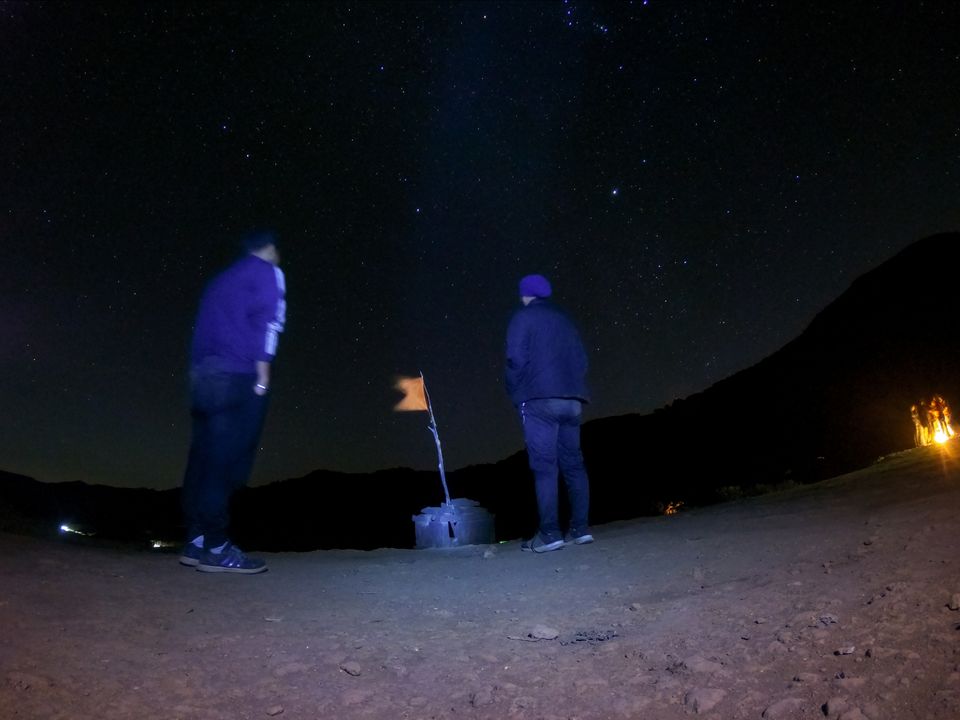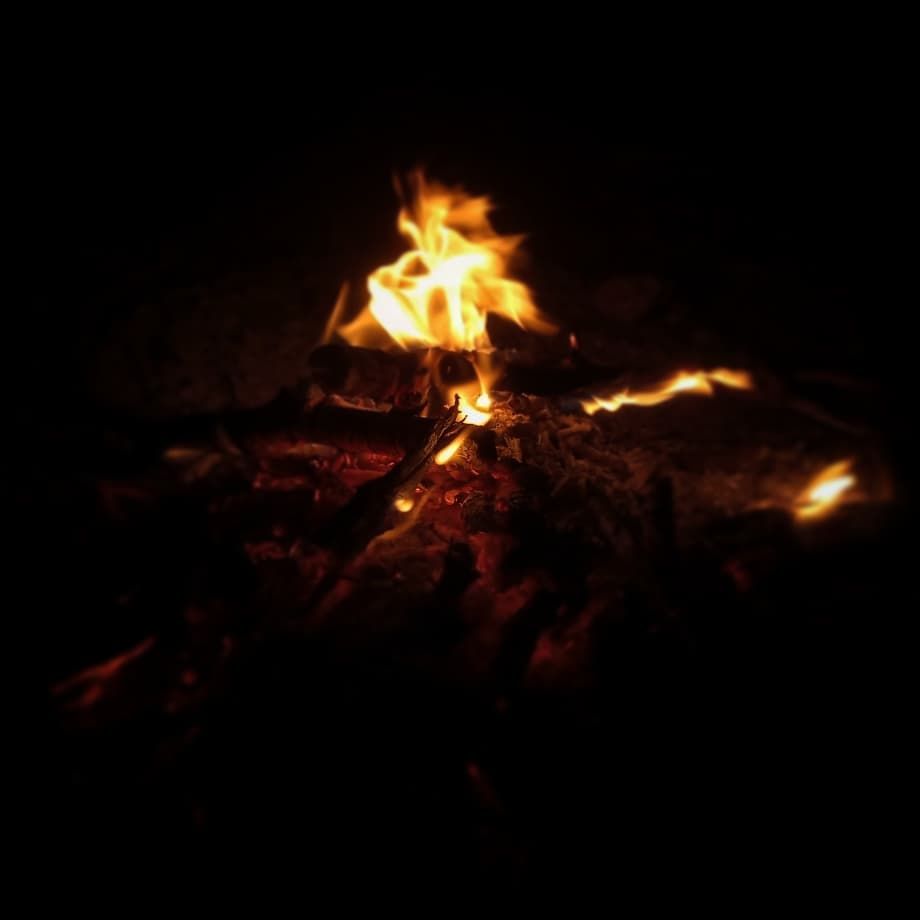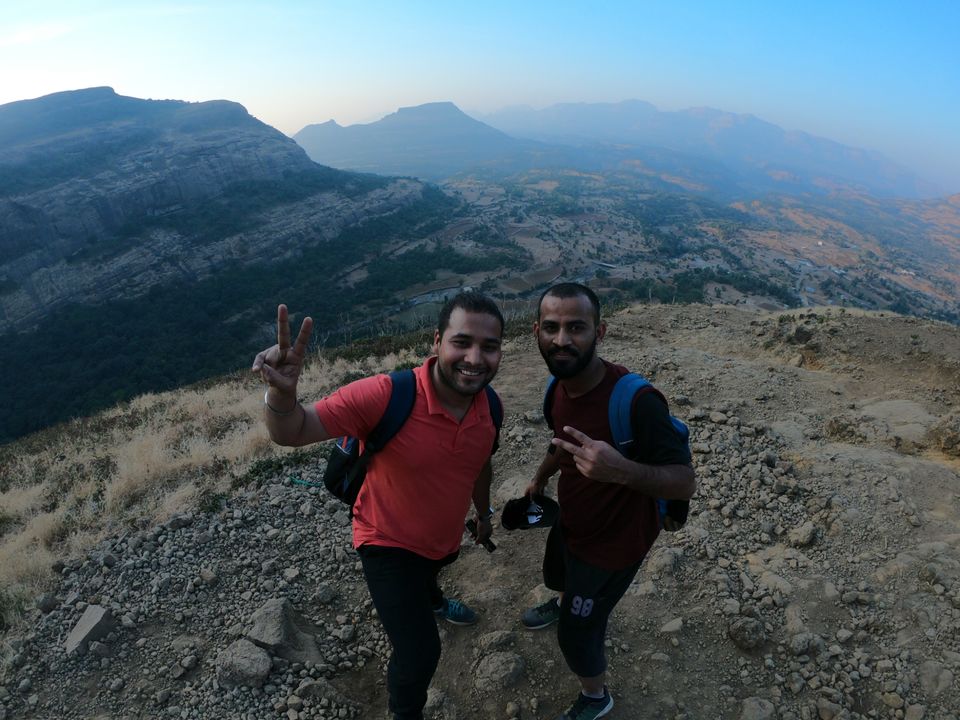 The next point of this trek is Taramati peak. This is the highlight of the trek. Try to wake up by 5:30 in the morning finish your stuff and head towards Taramati. The path to this point is behind the hut opposite to the Shiva temple. One can ask the guide and he will tell you. As we were late, we moved ahead rapidly as the path is well defined and marked. There are few places where the path is steep and one needs to be more careful. As we reached halfway, the small yet stunning red sun had already came out. It was a sight to sip in. We clicked some and ascended towards the top. There were already many people up at the top. You could find yourself in the midst of mountain ranges all around you and yours one being the highest. Though Kalsubai is the highest peak, it wasn't visible at that time of the day. Take time to enjoy the scenery, let the mind settle in. We spent around an hour here. We had to catch a bus so we had a hastened walk back to our camp. There's also a Shivlingam cave behind the Shiva temple. The Shivlingam is inside a cave supported on four pillars. The three of the four pillars are already broken. After taking blessings of Lord Shiva and a delicious breakfast of poha and tea we started our descend at 9:30 AM. It took us an hour to get down. As it was morning, we were quick. We were at Pachnai by 10:30 AM and caught the bus towards Rajur at 11:30 AM.