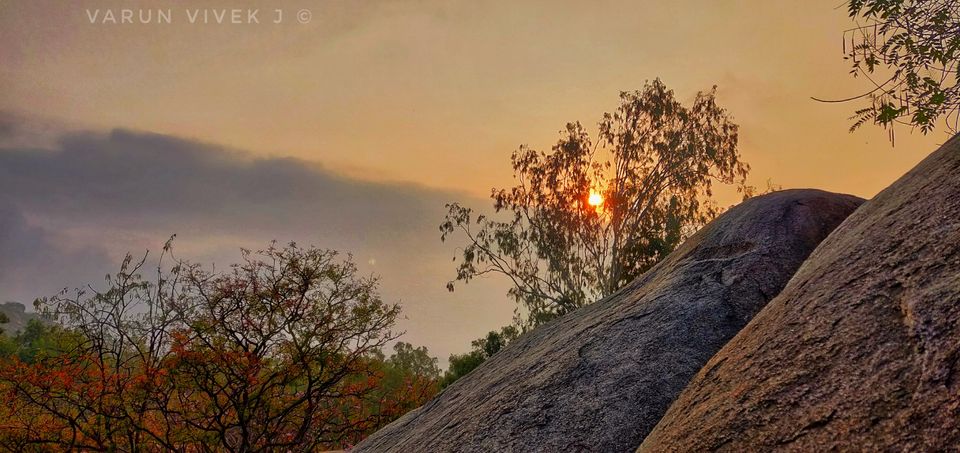 Located in just under 70 Kms from Bangalore, Antaragange in Kolar is a place that you would love to visit to explore your inner self. Surrounded by many rocky hillocks, Antaragange has a lot to offer for the trek enthusiasts and for adventure lovers.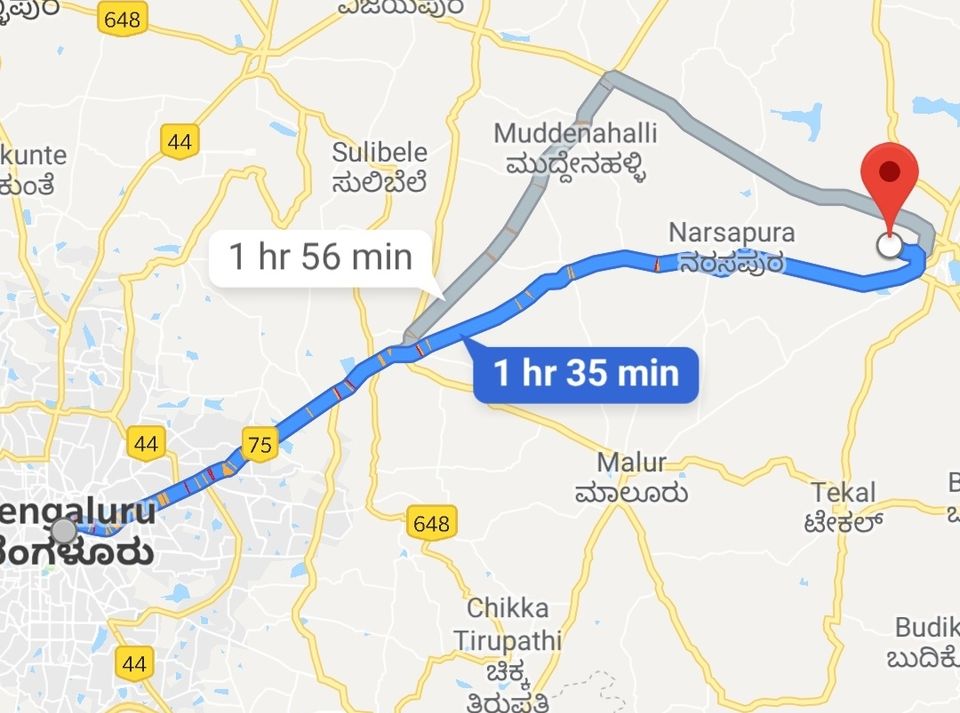 Revving the engines at 4:30 in the morning, we a gang of 5 with 3 bikes decided to meet up near KR Puram to start off the journey.
Tejas, geared up with all the riding gears met me near Vivekananda Road Metro Station. We rode up the Old Madras Road to meet our counterparts. Amit had informed me that he would be picking up Sunakshi and meeting us up after the flyover.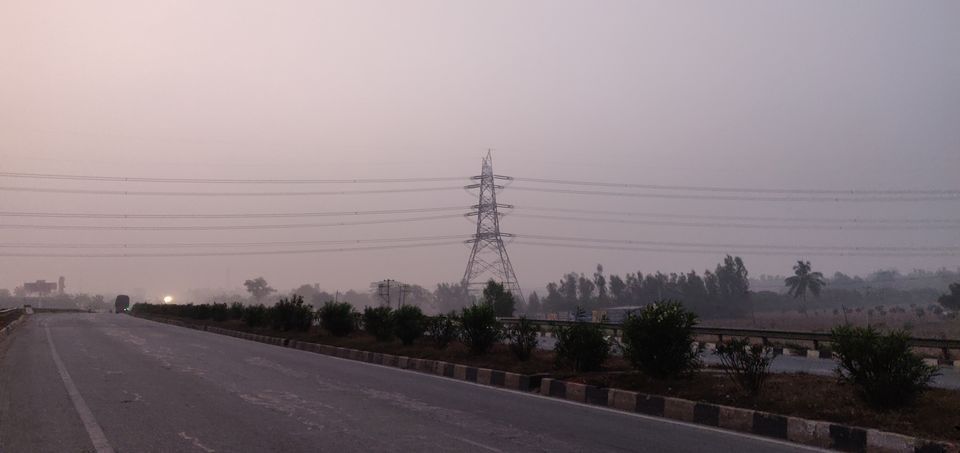 It was already 5AM. 15 minutes into the ride, Tejas wanted a tea break. He had decided on his "adda" where he wanted us to stop. That was where he would always hang out with his friends when he was pursuing his Engineering. Sipping up some hot, diluted coffee in a nearby tuck shop, we planned our stops.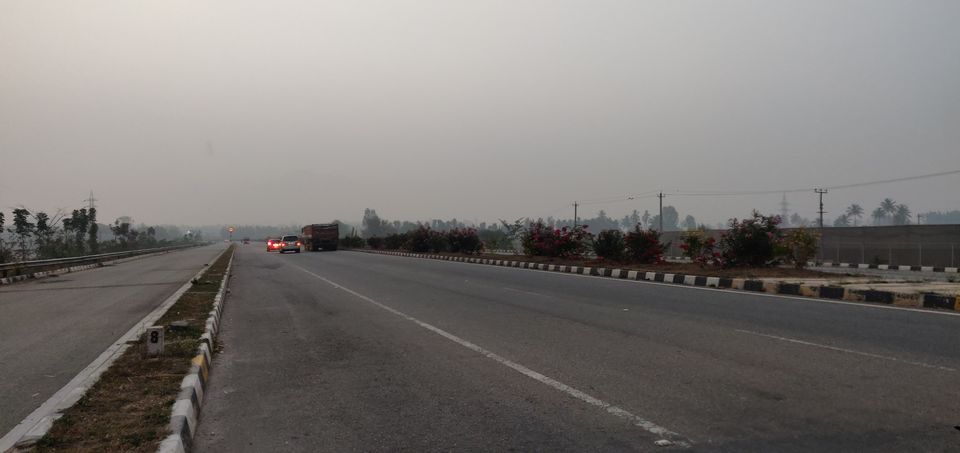 We could already see the sky slowly lighting up, getting ready for a sunny day ahead. Without wasting any time, I decided that we are not going to stop anywhere until we reach our destination. It was just a matter of 60Kms more.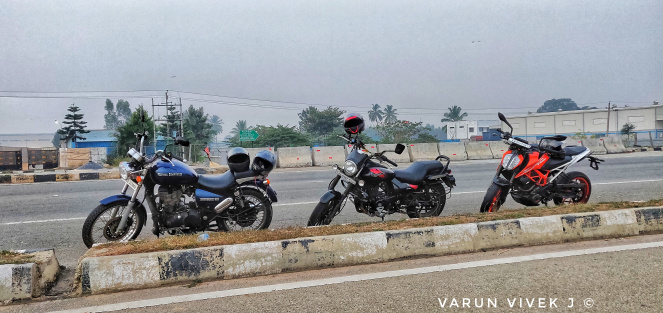 The morning summer wind was pretty cold. Riding at a constant speed, we made sure that we all stuck together to keep track of each other. In no time we reached Yele Mallappa Shetty Lake. This time, it was Amit wanted to stop. With no other option, we parked our bikes on the roadside and headed towards the lake. To my surprise, there was a special pathway for the walkers to take a walk right next to the highway and along the lakeside. This was the first time where I saw a service road built purely for walkers. Letting some fresh air into our lungs, we were soon rejuvenated. The lake had a beautiful view to offer us.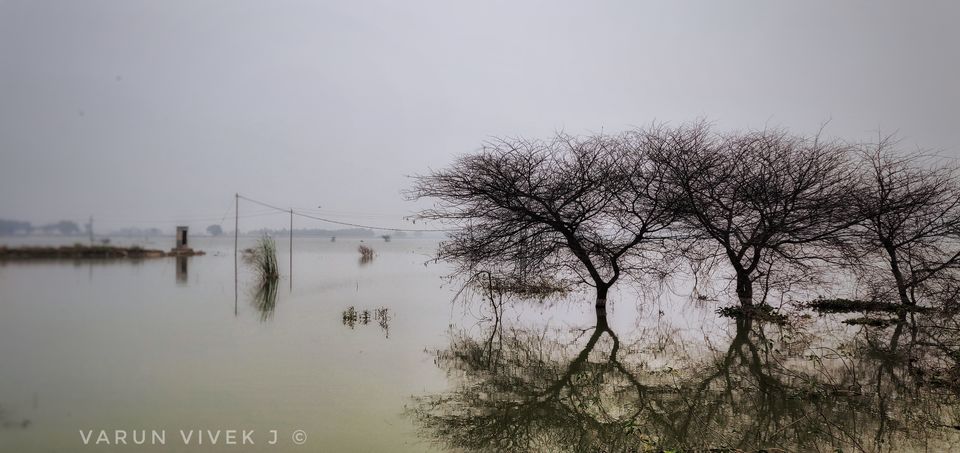 Spending sometime clicking pictures, soon we found ourselves back on the highway to Kolar. Well maintained roads easily let you catch up speed and maintain the same without any disturbances. In no time we had almost reached Kolar entrance.
Since none of us knew the way, we Googled our way to Antaragange. This was when we realized that Google Bike routing had let us down by taking us in the worst possible route. It made us jump over gutters to reach a road. That is when we decided never to route using Bike route option on Google maps. We could not control laughing out loud at our sad situation.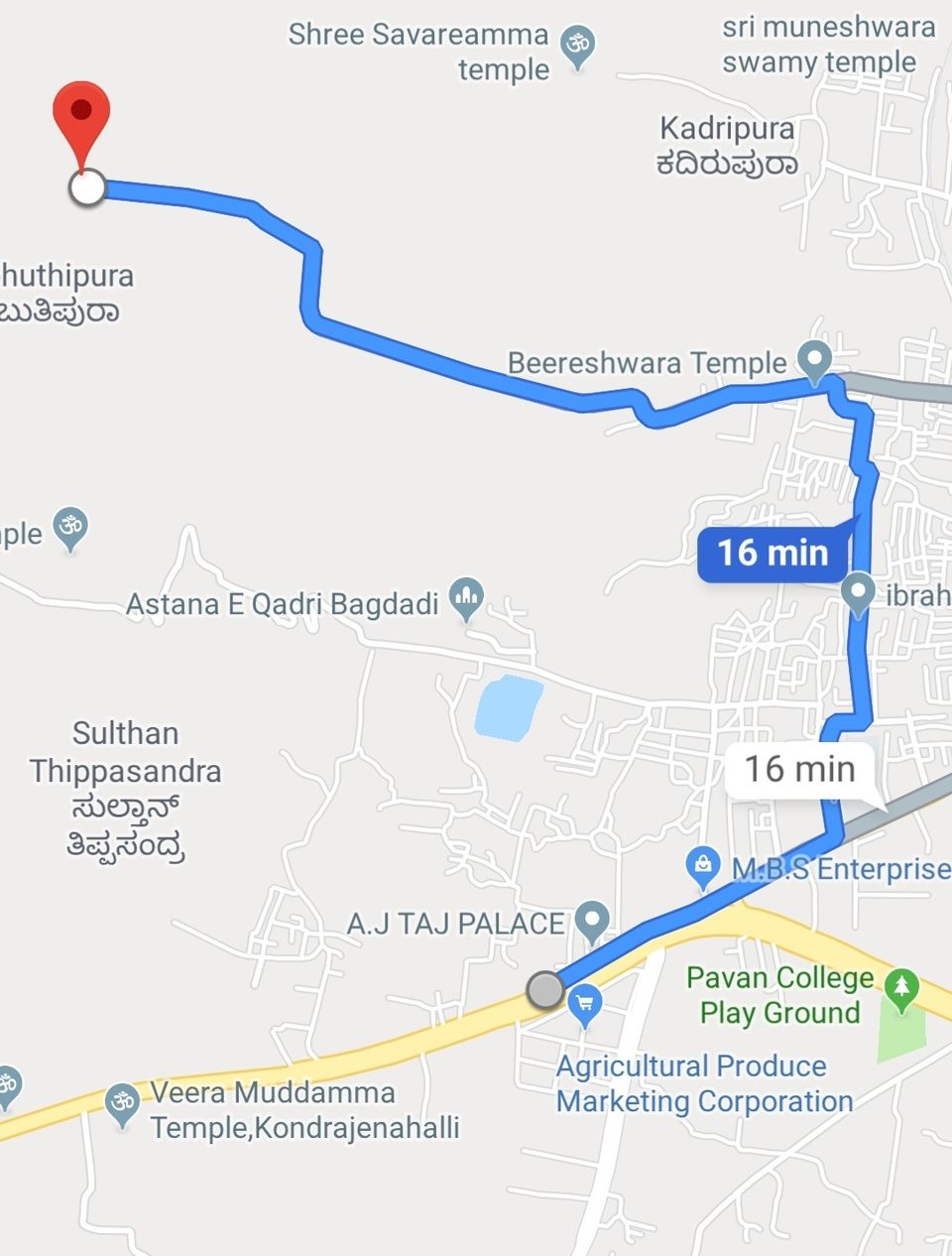 We reached the bottom of Antaragange and we started our trek. It was 7:15 roughly when we started walking up the hill. There is an arch welcoming you to the Antaragange temple. We had to climb up our way to reach the temple after which the actual trek started. We were welcomed by a huge number of indigenous red-faced monkeys, running all around us. Beware of any food items that you carry.
After a long tiring climb up the stairs, we reached the Kashi Vishwanatha Temple. Beside the temple is a Nandi statue from whose mouth you see water flowing day in and day out. Quenching our thirst here, we continued our adventure. The actual trekking started from here. We had done our homework well a week before. We knew the places that had to be covered. The rock caves are the main attraction here. We knew that we had long haul to reach the cavern.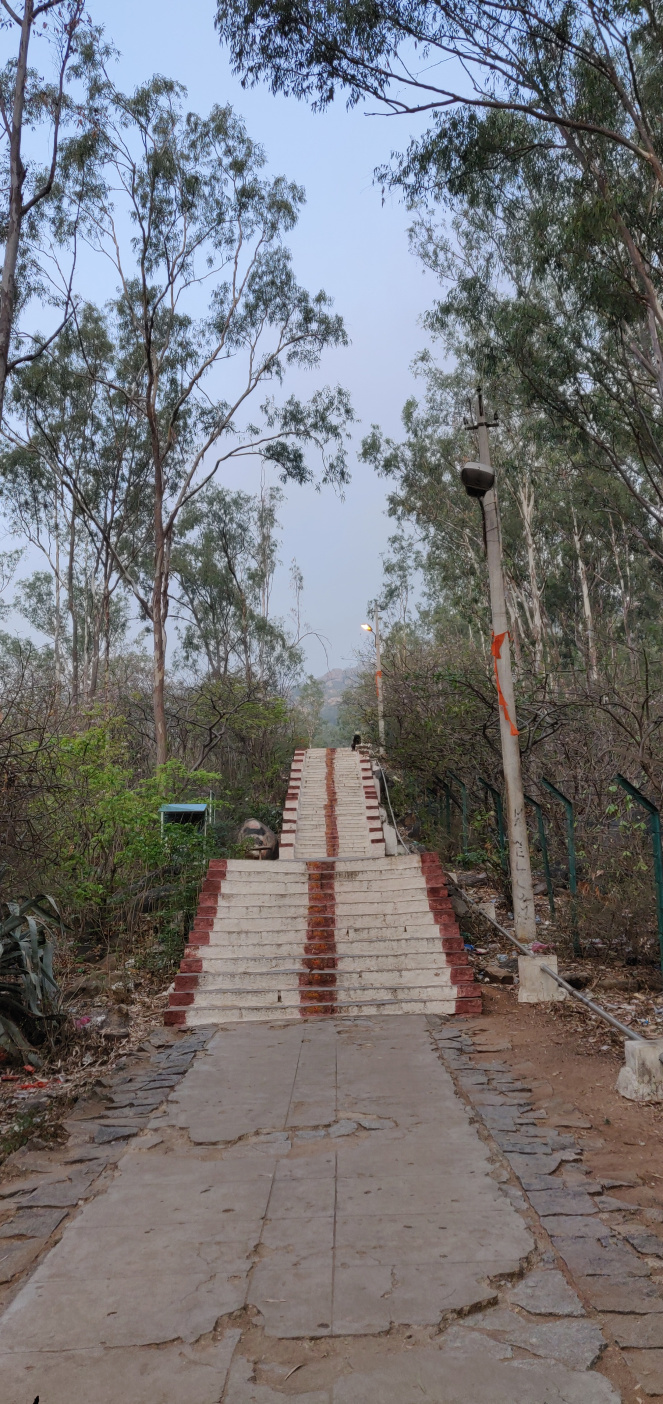 Hopping and jumping over the slippery rocks, we could see the golden sun rays making its way through the trees to reach us. The silence and the cool breeze had us in awe. It was just a quarter way through the trek that we found an amazing view and stopped short to click some amazing photos. It was just 7:30 AM and we had plenty of time to finish our trek. We decided to rest for some time and continue.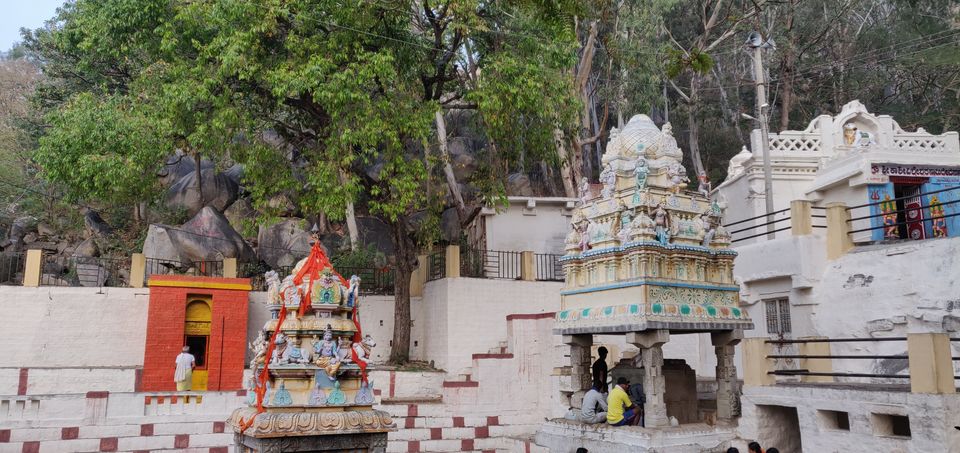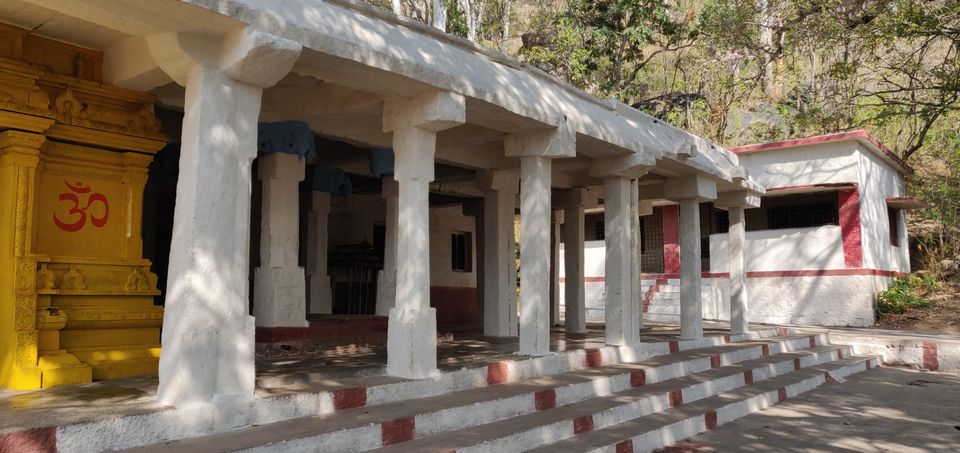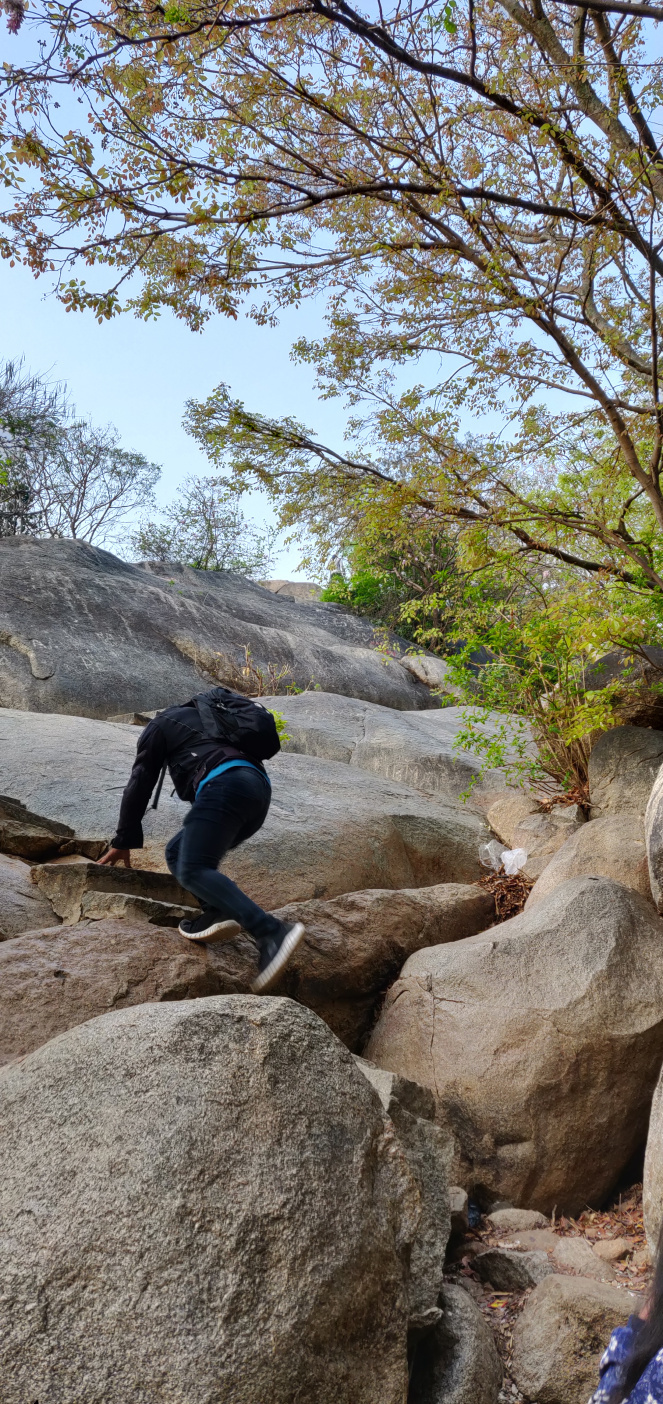 Just a few meters up the hill, we found ourselves amidst rock laden path. The trail was pretty easy without much of elevation. We glided through the path, in search of the caves. The sun had started to shine brightly. Making our way for another 10 minutes, we reached our destination.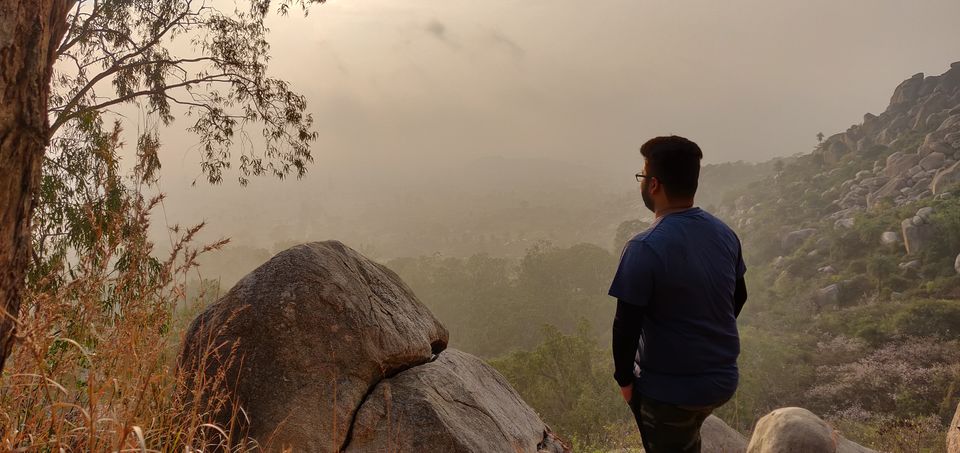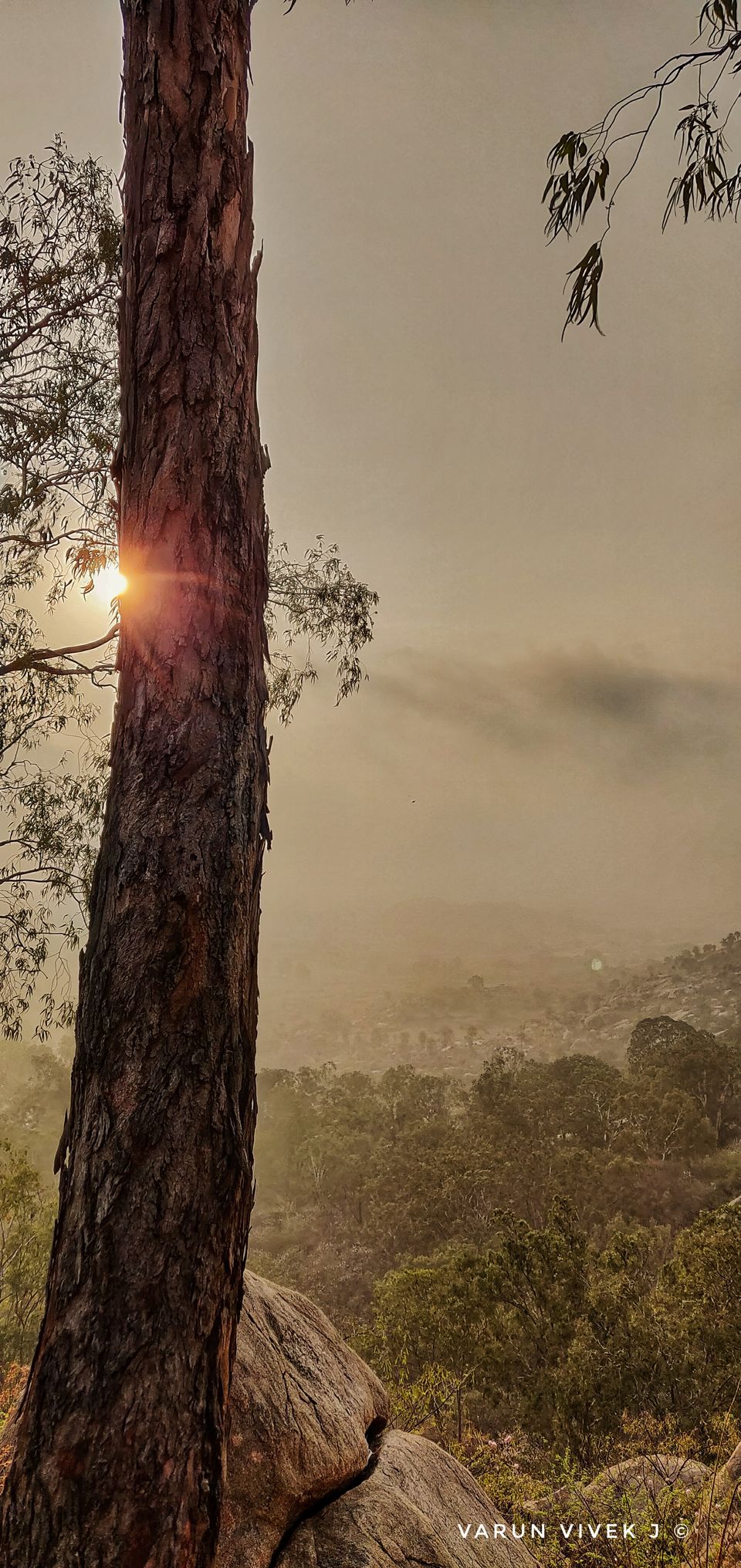 We found the locals selling tender coconut, buttermilk and drinking water. The rocky climb and sunny morning had sucked the water out of our body. We were badly in need of water. The sellers offered that they would take us inside the caves. Amit suggested that we accept their offer since the caves were dark, and it would be a lot risky to try it out on our own.
Upon agreement, the guide first took us to the Cave, Slot Canyon. The trek through this cave looked pretty simple. We had to squeeze and twist and turn our bodies to make sure that we fit in those small cave entry. The guide first got in position to guide us through. He waited for us to reach and then would he continue further. Every step we took deeper into the cave, light found it difficult to make its way inside. It got darker! Our mobile phone flashlights were our savior. Every step we took had to be careful and calculated. One wrong move and it would hurt us. We never wanted to risk, we continued cautiously. All of us managed to squeeze through and made it out of the cave successfully.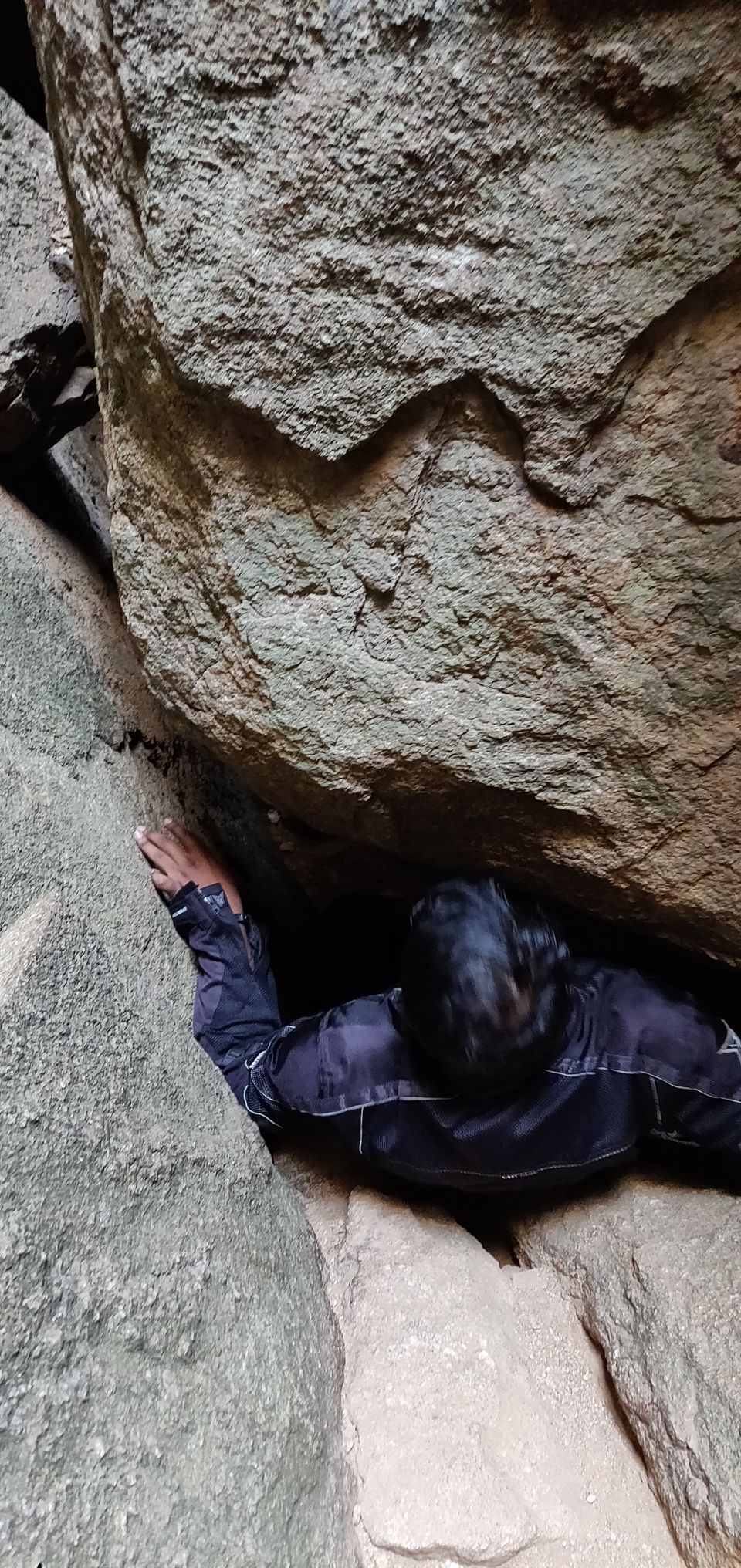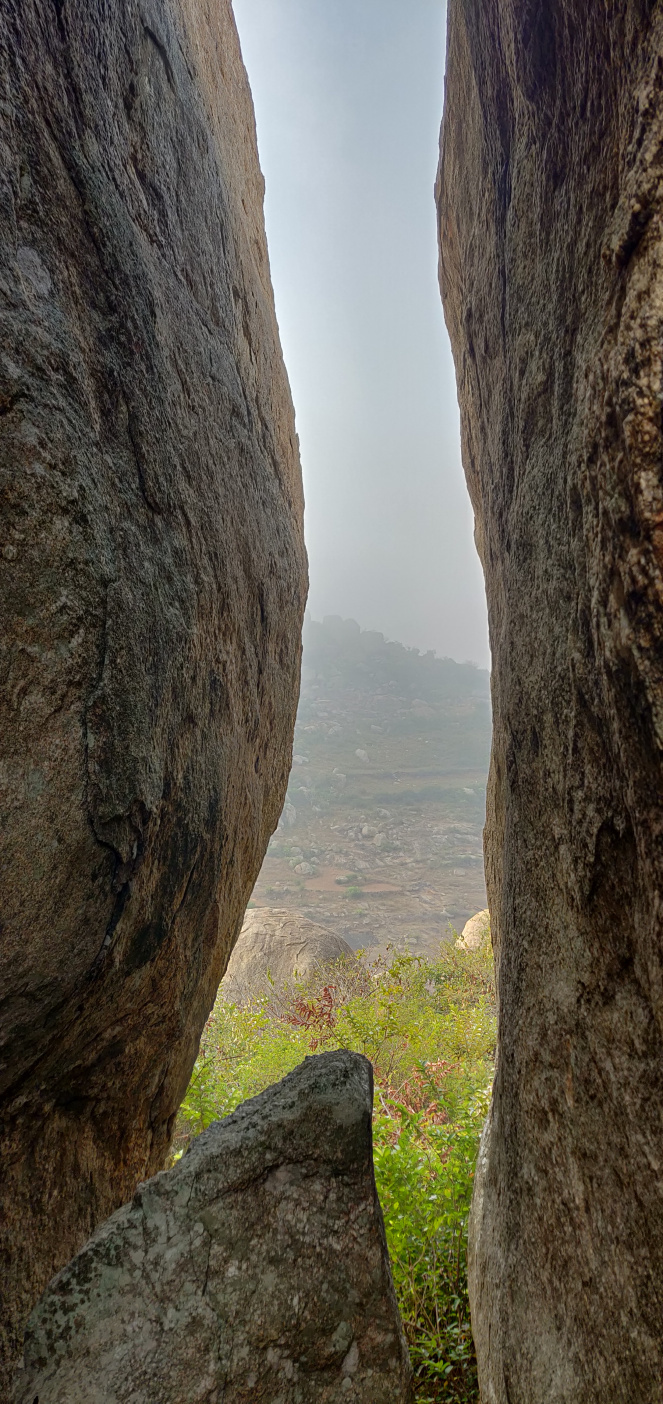 It was time for another cave. Just around 50 meters from the Cave, Slot Canyon is the Water Cave. As the guide told this was a tougher one compared to the other. He requested us to drop off the bags at the vendor and join him. We trusted him, placed our bags and followed him for our next adventure.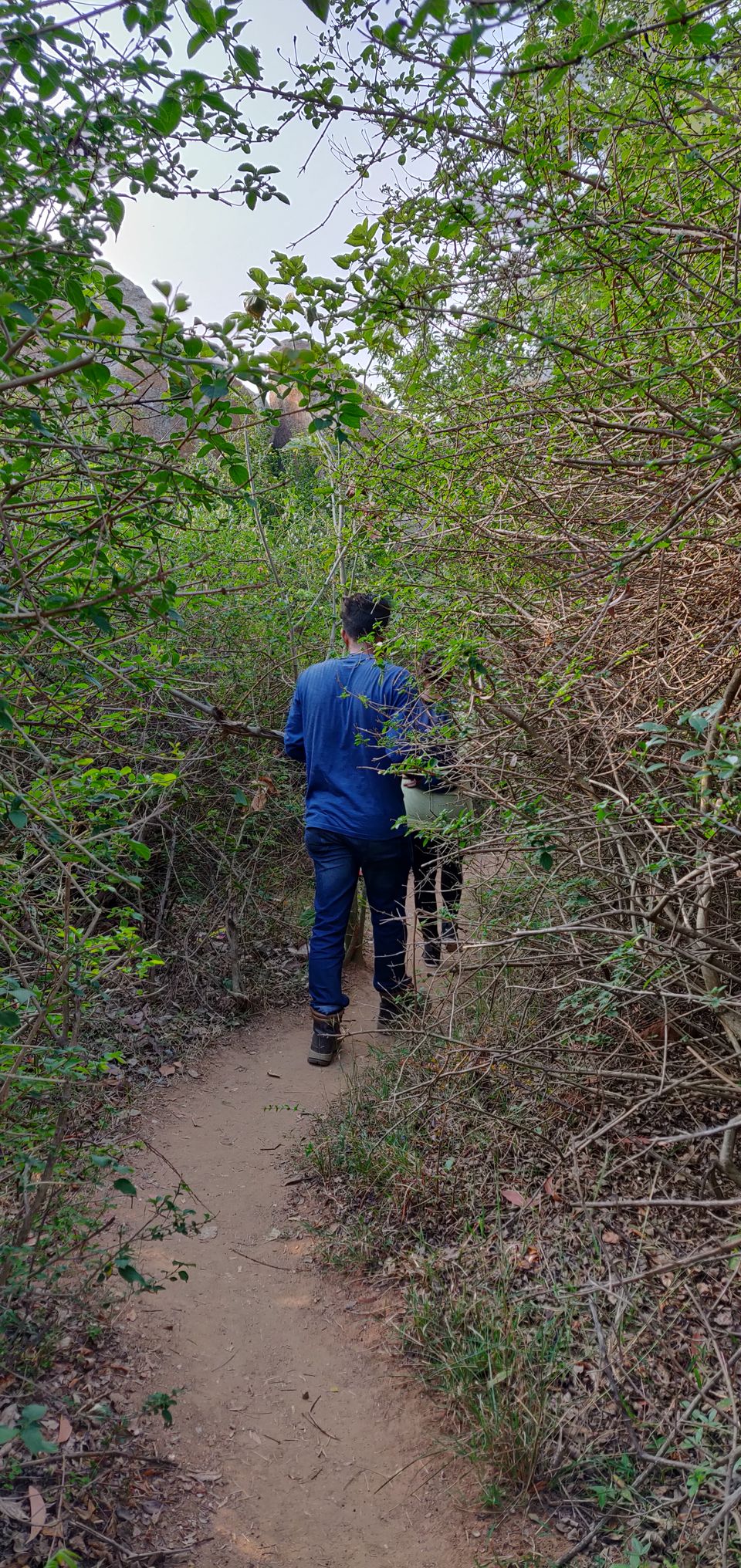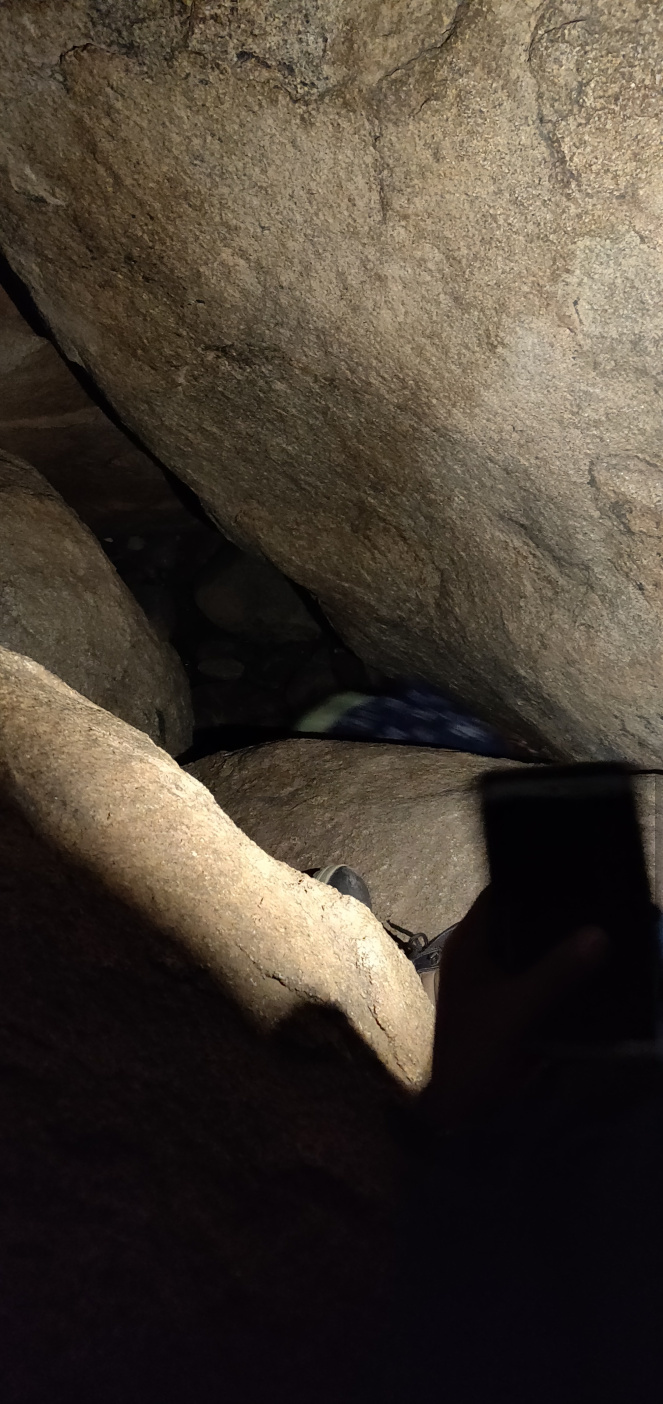 The starting looked pretty simple until we got inside the cave. Just one drop into the cave and it was darker this time. One single flashlight was not enough to light up space inside. The cave was pretty small and only one could crawl his way through it at a time. We could hear water flowing in between the rocks. Though the amount was small, it was enough to get our shoes wet and slippery. As we crawled our way out one by one, we were faced by one last rock climb. This time it was the toughest. The shoes were slippery. There was no place to hold on to even if we happen to slide down. This was a huge boulder to pass through. After continuous efforts, we were finally able to make our way out.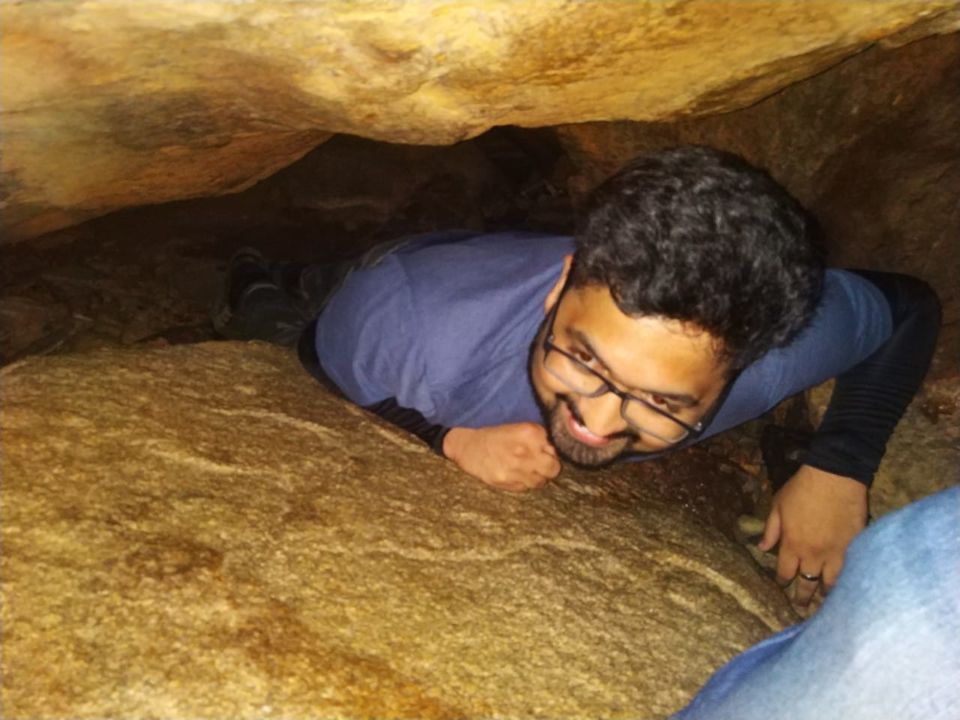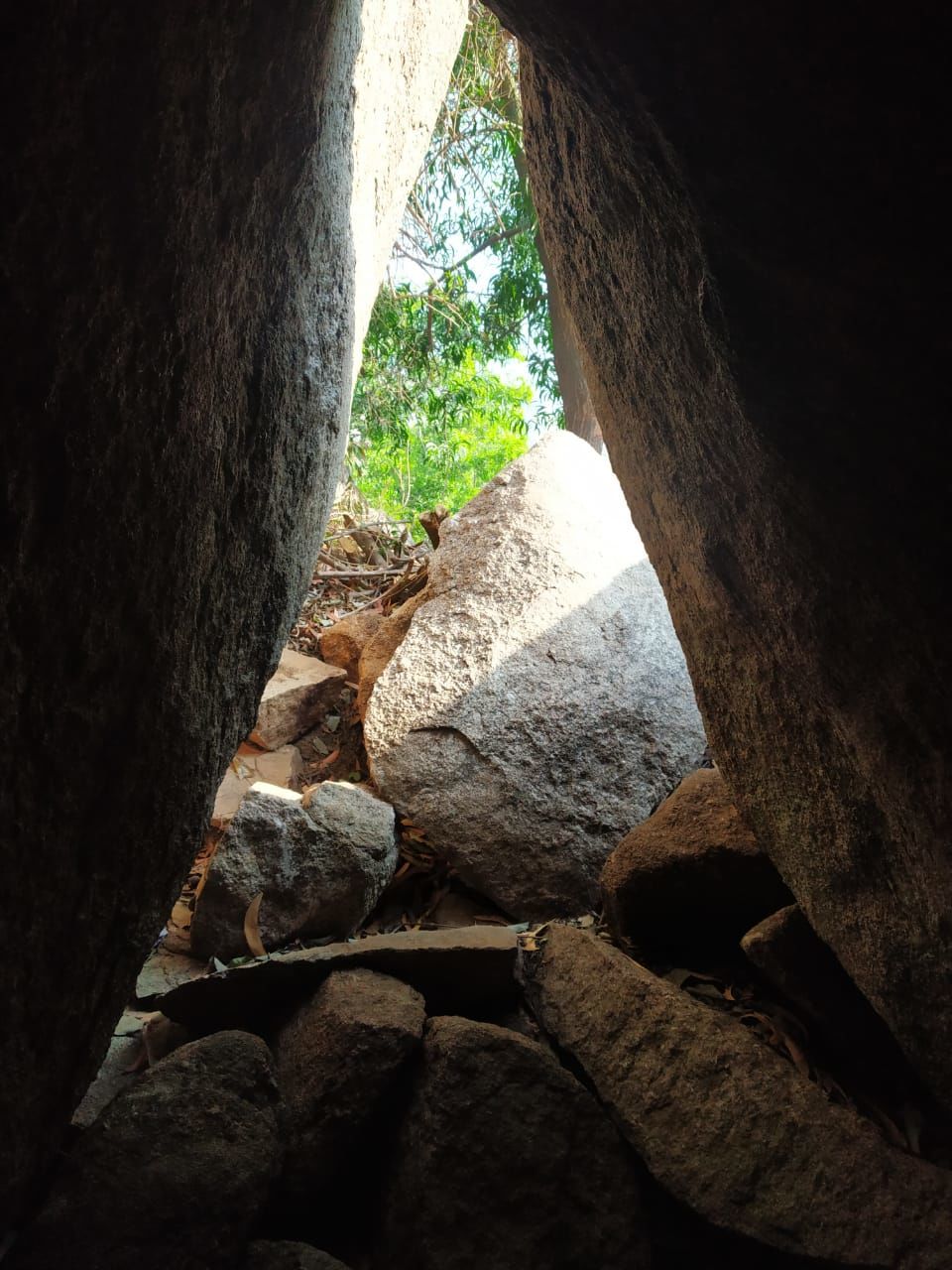 It was time for tender coconut. We sipped the super tasty tender coconut. Thanking and paying the guide for the adventure, we trekked down the hill to reach the temple. Our legs were shivering without energy. Resting for some time and paying a visit to the temple, we headed back to our bikes.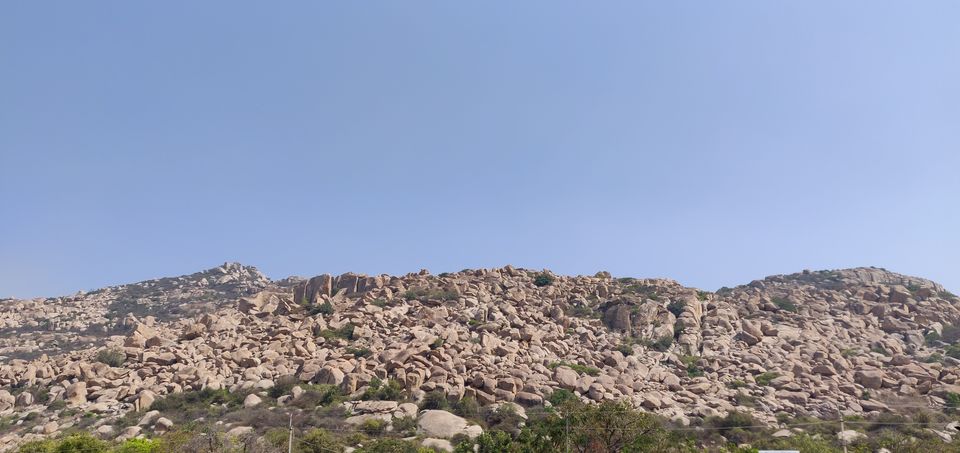 A small tuck shop cum hotel set up near the entrance of the trail had a lot of options to offer us. Munching on some yummy local dish, we headed back to Bangalore.
A well planned, executed one-day bike ride and trek had come to an end. We hit the bed as soon as we reached home and blacked out.
Follow me on Instagram at @varunj31 for more photos.
Visit my blog SunChaser for other posts.