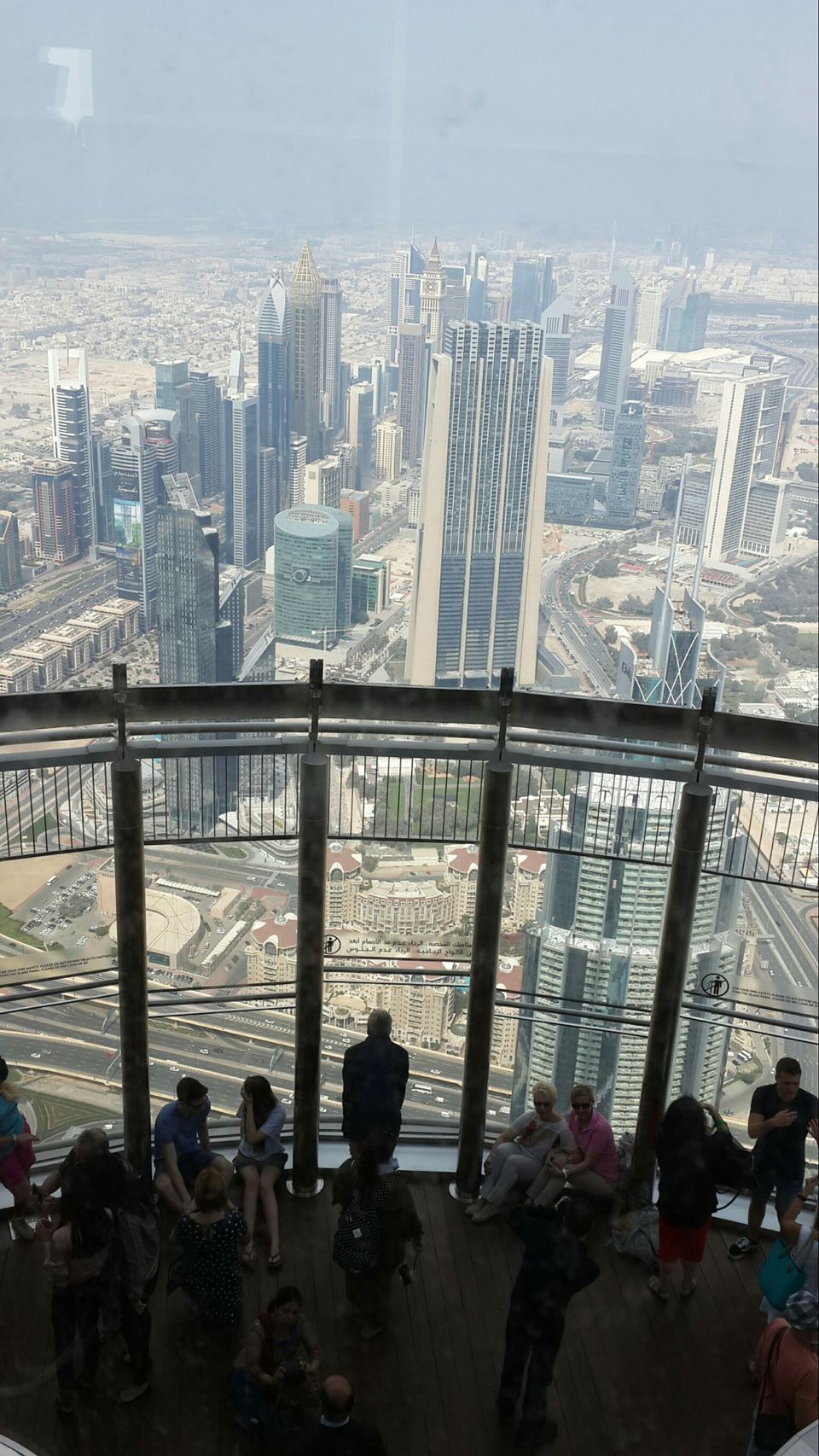 We were onboard our flight from Ahmedabad to Dubai when the captain suggested passengers who had not yet dozed off to peep outside the window for a breathtaking view of the port of Karachi. My friend and I obliged and leaped to our left to get the best view of the spectacle. The port city was dazzling in the darkness, ships shining like floating candles along the coastline. We were humbled to behold such a spectacular sight, also wondering how important a role this port must have played in the past just as it does today. We left Karachi, moved over to the Persian Gulf and flew towards the desert of Oman. I opened my Google Map, switched on the GPS and excitedly located the blue dot floating in the desert and heading to Dubai. After an hour, we approached a complex network of buildings, roads and bridges and we knew that we had reached our destination. After going through the monotonous airport formalities, we boarded a cab to Jumeirah where we had an AirBnB booked for the night. On our way we passed downtown and reveled every moment of our cab ride by constantly looking outside the window to catch glimpses of glorious Dubai. It was already 10 pm by the time we reached Tamo's place (our host) in a very posh neighbourhood of Jumeirah. We crashed as soon as we entered our room as we had to get up early the next morning to explore the nearby spots. I still remember how excited I was in anticipation for what was to come next in our itinerary. I didn't have much idea about the trip as all travel arrangements and itineraries were made and managed by my dear friend Shubhankar. It turned out to be a blessing as each day in the city turned out to be like a birthday surprise for me. (: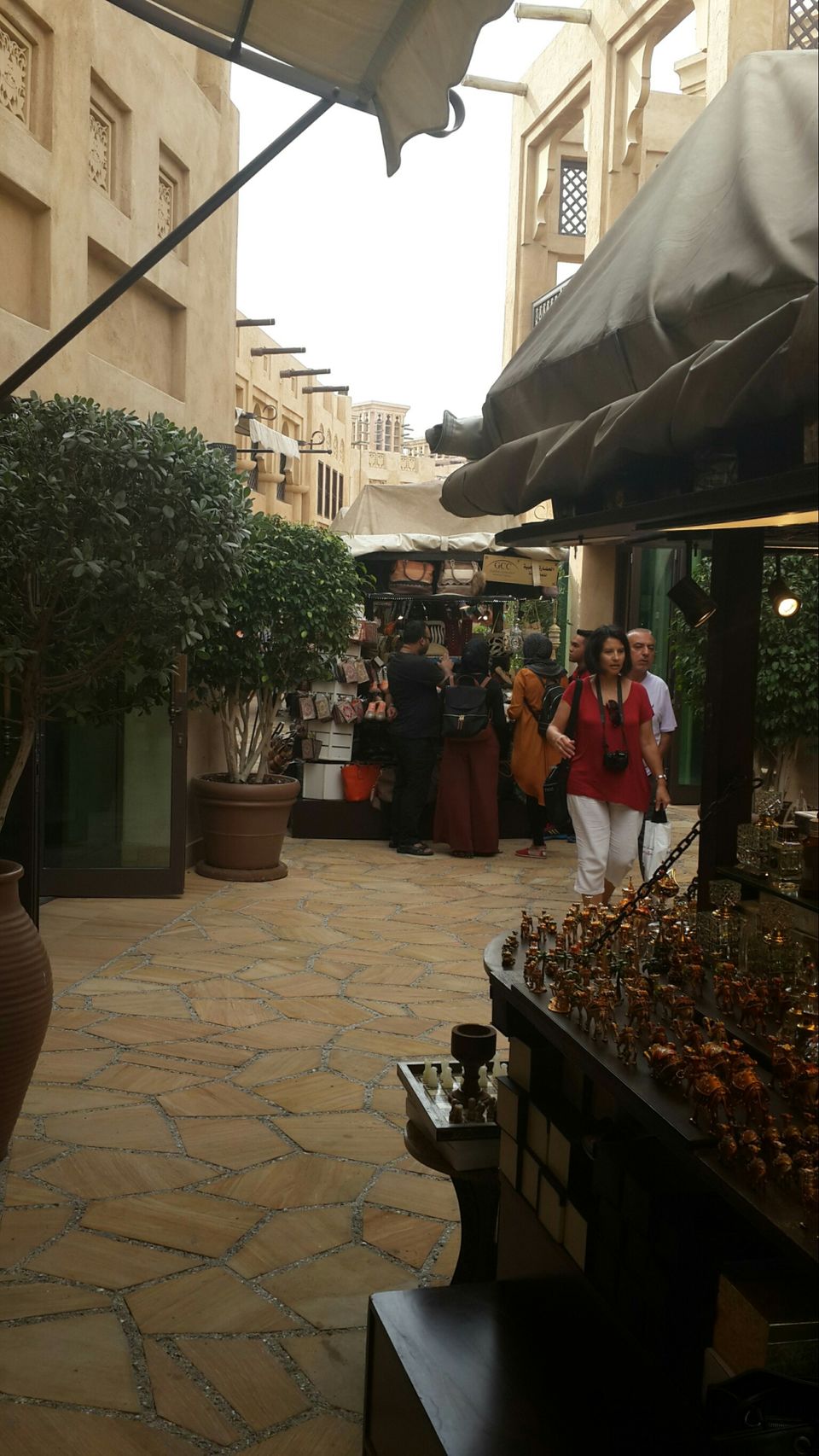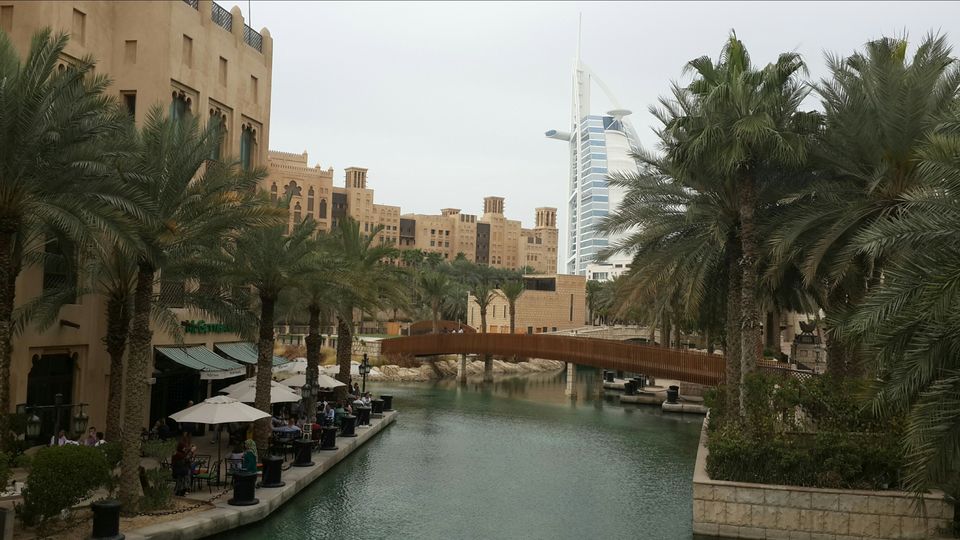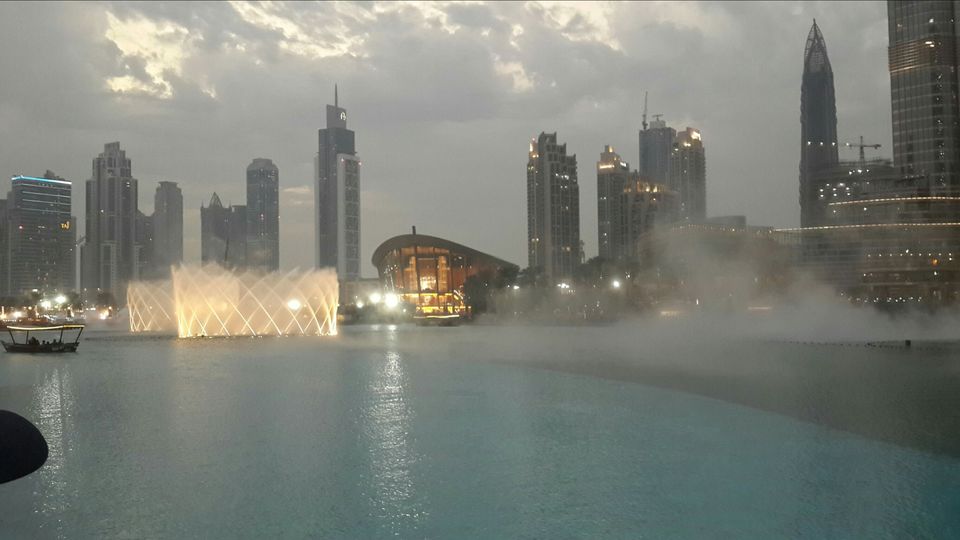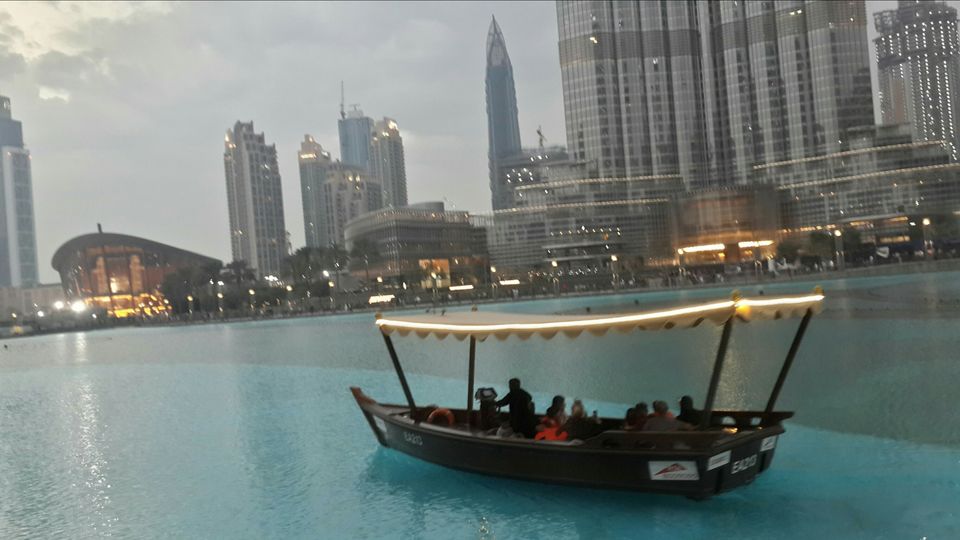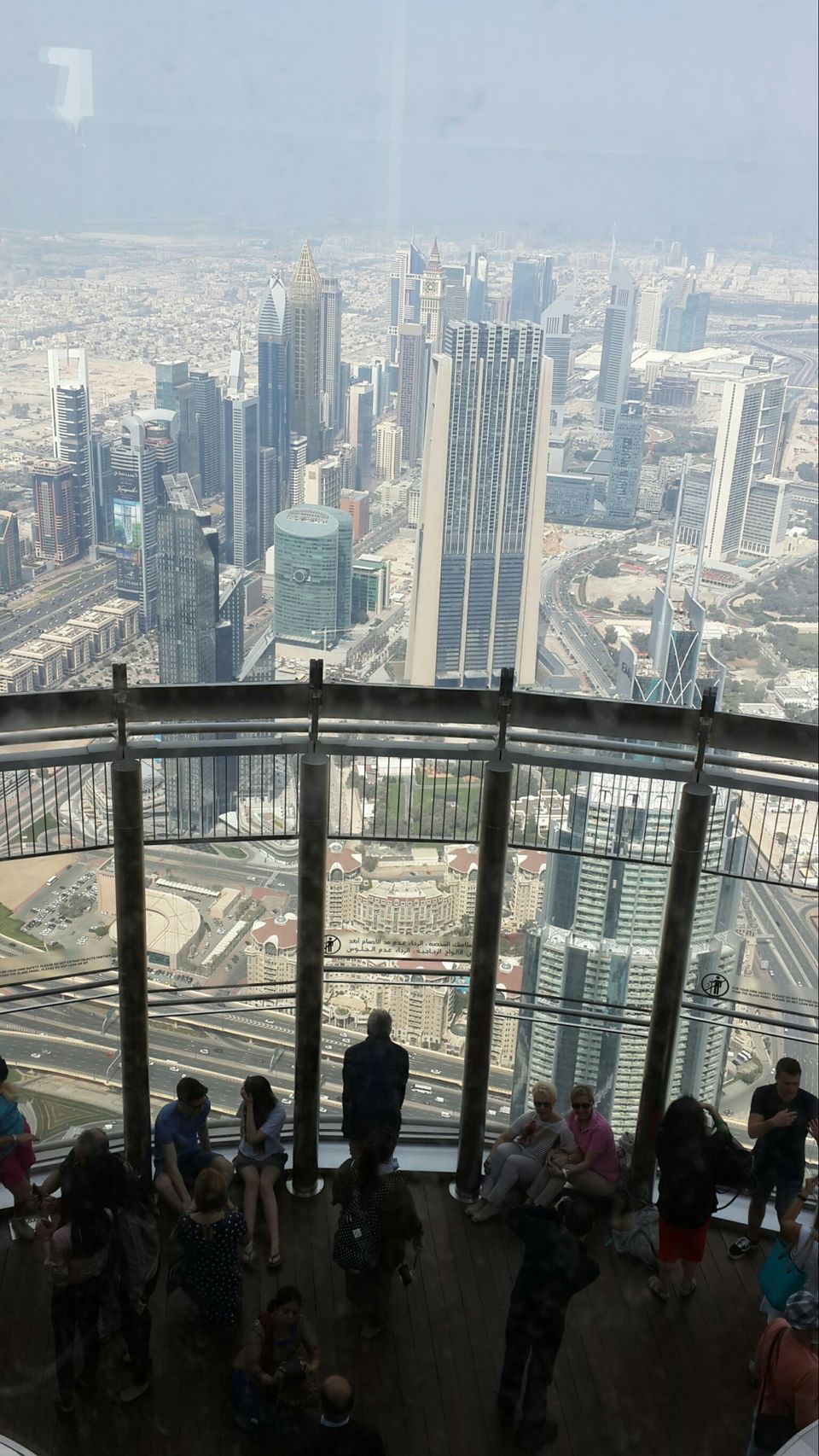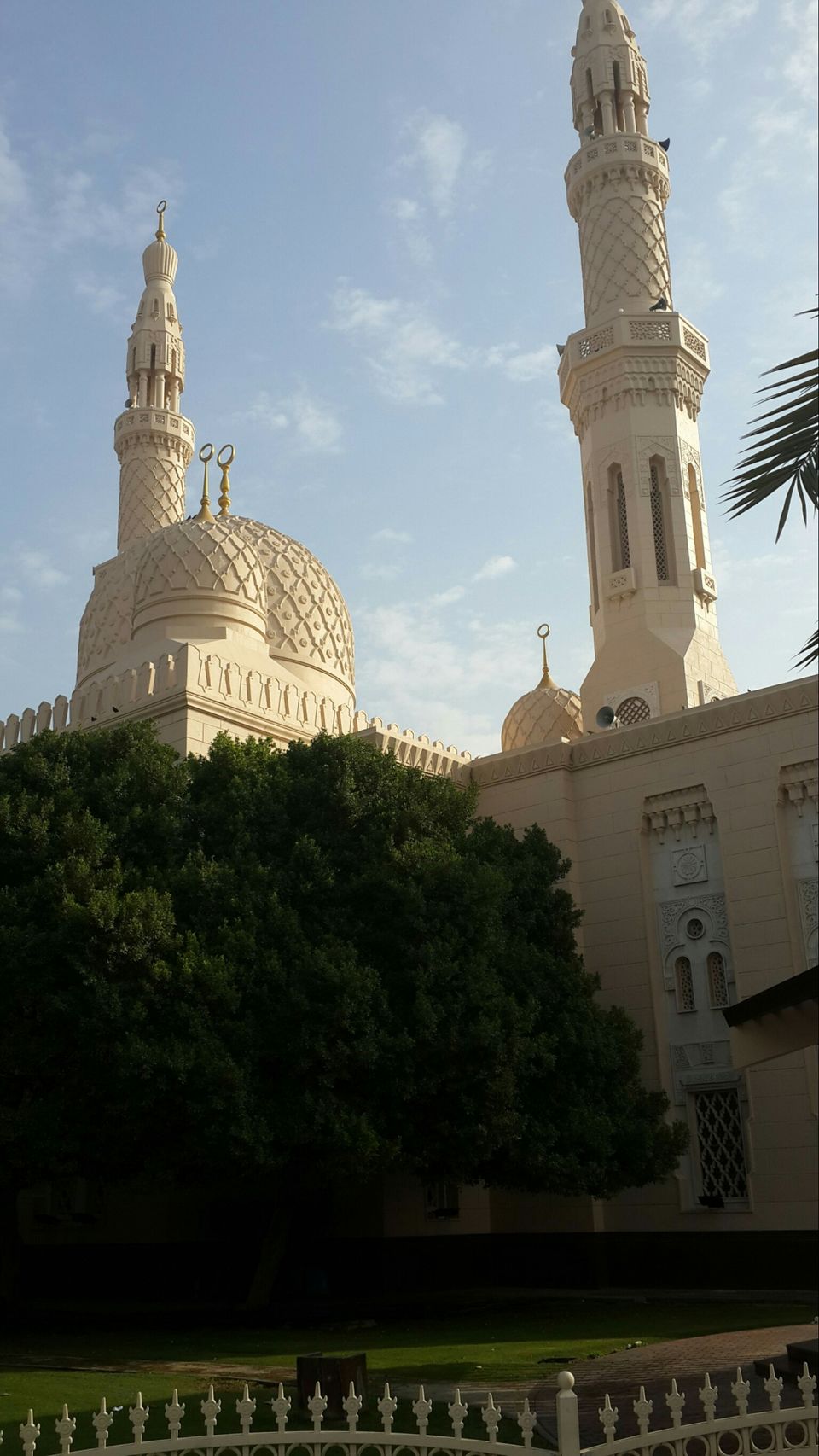 We got up at 6 am(yes you read it just fine) the next morning, thanks to my friend Shubhankar who did not want to waste any time while on vacation(how stupid I was to think that vacations are meant to while away your time). hahaha! Sometimes I wondered whether he actually caught any sleep over the entire trip or not because he was always up and ready whenever I saw him(I literally never found him in his night wear or while brushing his teeth). Well that was a boon for me as I always got the bathroom to myself every morning throughout the entire trip.
So let's talk about Day 2. I didn't take much time that morning, got up, had a bath and was all set to begin another day's adventure with my buddy. It was still time for check out and other people in the house were still asleep, so we decided to take a walk in the neighborhood.
We headed towards the Jumeirah Mosque, one of the most adored landmarks in the U.A.E, which was barely a mile from the house. On our way, we went past Dubai Zoo and also saw a fleeting glimpse of a Lion resting in his enclosure(we were feeling lucky!).
A few steps later, we spotted a super market and that was a relief I tell you. We bought milk, chocolates, breads and chips, ate most of it and kept the remaining in the bag for later. With our batteries fully recharged, we marched forward. Google Maps told us we were almost there so we looked for signs here and there and very soon we could see minarets and a large glowing dome in the distance. We were so excited that we started running towards the monument. The DSLR came out of its pouch, camera app was immediately pressed on the phone and we were all ready with giggles and smiles to create awesome memories for posterity.
The Mosque was huge, complete with four little domes on the sides, one big shining dome at the centre and two long minarets close to it. It is said to be the most photographed mosque in Dubai and we obviously wanted to keep up with the record, so no time was wasted in admiring the beauty of the place and we clicked away pictures from all angles and with all poses we could think of.
After spending some good time at the historic cum religious monument, we ran back to Tamo's place(our AirBnB) as we had to check out from our room on time lest she would give us bad traveler ratings on AirBnB. haha!
We managed to check out on time and decided to go to our next host whose place was right on Jumeirah Beach(the hottest address in Dubai) but we figured that we were short on time as we also had to reach downtown by 11 am for the Burj Khalifa spectacle. We made a very difficult decision to take all our luggage with us to Dubai Mall(the largest mall in the world from where one can enter Burj Khalifa which is of course the tallest building on earth), hoping there would be some kind of storage room over there.
It turned out to be a wise decision as there was luggage space for travelers visiting At The Top Observatory at Burj Khalifa where we left all our heavy burden and took a step towards the clouds(It's literally like taking an elevator to a mountain peak). My ears blocked due to air pressure difference in the elevator(also the fastest in the world) as we leapfrogged multiple floors in a jiffy and reached the top in just a few seconds.
The view from the top was exhilarating and quite surreal actually. I could see the Persian Gulf to my left, lots and lots of high rises everywhere and the vast expanse of U.A.E desert in the distance. The clouds seemed to be at the same level and the weather also felt much cooler at the 125th floor of the building(At The Top includes access to floors 124 and 125). After loads of photo shoots and some mandatory souvenir shopping for our people back home, we were ready to say a final good bye to the enchanting place.
We left our bags at the security so that we could roam about the Dubai Mall with ease. The mall was ridiculously huge- trees lined up along some of the pathways and cars plied on the walkways for tourists and daily visitors alike. My friend is smitten by exotic cars and gets mad whenever he sees a Lambo or a Tesla. I remember how excited he was when he sat in one of the Tesla cars which were on display near the Aquarium. Yes there is a big sea world in the middle of the mall and you can see all kinds of big and small fish flying around behind the gigantic glass wall. In a nutshell, Dubai Mall is a fully integrated and entertainment packed resort city which has something for everyone.
Although we couldn't cover the whole mall, we had to leave as it was getting very late and we had to check in at Thierry's place(our next host). We took our bags, went out, boarded a cab and saw the downtown lights fading in the distance as our car whizzed towards Jumeirah Beach.
We again got up early in the morning but this time there was no usual hurry(even my friend Shubhankar felt at peace that morning). It was going to be a full day at the beach and we got totally engrossed in the vacation mode. This time we didn't even take a shower as we had a plan to bath in the sea whenever the sun would show up. A sunny day was in the forecast and we just couldn't wait for our fun to begin, so we quickly popped out of our room with backpacks stuffed with towels and pairs of extra clothing.
We were happy to leisurely amble on the beach and allow the fresh sea breeze to seduce our senses with its soft gusty sounds and aromatic scents. We also saw many locals jogging with great energy along the sea and some children playing football on the damp sand close to the sea. It was still quite early and tourists had not yet populated the beach area, it would be a territory of the local Dubai people for 1 more hour until hordes of tourist buses and cabs start to line up in the parking zone. We just kept going without stopping until my travel buddy spotted a red Ferrari parked nearby and he went berserk as usual. I knew what I had to do and I quickly shot several of his pictures from all angles, showed him the pics for his consent, immediately got them approved and then we moved on towards the other end of the beach, close to Burj Al Arab. We came to know that there are many sections of JB(Jumeirah Beach) like Kite Beach, Surfing Beach etc which are reserved for specific activities like Jet ski, para-sailing, kite flying, surfing, bathing and the like.
After having walked the full length of the beach, we turned back and started moving towards the bathing and relaxing area. The sun was out and it was shining as if it was promising a perfect beach day for us. People had also started pouring in and the beach was slowly coming to life with life guards taking their position on vantage points, guides bringing out their water sports equipment and some over enthusiastic folks already jumping in the water here and there.
Once at the bathing section of the beach, we looked for a clean and safe space and then we quickly spread out the beach mat on the sand, just a few steps from the inviting sea water. We set up all the necessary things on the mat, took off our clothes, popped out the SPF onto our skins generously(we are so brown already, we don't wanna get charred with excess tanning) and were all geared up to test the waters of the Persian Gulf that seemed to welcome us with open arms. We had a nice and quiet time in the water, clicking pictures, admiring the backdrop formed by the towering 7 star property(Burj Al Arab), swimming in shallow and sometimes deeper waters and happily watching the crowd doing all sorts of funny things around us. After spending quite some time there, we popped out of the water, changed into a comfortable set of beach clothes after a brief shower and were ready to go to some place that could satisfy our starving souls.
As we moved in the direction of Burj Al Arab, we were sure to find some good restaurants to choose from in the area. There was Jumeirah Beach Hotel hosting several delightful cafes and restaurants like Jamie's Italian and I am really fond of Italian but my friend wanted to try something more local and hard to come by back in India and he definitely had a point, so we passed by the hotel and continued with our food search. Next we saw a Turkish Cafe called Sultan Baba Iskender Restaurant and it had awesome traveler ratings on the net, so we decided to try some authentic Turkish cuisine that afternoon. The ambiance was lively, light soulful Mediterranean music was playing and the food was very authentic indeed. They also served us some complementary Turkish Tea post lunch and that gesture surely won our hearts(kehete hein naa, peit ke saath saath neeyat bhi poori bhar gayi :D ).
Turkish Tea, a cherry on top of our lunch
Now we were feeling so refreshed and upbeat that we felt like walking in the whole of Dubai and our wish was to soon become a reality. Uber didn't work for some reason, buses didn't stop or the desired bus route didn't turn up at any bus stop or perhaps we were a little impatient to keep waiting at one place. All these factors led us to literally walk from the Turkish place all the way to Jumeirah Madinat(a luxurious 5 star property designed in a traditional Arabic style very similar to Alladin's Agrabah city) which is open for tourists for dining, sightseeing and shopping. Our mission was to take as many pictures as possible and the architecture of the place was so breathtaking that I began to take some random pics as well(the photographer in me came alive).
We walked in the mall, by the river and along the many cafes to absorb the essence of the place. When we were done, we came out and decided to do the final thing in out itinerary, a tour of the Atlantis hotel at Palm Island(the first and one of the largest man made islands in the world). We took a cab to the Tram station that would take us to the Palm Island. Atlantis, The Palm was the last station on the line and we got off the tram and moved towards the entrance of the legendary hotel without wasting any time. There were so many shows happening all around for tourists, one of them was a live musical by the poolside where people were having a good time. We went inside the hotel and saw many designer shops and Michelin star restaurants lined up along the promenade. I saw Master-chef Gordon Ramsay's Bread Street Kitchen which I really wanted to try, alas my tummy was full.
Worth posing in front of the Atlantis, The Palm
Well we popped out of the property and clicked a few pictures of the magnificent structure that was shining like a golden fortress. We noticed that there was an entire street market along the sea shore(much like the Marine Drive in Mumbai) and took a quick glance of all the shops and eateries lined up. It was very late now and we decided to head back to Thierry's place(our host) at Jumeirah Beach. We took the return tram to the mainland and boarded a cab to our residence from there. While riding in the cab, I thought about the man made island, felt fortunate to have experienced it first hand and wondered how mankind is able to accomplish just about anything from its endurance and hard work.