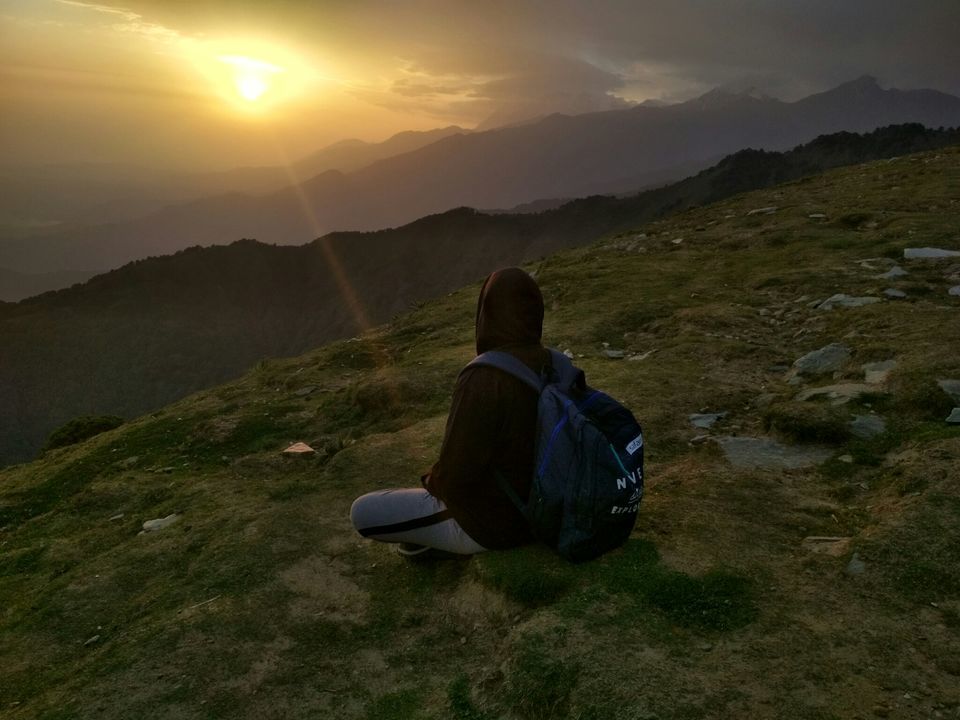 Only when I heard the phrase, "Quit my job to travel", it created fear within me. Several questions ran in my mind from basic survival requirements to luxury retreats! But, this time I will happily be one of them who says, "Quit my job. Travelled. Found a new perspective to life."
I was always in to adventure activities. Everything that created adrenaline rush fascinated me. So, this time we chose to have an experience that would be a story for our kids in the future :p
*Paragliding* it was. And when we think of paragliding in India, no other place comes up in our minds or hearts except Bir Billing.
Unlike our earlier trips, that are mostly pack-and-leave, this time we planned! And trust me, things were smoother. We got in touch with TravelBirBilling to get a customised package for us. After going through various packages, we opted for the Volvo Bus Package. It's an amazing package for those who just want to relax throughout the trip without worrying about bookings or travel. Here is the entire itinerary:
Day 0: Volvo bus from Delhi to Bir.
Delhi to Bir. (550 km/10-12 hr)
Arrive Majnu ka tilla, Patala ground flyover. Board volvo bus at 1930 hrs to Bir. Overnight journey in volvo bus.
Day 1:- Arrive Bir, local sight seeing and overnight stay in Hotel at Bir.
Arrive Bir and later visit 9th century old Shiva temple and palpung sherabling monastery Bhattu by car .
Dinner and overnight stay at hotel in Bir.
Day 2: Bir to Billing trek.
Trekking from Bir to Billing. (10 km./5 hr).
Post breakfast, Start trek at 1100 hrs from Bir. Trek passing through pahari villages and mountain stream. After trekking 4-5 hrs. you reach at Billing, which is paragliding takeoff point at the altitude of 2430 meters from sea level. Pitch your dome tents with camping team.
Bonfire, Dinner and Overnight stay in Dome tents at Billing.
Day 3:- Paragliding and Bir to Delhi bus (550 km./10-12 hr.).
Morning paragliding session of 15 to 30 min, land at Bir paragliding landing area. Walk for 1 km to hotel for breakfast. Later leisure time to explore Bir Tibetan colony area, monastery and and later transfer to Bir Bus stop for volvo bus to Delhi at 1830 hrs.
Day 1, 17th of May, we boarded a volvo bus (Northern Travels) from Majnu ka Tilla, New Delhi, 8.30 pm. Trust me, the feeling of being in Himachal started from the bus stand itself as most travellers were traditional Himachali people wearing those beautiful costumes. It was an overnight bus from Delhi to Bir. The seats were much more comfortable than what we had expected them to be.
It was day 2, 18th May, 5.30 in the morning. What else could we have asked for than a magnificent view of the Dhauladhar ranges right in front of us! We were almost about to reach Bir Chowk. According to our package, we had our booking with Hotel Paul Manor that lies slightly ahead of the Chowk.
Tip: Most buses go till Bir bus stand and then returns via Bir Chowk. If you have a hotel that is near Chaugan Chowk/Bir Chowk, deboard only when the bus returns.
It was 6.30 in the morning and we finally reached Hotel Paul Manor. We were definitely tired after the overnight journey, but the view from our balcony, the serenity, the simplicity took our breaths away. Slightly after checking in, I happened to stand at the balcony and that was when a shepherd came along with his herd of sheep. Oh, that view was something I wish I could capture for a lifetime!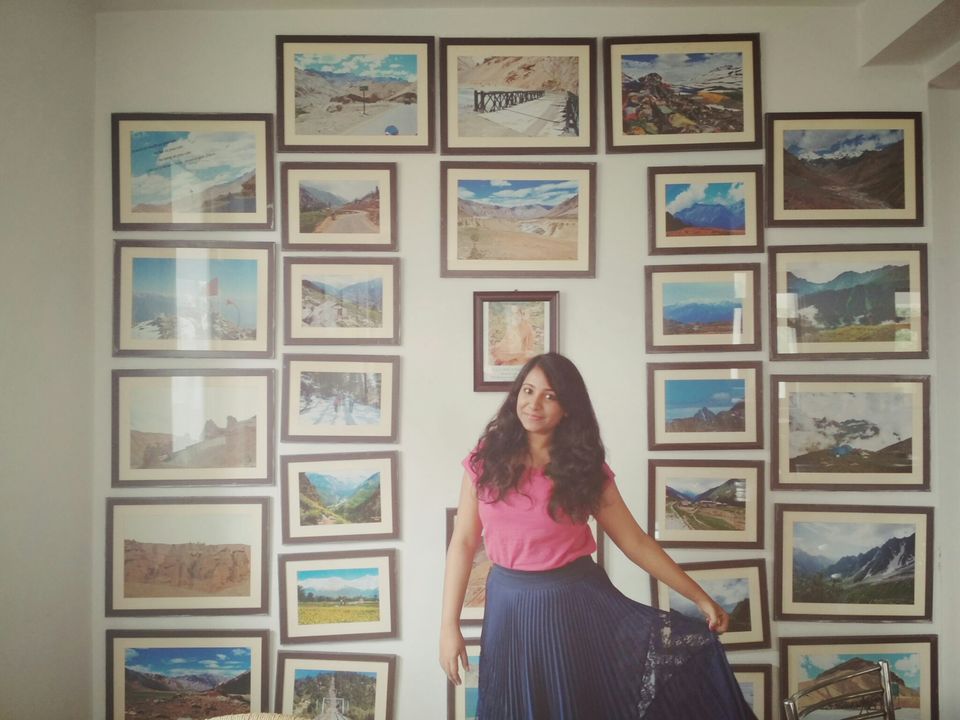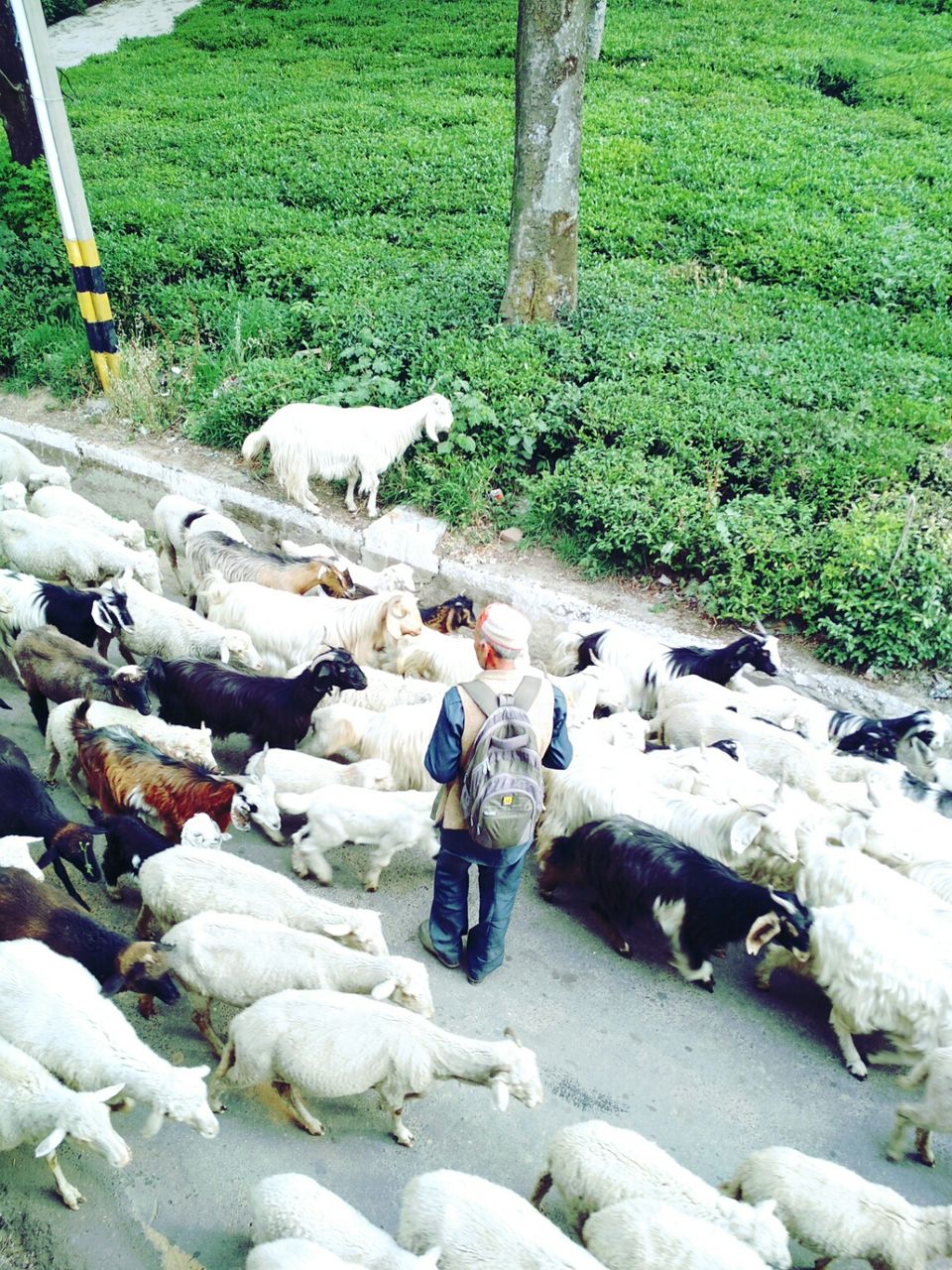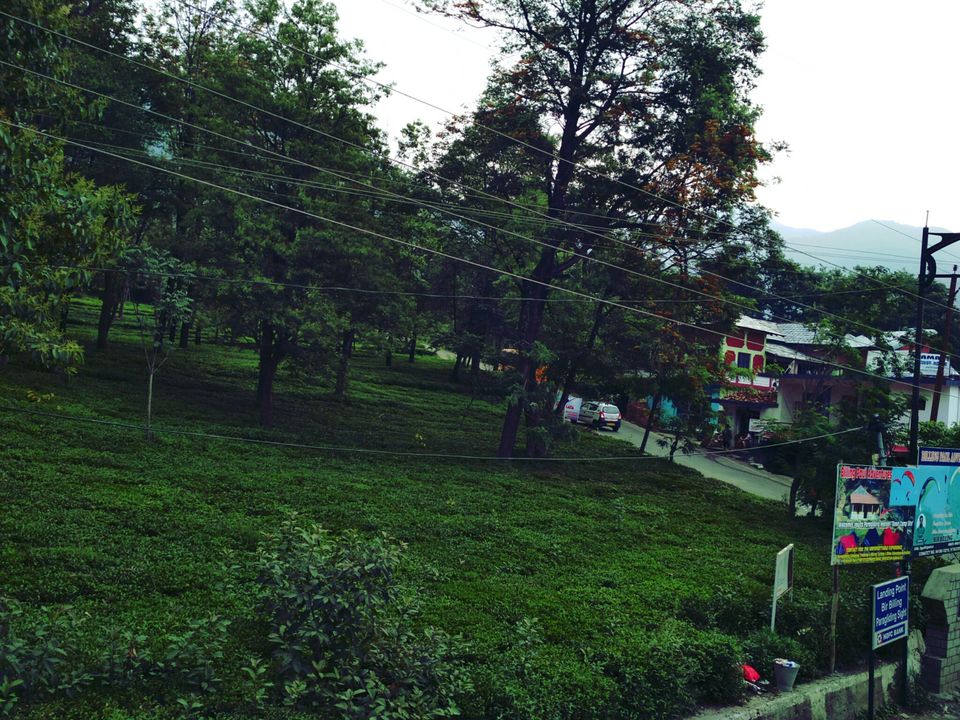 After resting for a while and having a delicious breakfast at the hotel itself, it was time to explore. We had a car to us (again, a part of the package), and our driver Babloo Bhaiyya turned no stones unturned to give us details of every single spot we visited.
Bir, being a settlement of many Tibetans, has many magnificent monasteries that can take you deeply into the Tibetan culture. The first being the Palpung Sherabling monastery. In 1975, the present 12th Kenting Tai Situpa's disciples from Derge and Nangchen region who settled in Bir, donated a protected pine forested land located in the foothills of the Himalayas. Here he started to establish Palpung Sherabling, which later became his seat in India.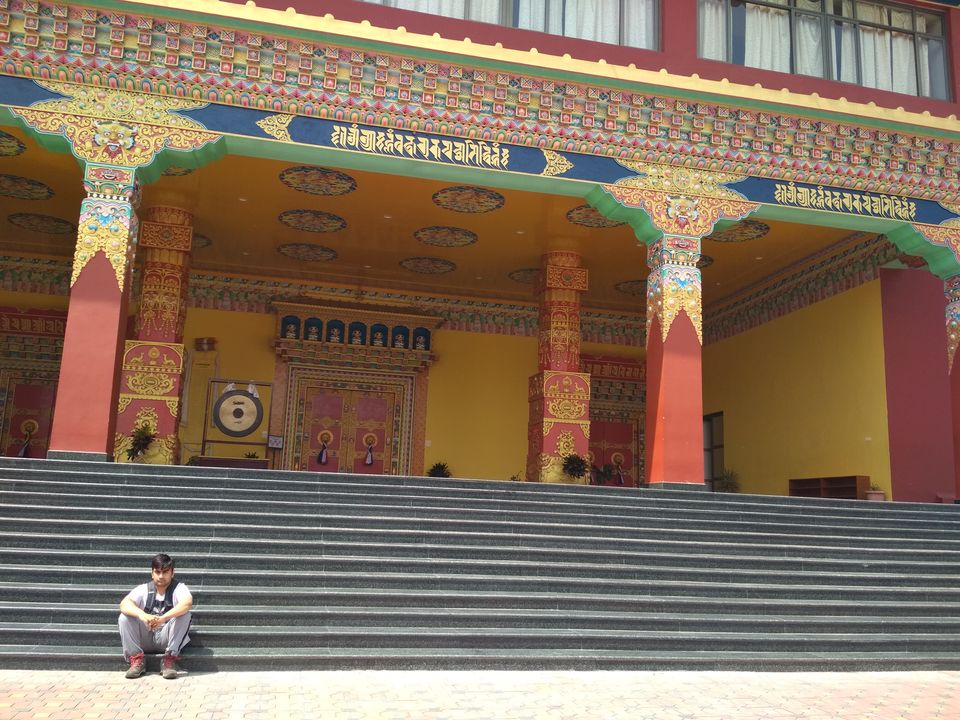 There are various other centres that offer Buddhist meditation & philosophy programmes
There are also several non-monastic educational institutes in the Bir area whose programmes include periodic courses in Buddhist philosophy and practice, including Deer Park Institute, Dharmalaya Institute, and Guna Institute.
Next, we visited the famous Baijnath temple. It takes around half an hour to travel from Bir to Baijnath. The temple has a temple tower having a vestibule, a mandapa (main hall) and a sanctum. There is also a statue of Nandi in the entrance of the temple, which faces towards Lord Shiva in the inner sanctum. The inner and exterior walls of the temple are full of sculptures of Hindu gods and goddesses. The overall design of this shrine is beautiful and it is a must visit.
After a spiritual day, we decided to head back to the hotel only to explore some beautiful cafes of Bir in the evening.
The road from our hotel goes directly to the paragliding landing site, which is lined up with small, friendly cafes. While strolling around that area, we came across a beer and wine shop that sold local wines and beers right beside the landing site. They had varieties of flavours in both wines and beers, but we settled for apple cider beer and apricot wine. It was totally worth it! The taste was so good, that we could not help but buy two more of each.
On our way, we stopped at Vairagi cafe, where there was a guy playing melodious tunes to the guitar! Being musicians, nothing else could have captured our attention more than that. Without wasting any time in deciding further, we straight away went inside the cafe which had an amazing ambience. There was a sitting area right beside the small road, where you could literally see the world pass by!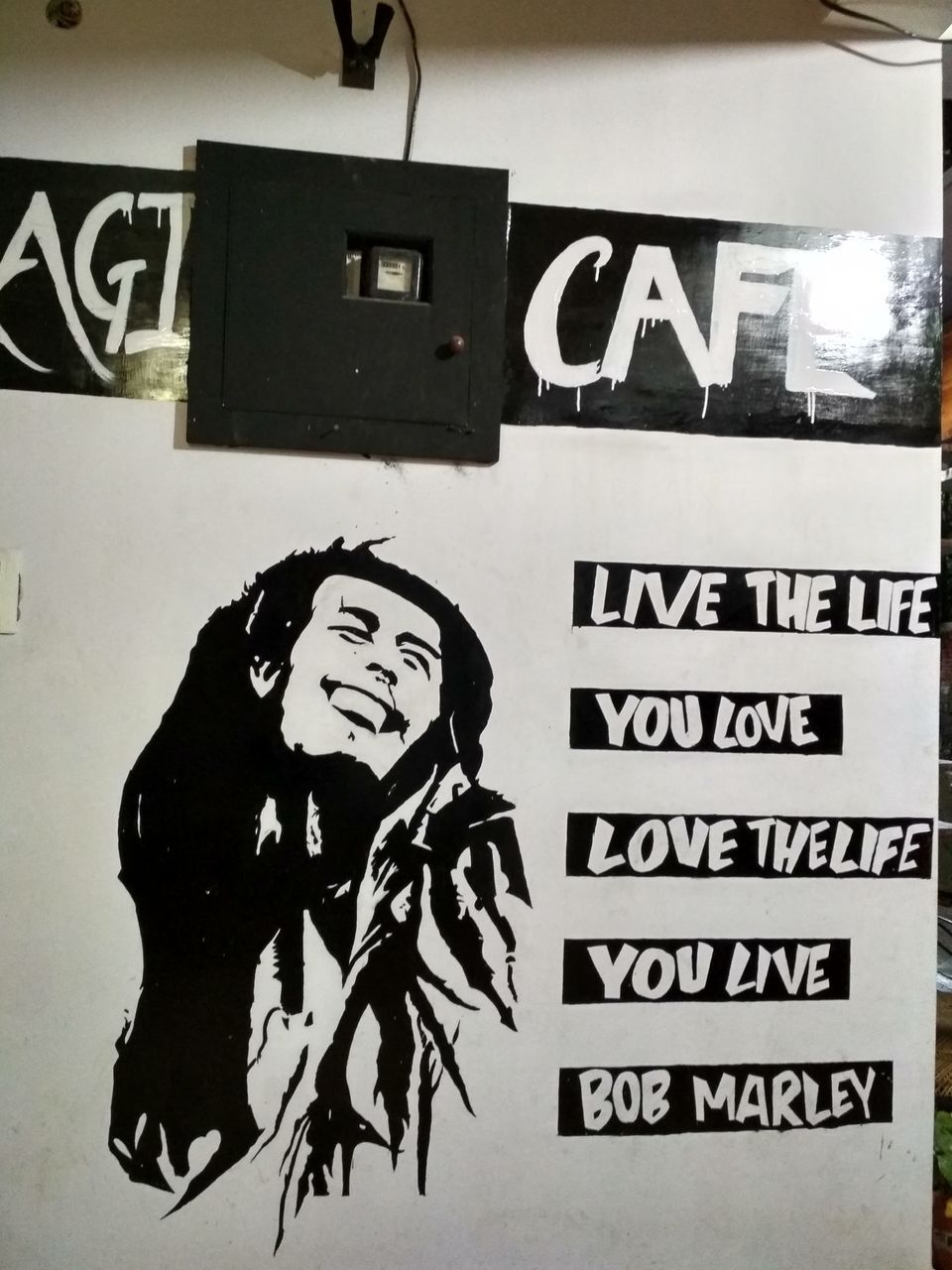 After a soulful evening and mouthwatering dishes at Vairagi (Do try the three-scooped icrecream pudding, it's delicious!), we went for a good night's sleep that would rejuvenate us for the next big day!
Next day morning, we were all ready for our trek from Bir to Billing. We were a group of 5 that came to Bir from Delhi with the same package. There are three roads from Bir that goes till Billing.
Route1- It takes you through beautiful lush green forests, Himachali villages and the Bir river. It's a 13 km long trek with steep climb at places. It takes around 5-6 hours to reach the top.
Route 2- A steeper climb through forests and rocks. It's a comparitively difficult route to take for beginners.
Route 3 - Roads throughout, but it's best not to take it if you wish to trek through a magical scenery. It's preferred for cars and two-wheelers.
We took Route 1 and it was one of the most beautiful treks we had taken. We crossed several villages where the main occupation for most people was farming. They had friendly, smiling faces that can take away any amount of stress from your life. I wish words could be enough to describe the experience of the trek, but sadly they aren't. Resting on the rocks, the feeling of relief when we saw the river flowing, dipping our feet in the chilled water of Bir river, watching every second step we took and finally the feeling of accomplishment on reaching the top are somethings that are better experienced than read or heard.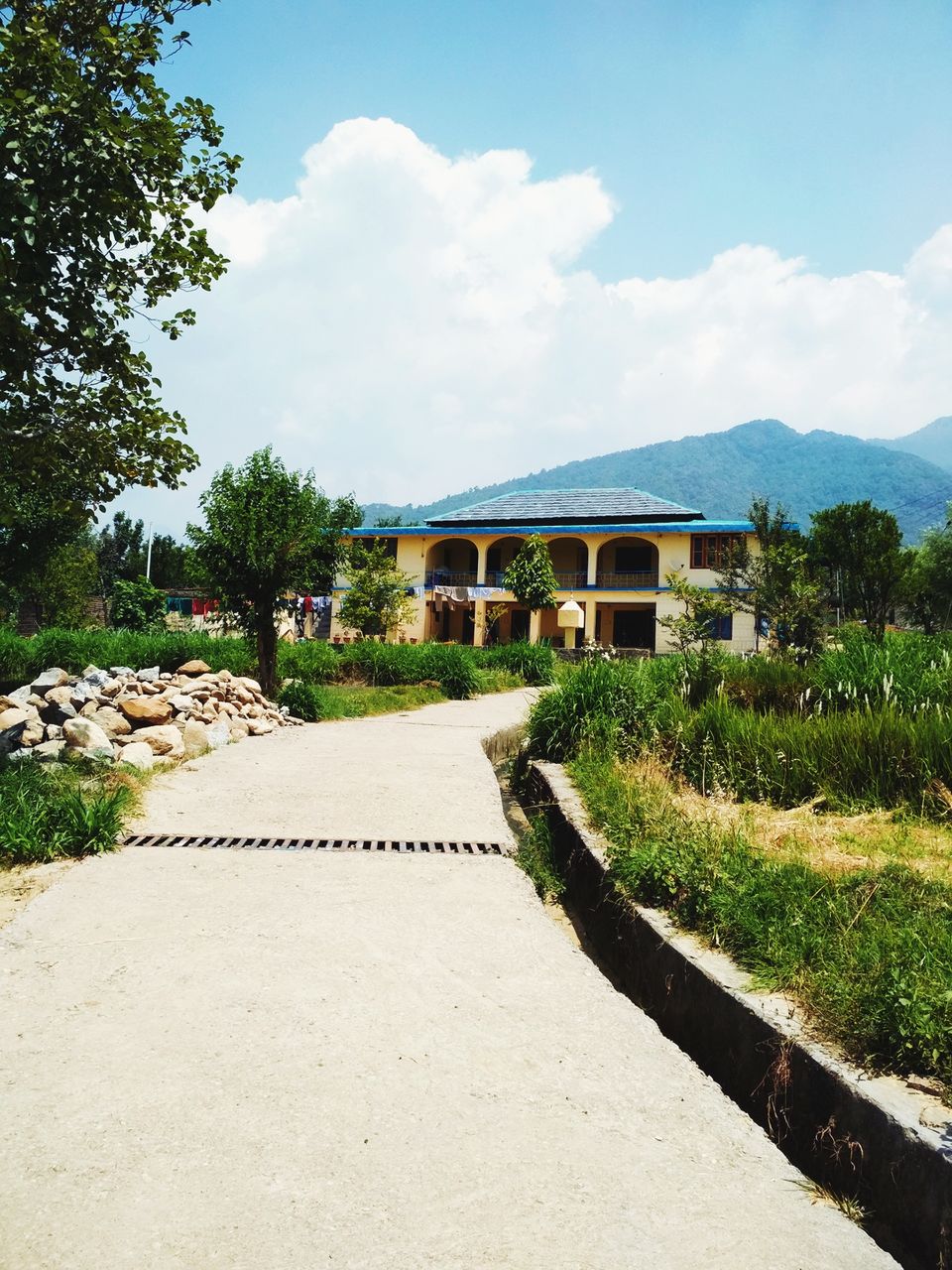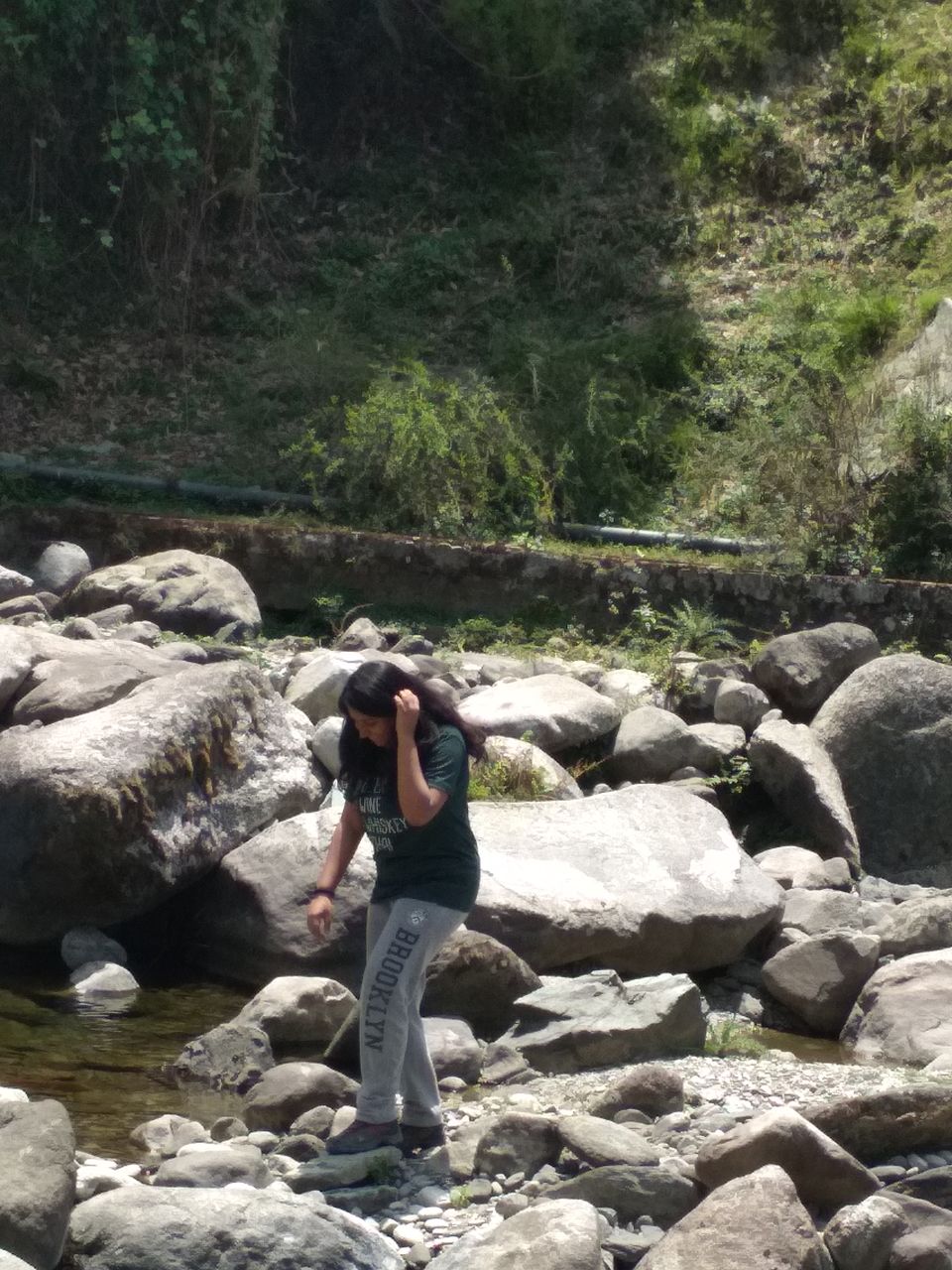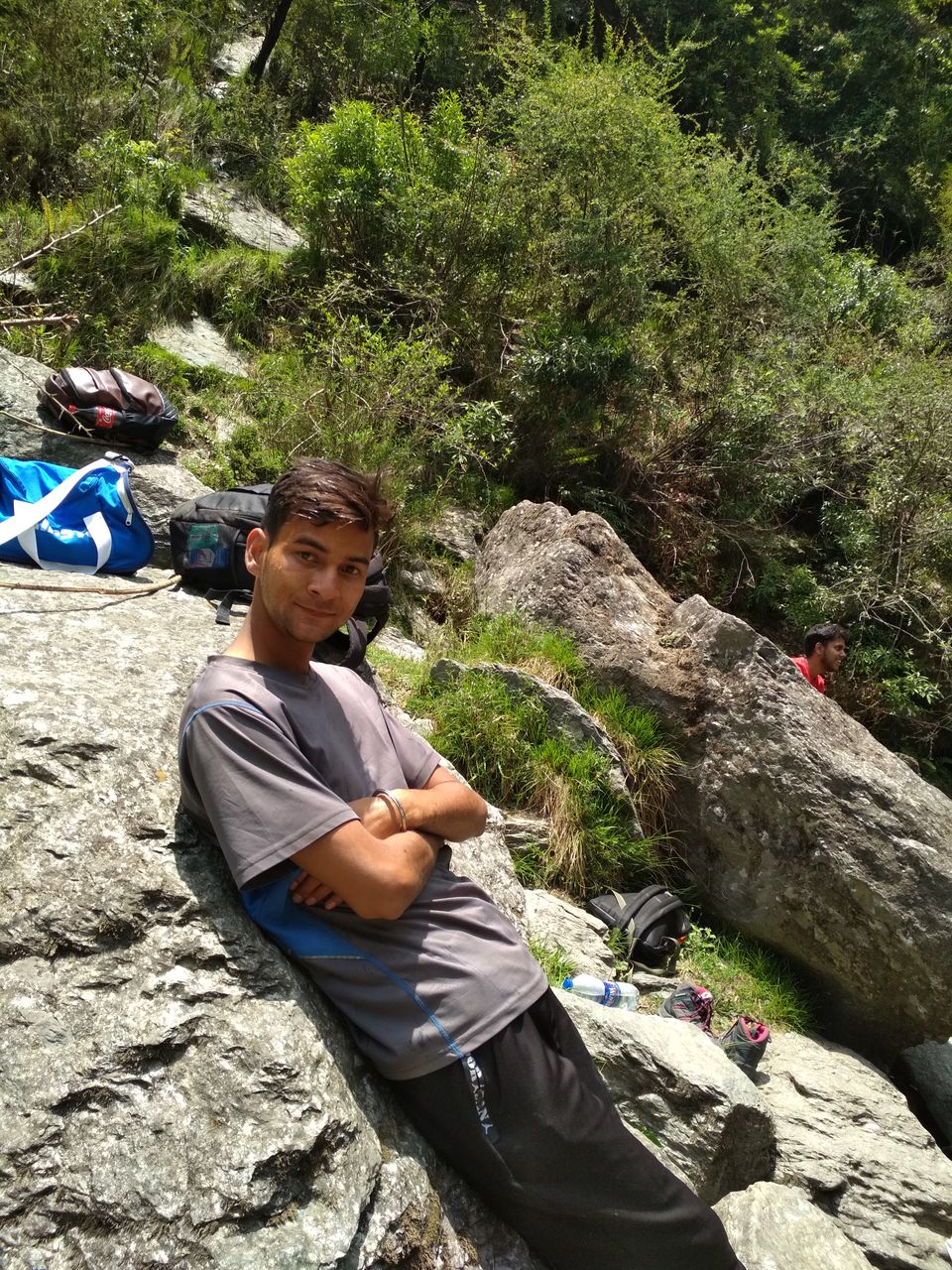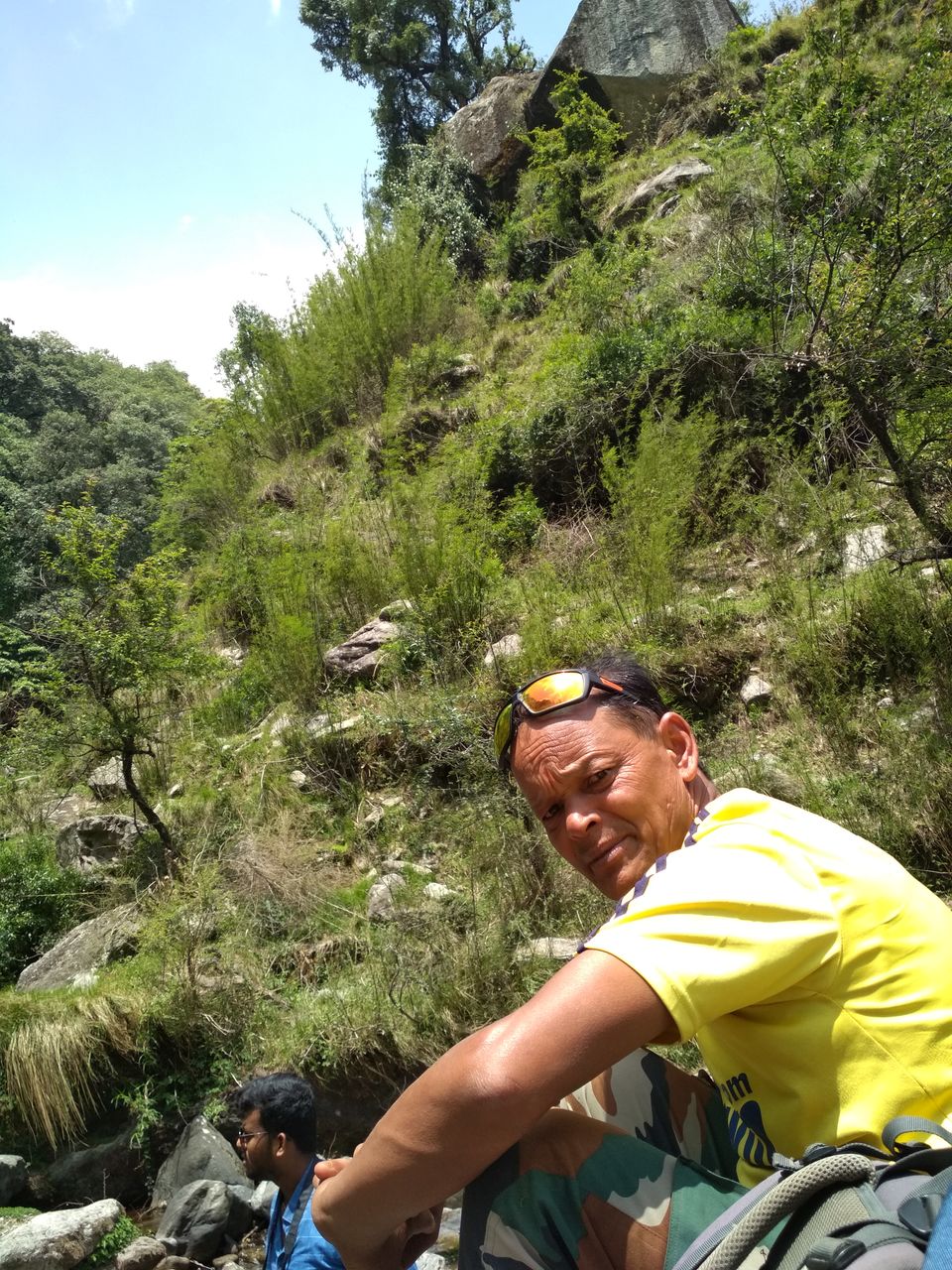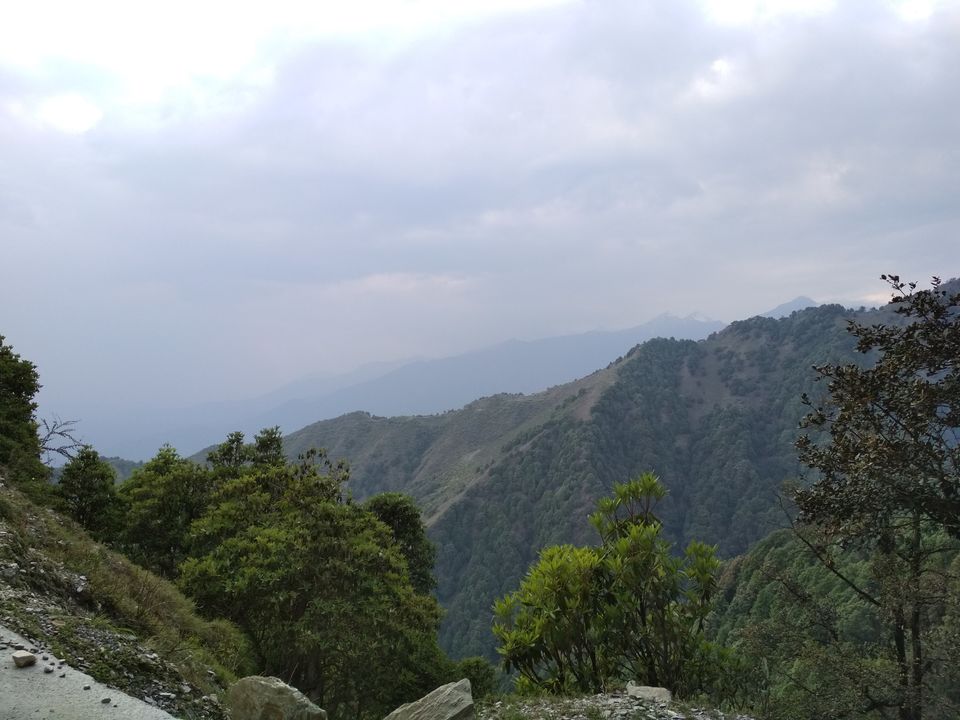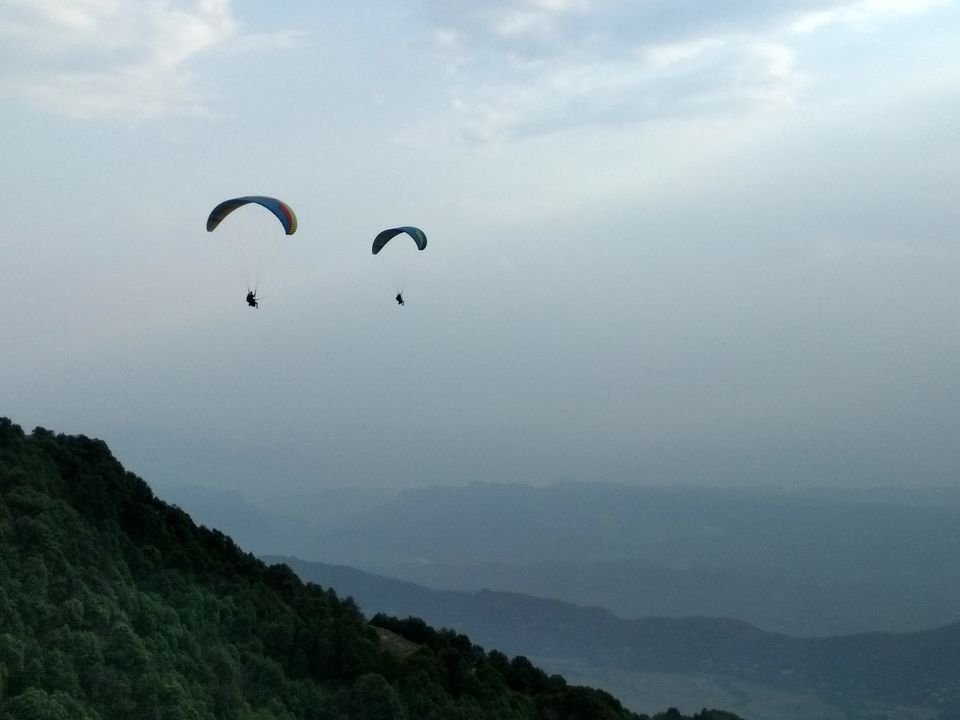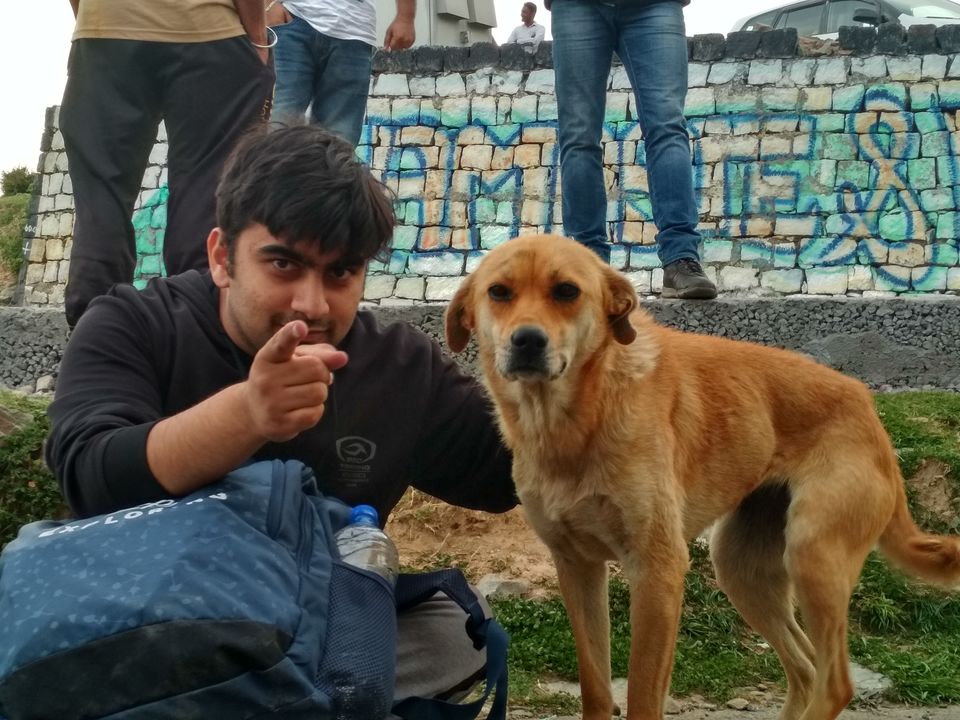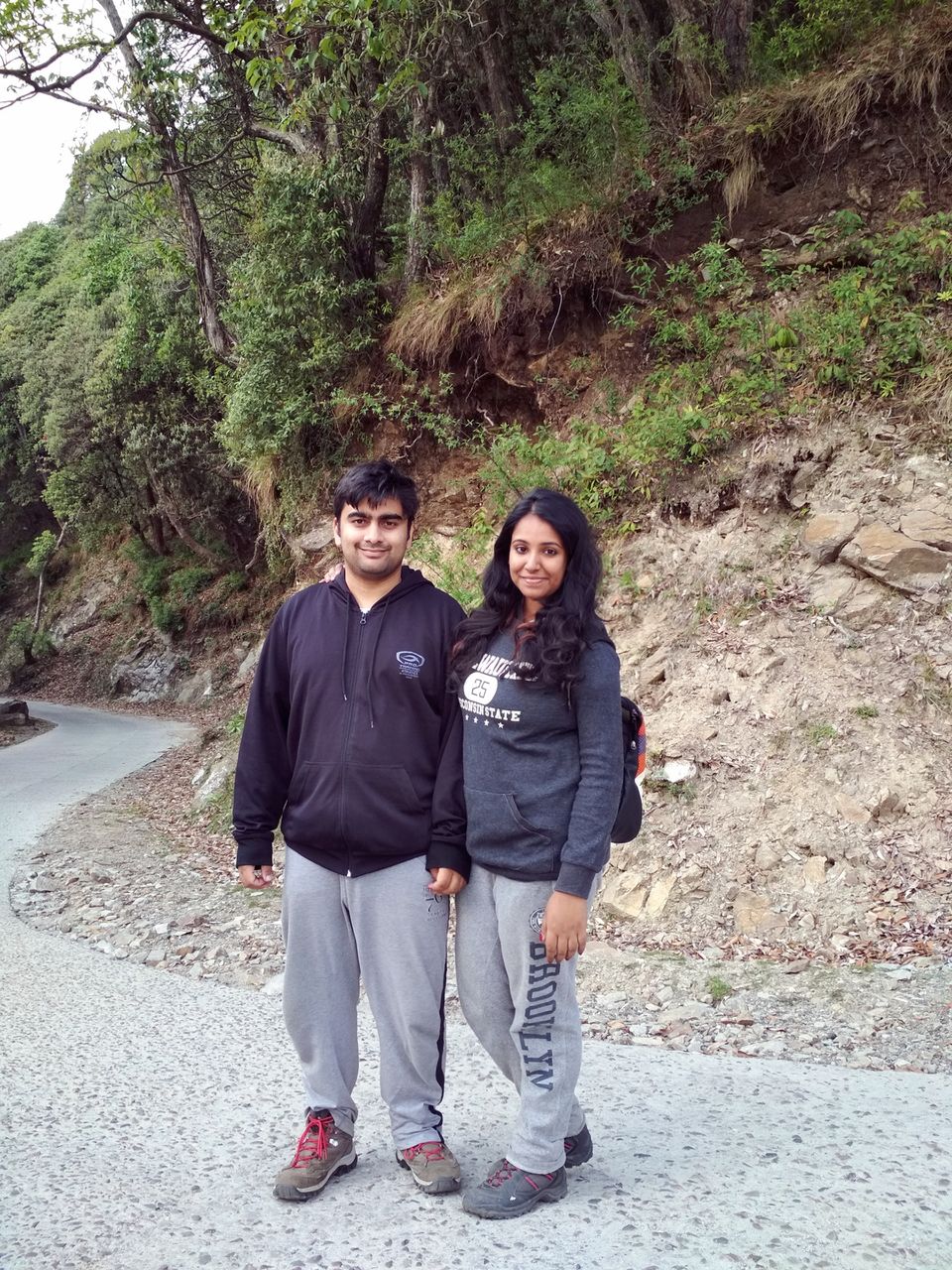 After reaching the top and admiring the beautiful sunset for nearly an hour, we set up our tents and bonfire for the night. At around 8 pm, we were all sitting outside beside the bonfire and amidst a star-lit sky and melodious tunes of the guitar. Spending nearly two-three hours with the fire and the sky, we headed to our tents.
Tip: Download Sky Map on your phones. It's an amazing app that actually tells you what planets/stars you're looking at on the sky.
Today is the Big Day. The day for which we had planned the trip. At around 7a.m. in the morning, our guides woke us up saying "your pilots have arrived. Get ready quick." And all that went in my mind was, "Hey, I need some mental preparation...." I didn't expect to jump off 9000 ft so early in the morning, ofcourse!
But I had to face it, face my fear of heights...even if its 7 am in the morning. Nearly 5 mins of walking distance from our tents was the paragliding take off site. When we went there, our pilots were ready to just tie us up and push us from the cliff... Yes that's what I was feeling :p
Seeing others, some of them tripping and falling, raised my fear to some other level. Meanwhile, my pilot was buckling me up for the flight. My friends were cheering me up, but all I could hear was the gushing sound of the wind and my pilot asking, "Are we ready mam?"
Honestly, I just wanted to say "No" to this question, but I didn't. I could just say "Ye.." and within seconds the pilot started pushing me from behind asking me to "Run...run..run.." I had my eyes closed and only opened them when I felt my feet no longer on the ground. Yes, I was flying. I was on the air.
I screamed for a while, but then looking around made me go absolutely silent. Was I really on top of the world? Was I really looking down from 9000 ft? Is it a picture I always saw on desktop wallpapers? These were the questions that ran through my mind!
After a good 20-25 mins rides, I landed at Bir. It was an experience that has not only left a mark on me, but has also made me love my dear ones more :p You know why!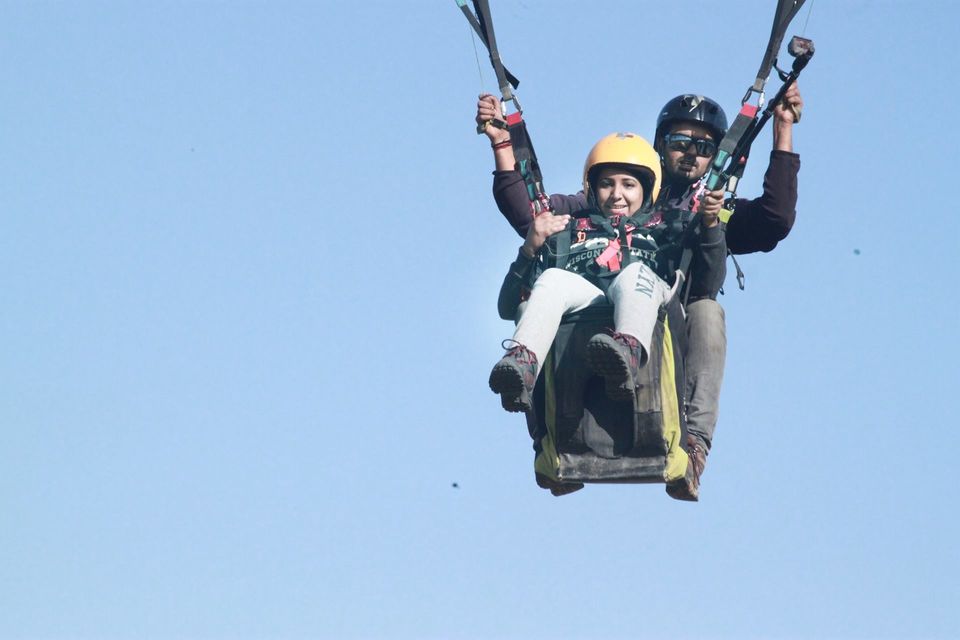 And that's a wrap to our amazing 3 day trip to Bir Billing. We ticked off an adventure activity that was always on our bucket list. It's time now for the other! Do keep in touch to know about our next activity on the list! Till then, sayonara!