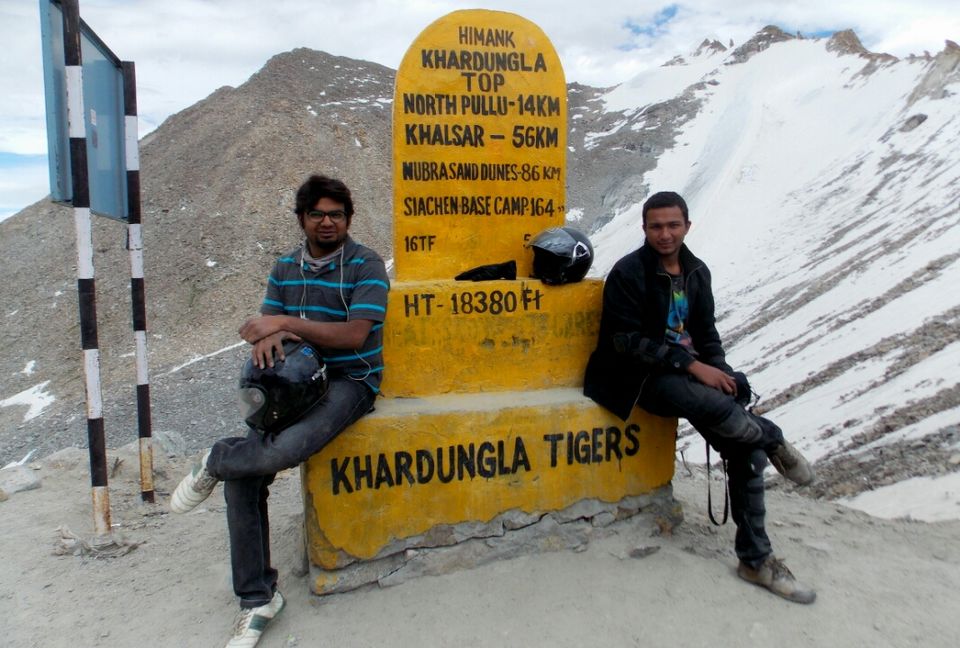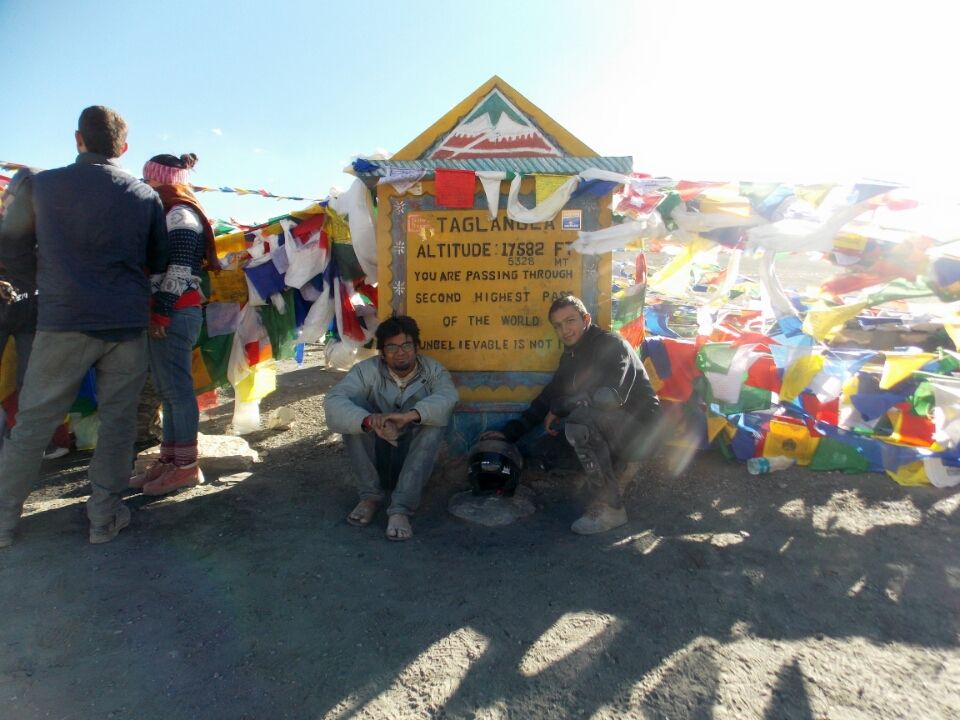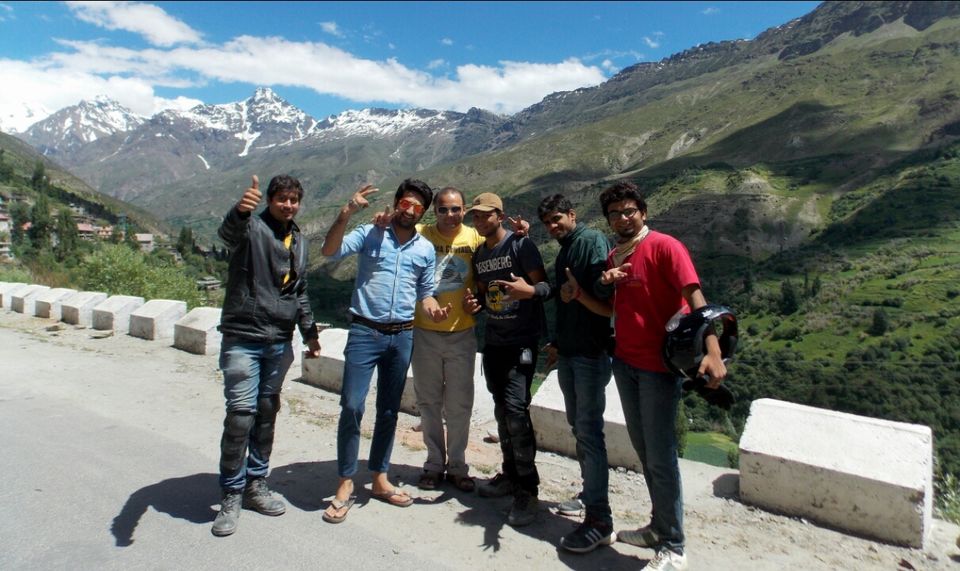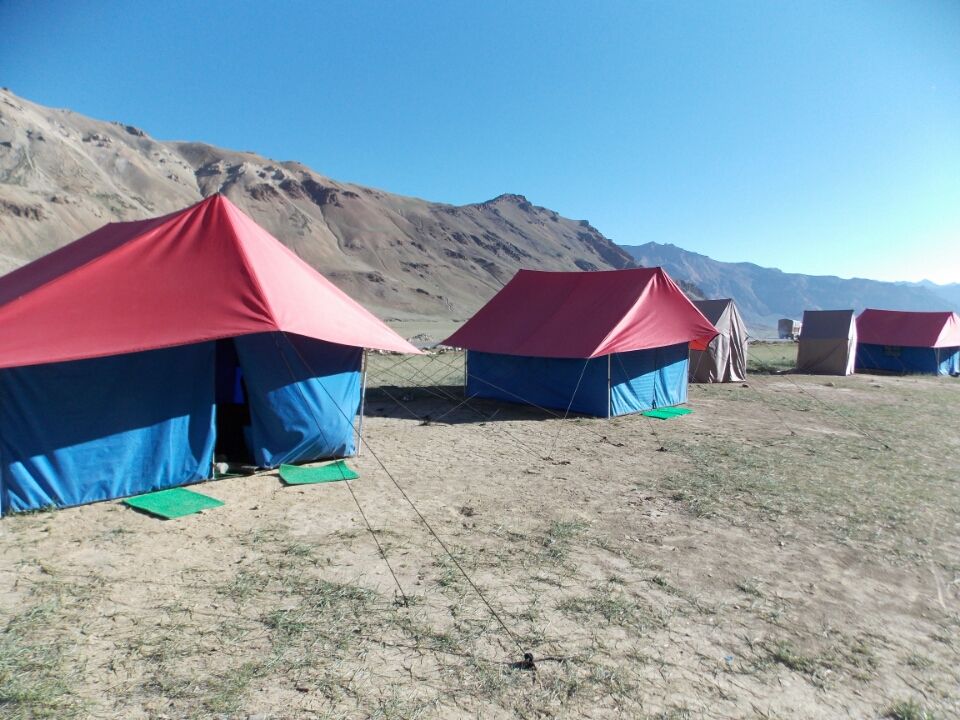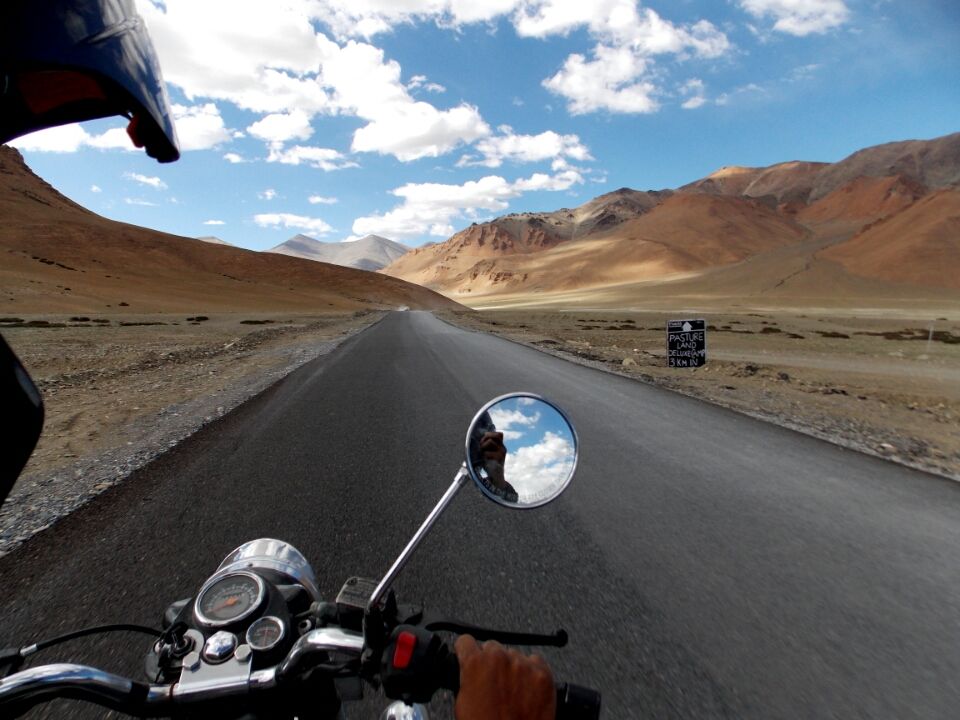 A journey is to be experienced and anyhow cannot be molded into a story even worth reading. Maybe, it was too early but It as they say when it's right it's right.

"Youngest On Way".
During our ride we didn't measure that way but was soon made to realize that we were the youngest riders among crowd, by a group of riders.

Beauty resides on one side which makes you feel Lazarus but there's always an another side to glory which has be maintained to survive the silent killer around, as the time passed during our ride it got worse to grasp hard hands on bike for continuous long hours, fighting rain and changing climate made the situation extreme.
Experiencing Bike damage, machinery malfunction and various other issues made the ride cumbersome where you can't see anyone around for miles to ask for.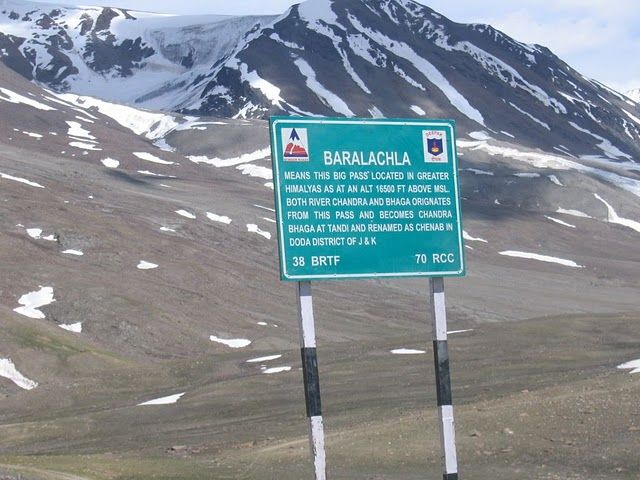 We departed from Jaipur to Chandigarh and reached Manali a day before starting our journey to Leh.
Manali, it was started like "fer ki dikkat h"(He (The conductor) referred it to the girl sitting nearby :D) when I asked for ticket to Manali from the conductor.
Manali is a hill station nestled in the mountains of the Indian state of Himachal Pradesh near the northern end of the Kullu Valley, at an altitude of 2,050 meters in the Beas River Valley. It is located in the Kullu district, about 270 km (168 mi) north of the state capital, Shimla. It is the beginning of an ancient trade route to Ladakh and from there over the Karakoram Pass on to Yarkand and Khotan in the Tarim Basin. It has become a tourist attraction in recent years.
DAY 1 : DAY 2 : MANALI
Stayed at Manali for sight seeing and to get ourselves inhabited to high altitude region. Our search for rental bikes was on going till we found one of the best service providers Hardev Motors, who provided us with all the equipments and tools required for the journey.
Everybody was super excited but equally concerned of all the potential risk and thinking about conditions that can go bad. We discussed everything with our bike vendors to have a good idea of journey, but lately we realized that it's always pretty easy to get theoretical. I still have memories of rave we did.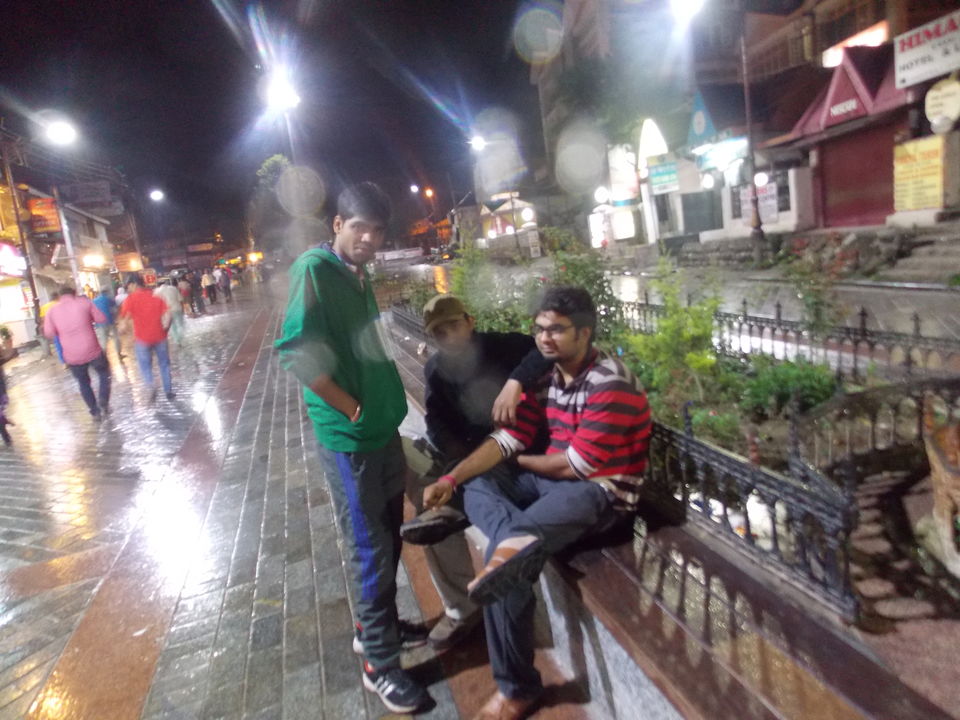 DAY 3 : Keylong :
Early morning, we left for Keylong which was our first checkpoint (around 122 km), hoping to reach up their before dark we left early from Manali. Unfortunately, due to some bike issue we had to get back at Manali from the way for bike exchange which took us long, we got quiet late that day and after a serious discussion we all decided to move from Manali at 6PM in the evening.
Obviously this sounds like a dumbest move one can ever make after discussion but relatively we were running out of money as we had hired the bikes already and had to pay for hotel too in case we have stayed back at Manali. Moreover, I was the one indulged in convincing all to move ahead as being very sure about the fact that when we are leaving for nowhere it makes no sense to think of factors that can happen ahead in journey. Later that day we got lost in dark deep night, our headlights fell short of enlightening us ahead.
We stopped by a Dhaba in Marhi for dinner and fortunately met few a guys who were traveling by car, following them throughout journey, the car lights helped us to cover the road.
Ahead, post Rohtang Pass, the roads were burried deep under the sludge(keechad), which made it real difficult for us to cross in such poor light and dark. It was so difficult and risky that it took us 12 hours to cover a distance of 122 Kms and we reached Keylong at 6AM in morning.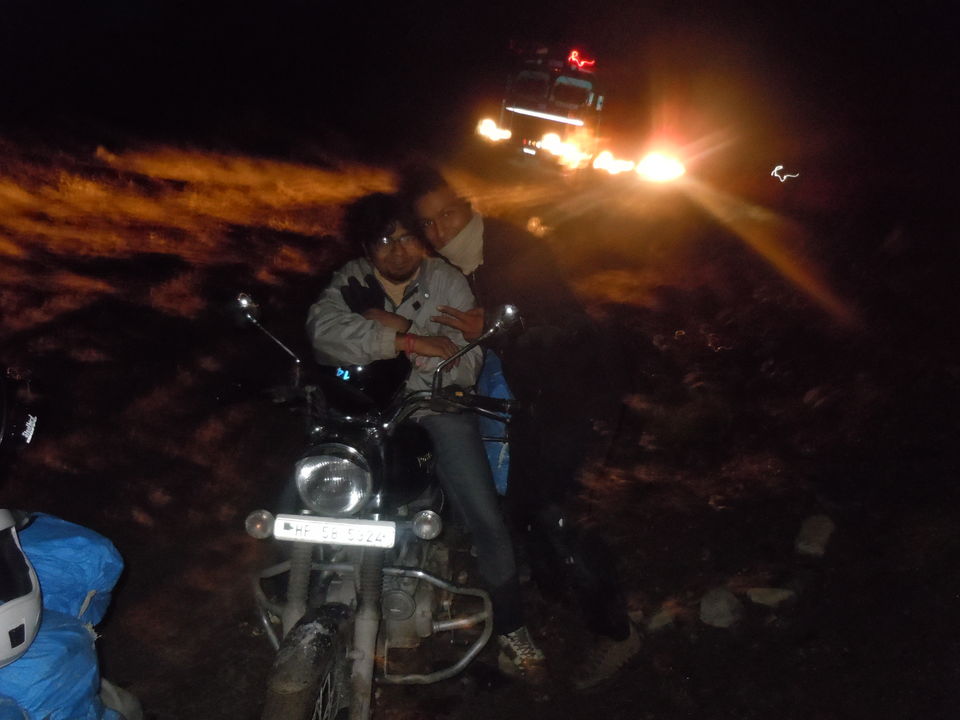 Keylong is a beautiful village passing Rohtang La(the famous pass via Rohtang), place is extremely pure and optimal for common people to reach and experience soul of life, only bad thing about the place is that it is season specific to visit.
Keylong faces the famous Kardang Monastery, the largest and most important monastery in Lahaul, of the Drukpa sect of Tibetan Buddhism, which is on a slope across the river from Keylong.
Sights near Keylong include the Kardang, Shasur, and Tayul monasteries, all within a few kilometres of Keylong. There is also a small temple dedicated to the local deity Kelang Wazir in the house of Shri Nawang Dorje that may be visited upon arrangement. The annual Lahaul Festival is held here each July with a big, busy market and a number of cultural activities.
DAY 4 : SARCHU :
Sarchu, I would say it is a place a man should visit once in a lifetime, the nights are like never experienced before, if you're lucky to get a clear weather you can see a sky full of stars, only difficulty is oxygen ratio.
Sarchu (also known as Sir Bhum Chun) is a major halt point with tented accommodation in the Himalayas on the Leh-Manali Highway, on the boundary between Himachal Pradesh and Ladakh (Jammu and Kashmir) in India. It is situated between Baralacha La to the south and Lachulung La to the north, at an altitude of 4,290 meters.
Early morning in Keylong we had our breakfast and after some rest we decided not to stay for the next day and left for our next checkpoint which was Sarchu. Sarchu is typically the mid point of the whole journey and was around 100+ Kms from Keylong. We checked our bikes and equipped ourself with fuel, we also had a certain discussions about the strategy to follow for the rest of our journey specially after experiencing the nasty night ride.
At 12 PM(noon), we left from Keylong and decided to reach Sarchu by the end of the day to avoid situations we faced yesterday, keeping minimum stops throughout the journey in order to reach early before dark. The journey with every kilometer was getting more dangerous and filthy, which made us think twice everytime before taking a move ahead.
You might have admired the desktop wallpapers of sincere right? Have You? I realized how those thing can be extremely daunting when you encounter such things in real space. The roads were getting real tough to get through, sometimes we barely had a 3 feet of space to ride ahead for crossing the valley. Military movement all over the way was another challenging task to do with such small roads and the time passed like nothing.
It started getting dark and we realized that we were still far away from Sarchu, the winds went extremely cold by the time and we started facing severe headache due to altitude sickness and lack of oxygen density. Somehow holding, we reached Sarchu camp by 12 PM (midnight), the winds were extremely cold and the sky was not clear either, the 12 Hours of long continuous ride had completely drained all of us, we could barely move or talk to anybody in such a state, I desperately wanted to sleep but couldn't dive in due to severe headache.
It was no wonder the I myself with others got literally pissed off in the moment and started cursing about our decision to come this journey, I was sure at a moment that somethings bad gonna happen to me, and I am not going make back to home or might have to face serious consequences as there was nothing and nobody to help even in case of fatal.
I had some food and tried to calm myself to some extent by holding up strong but still couldn't sleep due to severe headache.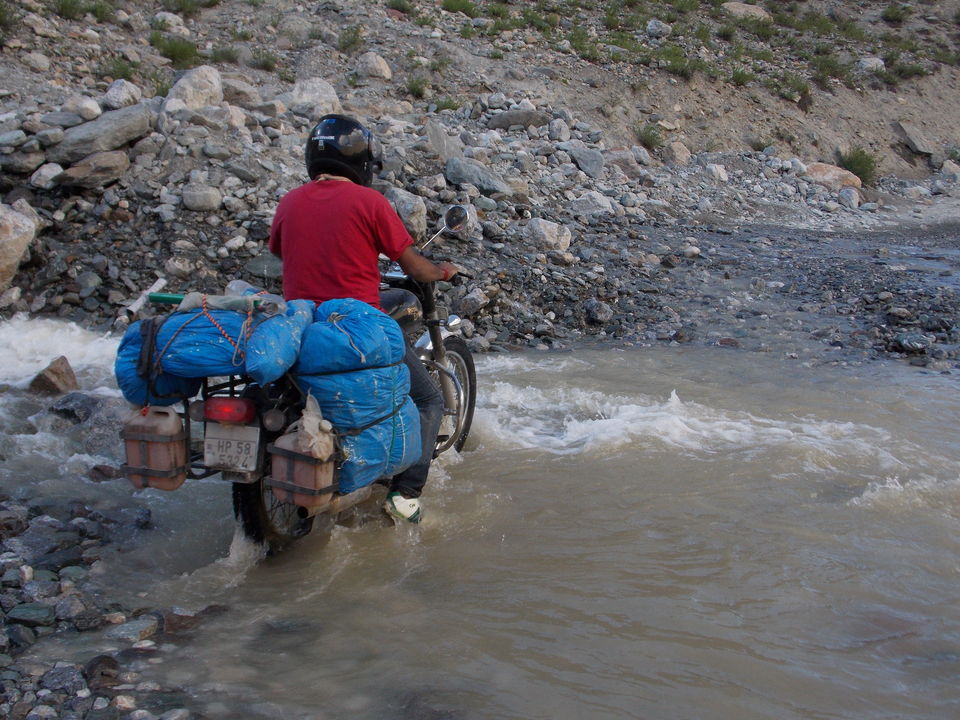 DAY 5 : Leh :
The early morning I had no memory of when I fall asleep last night. My head was still heavy and was better responding when I stood or sit still. I woke up with a strong determination of moving ahead that maybe because I slept with the same thing in mind to boost my endurance. From a team of four members we were left with only two, me and my friend and the other two members left us back to Manali from Sarchu.
We decided to move ahead towards Leh, as there is no going back from the place just for the sake of safety and vague unacceptable reasons. While our rave at Manali, one of those guys told us about this mysterious temple in between way, according to the story, it's said that that temple was build at this place because of haunted soul incidents were reported and used to occur frequently. the soul of a dead bus conductor who died because of thirst, while he was saving lives of the passengers traveling in the bus. It's was also claimed that the people use to get slapped when they pass this point and were addressing unknown voices.
So, in order to make it a safe place this temple was build in which the skull of the driver was placed which later went missing. People who pass by, usually offers water bottles or whatever they want to offer.
We reached Leh by 9 PM.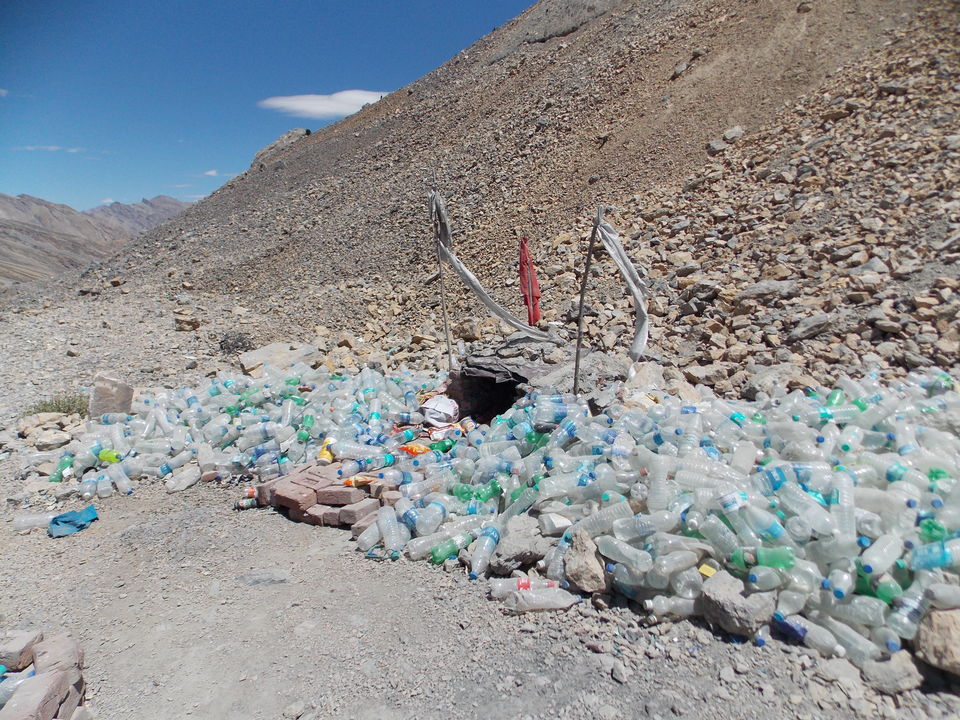 Day 6 : Leh
We stayed at Leh for local sight seeing.
Leh, is one of the sexiest place I have ever been to, people are honest, surrounded by beautiful mountains, wooden art can be seen in bulk. Leh, was the capital of the Himalayan kingdom of Ladakh, now the Leh district in the Indian state of Jammu and Kashmir. Leh district, with an area of 45,110 kilometers. The town is dominated by the ruined Leh Palace, the former mansion of the royal family of Ladakh, built in the same style and about the same time as the Potala Palace-the chief residence of the Dalai Lama.
Day 7 : KHARDUNGLA
The other day we went to Khardung La which is the world highest motorable pass.
A top point around 40 km ahead of Leh, the point is the highest motorable pass in the world and which further leads to nubra valley, you can't stay for more than 45 min max due to low oxygen level. The place has a good restaurant but fails to fulfill the view as people expect from the highest point.
Personally, Tanglang La is the best of the view I had on the journey. The pass on the Ladakh range lies north of Leh and is the gateway to the Shyok and Nubra valleys.
The Siachen Glacier lies part way up the latter valley. Built in 1976, it was opened to public motor vehicles in 1988 and has since seen many automobile, motorbike and mountain biking expeditions.
Day 8 : Return : SARCHU
We started with our journey downhill back to Manali. The uphill task on bike is still doable with engine power and ease of control over the bike. Contrary, the downhill task is equally opposite and highly dangerous, we went out of breaks as the rubbers got burnt and it was getting too dangerous to run on road. The bike was demanding extremely tight hands on the handle in order to avoid slipping of front wheel.
Somehow we managed to reach Sarchu at night and decided not to move forward, on the way to Sarchu we met a few riders having issues with their bikes and we helped them to get far to some extent. Later, we all decided to board our bikes on a truck as we were out of breaks and there was no service center nearby or far.
Landslide at Baralacha LA pass was deadly and was scheduled to cleared in morning at 10 AM. Truck driver in order to save night tried to move ahead and after subsequent failed attempts we finally got stuck in the water stream flowing under landslide. It was around 9 PM at night and the weather was extremely cold, we all went out of truck and tried to push truck out of sludge but it wasn't moving a bit. It was an instance when we all left the truck in order to save our lives as the truck was about to slip into the valley. The truck driver and conductor with our help tried alot to change the flow of water stream by placing stones in between but nothing moved a inch and they also left with us to a corner to get away with the situation. Things were going horrible but luckily, the water stream got low and somehow managed to to sleep in truck.
I have no idea what would have happened if we had to stay out of the truck that night, it was so cold out there that the air was freezing our breadth.
Day 9 :
Morning, 10 AM a crane arrived and pulled us out of the land slide.
Day 10 :
We reached Manali at 6AM in morning. Returned rented out bikes left for Jaipur.