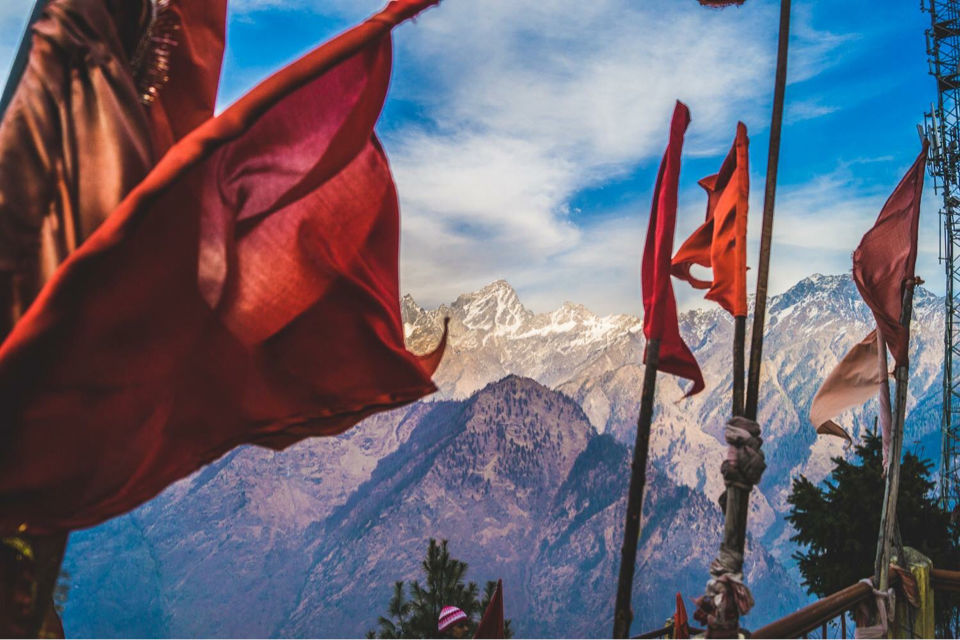 Bangalore-Delhi-Rishikesh- Auli-Haridwar-Delhi-Bangalore
Background Story:

So I was back in India after a year long work deputation in China and was craving for a lot of Indian food and a good long vacation! One day I was discussing this with a friend of mine about how I needed a break and wanted to be somewhere offbeat for the New Years and he suggested that I go to Auli. Apparently its called the ski capital of India - a place not frequented much by tourists, hidden in the Himalayas of Uttrakhand and located at around 10,000 feet above sea level. Also, one needs to take a cable car in winters to get to Auli from Joshimath! So, I googled the place, found it interesting and decided to be there on New Years!
Trip Planning: 
And then came the trip planning bit. I started doing my research on how to get there, places to stay and things to do in Auli - Wikitravel and Tripoto helped a lot. Also, asked a couple of friends if they were interested in joining (I wouldn't have mind going alone either but some company does no harm) and one of my ex-colleague cum friend and few of her friends were interested. So it was four of us off to Auli on New Years :)
Trip Itinerary:
29th Dec 2015 - Bangalore to Delhi (Morning flight)
29th Dec 2015 - 30th Dec 2015 - Delhi to Rishikesh - (Overnight Bus)
30th Dec 2015 - Rishikesh - Bunjee Jumping in Rishikesh (Overnight Stay)
31st Dec 2015 - Rishikesh - Joshimath (Taxi) - Auli (Cable Car)
31st Dec 2015 - 2nd Jan - Auli
2nd Jan 2016 - Auli to Haridwar (Daytime journey) - see the Ganga Aarti in Har ki Pauri, Haridwar
2nd Jan 2016 - 3rd Jan 2016 - Haridwar to Delhi (Overnight Bus)
3rd Jan 2016 - Delhi to Bangalore - Evening flight
Accomodation: 

1) Auli - Garhwal Mandal Vikas Nigam (GMVN). Deluxeroom was booked from 31st Dec - 2nd Jan.
2) Rishikesh - Hotel in Lakshman Jhula - no prior bokings were made and we found the accomodation by asking around the auto guys. One of the auto uncle took us around 2-3 hotels until we finalized one -he did not charge any commission and just helped us out of kindness :)
3) Haridwar - Even though we were not doing any night stay in Haridwar, we realized later during the trip that it would be difficult to walk around Haridwar with all our luggage. So, one of the girls in our group arranged for a guest house last minute for free (thanks to her dad) just for dumping our luggage and using the washroom before we went for the Ganga Aarti at Har ki Pauri
Transport:

1) Buses from Delhi to Rishikesh and Haridwar to Delhi - Booked through UPSRTC (400/head - very cheap but would not recommend as they were not all that comfortable)
2) Rishikesh to Joshimath to Haridwar - no prior bookings made as we were supposed to get there and get a taxi/ bus from Rishikesh to Joshimath and then to Haridwar. We found a taxi guy through our hotel in Rishikesh and the same guy stayed in Joshimath for 2 days and gave us a ride down to Haridwar after 2 days. He did charge money for his 2 night stay in Joshimath but it was a convenient option.
Joshimath to Auli - Cable Car - no prior bookings made (last Cable car leaves at 4 PM daily)
Adventure Sports:
1) Bunjee Jumping and Flying Fox - We went to Jumpin Heights in Rishikesh for Bunjee Jumping and Flying Fox. They even make a video of yours and give it to you at an additional cost. Bunjee Jumping Cost - Rs. 3500 & Flying Fox - Rs. 1700. Details available here - http://www.jumpinheights.com/
2) River Rafting - We checked with the Bunjee Jumping office staff at their pick up point in Tapovan - Rishikesh and they helped with the River Rafting arrangements. Cost - Rs. 500.