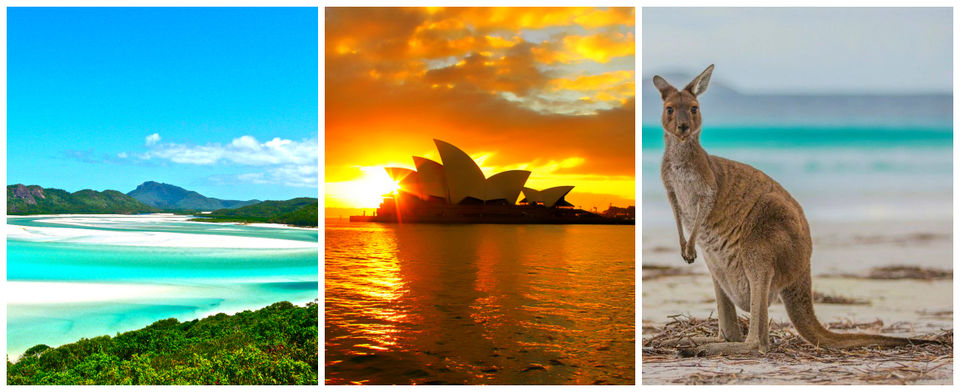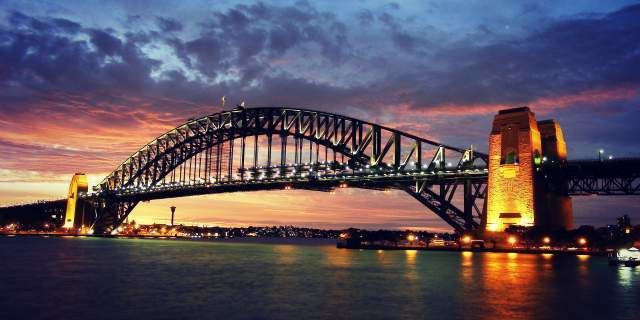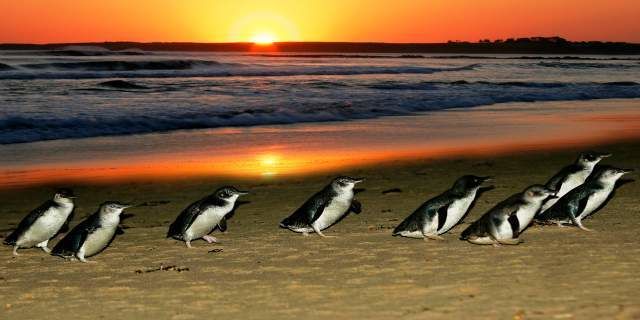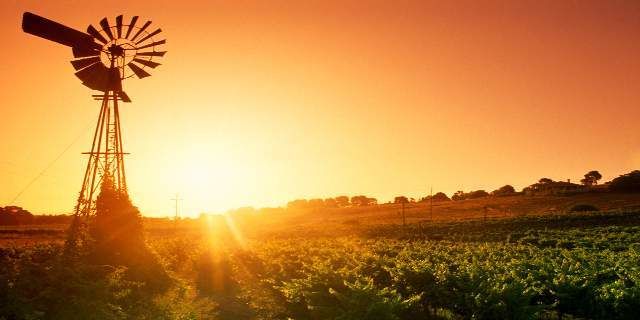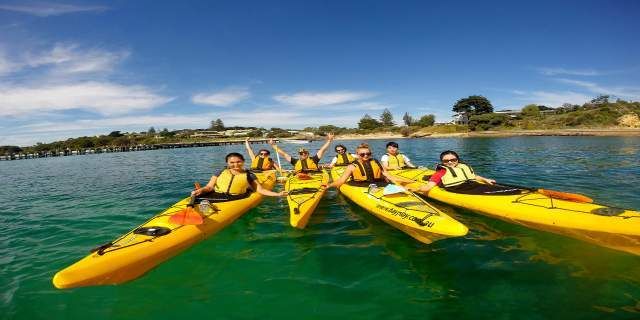 With its vast and varied landscapes, unique wildlife, and white-sand beaches, Australia is one of the most interesting continents around. Sydney and Melbourne are two of the major cities, offering a spectacular landscape, a wide range of activities from being up close with penguins to cruising down the Harbor Bridge. Cairns, with its proximity to the Great Barrier Reef, offers great opportunities for water related activities, making this the perfect spot for an adventure! You'll be close to nature whenever and wherever you'll travel through Australia with this package.
TRIP ESSENCE
Adventure| Wildlife| River cruise| Local food
CUSTOMIZE YOUR TRIP

For those of you who are looking to getaway from the big city and want to do so with your friends or family, we could customize getaways just for you! Weekenders and Longer Getaways alike. Your stays, meals, experiences and travel are aspects that we look into while designing your trip. You can choose your options from below and design an awesome adventure for yourself. Your travel plans, your way with your group of adventurers.
HIGHLIGHTS
1. Melbourne cultural walking tour
2. Visit farmers market in Sydney
3. Explore Blue Mountains
4. Tree-lined Cliff Drive to Katoomba
5. Hand-feed kangaroos at Featherdale Wildlife Park
6. Fitzroy island snorkeling and kayaking trip
7. See the beauty of the Great Barrier Reef
ITINERARY
Day 1: Melbourne
Land in Melbourne in the morning, Victoria's coastal capital, is a city of stately 19th-century buildings and tree-lined boulevards. Yet at its center is the strikingly modern Federation Square development, with plazas, bars, restaurants and cultural events along the Yarra River. In Southbank, the Melbourne Arts Precinct is site of Arts Center Melbourne – a performing arts complex – and National Gallery of Victoria, displaying Australian and Indigenous art.
Stay: Double room in a 3 star hotel
Meals: None
Day 2: Melbourne
Go for a fun walking tour as you look at Melbourne's past by learning about Aboriginal history, the settlement of Melbourne and early colonial life. The tour highlights cultural aspects of modern day Melbourne. Venture through Melbourne's lane-ways and arcades, discovering street art, music & cafe culture, as well as some opulent and sometimes controversial architecture. Sports, art projects and immigration history are also covered in the walk.
Experiences: Cultural walking tour
Meals: None
Day 3: Melbourne to Sydney (1.5 hours by flight)
Land in Sydney early morning and check into your hotel. Spend the day today visiting the four attractions mentioned below:
- SEA LIFE Sydney Aquarium
- WILD LIFE Sydney Zoo
- Madame Tussauds Sydney
- Sydney Tower Eye
Experiences: Local sightseeing
Meals: None
Day 4: Sydney
Go for a guided tour through the lively atmosphere of Australia's largest fresh fruit, vegetables and flower markets. For those foodies who have never visited the Sydney Markets, taking a guided tour is really the only way to discover this other world! Have an early start, meeting at 6 am to capture the electric atmosphere, walking around with buyers, and learning the craft of negotiation and sales. You will also enjoy a traditional market breakfast, just like the locals.
Experiences: Guided tour to farmers market and traditional meal
Meals: Breakfast
Day 5: Sydney
No journey to Australia could be complete without exploring the tranquil beauty of the Blue Mountains. Accompanied by an experienced guide, travel aboard a comfortable coach on a 1.5-hour drive to Leura for morning tea. Take the tree-lined Cliff Drive to arrive at Katoomba Scenic World and have time to ride on any of Scenic World's three attractions (at own expense) or simply stroll along elevated walkways through lush rain-forest. Next, purchase lunch at a restaurant that overlooks the Three Sisters rock formations and Jamison Valley, before heading to Echo Point for another view of these iconic sights.
On your way back to Sydney, stop at Featherdale Wildlife Park where you can opt to hand-feed kangaroos, wallabies and emus then have your picture taken with a koala. End your day with a cruise up the Parramatta River and return to Sydney by early evening.
Experiences: Blue Mountains Day Tour
Meals: Breakfast
Note that Optional ride on the Scenic Railway, Scenic Skyway or Sceniscender can be purchased on the day at your own expense whilst at Scenic World.
Day 6: Sydney to Cairns (2 hours by flight)
Land in Cairns in the afternoon. Settle into your hotel. You have the day at leisure.
Stay: Studio room in a 3-star hotel
Meals: Breakfast
Day 7: Cairns
This tour offers a tranquil way to see the beauty of the Great Barrier Reef and Fitzroy Island exploring remote hidden delights and private beaches with exclusive snorkeling locations only accessible by kayak. Fitzroy Island is one of the most unspoiled islands adjacent to the Great Barrier Reef. Fitzroy Island National Park is a mountainous rain-forest oasis surrounded by fringing reef formations.
After receiving a safety brief and paddling instructions, join highly trained kayaking guides gliding along the magnificent shoreline of Fitzroy Island and learn about the abundance of marine life that call the waters of Fitzroy Island home. You will kayak to Little Fitzroy Island where you can enjoy a guided walk up to the island's lighthouse and snorkel some of the best spots surrounding the island, however your guide will determine the best route on the day.
Experiences: Fitzroy island snorkeling and kayaking trip
Meals: Breakfast and lunch
Day 8: Cairns return
Say goodbye to Australia and make your way back home, with a bag full of memories!
Meals: Breakfast
PRICING
WHAT: An Australian holiday
WHEN: As per your dates
WHERE: Sydney-Melbourne-Cairns
HOW MUCH: Rates will depend on the itinerary and the time of travel
APPROX: Rs.92,500 / USD 1445 onwards +9% tax (per person)
WHO: info@theblueberrytrails.com / 8080122441
INCLUSION
- Accommodation on double sharing basis at 3 star hotels and B&Bs for 7 nights.
- Flight from Melbourne to Sydney and Sydney to Cairns
- All tours and activities mentioned except those which are Add Ons/DIY
EXCLUSION
- Flight charges to and from Australia
- All airport transfers
- Entrance fee at local monuments and museums etc., unless specifically included.
- City tax, if any.
- Reef Tax and fuel levy payable direct (AUD 20.00 per person)
- Activities which are Add Ons/DIY
- Local transport within the city
- Personal expenses such as beverages, tips, room service, meals not mentioned etc.
- Any costs arising from flight delays, change in weather conditions, strikes etc. which are beyond our control.
- Visa charges and processing
*Please note: Activities are flexible and depend on availability.
REACH US AT
info@theblueberrytrails.com/8080122441 for customised Australia trip package from India.
CANCELLATION POLICY
Click here to see our terms and conditions & our cancellation policy http://www.theblueberrytrails.com/index.php/component/content/article?id=71