Australia is the favorite destination of many tourists and that's not for 'nothing'. The country has got some amazing places to visit. Have you ever been to Australia? If not yet, then try visiting these locations (as listed below). You will love them for sure.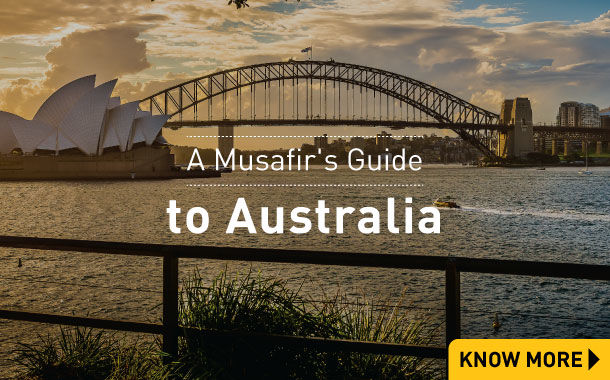 1.Opera House, Sydney: Sydney, the capital city has plethora of tourist attractions. It has the Opera House that is a must-visit location of the abode. The building is shaped like huge shells and is listed in UNESCO World Heritage sites. It is one of the world's greatest architectural marvels and is an incredible site for photography. It is surrounded by water from its three sides and is encompassed by Botanic gardens to its south. There are oodles of theatres, studios, concert hall, exhibition room and cinemas where the tourists can enjoy. Book now to avail cheap air tickets and behold this world's heritage.
2.Great Barrier Reef: Great Barrier Reef is one of the largest living structure on the planet and is visible from outer space. It is listed in UNESCO World heritage sites. It was established to protect fragile ecosystems including coral reefs and continental islands. It is the most exhillarating and beautiful natural wonder. Tourists can partake diving and snorkelling in the region that gives a spectacular experience. The place offers breathtaking views of reef that one can behold either from underwater viewing station or via glass bottom boats. The prime tourist attractions of the place include Port Douglas, Airlie Beach and Cairns. Book your cheap air tickets instantly to land into the magical land.
3.Melbourne: Melbourne is the second largest city and most popular destination of Australia. The place offers copious of galleries, shops, restaurants and theatres for the tourists to enjoy. It is a green and clean city with oodles of parks, open spaces and gardens. The major attractions of the place include Melbourne Cricket Ground, Royal Botanic Garden and National Gallery of Victoria. Shoppers can tread to the Royal Arcade, Melbourne Central shopping center and Queen victoria market.
4.Uluru-Kata Tjuta National Park: The national park lies in the heart of Australian centers. Uluru is a scenic location that is photographed by tons of visitants. It has striking red monolith that is set up at high altitude of 348 m with most of its bulk hidden underneath the earth. There are dome-shaped rocks termed as Kata Tjuta. The place is a world heritage. Get cheap flights from India and visit the magnificent abode. Get cheap flights from India and visit the abode at a cost that fits your pocket.
5.Sydney Harbour Bridge: It is the largest and most beautiful steel arch bridge in the world. It is often affectionately termed as 'Coathanger'. The bridge is a massive superstructure with eight lanes, a pedestrian path and two railway line. Visitors can tread to the top of the bridge and behold the spectacular views of the city.
6.Blue Mountains national park: It is listed among UNESCO World heritage sites. The place has enchanting Blue Mountains and protects more than 664,000 acres of bush land. The most popular tourist attractions of the region are the towering rock formation which is known as 'Three Sisters'. The Katoomba Scenic Railway station is steepest in the world that rides the visitors down the Jamison Valley and offers breathtaking views. Book your tickets today to get cheap flights from India.