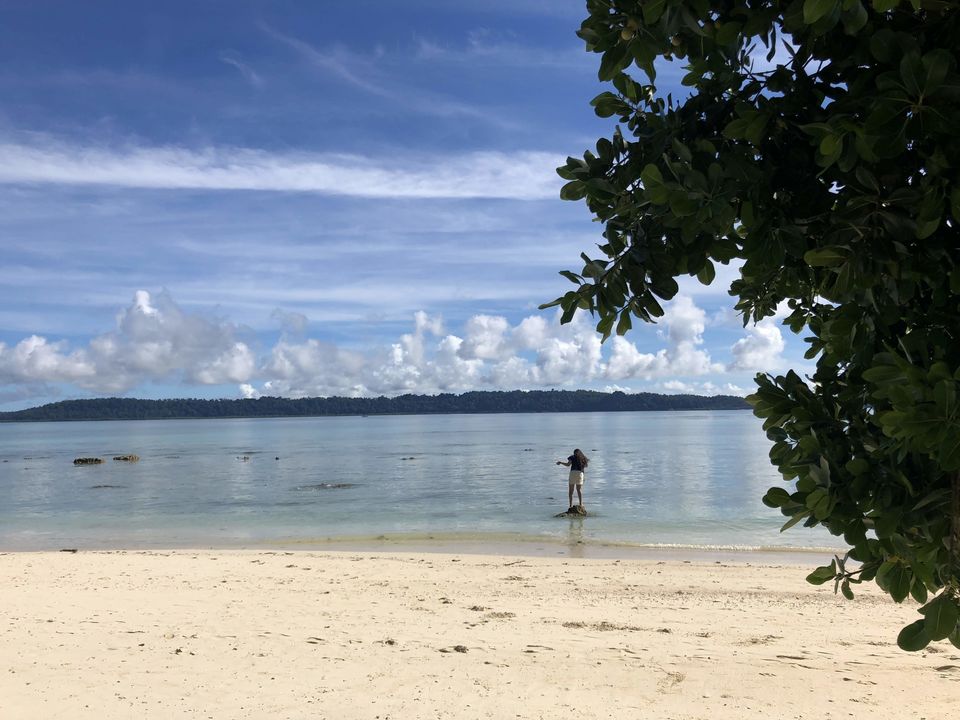 How many times have you heard that Andaman & Nicobar islands is a paradise tucked away between Bay of Bengal and the Andaman Sea. I had heard it a million times! However that did not prepare me for what my eyes witnessed when I saw the pristine, white beaches with a thousand shades of blue and green. The beauty of this amazing archipelago is beyond what words can describe.
If you're in a hurry do check out the TL;DR at the end of this page for a shorter version of our trip. If not, read along my friend!
Why did we go
When faced with the daunting task of selecting a location in India that was perfect for a bachelorette, was safe for an all girls gang and was not one of the usual suspects like Goa, me and my three friends did not have a lot of options. It had to be special as this was probably the last trip I was going to have with my bff and partner in travel crimes Apeksha, for a long time.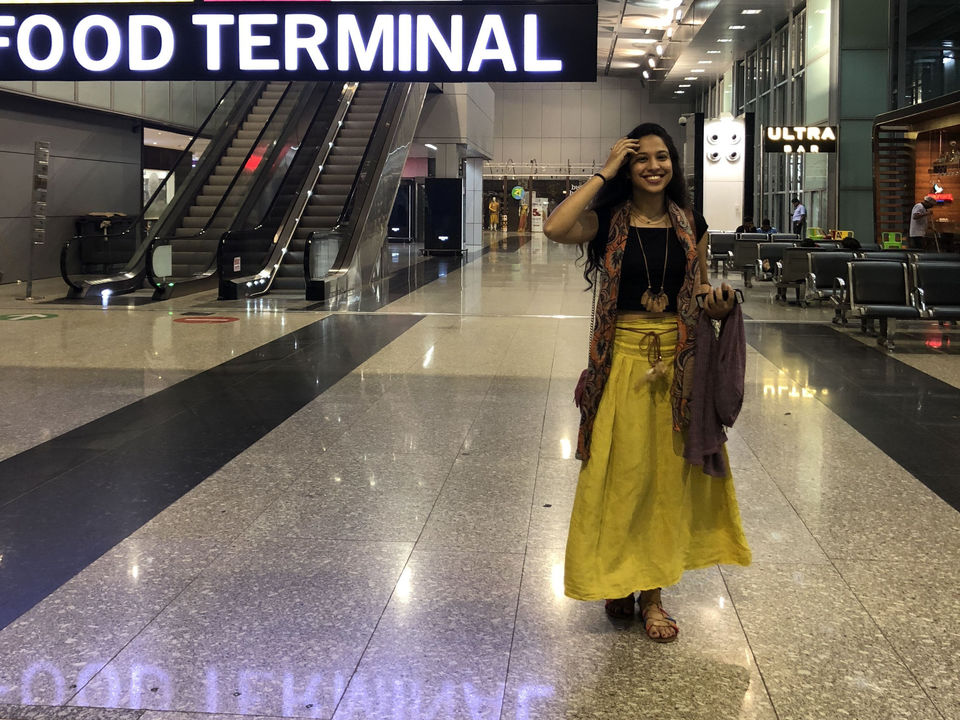 With so many conditions in mind, Andaman & Nicobar Islands was the perfect fit for us. However, you can go for any reason under the sun. The islands are perfect for a Honeymoon, Birthdays, Anniversaries, Bachelor/Bachelorette parties or just a relaxing vacay on the beach. The place is not so close that it is destroyed by hordes of tourists not is it so far that you spend ages just trying to get there.
When did we go
With our busy schedules we needed a long weekend that we could extend to make a good vacation plan. Gandhi Jayanti was on a Tuesday, so we took friday and monday off to get good 5 days. However, once we were there, we did not want to come back! So if you're planning to visit the clear blue waters of Andaman & Nicobar islands, see if you can get a few more days! Being near the equator, the weather is tropical, which means no winters but terrible summers. So the best time to go is from October to May, when its not too hot that you start melting, neither is it too rainy that you'll dissolve :-P
How did we go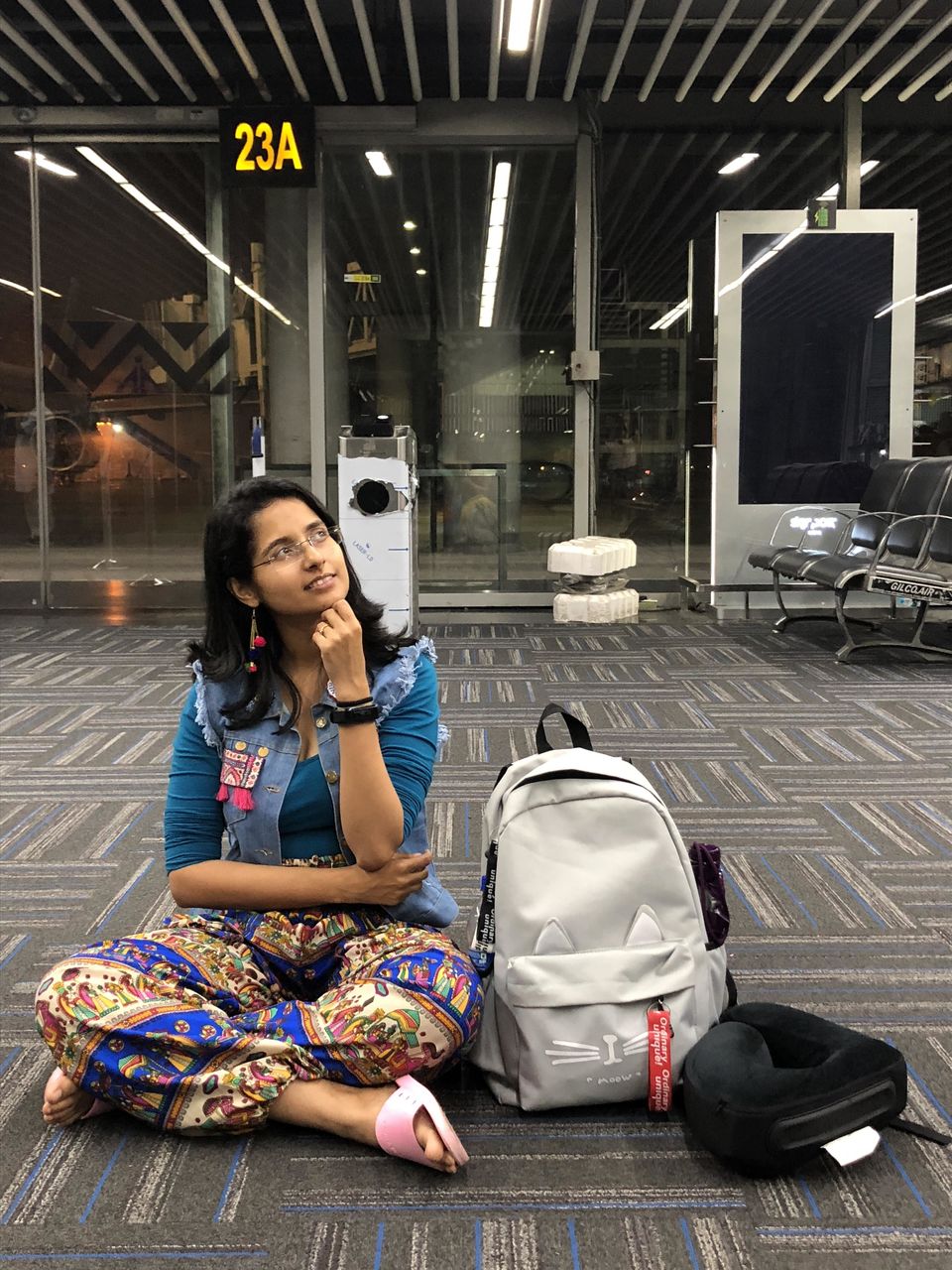 We chose the fastest way of getting there: flights to Port Blair. However for the more adventurous folks out there, the cruises leaving from Kolkata, Chennai or Vizag may sound more appealing. Once you're in Port Blair you take can mini cruises or ferries to the neighboring islands like Havelock, Ross and Neil.
What did we do
Me, Apeksha and Paridhi started our journey with a super confident, i-know-all-the-routes uber driver who obviously didn't believe in Google. He took a shortcut that turned out to be a longer route and almost made us miss our flight. But luck was on our side so we reached just in time to take our late night flight to Kolkata from where we flew to Port Blair. The warm beachy breeze welcomed us as we finally reached the islands at 8:00 am. We had a quick breakfast at the Keys Hotel, outside the Veer Savarkar International Airport while we waited for Nitisha to arrive. A word of wisdom, if you find yourself in a similar situation, where you have to wait for someone near the Port Blair airport, do not, i repeat, do not eat at the Keys Hotel. At 800 bucks per person buffet, I expected an out-of-the-world feast but what I got was a less than average continental plus South Indian breakfast, that was so not worth it!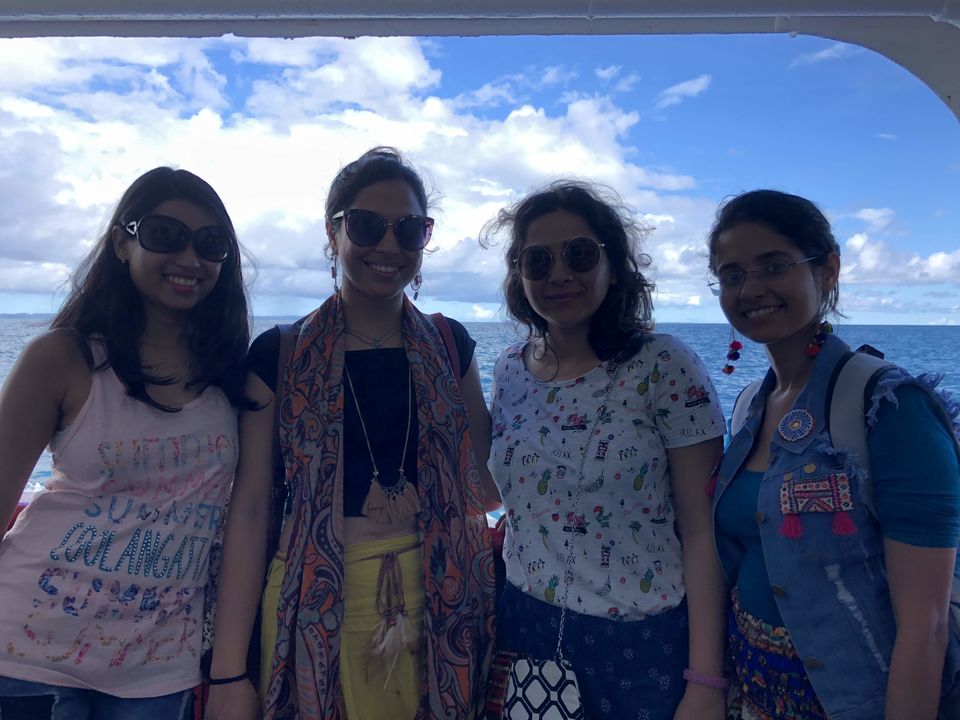 Anyway enough of my rants, once all four of us were together, we took the Green Ocean Ferry from the Haddo Jetty, for our 2 hour ride to Havelock. Another word of advice, it might seem that spending almost double the amount on a private ferry instead of the cheaper government one was a foolish choice, but believe me you do not want to start your trip on the government ferry. We took one while coming back from Havelock, and you read the description of that below, you'll understand.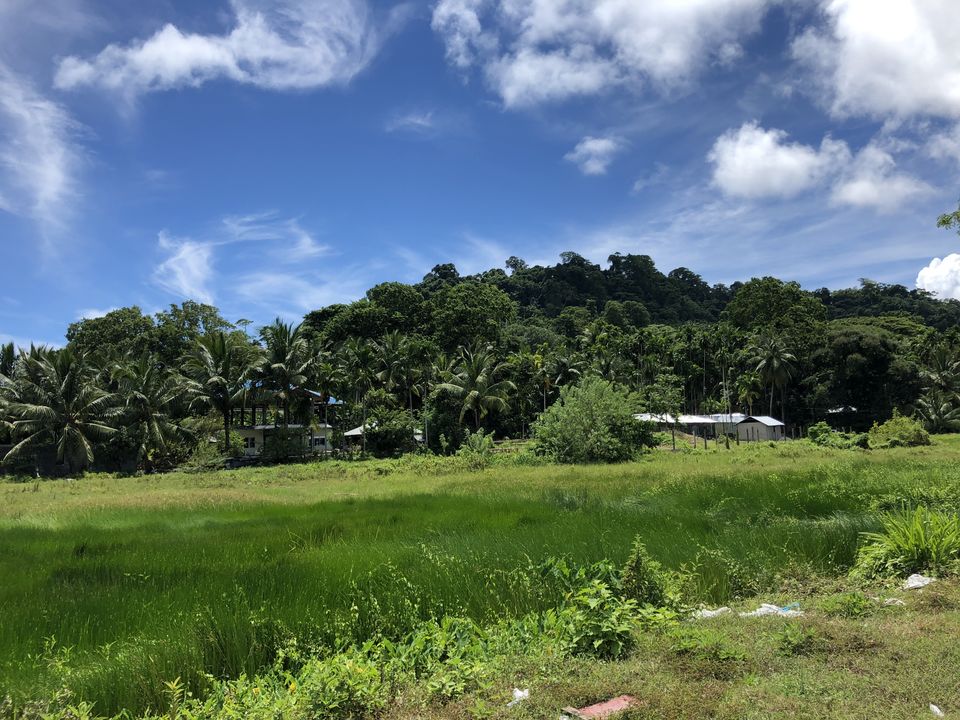 HD. High Definition. 1080p. No, I've not gone crazy. I know, no one will use these words to describe a paradise like pretty beach but that is what I felt once I reach the Havelock Islands. You know that feeling when a YouTube video has just started and its a little blurry and suddenly it all buffered up and it switches to HD. That's what Havelock felt like. Everything so bright, and pollution-less, and with so many shades of blue and green that for a second I thought I was in a dream.
We stayed at a property named Pellicon Beach Resort on the Govindnagar which was a cluster of small huts with its own private beach! If you're a lazy bum like me, you can just book this place and stay their your entire vacation. Beaches in Havelock are not likes the ones in Goa with a lot of shacks serving you food, booze and whatnot. They left in their natural state without all the filth and garbage that comes with those beach side shacks. So it was plus that the resort served food, and if you're ready to pay a little extra they will bring it to you on the beach! What more can you wish for?
We had a lovely dinner at The Full Moon Cafe, which was quite near our resort, giving us a chance to have a lovely moon light walk.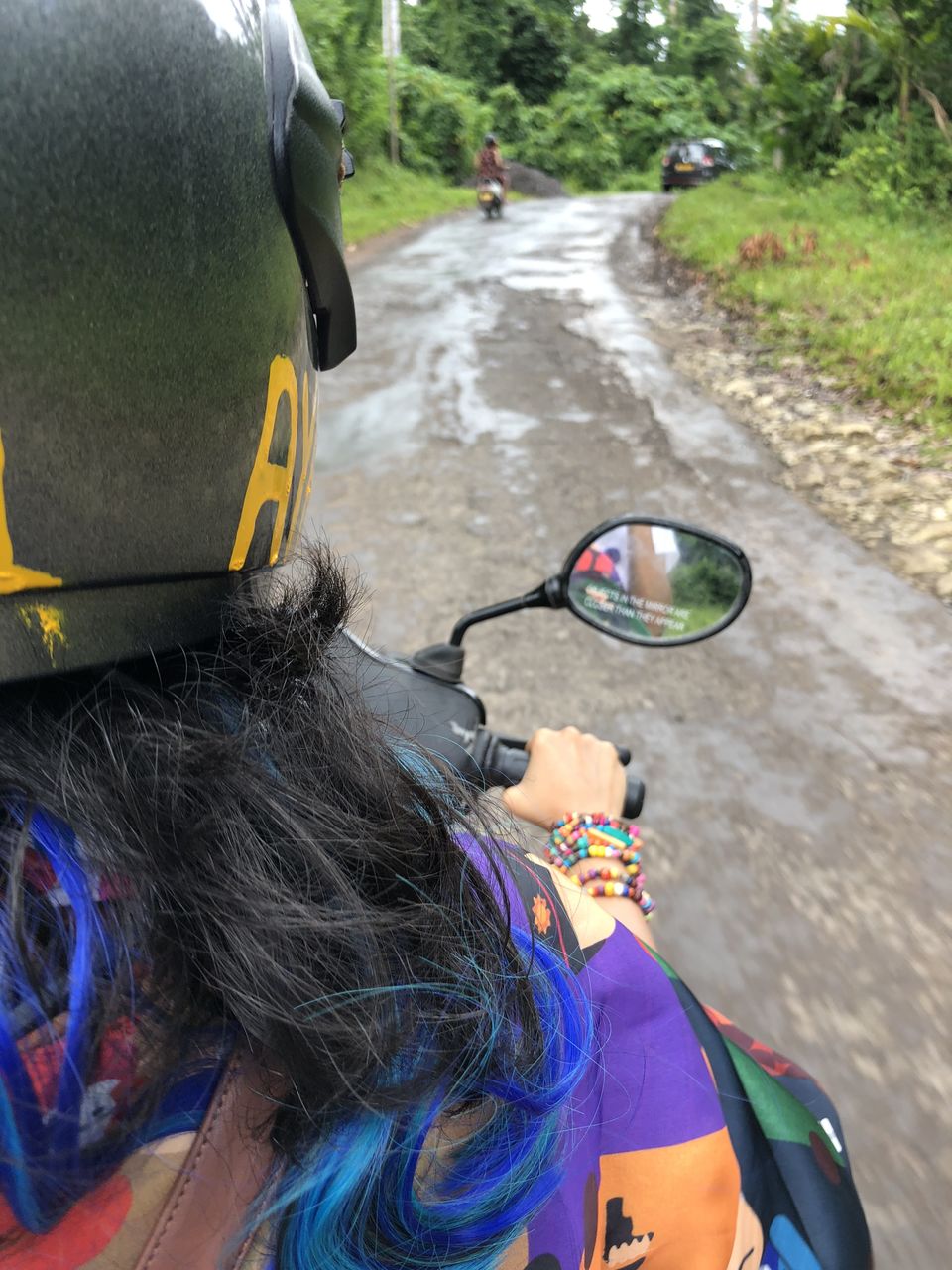 The next morning, we rented scootys from a small rental place just outside the resort and started our bumpy ride to Radhanagar beach. This is the most famous beach in Havelock and not without a reason. It is among the seven best beaches in the world. With its turquoise blue waters and clear white sand, it is the perfect location to bask in the sun and get the tan you will show off after your holidays. Being so famous it can get a little crowded, so a little tip, walk a little far on the beach and if you go far enough you're sure to find a small quite spot to make yourself home.
Onto the most interesting night of our trip, this being a bachelorette party we had to party. This is a little difficult in Havelock as everything closes at 10. But if you do your research right or better ask me, you will get a place to wear your hair down and party till you drop. We found our perfect spot at Charcoal Grill & restaurant. They had good food, nice ambience, sundry drinks and best of all: Bollywood music.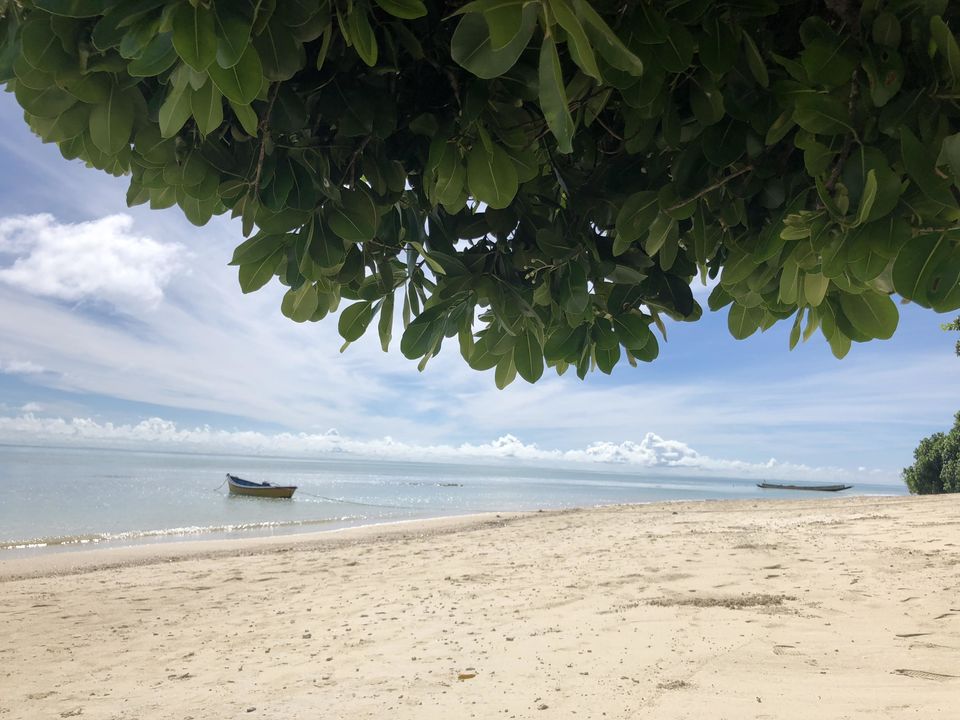 We woke up late because of all the dancing from the night before and had a heavy breakfast at Cafe Salt Water. From there we beach hopped to Kala patthar Beach, Govindnagar Beach and Vijaynagar Beach. We wanted to go to the Elephant Beach as well for water sports but we were very disappointed when we missed the last ferry because we didn't have enough cash. So another have lots and lots of cash when in Havelock because cards are not accepted at a lot of places!
Disheartened we started to make out way back when we met our taxi driver from the jetty. Hearing our sad tales of missed ferries, he suggested us scuba diving. Apologies for what I am going to say, but when it comes to life threatening adventures in India, I do not have a lot of confidence in the equipments or the people. However if you're braver than me you should make a reservations with Nemo Diving Center for a session. Apeksha and Nitisha were, so they did and listening to their fabulous remarks later and watching their videos, I would definitely recommend it.
The next day we took a government ferry back to Port Blair. As promised before, here is the reason why I would not suggest it. The journey took us twice the time than a private one. The cabins were congested and air conditioning was minimal. They didn't have any support staff to help with the luggage. However, they did have samosas and pakoras for which we didn't have to pay exorbitant amounts of money, so that was a plus. We also went up to the deck and saw double rainbows so that kind of made up for the rest. But you've been warned, think before you choose them.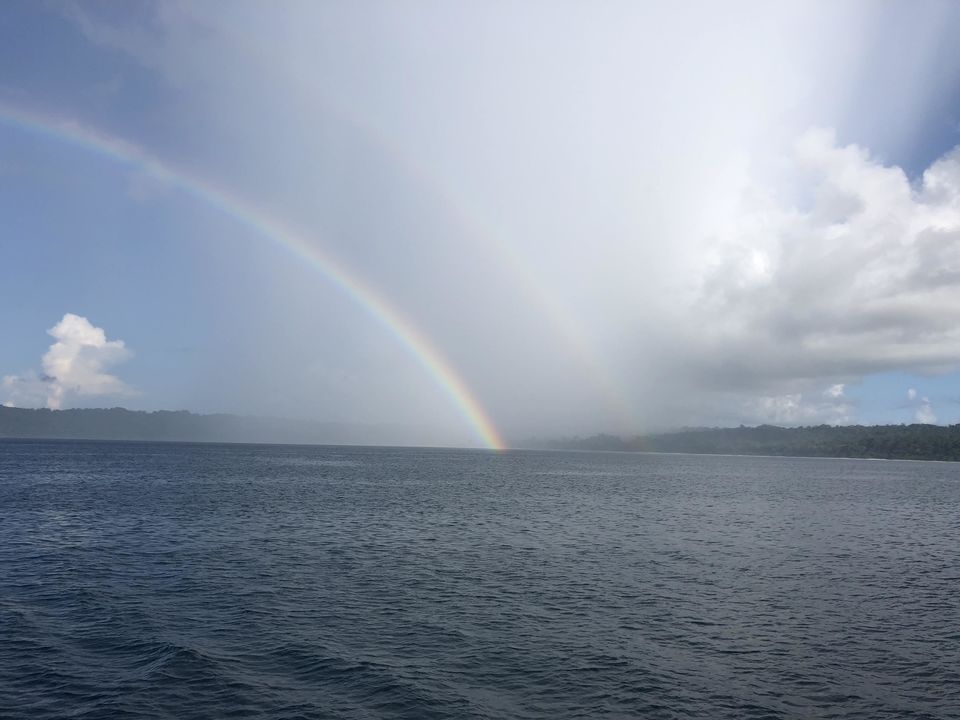 At Port Blair we stayed at home-like airbnb with a large halls and two nice rooms. They also served some idlis and chutney for breakfast which was quite good.
By this point we were extremely tired from our eventful days at Havelock, but we had some time to kill so we decided to go to Cellular Jail. Unfortunately it was closed, they day being Gandhi Jayanti so we just posed outside and took lots of pictures on the road.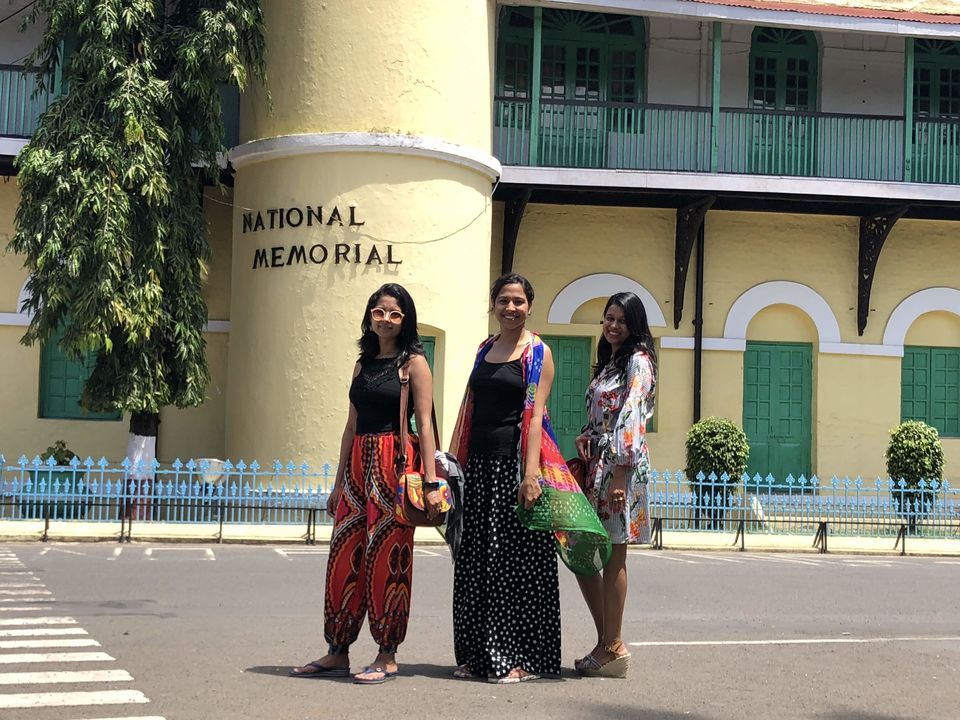 Our nice auto wala also took us to small shops to buy some souvenirs. Be sure to ask the auto wala to take you to the cheap places because otherwise you will end up spending a fortune!
We boarded our flight back to Bangalore, tired but still sad to be leaving the wonder lands of Andaman behind.
Where we didn't go but you can
Light And Sound Show at Cellular Jail if you enjoy watching historical, patriotic musicals.
Chidiya Tapu if you want to go bird watching
Gandhi Park for lazing in the lap of nature
Ross island to see the colonial capital of the British era
Underwater sea walk at North Bay Island
Water sports at Corbyn's Cove
TL;DR
Flight from Bangalore to Kolkata to Port Blair
Breakfast at Keys Hotel
Ferry from Port Blair to Havelock
Stayed at Pellicon Beach Resort, Govindnagar
Dinner at The Full Moon Cafe
Chill at Radhanagar beach
Dinner and bollywood dance at Charcoal Grill & restaurant
Breakfast at Cafe Salt Water
Visit Kala patthar Beach
Chill at Govindnagar Beach No. 5
Scuba diving at Nemo Diving Center
Ferry back to port blair
Stay at Airbnb
Visit Cellular Jail
Shop in Port Blair