July 2019 - Mountains!! Always and forever!! No, I haven't gone mad, that's just the answer when people ask me if I love mountains more or beaches. My leaves were piling up and so was the work pressure and the only way I know of relieving stress is Traveling. I desperately needed some mountain time! Hence my love for offbeat paradise helped me narrow down on Parvati valley in Himachal Pradesh. I knew July might not be the best time due to the probability of rain but I also knew this would be an off season and I am so glad I went forward with the plan. A friend of mine readily agreed to accompany me on this backpacking trip.
Parvati Valley
Situated in the north Indian state of Himachal Pradesh, Parvati valley is one of the mystic places, rich with myths and folklore. One such belief is that Lord Shiva meditated in this valley for about 3000 years. One day he looked at this marvellous landscape and named it after his lover, Parvati.
Parvati river rises in the Man Talai glacier below the Pin Parvati Pass and flows across the valley into the Beas river near Bhuntar. The valley is dotted with numerous villages which have become backpacker hangouts offering cheap accommodations and international food.
How to reach?
If you are taking a flight then the closest airport is at Bhuntar. From Bhuntar you can get regular buses to the villages in the valley like Kasol, Barshaini etc.
The easiest way is to take a bus from Delhi to Bhuntar. On Friday night we took a bus from Majnu ka Tila in Delhi and reached Bhuntar the next morning at 7am.
Most places in Parvati valley do not accept cards and you aren't likely to get any ATM after Bhuntar so stack up on cash at Bhuntar.
Day 1
After reaching Bhuntar, we got on a local bus which was going till Barshaini and got down at Kasol. The 1.5 hours bus journey gave us the first view of the valley. The chill in the breeze, the sharp turns of the road, the mighty Parvati river flowing surrounded by the mountains tell you what is in store for you the next few days. You will get numerous hostels, guest houses and hotels in Kasol but I decided to head to the quieter alternative of Kasol, Chalal. From the main market of Kasol take a left turn and you will see the Chalal bridge, crossing which will take you to the Chalal village. But you are very likely to lose all your senses at the view you get from the bridge. The roar of the Parvati and the lush greenery at all sides made us stand there mesmerized.
The only way to reach Chalal is on foot. It had started drizzling by then and we started walking along a narrow trail beside the river. After a bit of hiking we found a homestay called Mountain View. We got a room for 800₹ on the first floor and I fell in love with the view from the room.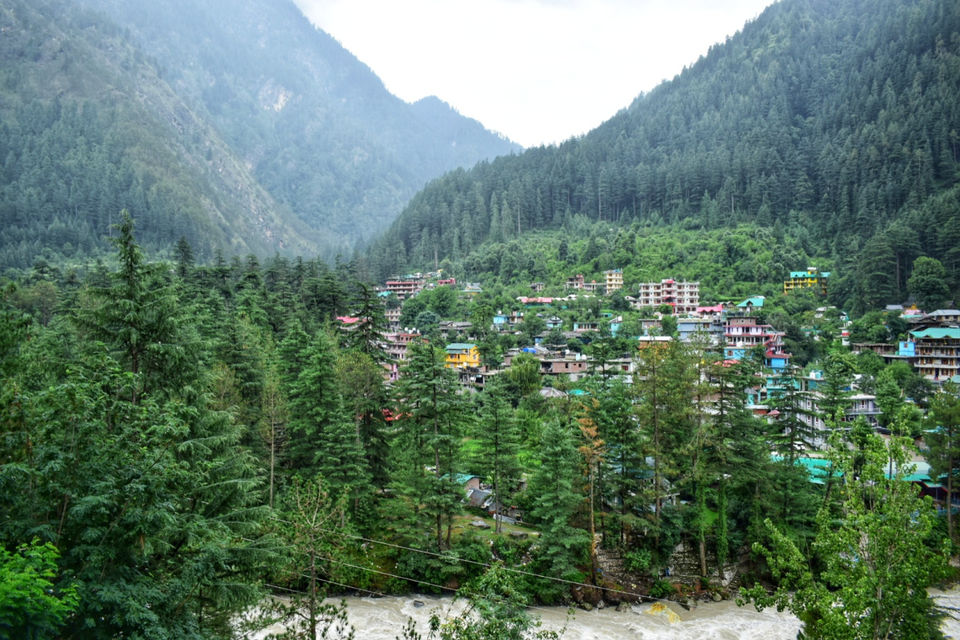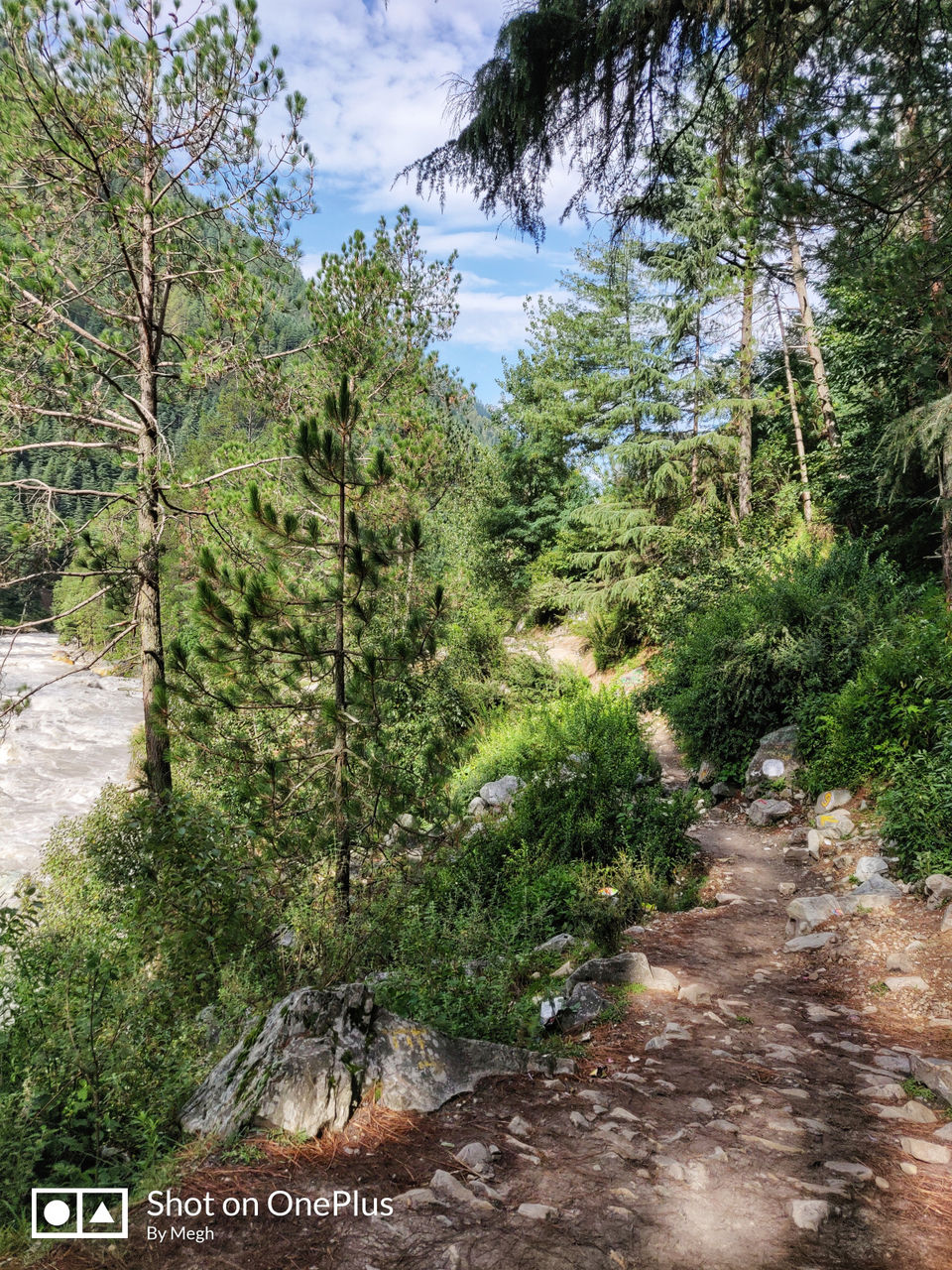 After freshening up, we decided to head to Kasol to have our lunch. After having sumptuous Israeli food at the Evergreen Cafe we visited the Kasol market and the Kasol Nature Park where we got to dip our feet in the ice cold water of the Parvati.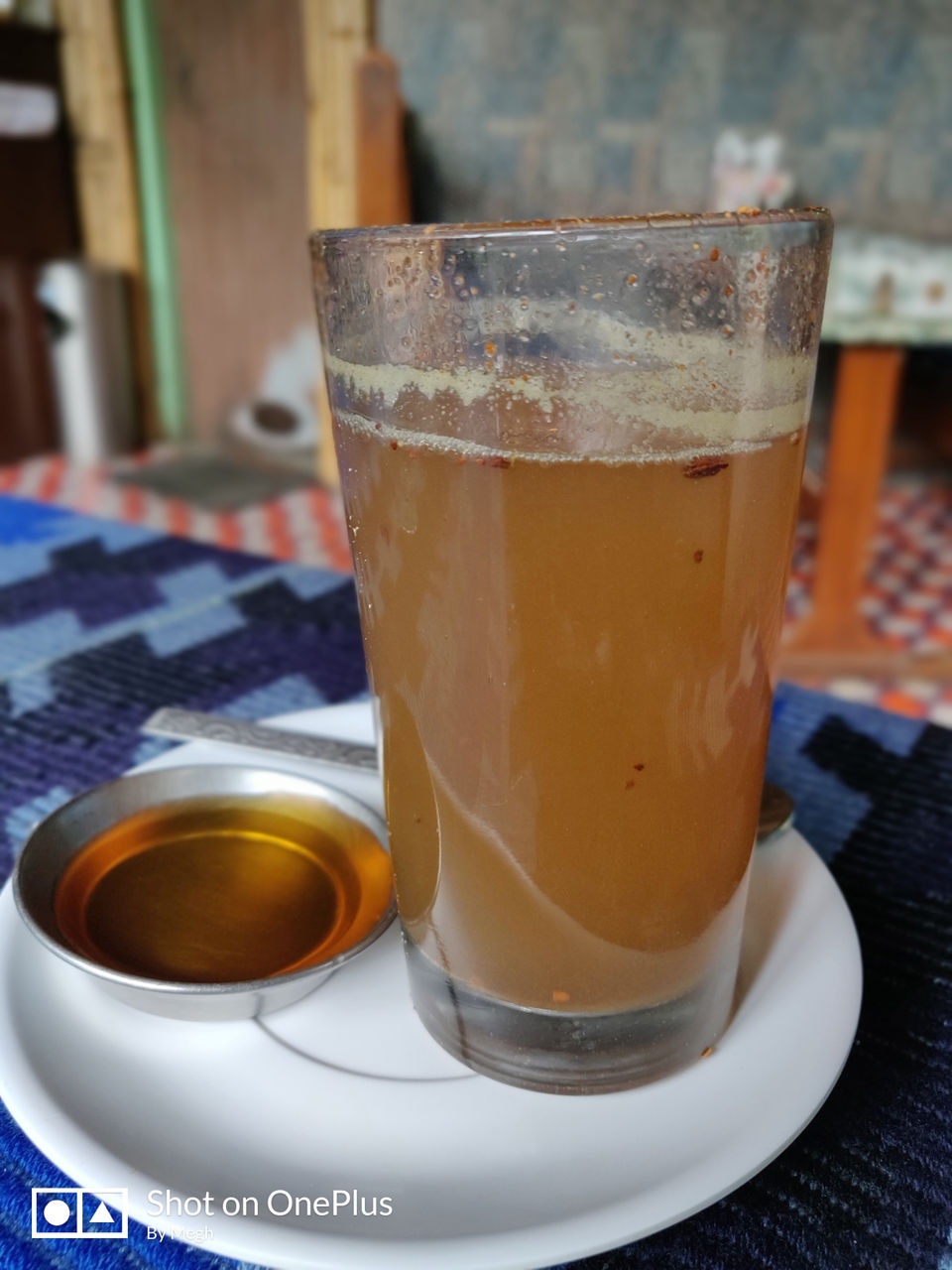 The evening was spent clicking numerous pictures and appreciating nature's gifts to us.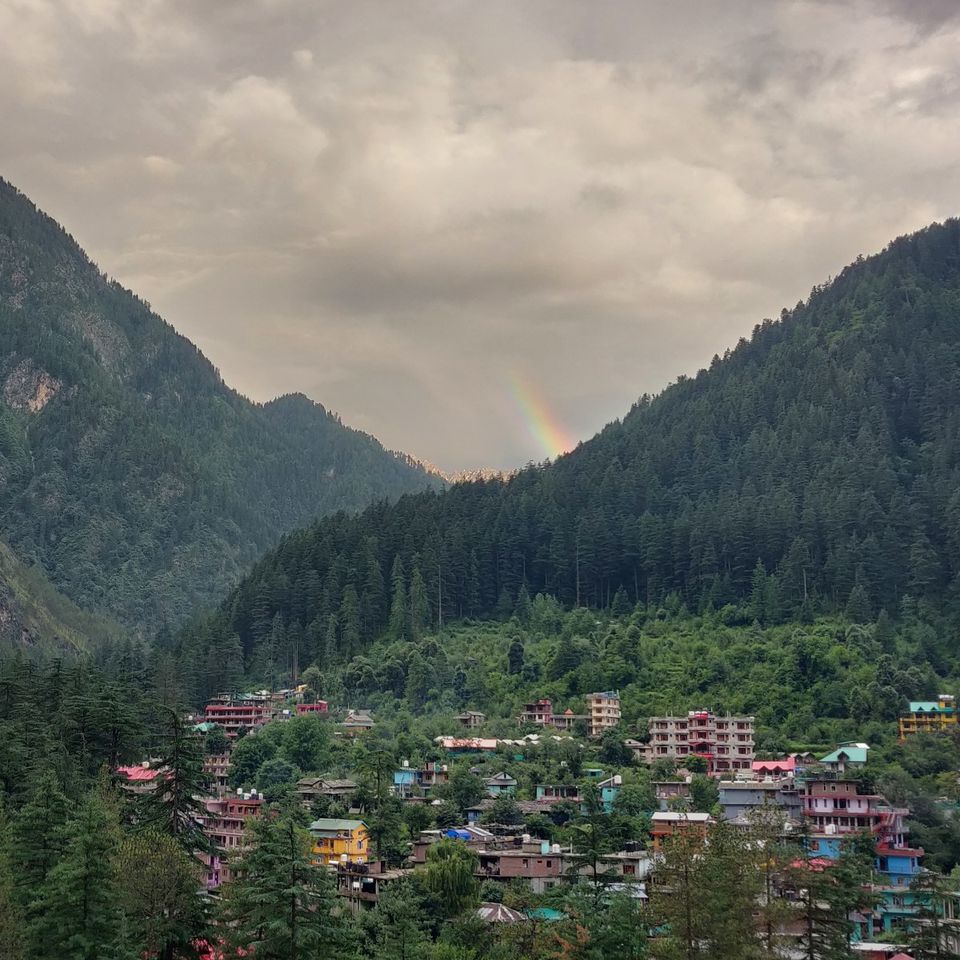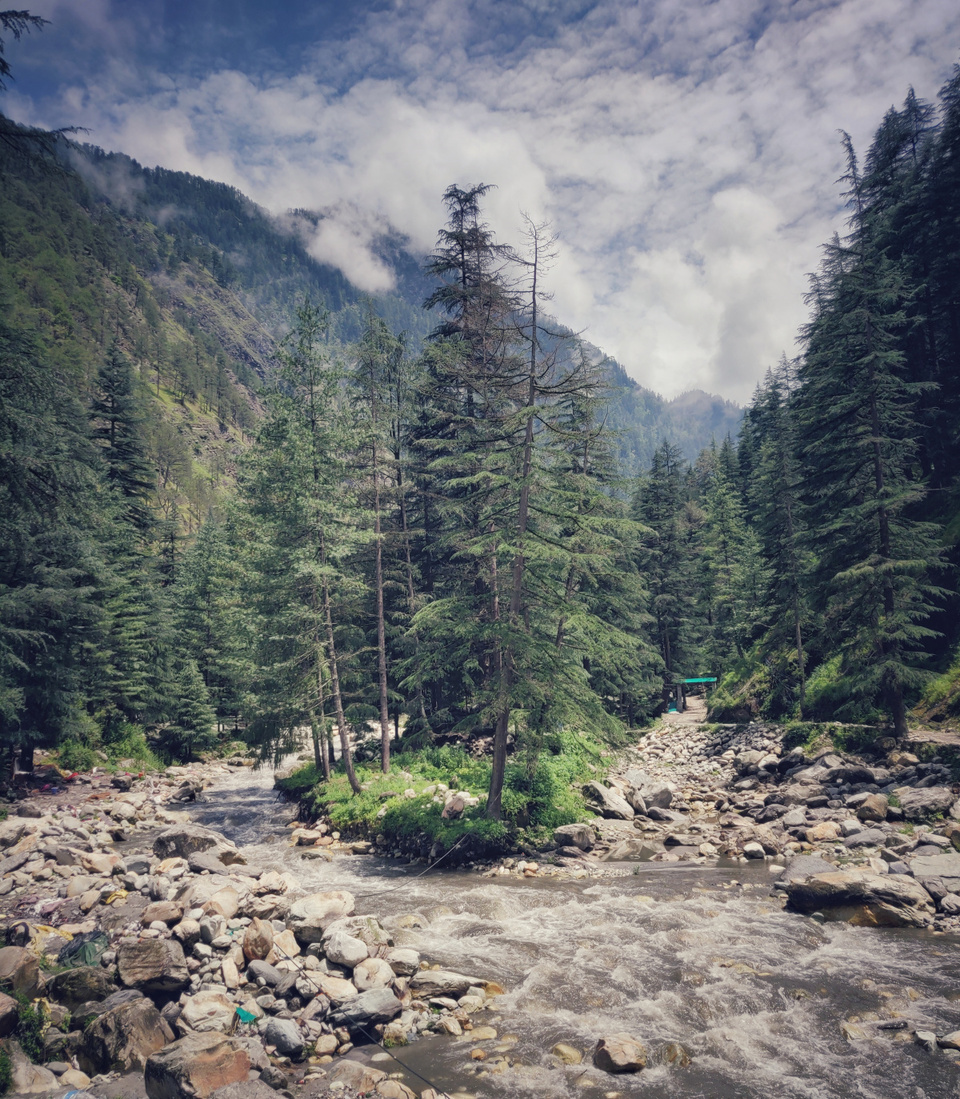 Don't be surprised if you get offered to buy weed and hash frequently by the locals as Parvati valley is the unofficial weed capital. Everywhere you will get to see marijuana growing. Since we were not interested we politely declined.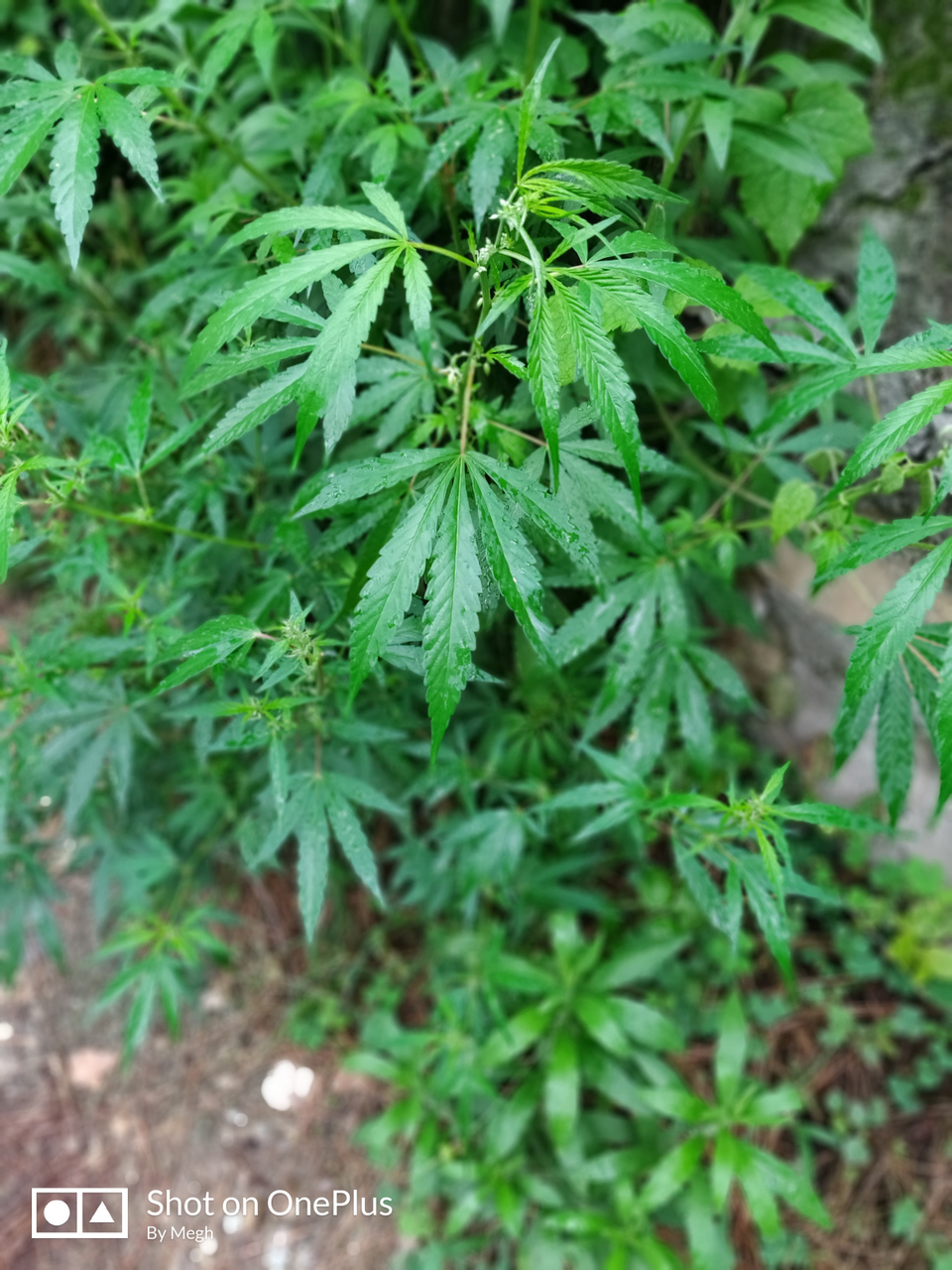 Day 2
After checking out of our guest house we headed to Little Italy Cafe for breakfast. After filling ourselves with some continental delicacies we decided to walk to Manikaran Gurudwara about 4km from Kasol.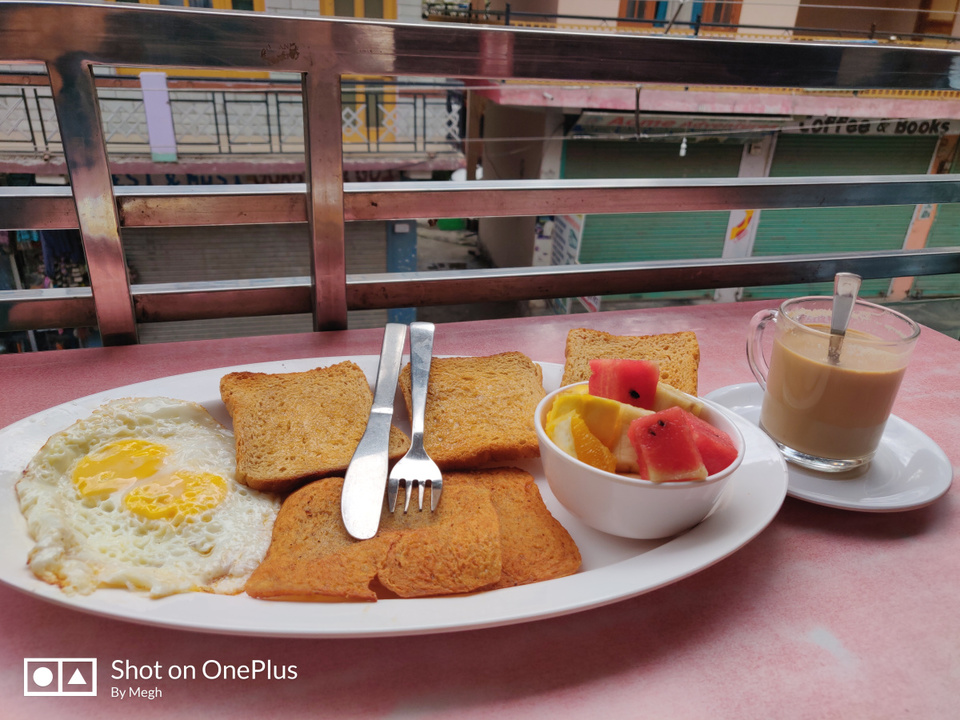 Manikaran
Manikaran is the most famous tourist spot in the Parvati valley. It is a major Sikh pilgrim centre well known for it's natural hot water spring.
According to one of the lores, Goddess Parvati lost her earring ( Mani) in a stream while taking a bath. After repeated failed attempts of finding the ring, Lord Shiva flew into a rage and opened his third eye which wreaked havoc on the universe. To pacify Shiva, Sheshnag (the Serpent God) hissed and gave rise to a massive surge of boiling water that spread through the valley. The surge pushed up the lost jewel, thus making Shiva and Parvati happy. Since then boiling water has sprung from the ground.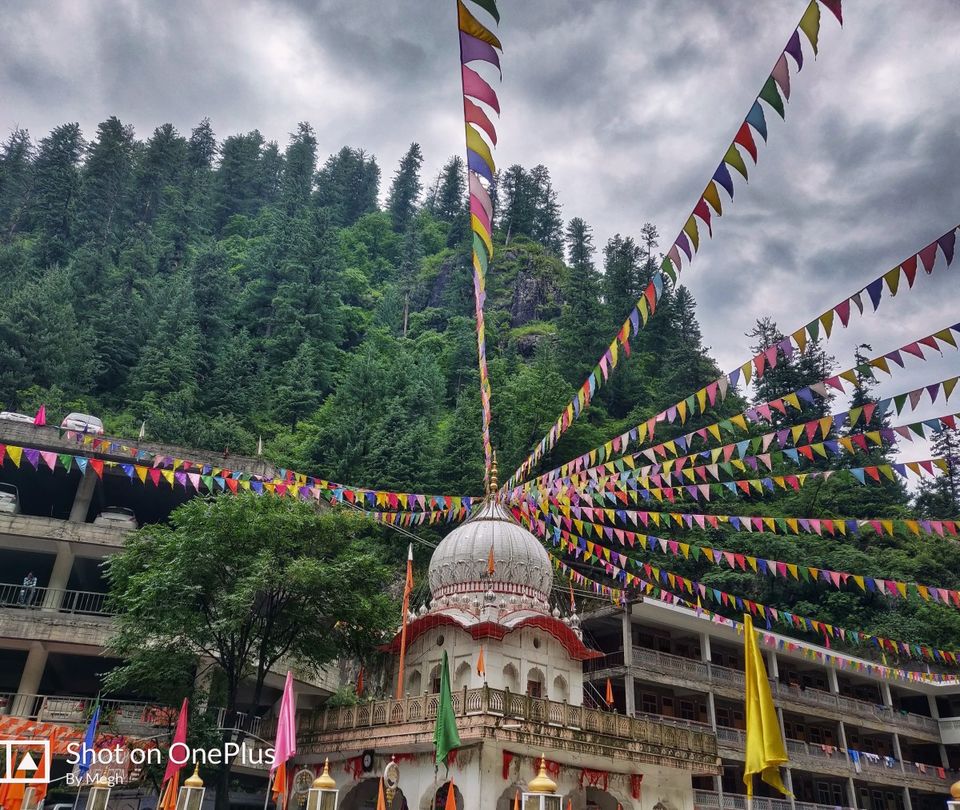 Manikaran is also famous for it's Langar where people get to eat meals for free at all time.
After spending some time taking in the magic of Manikaran, we got on a local bus and reached Barshaini. After walking around a bit we finally took a shared cab till Tosh. Instead of Tosh, from Barshaini you can walk to Kalga or Pulga as well as those places also have quite a few options of accomodation.
Tosh
Tosh is the last village in Parvati valley till which transportation is available. Tosh is a proper village filled with pretty little houses and donkey dung. You are very likely to get confused between people's houses and guest houses.
We got a room in the Shiva guest house for 600 ₹ for a night. After battling a few spiders who clearly did not expect guests anytime soon, we finally settled down and spent the evening with tea, music and this breathtaking view. For dinner we had Roti and Chicken curry served by the guest house.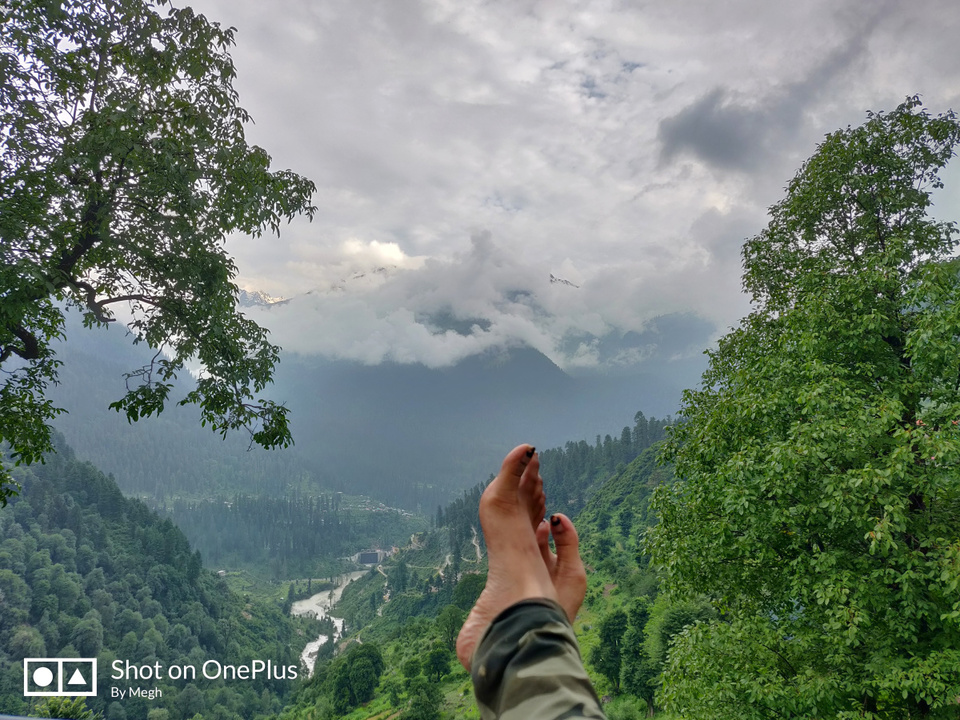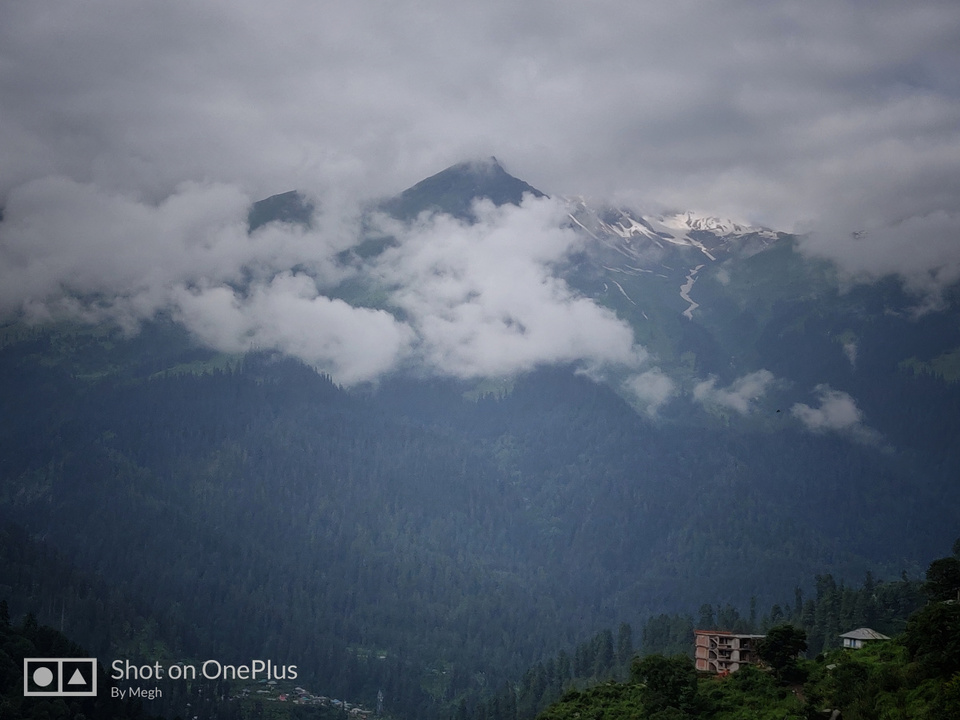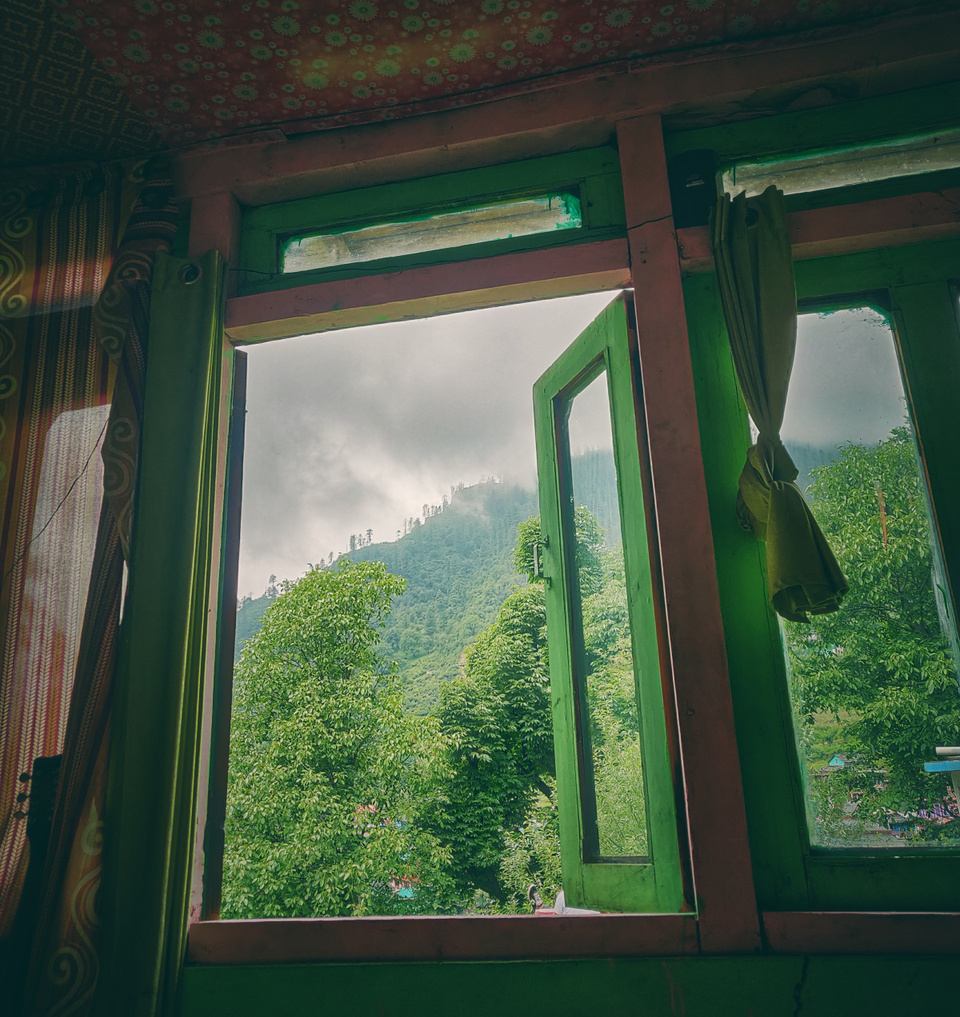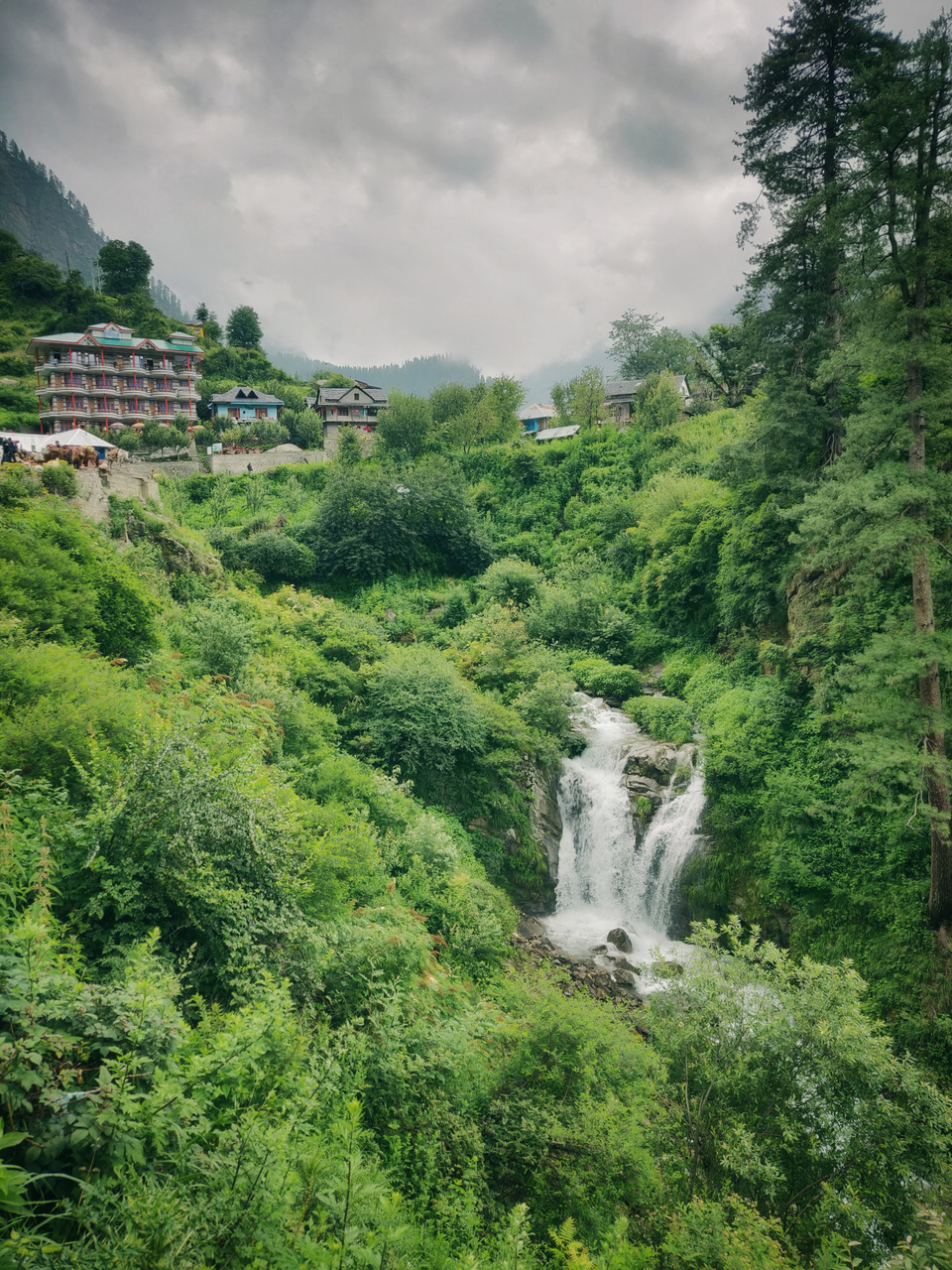 Day 3
After getting to know from a few fellow travelers about a beautiful waterfall just 45 minutes from Tosh, we decided to start our trek early in the morning. After trekking through a narrow trail and getting lost a few times, we finally reached the waterfall. The gorgeous waterfall took away all our exhaustion and left us with a calming sense of accomplishment. There was nobody around except a few dogs. The view from there accompanied by the sound of the waterfall made me feel as if I had entered into a dream world.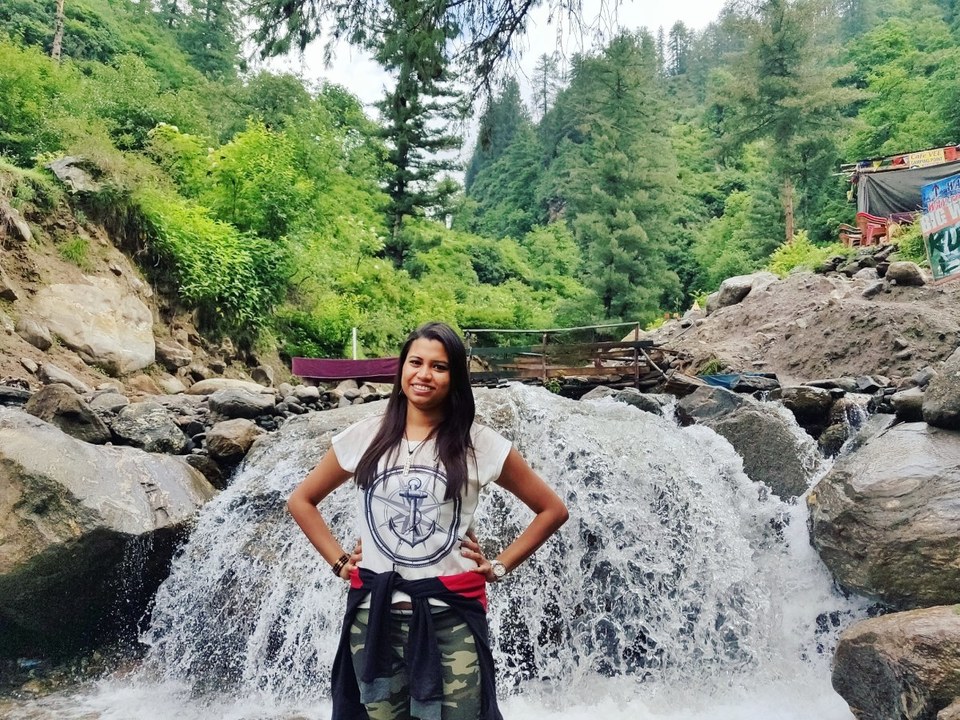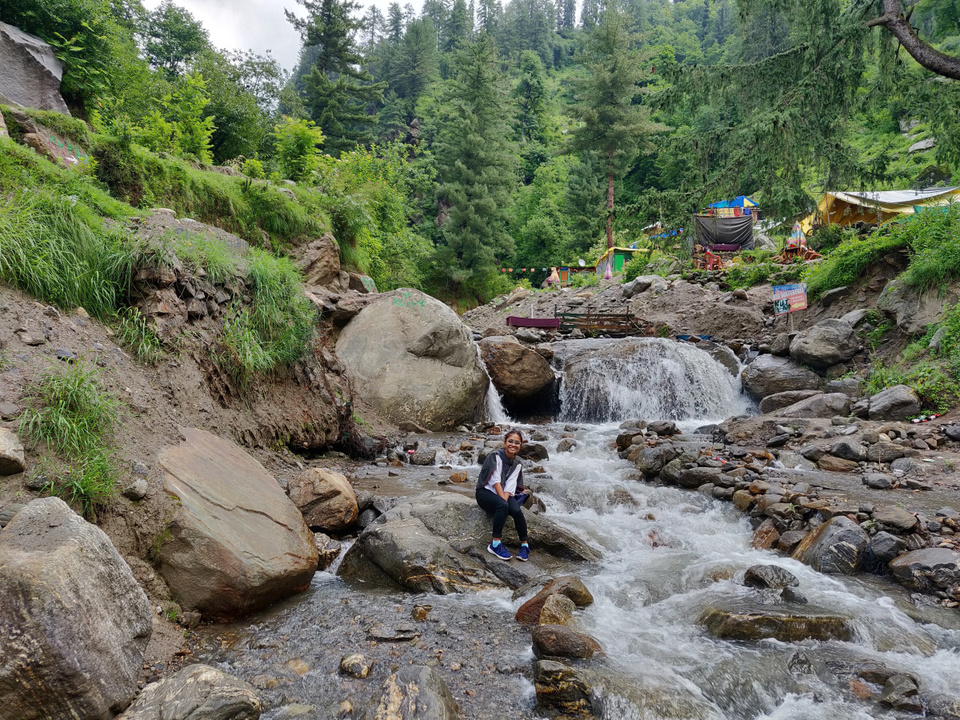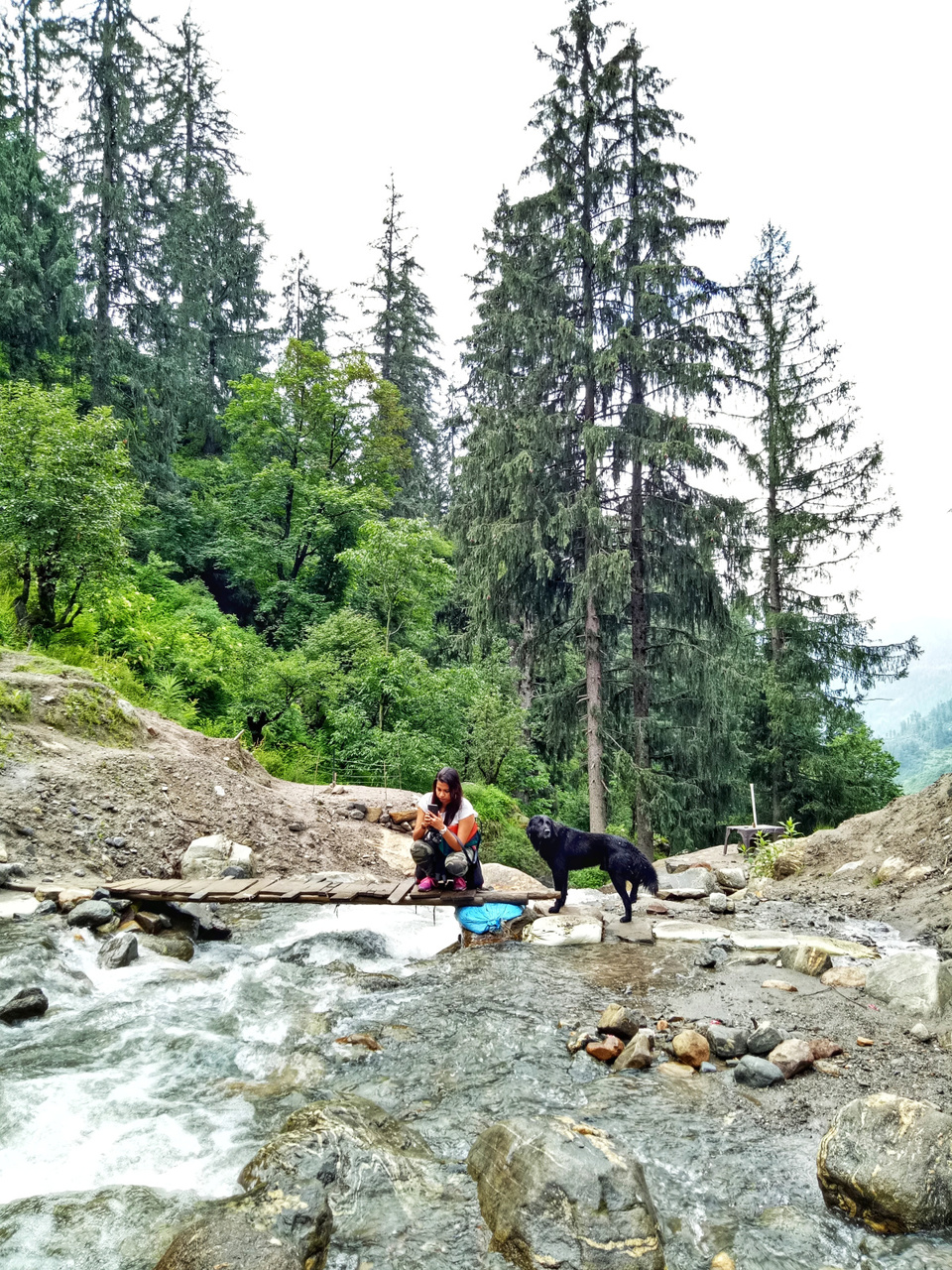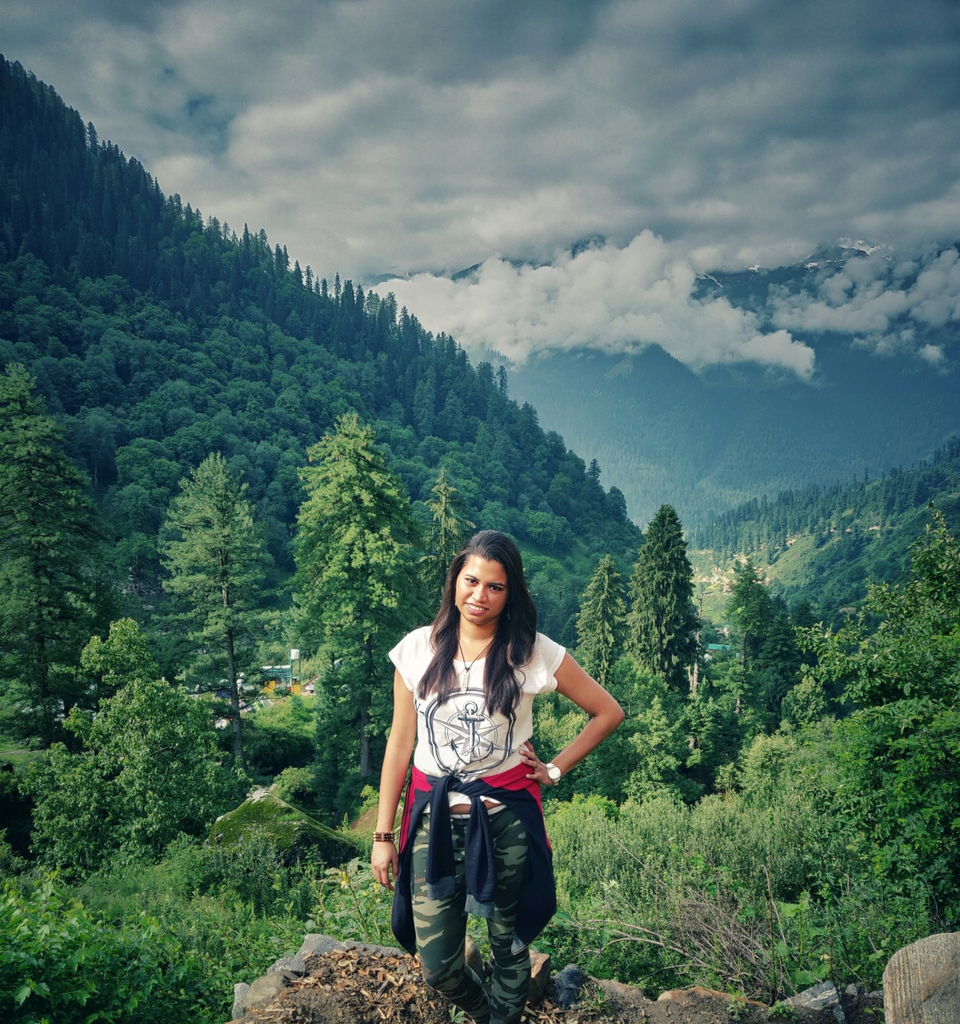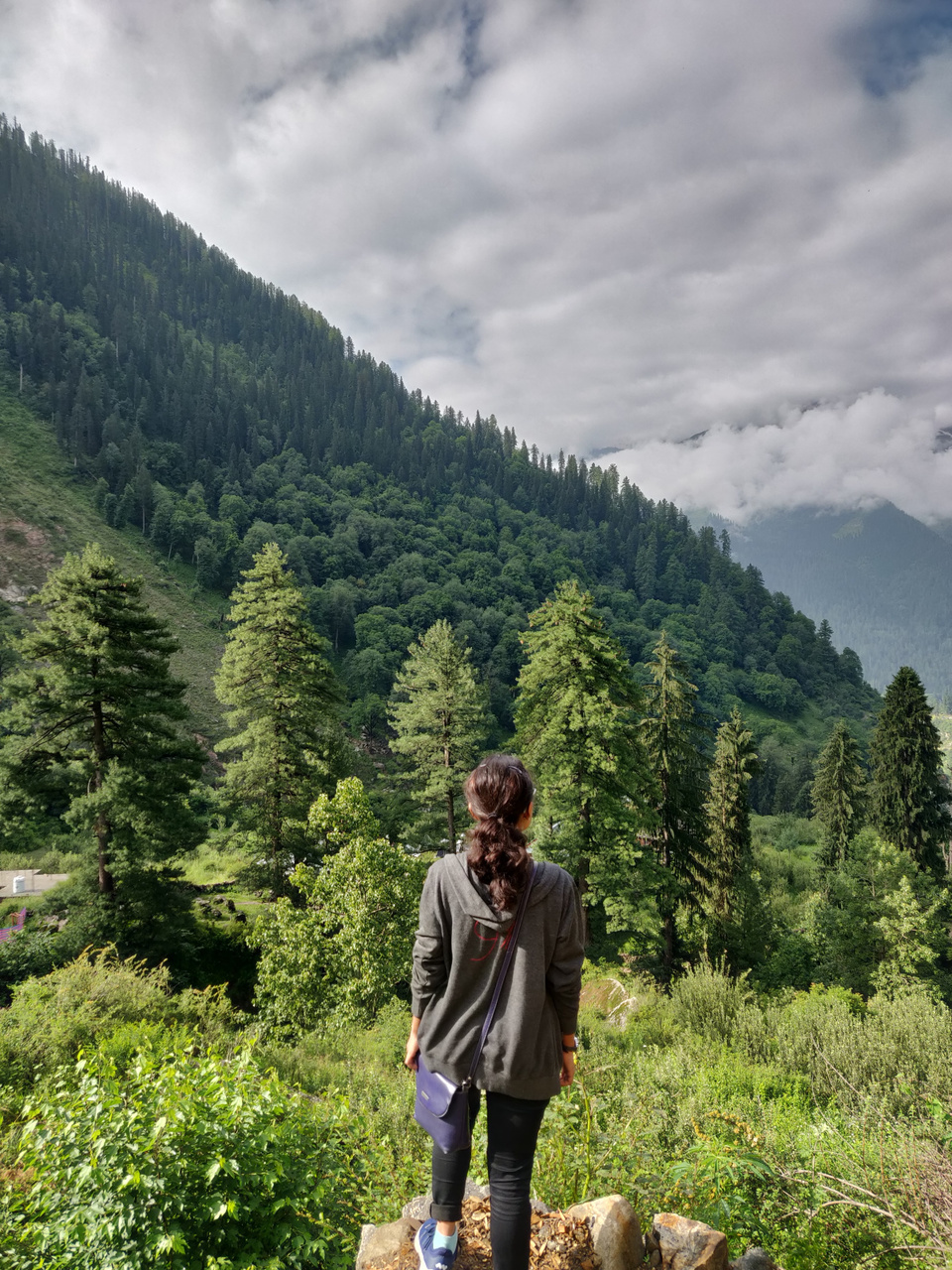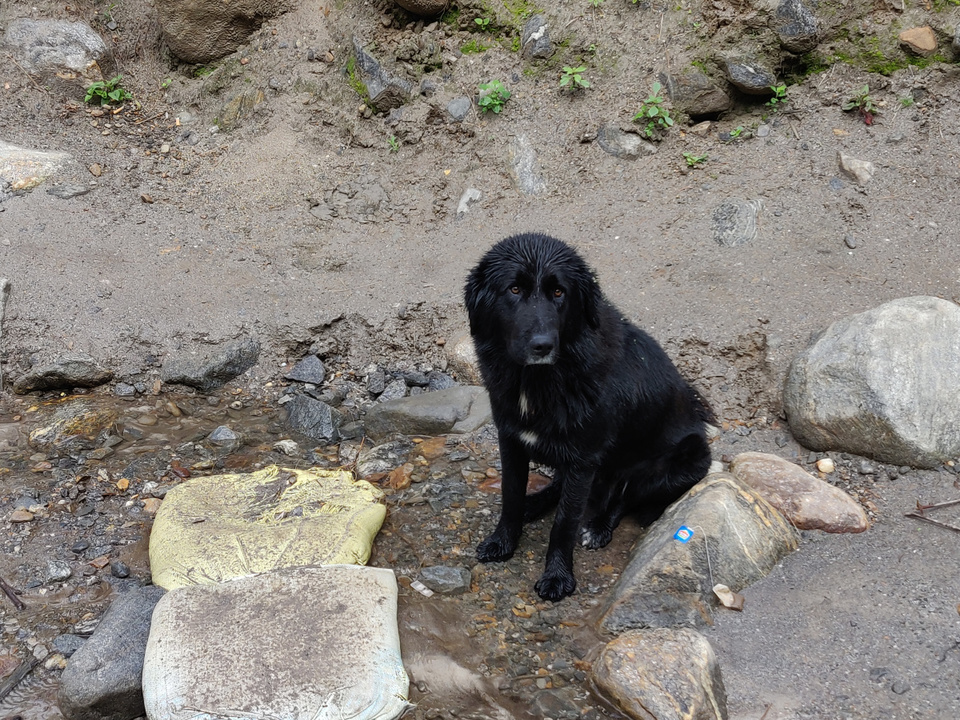 But soon reality beckoned and we started our return journey. After reaching Tosh, we checked out from our guest house and took a shared cab till Barshaini. It was 11 and we had planned to take a bus ride from Barshaini to Manikaran but the HRTC bus was supposed to leave at 1.30pm. We did not want to waste 2 hours so took a shared cab till Manikaran. After having lunch at the Langar and exploring the Gurudwara premises, we headed to Kasol. We did not want to bid goodbye to this heaven so were trying to soak in every last bit of it. Then we reached Bhuntar and started our bus journey for Delhi.
There are moments in life when you feel you have achieved it all and still feel incomplete as you can't hold on to that moment forever. Its heartbreakingly beautiful and that's how I would describe my trip to Parvati valley. It was filled with so many of such moments. I promised myself that I would definitely return to the heavenly abode and my only request to my fellow travelers is travel responsibly and do not leave your trash in the mountains. Leave the mountains as pristine as ever.
Trip Cost
Bus from Delhi to Bhuntar - 1099 (per head)
Local Bus within Parvati valley - 310 (2 people)
Shared Cab - 800 (2 people)
Chalal homestay - 800 (1 room for 1 day)
Tosh guest house - 600 (1 room for 1 day)
Food - 2700 (2 people)
Bus from Bhuntar to Delhi - 959 (per head)
Miscellaneous - 150 (2 people)
Total - 4700 approx. per head
Network connectivity
Airtel and Jio networks were spotty in some places but mostly available.
Language
Most people speak Hindi or English. So if you know either of them, it won't be a problem for you.
(All the pictures and videos you see are mine and not stolen from any other source)