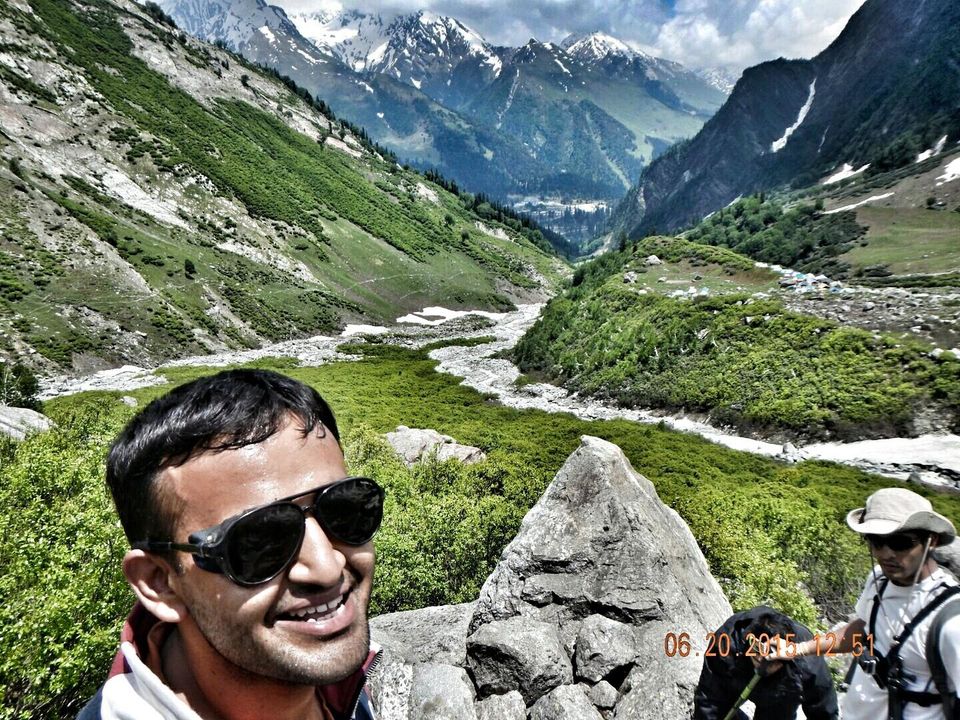 About Vyas Kund
Vyas Kund is a trek to the origin of the Vyas river, it is a trek out of civilization to the base of the Pir Panjal and Dhauladhar Himalayas. Vyas Kund is a religious lake for the Hindus, they believe that it is the infinite source of water, and also the depth of the kund is still unknown and many have died trying to reach the bottom.
Vyas Kund is a high altitude glacial lake fed by the glaciers around it. Surrounded by a 'thach' or a grazing ground and the enormous mountains Vyas kund is also a route to many high peaks and passes.
- - - - X
"
Lets Explore
-Climb Onn
"
Trek … Climb … Explore
- - - - X
Detailed itinerary
Day 1
Reach Manali by 10am our representatives shall be there to welcome you to Manali, and vehicles will be ready for you to head straight to Camp Deodar.We'll reach Camp Deodar by 11am
Your tents and warm water are waiting for you to freshen up. Breakfast is at the will be ready for you when you arrive . 11am-1pm
Let's check the equipment we have for you, and just get a little comfortable with it. So that we can figure out any last moment needs and adequately prepare for them.1pm- 2:30pm
It's time to have some amazing local Himachali food cooked by our camp chef ... And after a hearty meal, we shall do what we desire let's rest for a bit 2:30-4:30pm
Let's head out for a short hike and acclimatize.. 5- 8pm
We'll head back to camp early, pack up our stuff and get packed up to leave for our trek. Dinner will be served at the campsite right after planning and packing. Discussions will go on for while till we have our dinner. 8:30pm - 10:30pm
Packed and all set to Climb Onn !! Lets hit the lights by 11pm
Day 2
Bed Tea at 5 am
We'll wake you up with a warm cup of tea or coffee…
We'll meet for breakfast, with our sacks in the mess tent and we shall do our last minute preparations to leave. 6 - 7:30am
Our sacks will be loaded into our vehicles and it's time for our ride till we start walking away from civilization. 8 - 9 am
From Camp Deodar we reach Dhundhi by road, and start our 4-6 hour hike from Dhundi. 10am-4pm
Though we carry packed lunch as 'first aid' hot lunch is waiting for your arrival at Bakar Thatch.
Let's have a quick bite and rest for a while.
We'll go for a walk around and above the campsite for a short while and get acclimatized.
Hot soup will be waitng for us by the time we return in the evening. 6-8:30pm
If the weather is clear we'll do some stargazing and hit the sack early.
Lights off by 10 pm
Day 3
Morning hikers ! Bed Tea at 6 am
Breakfast with rucksacks,get ready quickly and prepare to move for Beas Kund. 7-8 am
Leave for Beas Kund 8:30 am
The hike is about 3-4 hours, so we'll go at ease and have a great, happy and learning trek over moraine and glaciers and reach Beas Kund by 12pm
Since we are all hungry we'll stop at Beas Kund Ground by 1pm
and our camp cook would have cooked lunch and would be waiting for us at the kund for an amazing lunch, at the best places possible. 1pm
We relax for a while at the Kund and enjoy the breathtaking view. After a while we head back to our campsite.We'll head back to camp after a quick bite by 2pm
We reach camp by 4:30pm and hot soup and snacks would be ready for you followed by dinner & a stargazing session 6:30-9pm
Lights out by 9 pm
Day 4
Morning hikers ! Today is our last day amidst the mountains. Bed Tea at 6 am
Come with your sacks packed for breakfast and relax and enjoy your meal with the magnificent view.Breakfast from 7-8 am
Pack up and Leave No Trace 8-9pm
Departure 9:30am
Reach Dhundhi by 3pm
For the fire to explore shall never die
-Climb Onn !!
Bon Voyage !!
- - - - X
Items to carry
Clothing
Thermals/Inner - warm inner layer, vest & leggings - 2pair
Socks - - 4pair
Headgear - 1pair (Balaklav / Woolen Cap)
Base layer- Tshirts - 3 pair
Track Pants/Trekking pants - 2 pair
Sweatshirt -1 pair
Sweater/warm jacket - 1 pair
Muffler - 1 pair
Misc.
Torch
Whistle
Sunglasses
Trekking shoes
Water Bottle
Sunscreen
Medication - Personal if any
Other items we'll provide
Sleeping Bag with liners for hygiene
Trekking Mats
Trekking Poles
Saftey @ Climb Onn !!
- - - - X
Safety & Adventure Sports
The first and the most basic principle of indulging in any kind of adventure activity is to take care of all the necessary precautionary measures to safeguard oneself.
We at Climb Onn Adventure take maximum safety measures and pre plan and minimize the risk by taking all precautionary methods and preparing for the adverse situations. We plan to minimize the risk of High altitude related problems by preparing and acclimatizing well and staying in comfort.
All our staff if trained and certified and we also have wilderness first responders on our programmes.
How To Reach Manali
Delhi to Manali - Volvo Bus
Chandigarh to Manali -Volvo Bus
Delhi to Bhuntar - Flight (we'll arrange for a pickup at the airport)
- - - - X
It's been a pleasure to have you on board.
Keep us posted about your adventures, we'd love to hear your stories.
"
Live high, climb higher.
-Climb Onn
"