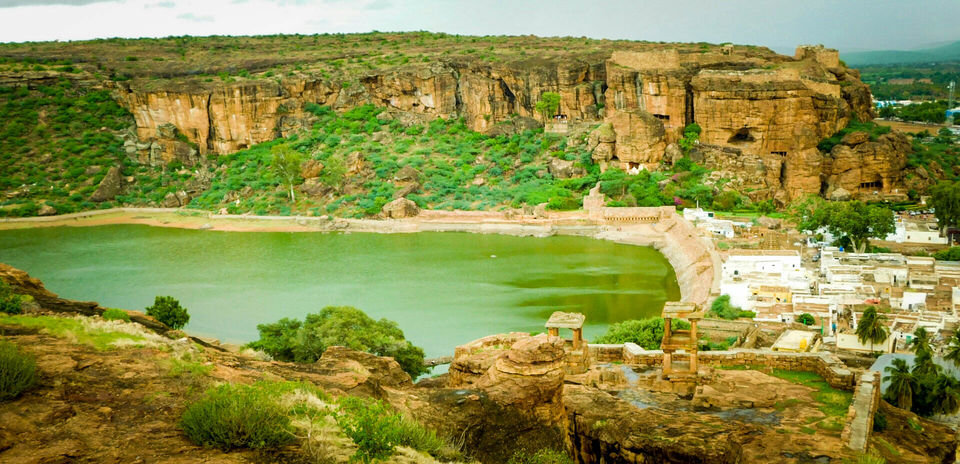 Hampi is the town which was once ruled by the Vijayanagara Empire. It is one of the UNESCO recognized World Heritage Sites in India. The place is one of India's most known archaeological destinations. The town of Hampi is in a secluded area, with royal residences, temples, towers, roads, and statues, all spread over a massive area. The heritage site is located near the River Tungabhadra. It was once the imperial capital of the Vijayanagar Empire and even if the structures are already centuries-old, they still remain stunning.
We shall explore through picturesque valleys intersected by the river. We'll cycle down the trail through mythical landscapes imbued with the presence of Gods, Goddesses and Heroes linked with ancient legends. Call the cyclist in you – because you will experience stretches that'll challenge your limits, sceneries that'll indulge your senses and interactions with the locals that'll expose you to their culture and way of life.
Badami:
Badami is an ancient town situated in the Bagalkot district of Karnataka. Badami was the capital of the Chalukya Dynasty that ruled over the most parts of peninsular India. Situated at an average elevation of 1922 ft above the sea level at the mouth a ravine, Badami is tucked in between two rugged sandstone outcrops. This town lies surrounding the 5th century Agastya Tirtha Lake, a holy lake famous for the healing property of its water.
TREK DATES:
25th-28th August 2017
TREK LEVEL:
Easy – Moderate
Price - 4899/- (Early Bird) till 15th August 2017
5099/- (inclusive of all taxes)
DAY 1:
-Leave for Hampi at 10:00 PM from Bangalore
DAY 2:
Hampi:
-Reach campsite in Hampi
-Start cycle ride
-Have lunch at Queens Bath
-Ride till Achutaraya temple
-Head to Campsite for sunset
-Bonfire and Dinner
DAY 3:
Hampi and Badami:
-Sunrise at Hanuman Temple
-Leave for Badami
-Have lunch at Khanavali
-Explore caves and temple
-Sunset at Badami Lake
DAY 4:
Badami:
-Rock climbing and rappelling with all gears
-Freshen up and have breakfast
-Leave for Bangalore
INCLUSIONS:
-Transportation(Non AC) to and fro from Bangalore
-Camping with Bonfire.
-Heritage Cycle Ride
-Sports Climbing and Rappelling with gears
-Coracle Ride
-3 breakfast- 1 lunch – 1 dinner
-Sharing basis accommodation in tents.
-Local transport within Hampi and Badami
-Experience that you gain
EXCLUSIONS:
-All meals
-Any kind of insurance
-Personal Expense(snacks, mineral water etc.)
-Anything not included in the inclusions above
-Entry fees for Monuments
To check the itinerary visit: https://www.plantheunplanned.com/planned-treks/badami-hampi-explore-cycle-and-rock-climb/
Cancellation Policy: https://www.plantheunplanned.com/refund-cancellation-policy/
Event Calendar: https://www.plantheunplanned.com/trekking-events-bangalore-calendar/
Note:
1. Consumption of alcohol, intoxicants and smoking would not be tolerated during the entire course of the journey. Kindly co-operate with us to make the experience more fun.
2. Put Litter in its place, do not trash the mother earth.
3. In the case of traffic delays or breakdowns expect a few delay in reaching the destination.
For more info please feel free to get in touch with us on sayhello@plantheunplanned.com.
For faster communication: +91 9035182699, +91 7760710005, +91 9428909952
Join us on Meetup: https://www.meetup.com/Plan-The-Unplanned-Bangalore/
Follow us on Facebook: https://www.facebook.com/plantheunplanned/
Follow Us on Instagram: https://www.instagram.com/plantheunplanned/
Text "PTU" to 7760710005 on WhatsApp for event updates.