We took an overnight cab ride from University in Chandigarh to Baga sarahan in Kullu(H.P). A wide open lush green ground with deodar meadow around and a beautiful parasol campsite between the apple orchard.
Upon reaching over there we had breakfast and slept a while. After getting all freshen up we left for local sightseeing towards the village.
There was a water stream flowing nearby where we sat down and watched the sun go down.
This place  isn't a famous tourist destination that's why it was all calm and clean and we had it to ourselves.
Only people visiting here are the locals and the ones who have bought a tour package of the region. 
Our day one was spent at leisure and we had a good aqnight sleep.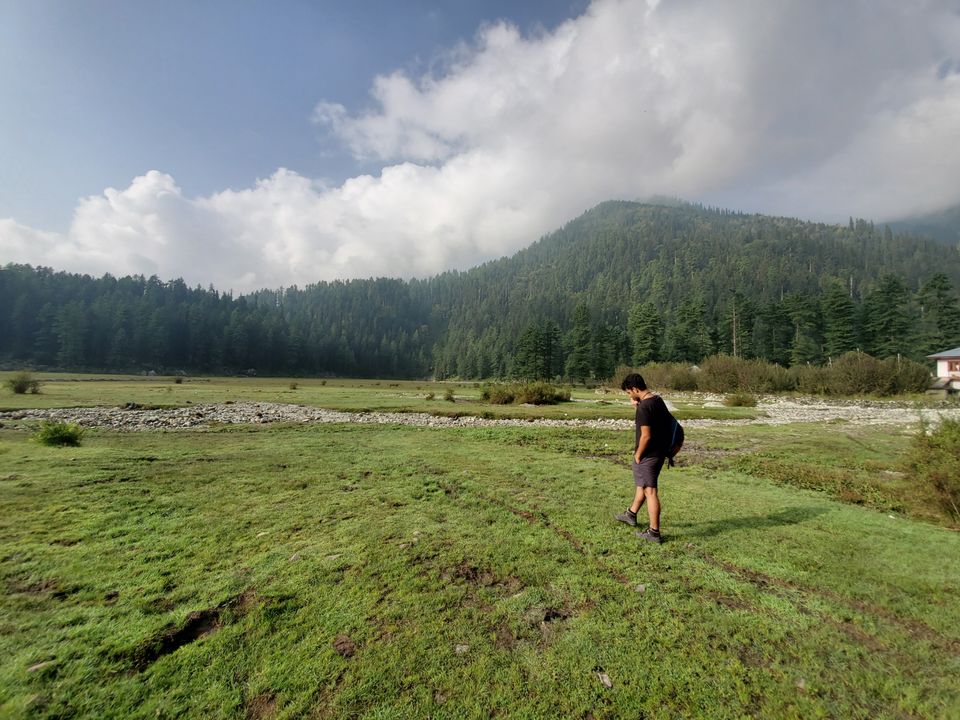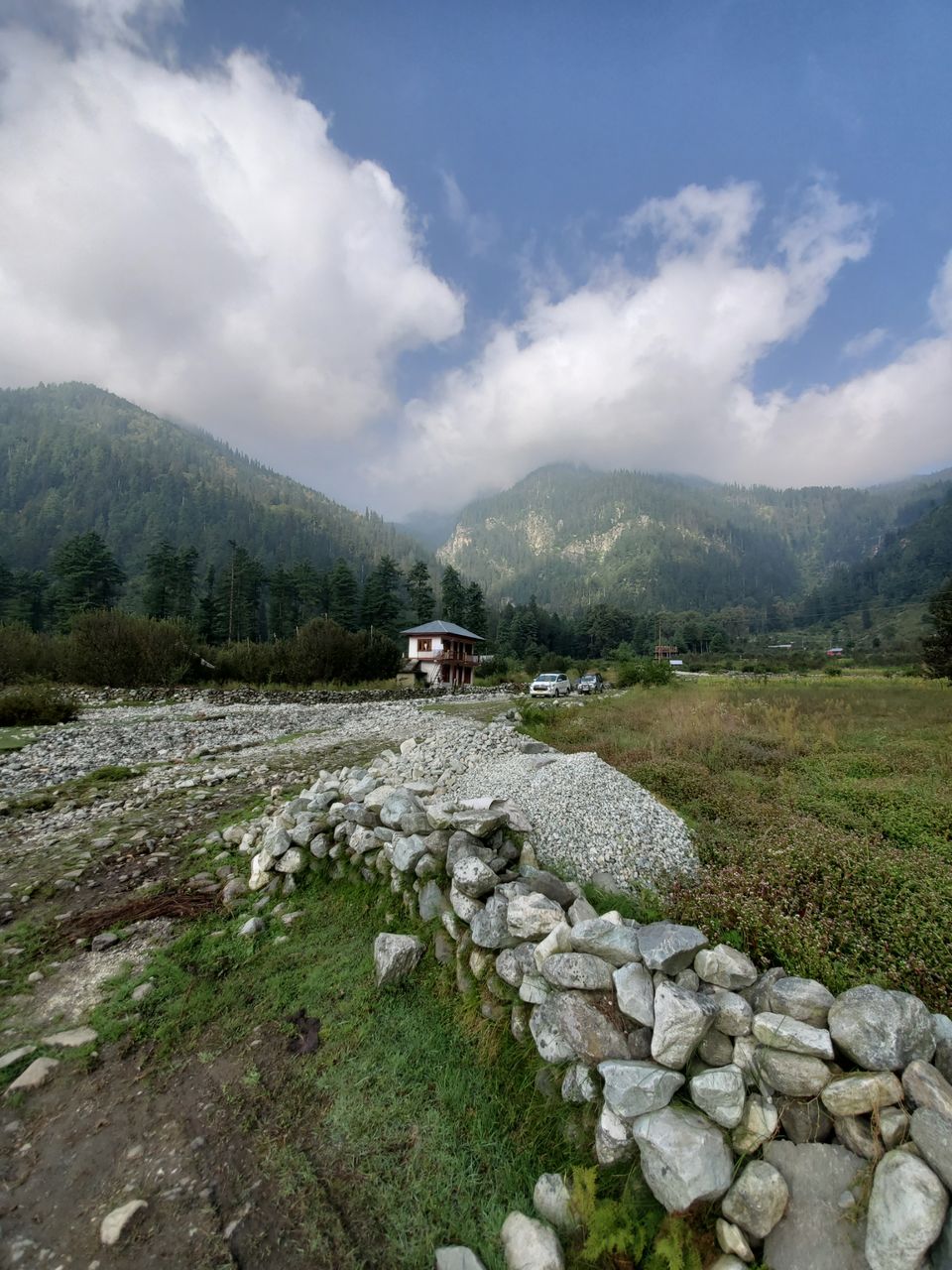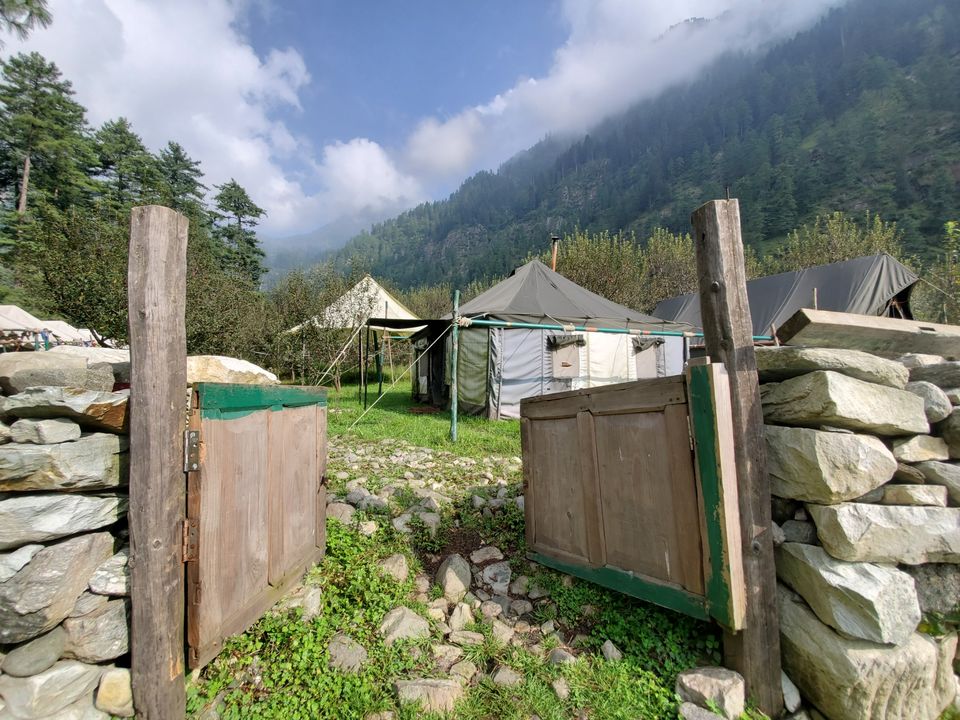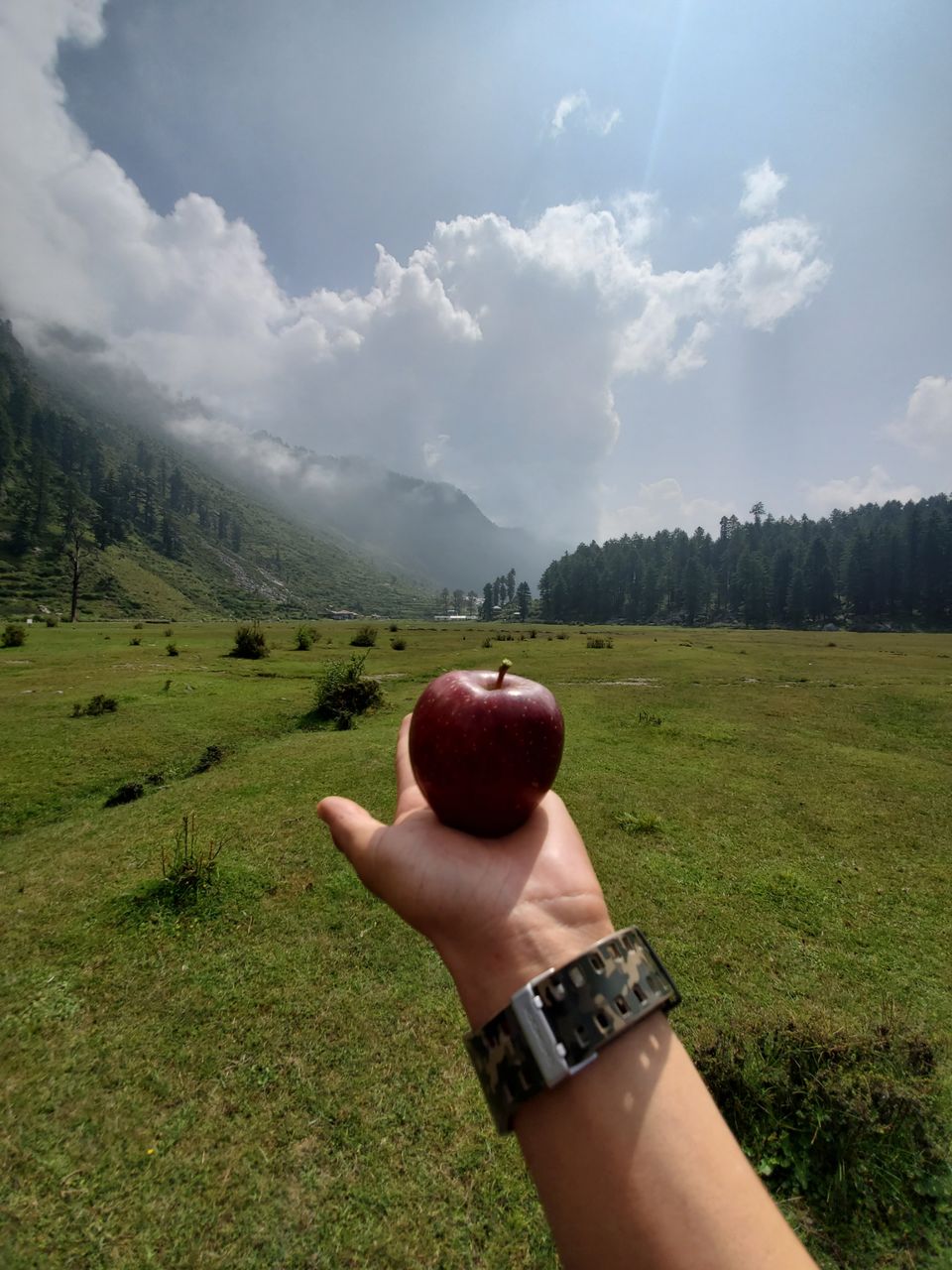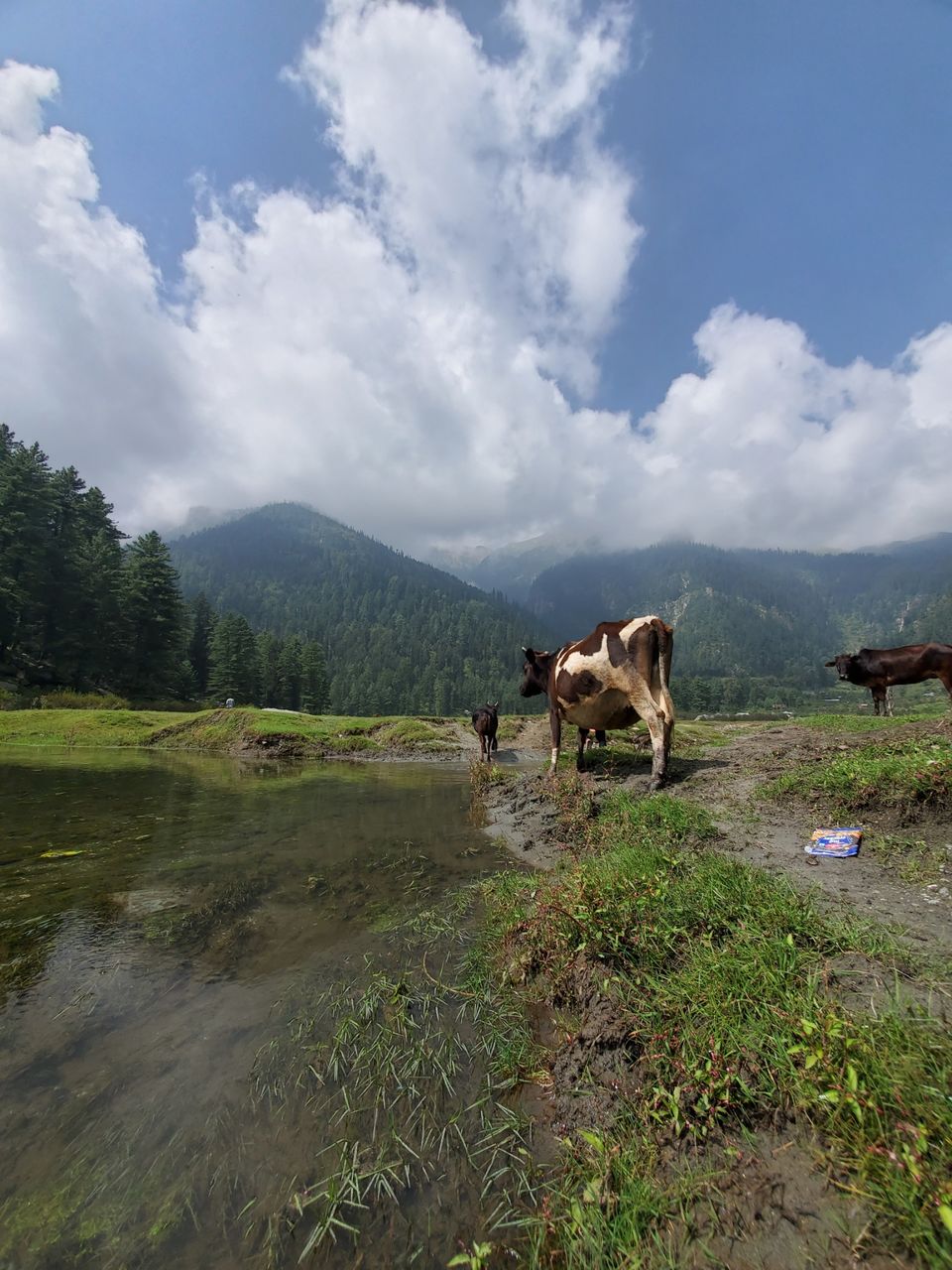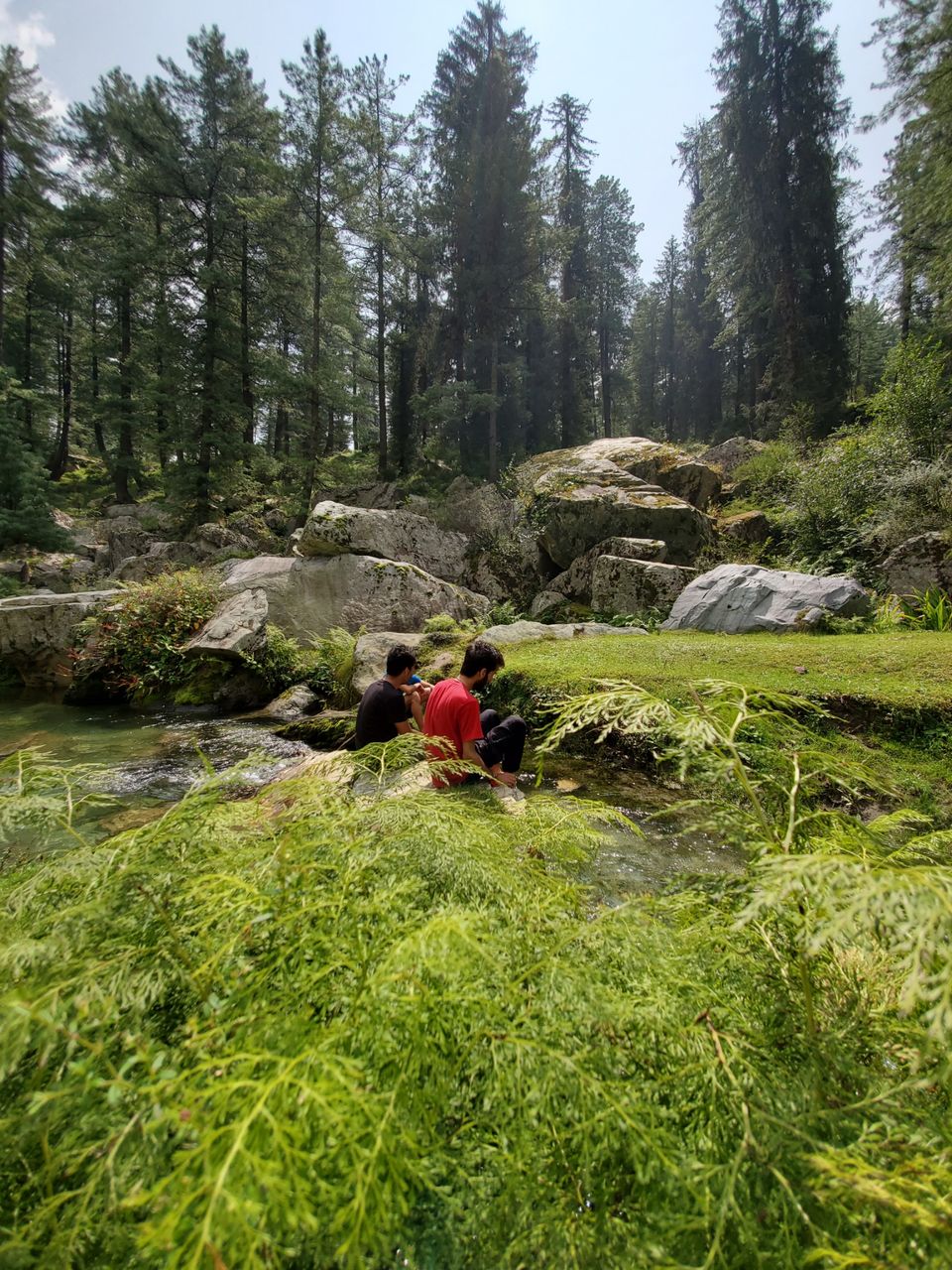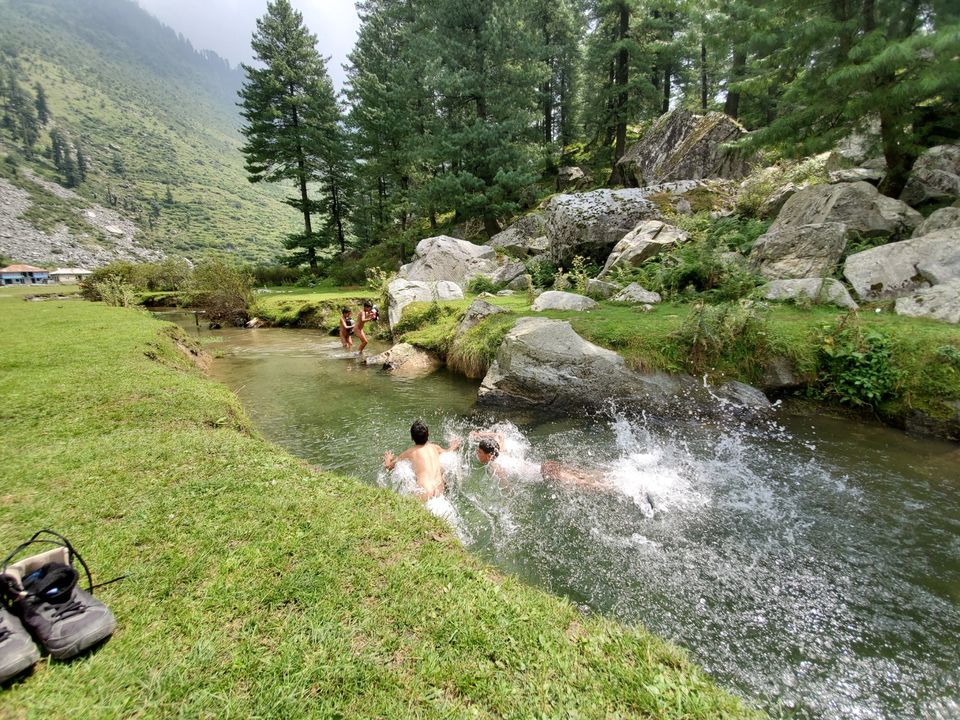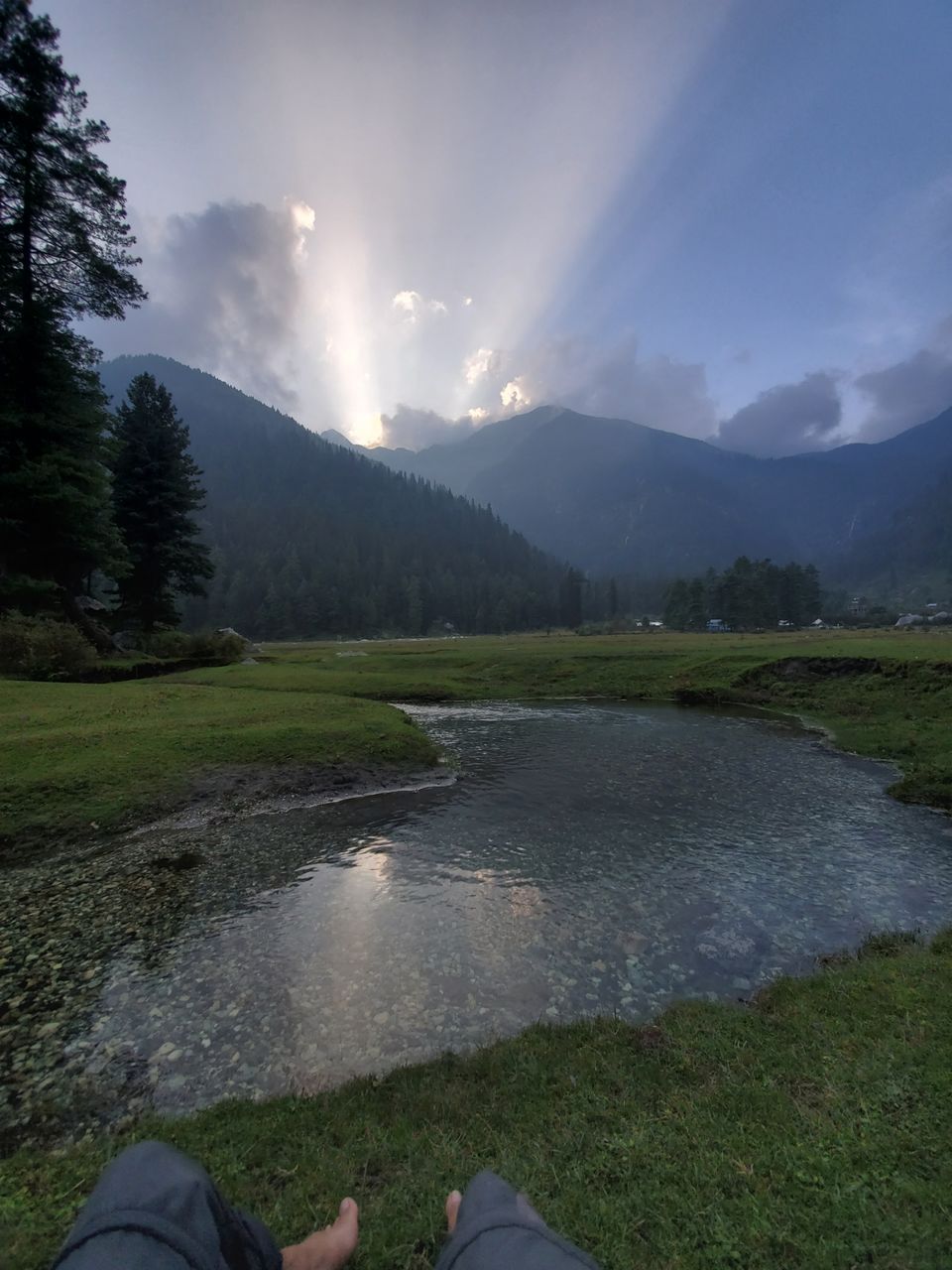 Our morning started with plucking and eating the farm fresh apples from the orchard the camp was in. Later on we had breakfast, packed our stuff and started hiking towards the pass.
We started slowly and then picked up pace. After few hundred meters we made a diversion towards a local waterfall that caters as local attraction for the tourists visiting the place.
We spent few minutes at the fall and started onto our hike. We had packed few apples with us. So we kept walking and eating and listening to the songs.
First half of the path was harsh as there was no tree cover and we were thrashed by harsh sunlight leaving me and my friends with a severe  Sunburn. But, soon after that we entered a dense deodar meadow which was soothing, cold and dead silent. We kept going on and took a little halt after the forest cover ended. We witnessed the fog rolling uphill and stumbled upon carcasses of dead animals that became food of the wild. Soon after we reached the pass and sat there for a while. After few minutes, we started our descent towards bathad(A village in Kullu).
We sat down to eat the parathas we had packed for lunch. We had our meal and started running towards downhill. It was fun and tiring and after 4 hours of efforts we made it to the bottom.
At first we had to walk few kilometers on the road as well because we didn't get any taxi and those who agreed to take us were charging huge amount of money and we being low on our budget kept on walking unless a we asked a trck driver got give us lift and so he did. It was a very shaky and adventures ride for few kilometers. From bathad we reached to gushaini and from there we hired a Tavera till Aut. He charged 1200 for 33 kms. Which seemed reasonable at that time. We made it to Aut in an hour or so. Had mutton for dinner which I regret till now as I got loose motions. Keeping my personal suffering aside we boarded the bus from Aut to Chandigarh and arrived in Chandigarh at 3am on the Monday morning.
The trip was a complete bummer and we enjoyed it. But I left my friend Neels sun glasses in the bus 🤧.
Also, we made it to our classes on time.
.
If people from Chandigarh or around Chandigarh are looking for a nice weekend destination just for the relaxing purpose than this is far better than visiting Shimla, kufri or Chali for that matter.