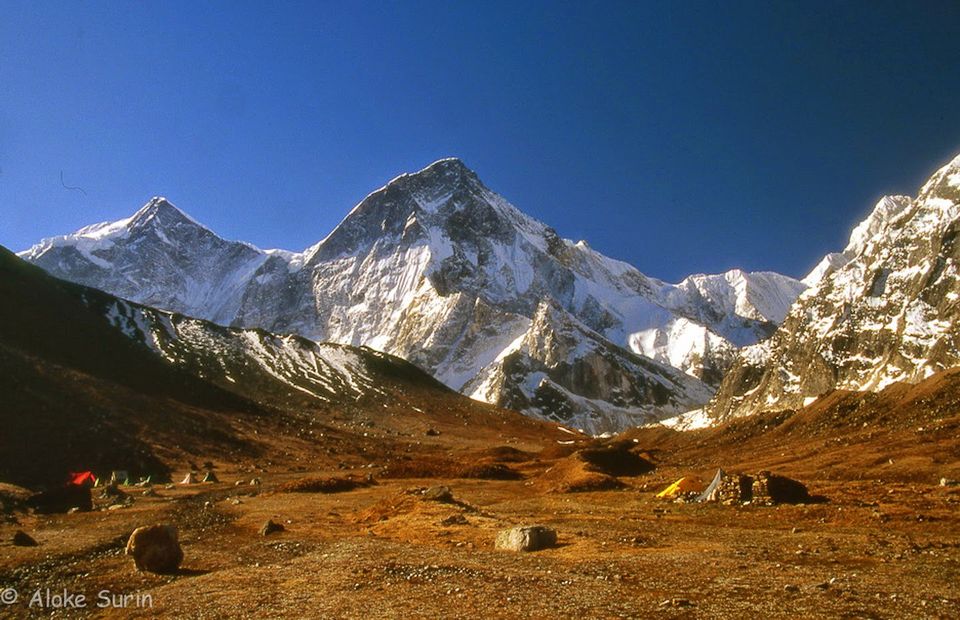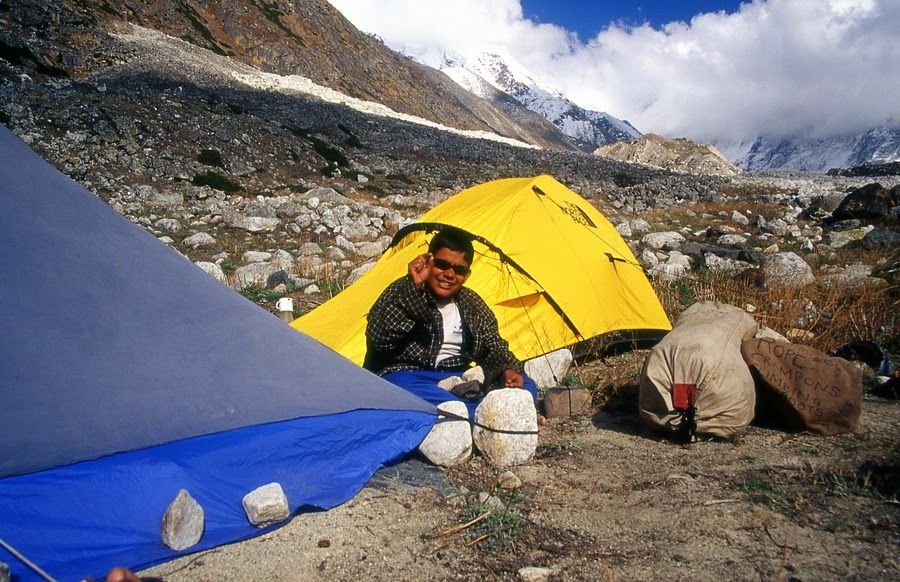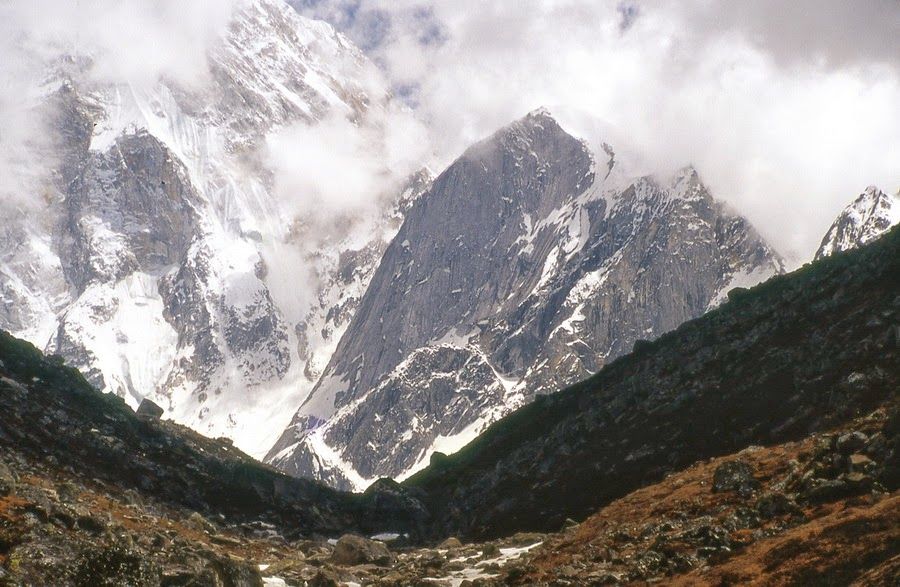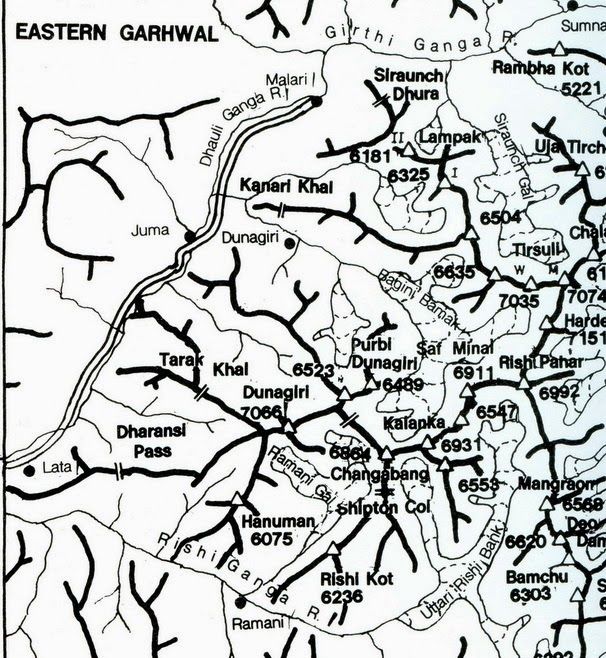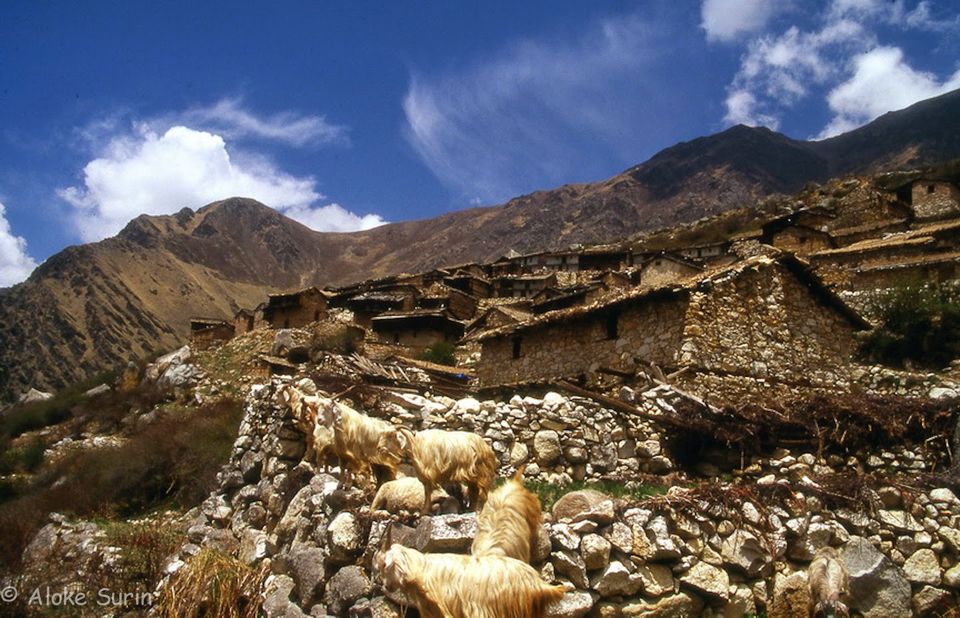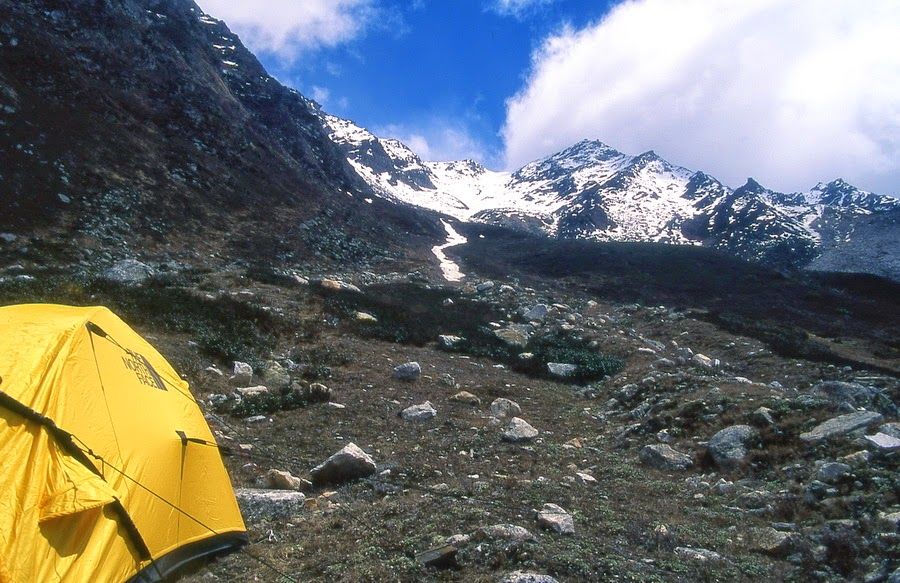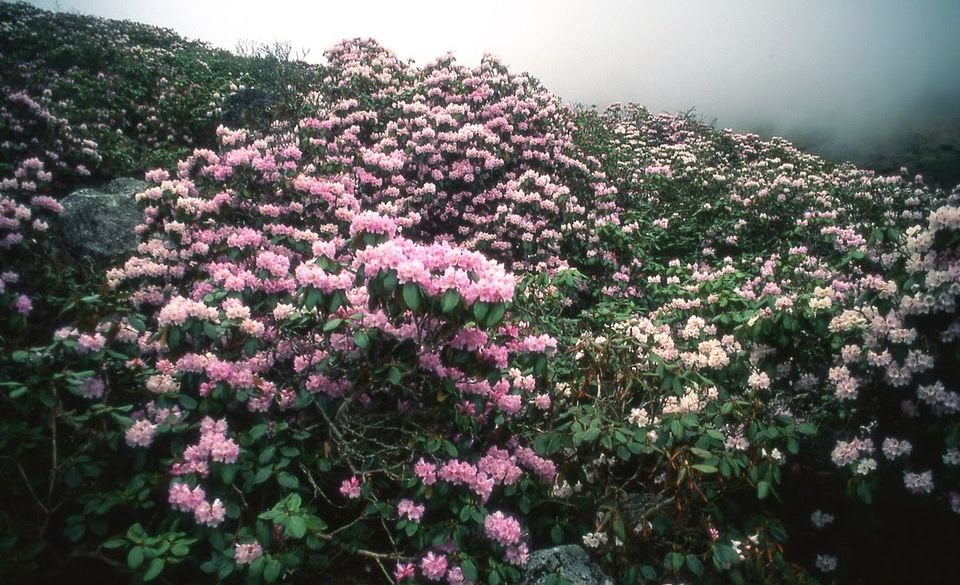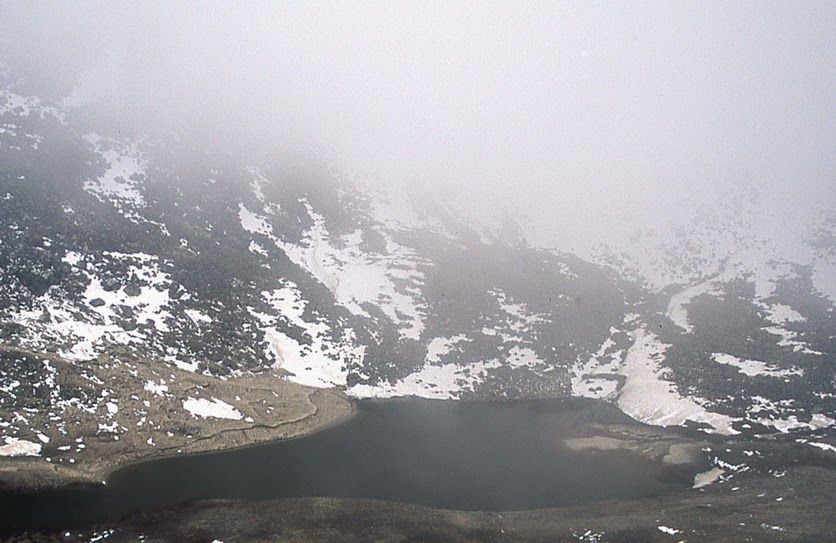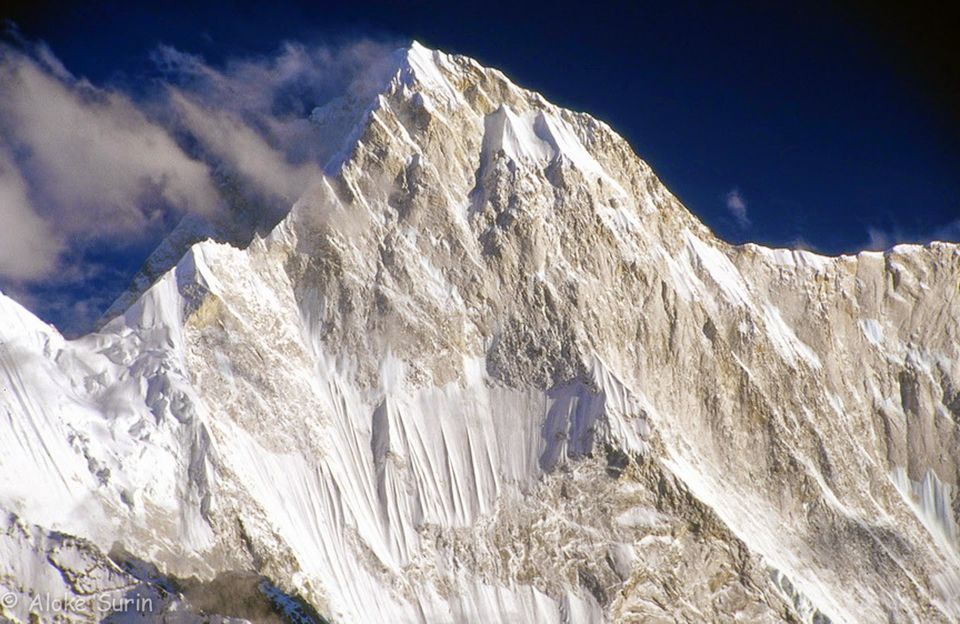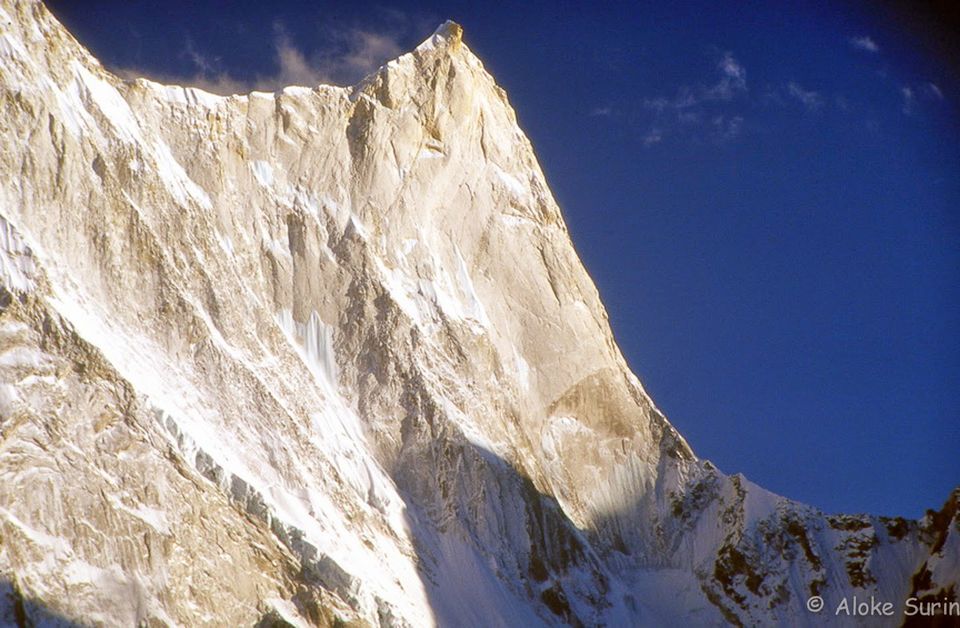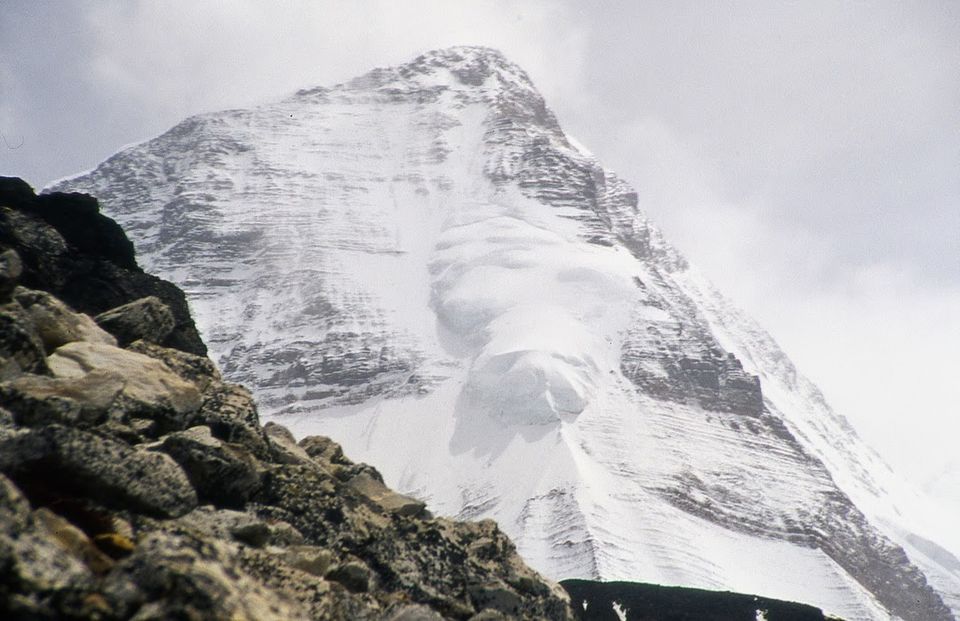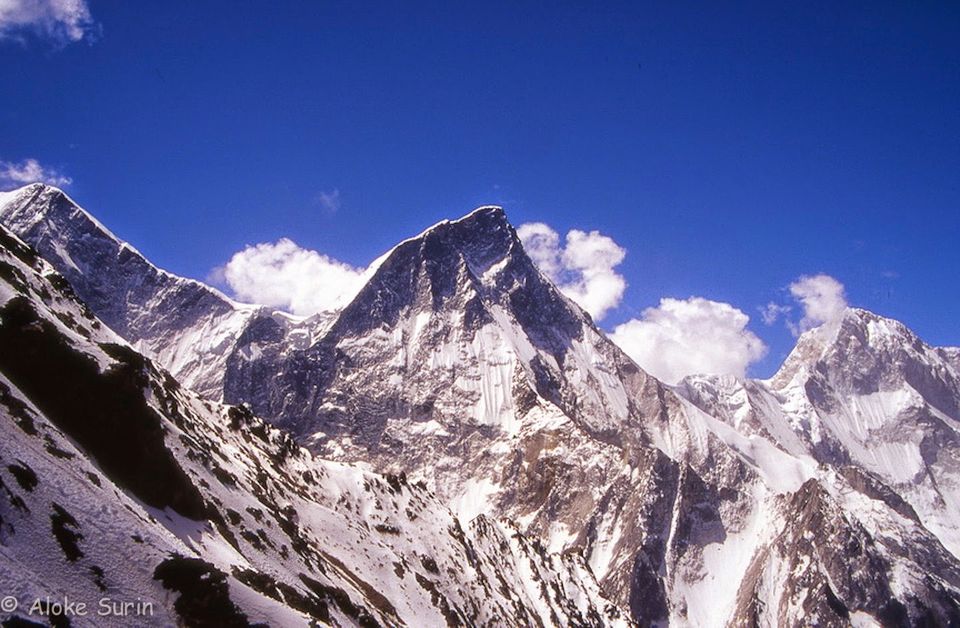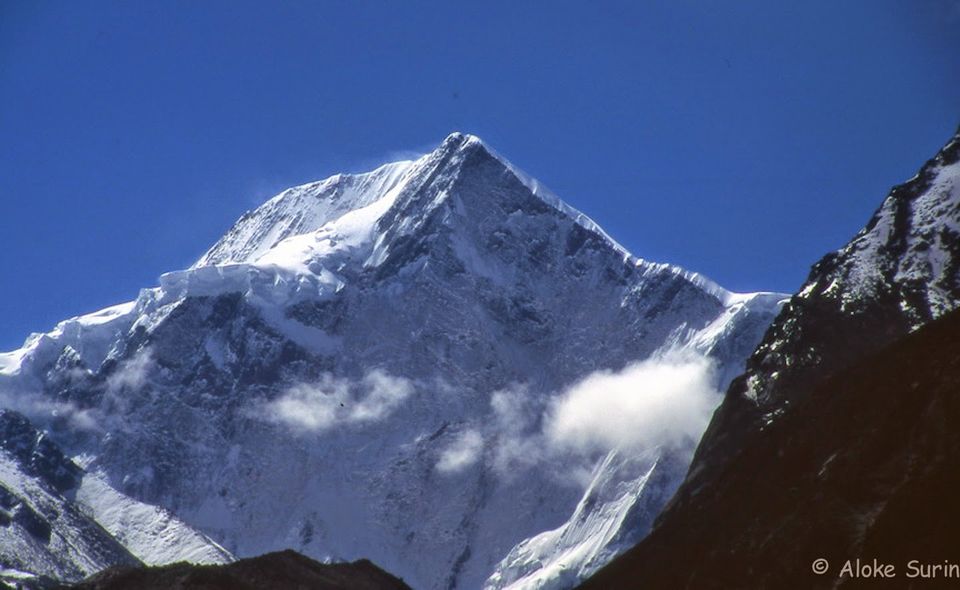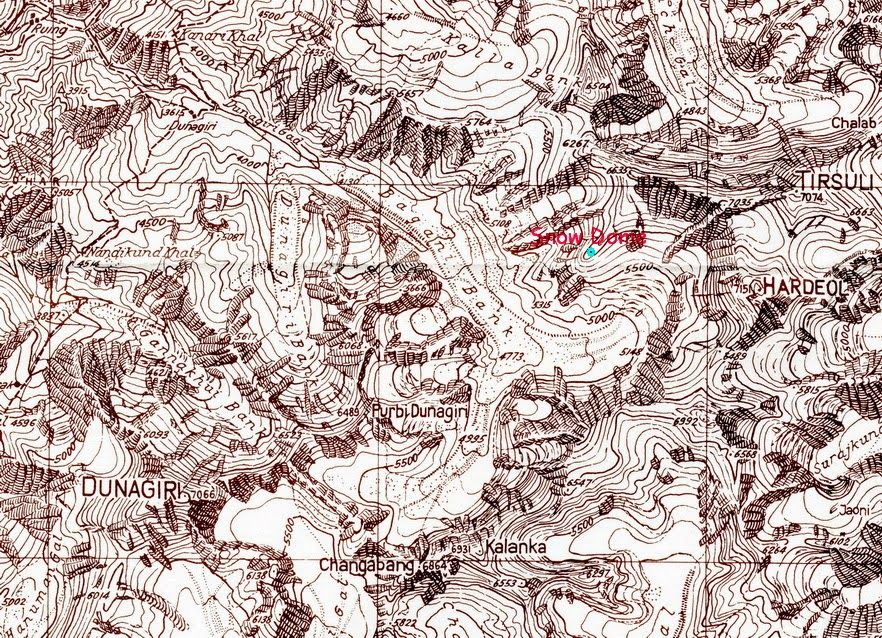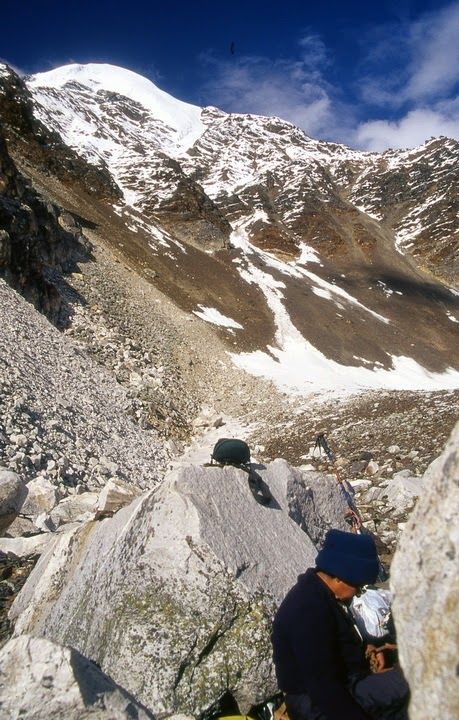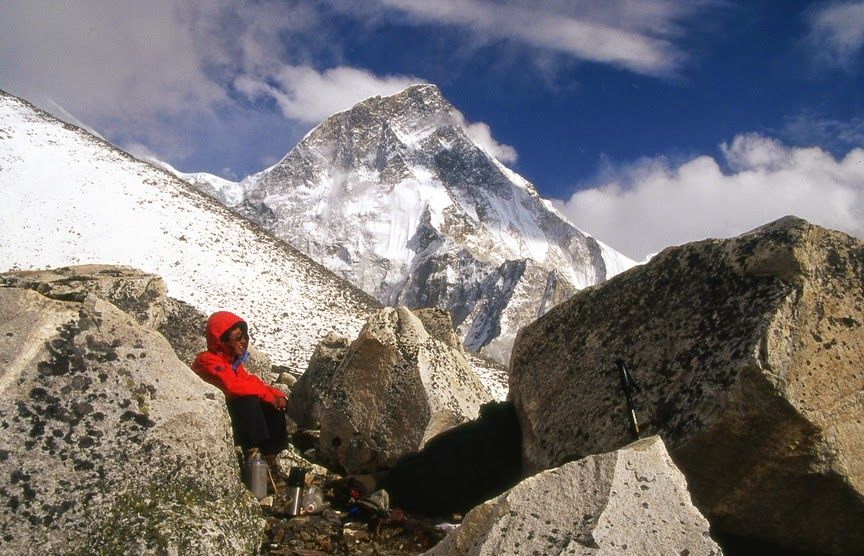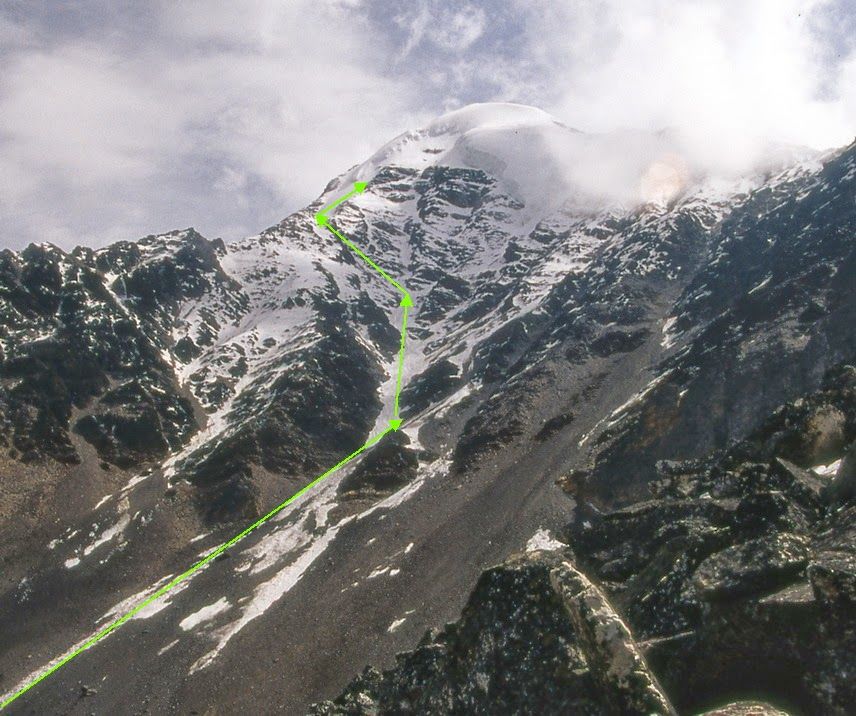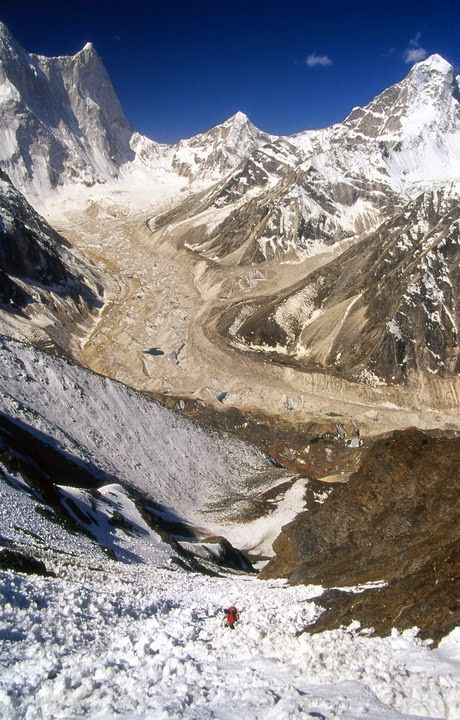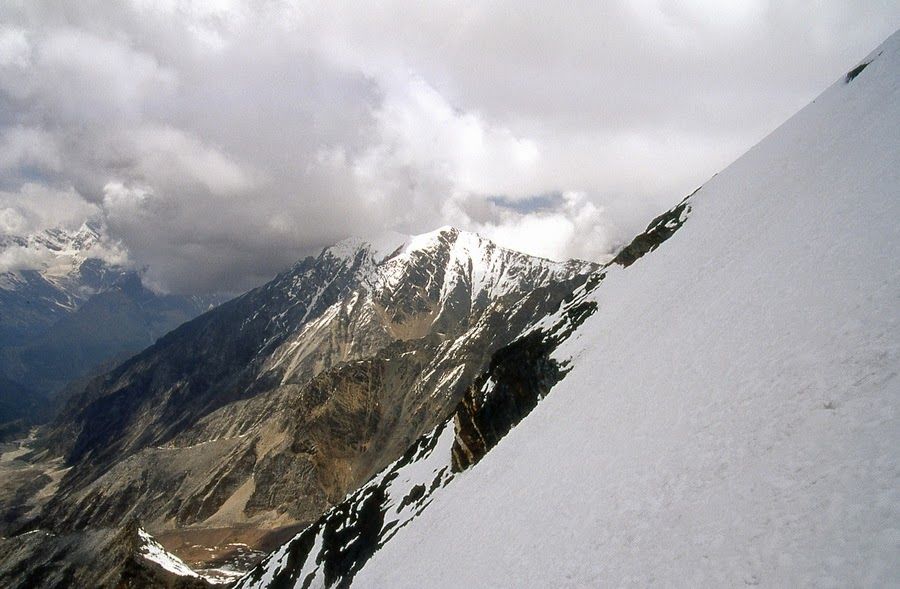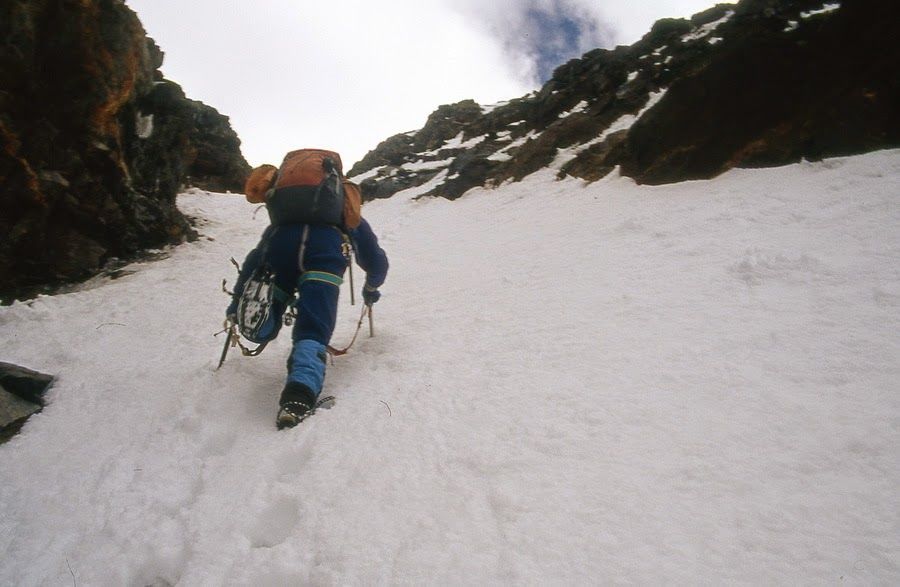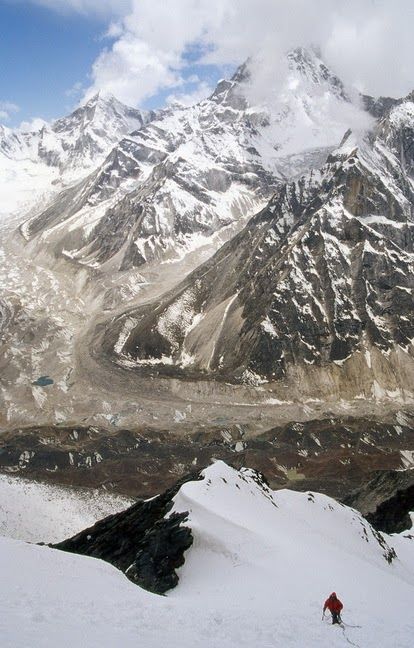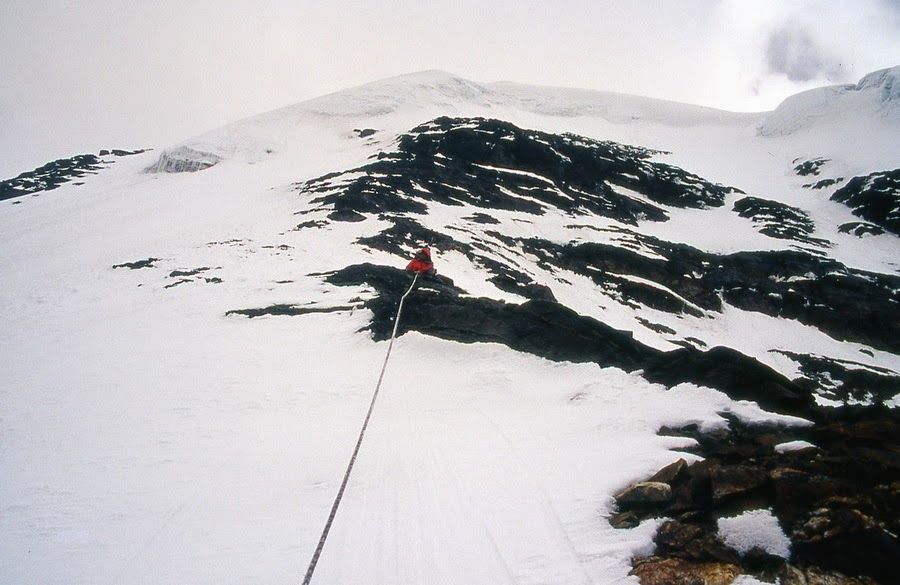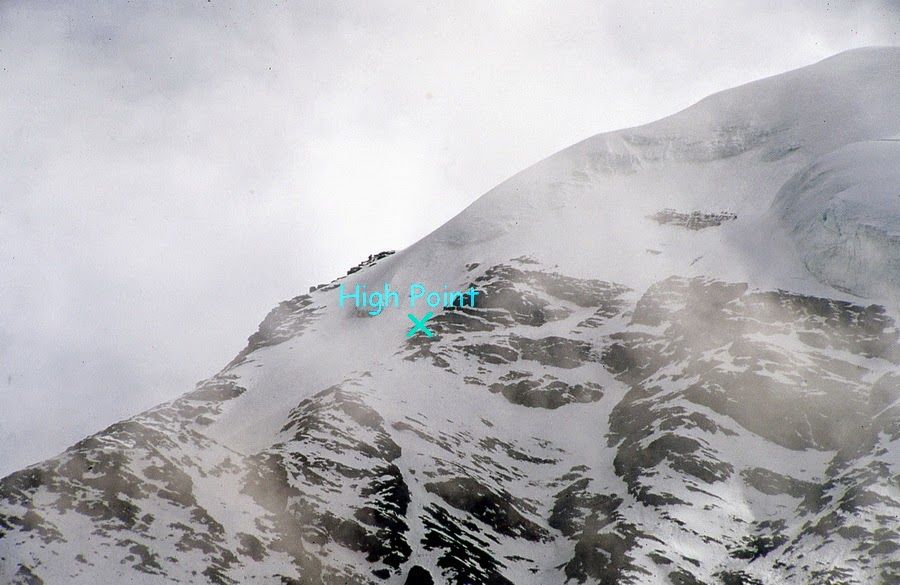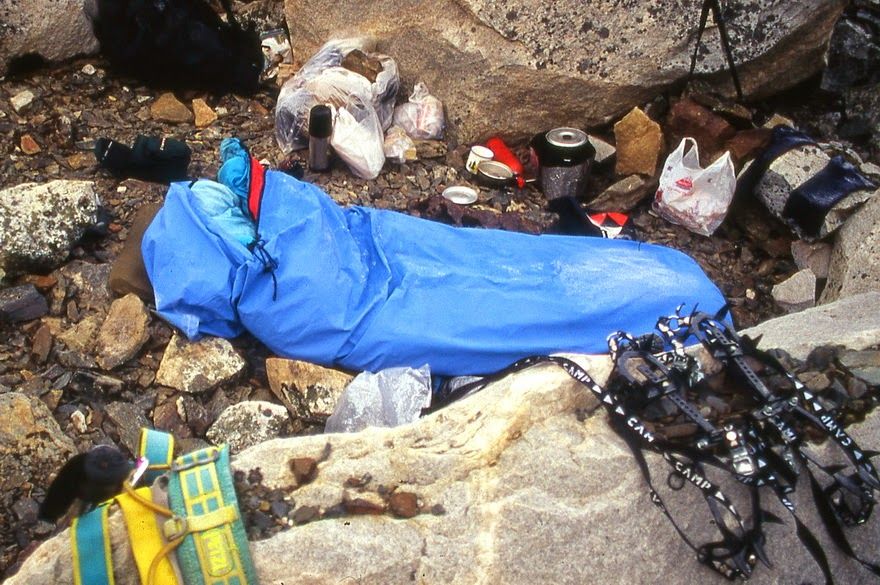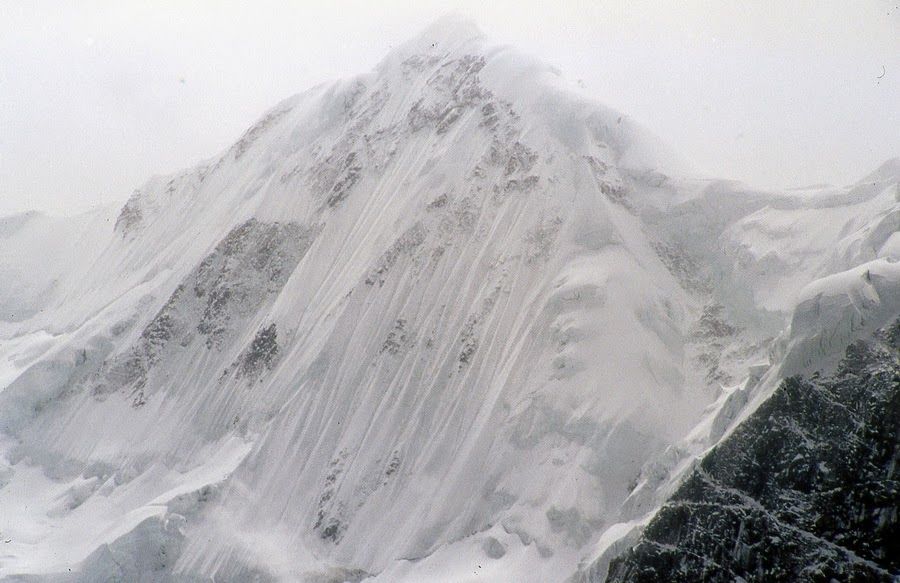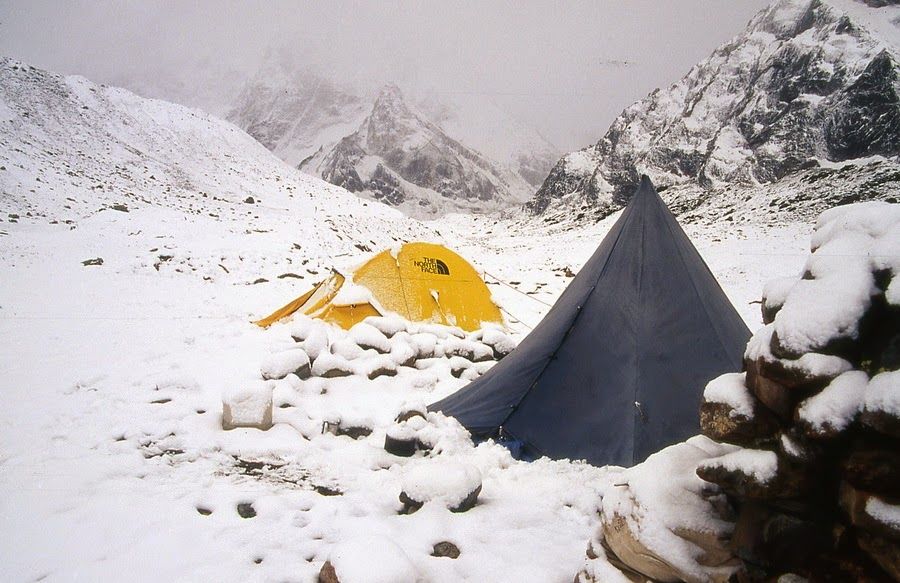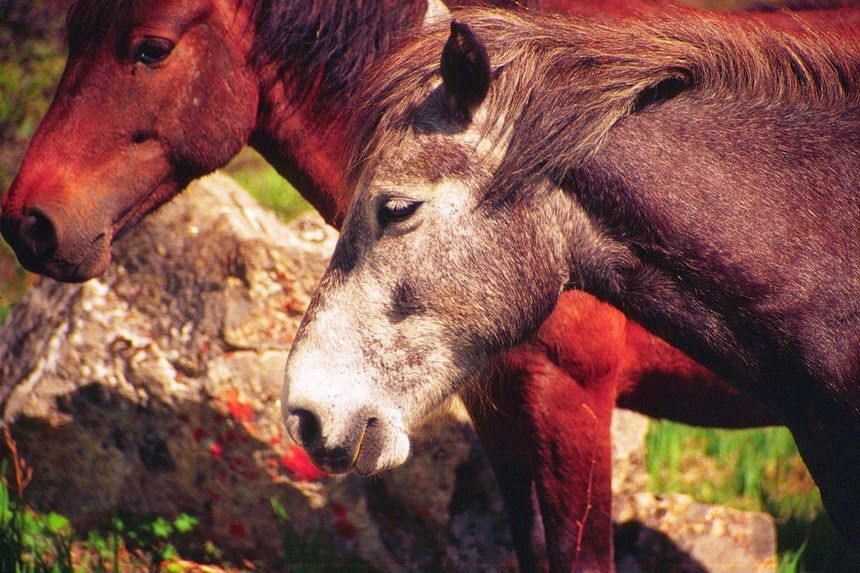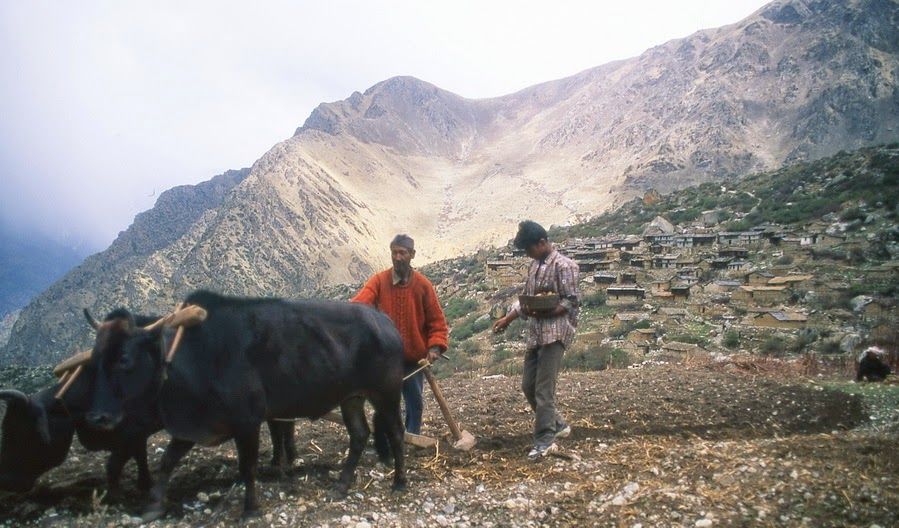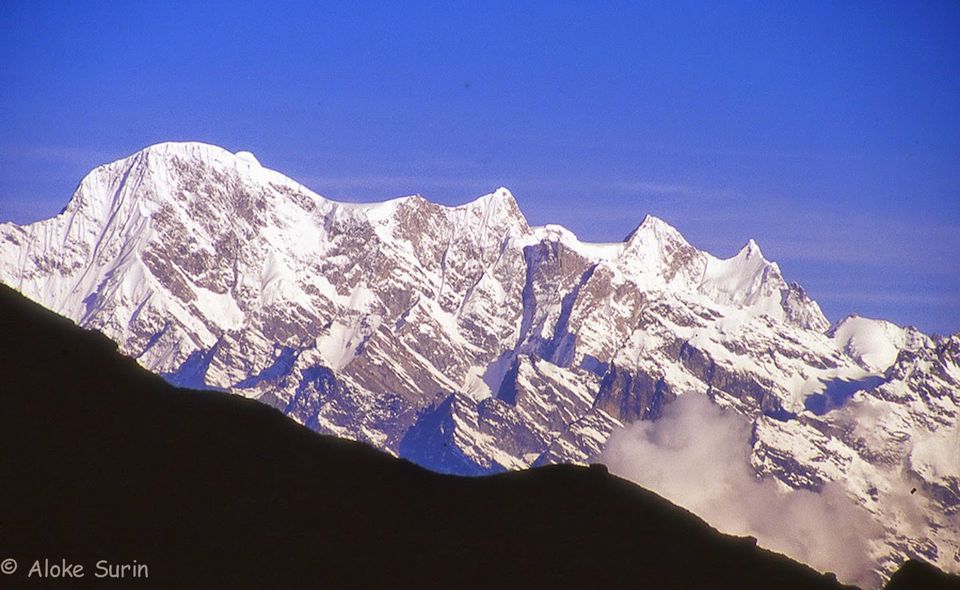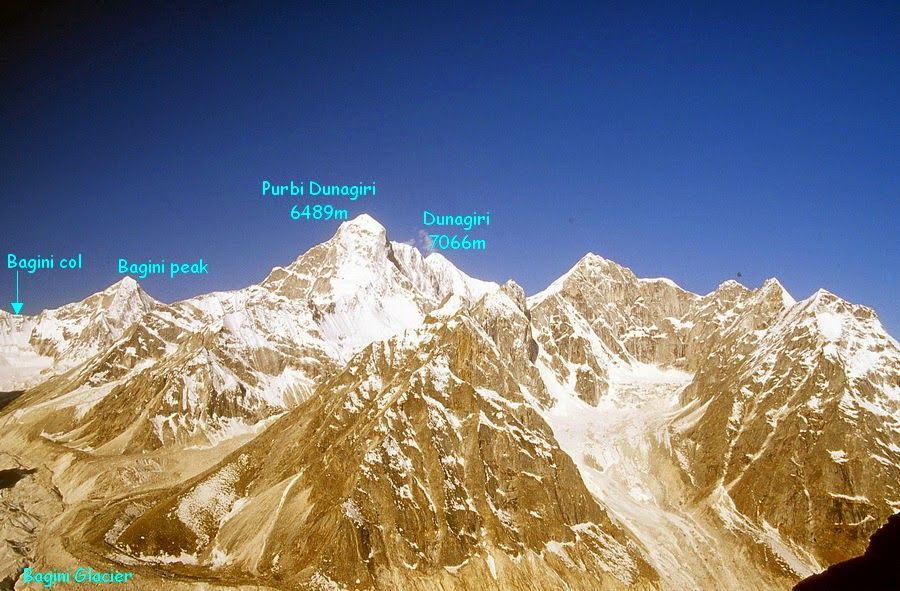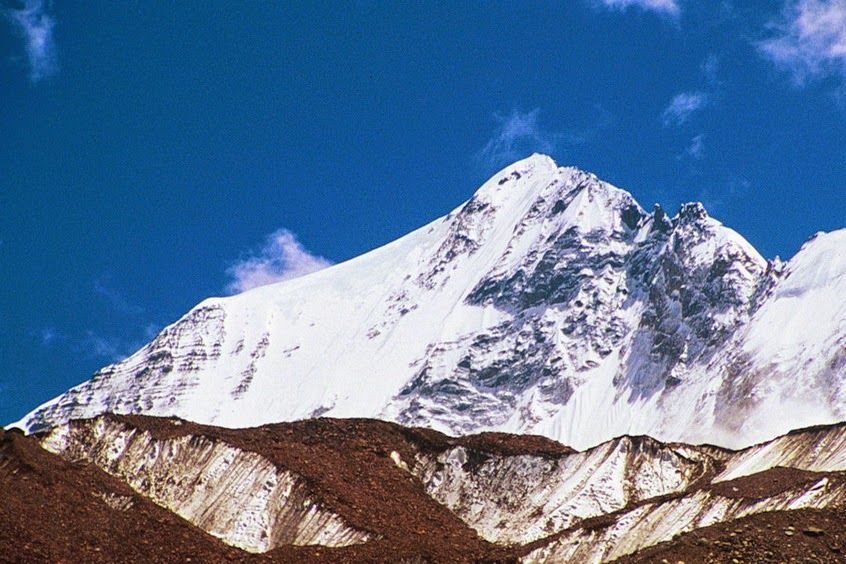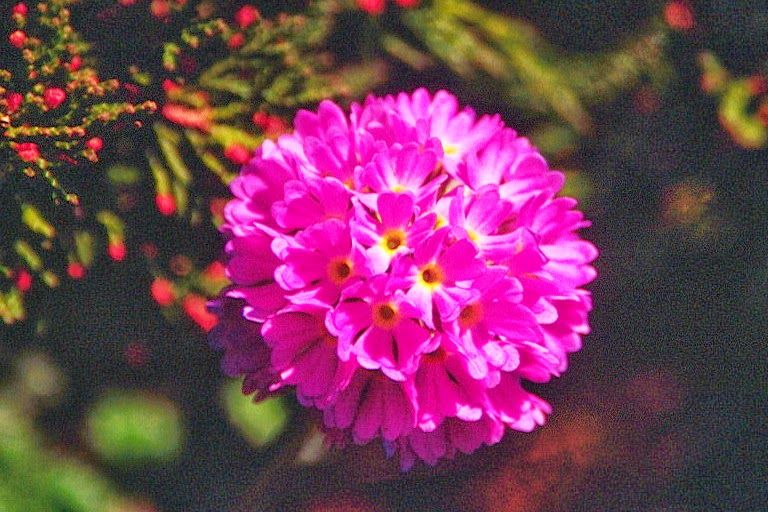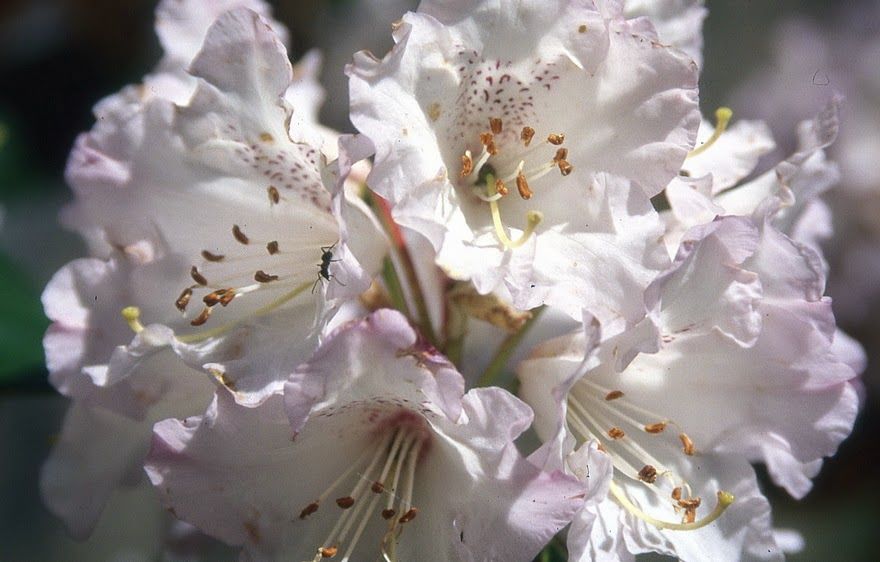 Like all my near disasters, I did not see this one coming.
A day after arriving at the spectacularly situated village of Dunagiri in mid May 2001, Kum Kum and I had set off on a leisurely acclimatisation walk up the valley, while her husband Jayant and 11 year old son Kunal opted to savour the comforts of the open veranda of the primary school building where we were camped. Kunal was already a veteran of 11 Himalayan treks since Kum and Jayant and had been hauling him up into the mountains every year since his birth.
After an hour of walking up a path we turned right and followed some tracks beside the moraine of the Dunagiri glacier. A little after mid day, Kum Kum decided to turn back and I continued on up, relishing the energy rich air of this glacial valley. It was a partly overcast day and when the clouds parted briefly, there were tantalising glimpses of snowfields and hanging glaciers glistening in the sun. An impressive rocky peak drew me ever upwards, hoping to get an eyeful of what lay at the head of the glacier.
I took a couple of pictures and scouted around for likely places to camp and was satisfied that we could base ourselves here for a couple of days and explore the high country ahead.
Leaving my little day pack with the camera, water bottle and some snacks under a huge boulder and marking the spot with a small cairn, I hurried on upwards, scrambling over the terrain in my haste to go as high as possible before the light failed. I paused and looked down on the chaos of the upper glacier and was satisfied that going any further would not really add to my knowledge of the terrain. I turned around and began hastening down as snow began to fall in the form of little white pellets. Clouds scurried up the valley, obscuring my surroundings. I began to navigate by instinct to try and locate the boulder where I had left my pack, without success. What I succeeded in was suddenly loosing my footing at the edge of a rather big boulder coated in moss, sliding down and almost detaching my left leg at the groin before hitting the turf with my knee at the bottom. I rose painfully to my feet, glad that I could still walk, and began to hobble down the slope to rejoin the trail.
The next day Jayant and Kum miraculously retrieved my camera and back pack while I nursed my swollen knee and groin. Kunal and I boiled potatoes all day and prepared a delicious meal.When the couple returned they opined that there was no wisdom in camping where I had suggested since the prospects of clambering up any of the summits bordered on a full scale climbing expedition and was clearly beyond our capabilities and resources.
Instead we pitched our two tents at the base of a valley south west of Dunagiri village from where it seemed possible for Kunal and us to climb a small summit of around 5087 m , accessed up a broad sloping snow field. Two days of rain put a damper on those plans and we retreated to the comforts of the Prathmik Vidyalaya to spend our 8th day in Dunagiri.
Another little foray found us hiking up to the Tarak Khal pass to the south east of the village to take a look at Nandi Kund. The initial stretch of the trail wound its way through a thick and gorgeous cluster of rhododendron bushes in full bloom before ascending up to the pass. Nandi Kund itself proved to be a disappointing little body of water and the pass was wrapped in swirling mists, robbing us of any view that might have existed.
Our laid back attitude ensured that we camped one more day en route to the traditional Base Camp site of the Bagini Glacier. The trail slowly ascended through a series of verdant meadows split with gurgling brooks and splattered with mauve irises, yellow dandelions and buttercups. Dominating the head of the valley, Saf Minal thrust its triangular majesty into the heavens. This is at the head of the ablation valley on the true right bank of the Bagini Glacier. Beyond this point the glacier forks into two branches, the left hand one going towards the Tirsuli massif while the right hand one stretches away to the Bagini col, the high retaining wall topped off with the impressive summits of Saf Minal and Kalanka, ending in a flourish with the North Face of Changabang.
A team of 8 climbers, sponsored by the German Alpine Club (DAV - Deutscher Alpenverein) was active in the area, trying to reach the elusive summit of one of the then last unclimbed 7000 metre peaks in India outside of the Eastern Karakoram - Tirsuli West (7035m). While I waited for Kheem Singh and Bagh Singh and the two other porters with the Khadalias to arrive, I chatted with George who was busy measuring out lengths of shiny new rope to be used on the mountain. He told me that the rest of the climbers were up at Advance Base Camp and above.
A row of four green tents with the insignia of India Outdoors were pitched neatly near the big kitchen and mess tents, which had folding chairs and tables. The toilet tent was located a discreet distance away. The four kitchen staff (three from Manali and one from Lumbini in Nepal) offered me a tetra pack fruit drink which I gratefully accepted and sank into one of the chairs to savour with a slice of cake! Reluctantly, I then went back to our humbler quarters which consisted of one single skin North Face tent and a home made shelter designed on the Black Diamond "Pyramid" concept - the whole structure supported by one centre pole and devoid of the luxury of a groundsheet! The Khadalia family, great believers in the minimalist concept, slept in the Pyramid (which also acted as the kitchen and dining tent) while I had the luxury of the Goretex North Face all to myself.
The next day Lt.Amit Pandey of the Indian Navy dropped in to say hello. He was the liaison officer attached to the German expedition and while conversing we discovered that we had a common friend in Lt.Cmdr. Satyabrata Dam with whom I had climbed two years earlier in Kumaon. Amit had climbed fairly high with the Germans on their attempt on Tirsuli West and three years later he would be part of the Indian Navy's successful ascent of Everest from the north, led by Satya. Amit was a little surprised to see how small and basic our little party was and seemed embarrassed to accept the tea that I brewed quickly for him. When he learnt that we might even venture out on a small climb, he was even more surprised.... I guess his experience of mountain climbing had been restricted to large well organised affairs and the thought that three laid back civilians with an eleven year old boy in tow, and with no support staff in attendance, might actually strap on crampons and head up a slope was alien to his thinking!
Even though this trip was supposed to be strictly limited to trekking, we had packed some basic climbing gear, just in case the spirit moved us to reach for higher ground.
Once again, Kunal refused to part with his dad, so it was left to Kum Kum and I to try and reach a little bump in the ridge which dropped a long way south from the summit of Peak 6635m. In the summer of 1995, Julie Ann Clyma and her husband Roger Payne, had climbed this point over two days from the valley (referred to as "Silent Valley" by Julie in her report) immediately in front of and above the Base Camp. They gave it a height of 5820m and called it Snow Dome, though on the Swiss contour map it is shown as 6000m. and Google Earth satellite imagery concurs with the latter.
We decided to approach the peak directly from the south. Picking our way up to the ridge at the eastern end of the ablation valley on 26th May, we traversed an extensive boulder field to reach a spot below Snow Dome where we fashioned two spaces to spend the night in. I built a small wall of stones to keep the wind from blowing out the stove while I churned out tea, soup, Wai Wai noodles and Bournvita before turning in for the night. It was only 7:30 pm so we chatted as we gazed at the stars from our bivouac sacks.
Thirteen years earlier, Kum Kum, Jayant and I had shared the Panch Chuli adventures further east in the Kumaon. At that time I had noticed she loved to break into song at the drop of a hat. Now, in between humming old tunes from Hindi movies of the sixties and seventies, she chatted animatedly about her climbing experiences on Nanda Devi and Mana and talked about her colleagues and work at the hospital in Mumbai where she worked as a plastic surgeon.
I dozed off and slept quite well till about 11 pm when I woke up, anxiously scanning the skies. It alternated between star studded clarity and veils of mist obscuring the heavens.
At 6 am we set off, aiming for a gully system which would give us access to the summit ridge. Our increasing altitude and the sunrise rewarded us with some fabulous views across the south fork of the Bagini Glacier. Rishi Pahar, Saf Minal, Kalanka, Changabang, Dunagiri, Purbi Dunagiri - they all rose to majestic heights in the achingly beautiful blue skies.
Six and a half hours later we crested on to the ridge and could suddenly look down on the other side at the German tents and my own bright yellow one. We yelled and shouted and waved our arms around in the hope that Jayant and Kunal could spot us. They later told us that they did see us briefly as two small dots in the snow before we were swallowed up in a cloud.
The ridge became surprisingly steep from here onwards and after another two hours we had to admit defeat: there was no way we could reach the top and descend safely before dark. Without any hesitation, we turned around and began to climb down. The snow in the gully had turned extremely soft and we sank up to our waists and floundered and our boots found unexpected hollows which made us look like two drunks trying to find their way home after a night of serious pub hopping.
We arrived back at our bivouac spot by 5 pm and after a quick brew of chai, Kum Kum decided to descend straight through to Base Camp. I think that her maternal instincts were stronger than the fatigue that we both were suffering from and she was eager to rejoin her son and husband. With no familial ties to distract me, I luxuriated in the epic sense of solitude in such a magnificent setting, watching the glow of the setting sun on the white granite walls of Kalanka and Changabang.
The next morning I walked a little further east to view the impressive bulk of Hardeol and Tirsuli West before returning to pack my bag. A sharp whistle from Jayant alerted me to his presence far down the slope. He had come up to retrieve Kum Kum's gear as she had departed very lightly laden the evening before. He told me that she had lost her way on the glacier moraine as dusk was falling and had spent the night huddled under a rock with her feet tucked into her rucksack for warmth! She had found her way back to Base Camp at dawn and dispatched Jayant to bring her stuff back.
We spent another two days at Base Camp, during which time we were treated to an overnight snowfall. When the skies cleared, it was a delight to discover that the meadows of the area were carpeted with a profusion of flowers - primulas, buttercups, irises and anemone kept us company on the walk back to Dunagiri. Horses had been left to graze and they gave us bemused looks as we trotted past.
Back on the veranda of the school, we now had to share the space with three ITBP (Indo Tibet Border Police) personnel for company who were scouting the area for a location to conduct mountaineering training for their soldiers and a young couple from the Czech Republic who were on their way up to the Bagini Base Camp.
After a night at Dunagiri village, we reached Juma via Ruing and were the grateful recipients of military hospitality from the small Army camp where we had left our vehicle. The soldiers offered us lunch which we reluctantly refused but willingly accepted tea and some delicious gulab jamuns from a can! I thanked the JCO (Junior Commissioned Officer) in command, reconnected the battery in the Gypsy which had been lying idle for three weeks, checked the tires, loaded up our luggage, and headed back to Joshimath.
The ten boiled eggs that we consumed at the tea shop in Suraithota helped us to regain our protein balance and the bath in the hot springs above Tapovan ensured that we arrived in Joshimath fresh and rejuvenated both in mind and body!
This trip was originally published on The Accidental Trekker.