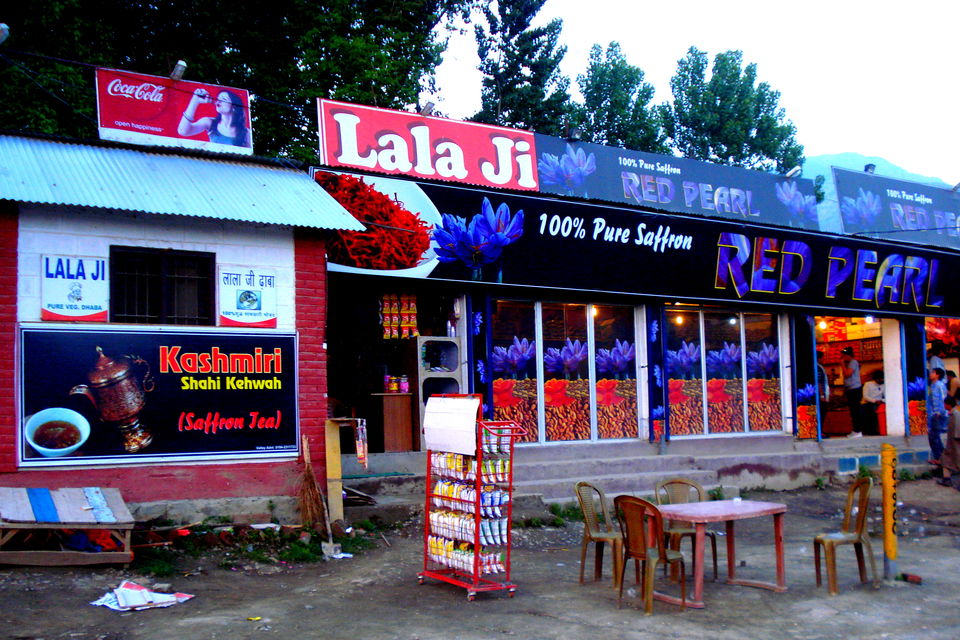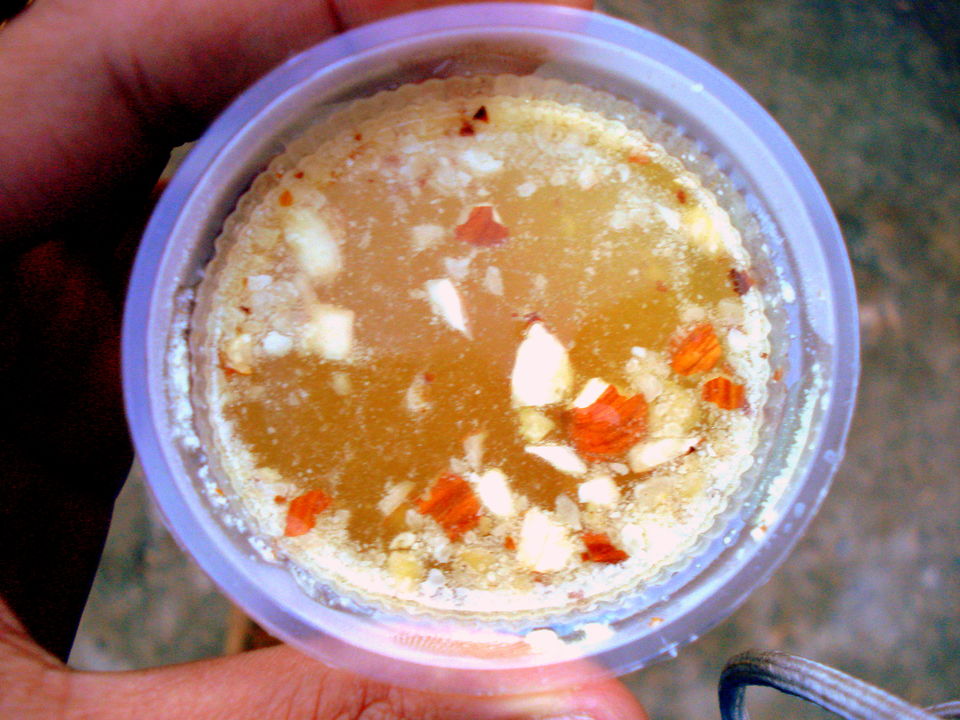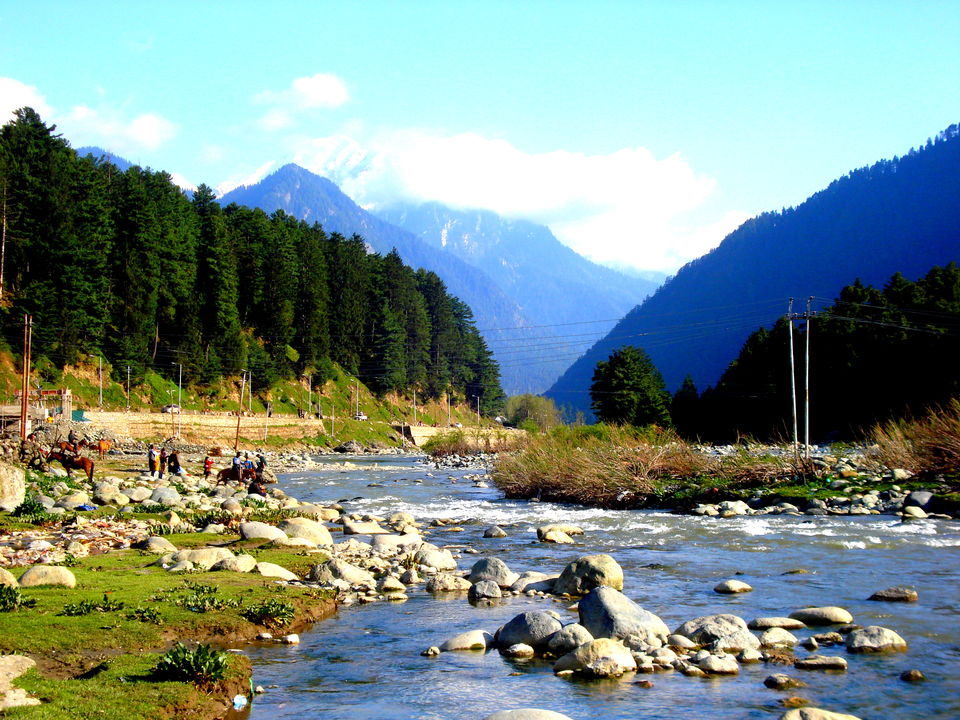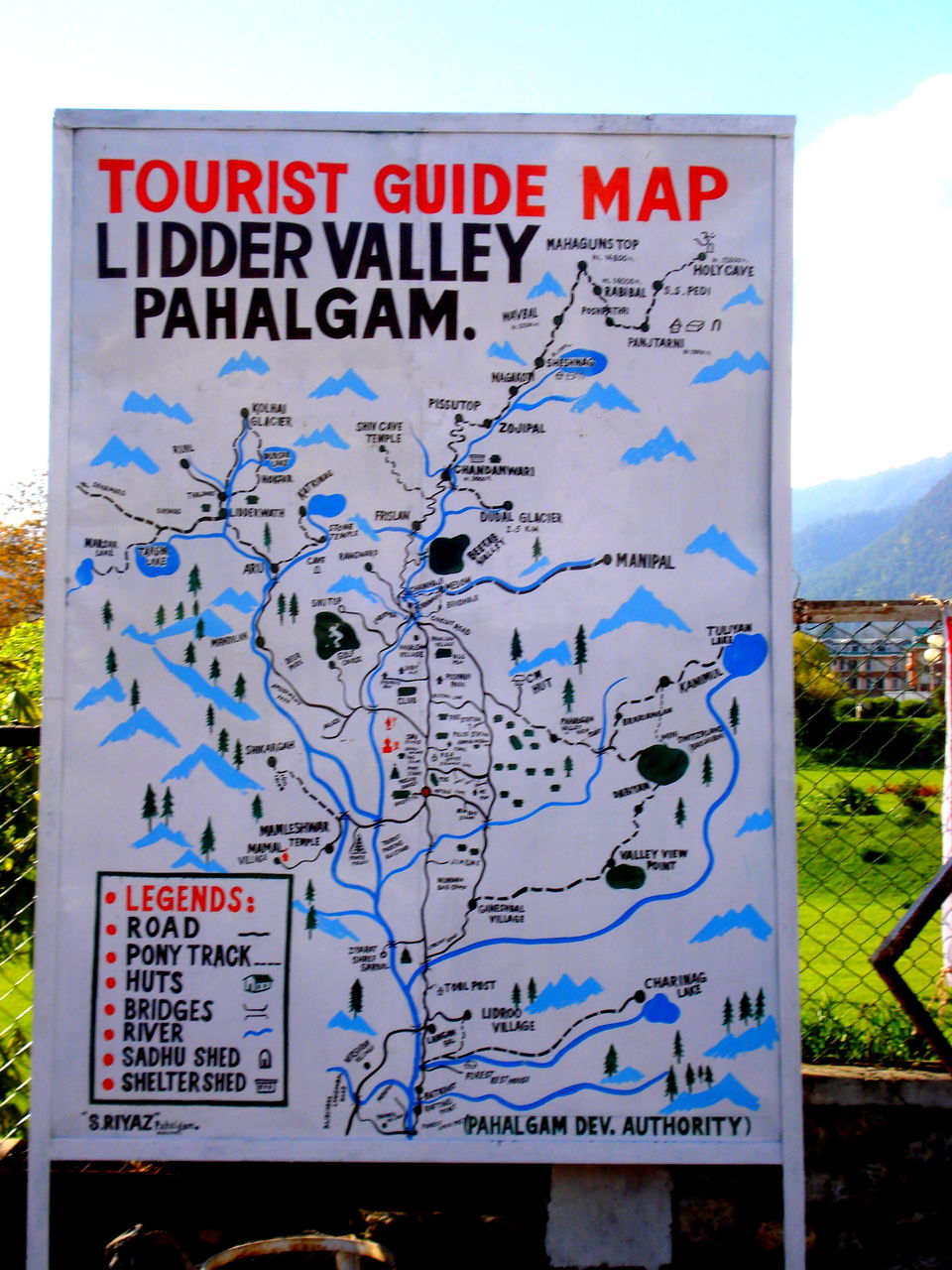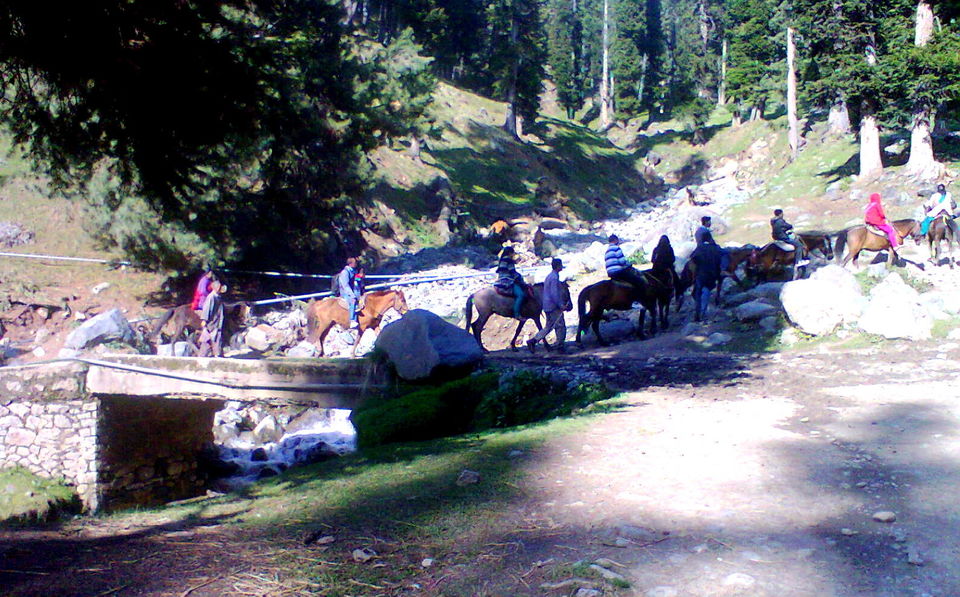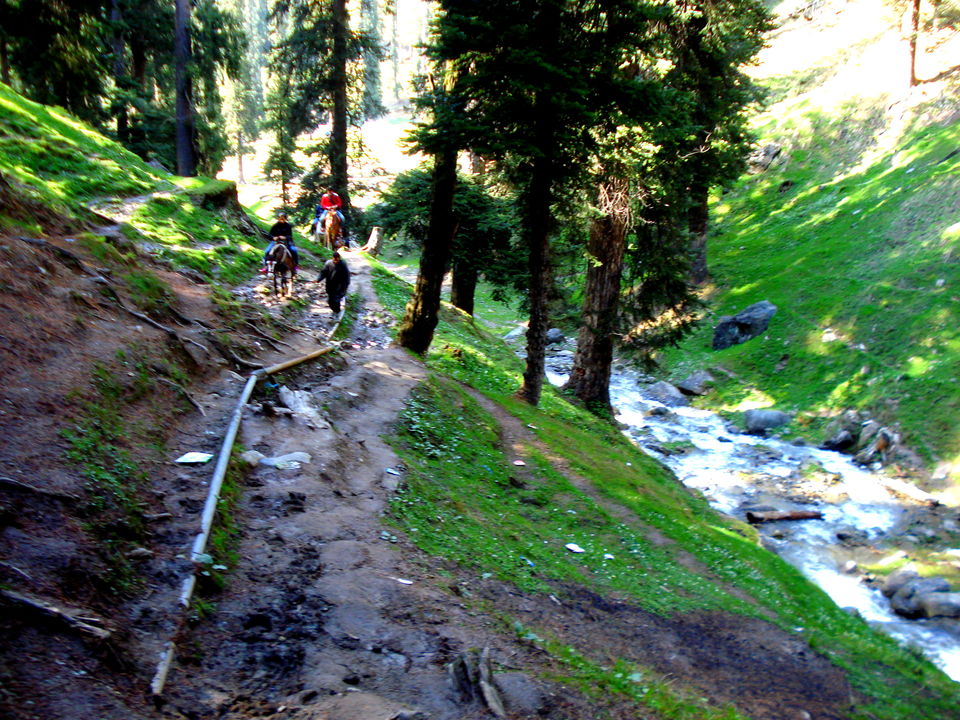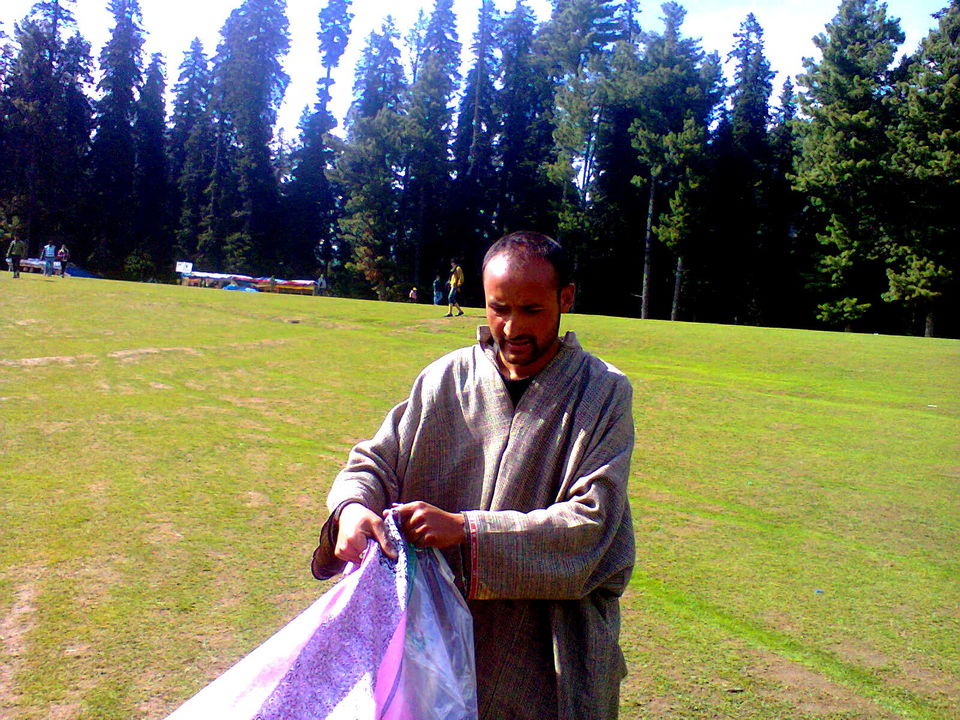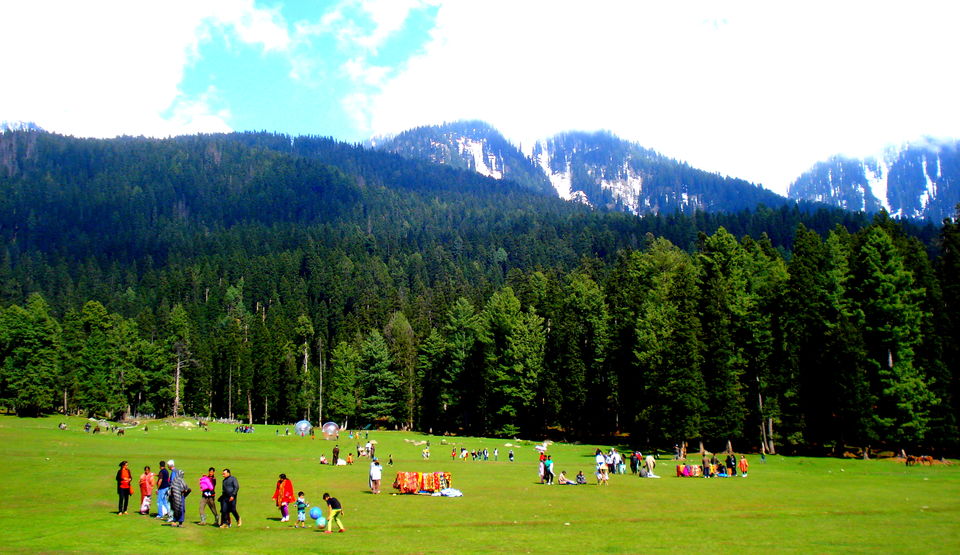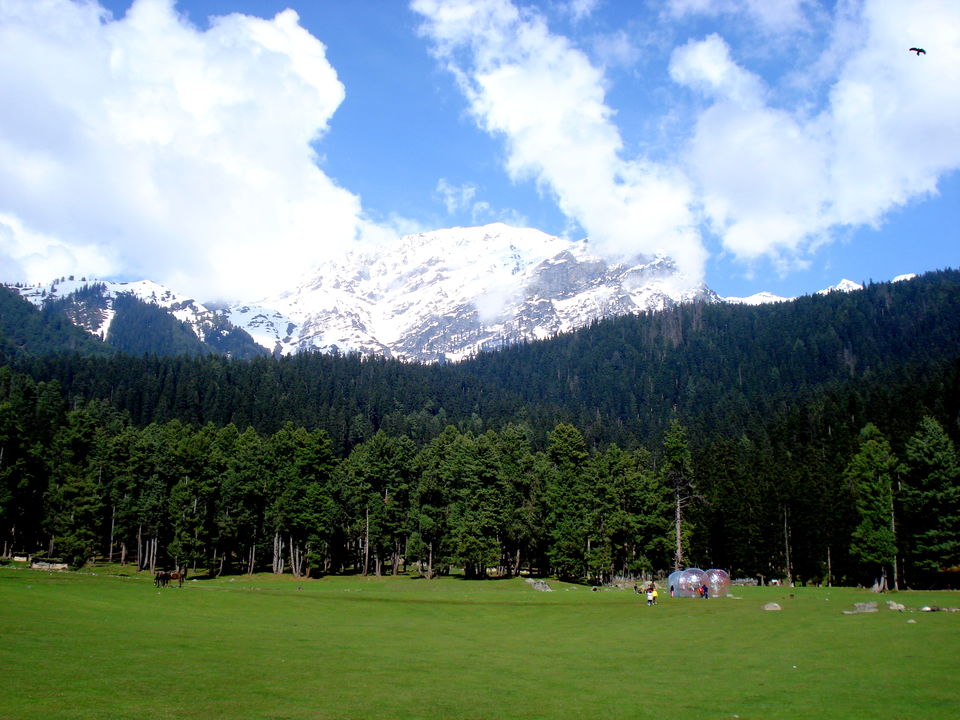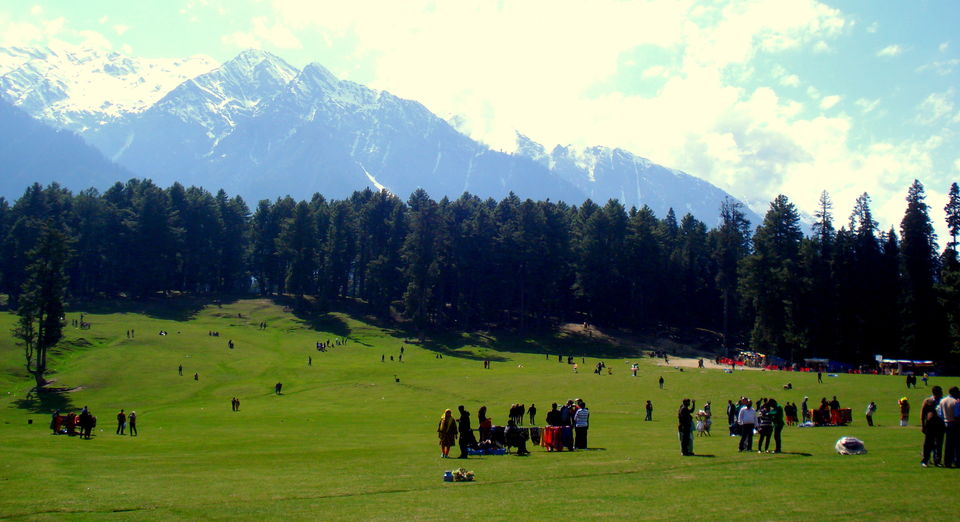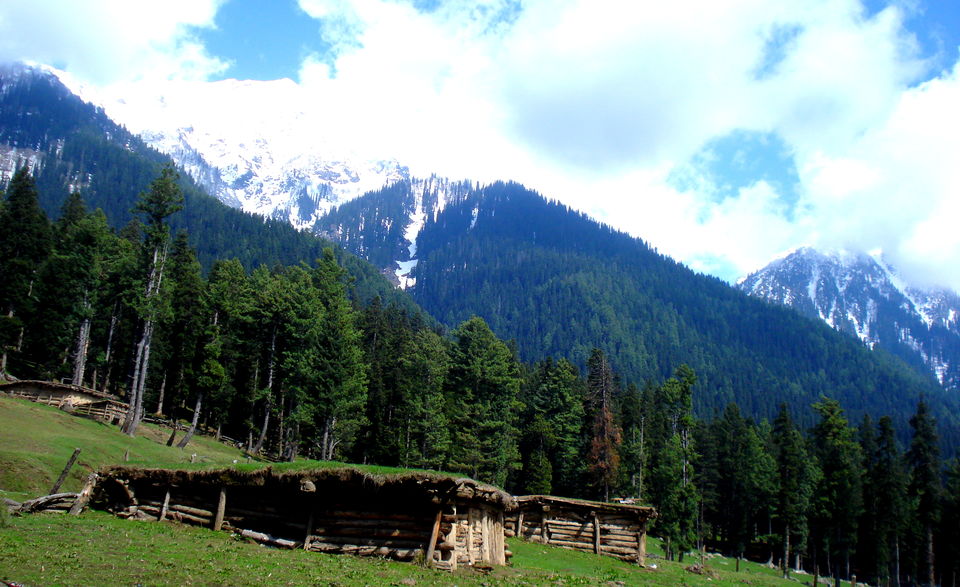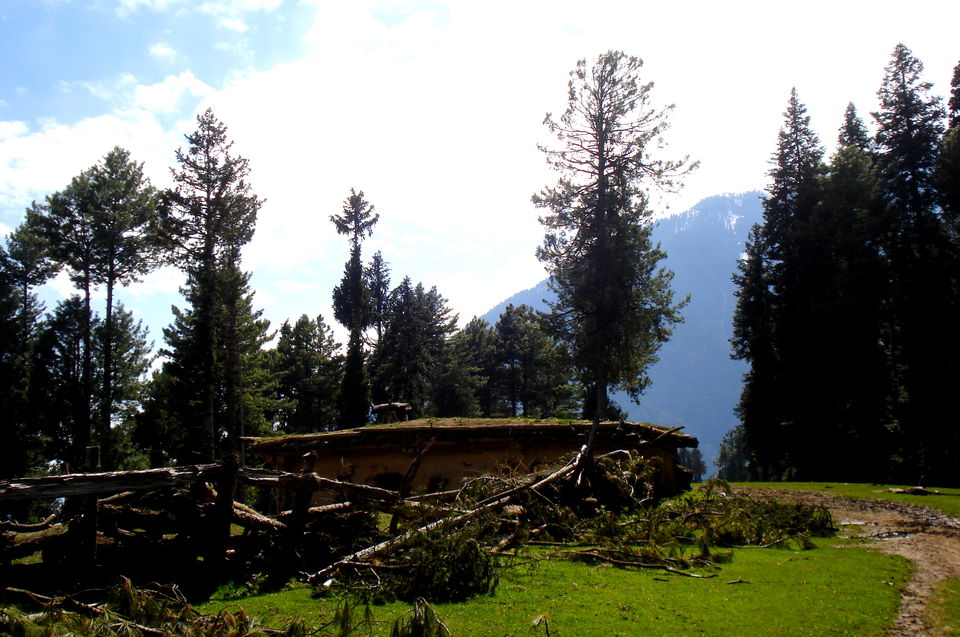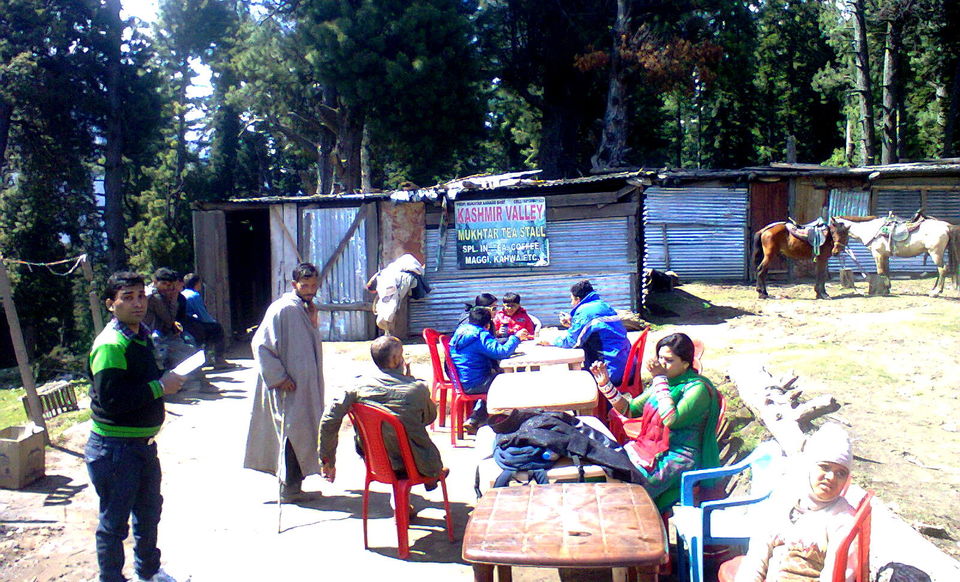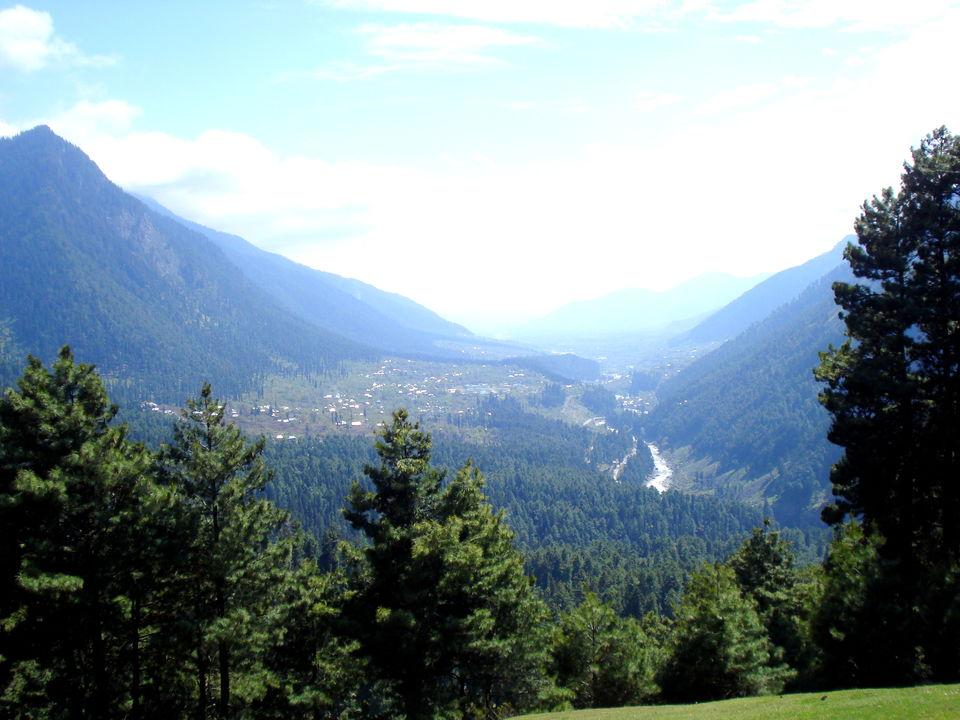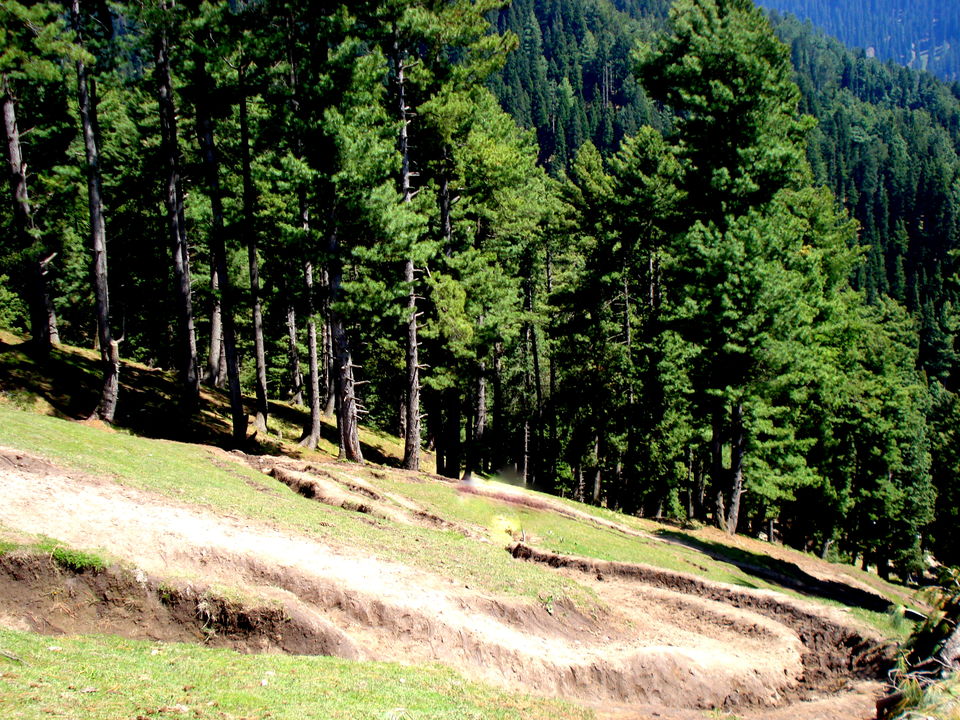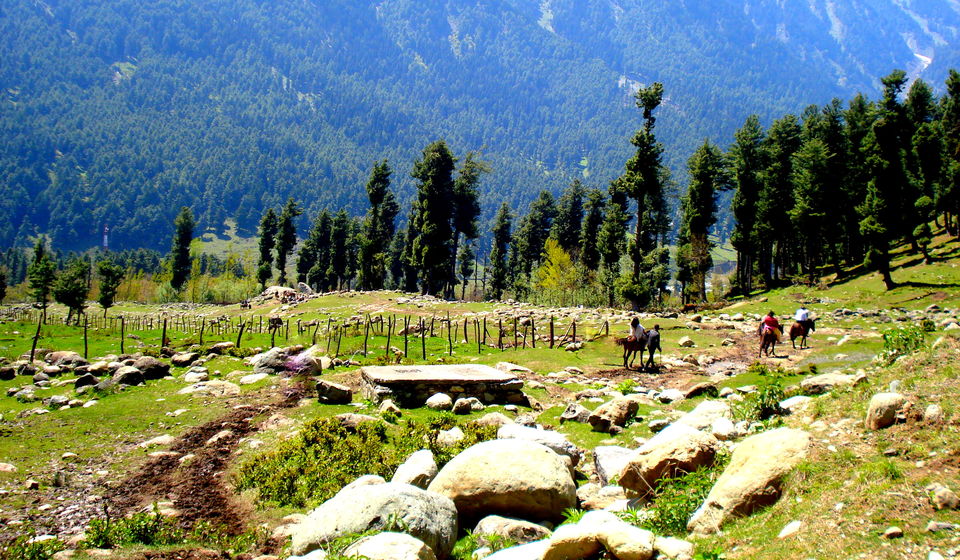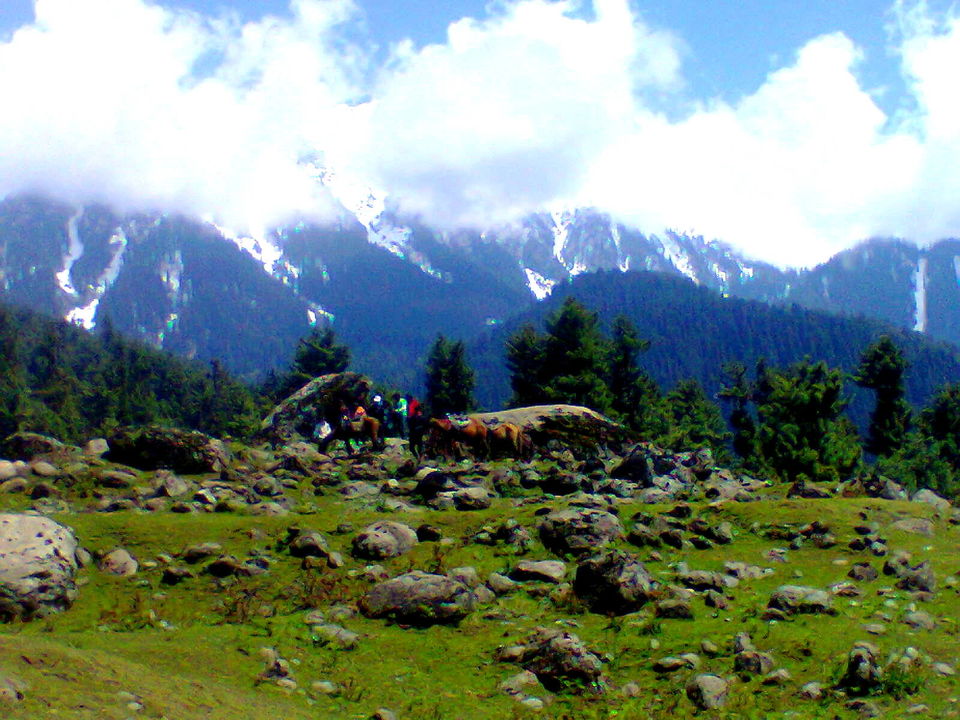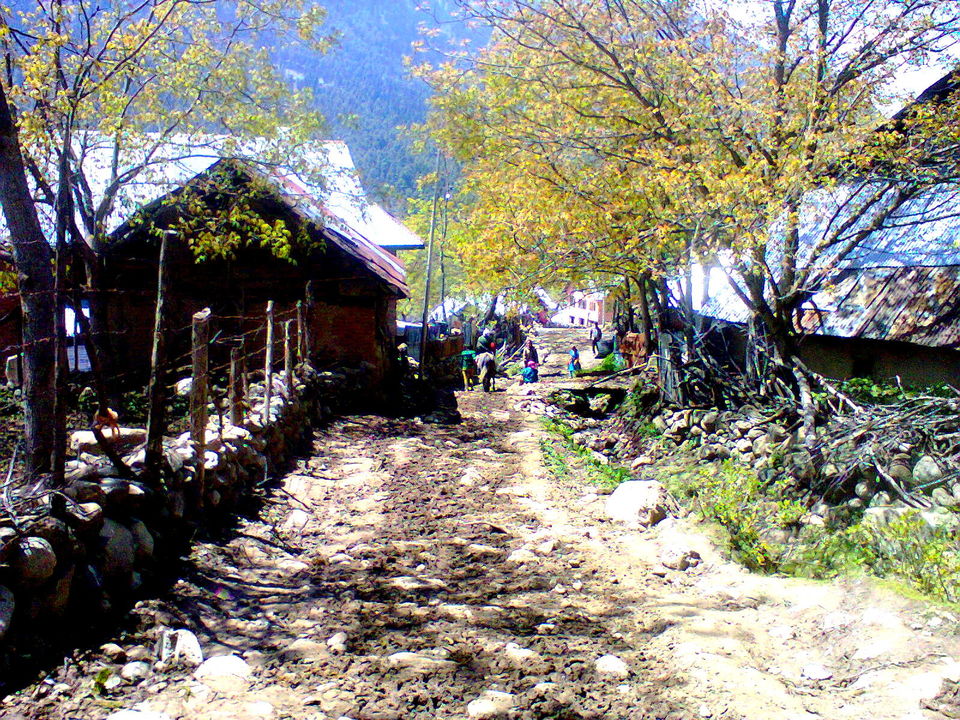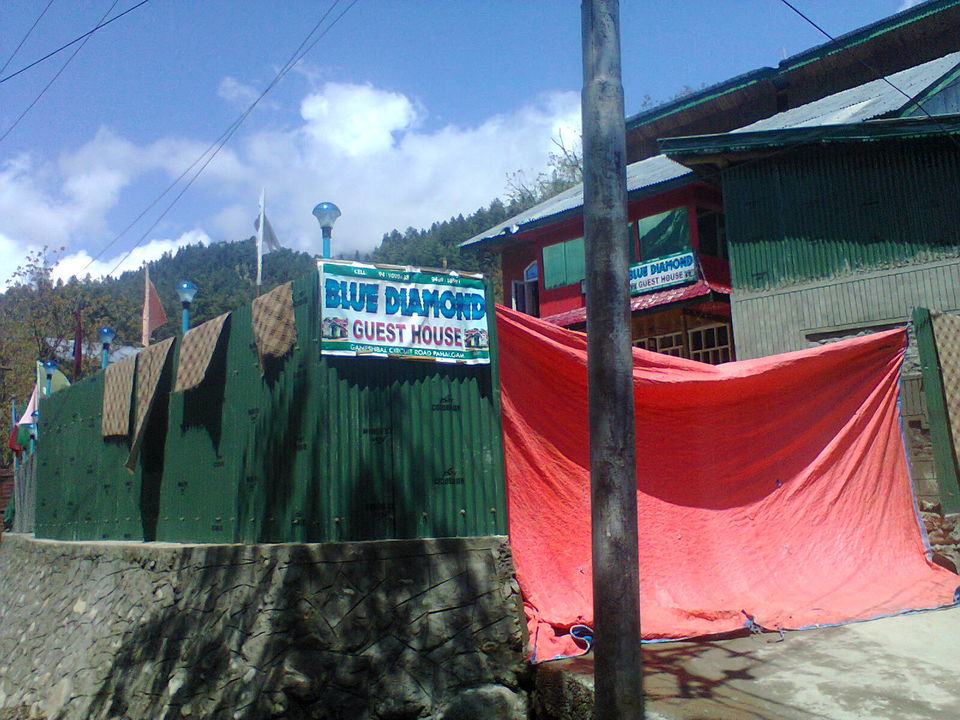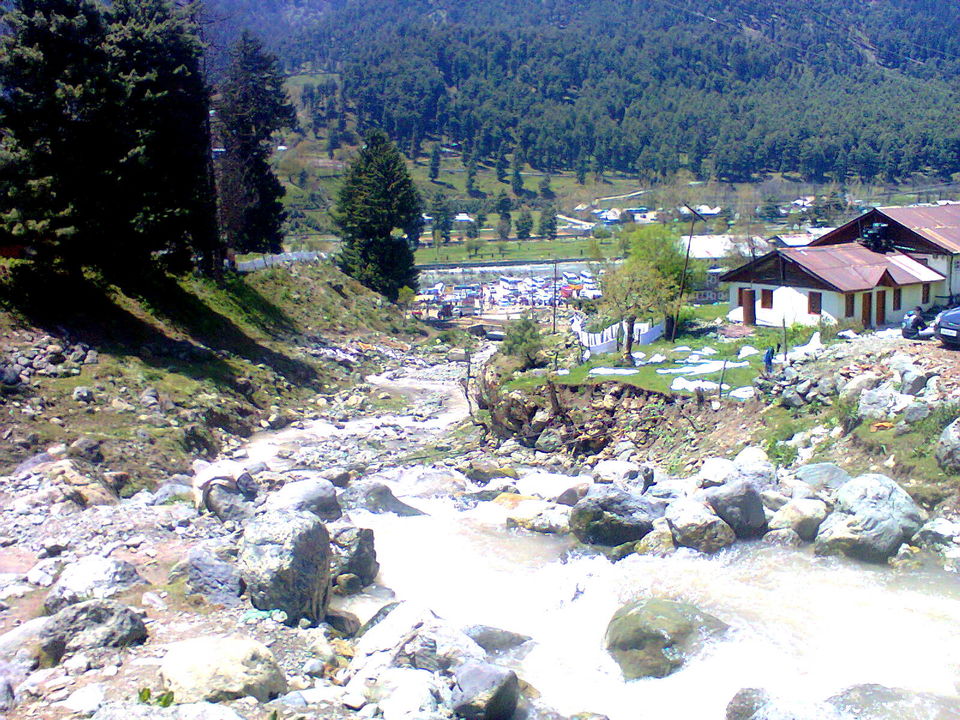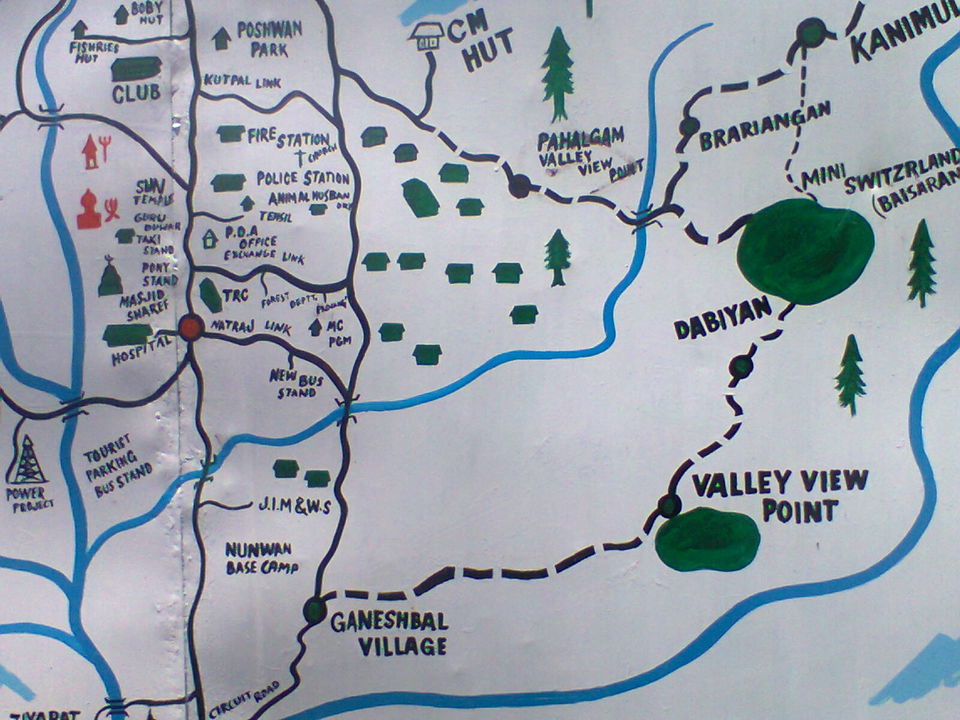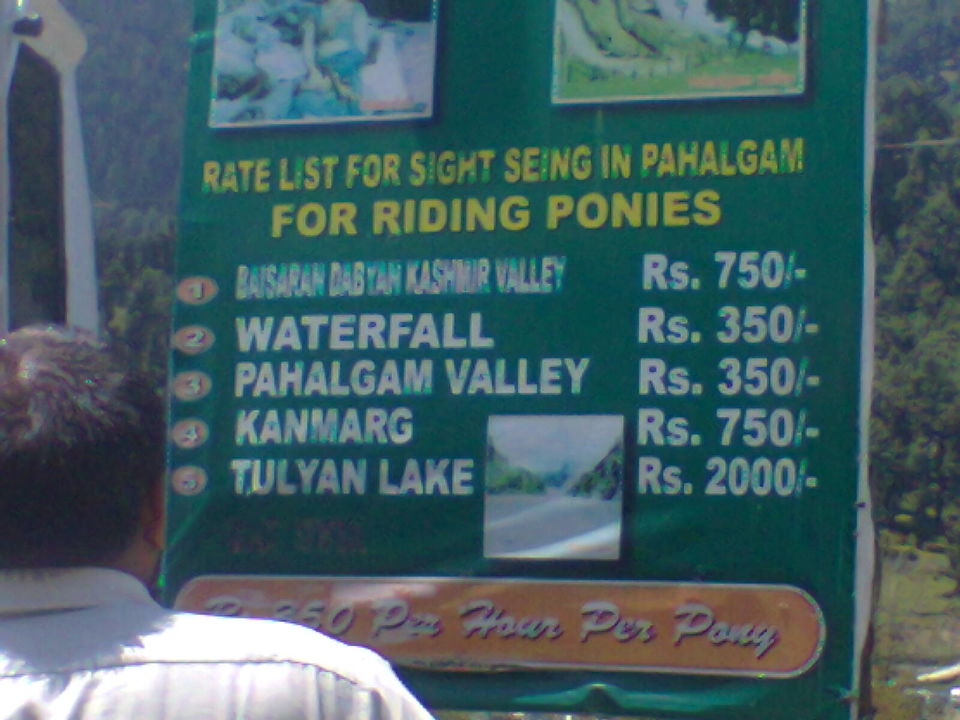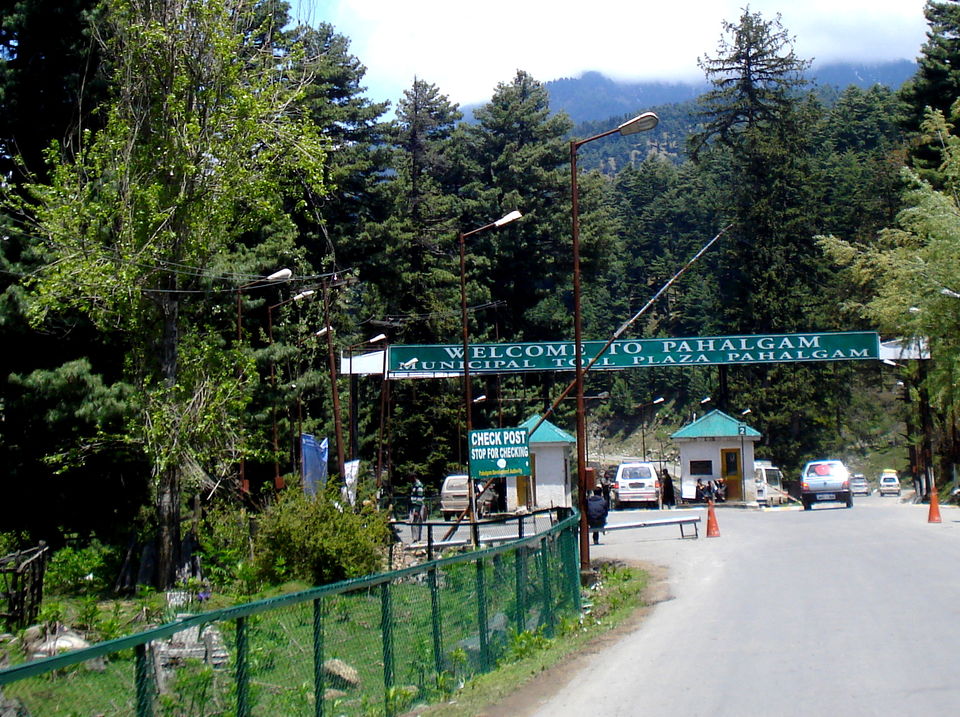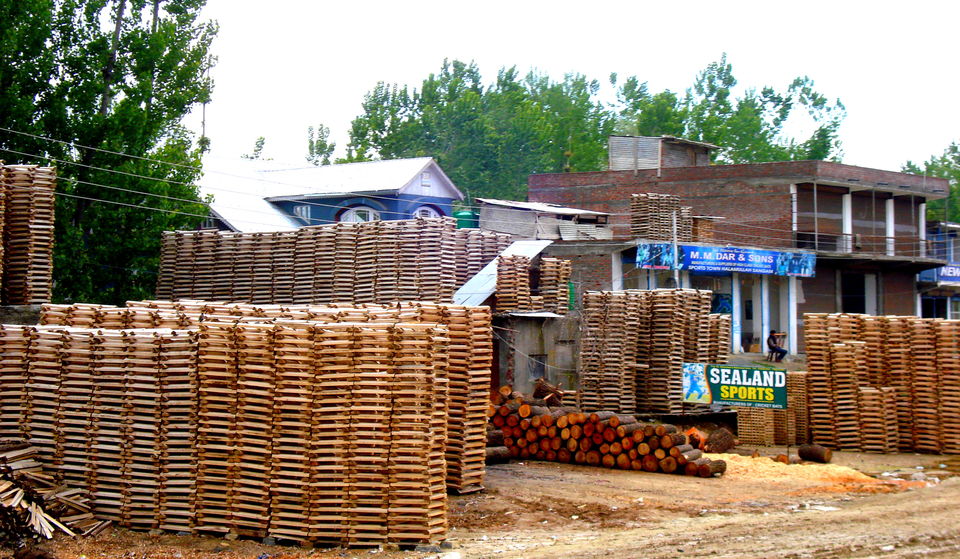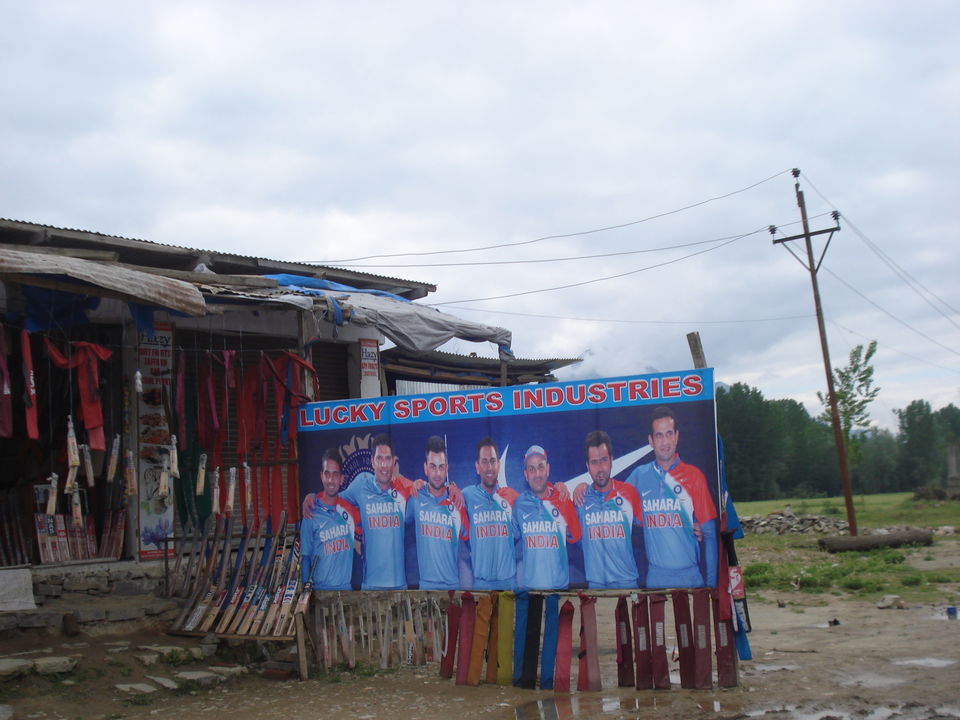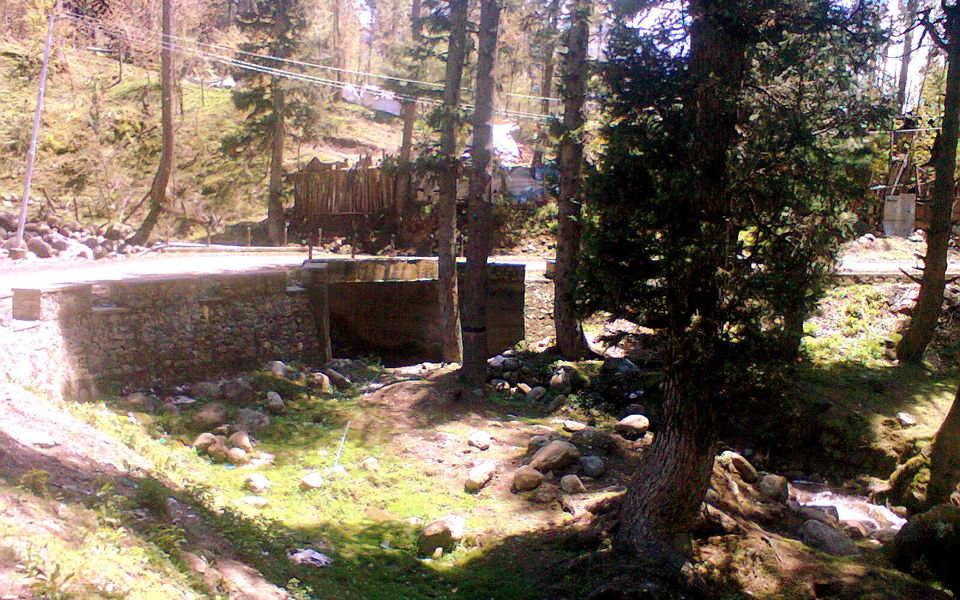 2014 gave me the most exhausting and mentally draining five months of college. Six subjects, a mini project, techno-cult fests, student council affairs, placements and internships- I barely remember the last time I slept before 3 AM. Around May, towards the end of semester, I desperately wanted to escape from this mad rush and spend some quality time with myself and Mother Nature. I wanted to unplug from the world and wanted no internet, mobile phone contacts and friends to disturb me. I wanted to devote a few days to myself, to rejuvenate and restore some balance in my life.
Kashmir had always been on my travel map mainly because of my fascination for Leh, Ladakh, Chaddar and Kargil. I planned a week's travel itinerary to Kashmir covering the locations in and around Srinagar that could be covered in a day or two. A day's trip to Pahalgam was one of them. I wanted to drive all the way to Pahalgam from Srinagar, trek up to Baisaran which is popularly known as the mini Switzerland of India and return on the same day.
Baisaran is a vast meadow situated on top of the mountain range overlooking the Lidder River flowing through the Pahalgam and Lidder Valley. It has been christened as the Mini-Switzerland of India because it has long and dark meadows, is surrounded by hills and thick Pine forest situated at the base of snow-capped peaks.
Journey from Srinagar to Pahalgam-The best way to reach Pahalgam is via road from Srinagar. It is 95 km from Srinagar and the distance can easily be covered in 2-2.5 hours if one drives at an average speed of 45-50 kmph. The roads are smooth, well-maintained and can be easily traversed on a shared cab or state-transport corporation buses that ply between Srinagar to Pahalgam. Start as early as 7 or 8 AM so that you can comfortably reach Pahalgam by10 AM.
The journey from Srinagar to Pahalgam will take you across the vast tracts of Saffron (Kesar) farm lands. I stopped at Pampore (the main saffron farming hub of Kashmir), to sip freshly brewed Kashmiri Kahwa made from original Kesar for as cheap as 25 rupees! Trust me, you will never find such tasty, lip smacking and aromatic Kahwa anywhere in Srinagar. Anywhere else, you will just get ripped off for inferior quality Kehwah.
Another attraction along this route is the large number of factories manufacturing Cricket Bats and Willows. For most part of the journey, we travelled along the Lidder River, passing through several villages and apple gardens! As you journey through the villages, you get to see the beautiful Kashmiri architecture and wooden craftwork on the houses.
On reaching Pahalgam: The Pony Menace!
The moment you step out of your car/bus on reaching Pahalgam, you will be accosted by several pony riders who will try to coax you to take their ponies to go see the various tourist points like Kashmir Valley View Point, Dabiyan, Baisaran, Tuliyan Lake, Pahalgam Valley View Point, Beetab Valley, Dudal Glacier and Shikargah.
They will thrust a small postcard in your hand and tell you the various rates for different points. Do NOT be overawed or feel threatened by their sheer number and presence. Take some time to admire the view of the mountains surrounding the bus stand. Please walk out of the bus/taxi stand and reach the main road above the stand. The standard union approved pony rates are displayed on the board here. How3`ever, like every other place, you must bargain! Remember, Kashmiri traders and pony riders are very good at convincing you to take their services at higher cost. They are very sweet talkers, not arrogant or haughty at all and if you end up spending too much time with one particular rider, he will stick with you and coax you to take his services no matter what.
The most popular route is the 3 point tour- Valley View Point to Baisaran to Pahalgam Valley View Point also called Baisaran-Dabyan-Kashmir Valley points. The standard pony charges for this sightseeing tour is Rs 750/- per pony. This is the route I chose to trek to, minus the pony! I was followed/pursued/scared by the pony riders for a good 40 minutes as they tried to convince me to take the pony. I asked them if one could go walking all the way up there and they looked at me as if I had asked for an AK 47 instead of a yes or no!
See, if you are in the age group of 15 to 45, well built, in good health and shape, there is no reason why you should do this trek on a pony. I'll give you two solid reasons why walking is the best way to go:-
Reason No. 1: It is not comfortable at all.
You might end up with cramps and acute pain in your back, pelvic region, crotch and inner thighs because your body is constantly subjected to lots of jerks and sudden break as the pony rides up and down the mountain track. For those of you who haven't rode a pony or horse before, this is akin to the pain you will feel after working out in the gym on the first day! For the local villagers, horsemen and pony riders this is their major source of income. Plus seeing hundreds of people going for the pony ride might actually push you into fooling yourself to hire the pony. It hurts. A lot.
This trek can be done more comfortably on foot.
Reason No. 2: You should care about enjoying the scenic beauty, not worry about falling down.
There are several points on the trek where the slope of the route is more than 50 degrees. At such points, the ponies usually go berserk and climb on their own through the available creeks and routes. On a pony, you will spend more time looking down, worrying about falling into the mud than enjoying the scenic beauty around. Do you want to hang on to the pony for your dear life or look at those beautiful birds chirruping away?
Reason No. 3: A pony will take the same duration to take you through all the three points as it would take for you to walk.
The Trek-
After exiting from the bus stand, you will reach a hospital on the main crossing. Just cross the main road and go straight up on the Natraj Link Road. This is the road to the trekking route. You will see all the ponies going on this path. See the map for reference. Cross the New Bus Stand and soon you will find yourself walking on a quiet stretch of road, between rows of pine trees. You will cross a small bridge on the way and soon the hilly road will start.
This 1.5 kilometre stretch of road will take you to Ganeshbal Village which is the starting point of the trekking route. The village is full of resort style guest houses and villas for people who want to spend two three days in Pahalgam. Keep walking on this gravel road and look for the Blue Diamond Guest House.
There is a gravel road adjacent to this guest house from where the ponies start climbing the mountain to reach the first point of the trek- The Valley View Point.
The Valley View Point is primarily a halting point for the ponies and the tourists who need to take rest after an excruciating climb while riding a pony. It is approximately 700 metres from the guest house, but the climb is so steep that it will take you a good 45 minutes to reach there. From here, you can admire the beauty of the Lidder Valley, watch the Lidder River criss-cross between the two mountains on its' bank and get yourself clicked in the backdrop of the mountain slopes covered with lush green pine trees.
Take some rest here and let your body warm up a bit because the climb ahead will be more excruciating and you need to conserve energy for that.Commencing the trek, one keeps climbing upwards for another 600 metres, crossing small creeks and water trails to reach a water tank. You might find a small tea shack here depending on the season. Climbing on a rocky trail up for another 300 metres, you will suddenly run into a beautiful water fall! It's basically a stream falling from a height of 20 to 30 feet with some boulders at the base and a temporary bridge over the stream. There is a shack that serves Maggi and Tea to the tourists who stop here to spend some time clicking photographs and playing in the stream. For those of you who are exhausted by walking all the up till this point, there are ponies available that can be rented for around 300 to 500 rupees. The tip to get a cheaper price is to fake that you are not exhausted and can easily continue walking all the way up!
From here on, you have to trek for another 1000-1200 metres all the way up to reach the Kashmir Valley View Point. It is a vast green meadow on the slope of the mountain from where one can enjoy a mesmerizing view of the Kashmir Valley all the way up till it disappears in the horizon. There is a shack here that serves tea, coffee and Kehwa along with Maggi and Aaloo ke Parathen. You can get yourself clicked in the traditional Kashmiri attire called Pheran for a price as low as 100 rupees.
Depending on the weather and cloud conditions, one can experience a majestic and breath taking view of the Kashmir Valley surrounded by snow-capped peaks and mountain ranges covered with lush green Pine trees.
I decided to rest for a while to enjoy the beauty of the moment and appreciate the place while eating Maggi and sip hot tea. Co incidentally, I met a Forest Ranger who was going all the way up to a remote location for marking the trees for survey. We started walking together to the next destination and the Ranger obliged me by telling me various facts and funny anecdotes about his life in Pahalgam. We came across a few huts set up by Forest Gujjars who are the traditional inhabitants of the forest here. I was surprised to find a piped water tank at such a height!
The Forest Ranger told me to follow a narrow creek all the way downhill to reach Baisaran. He cautioned me to never deviate from the direction of the flow of creek. Even the mules and ponies follow this track, because of which it is muddy and precautions have to be taken to prevent slipping or twisting an ankle.
Following the creek for another 1 kilometer in the dense pine forest, I suddenly came across a stream cutting right across the path. Over some distance up on the stream, there was a wooden log which served as a makeshift bridge to cross the stream.
The vast expanse of the meadow surrounded by Pine trees and overlooked by snow covered peaks was truly breathtaking. There were people from all age groups enjoying and playing games in this meadow. You could see kids falling and tumbling in those large Zorbing Balls. Couples on their honeymoon were busy taking a walk near the stream, holding hands and saying sweet nothings in each other's ears. Some families were busy getting clicked against the backdrop of the snow-capped peaks and pine trees. The beauty of this place lies in the fact that you can lie down on the green grass and just admire this beautiful creation of nature. You must plan your trekking time so that you can spend almost 2 hours here to truly appreciate the beauty and charm of Baisaran.
You will find a lot of local traders selling Pashmina shawls, scarfs, blankets etc. They will always quote a price which is more than double the actual cost of the shawls. Bargain hard and bargain well with these local traders. They have the gift of the gab and are very good at convincing their customers to purchase their stuffs even if they don't need it. But they have good quality material that will always be sold at inflated price in the market.
There are lots of shops selling eatables like Maggi, Chole Bhature, Parathens, Veg Thalis and beverages like cold drinks, coffee, tea, juice and the famous Kashmiri Khewas! You can sit on the chairs around these eateries and start random conversations with people who flock to this heavenly paradise from all over the world.
After spending close to two hours in Baisaran, I decided to trek downhill at 3:30 pm to reach Pahalgam Bus Stand. The shortcut path that the vendors and shopkeepers of Baisaran use starts near the pony stand on the far south west corner of the meadow, where the shops are set up. The simplest way to find your way down is to follow the foot marks of the ponies. The path is full of wet, sticky mud and ditches; so you will have to figure out a way to get across this muddy path. You will have to find sturdy, dry patches of land alongside the muddy trail. The good thing is , there are always ponies going up and down this track. This reduces your chances of getting lost. However, you have to careful with every step. The last thing you would want to end up with is a sore ankle!
Trekking all the way down for almost 1.5 hours will bring you to a rock cut bridge which leads to a rocky road trail. Cars and SUVs can come up till this point only. People who want to visit only Baisaran use this route to drive all the way up to this bridge and then take a pony all the way up to Baisaran.
When you finally reach the main road and cross the Bus Stand, just walk a few more steps and you will be greeted by this mesmerizing view of the Lidder Valley. After the hectic trek, you must dip your feet in this river and relax on the stones for a while, savoring the experience and realizing how lucky you have been to reach such a beautiful place on earth.
Baisaran was a beautiful experience for me. I met some amazing people and took in some breathtaking views. I pushed myself in Baisaran and experienced what heaven truly looks like!