After spending 1 hectic but amazing day in North Bali I left for Ubud. When I thought of going to Bali, I didn't think about beaches, all I wanted to do was to relax & immerse in the culture. But this trip turned out to be very hectic. Thankfully I chose 2 days to relax in Ubud and get as many massages as I can.
Ubud is beautiful even in all its chaos. There are a variety of places to choose from where to stay. I chose Moksha which is in the center of Ubud so that I can see some of the places that I have on my list.
1.) CAMPUHAN RIDGE WALK 
The beautiful morning of day 3 was planned to be at Campuhan Ridge Walk. I left the hotel at 6:15 am to watch the sunrise. Camphuhan ridge walk was just 15 min walking distance from my hotel. To my surprise, there were still few people at the walk, not many but surely enough to photobomb my picture. I believe everybody knows the trick of a good photograph. The walk had some amazing views. I would say it's a must visit and surely at sunrise or sunset. Just expect a hell lot of people at sunset.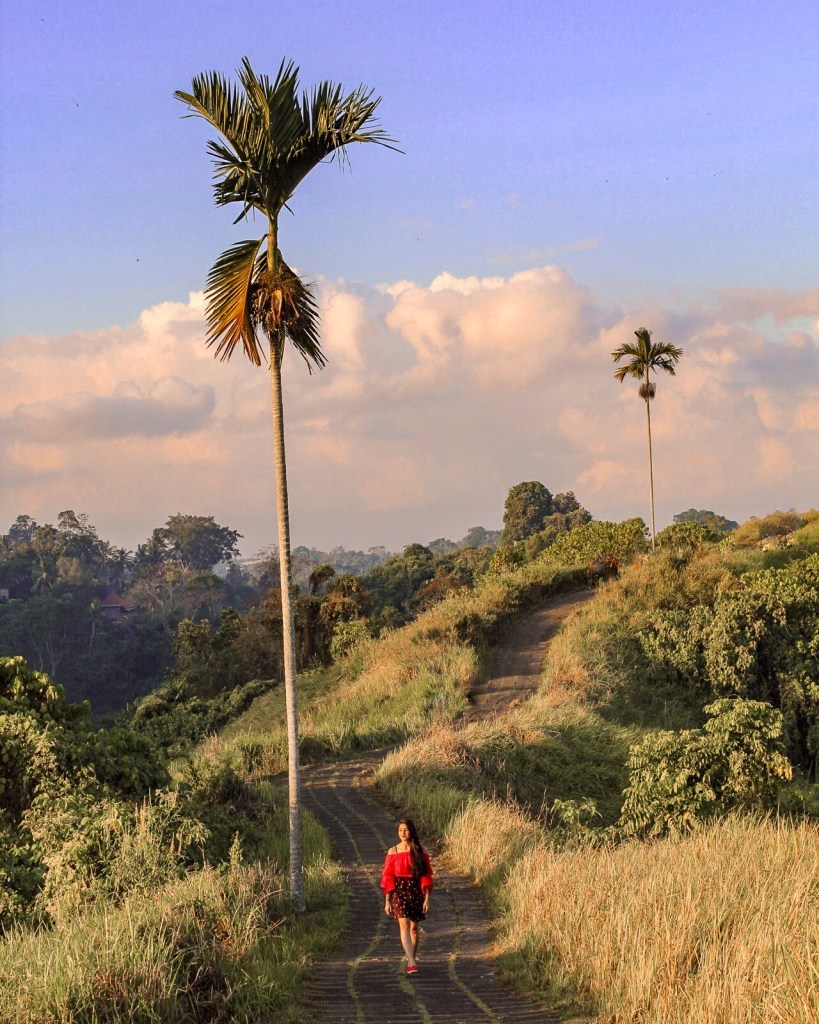 2.) PURA TAMAN SARASWATI TEMPLE 
A temple that is right in the heart of Ubud and looks extremely old when you see it from the inside. The small pond with lotus on both the sides of the passage to the temple adds up to the beauty. This looks nothing extraordinary in the day but once it lits up at night, it looks very beautiful. Sometimes Balinese dance festival also happens in the temple in the evening. I would say it wouldn't take much of your time to have a look at this if you plan on to go to Ubud Traditional art market.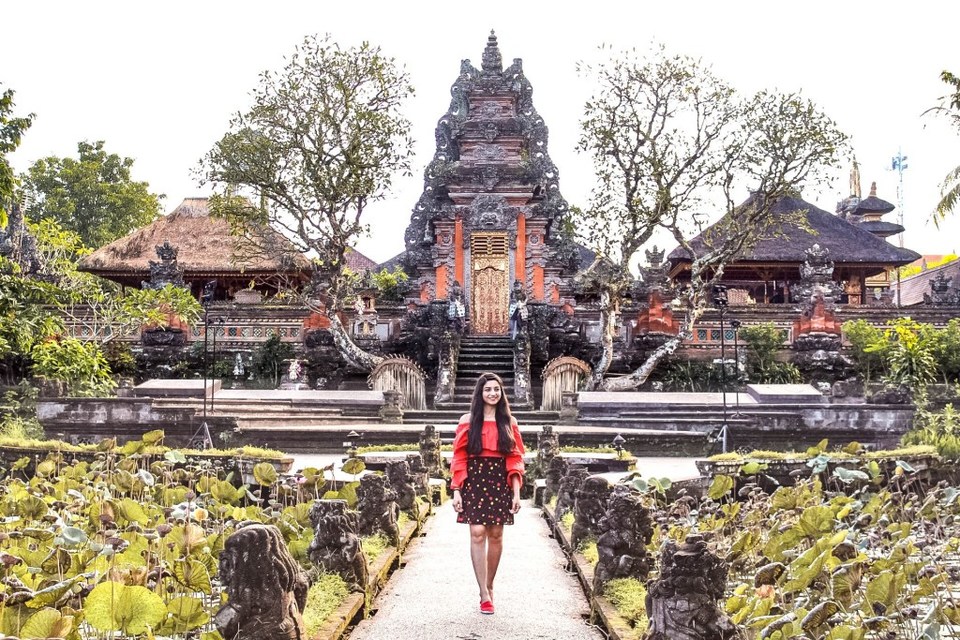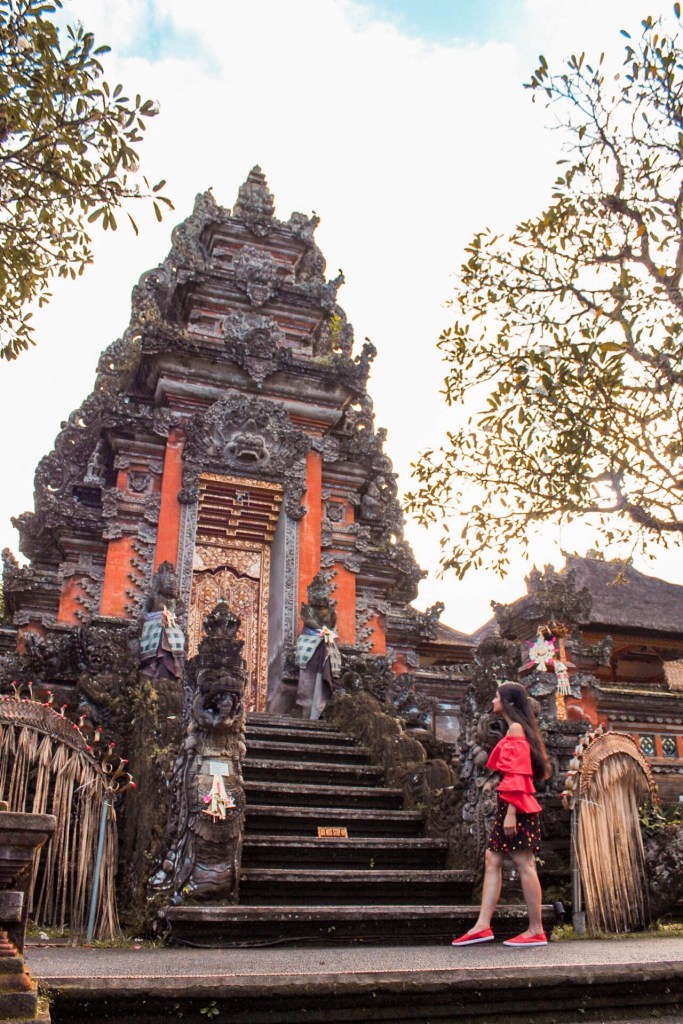 3.) UBUD TRADITIONAL ART MARKET 
If you are in Ubud then it means you have to check out this market, it's kinda mandatory. The Ubud art market referred to by locals as "Pasar Seni Ubud" is a handicraft market in the center of Ubud Town. 
When to go: I recommend going early in the morning when it opens. One reason is that it's less crowded and another is that you will be offered a better price early in the day.
What to buy: Well it's everyone's personal choice but highly recommended are the ratan bags and dreamcatchers. You will be amazed at the size of the dreamcatchers they have at a cheaper price them any other place.
4.) KANTOLAMPO WATERFALL 
There are so many beautiful waterfalls in Bali, Kantolampo being the one. To enter this waterfall you need to pay IDR 5000/person. After walking down the stairs, you will see the beauty of Kantolampo. As pretty as it looks, in my experience, it is as dangerous as well, if you are not being careful. The water is shallow but there are so many rocks, some are big to hurt your feet. If you plan to climb the waterfall, be very careful as the rocks are extremely slippery. I was so so careful still I fell. Thankfully nothing bad happened and I was completely safe.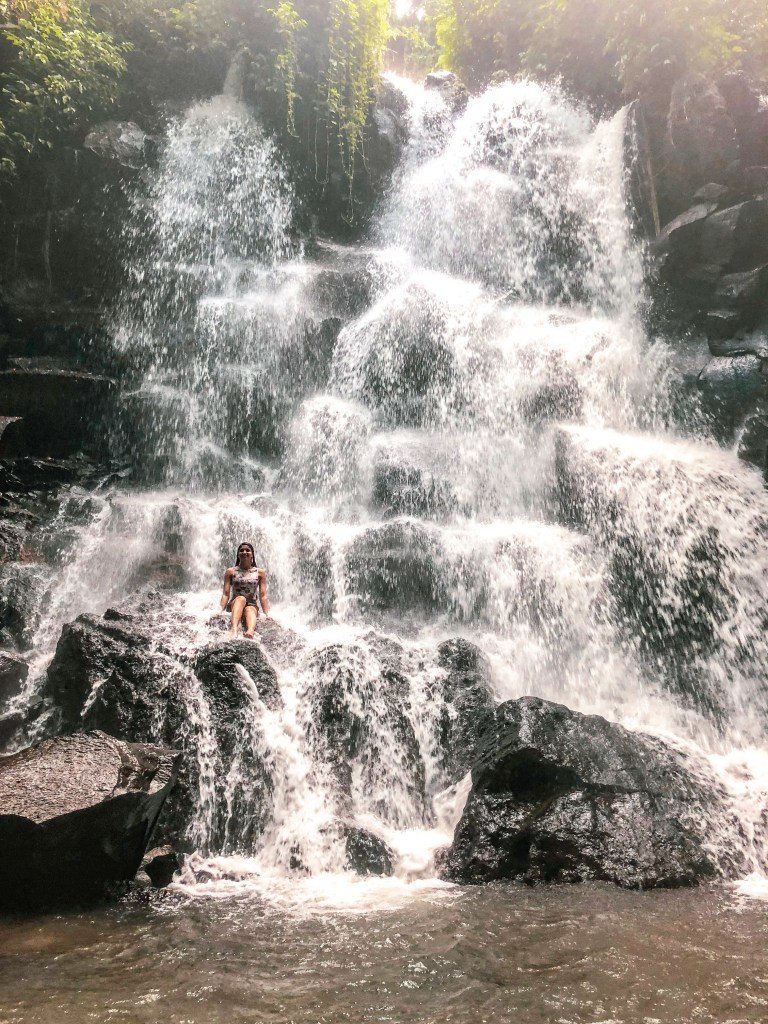 5.) TEGALLALANG RICE TERRACES
One of the places that was high on my list while visiting Ubud was rice terraces. As usual, I woke up early to watch the sunrise over these rice terraces and to see how they shine. But in reality, I was super disappointed when I visited. Not because they were not good but because the crops were harvested and it was not the best time to visit. I was able to imagine the beauty of this place when the paddy fields would have crops.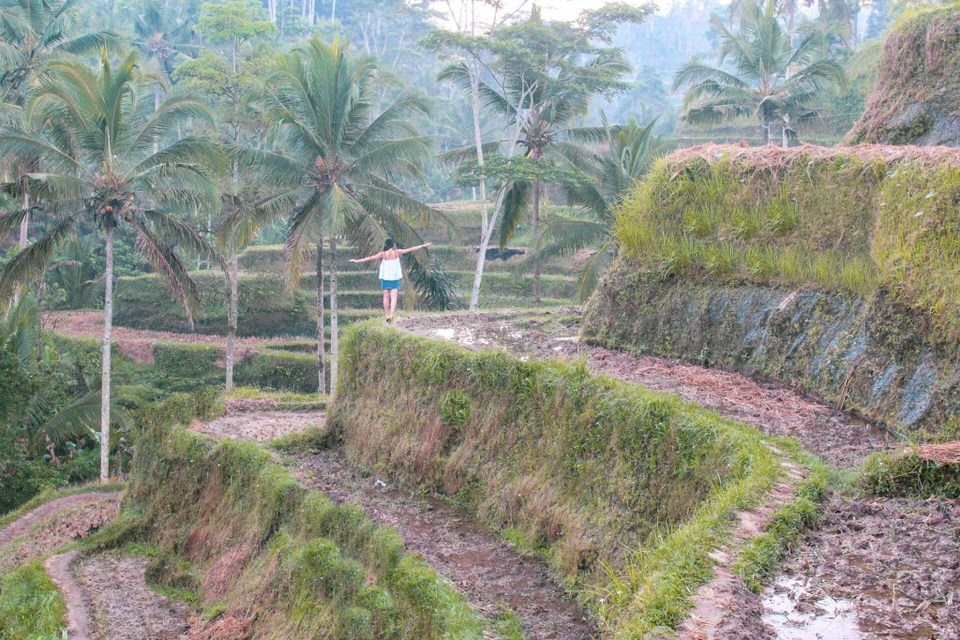 6.) KARSA SPA 
Hands down the most amazing, relaxing and luxurious spa I have had in my life till now and trust me I have had many. The spa is one of my favourite things to go for when I am on vacations. Bali is so popular for its spa and different kinds of bath especially flower bath. The staff at Karsa spa is extremely nice. On your arrival, they welcome you with lemon water and chilled towel to freshen you up. The whole spa is beautifully surrounded by flowers, gardens and small fountains. All the pathways are decorated with flower and the fragrance is heavenly, even the washrooms have flowers, flower petals, and incense sticks. The body and mind start feeling the relaxation as soon as you enter this place. They have put so much effort in hospitality that the place speaks for itself. I highly recommend this spa. Totally worth every penny. You have to book at least a month in advance through their website otherwise you won't be able to experience it. They don't take walk-ins.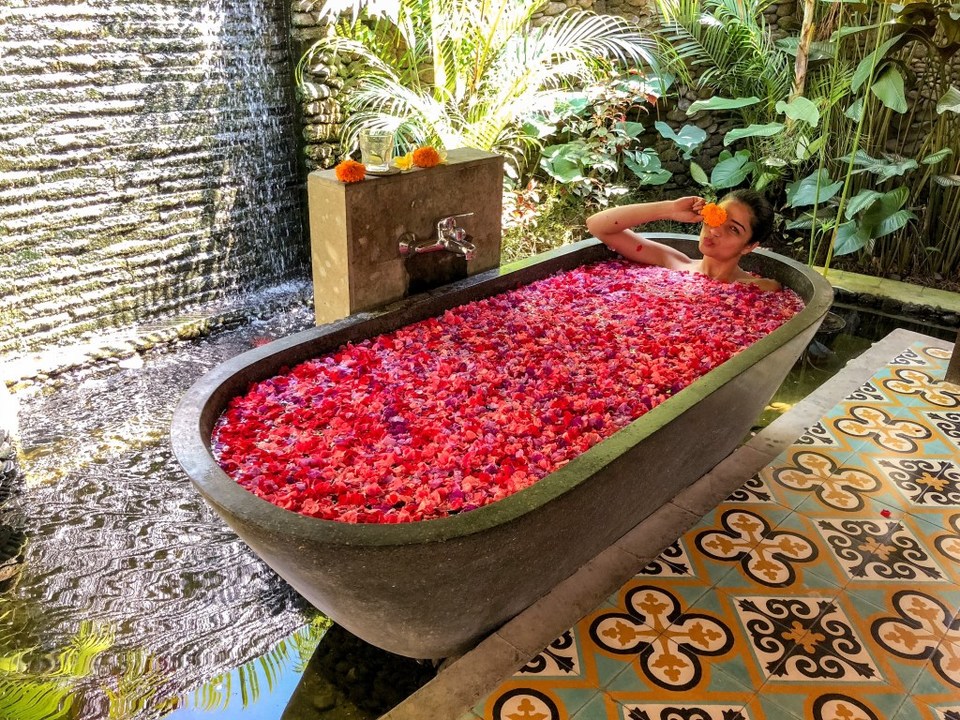 7.) Akasha Restaurant
 We all must have seen beautiful well-decorated restaurants with pretty interiors but have you ever seen a restaurant that looks like a dream. Akasha restaurant has every space (area) decorated or designed in a unique way. The bamboo architecture gives me the feel of a tree house with an extended view of rice paddies. They don't have much-extended menu but their food and drinks are amazing. The picture that you see is their prettiest corner and is never empty so if you need to sit here at this spot, you will have to wait but it's worth it.