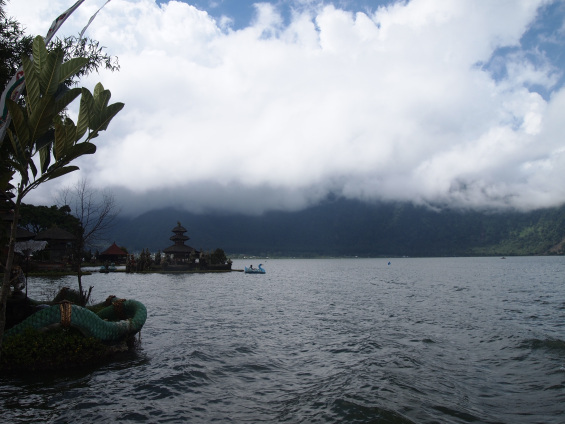 My mother sent me a picture while I was chatting with her and letting her know how my Bali trip was going. The text that followed the picture simply said "Go Here"
The picture looked like any other post card but wasn't labelled at all, so I asked if she knew the name of the place?
She didn't
So both me and my mom tried to figure out where this beautiful looking temple was sitting in two different countries. and somehow we did. It was one that is considered Bali's most iconic temple. One that Indonesia Tourism always highlights in any tourism campaign. One that is even on their currency! It was the Pura Ulun Danu temple .... beautifully sitting on the shores of Lake Bratan.
The temple was a couple hours drive from Ubud, and I was contemplating whether I should choose this place or just head towards a sandy beach in the north that I had been lusting after. But the Ulun Danu temple sounded like a magical place and hence I decided to visit it on my fourth and second last day in Bali.
The road was terrible and I, the Indian am definitely used to bad roads. Once we reached the spot, I started regretting it because the only things I could see was tour buses and crowds. I realised that if my mother found this picture and this place was so popular all tourist agencies and group tourists probably spend the day here.
My visit to Mt. Titlis in Switzerland was spoiled because of the same reason and I started really blaming myself. Even the entry fee to this spot was much more than the other temples I visited.
The temple itself was quaint and beautiful. The background had misty green mountains and the lake looked endless. It was perfect. So I decided to ignore the swarms of tourists in matching t-shirts and the plastic boat 'bebeks' (ducks) that was photobombing my every attempt to get a great picture.
I decided to get past it and just look at the real deal in front of me.
Yes I wish we could avoid all those elements but then again my visit to Ulun Danu taught me that I am more patient than I know.
After I decided to tune out the noise and focused on the clouds it seemed like a great a visit that was worth the effort. Yes I would still recommend a visit, but perhaps try and avoiding peak visit hours. An early morning to visit would be the best bet.
When I tell my mother about it now, she says at least you got some great pictures.
Well I did.