Banaras has played friend, philosopher, muse and inspiration to many souls since history has celebrated its existence. Countless people have come to its banks till date. Some return with indelible memories. Some with divine epiphanies. Others with blessings and fortune. And many never return completely in mind or body. I had the kismet of spending some time on the banks of " river of immortality - Ganga " that flows through the heart/s of the city. It was a long time wish to visit here, and I decided to grab the chance, and immerse myself in this legend called Banaras.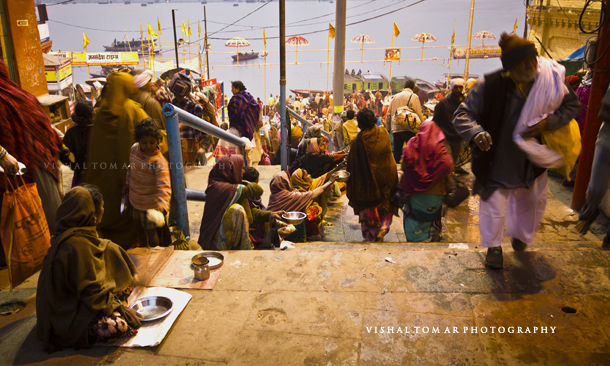 This place Banaras or Benaras or Varanasi or Kashi or Uttar Kashi is like a Disneyland on many fronts. Its home to spiritual teachings from the best gurus of many religions/faiths. Its home to some of the most cultural and vivid sights, sounds, rituals, beliefs and practices. It has a very important temple of pilgrimage, The Kashi Vishwanath Mandir. It has been at confluence of many cultures, kingdoms, ruled by many dynasties each leaving its permanent identity in the roots of the city. It has been the seat of spiritual and academic knowledge and excellence. It houses the extensive Banaras Hindu University. It has some great works of architecture and historical interest It has great food (Mallaio, my fav and Thandai) and the art of "Banarasi paan". It is a hub for "Banarsi silk", "Chillums", "Pan- Supari masala", and host of other religious things. Add to that the great sights along its 368 ghats, its famous narrow lanes, the stories folks share and the beautiful public aarti each evening; I'm shivering with excitement again.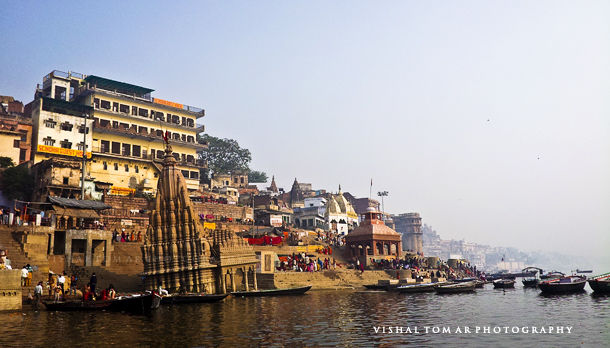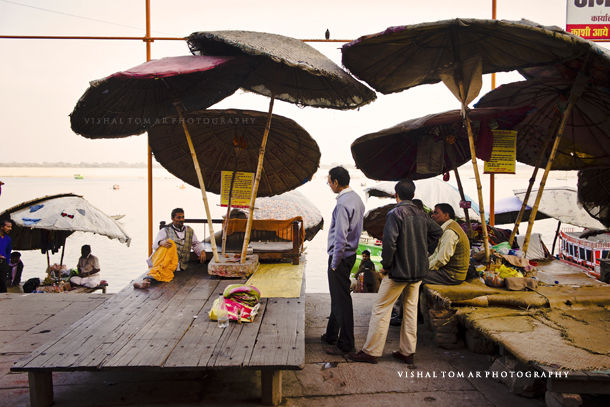 The Banaras experience begins as soon as set foot here. I decided to stay near the Kashi Vishwanath temple, very near to the ghats. The cycle rickshaw ride in the evening across the city, from Varanasi railway station to the temple gave me the first glimpse into the contracted lanes of the city. I was in awe of the web of lanes we passed through, some barely wide enough for a cow or us to pass one at a time, opening periodically into one of the modern roads. The mixed aroma of delicious hot milk preparations, deserts and chaat, punctuated by cow shit smell at times, mind you, makes for an impactful first impression.If at all you wish to walk, especially barefoot, then you have the choices of cow or cow dung, horse/dog or human shit, or if you are lucky, a lazy dog to step on. I loved the fact that the city is neatly divided into a modern and an old part. The shopping malls and shiny buildings live comfortably close to the ancient city, very convenient to slip between the two if needed. That day it was particularly lively and noisy and jammed, cause I crossed at least half a dozen or so wedding processions in full swing.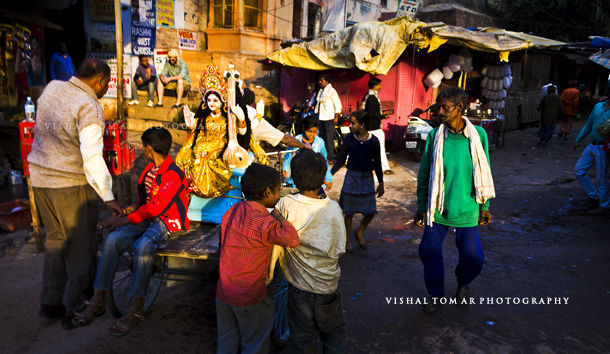 Its worth the effort to start your day early if you are in Banaras, and take the boat ride to Raj ghat, from Das-ashwamedh ghat or Rajendra ghat (they are the epicenter of all activities in Banaras).All the ghats are east facing and sun kissed in the morning twilight hours. Its also a great way to avoid rush (at Raj ghat temple) and see the city warming up to life by while lazily strolling in a row boat. Next up its time to explore the ghats on foot, strolling, sharing jokes and stories with the locals and other travelers from all over the world. I was surprised to find lots of westerners and Orientals listening keenly to what the babas had to say. "We have started loosing touch with our religion in our everyday lives", "We are in awe of the Hindu religion and its history of thousands of years", "We like the simplicity of life here" , " It's a totally different culture and way of life here" were the most common replies I came across from people across the Indian borders.
Banarsi food is as mouthwatering as the place is exciting. These guys have perfected the skill of paan making into an art. The leaf is soft, sweet and literally melts in your mouth. The drop of "ittar" or scent they add seduces the nose just before the burst of flavors from the loads of gulkand, saunf (Anissed/Fennel seed), soft supari and host of other ingredients fill your mouth with psychedelic mix of flavors. Another interesting milk preparation is called "Mallaioo". Fluffy like cream and found only in the mornings. I couldn't understand how its made, may be cause I was busy eating greedily my third cup in row. Then you have to have this drink called "Thandai" which is something similar to Lassi and Banaras is famous for it. Besides the chaat of various kinds, other deserts like Rabdi, Lassi, etc are also good good very good.
Evenings on the Das-ashwamedh and Rajendra ghats are not to be missed at any cost. The evening aarti is a delight for the eyes as well as the mind. It starts around six thirty and is a gripping public performance of over an hour. The young pujaris, seven on one and five on the adjoining ghat execute the rituals with impressive synchrony. They face each side of the crowd sequentially so you don't miss any moment of the action. Cymbals and bells, drums, spotlights, conches, smoke, huge ceremonial flames and colossal audience creates for a really festive atmosphere. Arrive early and see the pre-pooja prepaprtions being done, you may even get to volunteer if you like.
Its a good idea to browse the local bookstore and pick up some pocket books. The pleasure of reading in the open on one of the calmer ghats at sundown, the Ganges flowing before you, Dia floating like tiny beads of lights, and unlimited sky and space around you, is unparalleled. It's a perfect setting to let go of the creative block. Also, the chance to smoke a traditional Chillum (pipe) out in the open is a rare and exciting one. Banaras doesn't sleep early. The markets and restaurants are buzzing with activity well into the night. The best time to visit the Kashi Vishwanath Temple is early in the morning though, 4am is what, I tried and would suggest.
I can go on and on, but let's stop here and leave the rest of the story to be lived for real rather than read here.
Thanks for dropping by.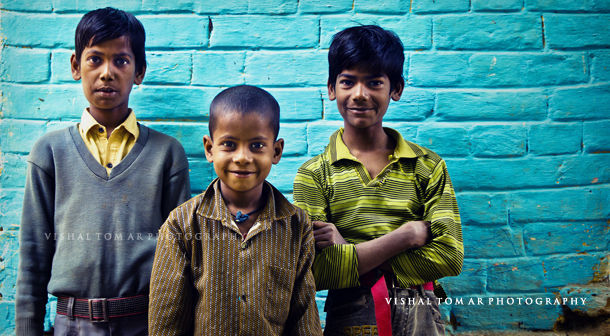 Some guide book stuff:
1. Best time to go : July to Feb, and Diwali Festival and Maha Shiv ratri is a must.
2.Best Chaat: Kashi chaat bhandar.
3. Best Paan: next to kashi chaat bhandaar.
4. Best Lassi: Blue lassi.
5. Best Thandai: at Girjaghar chowk.
6. Best Chai: Lakshmi chai wala,Godhowlia.
7. Best Mallaioo: any, only in the mornings.
8.Best Sweets : Raj Bandhu.
9.Good bookstore : Indica bookstore, Godhowlia.
10.Cybe cafes/currency exchange/cellphone recharge/ticket reservations/cheap accommodation : Bangali Tola near ghats
.
11.Best food with music eatery : any Bread of Life bakery, and a few others.
12. Free food/langad/bhandara : Annapurna temple and some other restaurants near the ghat.
13.Things to buy : Chillums (from rs. 10-100 for the regular ones, Godhowlia market), silk (rs.300 for scarves, Govt. emporium), flavored/scented Paan masala (rs.30 for 50 gms, Godhowlia), Black horses's horse shoe.
14. Local sightseeing: Ramnagar fort, home of Lal Bahadur Shastri, Durga temple across the river. Sarnath, 10km away from the city. Banaras Hindu Univ. campus and its own Vishwanath temple, Sankatmochan temple (lots of monkeys,), Kal-bhairo temple within the city. Cycle rickshaw charges rs.10 per person per km on an average. Boat rides are rs.50 to rs.100 per person or rs.100 /hr.