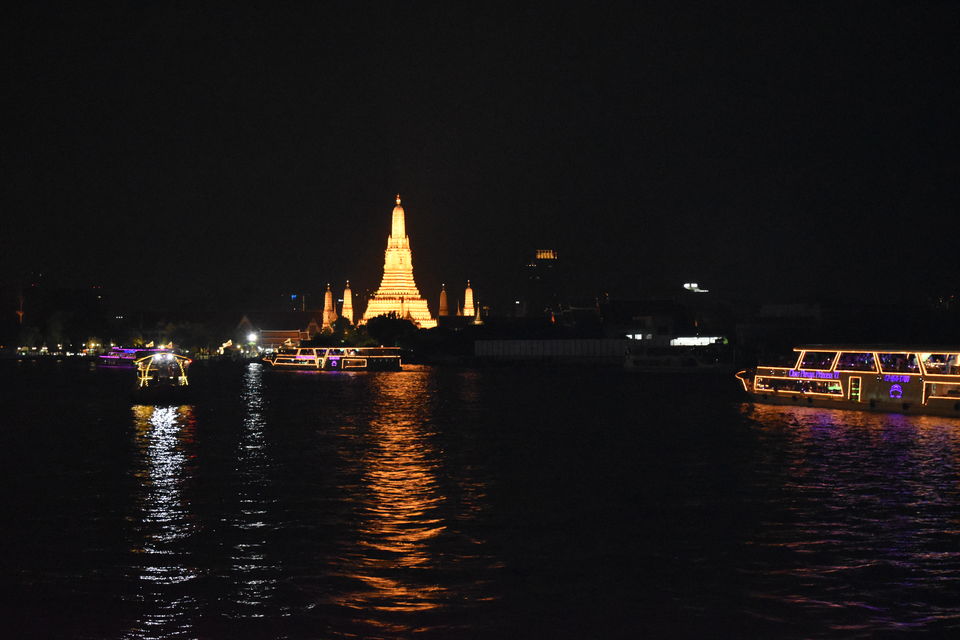 Famous for its unbeatable night life, magnificent skyscrapers, pocket friendly luxury and massages, capital city of Thailand has much more to offer! When it comes to traveling to new cities or country, I plan a lot and invest quite some time on detailing the itinerary so that I can visit maximum number of places in the given time. However for the first time, I forgo the idea of going through internet to dig into famous places to visit or eat, instead I thought to explore Bangkok on my own and let me tell you it's much more fun this way.
We arrived in Bangkok late evening, since Indians have provision for visa on arrival, it took us some time to gather our visa (Visa on arrival for Indians was free till 31st Oct and we took express way – paying extra 200 BHT/person to get away from a huge line) at airport. The journey from airport to our hotel was very pleasant considering the whole city was beautifully lit and devoid of traffic. Imagine your surprise when you can see entire city through your room – yes that's exactly what happened with us! I never imagined having such a room with a glass wall where you could just stand and bask in the enthusiasm of Bangkok.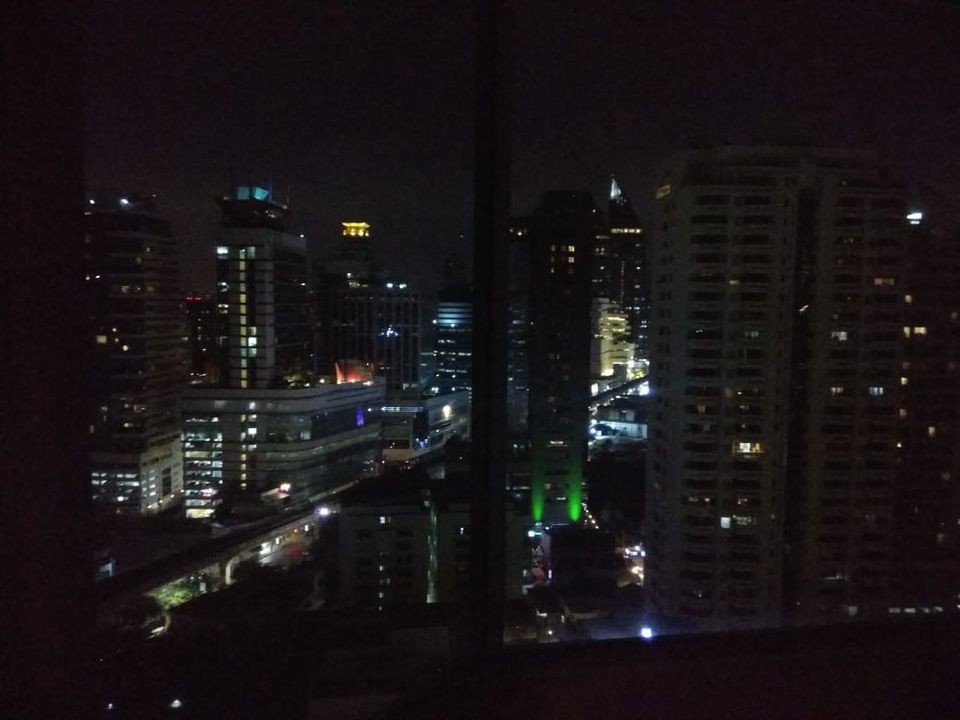 The night was still very young when we left our hotel room in search for food. Sukhumvit was bustling with energy, music was blasting from various night clubs, street food shops were full of people and there was so much energy and vibe surrounding the entire place. Amidst this, we found Dubai restaurant with quaint ambience, welcoming staff and mouthwatering delicacies.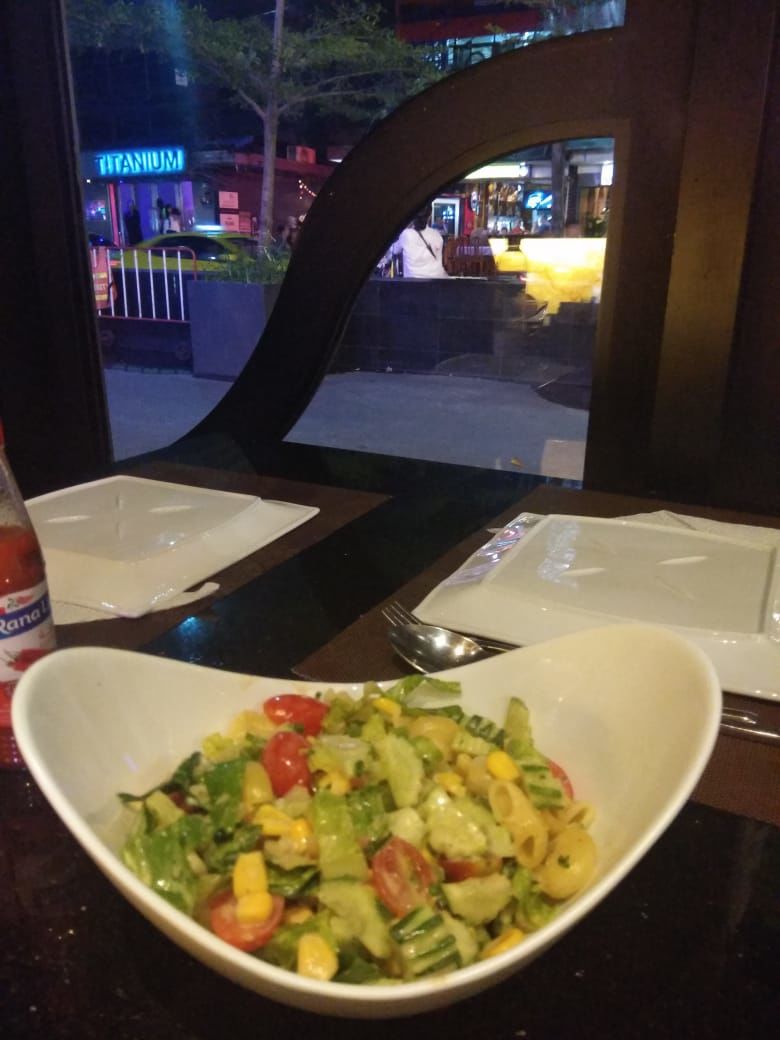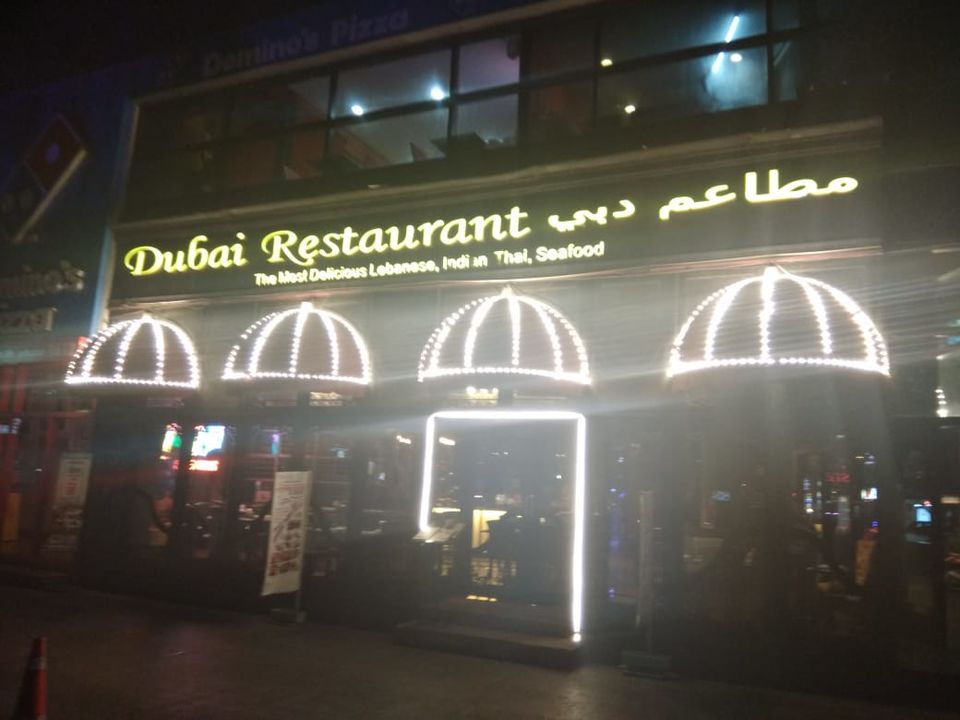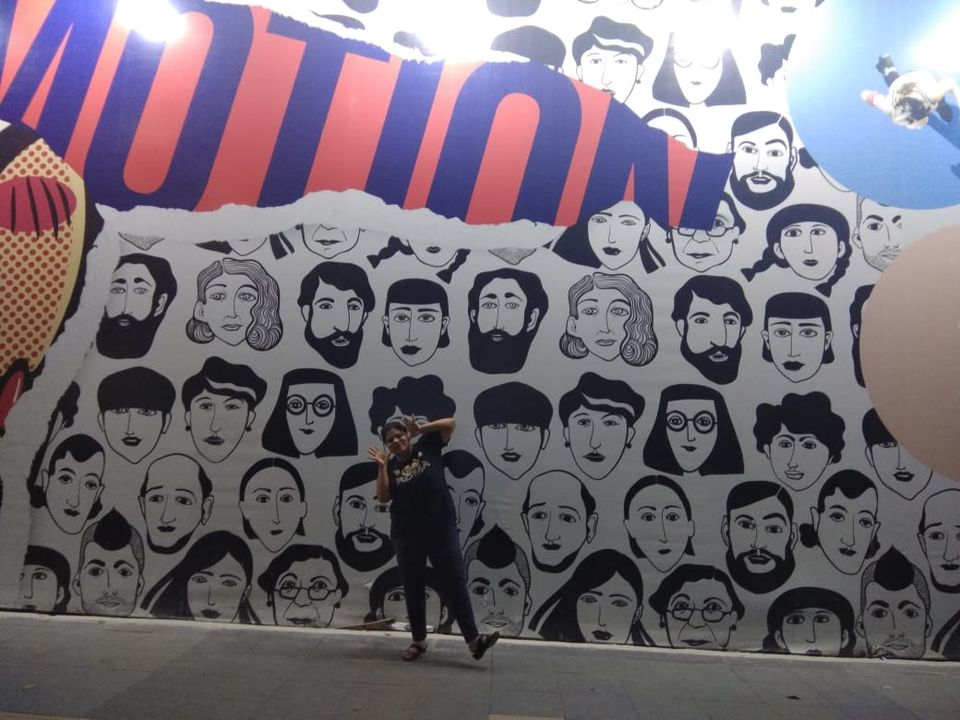 After a relaxed dinner, we went for night walk to just explore and enjoy the beauty of night. It was interesting to loiter around midnight, it seemed the most normal thing to do as against Delhi from where we had come from. It was during our midnight stroll, we came across street art that captured my heart. It is moments like this which makes travel interesting because this is not something that people mention in their travelogues or on the things to do while you visit so and so places!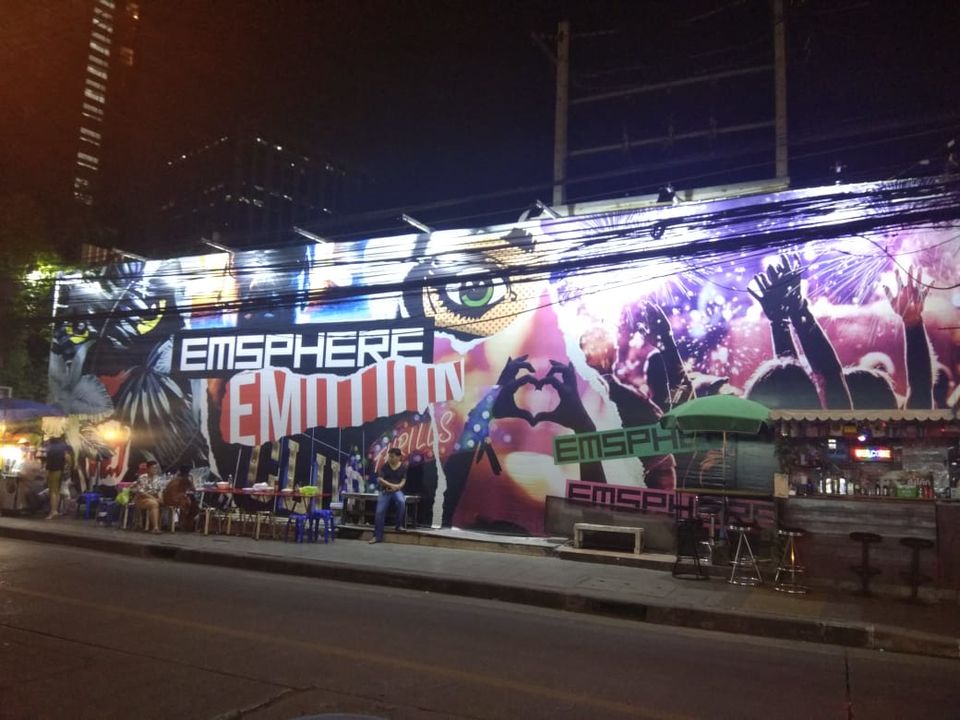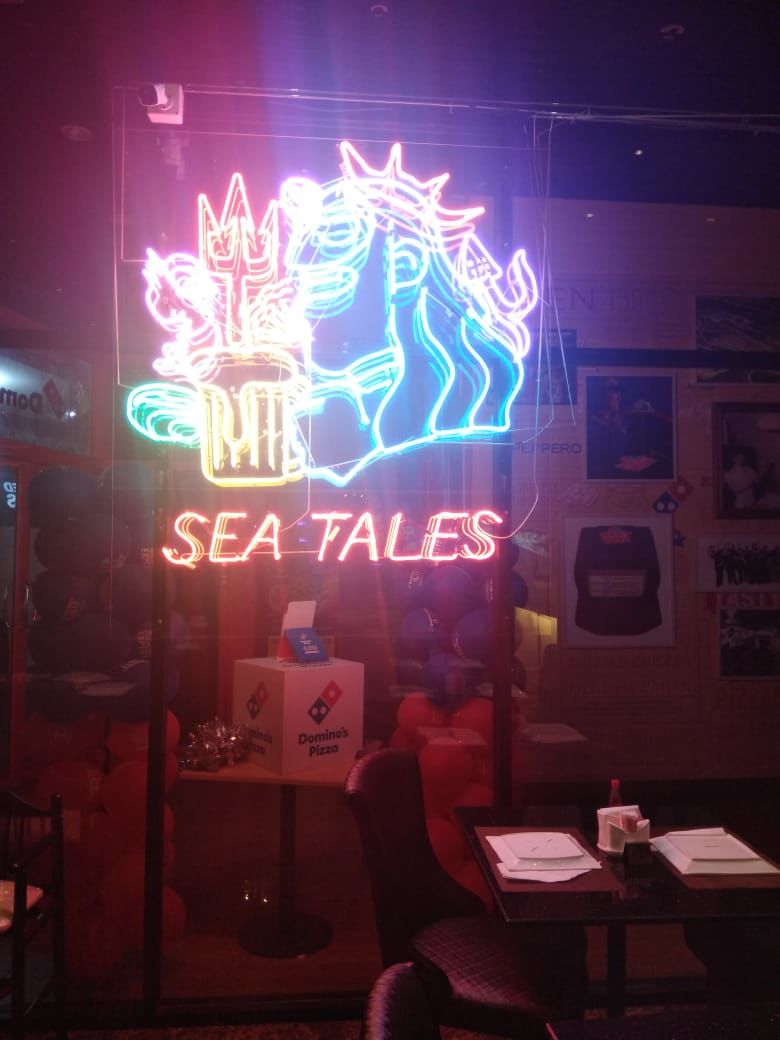 Before calling the night, we found this cozy tiny family mart with a café that was practically inviting us. And how can anyone say no to a coffee especially in night!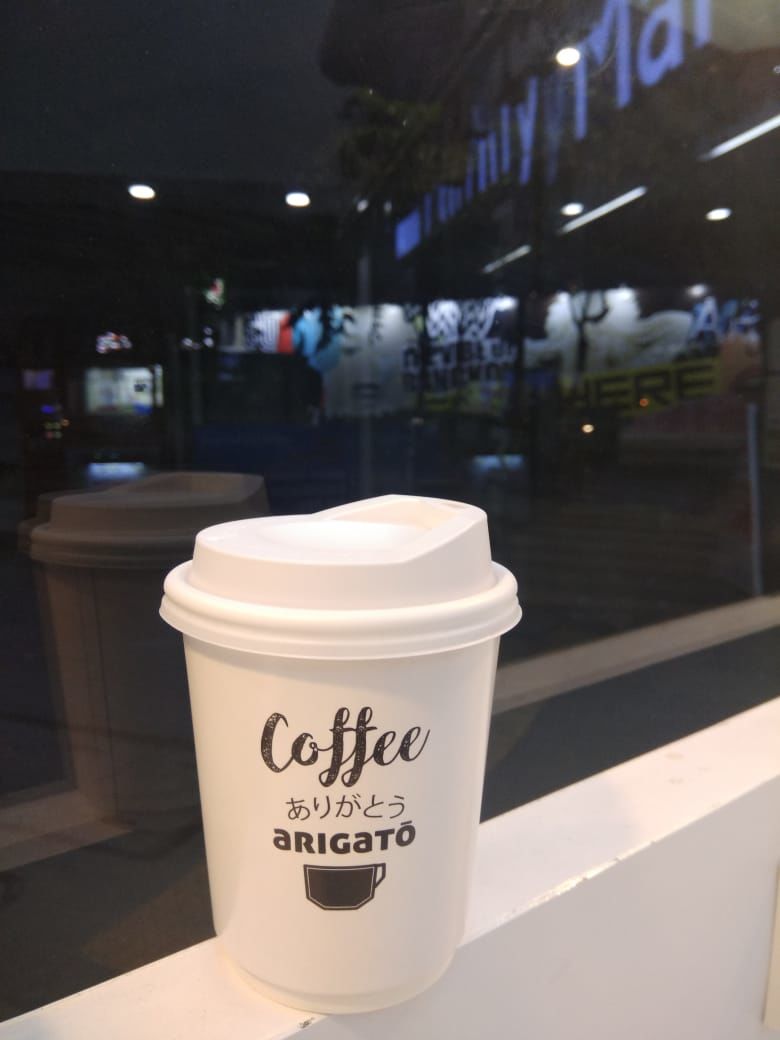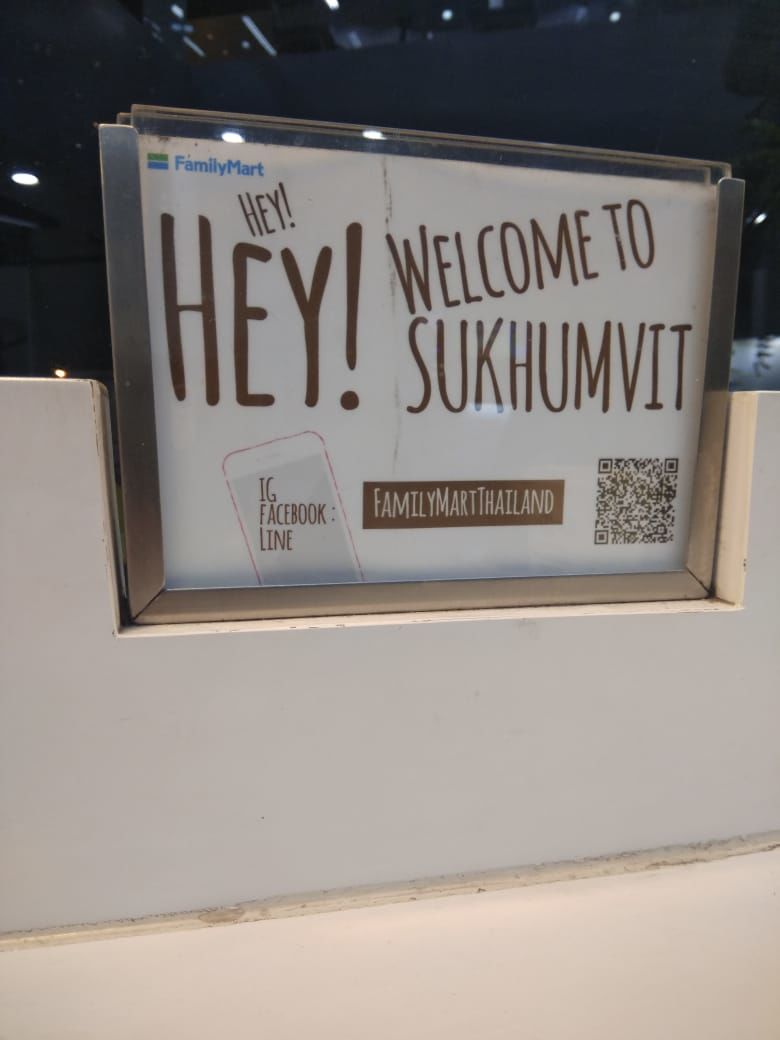 While exploring the neighborhood, we stumbled upon Benjasiri Park – a beautiful surprise surrounded by skyscrapers and hustle bustle of city just few steps away from BTS Skytrain at Phrom Phong. The park has a large image of Queen Sirikit in gold at the entrance, quite a few modern art sculptures and lush green area with a central lake. This seemed like an interesting irony where nature seemed to be captured in the man-made concrete world.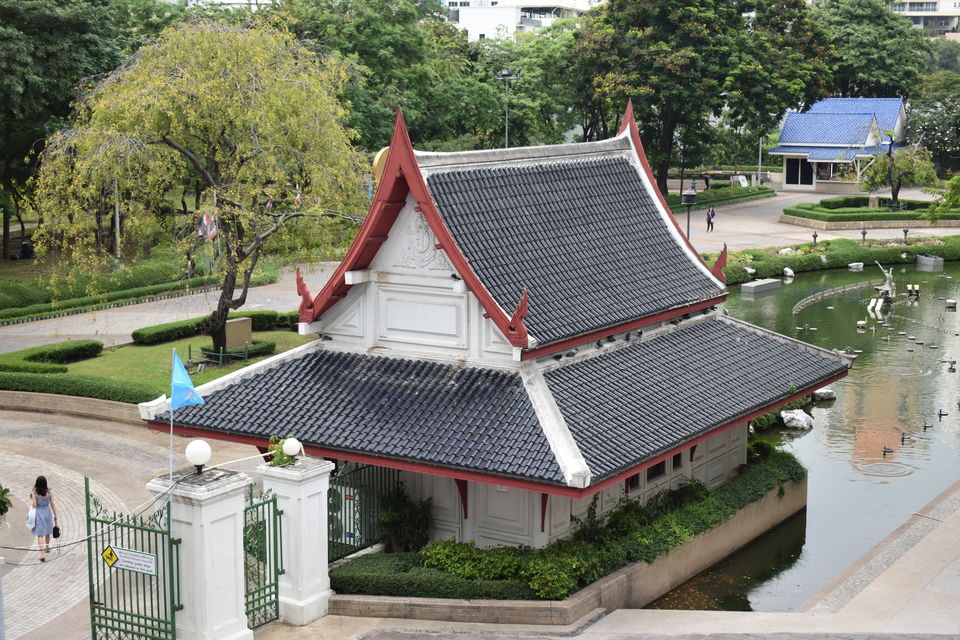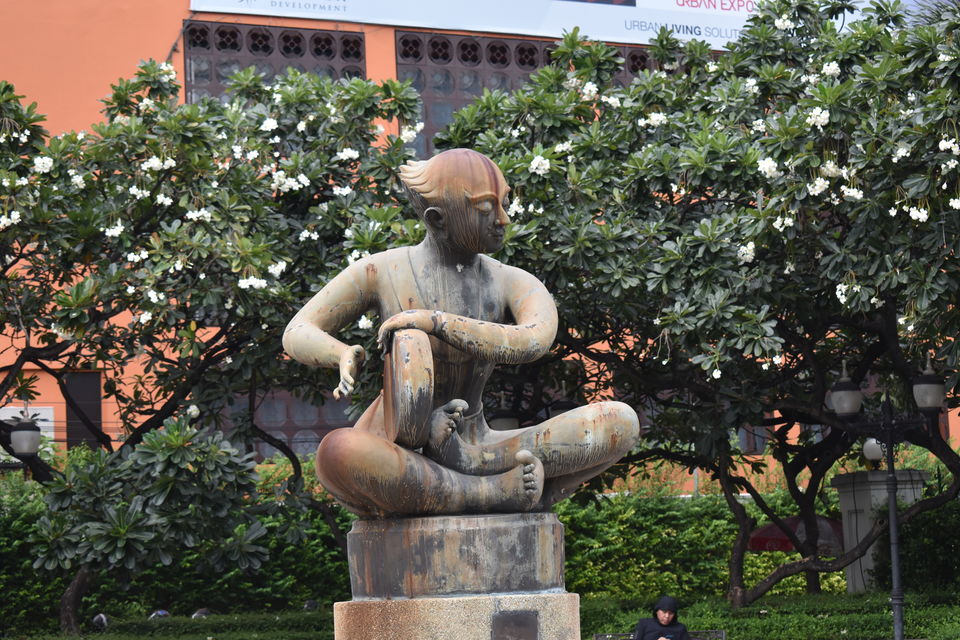 Another interesting thing about Bangkok is that you will find Starbucks almost everywhere. So, to take a break from our street hopping, we indulged in Mocha and lip smacking almond croissant.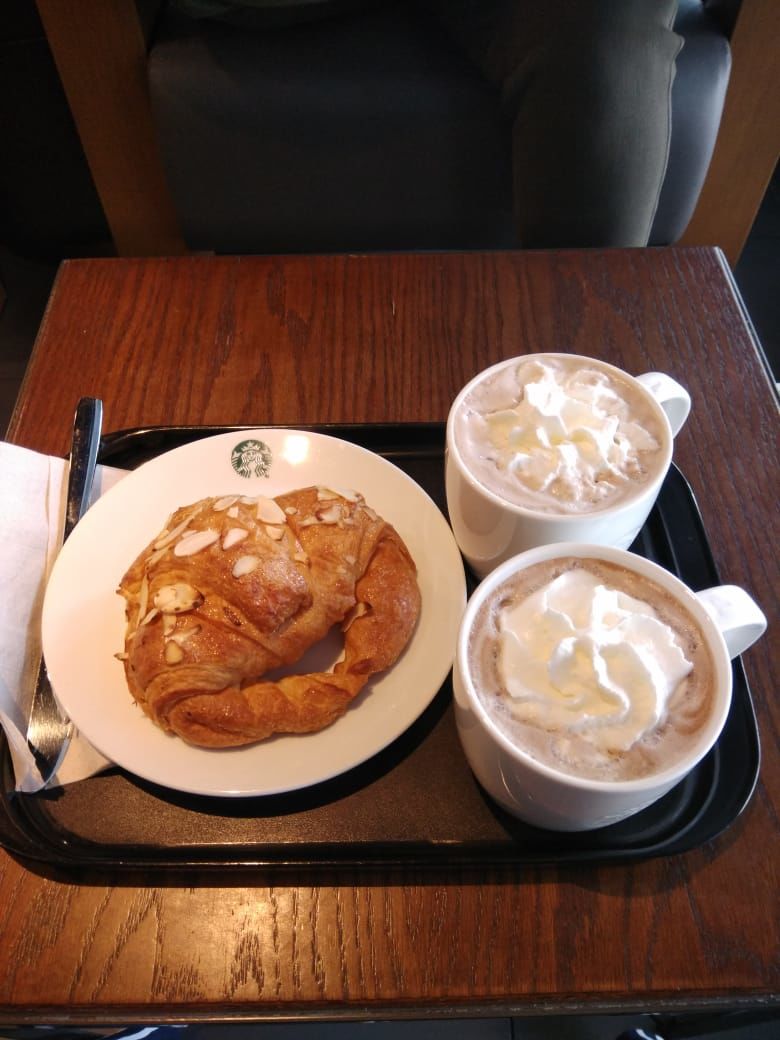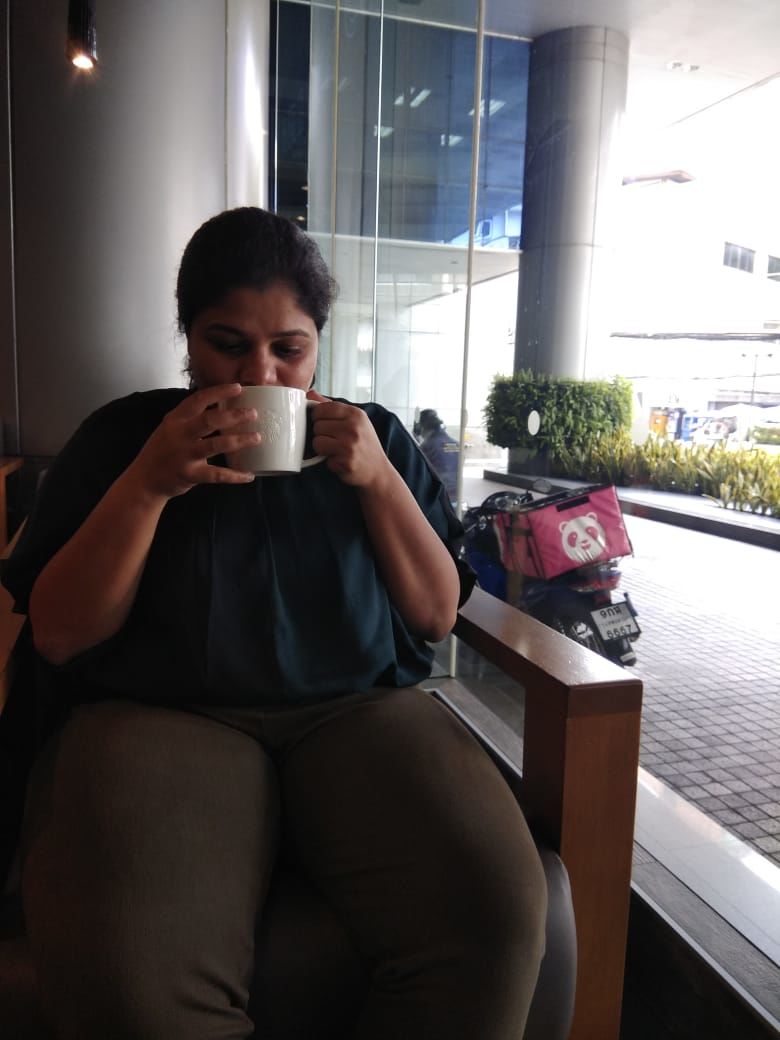 We went to Asiatique The Riverfront in the evening which is an incredible fusion of outdoor shopping center with the fun that people love about conventional night markets in Bangkok.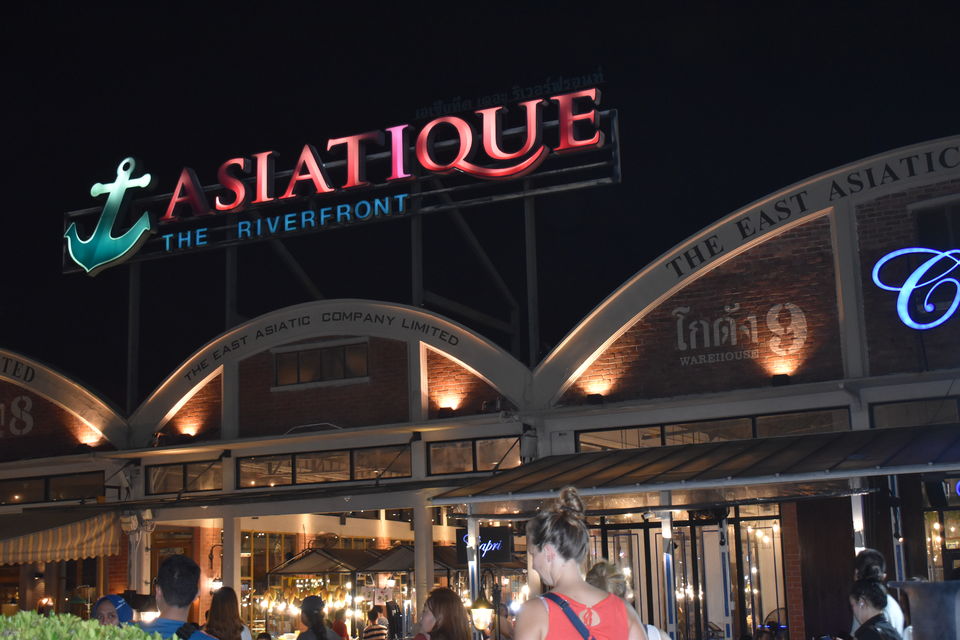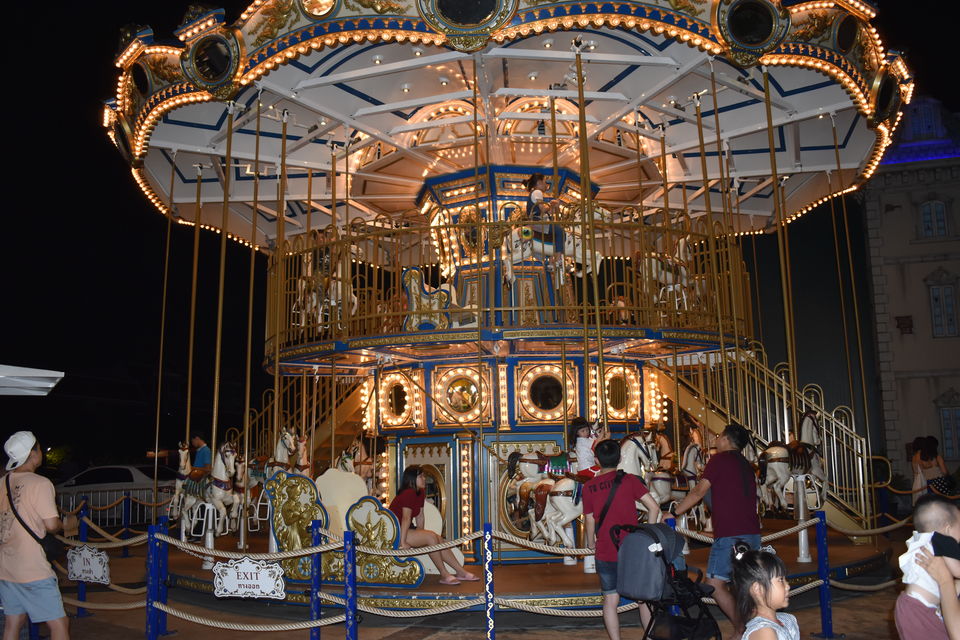 More than thousands of boutiques, dozens of restaurant and bars, nightly performances in the cultural theatre, ferry wheel and incredible riverside view, you would never know how evenings here flew by.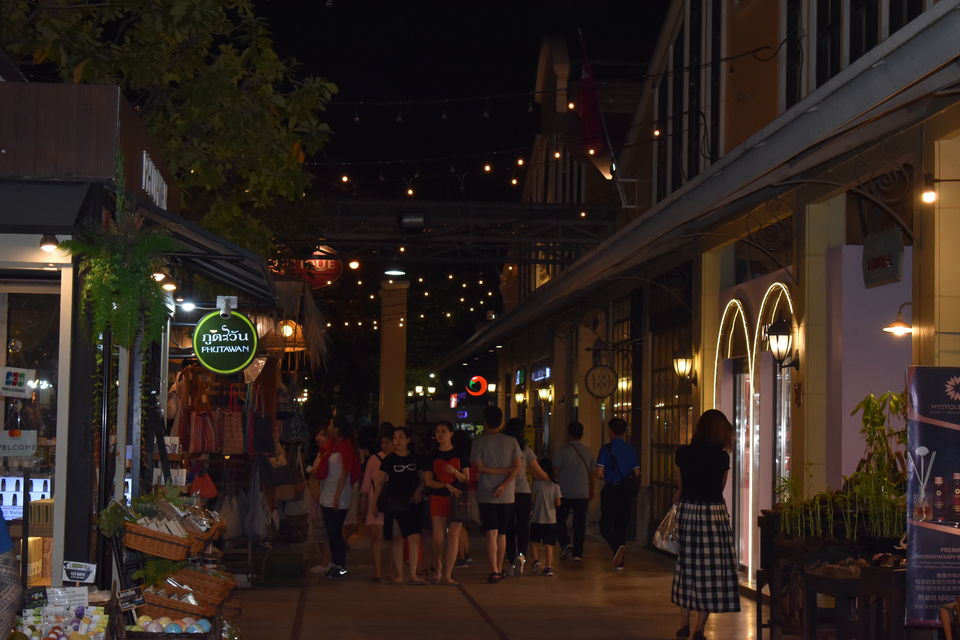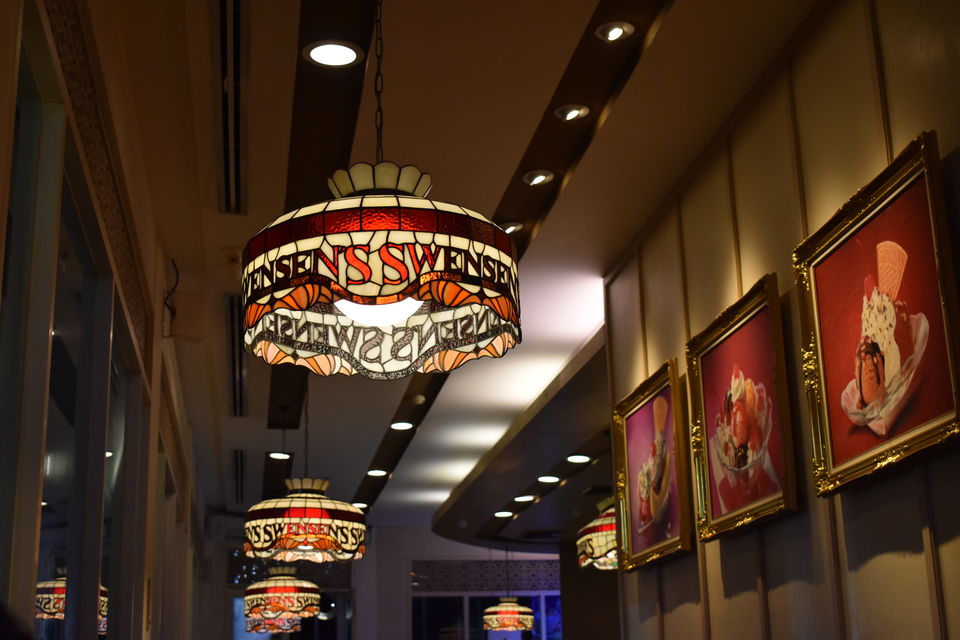 In order to avoid traffic, we took BTS train to Saphan Taksin station, followed by few minute walk to Sathorn Pier and then a dreamy 15 minute boat ride along the Chao Phraya River to Asiatique Riverfront. There is also free shuttle service that run between 4pm and 11pm, and leave every 15 minutes but it can be very crowded in the peak hours.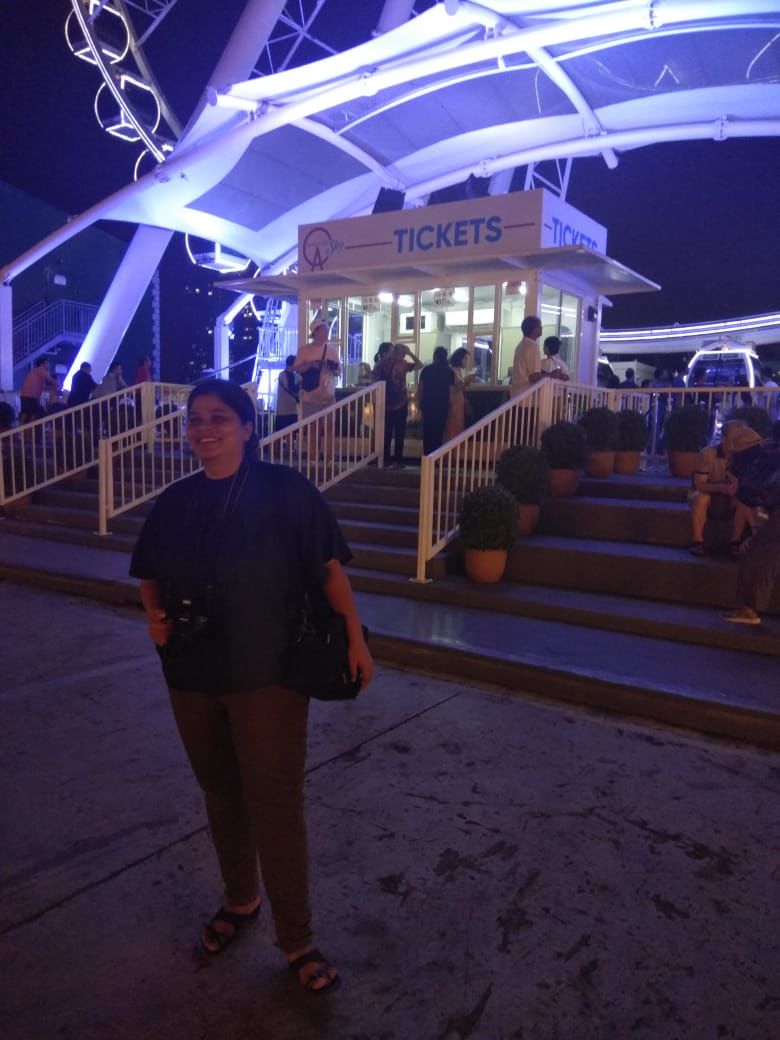 Asiatique makes the most of its attractive riverfront location with a sizeable boardwalk that enjoys pleasant views out over the water and across Bangkok's skyline. A 60 metre high ferris wheel, called Asiatique Sky (if you are daring enough) offers breath taking bird view of Bangkok city. This place has something for everyone whether one is looking for food, mesmerizing view, entertainment or shopping irrespective of pocket size.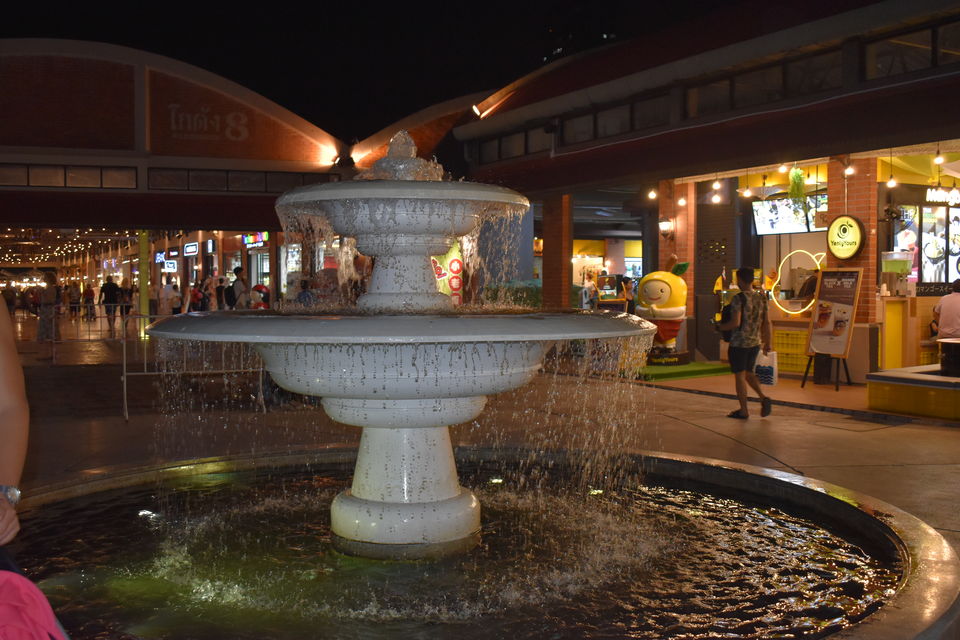 The day ended with a delicious chocolate fondue.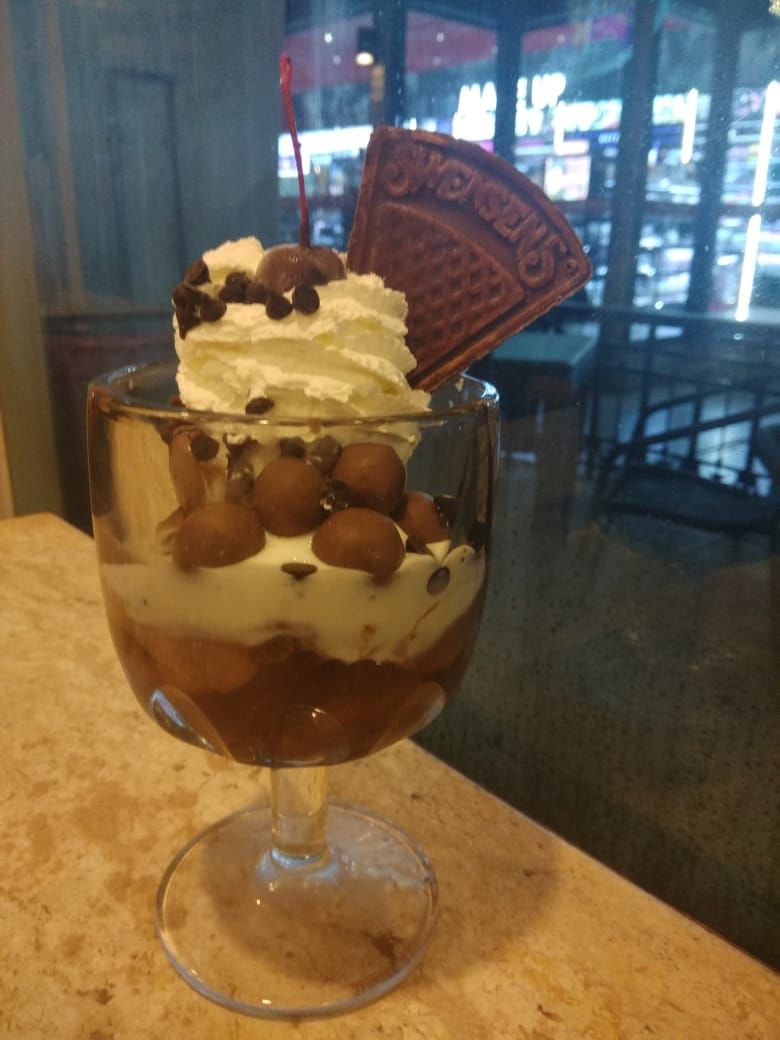 Terminal 21 fulfills your desire to travel across the globe while being in Bangkok with its unique concept of bringing world famous cities under one roof. It is undoubtedly one of the premier shopping destinations of Bangkok, known for its five-star food court, high-end shopping options, and elegant design. One of the best things about Terminal 21 is its architecture.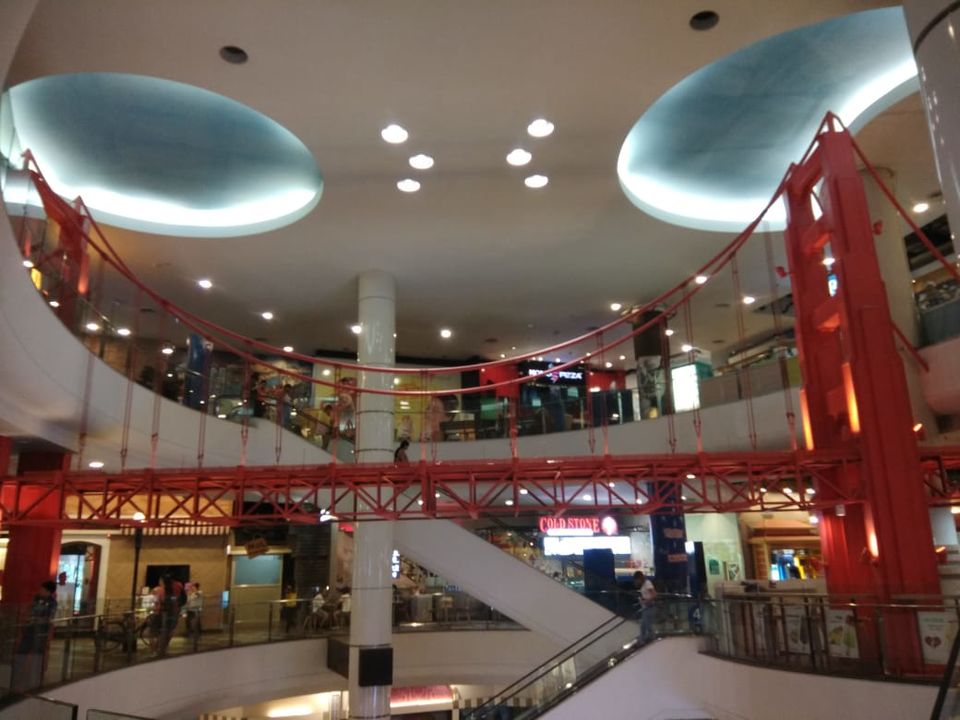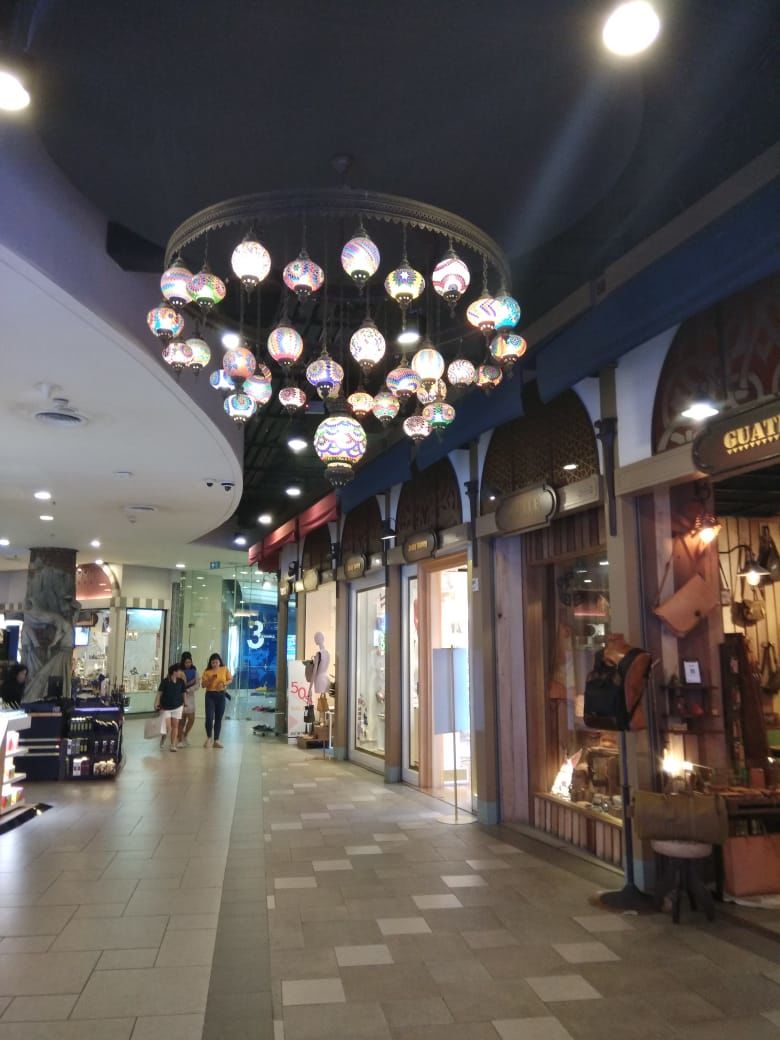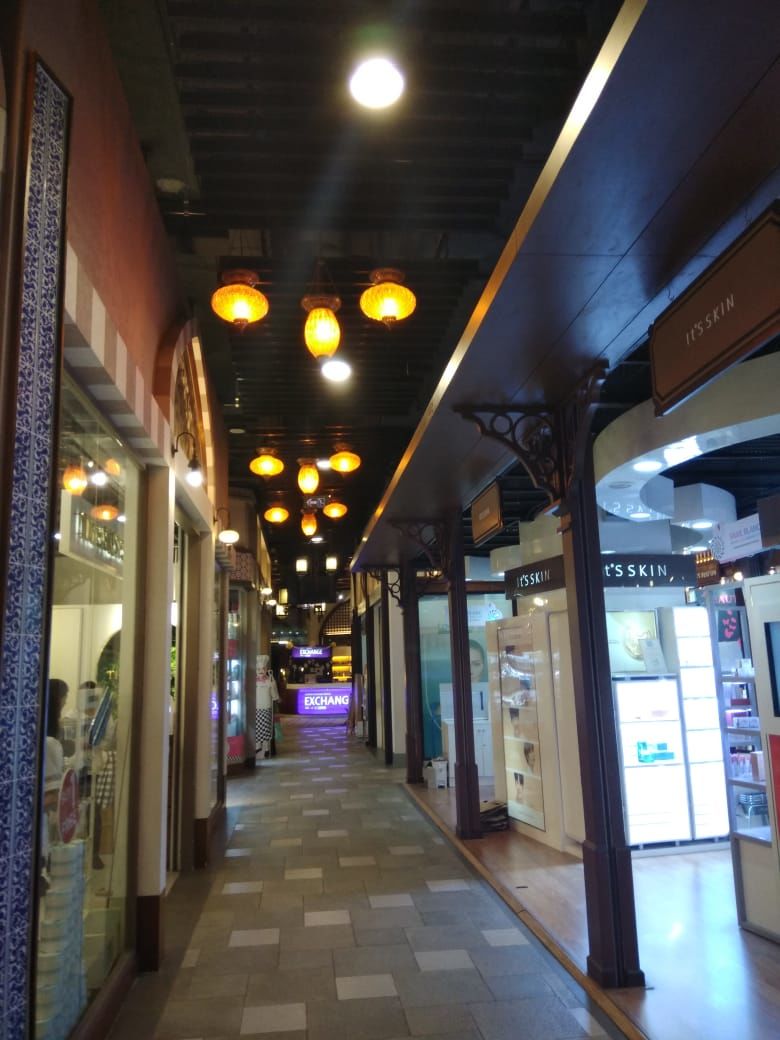 Even if you are not planning on doing some shopping, you'll still want to stop in and take a quick tour of what Terminal 21 has to offer. Each floor is a different theme, and everything from the decor, to even the bathrooms, reflect that theme. It resembles a 21st-century airport, and the theme continues once you step inside. Floor signs signal the arrivals in particular cities, electronic display boards bring to mind flight information displays at an airport terminal and the information desk receptionists don air hostesses' uniforms
Lower ground floor has all of the colours of the Caribbean as well as a beach, anchor, and lighthouse. Decorated like classic Rome ground floor is a miracle of marble and glorious statues. Even the bathrooms have a large Roman-style fountain in the middle. Paris on M floor takes you to the land of fashion brands. The 1st to 3rd floors are home to smaller shops by local independent labels. Women's fashion is on the 1st floor (Tokyo) and men's on the 2nd floor (London). The 3rd floor (Istanbul) is for gifts, jewelry, fashion accessories, toys, beauty products and home décor. San Francisco on the 4th and 5th floors, where one can find more than 50 restaurants and cafés vying for your attention.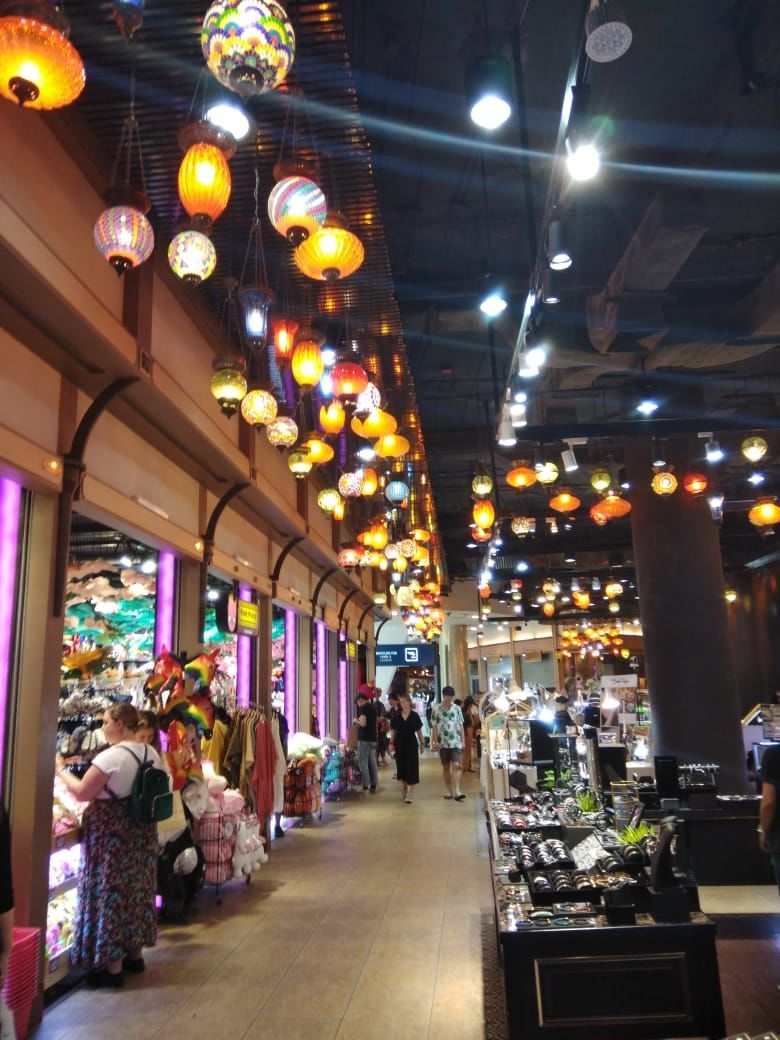 What I loved most about Terminal 21 was despite hustle bustle of people, one can find a cozy corner to sit and gaze at the lovely lanes built between the shops, iconic Golden Gate Bridge and cartoon characters her and there.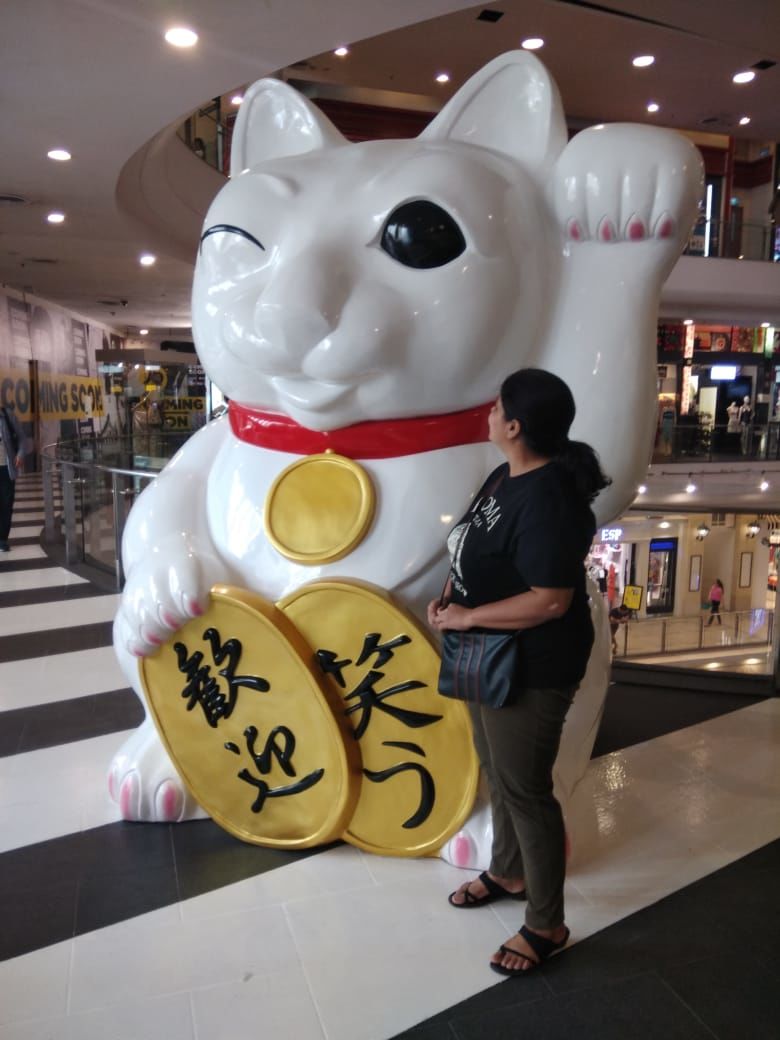 And while admiring the different views, we found a very beautiful café across the escalators giving peace amidst chaos.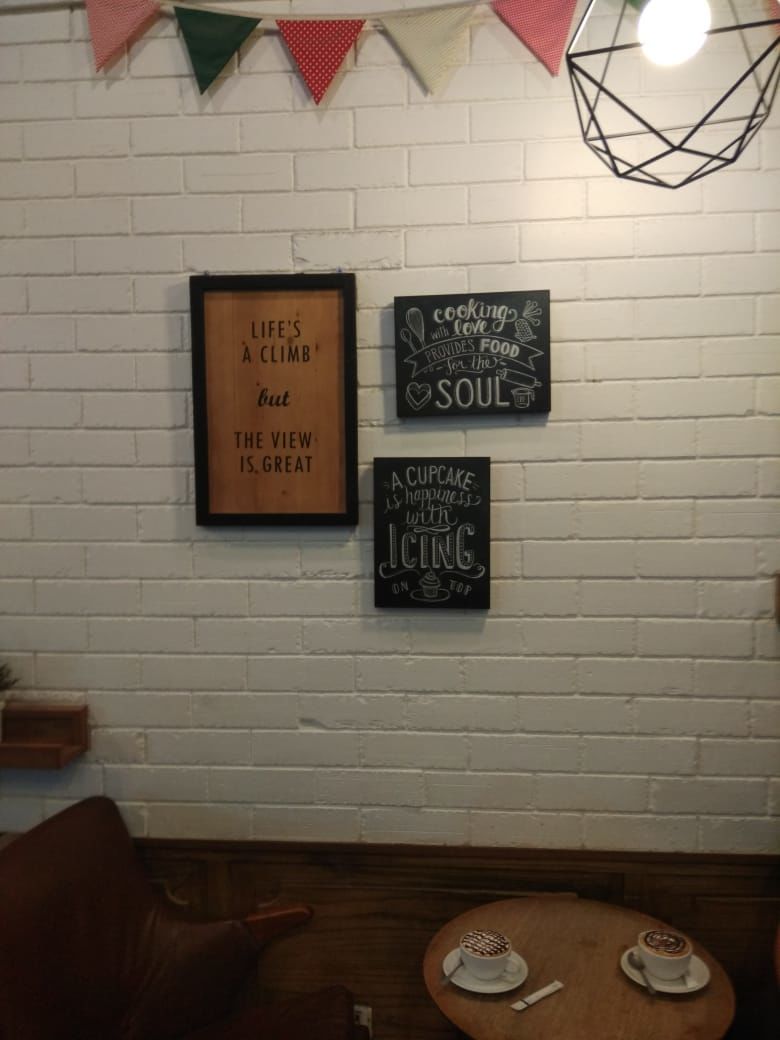 We ended up eating our favorite Mexican food taco salad from famous Sunrise Tacos.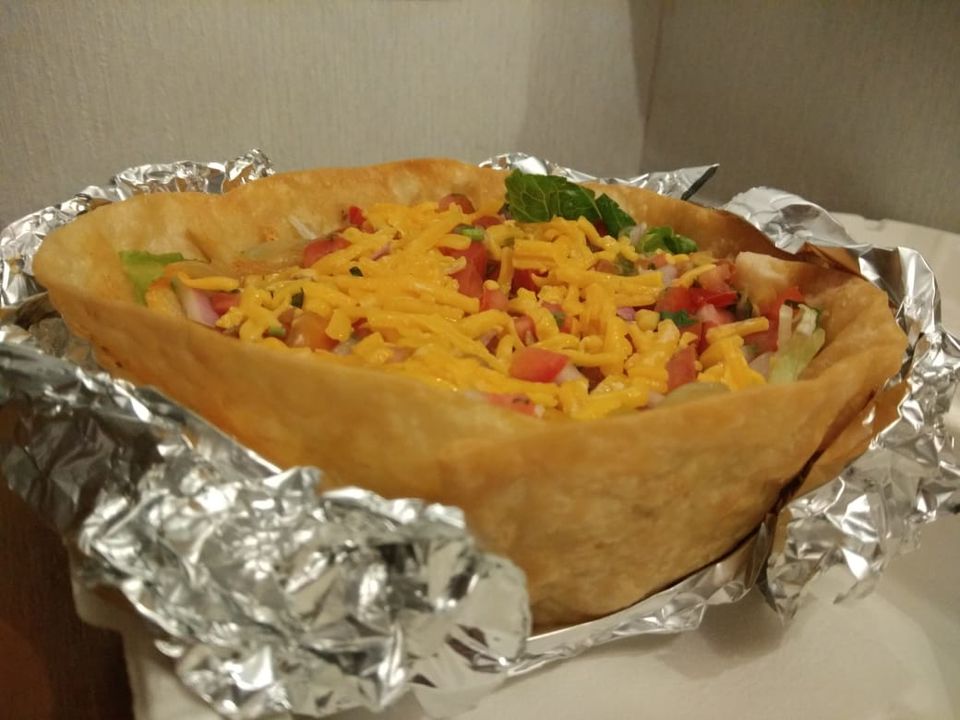 In the evening, we hopped on to Tuk-tuk – it was like a running disco club with lots of light, swag and music; honestly with its speed we had one hell of a ride.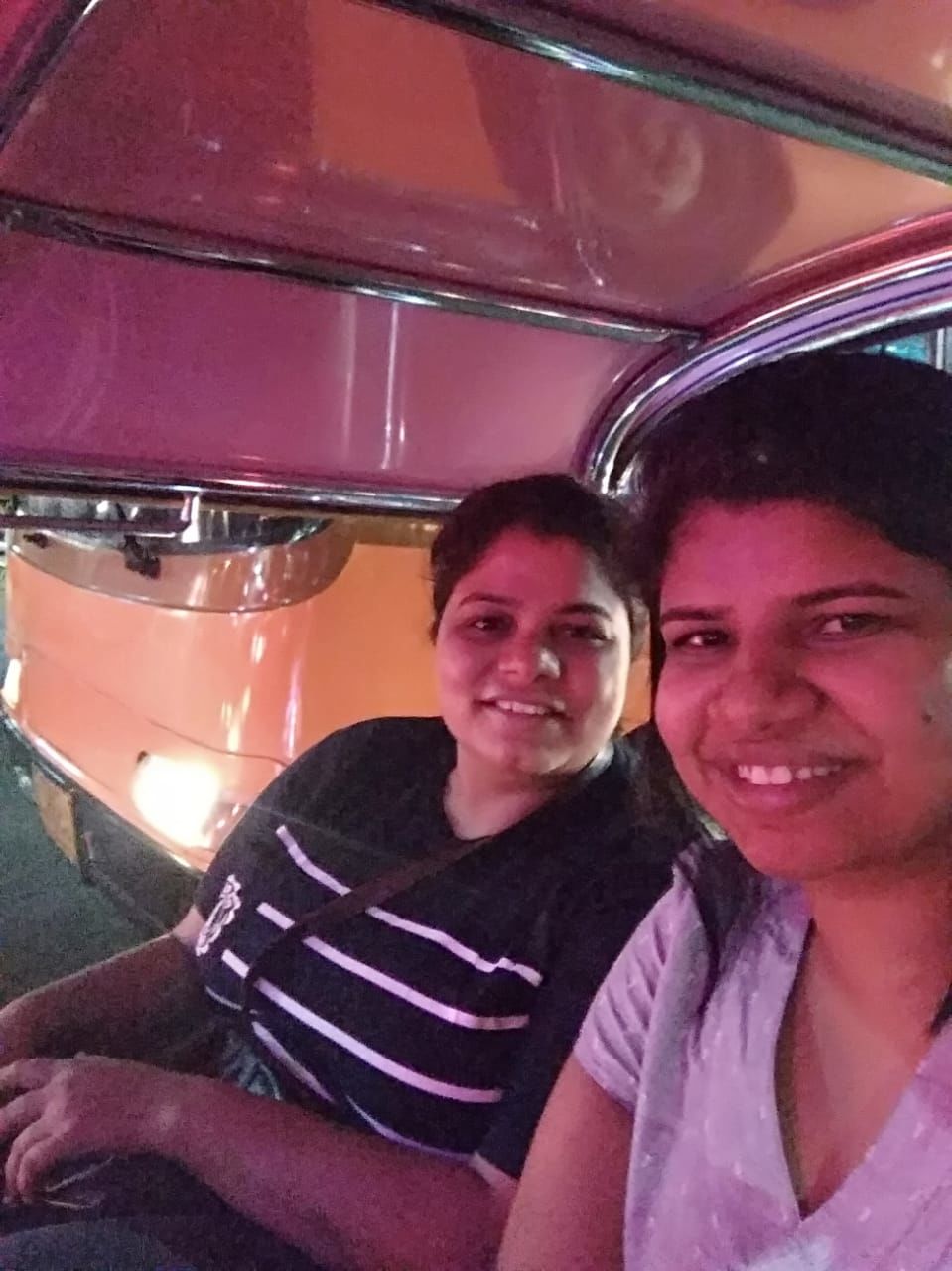 Our next stop was Artbox Bangkok which is considered as one of the trendiest outdoor markets. Located in Chuvit Garden, between the Asok and Nana BTS Skytrain Stations, Artbox has stalls in the form of metal shipping containers, while picnic tables and benches are scattered throughout the park. Sipping your favorite drinks from one of the bars, dig into delicious food from the food truck, grab a picnic bench and just enjoy the live music!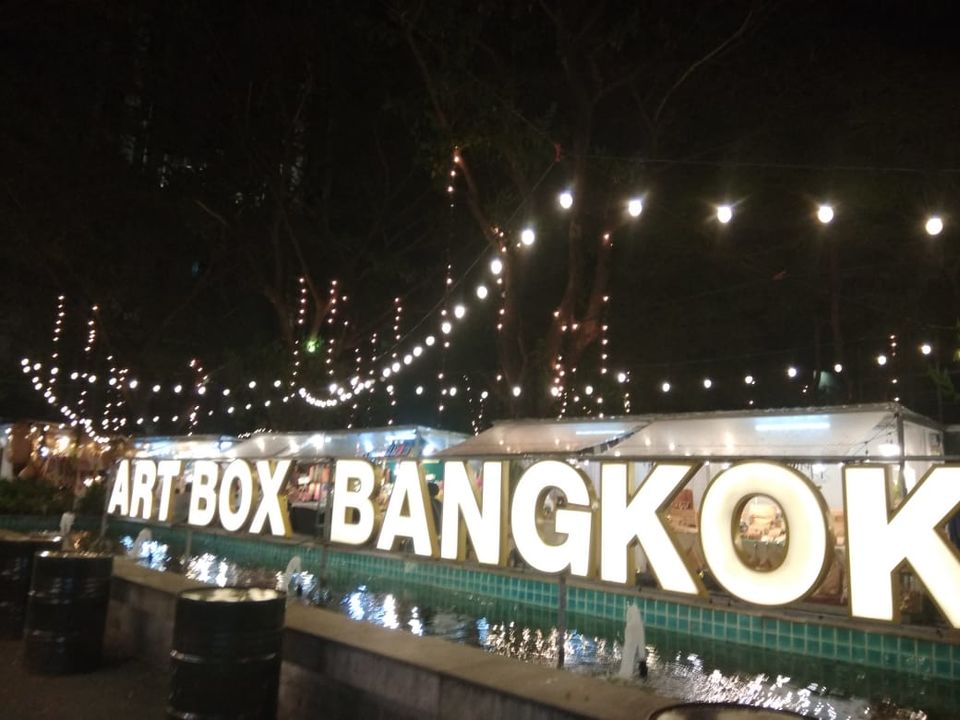 Sometimes when we search for things, we just forget to see around instead go far off to locate it- same thing happened to us. While we went searching for breakfast to many places, we simply didn't see German bakery Bei Otto and that is something I really regret! If you are in Sukhumvit then you must go to this beautiful little heaven that offers delicious and healthy breakfast with superb coffee that could give Starbucks a run for money. The bakery has so many varieties of croissants, breads, pastry and sandwiches that you feel like trying everything!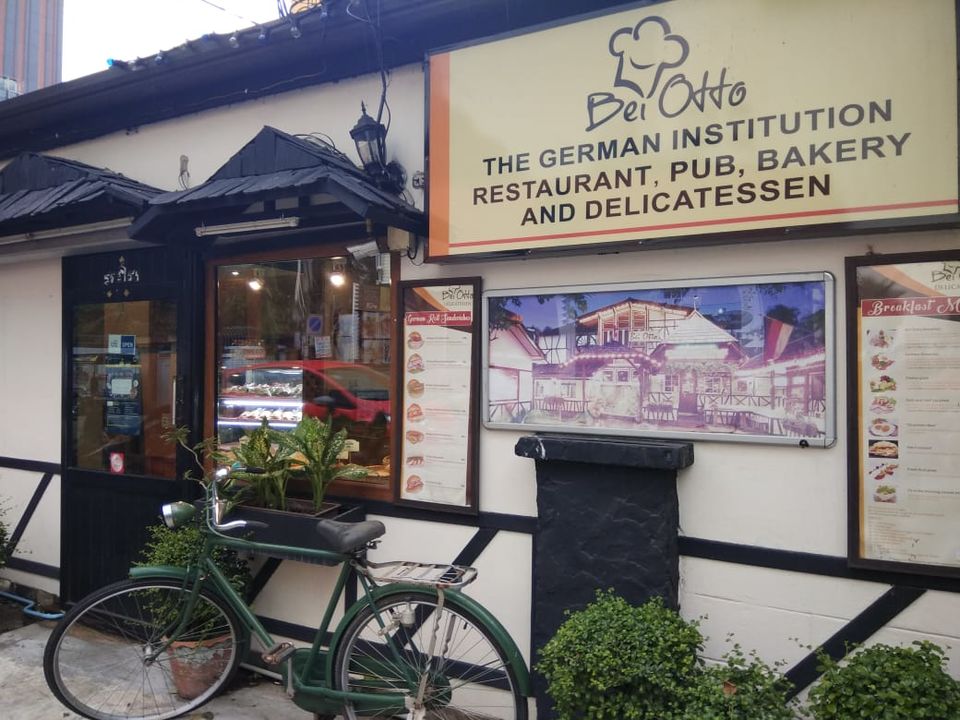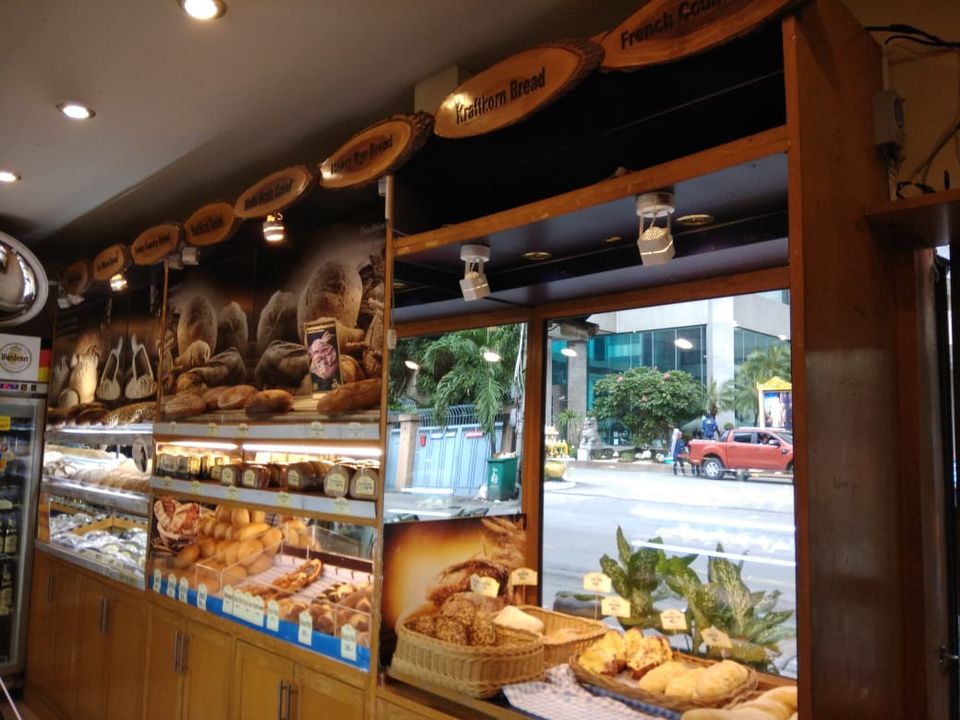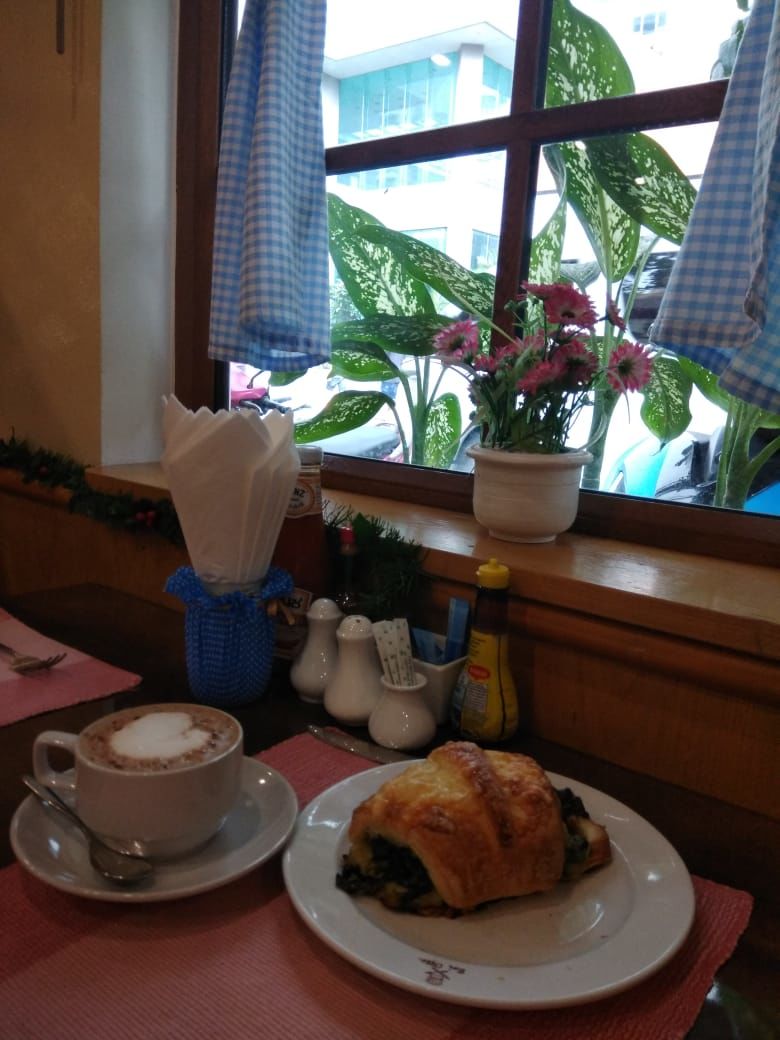 If you are in Bangkok, and you haven't tried massages then you have done nothing! Thai messages are god sent and it's a sin not to try one! You can find massage shops almost everywhere with every range of money. So, while hopping around the streets, we found this amazing place to indulge in massage and bidding goodbye to stress.
Our Bangkok trip culminated with luxurious and enticing Chao Phraya Cruise tour.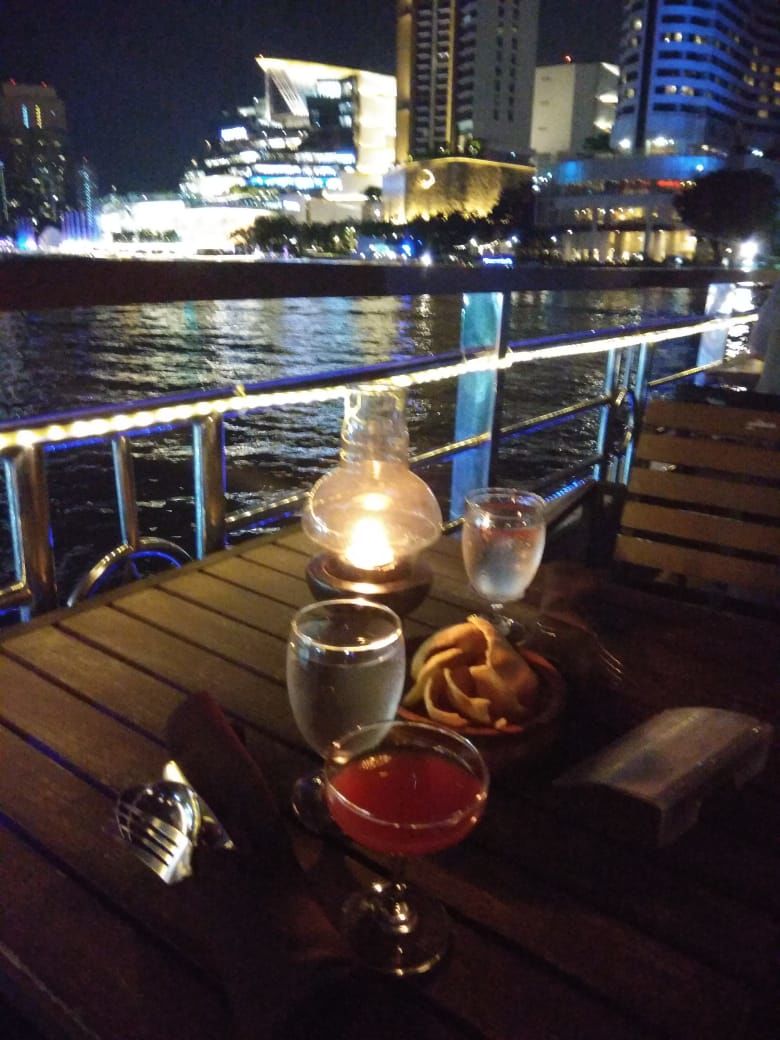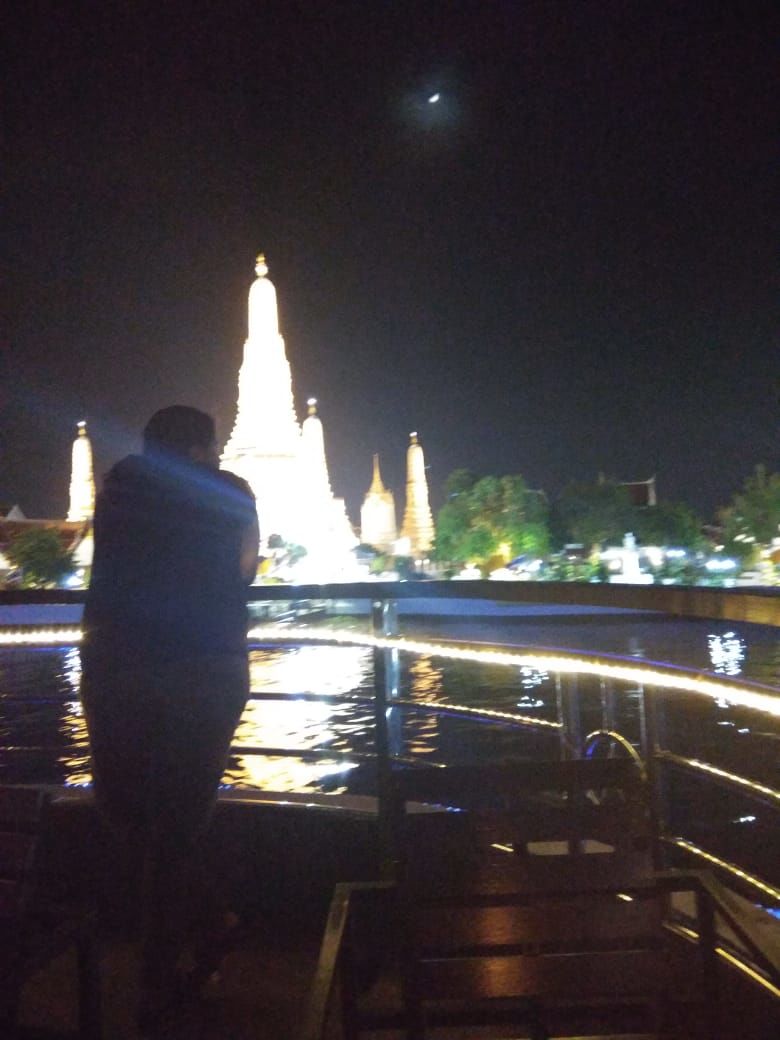 It is one of the experiences that I will cherish for long time. Historic temples and landmarks slowly unfold as dinner is served in buffet style, and a live band and professional singers entertain the crowd with a varied performance.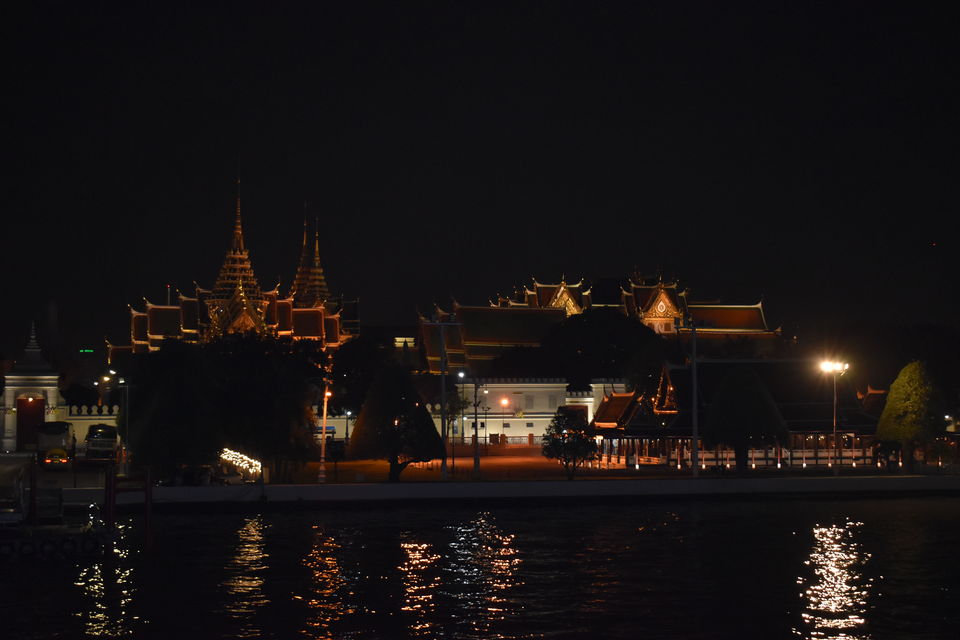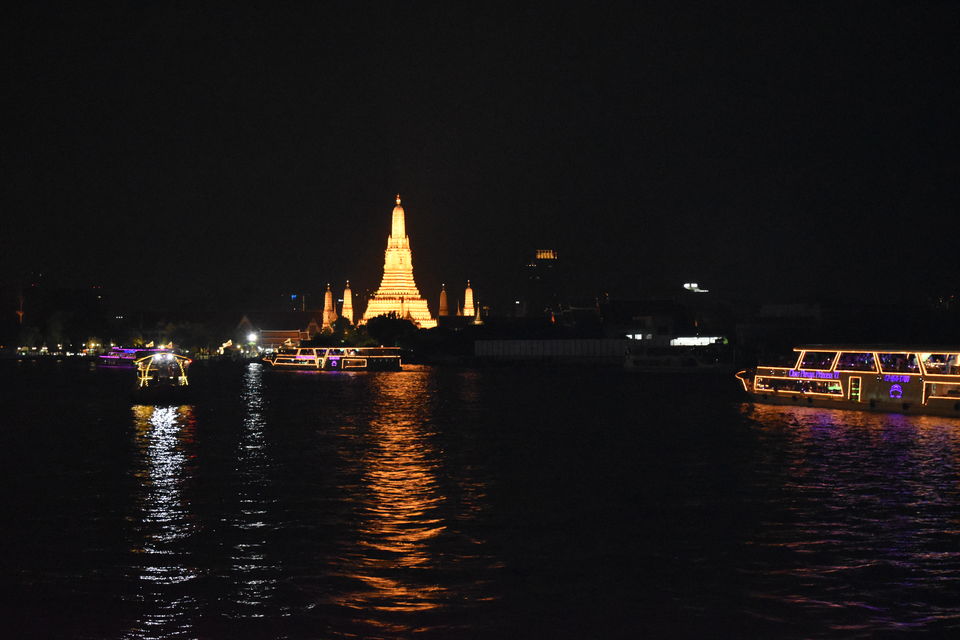 While I experienced the city in night light, river waves hitting the cruise softly, I could find solace this city of joy and charms.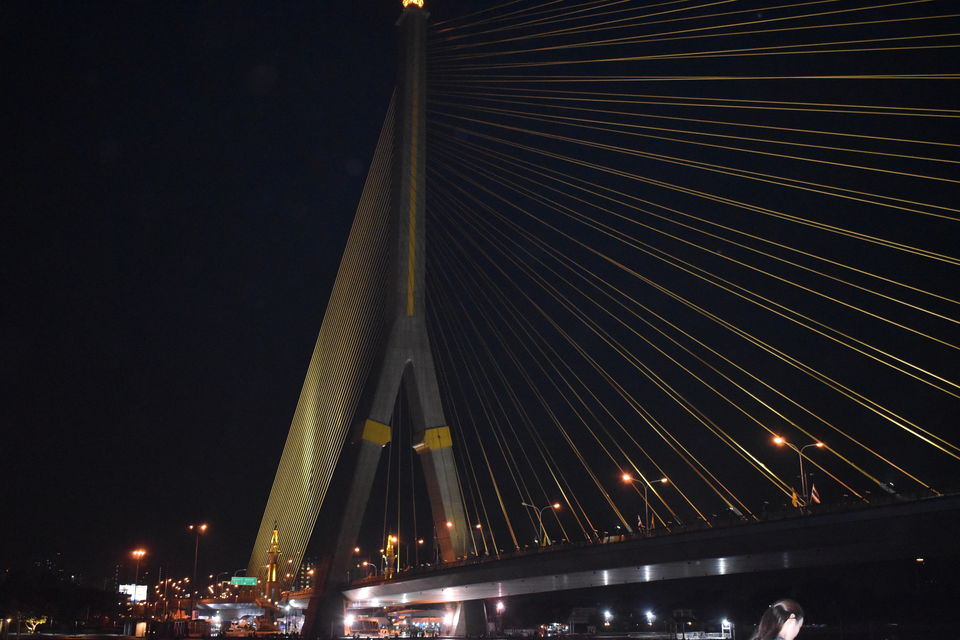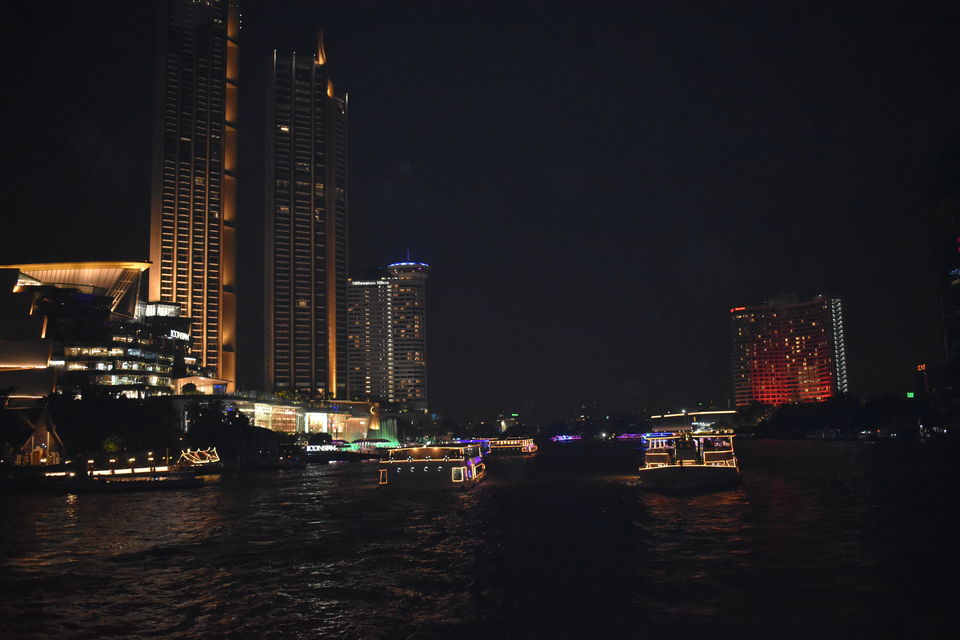 So though Bangkok gives an impression of skyscrapers, loud night life it has so much more to offer.