The fact is going to Andaman and Nicobar Islands was never in my dreams. Actually I was thinking to go to Ladakh when Puru came into the scene and presented this plan. I was quite excited after hearing this, no matter what. I am born in India and have small interest in history. Our Independence fight was also carried from this small part of this world & I suddenly I wanted to see this place especially Port blair Cellular jail.
Puru's friend Vinay assisted a lot for this trip and he had booked everything in port blair for us in advance, so their was no hassel to search for anything. And so on 25th september 2018 we took flight around 5am which means we need to reach Delhi airport in between 2-3am and which means no rest, no sleep at all. Unfortunately there is no direct flight for Port blair so far. If you are travelling from Delhi then their may come lay over at Hyderabad or kolkata or Chennai. Ours was at Hyderabad where we spent our lazy time of 2 and half hrs by eating and roaming at Airport.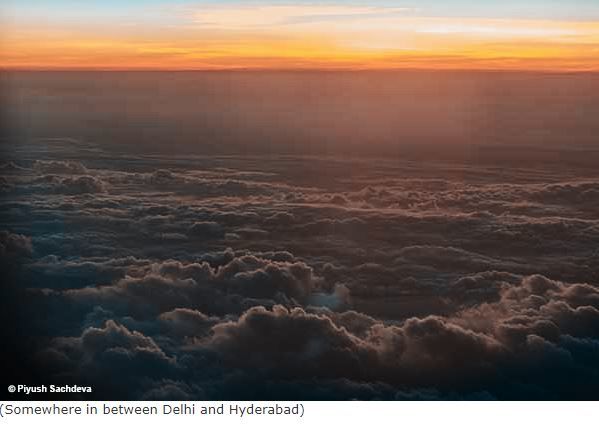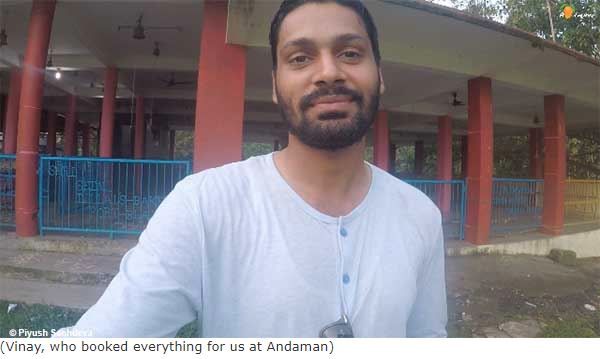 A secret is, I hate to fly actually. But to reach to Andaman islands, ofcourse one need to take a flight. For so long I had not looked over the window of plane whenever I got chance to fly but this Andman, changed it all. The moment we were near to Port blair, I just looked over the window.. ahh what a scene it was. Yeah I can take 1000s more flight for such mystical view. Those fluffy clouds, Tourquiose ocean, Blue sky.. took my heart.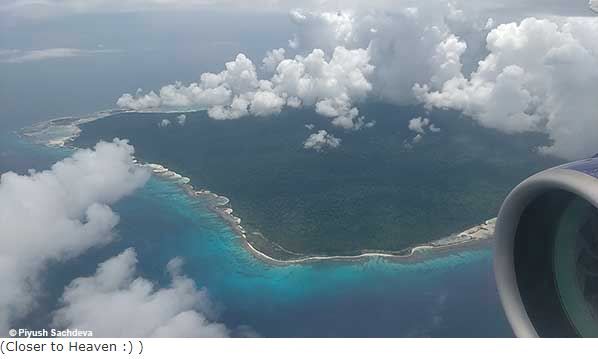 Thankfully flights were running on time and we reach Veer Savarkar airport (port blair) on time. We were greeted by thunderstorm and rain and sky was cleared in minutes. So I got the idea how the weather can change here quickly.
After having lunch and with no rest, we reached to Corbyn's beach - which is the main beach area of Port blair, Vinay suggested an alternate plan and that was to go to Baratang island as we were having brand new SUV with us (from his company) and it can be used in better way for next 2 days. Now this was never in our plan. I was ready for Andamans islands just for relaxation by passing lazy time at beaches and this plan going to give jolt to it with ritcher scale reading at 9.5 something :D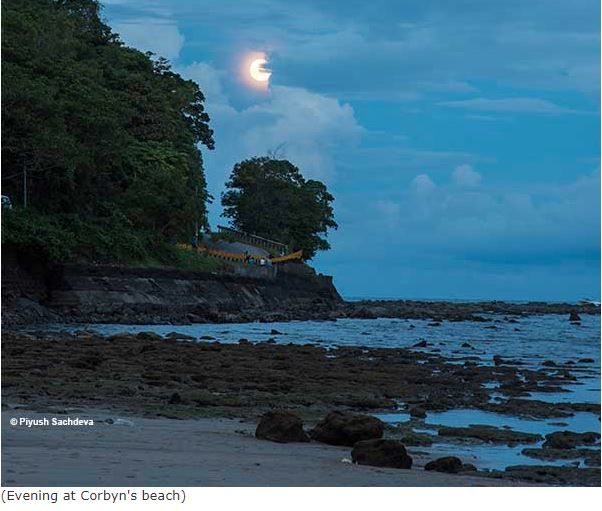 But to explore the area which was never in plans, is what always happen in my life. So after quite a discussion, we said "Yes" and Vinay throws another Atom bomb on us. If we need to go to Baratang, one have to rise up in the morning around 3 am which means litterally no sleep at least on my books as I ususally sleep by that time :D ... so that means no rest for 48 hrs straight (from the time of flight)... pheewwww... But now we had made our mind that we will go.
So around 3 am we once again started our journey towards Jharawa forest reserve check point. We have to reach their by max 5.30 am so we can join the convoy. Jharawa forest reserve is said to be the hostile area as Jharwa tribes still lives their and they can attack any car or truck if not moving in convoy. It was kind scary and yet to all young minds like us, was exciting as well. Though the distance from Port blair to check point is just 50km but roads are really in bad conditions. Thanks Vinay again, who took charge of driving here. Their was almost no civilization along this route, just a small home, hut somewhere which comes after 15-20 minutes of ride. Electricity is generated by generaters. I started thinking that we were going to jump in past once again. Light slowly started engufing the darkness and by 5 am, some clear view of this route we got to see. For so long we were travelling in deep Jungle. Jungle so dense that I never seen in my life except in Rambo movie when our john rambo stuck in Veitanam.
Ofcourse, it was not a fight, but their should be no problem in thinking yourself in some mission like him :D ... mission to explore :P
On reaching the checkpoint I found huge traffic of taxis, cars, trucks, buses already in line. Ok, so I had to leave the dream of being John Rambo on mission to explore. Their are already thousands on that mission. The First convoy start at 6 am and you need to fill the forms and permits (no charges are their so far). This check point had few road side hotel but not in good condition (year 2018)...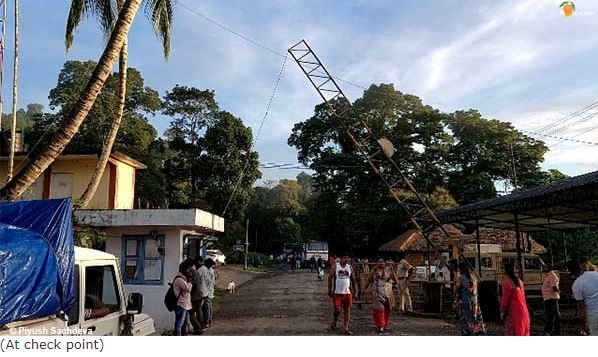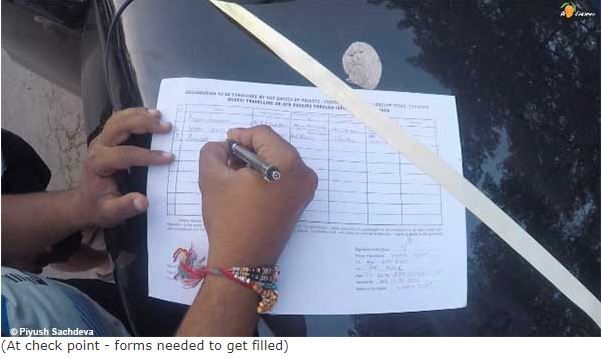 Numerous boards regarding Jharawa tribes were their, maps, telling us what to do and what not to do. Proper announcement were made regarding the driving standards and their were strict instructions that nobody going to overtake and no photography or videography is allowed. Your car windows should be closed as something these tribe get hostile and can throw arrows and attacks the vehicles. On asking the local truck driver regarding it, they also confirm that they sometimes to attack to big vehicles like trucks and buses. Enough to give goose bumps to us.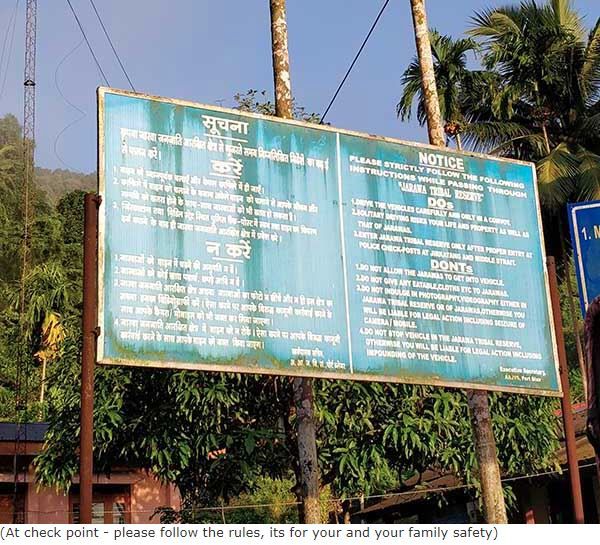 At 6 am the convoy started with a Police jeep in front and one must be at last of it. As we went inside this Jungle, it becomes more dense, now the idea of John Rambo thing was out of my head and the only thing came to my mind was, let's reach to our destination safely. Fortunately, we also saw Jharwa tribes on the way. They were all black, black like blackest night. no cloths on them, with their bows and big arrows and spears sitting by the side of the road. Looked like some giants, must be around 6.3, 6.4 feet in height with their tight expressions on their face like we were actually the intruders in their home. A women with kids, just came up on the road to had a sun bath I felt after taking bath in nearby pond. Oh, how much I wished to get their photos / videos and car was in speed, and we cannot stop according to rules and so we moved on, but that picture will remain in mind until I leave this body.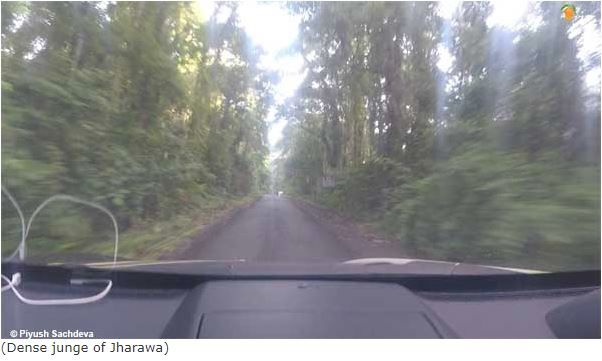 Though the distance is just 100km from port blair, but to reach Baratang, we took almost 5 hrs. Roads were extremely bad in condition (year 2018). We reached to baratang checkpoint and quickly took ferry for Barantang island. There is nothing in Baratang except to see the limestone cave and a mud volcano. And one cannot stay here for a night either. You have to get back to Baratang check point either by 12 pm or 3 pm. If you missed the last convoy, it going to be trouble for you. So be quick here.
For limestone caves, first you need to take the ferry for Baratang islands and after reaching there you need to take 30 min. boat ride to Mangrove forest which is really refreshing. Frankly once again, I had never seen such forest in my life. It was so exciting rolling into the woods. Your boatman going to guide you for the limestone caves so nobody leaves behind.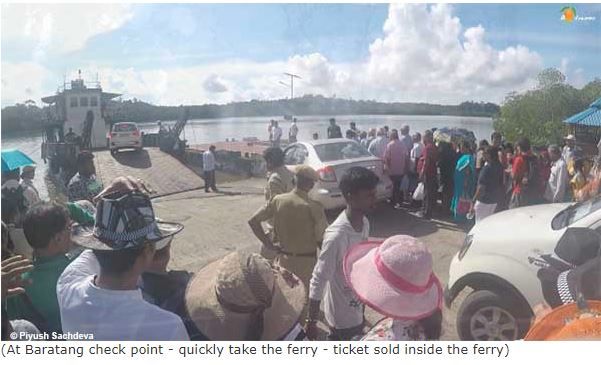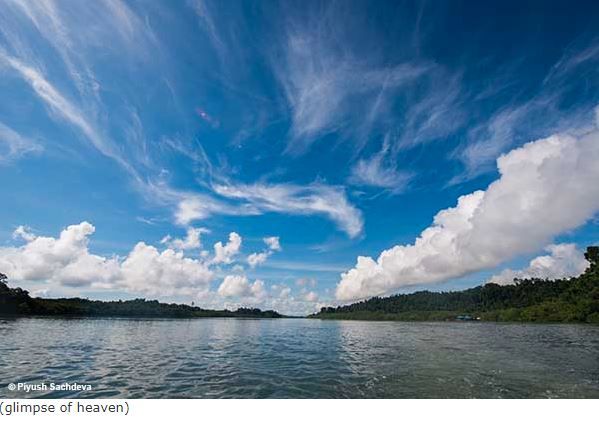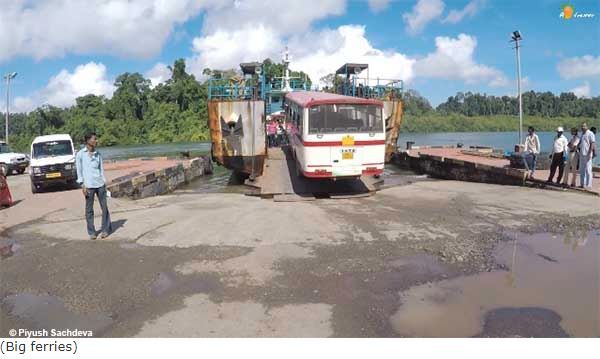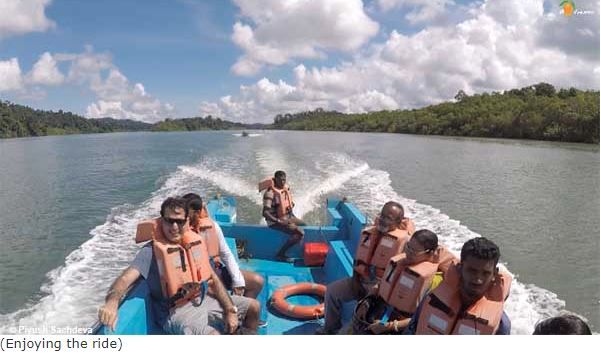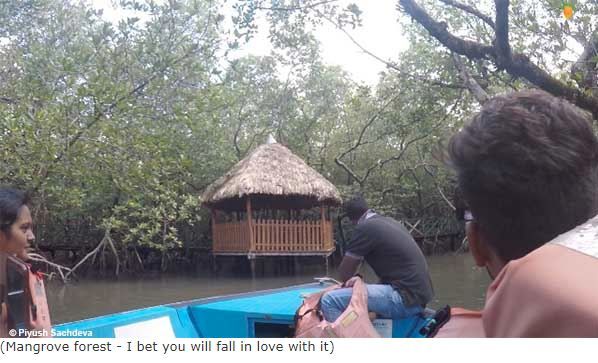 Once touch the ground, there is walk of roughly 1.2 km in the forest to reach the caves. Oh my, I was awestruck by seeing such giant trees, their roots, the up and down pathways. Some man made, some were nature. It is said that this place was actually submerged in sea thousands of years back. As soon as you get close to the caves, I really felt, it was sea ground long time back. Those rocks, that flora.. I felt i merged into nature.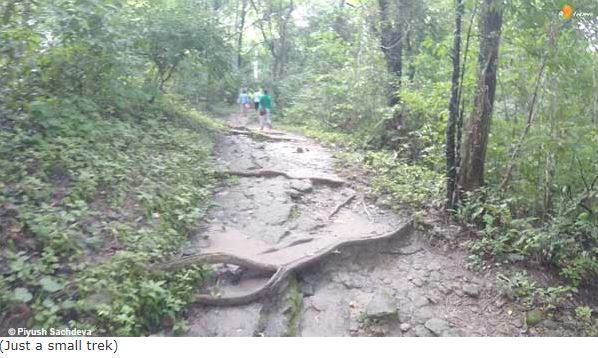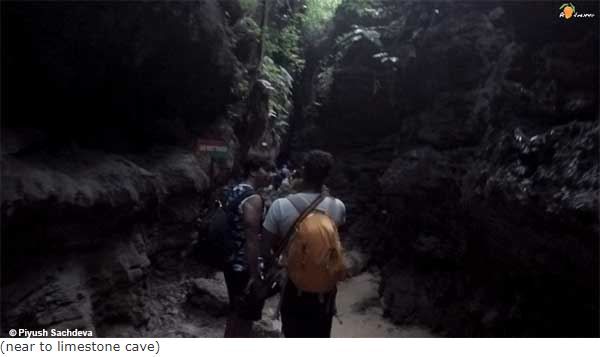 However, the caves were average thing to see though. But the astonishing fact is they are still alive and forming and you can imaging any shape like I saw Ganesha, Shivling, lotus flowers. Your mind is the limit there.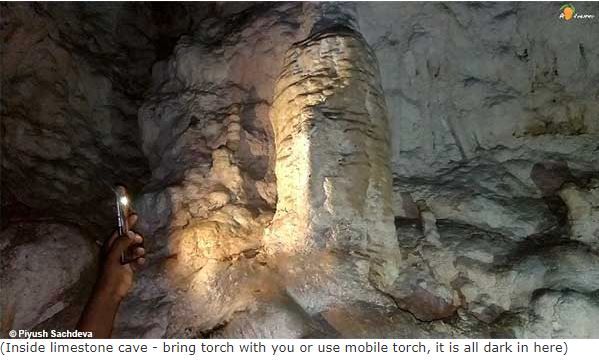 After seeing the miracle of nature, it was time to go back to Barantang check point. We did not saw mud volcano, as all of us were super tired by that time and just wanted to go back which again going to take our full 5-6 hrs.
I must say here that roads towards limestone cave is the classic example of saying "Journey is more beautiful than destination"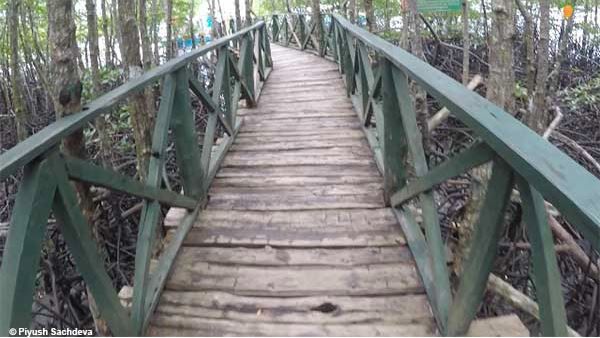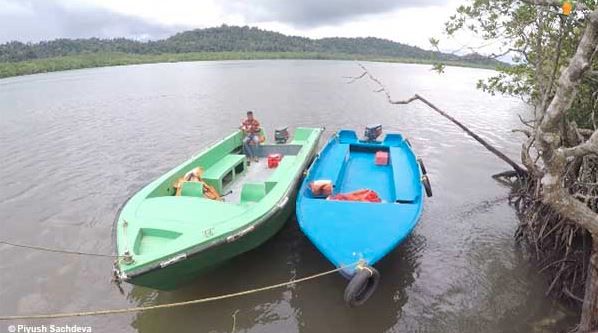 Message - Please don't litter. Make awareness to you fellows too. The more we keep clean our country the more we enjoy it.
Points to note
1.) How to reach Baratang island from port blair
Govt. buses and private taxi run on this way. Taxi may take 4500/- for this trip. Then you need to take Ferry which cost you just 10/- a person and further a speed boat which cost Rs. 450/- per person.
2.) Best time to Visit
Avoide rainy season, like in between May to August. Rest is all good time to visit here.
4.) Places to see in Baratang
a) limestone caves
b) mud volcano
c) and in between WOW forest.
So this was all about Baratang island, see you in my next blog for Port blair. If you liked the video, than do subscribe the channel and if you have any query, feel free to contact me anytime.