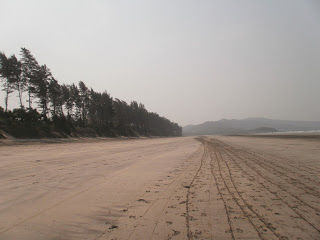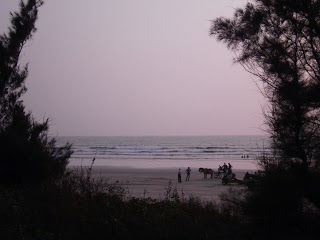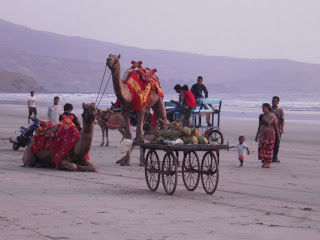 Our original plan was to explore Srivardhan, a little town located between Harihareshwar and Diveagar, all along the same stretch of the Konkan coast.
You step off the ST bus and look around and realise, the beauty of this place is that it is empty. Our tam tam (a bigger autorickshaw) trundled along the surprisingly smooth road cut through the mountains toward Diveagar. It was a good 16kms away, a journey though trees and thick forested areas coated with a layer of reddish-brown mud. Our driver and two companions overheard us talking and butted in with free advice.
Diveagar begins from the gram panchayat junction, with roads snaking off to the left and the right.
A canopy of coconut and palm trees on the way to the beach The path to the beach was interesting. There were huge sprawling mansions, guest houses and a banana and coconut plantation on the other, resulting in a nice canopy over our head. The farm was blocked from the road but there were a few holes through which we could scurry in and wander about, soaking in the neatly spaced trees, the irrigation system and the sudden colour from flowers. The entrance to the beach was to put it kindly, scary. It looked like someone had set the trees on fire, and with their burn out spindly branches, they looked like burned out corpses. The beach was worth it. Barring certain spots which were filled with weird assortment of horses, camels, dogs, coconut vendors and small motorised cars, the rest was empty. All life- people and animals- seemed to converge at one spot. The lack of people proved to be a blessing. We could roam around undisturbed. It was low tide when we reached; the water was cool and the waves gently lapped around our ankles. We sat and watched the sun go down, scaring away little crabs that had covered the beach with millions of holes.
By 7pm, remembering our hostess' warning to be back early, we headed back. The roads were empty, we had just our shadows for company and all that we could hear were crickets and stray dogs howling. In old films this would have been the time some unwanted creature would make a sudden appearance. We were, however, more afraid of being stopped and questioned for being out 'late'. At that hour, most of the home-stays appeared closed for dinner. A few polite inquiries were made standing at the gates of a couple of places. It was only after stressing that we were indeed there to eat, were we allowed in. The food luckily made up for the slightly hostile reception. It was delicious in a way that all home-cooked food is, made with generous helpings of coconut and kokum and simple spices. My friend had a vegetarian thali; it consisted of beans in gravy, potatoes and capsicum sabji, dal, fluffy rotis and white rice.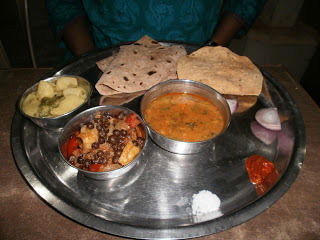 My pomfret thali was better- about the size of my hand it was lightly spiced with chilli and haldi, had crispy edges and was extremely soft. The thali also had a bangda (mackeral) curry, orange and made with coconut, it brought back memories of similar curries eaten in Goa.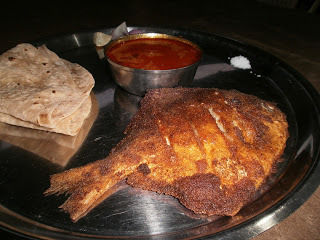 Our breakfast the next morning was equally delicious- soft and yellow poha, dusted with ground coconut and coriander for that extra texture and flavour.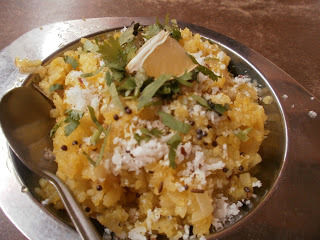 The temple when we did visit it was small and unremarkable; clearly the Suvarna Ganesha was the main attraction. The main area had a reception counter that sold framed photos, offerings and other memorabilia of the temple. The outside section had a seating area and walls covered with photographs of donors and newspaper clippings. The story goes that in 1997, a woman from the village found a copper trunk containing the gold Ganesha mask and a few ornaments, while working in a coconut and betel nut garden. Later the 'idol' was deified and instated in the temple. Despite the robbery we were allowed to enter and although there was a police van and a few policemen lounging about, they did not give us a second glance. It left us wondering what they were there for, the temple clearly had nothing else worth stealing.
Contrary to what villagers told us, there was plenty to see in Diveagar. The general pall of gloom apart, we got a good glimpse of village life. The ride from the village back to Srivardhan was via a mountain bordered by another gorgeous stretch of beaches. We crossed fisherwomen arranging fish out to dry, small houses with cow dung courtyards on which clothes and red chillies were left to dry and open fields dotted with haystacks.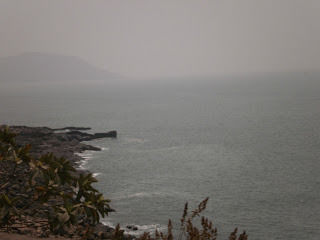 How to reach: There are direct buses to Srivardhan (6-7 hours) and to Mangaon (also accessible by train). Mangaon has regular buses to Srivardhan. From there, you take a shared tam tam to Diveagar (Rs20).
Where to stay: There are numerous home stays and fancier guest houses in Diveagar. It is advisable to choose the homestays, they are cheaper and have tastier local food. Try the PRaful Joshi guest house - they had converted their ample courtyard into rooms-to-let.