While digital nomads and freelancers always had the privilege of 'working from anywhere', COVID-19 has created that space for almost everyone. The world came to a standstill in the earlier months of 2020 and 'work from home' became the new normal, giving birth to 'workation' as a new travel trend.
Remote working became a thing as people started realizing that it can be balanced well with exploring a new destination - and who wouldn't want to ditch the four walls of the home, to feel a little alive outdoors?
Benefits of Workation:
Workations gives us more time to travel than a regular holiday, so that we can see the world and earn money at the same time!
Most of us are seeking a perfect blend of work & vacation and all we need for that is a comfortable place to unwind & concentrate, along with good internet connectivity. Not just that, but it also nurtures our creativity and makes us more productive while we work from a new environment. We are generally motivated to finish our chores on or before time, so that we can indulge in exploring the place. Needless to say, we stumble upon interesting travelers from different parts of the world who're also 'working away' as well as get enough time to spend with locals, knowing their culture, history and lifestyle.
So in case you're also contemplating about a 'workation', where would you prefer to go? - Beaches or Mountains?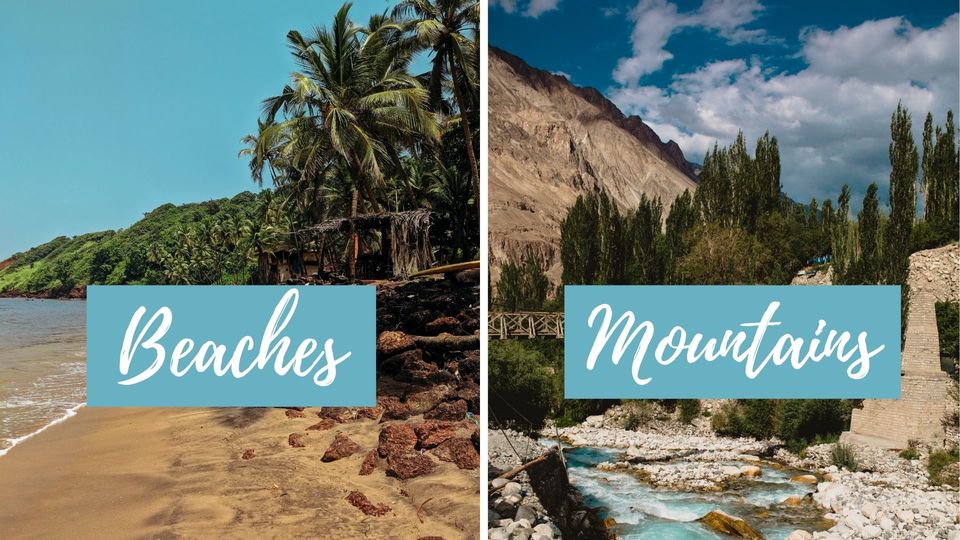 Workation in Goa:
As soon as the lockdown was lifted and boarding a flight wasn't scary any longer, my Instagram feed was filled with photographs from Goa! Turned out that many of my friends, friends of friends, ex-colleagues, acquaintances and of course, a bunch of influencers were all in the beach town, soaking in the sunshine and good vibes after being at home for a considerable period.
Well, there's no doubt about the fact that Goa's one of the most popular tourist spots and there would hardly be anyone to say 'No' for a trip to Goa! For beach lovers, what could be a better opportunity than spending a month or more, for a workation in Goa, chasing sunsets every evening.
Pros of working from Goa:
1) You can sit by the beach and work! - That's enough a reason, isn't it?
Taking breaks in between to gaze at the waves crashing by the shore, to watch the people walking barefoot on the sand, to smell the aroma of freshly grilled seafood while sipping on beer as you work - seems like a daydream? Well, they can be your reality too!
2) Goa has always been a paradise for digital nomads. With a bunch of accommodation options ranging from budget hostels to mid-range hotels as well as luxurious apartments and beachside villas, one can easily find a place to stay for longer durations.
Check out the best places to stay in Goa, here.
3) There's no dearth of places to eat in Goa! No matter whether you're seeking authentic Goan delicacies or a hearty Continental meal, some wood-fired pizzas or a bowlful of Greek salad - cafes & restaurants in Goa will never fail to satiate your hunger desires.
Check out the best places to eat in Goa, here.
4) Most of the hostels, hotels, resorts, cafes and restaurants have super fast WiFi connection that can be accessed. So you don't need to worry about your meetings or keeping up with your deadlines!
5) Commuting in Goa is pretty easy! The best option is to rent a scooter to move around, and it's also the most pocket friendly option. (You can get a scooter for Rs 600 - 800 a day) Other than that, you also have the option to book a cab or get an auto. Local buses are also there, you just need to know about the bus routes.
6) Explore the offbeat places and hidden gems in Goa, with a bunch of like-minded travelers. SoulTravelling has curated a bunch of amazing itineraries that would be perfect to light up your weekends!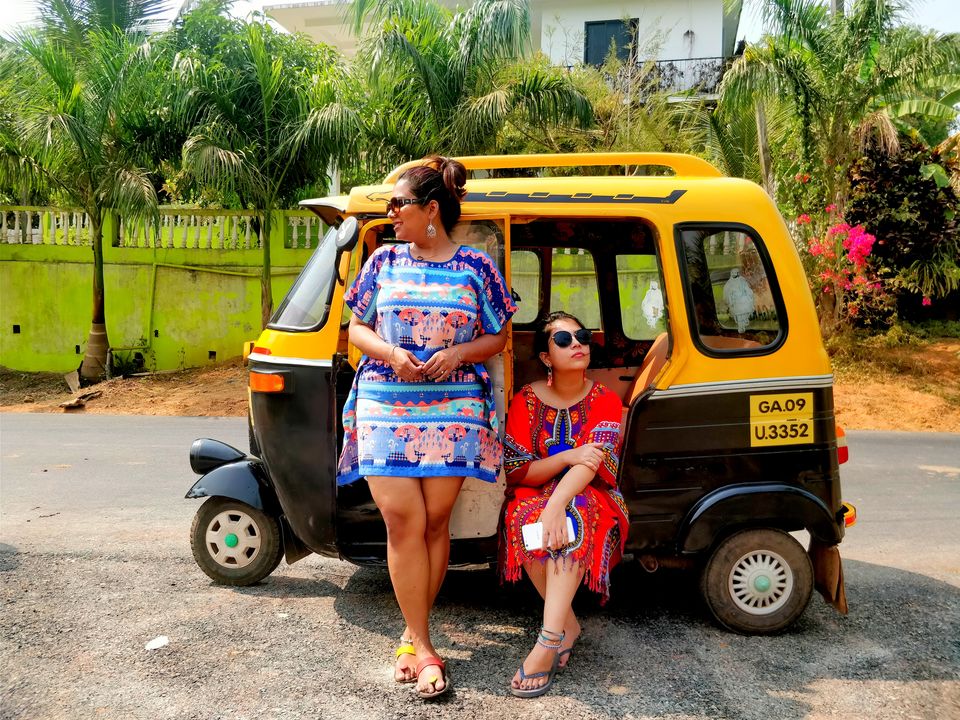 Cons of working from Goa:
1) The weather is usually hot & humid, throughout the year!
2) Places can get overcrowded on the weekends, and if you're looking for some peaceful time on the beach, you might be a little disappointed!
3) Certain places have poor network connectivity (for Airtel & Jio), especially in South Goa. It's important to check whether your accommodation has WiFi or not.
4) You might end up consuming a lot of beer, and head home with a beer belly post your workation!
Cost: Roughly, you can manage a month's stay in Goa within 30,000 INR (including your stay + food + weekend trips, etc) if you're planning a budget trip!
Workation in Ladakh:
With majestic mountains and vast stretches of deserts, lush green valleys and pristine glacial rivers, age-old monasteries and red-robed monks with a smile on their face - Ladakh would make you realize what 'paradise' actually looks like!
Being an ardent mountain-lover, my obvious choice was to travel & escape to the Himalayas and what could have been better than this! I chose to spend a month in Ladakh recently, where I worked over the weekdays from Leh & made the most of my weekends by exploring the gorgeous places around. This 'Land of High Passes' was once a hub for trekkers & adventure enthusiasts, but now it's slowly turning into a hub for those seeking a peaceful workation.
Pros of working from Ladakh:
1) It's extremely pocket-friendly! A bed in a hostel dorm would cost around 499 INR/night, while a decent budget hotel would be for less than 1500 INR/night. You can easily find good hotels within 2500 INR/night, which would also include breakfast.
Check out the best budget accommodations in Ladakh, here.
2) On days when you don't feel like working, or just wanna take a break - you don't have to go anywhere! You can just be in your room and gaze at the mountains! The snowclad peaks keep peeping, and the blue skies will always lift up your mood. The landscape of Ladakh is too good to be true!
3) From fancy Insta-worthy cafes to authentic Ladakhi restaurants - the food scene here is too good to be true! Indulge in having some Yak Cheese Pizza with a cup of freshly brewed coffee, or grab your bowl of Mothuk.
Check out the best places to eat in Leh, here.
4) If you finish work early on weekdays, you can set out to explore the monasteries in and around Leh. Catch a breathtaking sunset from the Shey Palace or Stagna Monastery, or just sit by Sindhu Ghat, soaking in the serenity. There's no dearth of peace here!
5) Make the most of your weekends by exploring some of postcard-perfect places in Ladakh, including Nubra Valley, Turtuk, Pangong Lake, Tso Moriri, Zanskar Valley, Lamayuru, Alchi, etc.
6) The weather in Ladakh is mostly pleasant from June to September, which is also the best time to visit this place. But in case you're fine to deal with the bitter-cold weather and enjoy some snowy days, then you can plan a workation during the winters as well. (And in that case, you might stand a chance to spot snow leopards at Hemis National Park!)
7) Rent a bike and feel the adrenaline rush as you drive down the treacherous mountain roads, through the picturesque valleys. You'll end up weaving memories that would last for a lifetime.
Here's all that you need to know about traveling to Ladakh in 2021.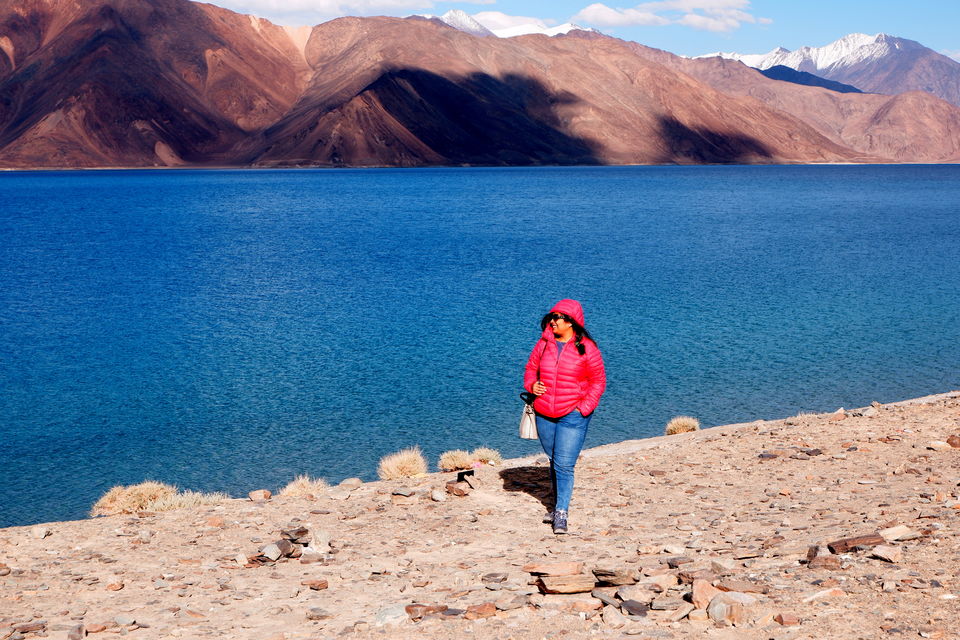 Cons of working from Ladakh:
1) Network & connectivity can be a real problem! Only postpaid connections (Airtel, Jio & BSNL) works here, that too in Leh. If you're traveling to places like Pangong or Tso Moriri, then you can't carry your work there, as network availability is zero!
2) Many hotels/hostels/homestays would mention having WiFi connections, but it's important that you check it beforehand. It might turn out that the connection is too poor for you to attend Zoom meetings!
3) There are some cafes in Leh market that have highspeed internet, but they might be crowded during the regular work hours. While I was working at Zostel, the terrace turned into a makeshift co-working space every morning, with a lot of hustle & bustle!
4) If you're a solo traveler who doesn't know how to ride a bike, your weekend ventures (to Nubra Valley, Pangong Lake etc) might burn a hole in your pocket! Cabs in Ladakh can be a bit expensive (though you can try your luck in bargaining!). Also, if you're going during winter, most of the roads would be non-functional due to heavy snowfall in the higher altitude regions.
5) You'd need a couple of days to get acclimatized to the high altitude. If you have breathing problems, or any chronic diseases, then it's advisable to check with your doctor before planning a long trip to Ladakh.
6) Days are longer during the summer time (June - September), so you might end up working more if you are a day person or less, in case you're nocturnal!
Cost: Transport costs are a tad-bit higher here. As a solo traveler, you'd be spending around 40,000 - 45,000 INR in a month in Leh (including your stay + food + weekend trips, etc).
Think we missed out on something? Tell us about it in the comments below and watch travel stories come to life with Tripoto on Youtube!