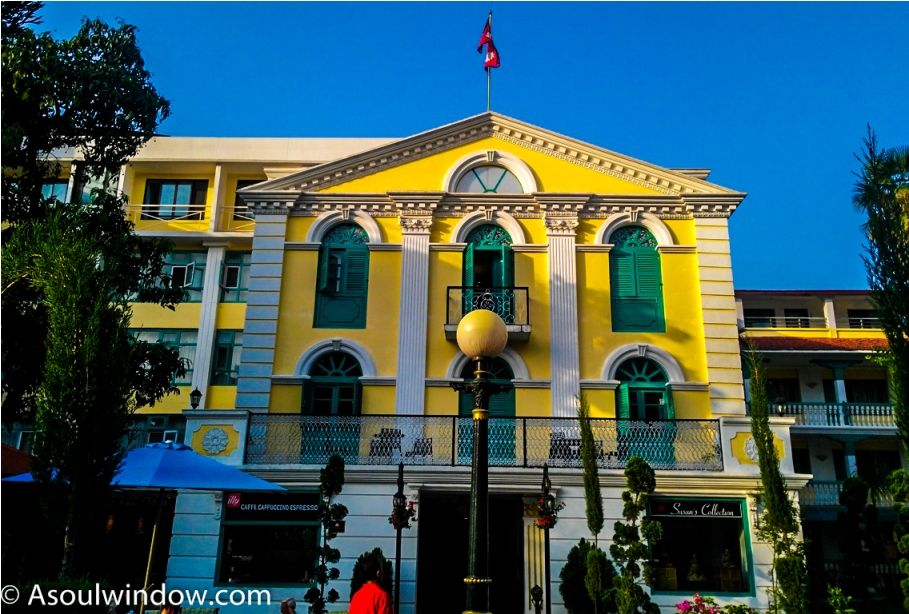 Thamel is the bustling backpackers' hub located in the heart of Kathmandu in the Himalayan country Nepal. Most of the celebrity mountaineers, including those who have summited Mount Everest have stayed here. Apart from the mountaineers, many Hollywood and Bollywood celebrities have also frequented lanes of Thamel. Many of them have preferred staying at Kathmandu Guest House. It was my privilege to stay in the first and oldest hotel of Kathmandu.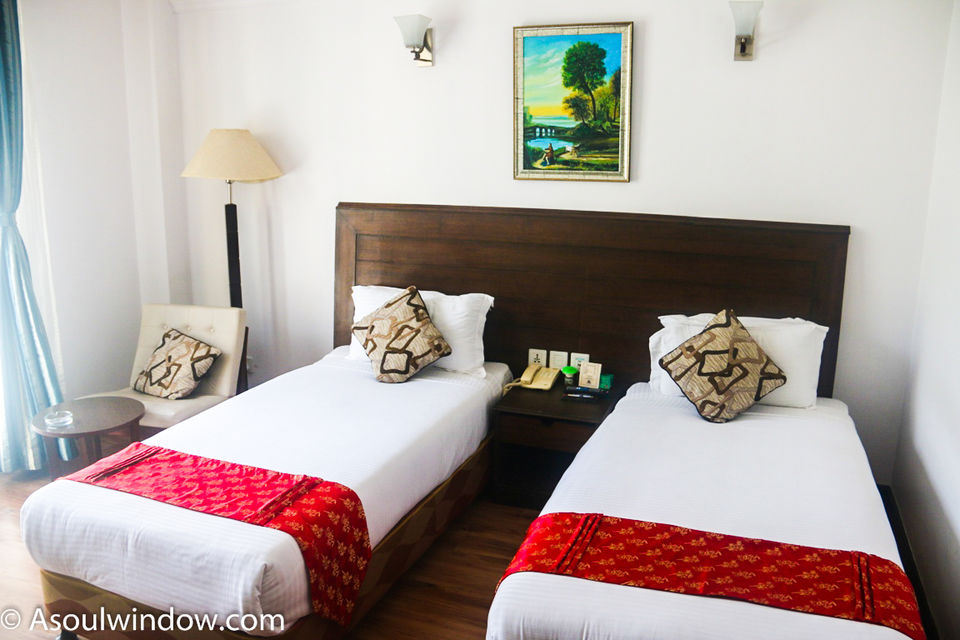 Ideal for:
It is great for couples and families. Despite being located in the thick of action, it is cocooned from the noise and chaos of Thamel. Many mountaineers who have trekking plans in the Everest region also love to stay here.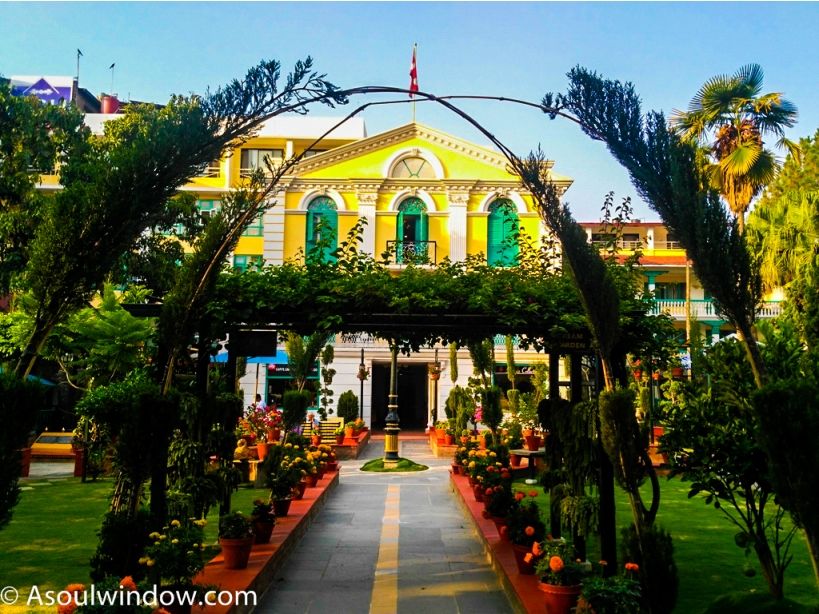 About the property:
Kathmandu Guest House was the first and the only hotel of Thamel when it was inaugurated. It is thus also the oldest hotel of Thamel. Partially damaged in the devastating earthquake of 2015, its old glory is now restored. There is a quaint Buddha Garden as you enter the hotel premises.
It was a visual delight when I entered the sprawling lawns of Kathmandu Guest House. Al fresco dining and manicured garden added to its aura. In the center of the garden, Nepali singers sang folk songs of Nepal as people sipped coffee and listened attentively.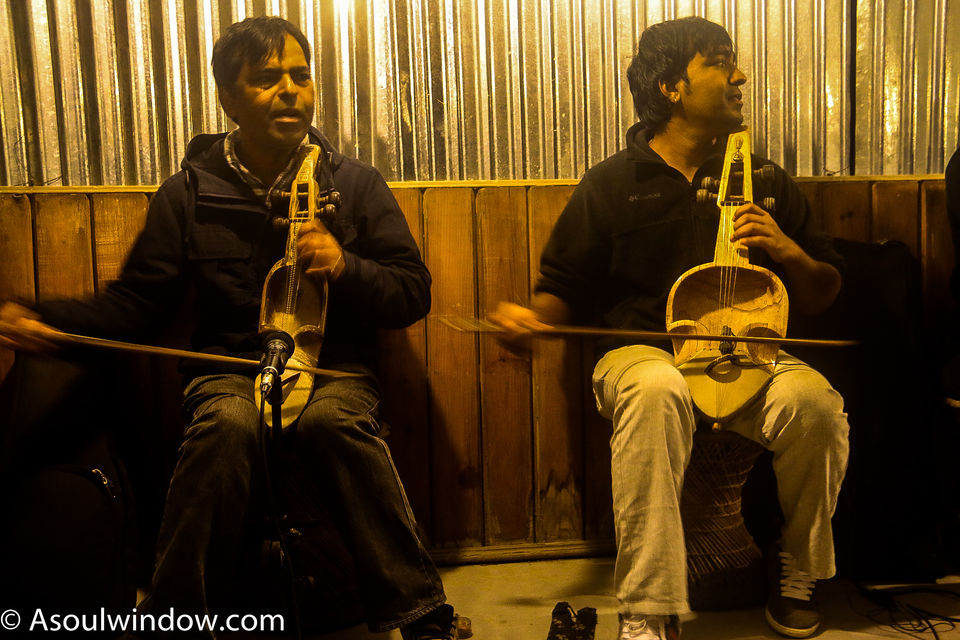 I was delighted to discover the hidden haven, just 1 minute away from the congested Thamel market which faces space crunch.
The Walk Of fame and The Beatles Connection:
There were large Beatles posters in the dining room and the 'Walk Of Fame' pathways were marked with names of celebrities a la Hollywood. Curious to see a Beatles heavy theme across the public spaces in Kathmandu Guest House, I investigated with the managers. Turned out band members of Beatles have stayed here eons ago. Other celebrities apart from George Harrison who have stayed here and find a mention in the 'Walk of Fame' are: George Band (First mountaineer to ascend Kanchenjunga), Shyam Benegal (Indian film director), Jeremy Irons, Joel Edgerton (Hollywood star) and Ricky Martin (Pop star)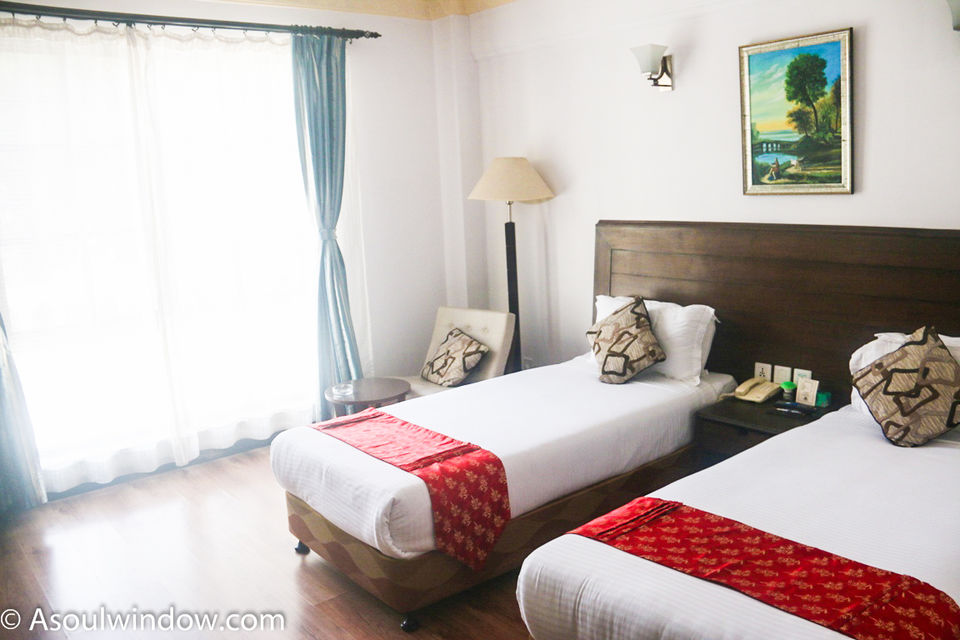 Rooms in Kathmandu Guest House:
The garden facing room I stayed in had a small balcony which I sipped coffee in the evening and listened to the musicians singing songs.
The room I stayed in was large, airy and neat. Other facilities were AC control panel, different lighting options, TV, tea coffee machine, a dressing mirror, mini-bar and even instant noodles.
The wooden slabs helped me organize my luggage and the table chair gave me space to write.
The bathroom was of the right size and the bath area was segregated with a glass panel.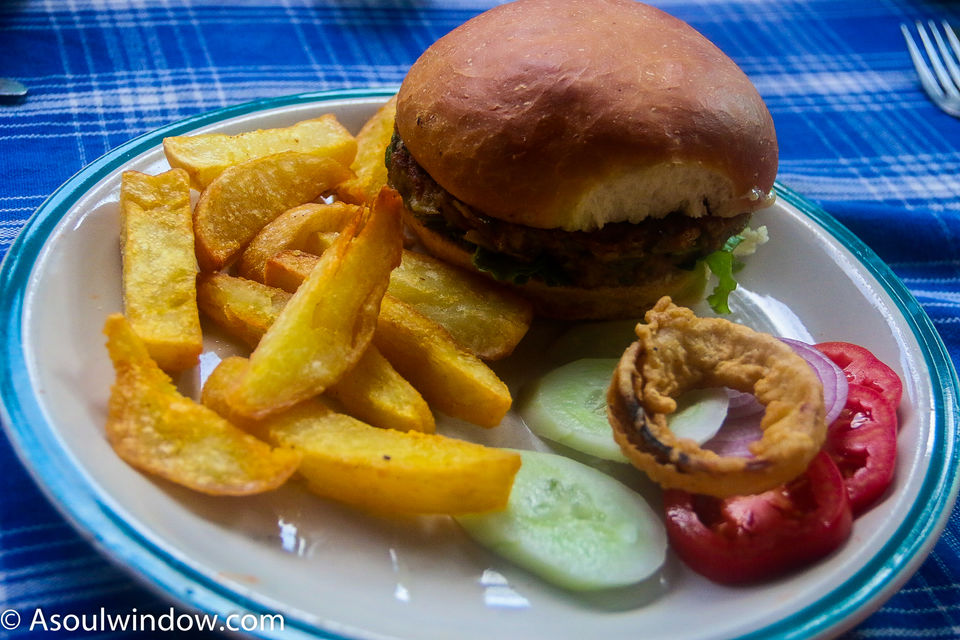 Food and beverage:
The Kathmandu Guest House Dream Garden Café served lunch and breakfast. The vegetarian burger which I had was huge and comes with lots of big sized fries. It was delicious and filling. The breakfast, though had many options but might not impress an Indian guest. Seemingly catering to a largely western clientele, the breakfast comprised of fruits, cereals, juices, baked beans, muffins, croissants, preserves, pancakes etc. I wish they had Idli, poha, Upma, Aaloo ka paratha, etc in the buffet to cater to the Indian taste.
How to reach:
The location of Kathmandu Guest House is a winner. It is easily approachable since it is close to main tourist hubs of Kathmandu such as Thamel and Ratna Park bus stand. It is few minutes away from the Tribhuvan International Airport.
Cost:
Kathmandu Guest House has rooms which suit all budgets. It is advised that one checks their website or calls and ask them the price for their chosen dates. Their tariff is dynamic and is subject to change as per season. Their price starts at INR 2500 for 1 day.
Best time to go:
Nepal is a year round destination. However, September, October and November are the best months to visit Kathmandu. That is when most of the treks also take place. It is also easier to see snow capped mountains in winters.
What to do in and around the property
Partying in Thamel:
The Kathmandu Guest House is in the middle of Thamel, making it easy for travelers to party in the lanes of Thamel till late night. There is no need to worry about returning to the hotel via taxi. It is easy to party in any of the clubs and just walk to the Kathmandu Guest House. On weekends, it is a lot more fun.
Boudhanath:
The Buddhist stupa of Boudhanath is one of the largest stupa in the world. I visited it early morning to observe the prayers. It is much more atmospheric in the mornings.
Bhaktapur:
The ruins of an ancient Newar city are awe inspiring. From erotic sculptures to huge statues of deities, it is a visual delight.
Patan:
The Durbar square at Patan also houses ancient ruins, but is more chaotic than Bhaktapur. It is also more compact. Do look for small details when you observe the minute carvings on the ancient buildings.
Pashupatinath Temple:
The morning and evening aarti is delightful. It is humbling to see so many devotees singing and dancing in unison. Photography is not allowed here. The brave-hearts can also see funeral processions on the ghats. Don't miss the many shivling in one corner.
Basantapur Darbar Kshetra:
Also known as Kathmandu Durbar Square, it is at walking distance from Kathmandu Guest House. Do not miss the Kumari House.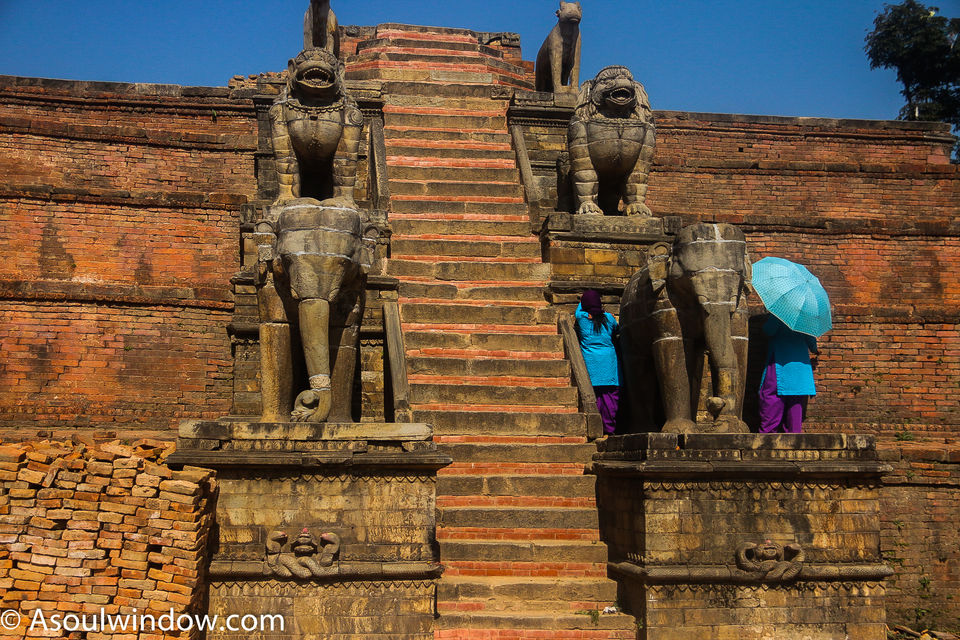 By air: The Tribhuvan International Airport is connected to most of the major airports in India and other countries as well. However the airport is chaotic, so it is advised to reach airport early when leaving Kathmandu. Taxis to all the places in Kathmandu are available from the airport.
By Train: There is no railway network in Nepal.
By bus: It is possible to reach Nepal from India via a bus. One needs to reach Gorakhpur by bus or train. From Gorakhpur, buses to border town Sunauli (India) are available. One can walk from Sunauli in India to Bhairahawa in Nepal and catch a bus to Kathmandu. It takes around 9 to 10 hours to reach Kathmandu from Bhairahawa.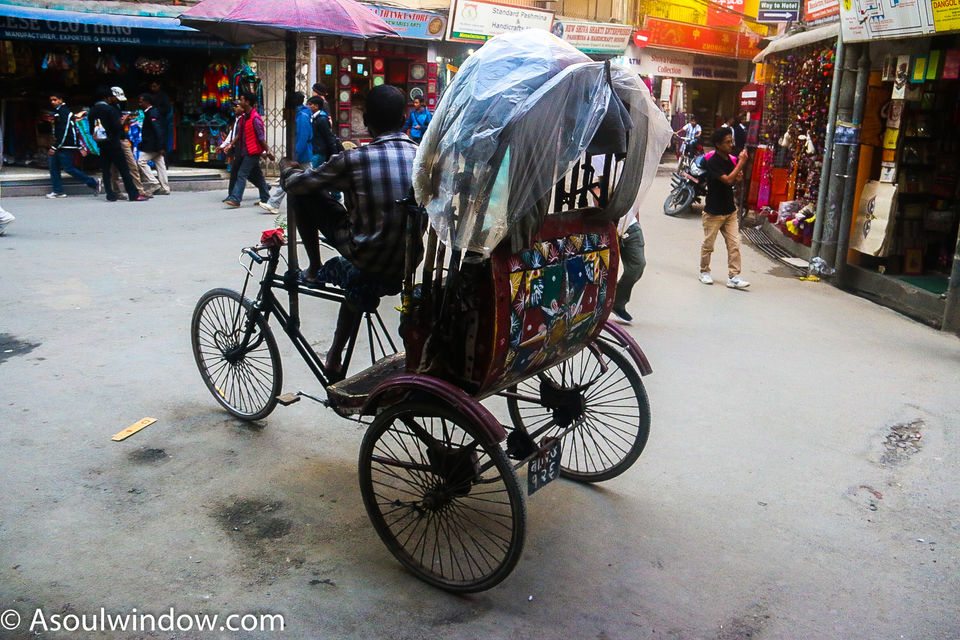 About author- Abhinav Singh is a New Delhi based travel blogger and writer with 18 years of experience in writing. He has been to more than 200 destinations since last 10 years. He writes about his travels on his blogs and social media channels.You can follow Abhinav at-
Blog- A Soul Window-
Social media- Twitter - Facebook Page - Instagram - You Tube