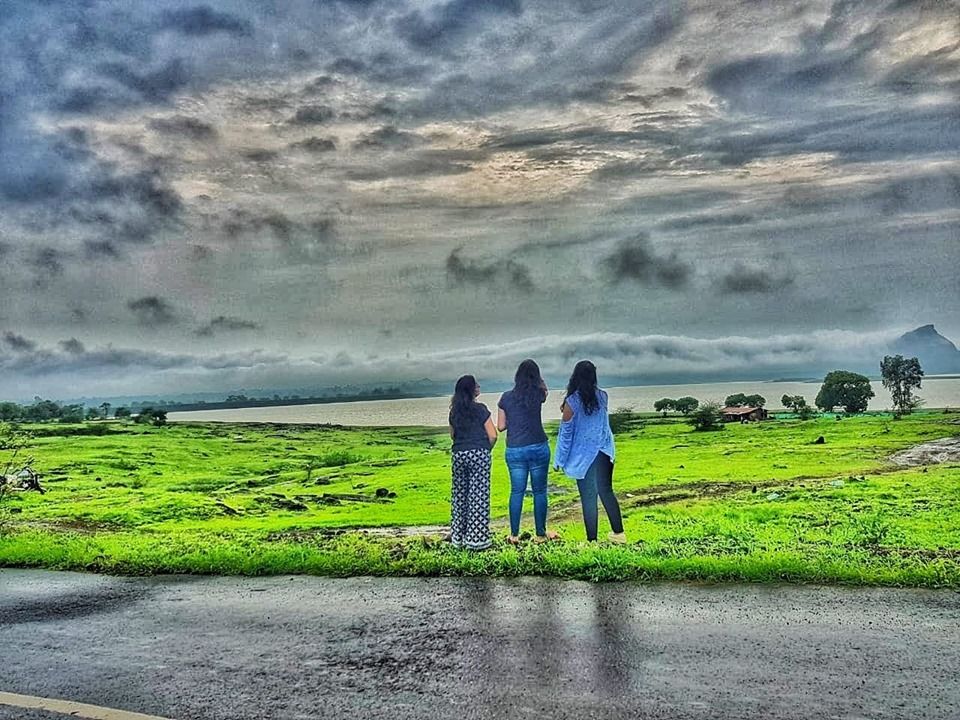 In today's busy world, it is very difficult for old friends to catch up and spend quality time together. After a lot of effort, 5 of us friends managed to fix a common day for an outing. It is the monsoon season in Mumbai and the best time to escape the city life and get close to nature. At the same time, common monsoon get aways are very crowded especially during weekends. We were having a tough time in choosing a destination for the trip as we all wanted to avoid the crowd.
One of our friend offered that he will drive us by his car to the place we decide for the trip. He would pick us up from Kalyan Station at 7 am on 20th July 2019. Another friend of ours had to drop out of the plan as he was unwell, so it was just the 4 of us now. The day came and we were still unsure of where we would be going. But that's were all the fun and excitement began!!!
Have you ever traveled without knowing your destination???
And today, here we were just travelling, not knowing where we are going, just enjoying the lush green view ahead of us. All we knew was that we wanted to get drenched in a waterfall and enjoy the rain. The friend in whose car we were travelling is a travel freak. He has explored most of Maharashtra, South India, North India on his own bike and car. He promised us that we will take us through some untouched roads and unseen places as we move forward.
The weather was hot and it didn't seem like it would rain today. Two of my friends were already disappointed, but none of us lost hope. We kept moving forward in search of a quiet and peaceful place. The roads were so beautiful, covered with tunnels formed by bright green trees on both sides of the road.
We stopped on unknown roads to click pics. And no matter how much time we would waste, it seemed like time had just stopped in our favour to allow us to spend more time together..
As we moved ahead along the road, I spotted a cute little bird so well camouflaged with nature. I do not know it's species and you could actually hardly see it as well on the ground.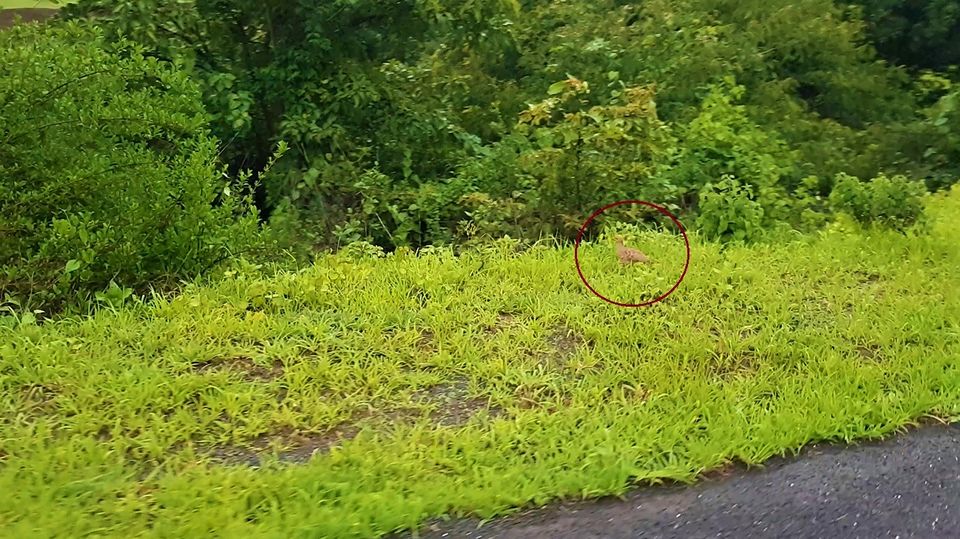 We approached Vihigaon Falls – Ashoka Waterfall on the way. We did not even bother going there after seeing the maddening crowd at the waterfall from the road itself. After driving little ahead on a road that no one usually takes as most people stop their journey at the Vihigaon waterfall itself, we came across a beautiful river flowing under the Vihigaon Bridge. What a spectacular sight that was with the sun shining above us and the blue waters under us.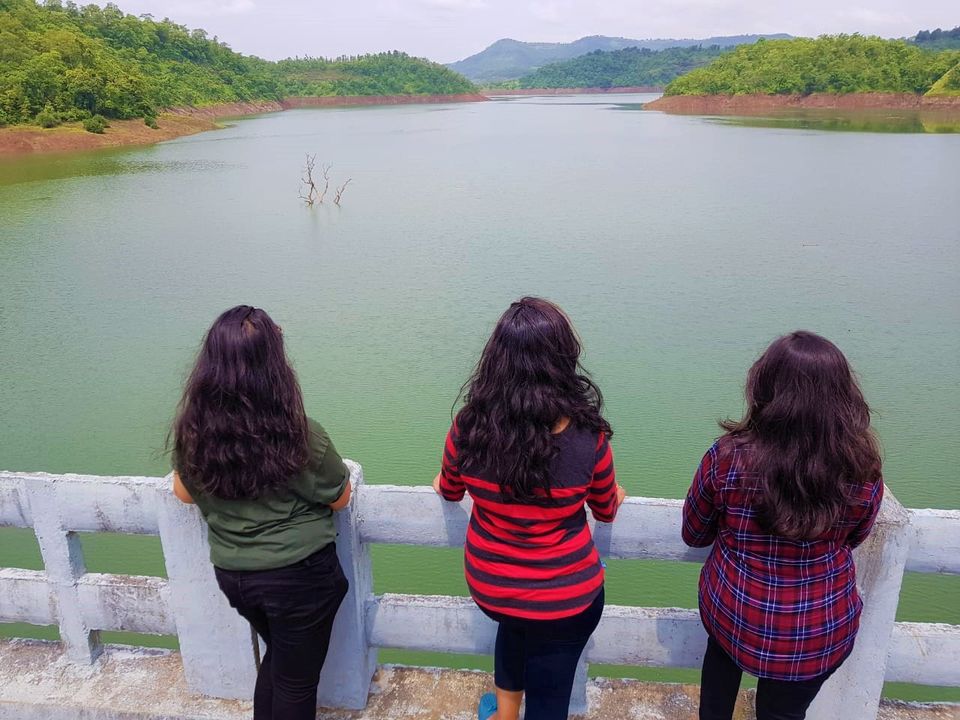 Time for some posing in style…
We kept driving ahead in the wait for rain and a waterfall. There were a lot of small waterfalls flowing on the rocks besides the road, but most of them were too muddy and others were away from the road which made it too risky for the little fun that we wanted to have.
As we moved ahead, we stopped at another scenic spot. We had no clue where we were as there was no mobile network, no GPS. There was just a stone which read "Khodala".
It was such a beautiful sight of multiple waterfalls flowing on the mountain opposite us along with a pleasant sound of a river flowing in the valley besides us. We could not capture these feelings in the pic, but it will remain within us always.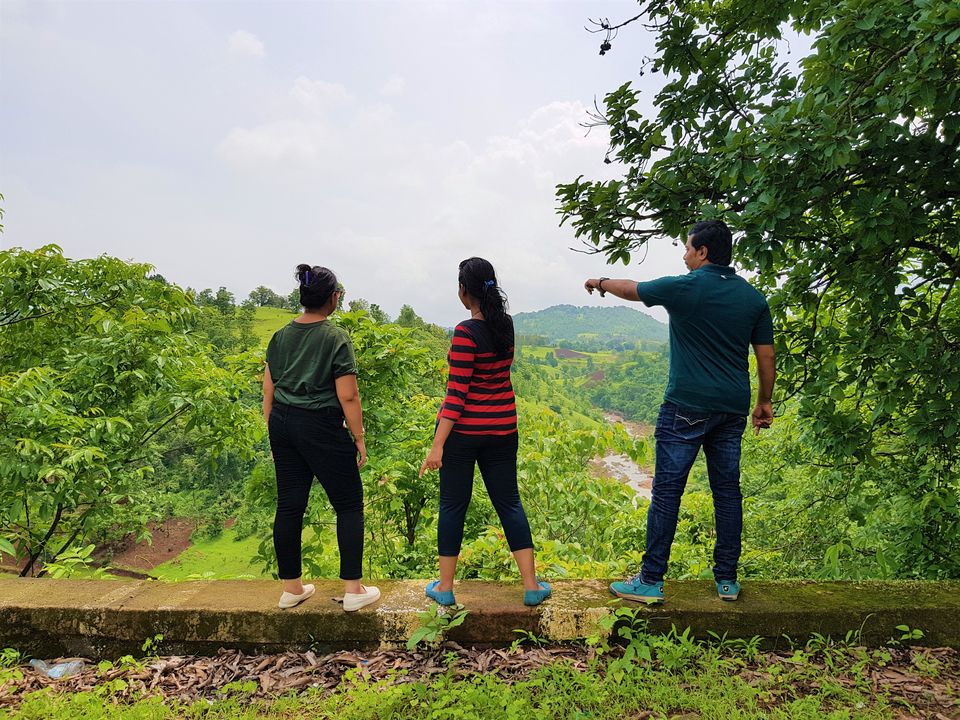 Out of nowhere a village lady approached us trying to sell something. I am not sure what she was selling, but we gave her some money and she was quite content. When we asked her to take a picture with us, she was a bit taken back by the request but she obliged. She was not sure if she should smile or just stand there. She was a sport and stood there for a pic with us. We were happy to make her a part of our travel story, as meeting such people helps us to connect with them and understand the hardships of life which we rarely face. Our respect to such strong people who strive to earn their livelihood in no matter what weather condition and yet never give up.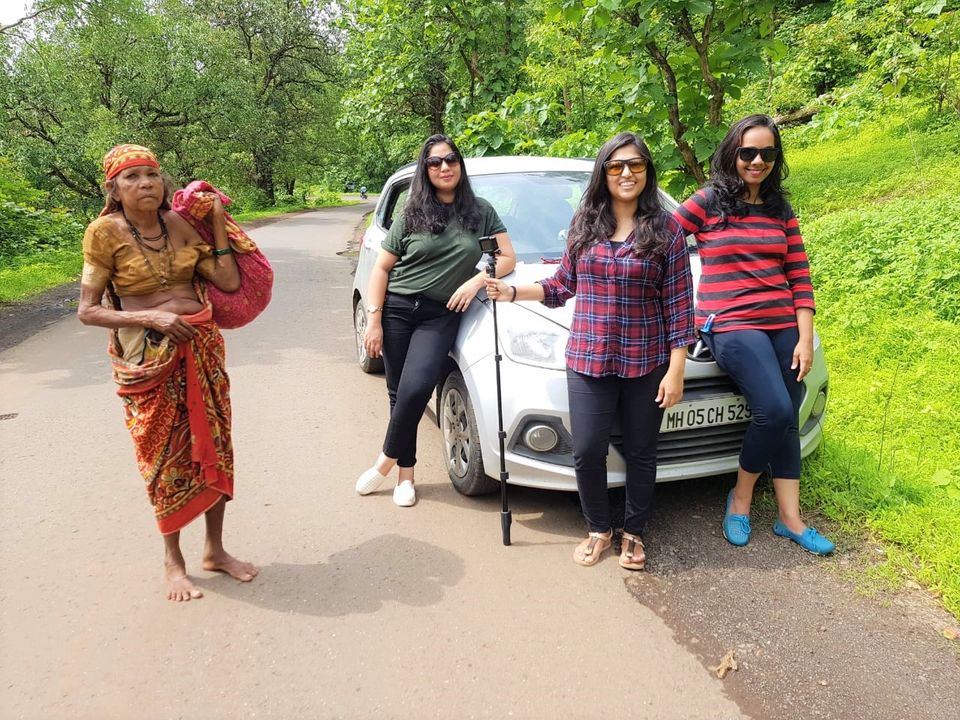 We next stopped on a bridge at Wagh River where the scene of few kids doing somersaults into the river caught our eyes. These little kids had no worries in the world and were just enjoying themselves with as little as just jumping into the water. Three or four of them would do their little gymnastics and as soon as they landed into the water, the next set of kids would jump in. This kept going on continuously and when they noticed that we were watching them from the bridge, few of them were shy and few of them came up with more stunts to impress us.
We were now driving on Jawhar – Trimbak Ghat with very less hope of finding a waterfall. Although, we were enjoying every moment of our road trip, sharing ghost stories on the way and having our own little fun. Just as the Ghat got over, we saw a massive dam and a river. The water was so clean and fresh. Hardly a soul at that place. This was it!!! This was exactly what we wanted. It was so peaceful there with less than 10 people including us.
We were all so excited. Quickly parked the car, left all our belongings and walked down about 2 mins to the river. The water was not much, but in certain places the water flow was quite strong. The stones were big and slippery too. One of my friend was too adventurous and wanted to go close to the dam wall. But the water level was too high at that end and we decided to just stop there on the rocks and take few pics.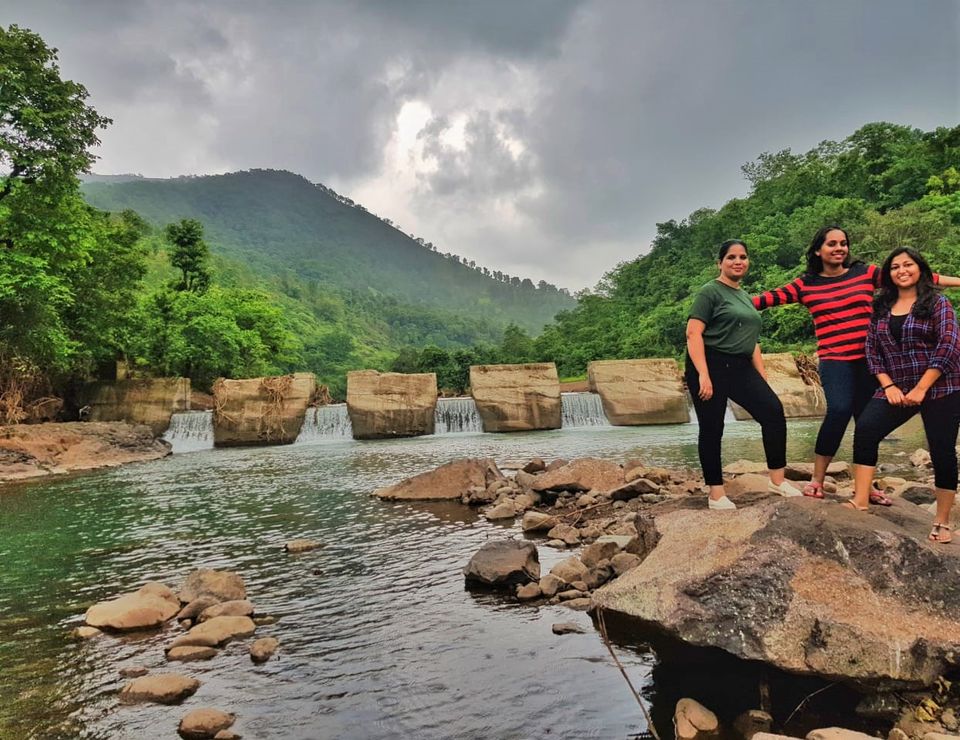 And then, it finally began to rain. We were being paid back for our patience – we got a peaceful place, water to get drenched and the rain. What else could we ask for!!
Once it started raining, the water level as well started rising slowly. So we decided to go closer to the river bed.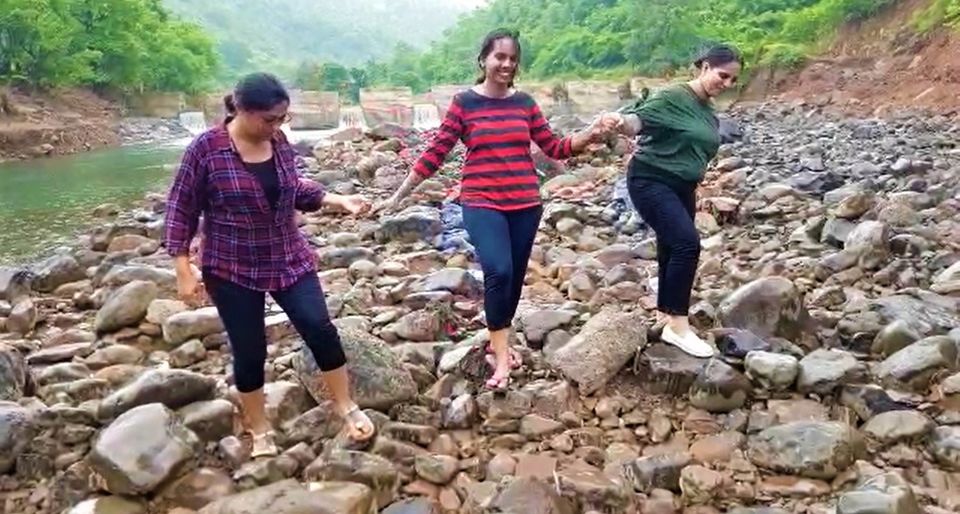 We enjoyed splashing water and drenching each other completely. Sitting in the water, we could feel the water force against us. We all had a lot of fun playing in the water and posed for some pics too.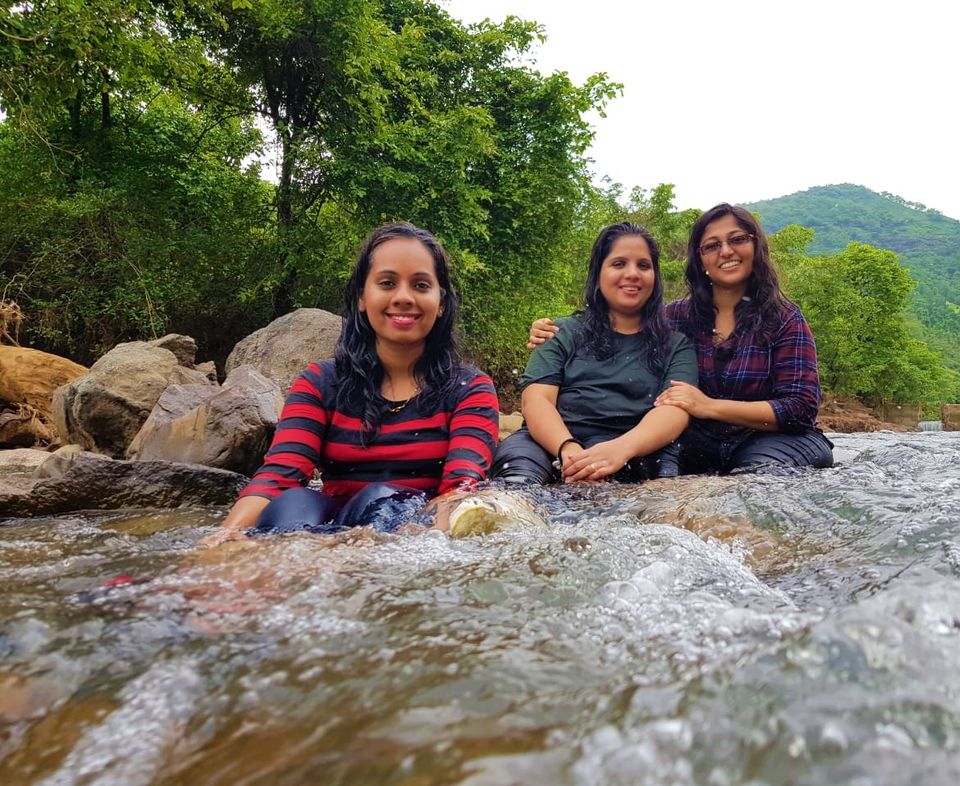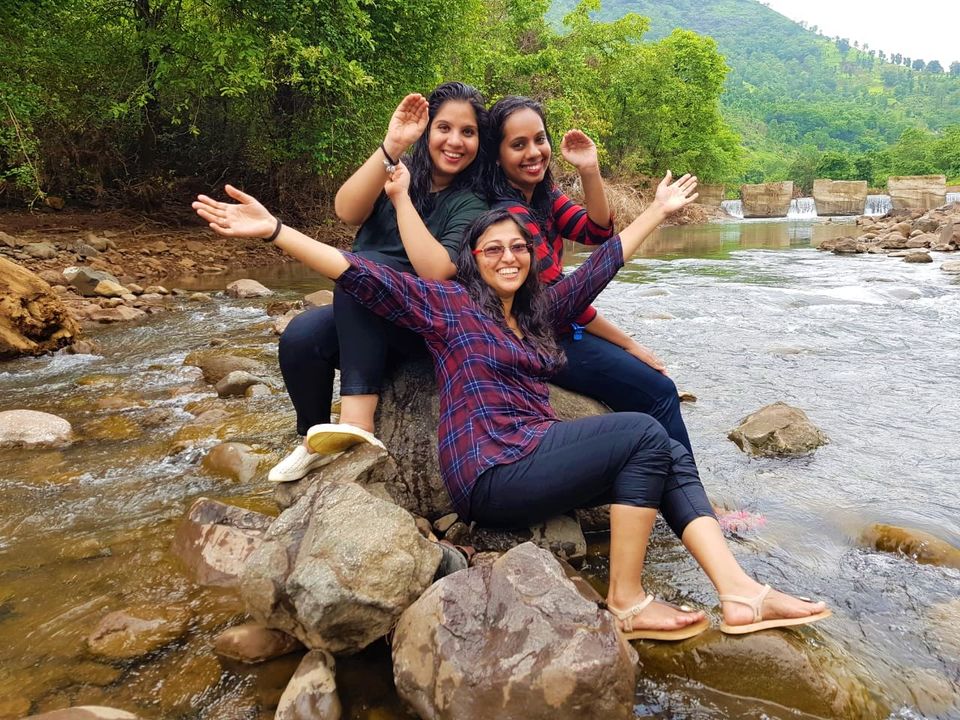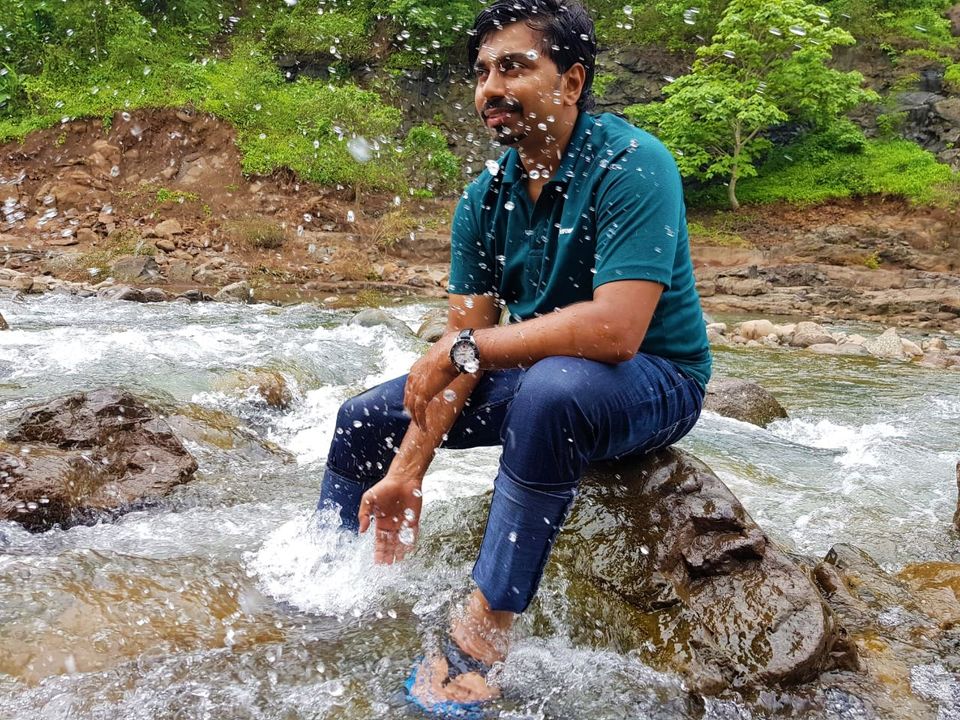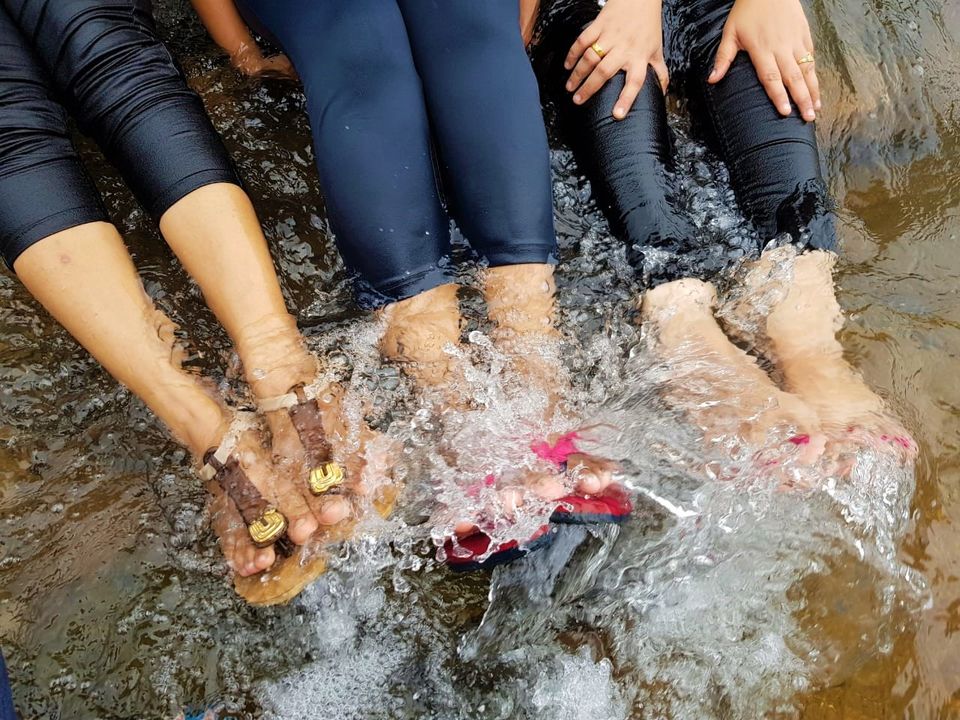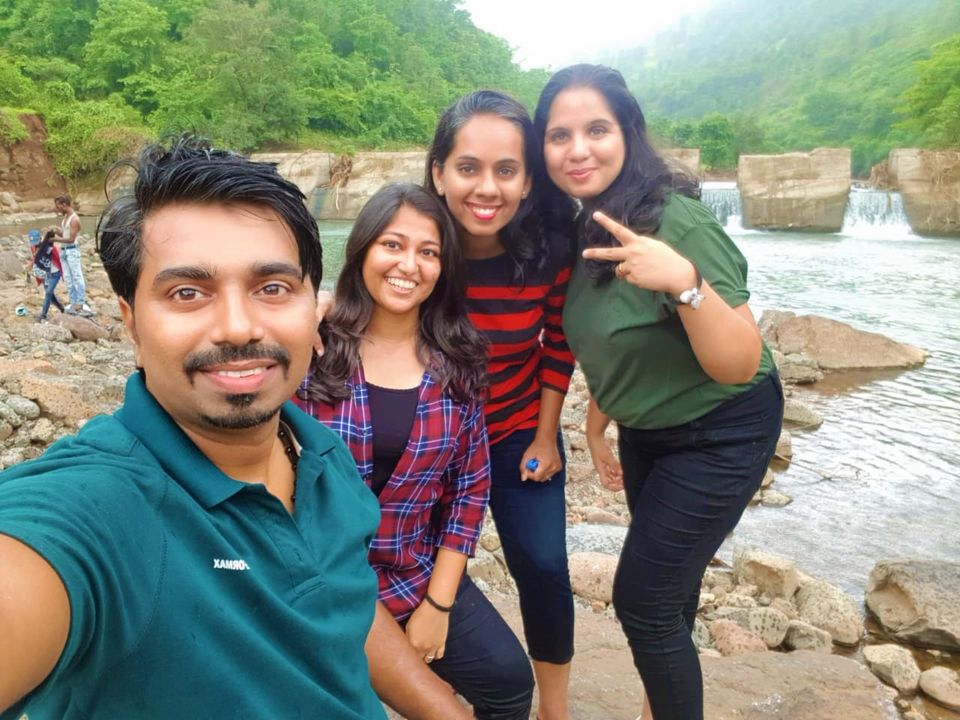 After sometime, we all started shivering in the water as it was too cold. So we sat out on the rocks and my friend launched his drone to capture some beautiful shots.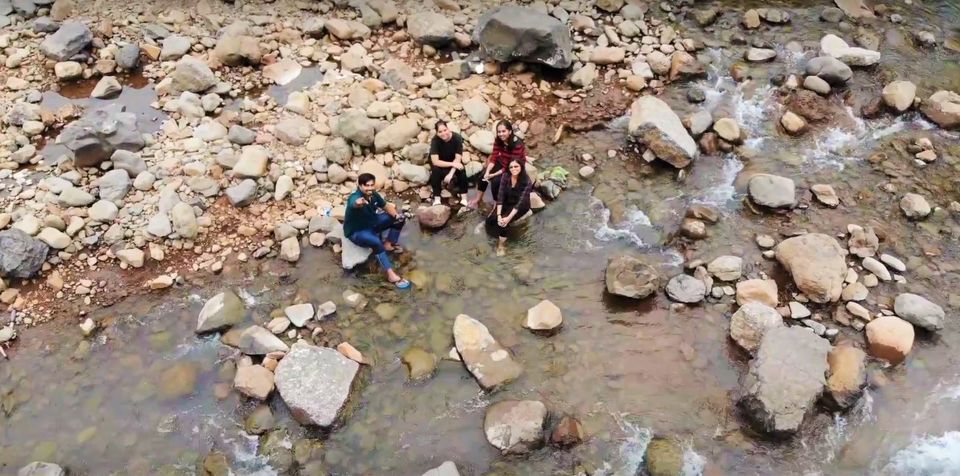 To be frank, at that point of time we did not know the place where we were. I literally ran through the entire route we took for this trip on Google map to find the name of this place. That's when I found it – Ganesh falls.
We were all shivering with our wet clothes after we got out of the water. However, there was no safe place in that area to change into dry clothes. So we decided to go to any restaurant in order to change as it was around 4.30 pm and we had not yet had lunch. My friend whose car we were travelling in, was sweet enough not to be annoyed on us for sitting in his car completely drenched.
We drove through Trimbakeshwar, towards Ghoti without any GPS and only trusting the road signs. We stopped at KK Dhaba for lunch as one of my friend was keen on us experiencing the authentic local food. We ordered a chicken dish, fried fish, a vegetarian dish, dal, few chapatis and some rice. By the time our order arrived, we quickly changed into dry clothes and were feeling so good after that. We enjoyed the simple but yummy food. And guess what, the total bill for 4 of us was just Rs. 550.
The fun was not over yet. We were still having crazy fun on the road in the middle of nowhere. Our friend managed to capture some crazy slow motion videos of us running on the road and jumping on the road.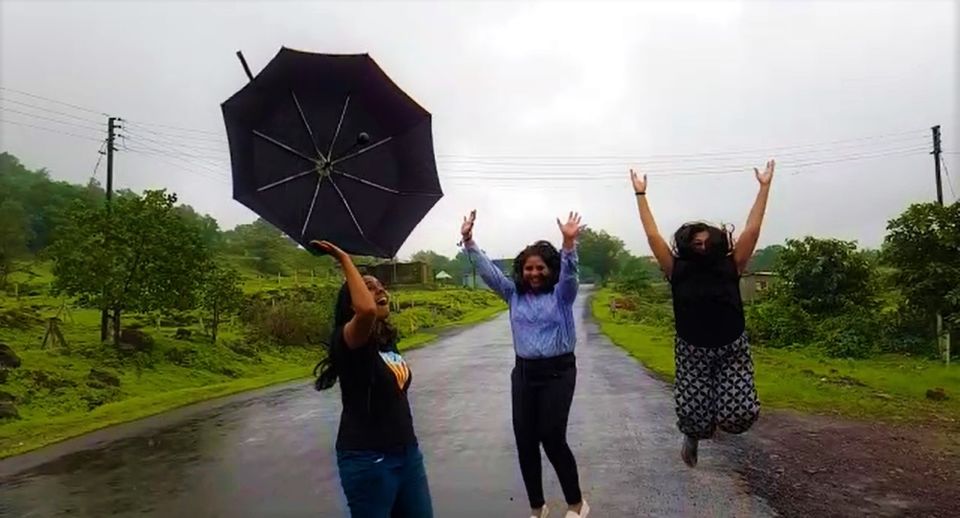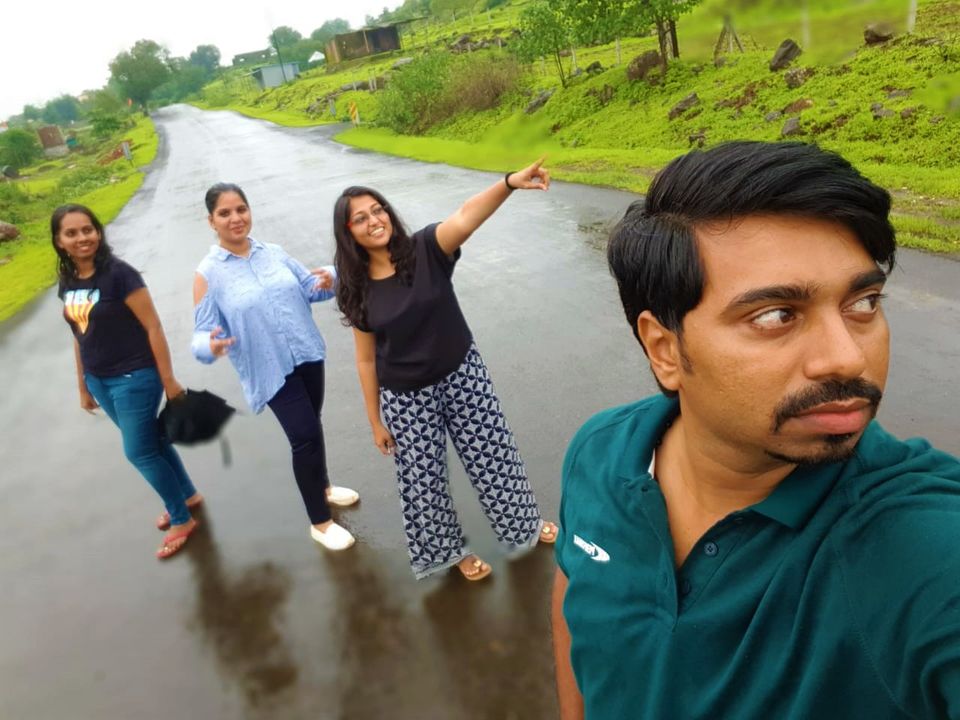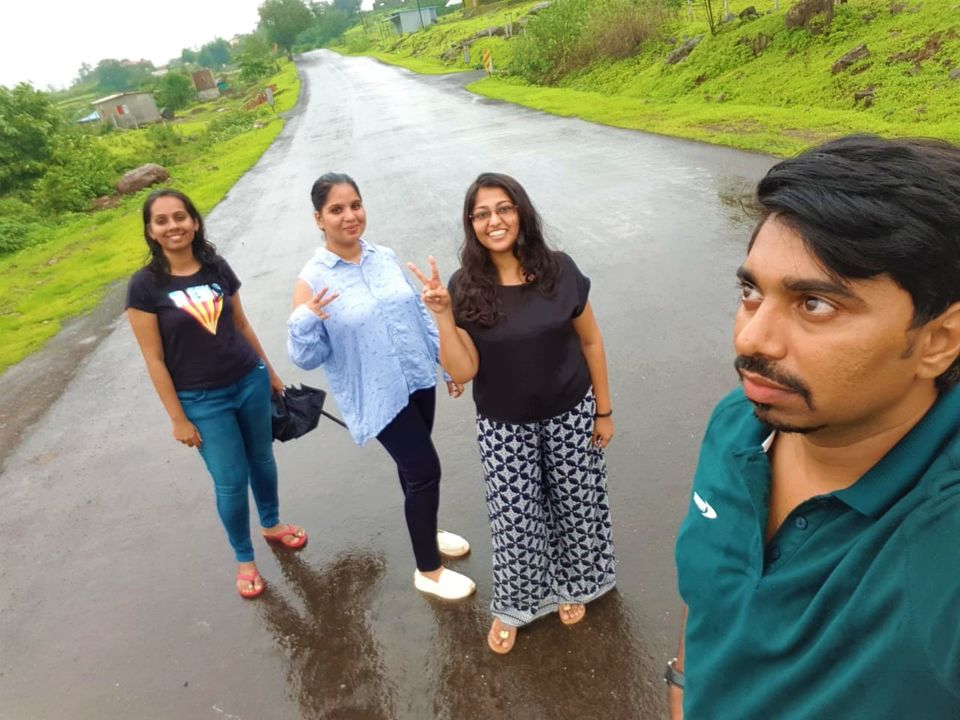 It was a long way back home. All of us were tired and exhausted. But nothing like stopping and watching the sunset at Trimbak - Ghoti road.
The view ahead of us was heavenly. The sun was setting however the huge clouds and the fog spread across the mighty mountain range, wouldn't allow us to witness the sunset today. We just stood there in amaze, appreciating nature – the sky, the mighty mountains, the fog, the water, the lush green grass. What a spectacular view and feeling of being in the midst of nature….
We all reached home very late that night, but it was a trip to remember. We friends met after a long time and enjoyed every moment of the road trip. Unknowingly we had covered a total distance of around 300 kms. Our 5th friend who could not make it for this trip was missed every second. Hopefully, we will catch up for such fun outings more often.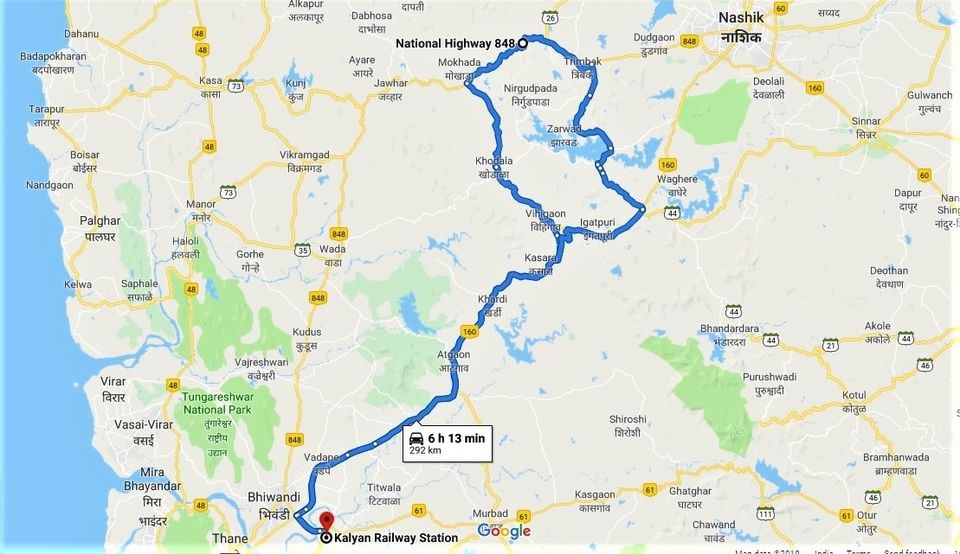 For a short glimpse of our entire trip, watch the below video which compiles all the fun we had on this trip.
https://www.facebook.com/aparna.iyer.142/videos/2270430353011932/
Video credits @ Rajeesh Nambiar / Destination Rides
Follow, Like, Share and Subscribe..
YouTube - https://www.youtube.com/destinationrides
Facebook - https://www.facebook.com/destinationrides/
Instagram - https://www.instagram.com/destination.rides/