Beautiful Trek of Tungnath Temple (Highest Shiva Temple in the world)
Tungnath trek is short and easy in the Chopta Tungnath trek which runs parallel to the sky-scraping Himalayan Treks. Tunganath is the highest temple of Garwal. During this hiking, one can enjoy clear view of majestic peaks of Panchchuli, Nanda Devi, Nilkanth and Kedarnath. Chopta gives a picturesque view of the Himalayas. In the early spring the Rhododendron forest glow red as the flowers bloom.
Your journey for the Chopta Tungnath trekking will start from Haridwar, in Haridwar will visit the famous Mandakini Valley, the river and lake. Then we will visit Chopta, which is surrounded by dense forests. From Chopta, we will start for Tungnath and Chandrashilla Top
Day 1 - Drive Haridwar-Sari (7 hours)
Once you reach haridwar, our coordinators are waiting for you to take next step. On the way to sari from Haridwar you can cherish Rishikesh and Devpryag enroute, if you have the time. Your drive to the trek destination will take around seven to eight hours including a comfortably timed break for breakfast and lunch. Overnight stay in sari Guest House/Camping.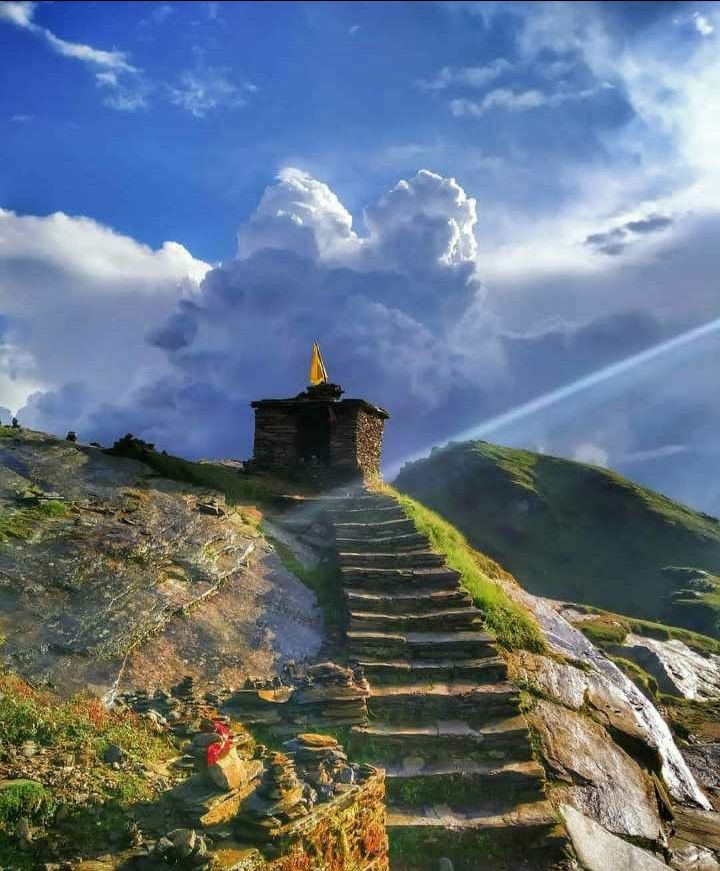 Day 2 - Trek to Deoriatal (3kms)
After having breakfast, the amazing trek will begin and will be around 3kms long. You can have a small sightseeing tour around the campsite if you wish. Once you start your trek, you can see the reflection of amazing surroundings in the crystal clear lake. Therefore it is often called as 'two worlds at one place'. Your trek to Deoriatal will be lined by the holy rivers Ganga and Alaknanda.
Day 3 - Deoriatal to Chopta through Rohini Bugyal (14 km, 7-8 hours trek)
Third day will start with a breakfast and start the trek to Chopta. While walking along the ascending trails you can feel the fragrance of mixed forests which include oak trees and pine as well. The snowy surrounding will let the clock go round easily. The snow filled hills will make you forget every worry and you experience serenity in the snowy white surroundings. You will be lucky if you spot the beautiful bird of this place named as "Monal". A number of trekkers also spot deer's in the vicinity. Once you reach Chopta you can take rest for some time and get re-energised after a refreshing cup of tea and snacks.
Day 4 - Chopta Circuit
Visit Chopta Circuit
Day 5 - Trek Chopta-Tungnath (3680m),Chandrashilla Top (4130m) and back to Chopta (7-8 hours)
After having morning breakfast you can proceed with your trek towards Tungnath. After enjoying the beautiful scenery at Chopta and spending cozy time in the lapse of landscapes, Tungnath will offer you some spirituality and peace. This hike will lead you to the holy temple named as Tungnath temple. Enjoy one of the most breathtaking and beautiful vistas in the Kedar, Chaukhamba and other peaks in the vicinity. Though in this area, you may also get to see a few rare species of eagles. You can also see the amazing forests around the temple and also the peak of Bandarpoonch as well. On both the sides of Chopta you can see green slopes and feel the cool breeze. You can have a tea break while trekking and rest on the bulky stone shaped dining tables in between the path while returning to Chopta. Back at Chopta basecamp, you can relax completely as trekking comes to an end.
Day 6 - Chopta to Haridwar (Drive 7 hours)
On day six, after breakfast all you've to do is drive to Haridwar. You will reach Haridwar by evening.