All tourists share the same wish when visiting a foreign country and that is not only to feed their eyes with wonderful scenic views but also feed their stomach with foods that they would love eating. And if there is one common dish found all over the world, it is barbecue. By its smell alone, your mouth will water, leaving you craving to taste it. And knowing that you can always have a good source of grill pan use, it is not impossible to find places that cook this kind of dish these days. So don't worry, if you don't like the country's local food, ask for a barbecue to be served instead.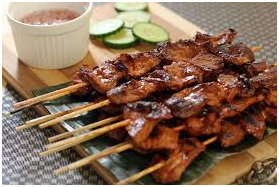 Below are the lists of places offering the best barbecues in the world:
Argentina
If you visit Argentina, look for their Argentine Asado. Surely, you wouldn't want to miss the world's best barbecue. It has a distinct taste because of its chimichurri sauce. Their cooking method plays a great part on the meat's taste too. They cook it over neutral grilling process, using hardwood coals. It is also interesting to note that a ritualistic dedication is done when the barbecue is being grilled. It will last 6 hours the least and all attendees are served with morcillas, chorizos, chinchulines, vegetables, mollejas baguette bread and provoleta. Dinner will be served with Bottles of Malbec, which will perfect the meal.
Austin Texas
If you want to see the most creative barbecue and sides, visit Texas. You will surely drool as you look at their cheesy baked squash and blue cheese coleslaw which are served together with the barbecue.
Seoul Korea
Seoul is a place where barbecue is very common. If you get into one of their pop-up restaurants, you will find barbecue pork served with mushroom, spicy bean paste and kimchi lettuce with sesame powders that are washed down with rice liquor.
South Africa
A National Braai Day is regularly celebrated in South Africa which serves as their cultural and bonding experience at the same time. They use a 40 gallon oil drum made of steel which was cut in half as their grill. This is filled with firewood and a cross mesh burglar bar which will contain the vegetables and meat that they are cooking. Spices used include coriander seeds, cloves, nutmeg flavoring and pepper. Everyone will then share what has been cooked and feel delighted on the meat's mouthwatering taste.
Kansas City, Missouri
How do you like your barbecue cooked? Do you opt for a burnt, crunchy ribs seasoned with mustard powder, cayenne, paprika and sugar? If this is so then visit Kansas City since that is how they cook their barbecue. They also have a distinct taste since a thick tomato sauce that was added with a molasses is used to soak the ribs.
A lot of places in the world cook their barbecue differently. Hence, even if they are all called with the same name, they can taste differently too. And for tourists, this is something worth exploring for.