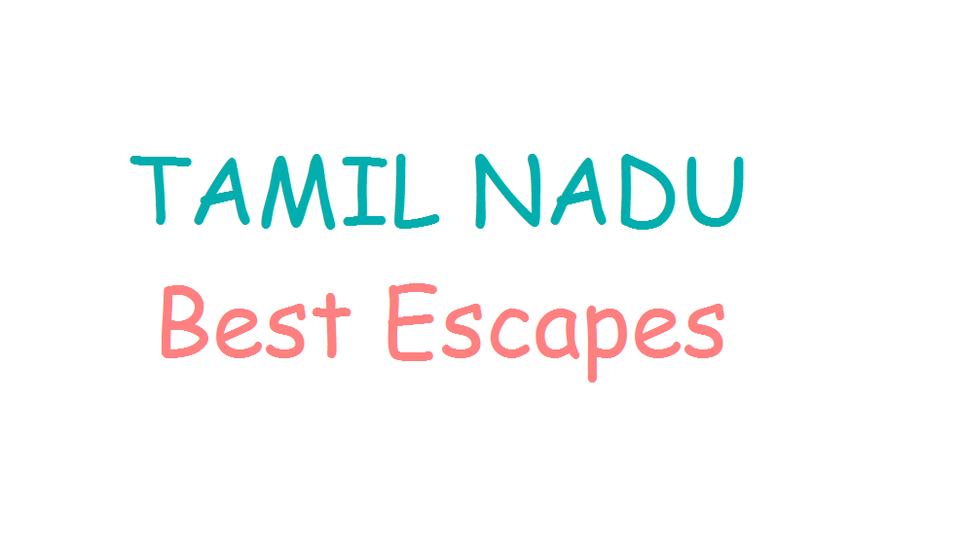 TAMIL NADU, one of largest states in India where cultural heritage meets nature. I love understanding culture wherever I travel or live. Tamil Nadu is much distinct from other states in terms of culture, people and cuisine. It is been almost a decade since I am living in my paternal hometown - Coimbatore, which is the second largest city in Tamil Nadu, India
Tamil Nadu's capital CHENNAI recently added one more feather to its crown by getting rated as the safest city in India
(For more info. - http://www.thehindu.com/news/national/tamil-nadu/chennai-rated-the-safest-city-in-india/article8277935.ece)
I am glad to share a list of the best places to travel and explore in Tamil Nadu based on my own travels and also with the help of some of the expert travel books.
Historical Extravaganza - 
*Kanchipuram – Kanchi Kamakshi, Kailasanathar, Ekambareswarar, Varadarajaperumal and Vaikuntaperumal Temples
*Mamalapuram / Mahabalipuram – Shore temple, Rathas and Mandapams
*Chidambaram - Nataraja Temple
*Tanjore and Kumbakonam – Brihadeeswarar and Airavateshwarar temples, Tanjore Palace, Gangaikondacholapuram, Adi Kumbeswarar temple, Panchanatheeswarar temple at Thiruvaiyaru
*Trichy and Srirangam – Rock Fort, Sri Ranganathaswamy and Sri Jambukeswarar temples
*Chettinadu - Palatial mansions
*Madurai - Meenakshi Sundareswarar Temple and Thirumalai Nayak Palace
*Rameswaram - Ramanathaswamy Temple
*Tirunelveli - Nellaiappar Temple
*Perur, Coimbatore - Patteeswarar Temple
Beach Getaways -
*Chennai - Marina Beach and ECR
*Pondicherry - Paradise, Promenade / Rock and Auro Beaches
*Kanyakumari – Triveni Sangam
*Dhanushkodi
Wildlife and Scenic Attractions – 
*Manjolai, Tirunelveli - Dams and Estates
*Kodaikanal – Lakes and Parks
*Topslip, Pollachi - Aanamalai Hills
*Valparai – Dams and Estates
*Coonoor, Kotagiri and Ooty – Sanctuaries, Estates, Lakes and Gardens
 Tamil Nadu Cuisine - A treat for your taste buds!
*Wheat Halwa - Tirunelveli
*Ashoka Halwa - Thiruvaiyaru
*Home made chocolates, tea, spices, aromatic oils and varkeys - Ooty
*Idlis and Jigarthanda - Madurai
*Rasam, Sambar and Mysur Pa (Sri Krishna Sweets) - Coimbatore 
*Sambar Idli (Sarvana Bhavan), rice, curries and dosas - Chennai
*Coffee - Kumbakonam
*Biriyani - Dindigul and Ambur
*Makkan Peda - Arcot
*Pal Paniyaram and spicy food - Chettinad
*Fire wood baked Pizzas at Café Xtasi, French delicacies at Farm Fresh, Auroville - Pondicherry

Stuffs to buy -
*Silk Sarees - Kanchipuram
*Hand woven cotton sarees -  Chettinad and Dindigul
*Antique Jewellery
*Dancing dolls, art plates and paintings - Tanjore
*Kitchenware - Chettinad
*Ayurvedic personal and skin care products - Auroville, Pondicherry
Please feel free to write to me to plan your trips / for any suggestions.