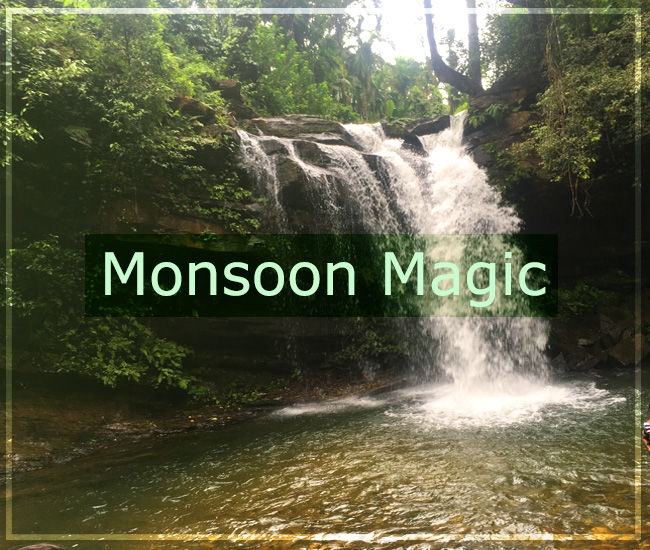 The monsoon has just arrived making the weather around beautiful and romantic. I feel like just lazing around in my balcony watching the pitter patter of the rain and cover myself with a soft, cozy quilt; have a hot cappuccino and read an intriguing book in my hand. How perfect does that sound?
In my wonderland all I can see is far and wide lush green and dense forest caressing indigenous animals all around jumping happily, contented with the surrounding beauty. I had a strong urge to run away from the mainland city into the wild where there is no technology to disturb me. This craving for nature was going crazier day by day.
That's when there was a rescue mission from a bunch of people at work. They are a crazy lot of travel freaks. The plan was Chikmagaluru as a monsoon gateway. A place called ByneKaadu, which can be reached via Hassan district along the Western Ghats. It was a road trip of around 60 people from abof. Initially, I had no intention of going as I had been to Masinagudi the previous weekend. But then by the end I didn't want to miss out on so much fun.
The homestay is spread over acres of area right on the banks of the Bhadra. The best part is that the dining area is right on top of the river and you can witness the gushing waters flowing underneath you. When we were showed towards our room, I was awestruck by the breathtaking view from our cottage. Wow doesn't suffice and no where close to it. There were peacock flying from the other bank to the middle island kind of area. I thought this happened only in animated movies. All of us watched for a while in bewilderment.
Then lunch was served in the traditional Malnad style which was a marvel in itself. The foodie in me was satisfied with the variety offered – Jackfruit Subzi, Akki Roti, Pulav, Coconut Chutney, Papad, Jackfruit Sweet, Steamed Rice and Rasam and couldn't get enough of it.
There was a thrill awaiting us that was the open jeep ride to the foothills. The ride in the jeep made us feel that, and that monstrous jeep had enormous amount of strength to go like a snake in the rugged roads. Then we stared trekking uphill and I don't have any words left to explain the sensation of wilderness experienced. All throughout the trek even though we were getting tired, we went on and on about the cliffs and the peaks, they are indeed nature's gift to us. This didn't end our trip but there was a surprise waiting the next day.
We were taken nearby in the jeep with some towels and spare clothes and then there were terrace farming done all over and we entered one of the private farms and then behind a small cottage down the lane, it was like those people literally owned a waterfall in their backyard! Believe me it was their backyard! That was the most exquisite sight I had seen in my life until then! The waterfall looked divine and we didn't wait a second more to jump into nature's bosom. We were lost in the paradise for a long…. long time.