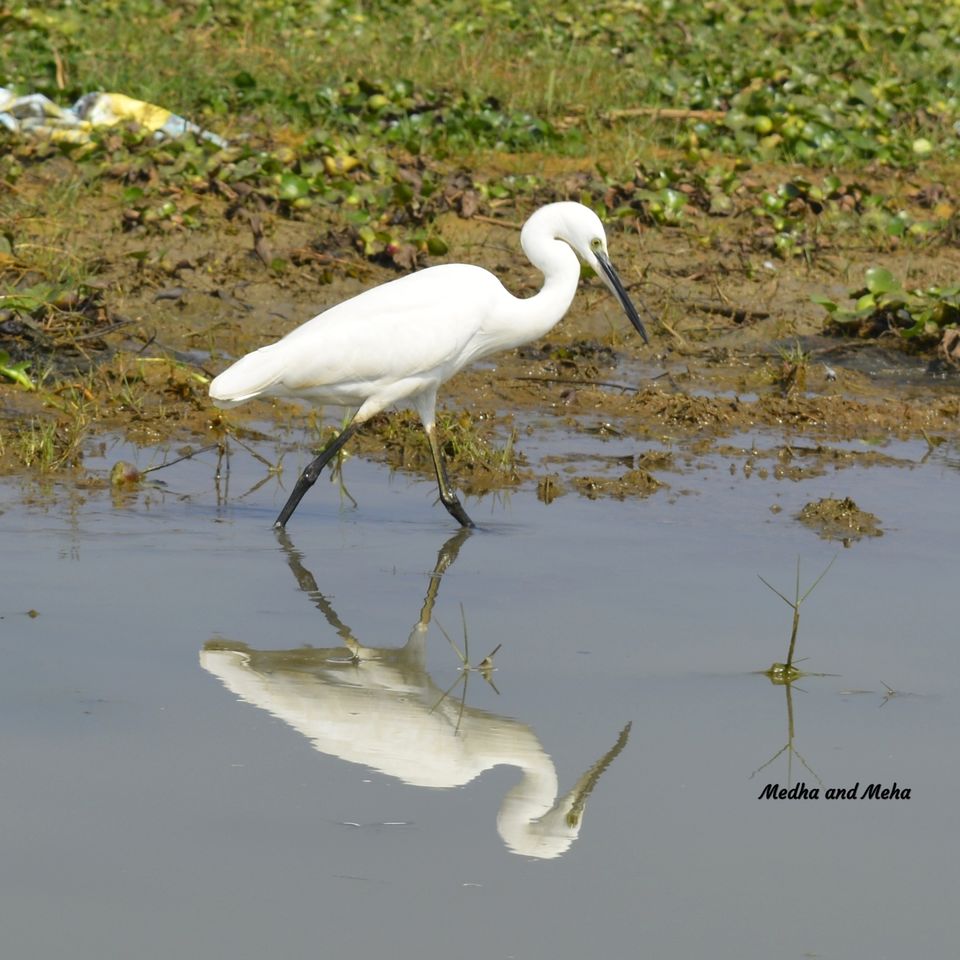 Towards the extreme north of famous Chilika Lake lies this wetland- Mangalajodi which has gained popularity among the birdwatchers. It is located in Khurda district of Odisha and hosts 3 lakh migratory birds ever winter. The entire village is seen to be painted with these colorful birds from November to March every year. You can hardly see any tourists here with only few nature enthusiasts and some professional photographers.
We visited this place in January and were amazed to see the birds of such different colors. You can see all types of egrets - the black beak, the yellow beak and even the great giant egrets walking around you during your boat ride. We also noticed beautiful Bronze winged Jacanas , Godwits, Brahmani ducks , black wing stilts , purple moorhens and many more.
The experience was surreal seeing these colorful birds sitting on bunches of the green weeds . It is amazing to wonder how these birds have been traveling to this wetland every year from countries like Russia, Himalaya, Siberia and Mongolia. We hired a boat with a guide to witness the magnificent temporary home of these birds.
On our ride we were made aware of ill fate these birds used to undergo years before the site was declared a conversation area. Mangalajodi was previously famous as Poachers village for hunting and consuming of these birds!! Yes you heard it right! The villagers used to hunt then down and eat them. However, Mr. Nandakishore Bhujabal and his team in 1997 formed an organisation Wild Orissa who pledged to educate villagers and poachers , so that these acts could reduce. Interestingly , they were even able to turn few poachers into naturalist by enlightening them with importance of biodiversity and ecosystem. Their efforts made Mangalajodi popular on global front and it has now gained International bird conversation area status.
How to reach Mangalajodi : Unfortunately there is no public transport to this place. You can opt a private or Ola/uber outstation cabs from Bhubaneswar to visit this place . Alternatively, you can choose to stay at OTDC Puri and book OTDC cab to this place. It will cost you from INR 1500-3000 for both to and fro journey.
Boat Ride : From 2017 Eco tourism of Odisha has overtaken the ferries that take you around the wetland and they cost you INR 1200 for the entire boat with a guide and a binocular. The boats can accommodate only maximum of 5 people.
Where to eat : There aren't any food outlets available at the site but you have many roadside dhabas on the highway. Don't give a second thought if you want to eat; the food is extremely delicious.
Must try : Prawns!! You would aweeedd by the taste of prawns from coastal and wetland area in Odisha. They have an entirely different taste than we have in mainland here.
Tip : Try to keep Bhubaneswar your base and take Ola/uber outstation rides to travel. It will cost you less that the private tour operators. We booked uber oustation from Bhubaneswar to Puri via Pipli, Raghurapur and Temples in bhubaneshwar and it costed us just 1600 INR.
PS : The images used in this blog are clicked by my sister and me. It is subject to copyright and users are requested to not save it for their purpose without any written permission.