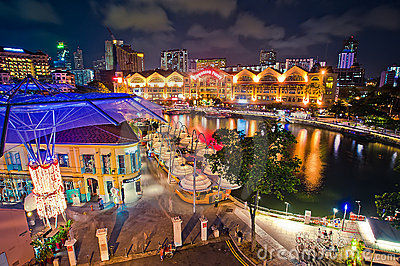 Marina Bay nightlife presents some of the most sophisticated venues in Singapore. Naturally, our list of the 10 best features a good helping of lofty venues that take full advantage of the breathtaking views across the bay, as well as others that don't require an elevator journey. Any discussion of the best nightlife in this area couldn't shy away from the iconic Marina Bay Sands complex either, which really comes alive at night with its variety of luxury rooftop bars, restaurants and entertainment options. From cheap and cheerful after-work joints offering S$5-a-beer deals, to ultra-exclusive clubs where you can blow tens-of-thousands just on one drink, our list of top Nightlife at Marina Bay has it all!
Travel within Singapore quite comfortably with the help of express buses that will drop you off at the major points in the city. Book these express bus tickets online from redbus.sg for added convenience.
1-Altitude
When 1-Altitude at One Raffles Place opened in 2010, it was the highest rooftop bar in the world. Since then, it seems to have won over everyone, from young locals, high-rolling city workers, expats, as well as a good helping of tourists wanting to find out what all the fuss is about. Spread over three levels at the top of Singapore's highest skyscraper, you'll find an alfresco dining area (complete with trees), a series of swanky bars, sumptuous lounge areas and a dance floor that usually fills up late on Friday and Saturday nights. You'll have to part with S$30 just to get inside (free for ladies on Wednesday), but with a view this good it's definitely worth it.
Mansion Bay
Mansion Bay nightclub, more commonly referred to as just 'Mansion' among its young and wild local following, opened its doors in 2013 following the closure of Titanium, a long-running Thai disco that occupied the same building. The overriding factor setting Mansion Bay apart from the rest of its competition is that this club is a stand-alone venue – unlike many of the others in the area that just rent out floor space within a high-rise hotel or office building.