The moment your Japanese super boss questions, "Why late?" and follows with, "Taxi late?" the guilt of making him wait fades away as I nod "YES", and I keep walking with a wide grin to clear the airport security.
A mild turbulence wakes me up and I turn aside to see my boss, pointing at a big white swirl in a weather section at a news paper, and sketching our flight path right through it.
It took me a moment to figure it all out, but a wider grin from him made his intention very clear. It simply kept me awake for the rest of my flight.
He just got me back, fair and square.
Work. Duh! (Enough said). Post lunch, the team takes me out to the KL's cultural hub where the Malaysia's historical things are on display with few interesting cultural shows for the public. A quiet dinner ends the day. But the real excitement begins the following day as a solo traveller with a very adventurous plan. The excitement hardly let me sleep though!
You think, you have it all figured out with a solid travel itinerary. But one can never be sure, when it is a bunch of couch surfers you are counting on in a never-ever-seen-(Is)land. Hoping for the best, I open my eyes to see a beautiful archipelago welcoming me - The Langkawi Islands.
I take a taxi, straight to a town hospital. Yea, right. A hospital. I walk in to meet one of the doctors.
And he takes his stethoscope to examine me.
I go, "Hey! Wait a minute. I am not one of your patients. I am your couch surfing buddy."
A moment of silence followed by a chuckle, and he later takes me to his house and makes me feel home! My hope for the best was turning real.
Teaming up with the neighbour Bob, I decide to explore the white sand beaches and dwell into some local cuisine. Bob, a well-known face walks around with swag in the curvy streets, amidst party lights, hi fives and shoulder greets everyone. Few of those, hi-fives extent to me as well. Yay! I am the sidekick!! THUG LIFE! Cheap thrills are certainly exciting.
Later that night, the Dr. takes us for a spin in his chiselled Subaru WRX.
The beast rolls out slowly from its den. Just a tap and he lashes out. Driving up a hill, under the radiance of moon along the coast, soul soothing music, and psithurism all around, Dr's car was as popular as these two, with cops making way for it to zip through. The drive got me cancer sized goose bumps. Thug life just got bigger and better.
About an hour of bike ride in the lonely roads, I reach the destination to see a gruel trek waiting for me. In fact, I totally missed the point, when Bob mentioned, it is on the second highest mountain. I already felt like an opponent to Ramayana's Vali. With half the energy left, I followed Bob, maintaining a distance where only a howl cry can connect us both.
Almost there, almost there and almost there, became my most self-assuring word. Finally, when I was actually almost there, Bob screams at the top of his voice, "Sorry broooo... Not enough water. I forgot to tell yaaa, that it ain't the best time of the year to visit this place". Though, I was disheartened mostly, the howl cry distance meant a lot to me!
A mix of sane and insane talks filled the rest of my night. So did the roof tearing rain.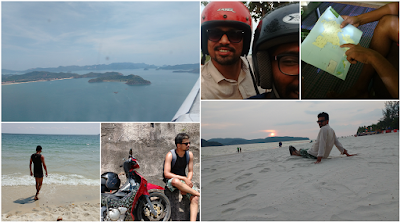 Anything less than 3 days is too little a time to explore the beauty of Langkawi. But the exciting stay with CS buddies made it all worth.
Tip - If you are an avid traveller, the one who looks for company rather than comfort, CS is definitely worth checking out. And if a CS profile says - no TV, no WiFi, no tour guide, only couch. You know what to do. A memory for life is what one lives for. I am carrying enough for seven!
The reality show "The Amazing Race" has always fascinated me. The moment I landed in KL, I was on one such show. My own show.
KLIA is about 50 kms from a hostel named BackHome - a perfect central spot to explore the city, even by walk. A CS buddy named Chris(very good friend to be) had shared directions from KLIA to my hostel, so meticulous and exhaustive that, you just have to follow it literally. When it says, 50 feet from the roundabout, it is 50 feet. You go a foot ahead; you are just wasting your time. But I wasn't competing. So, I took my own time to explore the city, clicking memories. Why worry when you have the all the time and clues to (Back) home?!
Eventually, I was (at) BackHome. Phew! It was one amazingly slow race.
BackHome - a contemporary space that guarantees a serene time at a budget price and it truly becomes your home away from home.
Post a quite lunch, I decide to recharge my batteries for the long night ahead and my night starts by 9pm when Chris takes me out for a drive around the city. KL looks absolutely stunning in the night with Petronas stealing the show. After stopping by a few more attractions, I get some travel tips for my expedition the following day.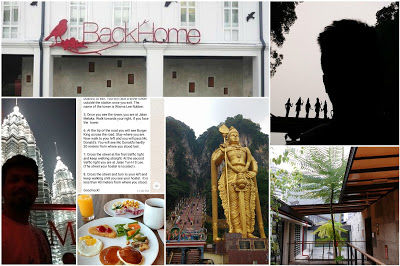 Two of the popular daytime attractions around KL are Genting Highlands and Batu caves.
Genting Highlands - An assortment of fancy restaurants, theme parks and the only inland casino in the country. When you are travelling with a group of friends, GH seems to be a fun place to check out. Hence I rule it out this time.
Batu caves - Majestic limestone hills with historic caves and a Hindu shrine. About 40 minutes travel by metro from BackHome. Easy decision. Batu caves, it is.
As I alight the metro and walk out, I see the most photographed section of Batu caves, the grand statue of Lord Murugan - a Hindu deity at the foot of a picturesque limestone hill.
"Almost there" became my catch phrase again, helping me climb the strenuous 250+ odd steps. I rest for a moment in the last step to catch my breath; and the view is totally worth all the efforts. I walk into some deep and long caves, occasionally sighting the pigeons chase each other. Further few meters ahead, is a main shrine that is guarded by towering walls of limestone all around it.
Breath taken! It was just 250 odd steps to heaven!
Oh, boy! My appetite for life got just served. Or should I say it just began rather?!
Had it not been the CS buddies in KL and Langkawi Islands, I am very sceptical if it would have been as adventurous as it turned out to be. The wandering monk continues to wander, making memories, living through adventures and sharing stories! Remember that, a tan is the best accessory for any outfit :)