Best Places to eat in Varanasi
The fabled city by the shores of Ganges, Varanasi (Banaras) was on my 'to do' list for a very long time. A city celebrated for its food, I knew I could not stay away from the chatpata Chat or delicious Malaiyyo for far too long. Hence, Saurabh, Gurjas and I packed our bags and boarded the train to Manduadih, a name that amused us all throughout our journey.
After dropping our luggage at our hotel near Dashashwamedh Ghat, we quickly scuttled towards Godowlia Chowk, as we were pretty hungry. The narrow tapered lanes and congested spaces reminded me of Delhi's Chandni Chowk, with corners filled with Paan Walas, Lassi Walas, Mithai Shops, Kachori sellers, Chai walas and much to my surprise, even several Dosa-Idli vendors. All these eateries served as landmarks that helped me traverse through these crazy unfamiliar lanes.
Anyway, I couldn't wait to indulge in the food offerings of Varanasi and kickstarted my Food Crawl.
UP Ki famous Chat:
I have been ardent fan of chats in Lucknow, but now after Banaras, it's hard to pick a favourite. I can write ballads about it, but let's just say, if you could do only one thing in Banaras, just savour the chat! Available throughout the day, it's not just a snack, but literally a way of life for the locals. Looking for quintessential Tamatar or Palak Patta chat? Read on.
Kashi Chat Bhandar
Address: D-37/49, Luxa Rd, Godowlia Chowk, (between crossroads and church), Varanasi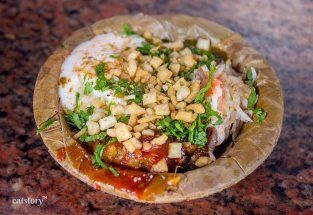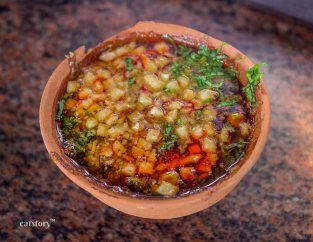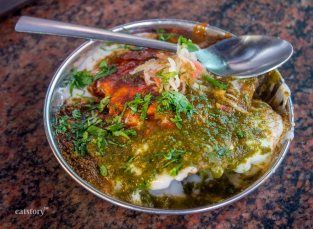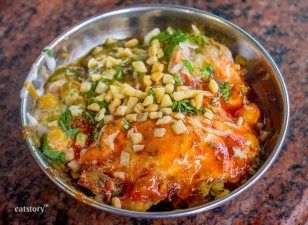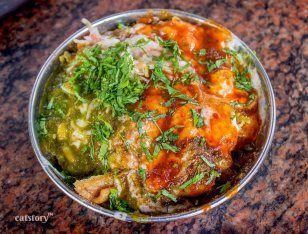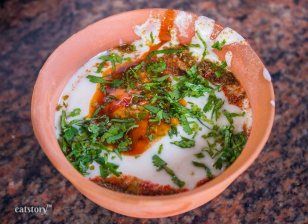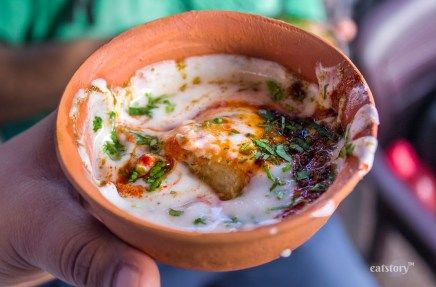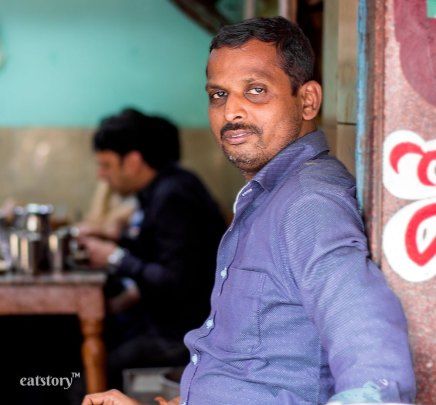 The mecca for all things yummy, Kashi Chat Bhandar should be your first stop for delish street food. I ordered the famous Tamatar Chat and discovered that it's served warm. Primarily it's made with Tomatoes, but also has mashed vegetables such as potatoes, beans, peas, mixed with spices, khoya, cashews and chashni (sugar syrup). Garnished with tiny crunchy pieces of namak pare, it is sweet-salty-sour-crunchy all in one bite. An absolute MUST have. I also loved Palak Patta Chat, made with spinach covered in batter and fried mixed with sweet curd, tamarind chutney, mint chutney and spices. Aloo Tikki Chat, Samosa Chat, Dahi Bada, were equally spectacular! Rakesh ji, whose father started this eatery 40 years ago, takes huge pride in his food and serves you with an infectious smile. Trust me, you will love indulging in the umami flavours this place has on offer.
Deena Chat Bhandar
Address: D-47/184, Luxa Road, Dashaswmedh Road, Varanasi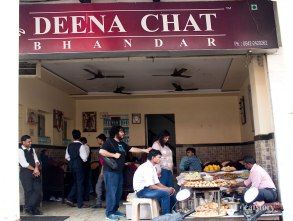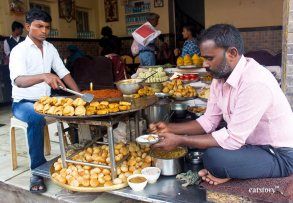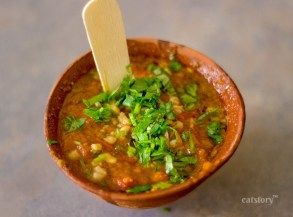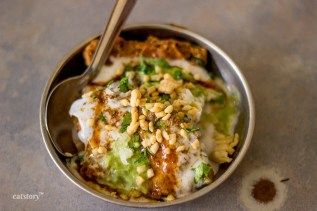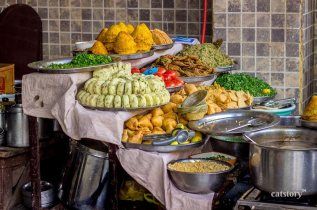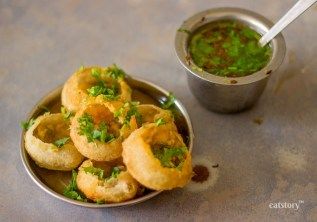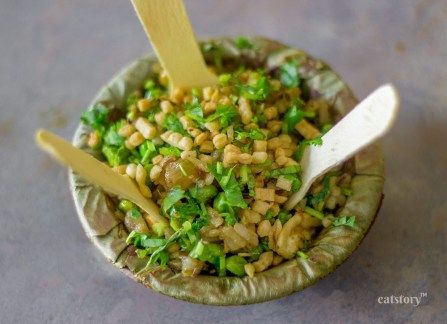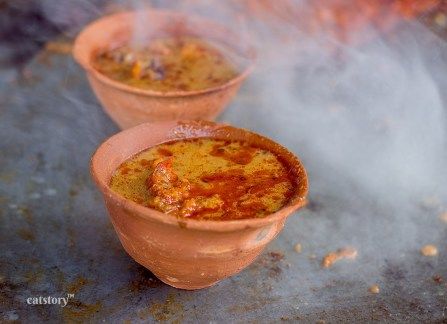 One gets Aloo tikki, Tamatar Chat and Samosa Chat here as well, but the specialties are Chivda Matar Chat, Sohal Chat and Gol Gappas. Chivda Matar or Chooda Matar, is made with flat rice flakes (Poha) and green peas mixed with sweet syrup, ginger and garam masala. Gol Gappas are served in two different ways, one with Dahi (curd) and other with Pani (water). I had the one with Pani. Filled with crushed matra (white peas), they are served with water flavoured with heeng (asafoetida), jeera (cumin) and chat masala. This was very different from Lucknow's Pani Ke Batashe, which are served with three different types of water.
Breakfast: What locals eat?
Ram Bhandar
Address: 36/25, Chaukhambha Gully, in front of Bhartendu Bhavan, Varanasi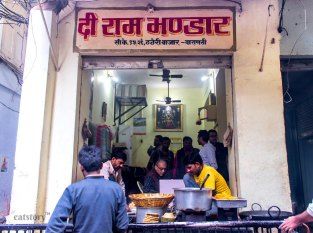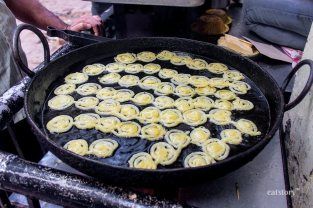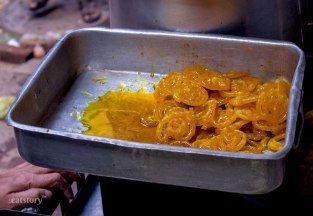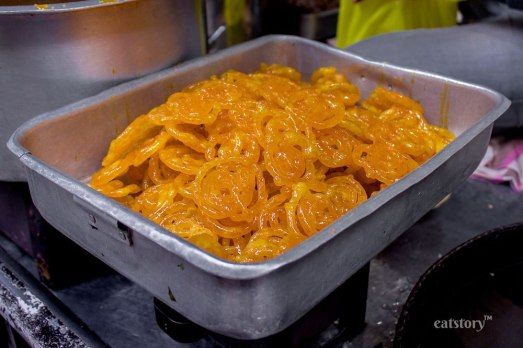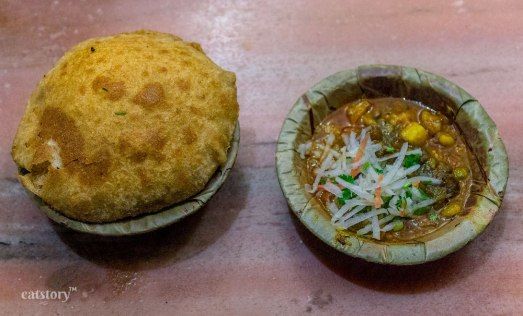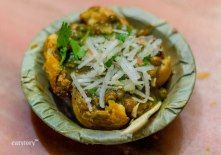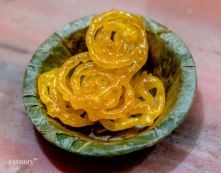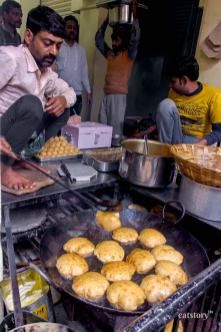 Early morning breakfast with Kachori and Aloo Rassa at chowk, is phenomenal! A breakfast staple, locals line up at Ram Bhandar, to get their fill of authentic Kachori-Subzi. Most get them packed by dozens. We were smitten by the sheer deliciousness this place had on offer in the form of Gol kachori and Badi Kachori. Gol Kachori filled with the potato masala mash, fried right in front of our eyes and served with aloo-kala chana rassa, tamarind chutney and mint chutney. The Badi Kachori was bit like Bedmi Poori and was served with Aloo Rassa, tempered with heeng. Though both the versions were delicious, but Gol Kachori was the winner! Taking a cue from the locals, we ended our meal here in the quintessential Banarasi style with some crispy, syrupy hot jalebis. This meal reminded me of the breakfast I had at my friend Devang's place in Lucknow.
Malaiyyo
Address - Chaukhambha Gully near Gopal Ji Mandir (about 100m ahead of Ram Bhandar), Varanasi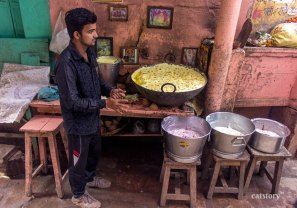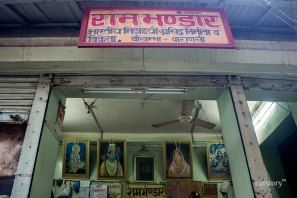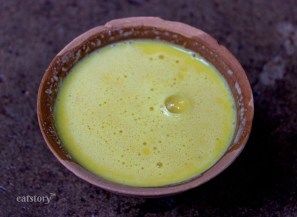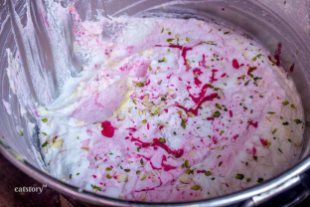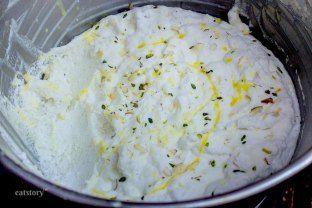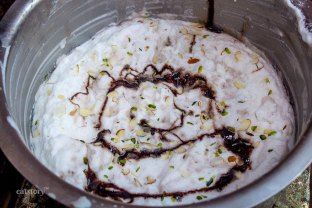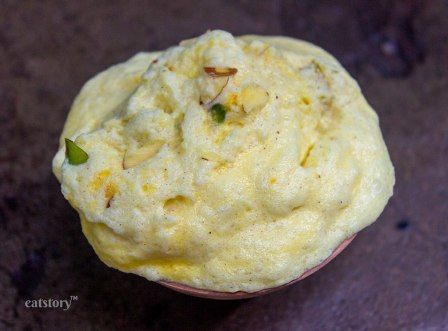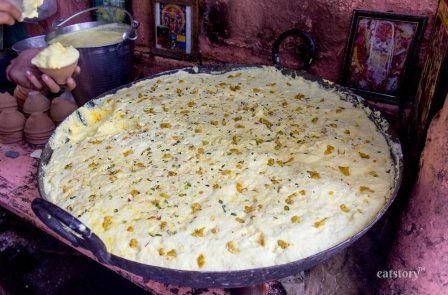 Moving a little further down the lane in Chaukumbha Gully, I ate Banaras's most cherished and prized delicacy – Malaiyyo. Available only during the winter season, this 'milk cloud' was flavoured with saffron, garnished with pistachios and had chunks of rabri. Milk is churned whole night so as to reach this level of fluffiness. Be wary of many others selling insipid variants of it in various parts of the city, as it's only here in the Chaukumbha Gully, that you'll get the real deal. Here you may also find chocolate, strawberry version, however refrain from them and just enjoy the original, magical Malaiyyo.
Luxmi Chai Wale
Address: Chowk, Varanasi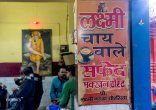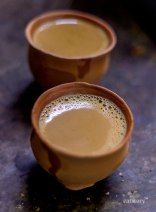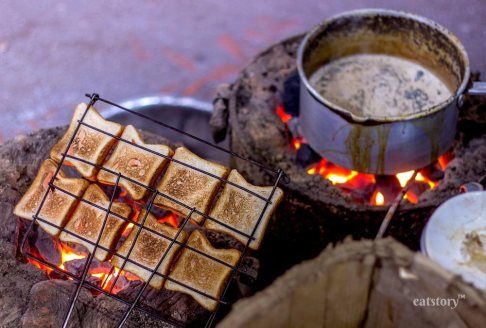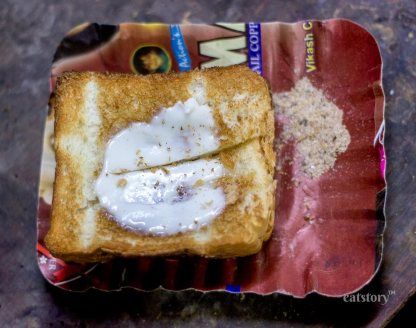 In Banaras, if people are not chewing paan, they are sipping on hot chai (tea). Just like in Kolkata, tea stalls in Banaras are ubiquitous. However, if you wish to comfort yourself with the best chai, visit Luxmi Chai Wala. I saw the man who was making tea, work with precision and diligence. Making tea was the only job he did. Gurjas said, it was one of the best chais he's had ever. Since I don't drink tea, I had White Butter Toast, Amul Butter Toast And Malai- Cheeni Toast, all of which were amazingly comforting for a cold winter morning. The toasts are served with salted masala and go well with the sweet chai.
Non-Vegetarian Food in Banaras?
Saurabh being Saurabh asked me, whether we would actually keep it an all-vegetarian food crawl? Well, being ardent meat-lovers, how could we? So we dug up some 'Non-vegetarian' options, even in this vegetarians' paradise.
Kalika Dhaba
Address: Opposite Hero Showroom, Sigra, Varanasi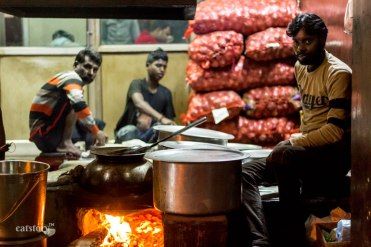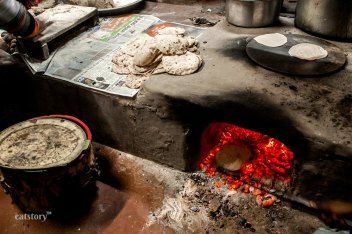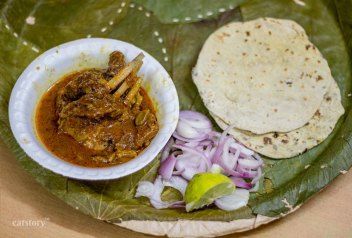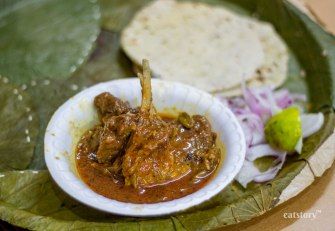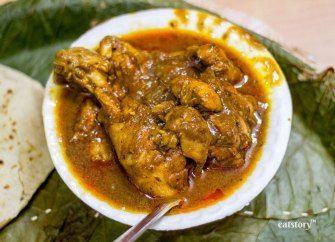 Craving for typical dhaba style Mutton or Chicken curry with hearty chapatis? Kalika Dhaba is where you can satisfy your meat cravings in Varanasi. Rice served on a pattal and curry served in terracotta bowls, everyone at the eatery seemingly had huge appetite (including us). We ordered for Mutton Curry, Chicken curry, Shami Kebabs, Rice, Phulkas and Salad. The aroma of spices was so strong that I couldn't wait to dig in. The Mutton curry had a good balance of spices like cardamom, cinnamon, chilies, cloves, nutmeg, garam masala and black pepper. The mutton was cooked nicely, barring a few pieces, which upon our request, the staff instantly replaced. The Kebabs and chicken curry were good too, but it was the mutton that I personally liked. They also serve fish curry, fish tikka and other fish dishes. So come all and eat some meat.
Dalmandi near Nayi Sadak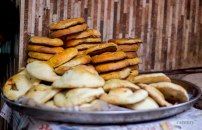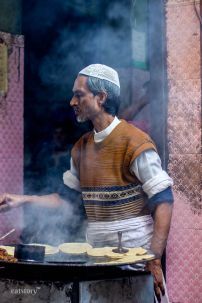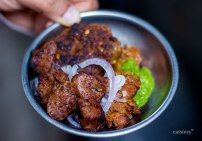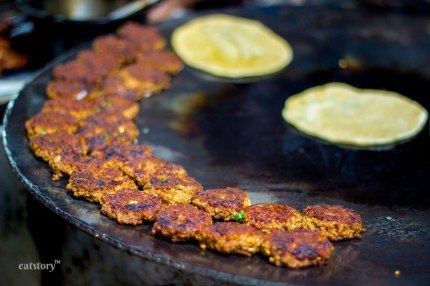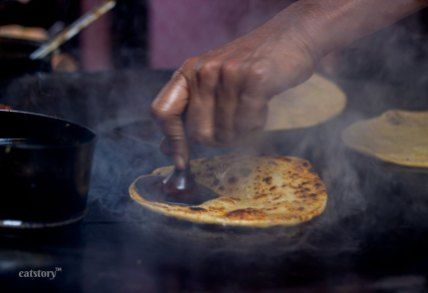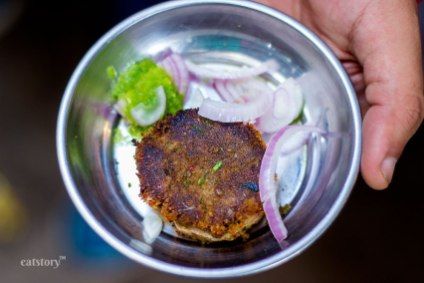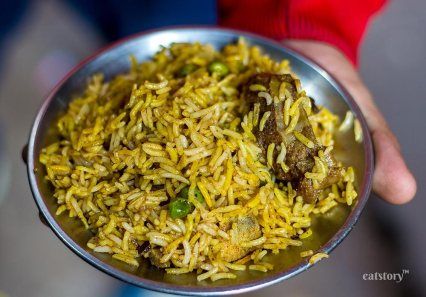 After wading through a human traffic jam, we finally reached Dalmandi, albeit with some help from a local miyan ji who was kind enough to walk us through the busy lane of Nayi Sadak. I would have been lost had he not personally led us to the lane lined with Kebabs, Biryanis and Niharis. The ramshackle shops had tandoors, tawas and barbeques churning out Bade Ke Kebab, Gurda Kebab, Shami and Galouti, which were served with ulte tawa ka parantha with green chutney and raw onions. My favourite was Bade Ka Kebab, which were soft, flavoursome and thankfully not chewy at all. I liked Shami and Gurda Kebab too, but the Biryani tasted more like Pulao and Galouti was just about okay. Caveat: This place is infamous for being a hub for courtesans and the food joints are located right next to meat mandi.
Lassi in Benaras
I never liked Lassi before I went to Lassiwala in Jaipur. However, one can't come back from Banaras without having a glass of Lassi. Though we saw many Lassi shops in the city I really got drawn towards Bana Lassi.
Bana Lassi
Address: Dashashwamedh Ghat Road, Varanasi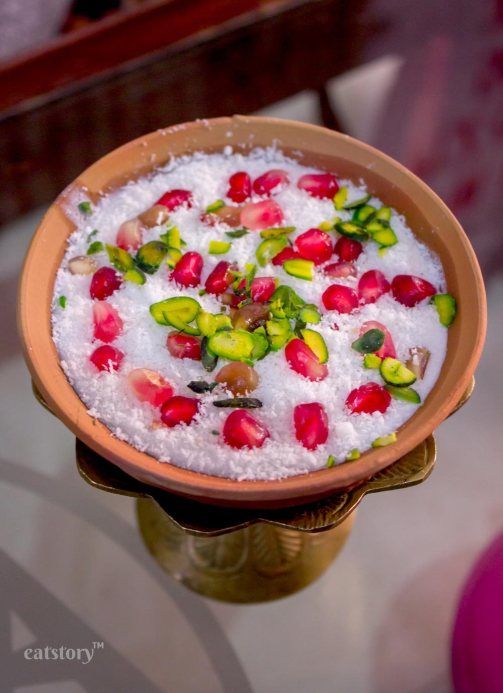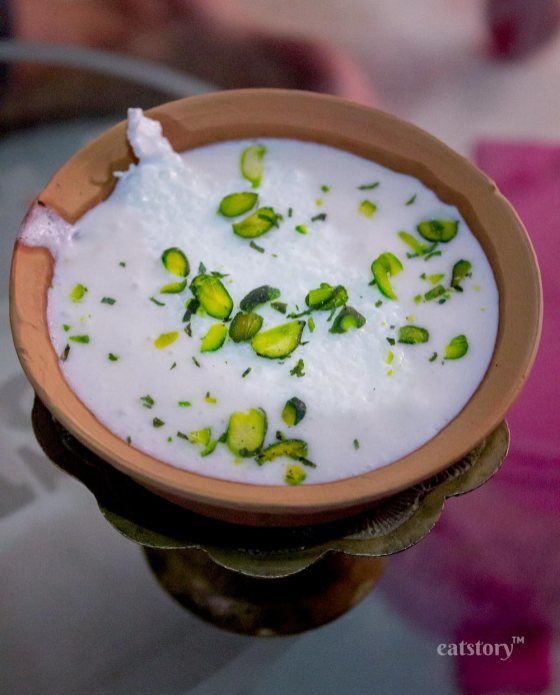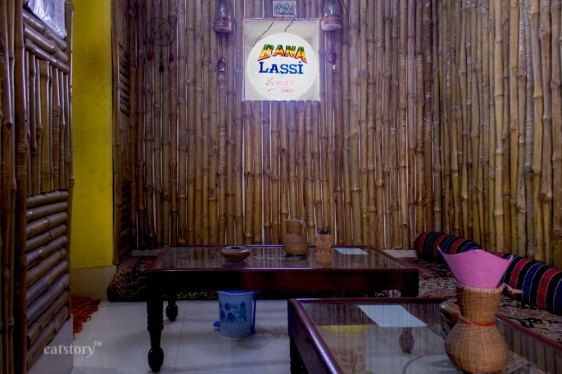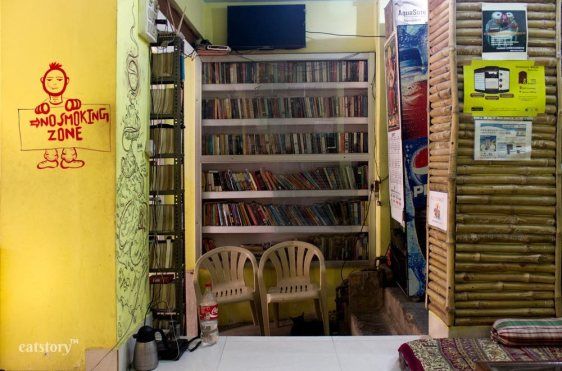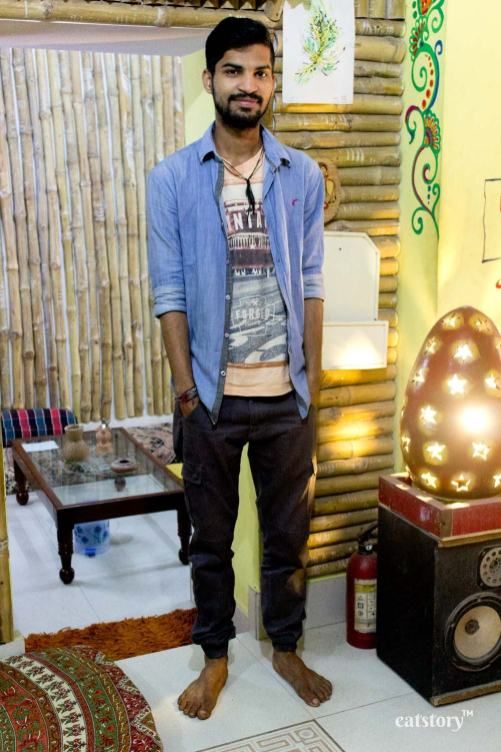 A shop that sells only Lassi, Bana Lassi had many Koreans and Japanese tourists chilling and sipping on the cold, fruity beverage. Hand churned and available in various fruit flavours such as orange, mango, coconut, pomegranate, having a glass of Lassi here is a must. Also do meet Akash, the young chap who runs this place, talk to him about the heritage of Banaras, read Japanese graphic novels, listen to Bob Marley and enjoy hand churned Coconut-Pomegranate Lassi.
Café Food - Pizzas, Breads & Pie
Pizza by the Ghat and Artisan Breads in the confined gullies, Varanasi can surprise you with some delicious foreign food as well.
Vaatika Café
Address: B-1/178, Assi Ghat, Varanasi, Uttar Pradesh 221005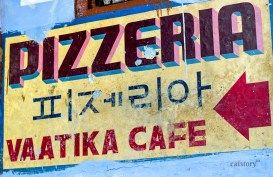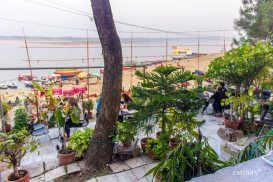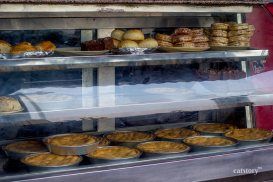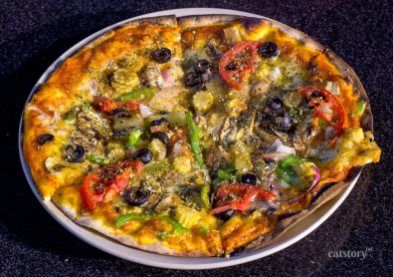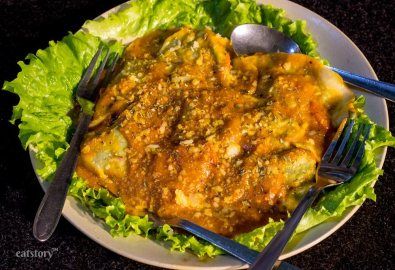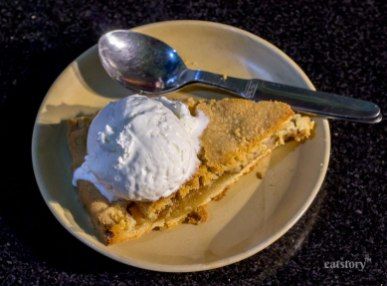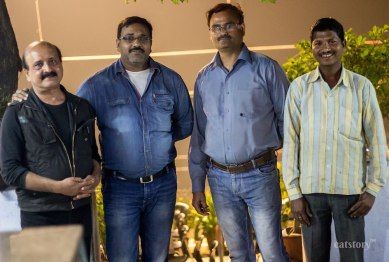 Gopal Krishna Shukla, a local who was taught how to make thin crust pizzas by an Italian visitor, started Vaatika Pizzeria 25 years ago. Since then, it has come to be the regular haunt for people looking to indulge in scrumptious pizzas in Varanasi. After I visited the open air Vaatika Café, over looking the Ganges, I can say this place lived up to all the hype. We ordered Veggie Delight Pizza and I must mention, that most of their pizzas had pineapple in it. The pizza was good however it was the Spinach and Mozzarella Ravioli that almost made me lick my plate. Homemade pasta, filled with good dose of spinach and mozzarella cheese covered in sauce made with tomatoes, cheese and smoked peppers tasted delightful.
Their Apple Pie is also stuff of legends. Many years ago a baker named Mia taught these boys how to make the flakiest pastry and juiciest-delicious apple filling for the pie and till today the recipe remains same and a well-guarded secret. However, to my utter dismay, we were told it was already sold out. But, thanks to our stars and the nicest staff at the café, two servings were made available, when few pre-orders got cancelled. I have been to many bakeries (including the ones in Paris), but, I can affirmatively say that this would be my most favourite Apple Pie of all times. The warm pie with cold vanilla ice cream just tasted divine!
Brown Bread Bakery
Address: Sonarpura Road, Pandey Ghat, Varanasi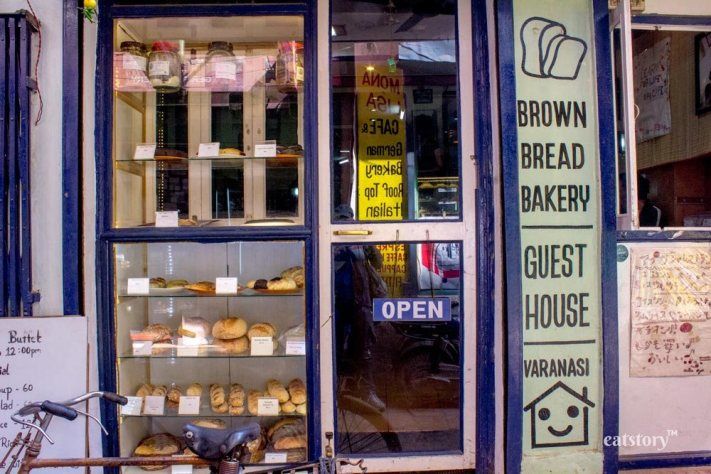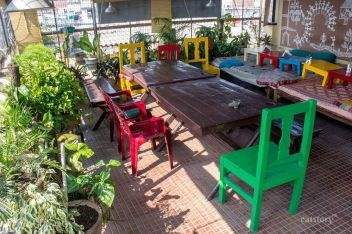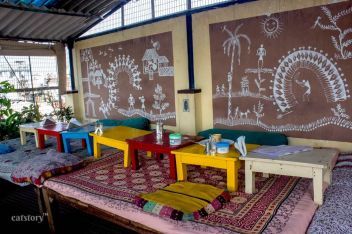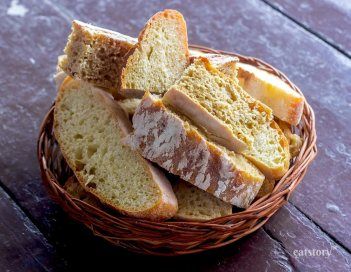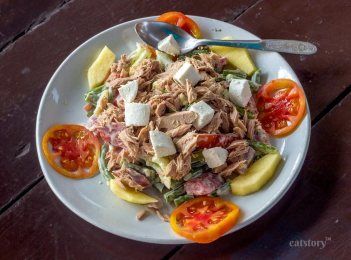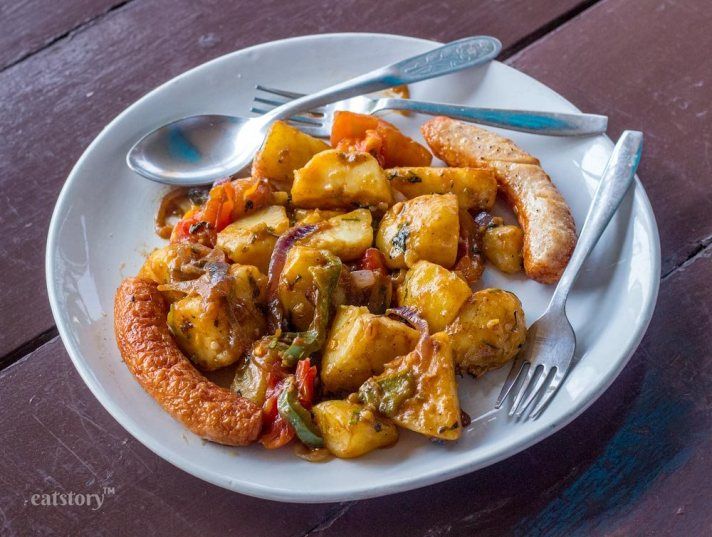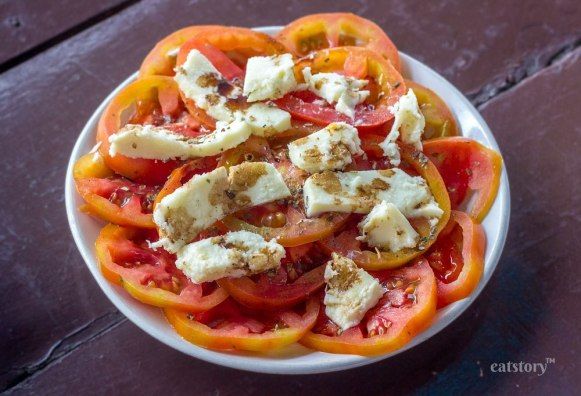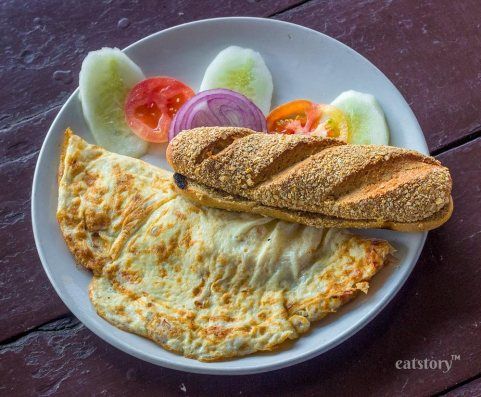 I have been to Brown Bread Bakery in Paharganj. So, I had a fair bit of idea regarding what I could expect here. Started in Varanasi, this bakery is known for Artisan Breads, Homemade Cheese, Organic and Vegan food. After some help from Google Maps, we managed to reach the bakery for our breakfast. We ordered fresh Apple-Beetroot-Carrot Juice, Cheese Omelet with bacon, Hash Brown, Caprese Salad and Tuna Salad. The juice was fantastic and so was the omelet. I loved the fine quality of assorted breads, where the crust was hard and inside was soft. However, Hash Brown was more like Potato Subzi and Caprese salad despite having Buffalo Mozzarella, had no sign of fresh basil. Hence, these dishes were bit of a let down. They also had a nice range of Pastas and Sandwiches along with a wholesome Breakfast buffet. Perfect place for those who love Vegan-Organic food.
Open Hand Shop & Café
Address: B1-128-3, Dumraun Bagh Colony, Near Assi Ghat, Varanasi, Uttar Pradesh 221005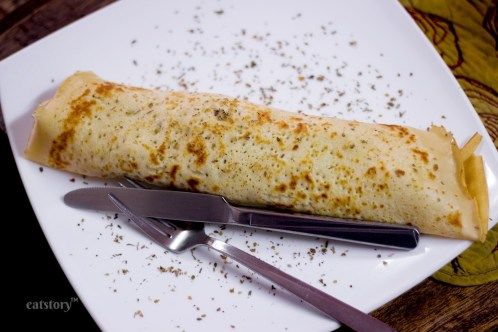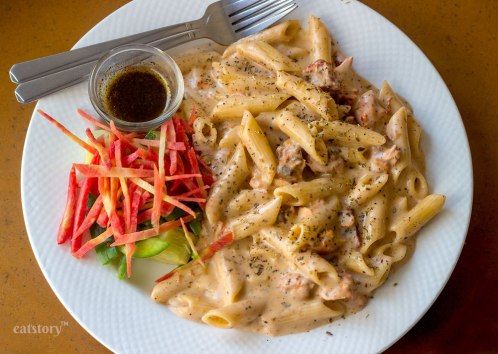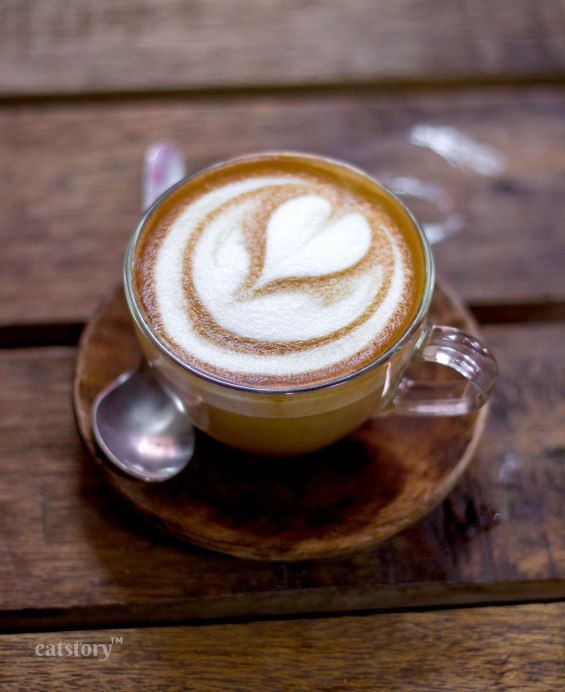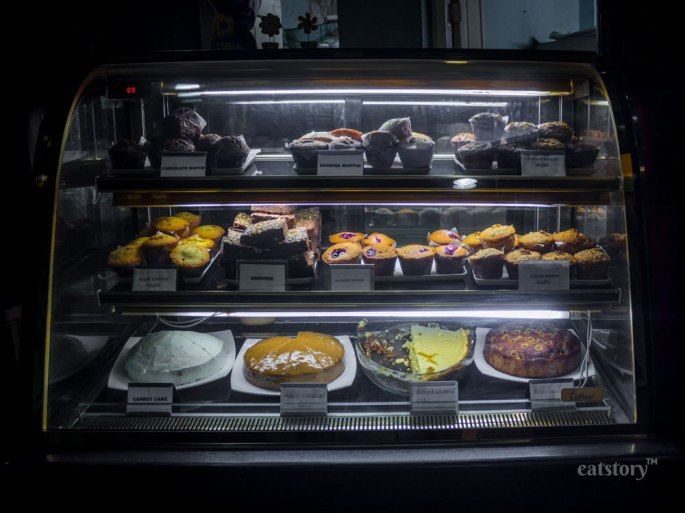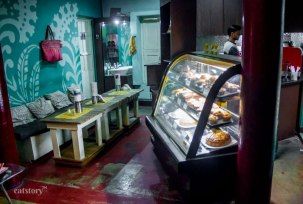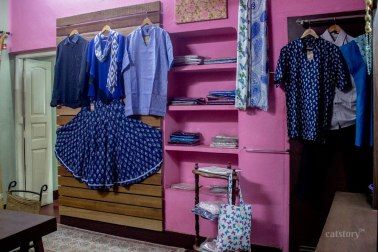 This café instantly reminded me of cafes in Pondicherry . A vintage house turned into shop-cum-café, we moved from one room to another and finally found a seat next to a narrow balcony. We ordered for Chicken and Mayo Savoury Pancake and Chicken in Creamy Sauce Pasta and Cappuccino. The pancake was thin (more like a crepe), filled with Chicken Tikka covered in mayonnaise. Full of comforting calories, it was delicious and Saurabh really liked it. Penne with cheese laden sauce and subtle (almost bland for Gurjas) flavour, the pasta was indeed creamy. If you love your pasta to be cheesy and greasy, you would love this one. Their bakery counter also seemed quite tempting, with Baked Cheesecake, Carrot cake with Salted Caramel, Banana & Cinnamon Cake on display. Sadly, I had no appetite left to try anything. I enjoyed the quietness of this place and the food, which was a break from the spicy local fare.

I also noticed a Korean restaurant right across Open Hand Café and a Japanese one in the making. You must also check out Bread of Life Bakery, Dosa-Idly vendors and Bengali Sweet shops in and around Dashashwamedh Ghat. 
To put my expedition in a nutshell, if you want to ' experience Banaras ', go there with a big appetite and eat like there's no tomorrow!
This blog was originally published on EatStory.