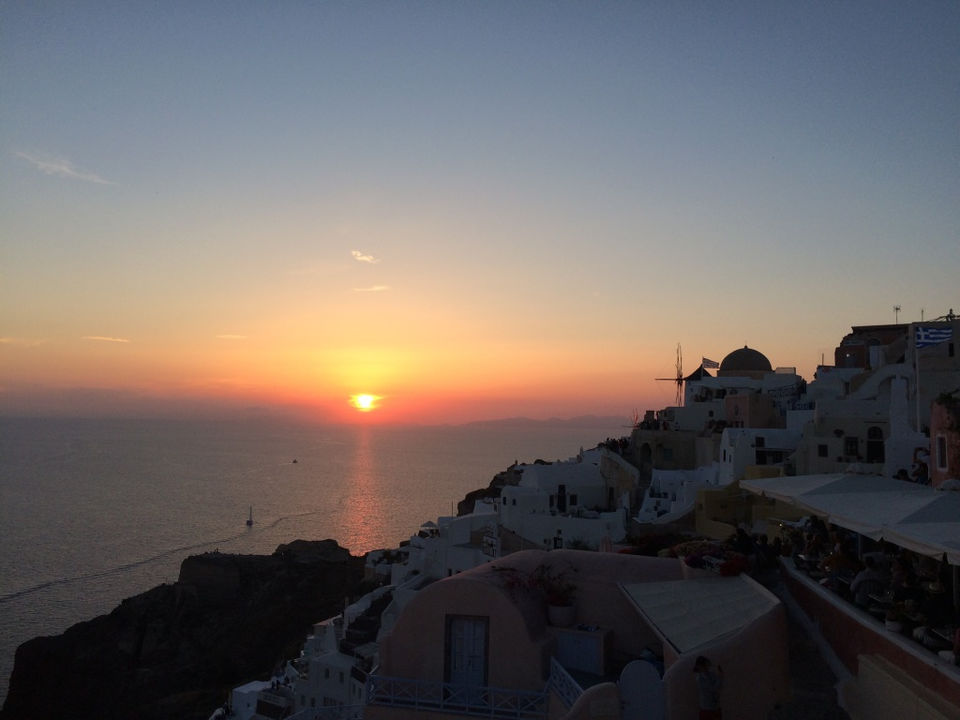 Santorini sunsets are legendary and one of the most famous sunsets in Europe. A white village atop volcanic cliffs, beautiful windmills, the tranquility of the Aegean Sea and the red and golden sunset makes it one of the most romantic places in the world.
Tourists plan their entire day taking into consideration which spot they choose to watch the popular Santorini Sunset. Some of the best places to watch sunsets are Promenade in Fira, Oia village, on a cruise, Santo Winery and Thirassia. Fira and Oia are the two most popular Sunset watching places in Santorini.
.
Sunset in Fira
Fira can be the best place to stay for tourists as it is convenient to commute and explore the entire Santorini Island from Fira. Besides the Promenade in Fira has some amazing restaurants and shops which deserves to be explored. You can catch some pretty great sunset views from the cliff edge in the southern area of central Fira. Have dinner at a cliff side restaurant while enjoying the sunset!
.
Sunset in Oia
Oia is a village located on the northwestern end of Santorini and it is the best place for watching the Santorini sunset. Oia's cliff side is studded with the beautiful whitewashed house and windmills. The view of the whole caldera that shows the island's crescent shape is stunning! During summer evenings it will be very crowded and people choose their spot hours before the sunset.