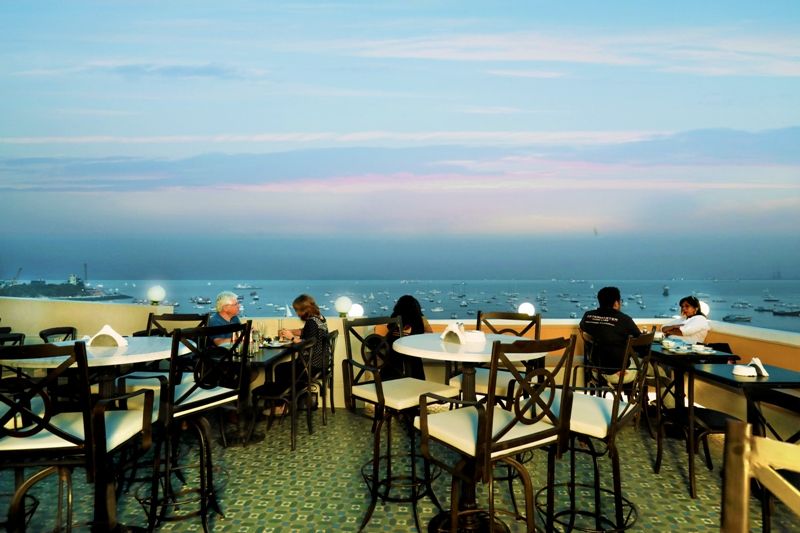 Nestled in the heart of the city, Hotel Harbour View proves an ideal choice for the travelers who wish to experience the real Mumbai, complete with its age-old charm. Hotel Harbour View is strategically located flanked by the Gateway of India on one side and the city skyline on the other.
Whether you are a Mumbaite longing for a weekend break or a tourist looking for a comfortable stay with a luxurious art deco touch, Hotel Harbour View is the place to head to. Inspite of being in the centre of the bustling city, you will be amazed at the tranquility pervading the place.
Inside the boutique hotel:
With the Arabian Sea right at its doorstep, you are enamoured by the view as you reach Hotel Harbour View. When you step out of the elevator, you are sure to be awestruck by the art deco adorning the interiors. Every minute detail, right from the wrought iron chairs to the wallpapers or the accessories in the rooms ooze art deco. A perfect blend of heritage Mumbai with the contemporary can be witnessed here. The chosen colour scheme of yellow, grey and white gives it a quaint European classy touch.
The rooms:
You can take a pick from a choice of four categories of rooms. Each room is tastefully done up with all the necessary comforts and not to forget the view of the sea. You could even relax in the balcony with a cup of tea as you take in the whiff of the surf and watch the boats sailing past.
Bay View Café:
Bay View Café atop the terrace of Hotel Harbour View is an all-day diner and soft bar offering a breathtaking view of the Arabian Sea.
With a delectable cuisine and a choice of the finest drinks, Bay View Café offers the perfect ambience for you to unwind. A must-visit place for a luncheon, a quiet dinner, a family gathering or a bash with your close friends. Feast your eyes on the scenic view and pamper your taste-buds while you celebrate those special moments with your loved ones.
Interesting places to see:
Take a walk around Hotel Harbour View to experience the history of Mumbai. At a stone's throw is the architectural icon of Mumbai, Gateway of India. Enjoy walking through the lanes of Colaba and shopping for trinkets and knick-knacks, wine and dine at the choicest restaurants, or if you are an art connoisseur you could visit the Art Galleries around the place. Prince of Wales Museum is a must-visit and hardly a short walk away from the Hotel.
How to get there:
Closest airports are the Chhatrapati Shivaji International Airport and the Domestic Airport at Santacruz. Closest railway stations are Chhatrapati Shivaji Terminus and Churchgate, both easily accessible. The hotel offers airport pick up and drops and guided tours on request. Their website is as beautiful as the hotel itself and gives all the necessary information. hotelharbourview.in