Blessed with the bounty of unparalleled natural beauty, the mystical land of Karnataka is undoubtedly one of the most alluring landscape of the country. Adorned with azure skies, verdant foliage, and sparkling waters, Karnataka is nothing short of heaven on earth. What adds to the beauty of this place are the enchanting waterfalls in Karnataka, which become all the more endearing in the monsoon season. Here is a list of the ten most captivating falls in Karnataka, which are sure to steal your heart.
1. Jog Falls: Situated in the Shimoga district of Karnataka, the Jog Fall is perhaps one of the most popular tourist destinations of the state.Plunging from a height of about 830 feet, the gorgeous waters of Jog Falls constitute the second highest waterfall in India. This fall in Karnataka is formed by the river Sharavathi and is surrounded by lush green mountains and wispy clouds. The nearest city to these falls is the Sagara city which is easily accessible from both train and bus. Cascading from the crevices of the mighty mountains above, this waterfall is an a charming sight and is an absolute must-visit destination in Karnataka.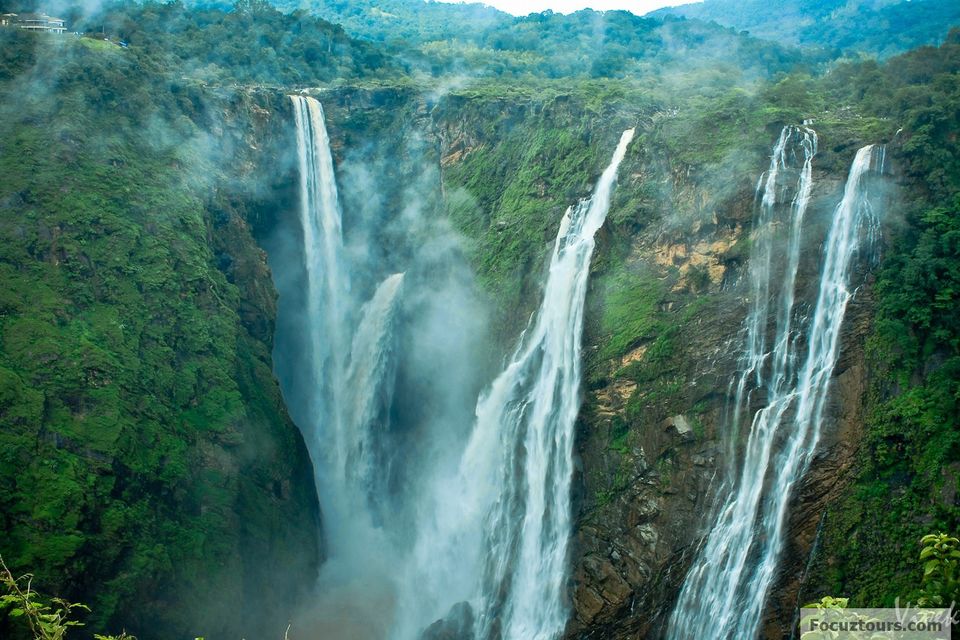 Picture Credits: www.tourmet.com
2. Abbey Falls: Located at a distance of about 90 km from Mangalore, the Abbey Falls are a unique combination of streams that flow together to form a magnificent waterfall. The gushing waters of this fall flow from the top of rough steep mountains to form a quaint little lake below. These falls make up for a perfect picnic spot and the coffee plantations nearby will surely have you craving some freshly brewed coffee. This tourist attraction is around 7 km from Madikeri and one can easily take a bus or hire a cab to reach here.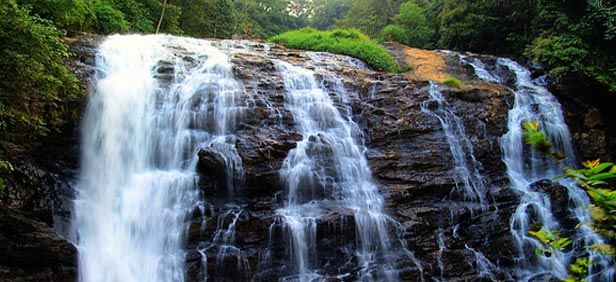 Picture Credits: www.journeymart.com
3. Hebbe Falls: Nuzzled snugly in the bosom of the Kemmannugundi hills, the Hebbe falls of Chikmanglur is a spellbinding scenery. This charming waterfall descends in two stages,the big stage being the Dodda Hebbe and small one being the Chikka Hebbe. The base of the waterfall is adorned with rocks and shrubs and makes this fall a perfect place to relax and unwind. These falls can be reached by the means of jeeps which are easily available. The jeep ride in itself is quite an adventure owing to the undulated terrain of the region, but the view definitely makes it one of the best Karnataka waterfalls.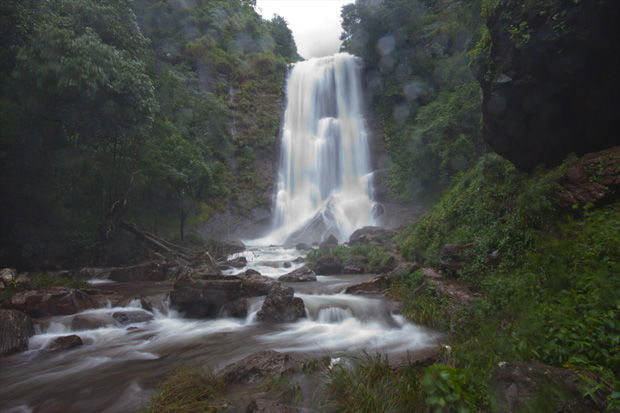 Picture Credits: www.rajmahalckm.com
4. Sathodi Falls: Located at a distance of about 32 km from Yellapur district, Sathodi Falls is an extremely picturesque waterfall in Karnataka. Surrounded by rocky caves and thick forests, these falls seem to have been picked out straight from Mowgli's Jungle Book.There are several streams which meet at a place known as Kallaramane Ghat and then fall at a height of 15 meters. It joins the backwater in the Kodasalli dam which causes the waterfall to end. Sathodi Falls can be reached by taking a cab from Yellapur itself.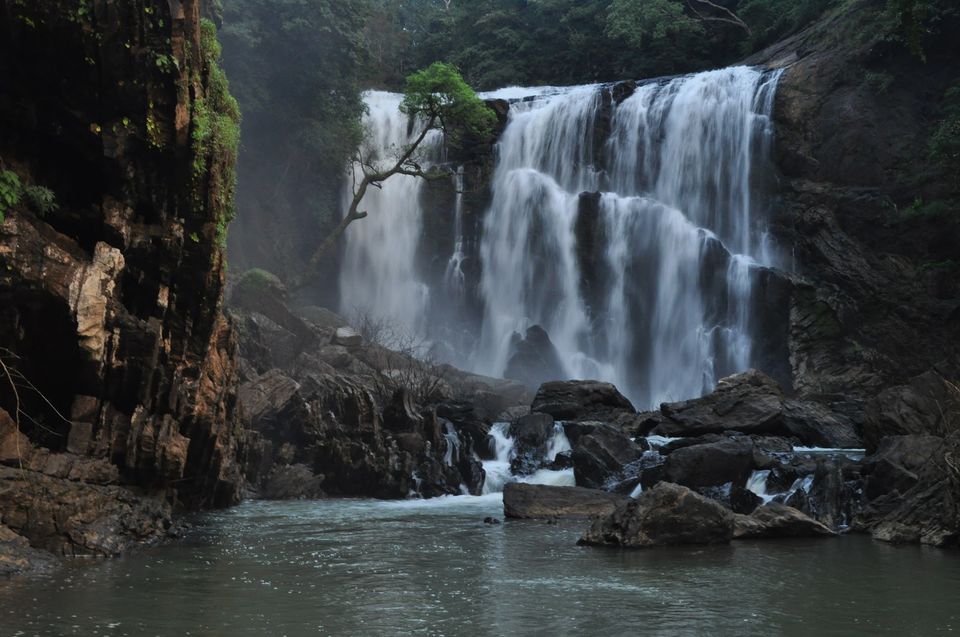 Picture Credits: www.nisargakarnataka.com
5.Unchalli Falls: Easily comparable to the Niagra Falls, the Unchalli Falls is perhaps one of the most beautiful waterfalls in Karnataka. Located at about 25 km from Sirsi, these amazing falls were discovered by J.D. Lushington in 1845 and are also called the Lushington falls after it's founder. The Unchalli Falls are located at a whopping height of 170 feet and are famous for its unique shape and spread. Trekking 5 km from the Heggarne village to reach the falls is an experience in itself. The thrilling slope, plunging valleys and beautiful fauna will accompany you until you reach these alluring waterfalls.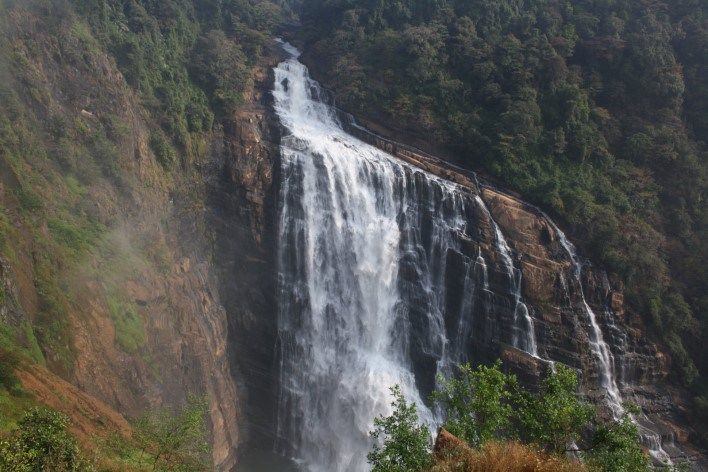 Picture Credits: www.karnataka.com
6. Iruppu Falls: Located at a distance of approximately 50 km from Madikeri, the Iruppu Falls are one of it's kind. With the frothy waters almost mimicking the fluffy white clouds above, these falls cover a course of dense forests and rocky terrains to reach its destination. With the Brahmagiri wildlife sanctuary nearby, this waterfall in Karnataka is a wonderful amalgam of flora and fauna. Monsoon season is ideal to visit as the waterfall is in full swing during the rainy season.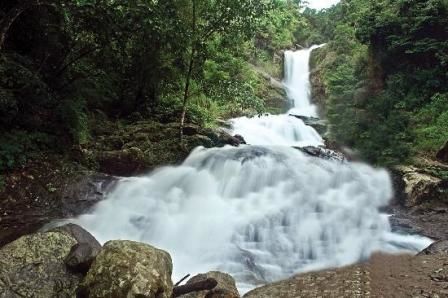 Picture Credits: www.stylesatlife.com
7. Kalhatti Falls: A treat for both nature lovers and spiritual seekers, the Kalhatti Falls are unique waterfalls situated in Chikmanglur district of Karnataka. These waterfalls are located near the famous Veerabhadreshwara Temple of Lord Shiva, the waterfall makes an enchanting view as it gushes all over the rocky deity. These mighty falls cascade from Chandra Drona Hills and makes a plunge of about 400 feet to reach the ground. A popular tourist destination, the Kalhatti Falls can be reached by driving down the Ooty-Mysore road and then walking for some distance.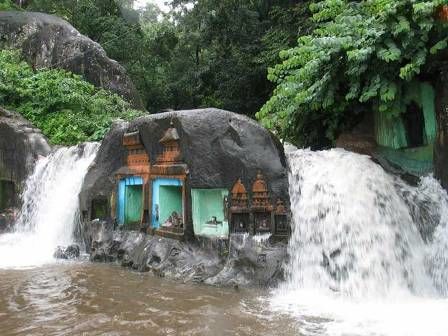 Picture Credits:www.stylesatlife.com
8. Gokak Falls: The Gokak waterfall is located at a distance of 6 km from Gokak in the Belgaum district of Karnataka. This waterfall in Karnataka takes a winding course to drizzle over an enchanting sandstone precipice overlooking the horse shaped Gokak Valley. The waterfall also houses a hanging bridge across the river at a height of about 201 meters and gives an amazing bird's eye view of the entire waterfall. Monuments from the Chalukya era are also found here on either side of the gorge.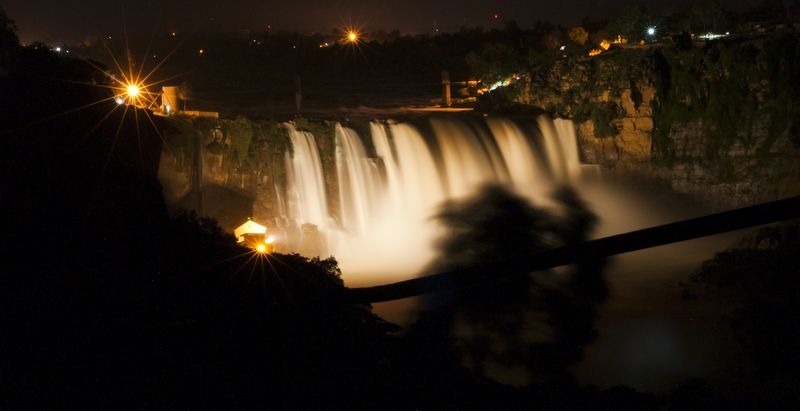 Picture Credits: https://en.wikipedia.org
9. Dabbe Falls: A haven for nature lovers, this Karnataka waterfall is nestled away in the lap Mother Earth. Surrounded by the Western Ghats, this pristine waterfall manifests itself as a gushing stream pounds its way through the surrounding rocks to end in a quiet flow of calm waters. This waterfall can be reached only by trekking through a thick forest, and the trek is indeed an adventurous one. Stretching for about 9 km, the trek is a challenging one but the end result makes it totally worth it!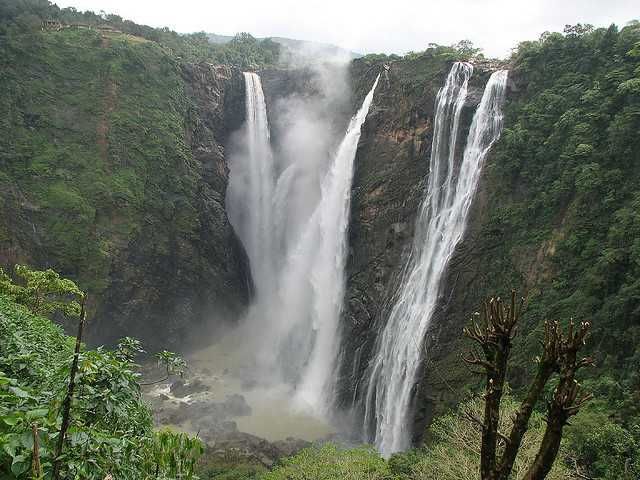 Picture Credits: www.holidify.com
10. Shivanasamudra Falls: Situated along the river Kaveri in the district of Mandya, Shivanasamundram is essentially a hydropower project but is more commonly known for its waterfalls. These mighty falls split into two streams to pour downward from the same point in different directions and are called Gagana Chukki (90 metres) Bhara Chukki (69 metres) respectively. These falls provide a great opportunity to try a hand at fishing and trekking in the rocky terrains of the region. In order to reach Shivanasamudra, one can hire a taxi directly from Bangalore. A humbling sight to behold, Shivanasamudra is beyond a doubt among the most charming waterfalls in Karnataka.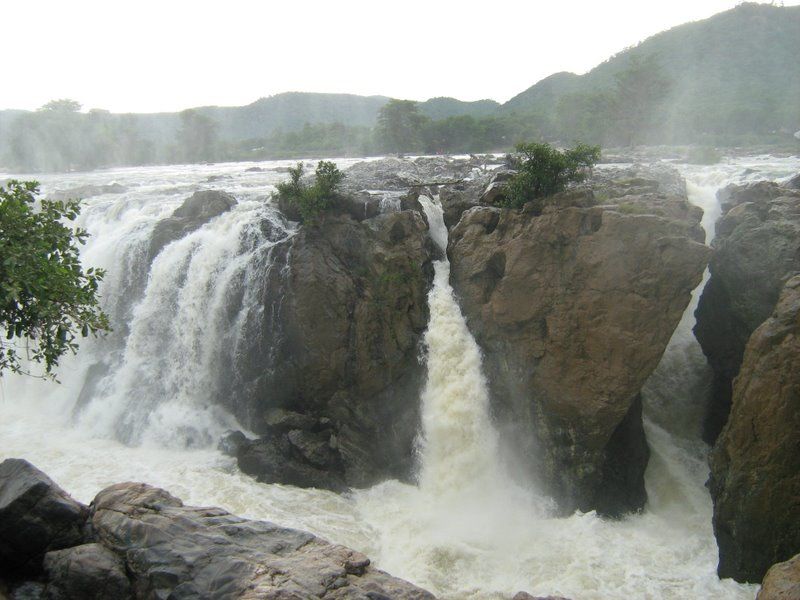 Picture Credits: www.holidayiq.com