Kasol is what they call is the stoners Paradise or smokers Paradise and the best way to reach Kasol has been described in detail. It is the relaxing getaway for people coming here. The town hasn't got monuments or other such sightseeing points but the natural beauty that the heart craves for, is in abundance. You need to walk in order to commute here in Kasol. But if you wish to go to Malana or Manikaran, you need to hire a taxi or catch a bus. The area is a little remote which makes it an ideal place for relaxing. The place has many hotels, guest houses which one can get at affordable prices.
Trout fishing, Camping, trekking are some of the things you can do here. Although you might need to take special permission for the fishing experience. It is considered to be as the best place for angling. There are various interesting, easy as well as difficult treks around Kasol and Malana. Kheer Ganga is one of the main treks.
This is kasol bus stand located at the center of the place where buses comes at regular interval from bhuntar to manikaran hence making the road transportation best method of reaching kasol
Are you a fun and adventure loving person? Or are you a peace and nature loving kinda person?
Do you like?
· Hiking
· trekking
· Peace and tranquillity
· Exhilarating Scenic beauty
· Fishing
· Spell binding Mountains
· Picturesque locations
Is your heart in need of a relaxing getaway? Or do you like to party?
Then I know a place, that has it all. You can experience the thrilling adventure activities or you can just layback and unwind in the lap of nature as this offbeat tourist destination has a lot to offer. The international DJs during the music festival give a new life to this place. This surreal place is Kasol (please don't confuse it with Kasauli), a small suburb in the Parvati valley of Himachal Pradesh. If this is not what attracts you, then there is one more thing that it is famous for- YES, the trippy trips of Kasol (for those who know why the place is so famous). Although one should know that Marijuana, Hash/Hashish (cannabis) or any such drugs are banned substances in the country and their possession might lead to imprisonment.
The trance and Psychedelic parties in the nearby village of Chalaal will make your experience truly unforgettable. Kasol is a little remote which makes it an ideal place for relaxing too. Some of the things you can do while visiting Kasol are:
Visit Malana
Malana is a village known for the cultivation of the famous M cream. You can trek to Malana or you can hire a taxi to reach there. The place is isolated from the rest of the country and has its own rules and regulations. The secrets that the place has hidden for so long are worth finding out.
Go to Tosh
Tosh is a beautiful village at the top of a hill with majestic mountains all around. The view that the place offers will definitely make your day. You have to reach Varshaini which is the last stop of the bus route from where you can trek your way upto Tosh or hiring a taxi is another option you can choose.
Trek to Chalaal
You can walk your way to Chalaal from Kasol in about 30 minutes. Chalaal is famous for Hashish(cannabis) and the world class psychedelic parties which take place deep into the woods.
Manikaran Sahib
This religious site of Hindus and Sikhs have the hot water springs which are believed to have healing powers. The water is so hot that you can even cook rice in it. The Guru Nanak Ji gurudwara and the Rama temple attracts a lot of pilgrims throughout the year.
Trek to Kheerganga
The Kheerganga trek is a little difficult with many bridges and waterfalls on the way up. You have to travel for about 14kms in order to reach Kheerganga. The hot water springs and the temple of Lord Shiva and goddess Parvati, makes it so famous.
Best way to reach Kasol?
This is the place adjacent to the chalaal bridge and one need to visit it for looking at the beauty of kasol
The only and the best mode of reaching Kasol is by Road. The nearest airport, Kullu Manali airport, Bhuntar is about 32kms from Kasol. But from there on, you have to catch hold of a bus or hire a taxi to reach Kasol. The bus ticket will cost you Rs60-90 while a cab driver may charge up to Rs 700 or more.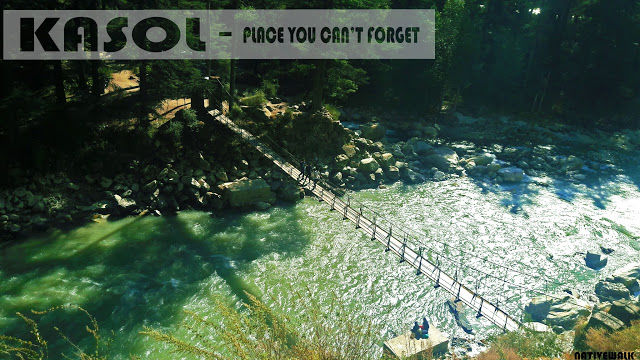 Chandigarh can be reached from Delhi by national highway NH1 and then you can go to Kullu by national highway NH21 which passes through Bilaspur, Sundernagar and Mandi towns, covering a distance of about 270kms. All the buses go to Manali via Bhuntar and one needs to get down at Bhuntar from where you can hire a taxi or catch a bus to reach Kasol.
Bhuntar-Kasol 32kms
Bhuntar-Kullu 10kms
Kullu-manali 40kms
There are other ways of traveling too but the best and the fastest options for reaching Kasol are the ones mentioned above that is by road.
This blog was originally published on 'Native Walk'