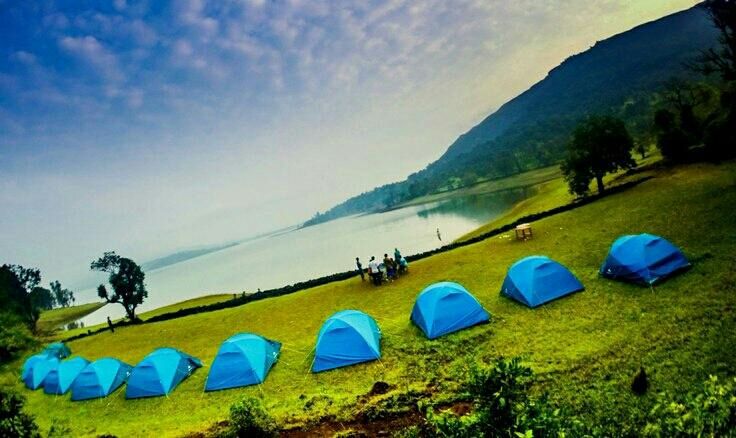 What to expect :
Bhandardara is a small hill village in the Western Ghat range, which is popular amongst tourist for the vast and magnificent Arthur Lake at the heart of this place. Like many other destinations in Sahyadri, Bhandardara turns absolutely stunning during and after monsoon and that's when tourists prefer to visit. But it is beautiful and relaxing throughout the year and great for a weekend trip from Mumbai and Pune.
Reaching there :
Bhandardara is a weekend getaway from Mumbai and Pune and it is respectively 165 km & 175 km from these two cities. Driving (self or hired) is preferred mode to reach this place. Cars with driver can be hired from any travel agent or one can opt for self-driven cars from Zoomcar or Miles.
If you are looking for public transport option, you can take the train to Igatpuri station which is 45km from Bhandardara. Auto Rikshaws can be hired from station for around 500-600 Rs. However you won't get autos in Bhandardara for your return journey, so it's good to keep contact details for some autos in Igatpuri whom you can call for a pickup.
State buses are also available from Igatpuri to Bhandardara, but the frequency is not high. Other option for commute is, reaching Ghoti from Igatpuri Station (12 km) in bus or auto and taking shared jeeps from Ghoti. But these shared jeeps carry on an average 20-25 people and make for an uncomfortable journey.
While Bhandardara is not a destination to attract tourist from distant cities, it is recommended for people who are planning a visit to Mumbai and nearby places.
Move around :
Moving around is not too convenient in Bhandardara unless you have a car. There are no feasible public transport option. Cars can be arranged for sightseeing with help of the hotel, which will take you to all tourist attraction point for a fixed price. Some of the major attractions are very close to the lake and can be reached on foot.
If you are visiting the place with sole purpose of relaxing, you would not require to move around at all. You can stay in hotel, enjoy the view and walk around the lake if you wish to.
Major Attractions :
Arthur Lake – Surrounded by small hills on each side, Arthur Lake makes for a beautiful view. The lake is vast with many small villages at the bank of it, Bhandardara being one of them.
Wilson Dam & Umbrella Falls – Wilson Dam is built on the lake, very close to MTDC. When the dam is open the water flows on the other side making an Umbrella shape. This is called Umbrella falls, but it is visible only for a short period during peak monsoon. Around the falls a small park had been built once upon a time, but long since it had gone through any maintenance. The water from the dam forms a river stream and flows on bed of small pebbles by the side of the park. The park can be reached through road or through the stairways built on the dam wall which can be accessed from near the dam gate.
Randha Falls – 8 km away from Bhandardara, Randha fall is a situated on Pravara river and it has a height of 170 ft.
Ratanwadi Village & Amruteshwar Temple – Ratanwadi village is 15 km from Bhandardara by road. Same can be reached in a boat in about 2 hours. The village is quite similar to many other in that region. But it is known for being the starting point of Ratangad trek. Amruteshwar temple is located at the outskirt of Ratanwadi. It is an old temple, known amongst locals to have been visited by the Pandavas.
Panjare Village & Water falls – Water falls near Panjare forms during monsoon and disappears soon after. But if you enjoy a bit of country-side, little pathways through paddy fields, small water pools surrounded by black rocks and local villagers in their daily chores, you should visit Panjare. It is a must place if you are going during monsoon. You can stand by the small waterfall by the road and look across the green fields all around, at the distant hills and their weeping waterfalls.
Kalsubai Peak – It is the highest peak in Maharashtra and it is located close to Bhandardara. Hence you will get a great view of this peak from many parts of Bhandardara.
Boating – Boating in the lake is available for a fixed charge. It is a delightful experience, especially in the early morning when calm water of the lake resembles a mirror reflecting surrounding landscapes.
Ratangad – Ratangad and Harishchandragad treks are amongst the popular Western Ghats treks which starts from the Ratanwadi village near Bhandardara.
Camping – Many popular campers arrange camping trip for stargazing. One can also opt to go by themselves for camping in this region. It's safe and peaceful for camping.
Best time to visit :
During monsoon Bhandardara starts to turn green and the lake water start rising up. After a few weeks of rain numerous water falls form on all sides and the place starts to look marvellous. Most people like to travel during that period. But it rains a lot in Bhandadara and if you are not a big fan of getting drenched in rain, it might not be the best time to visit.
By August end, rain slows down and some of the waterfall disappears. But the place stays beautifully green with plenty of waterfalls and a lake full of water. This is the best time to visit according to me. This period lasts till end of September.
By October all waterfall disappears and the weather starts to get warm. Winter months (October to February) in Bhandardara is not very cold. It usually get cold in morning and night, but noons are quite warm and often hot. But the place stays beautiful all through the winter and as the sky starts to clear it becomes an excellent location for stargazing. A lot of campers visit Bhandardara during winter for enjoying a starlit night.
During summer the water start to recede in lake and the grasses turn golden from green and then slowly disappears. Trees also lose its bright green colour. While the lake continue to look pleasant, weather turns hot. By May it gets very hot and dull with lake water very low. May-June are not a good time to visit Bhandardara.
Places to stay :
There are only three hotels in Bhandardara.
MTDC resort (government hotel) has the best location. It's built on the bank of the lake with rooms placed at different height giving good view from most of the rooms. Being a government hotel, rooms are not well maintained and older rooms might be in very poor condition to live in.
Anandvan Resort is located adjacent to MTDC, slightly further from the lake. It is an expensive resort comparatively which provides the comfort one might appreciate. Lake is visible from parts of the hotel including the rooms, but the view is not comparable to what MTDC provides.
Yash Resort is at the back side of MTDC and does not have any view of lake. But it has view of the hills and the rooms are decent.