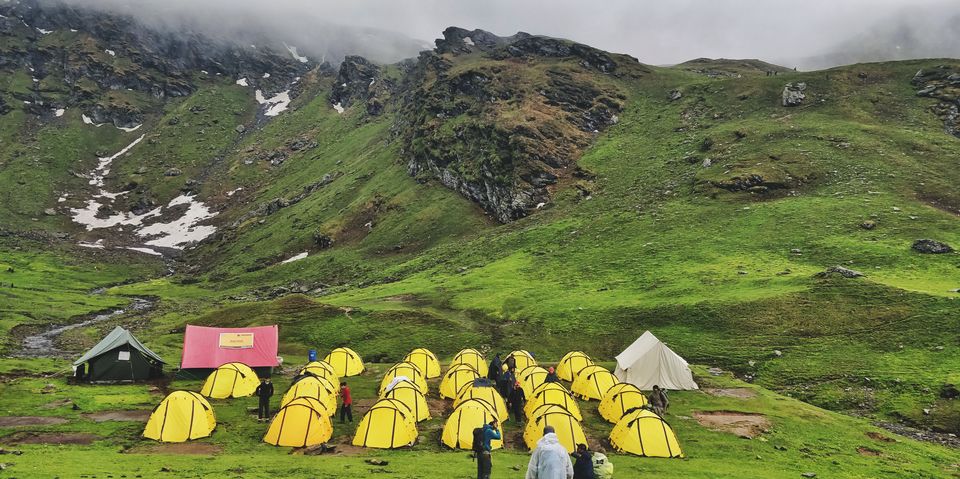 Extended weekend getaway from Delhi
If you are looking for an extended weekend getaway from Delhi and you would love to go for a short trek, this article might be useful for you. Bhrigu Lake trek is one of the less popular treks near Manali. In an article earlier, I had written about the Chanderkhani trek which is another 3 day short trek from Manali. The maximum altitude for Chanderkhani trek is 12010ft while you touch 14000ft when you reach the pristine Bhrigu Lake.
The difficulty level on this trek is Easy-moderate and if you have done other small treks like Kheerganga, this should be level up from that. I did this trek with a group of people ranging from age 14 to 72. If you keep yourself well hydrated and don't stretch a lot, this should be a pleasant trek.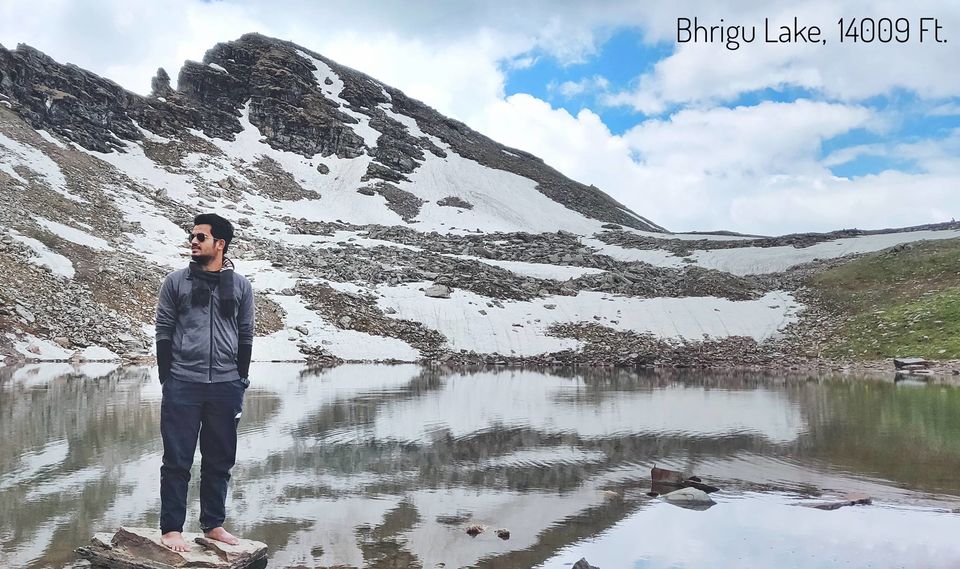 Why this trek?
Many trekkers go for this trek to get to the pristine Bhrigu lake. The lake is also famous because it changes its color throughout the day because of the reflection of mountains next to it and the sky/clouds over it. While it's certainly worthwhile to get to the Lake, this is just one of the reasons you should do this trek.
What I loved most about this trek was the beautiful meadows on my way. Trekking through these meadows was a real treat and I loved the weather throughout. The lush green grounds surrounded by trees and mountains made this trek beautiful and quite easy. On most of your treks in India, you will have to walk for 2-3 days to reach alpine meadows while on this trek you will have startling views around you from the Day 1 itself.
The trees extend far and tall, almost like an infinite carpet. You will discover galloping horses and grazing sheep. You can wander under your shoes barefoot feeling the dew on the grass. It's lush green against the deepest blue heavens wherever you see it. But the view is what's going to take away your breath. Sitting on the grass, the snow mountains that extend to the horizon surround you. You will find yourself sitting right under the lap of nature.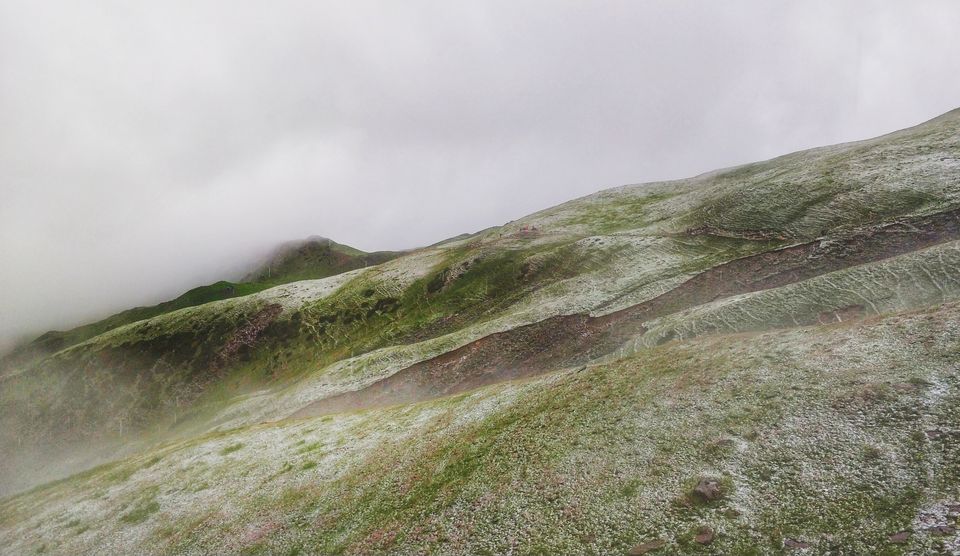 At the base, during the night when everything is peaceful, the sky is lit up with millions of stars displaying it. You will see more stars than you must have ever seen. Only when you walk into huge openness and an elevation of about 11,000 feet can you get this kind of heavenly show. It's something that will keep calling you back to the mountains, specially this trek.
The only moderately difficult part of the trek is the stretch closing the lake which sometimes becomes slippery because of the molten snow or rainfall. But once you reach the lake and see the sight in front of you, you forget all the cautious steps you had taken in the last 3 hours. The lake sits right next to a mountain on one side and an open grassy area on the other. Depending on the direction of sunlight, the lake gets its color from the reflection of mountain or grass on water, or sometimes from the clouded sky.
Getting down from the Rola kholi base camp is relatively an easy walk and you can easily do that in a day.
Day wise itinerary with pictures
Day 1 : Gulaba & Jonker Thatch Campsite
Height: 10400 ft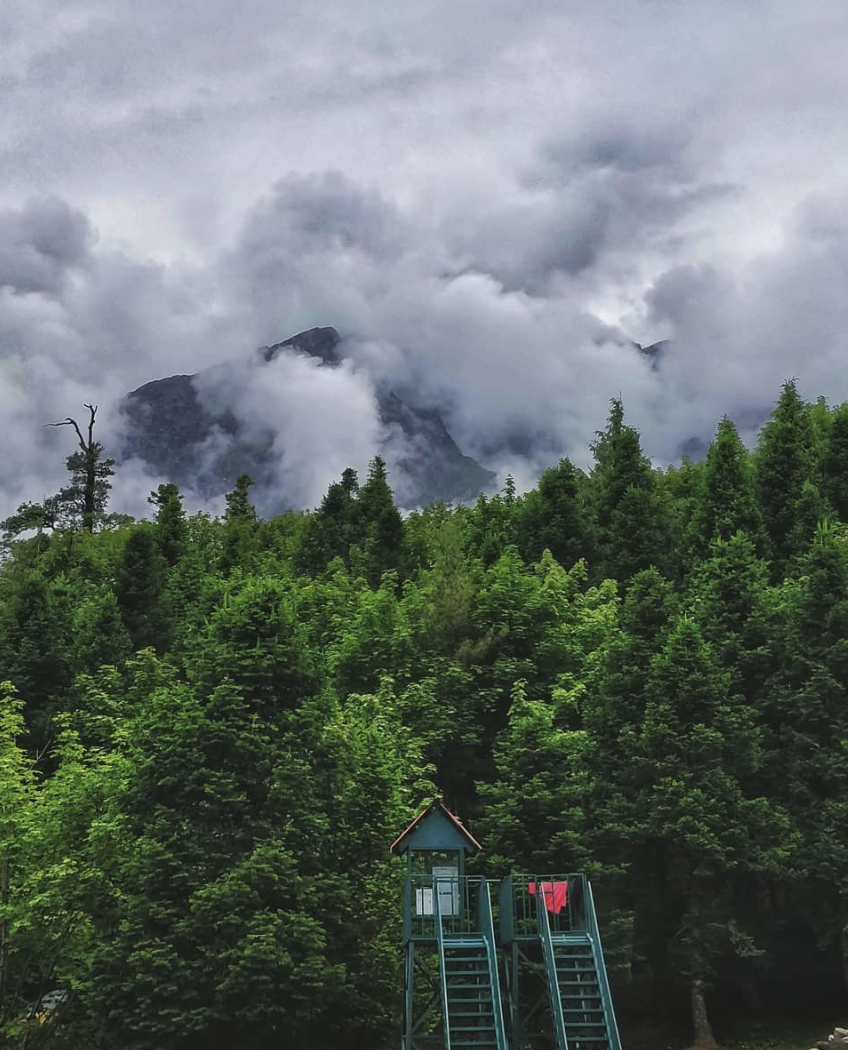 Once a quiet hamlet, Gulaba buzzes with Rohtang Pass tourists these days. Its a 24 km drive from Manali which takes around an hour to reach under normal traffic conditions. You will have to get down at the 'Chauda Mod (14th Turn) on the Manali Rohtang highway (which is also the Gulaba check post) and start your first day hike. Crossing the road a couple of times in your way, you walk across the hairpin turns to reach the Jonker Thatch campsite in around 1 and a half hours. You will pass through open grasslands every now and then underneath the forest cover.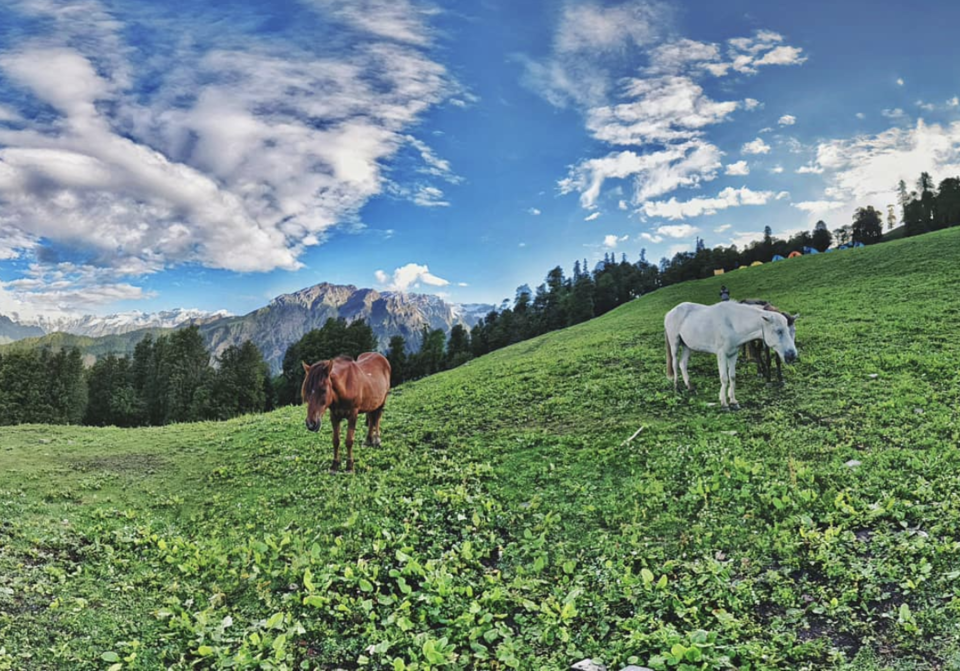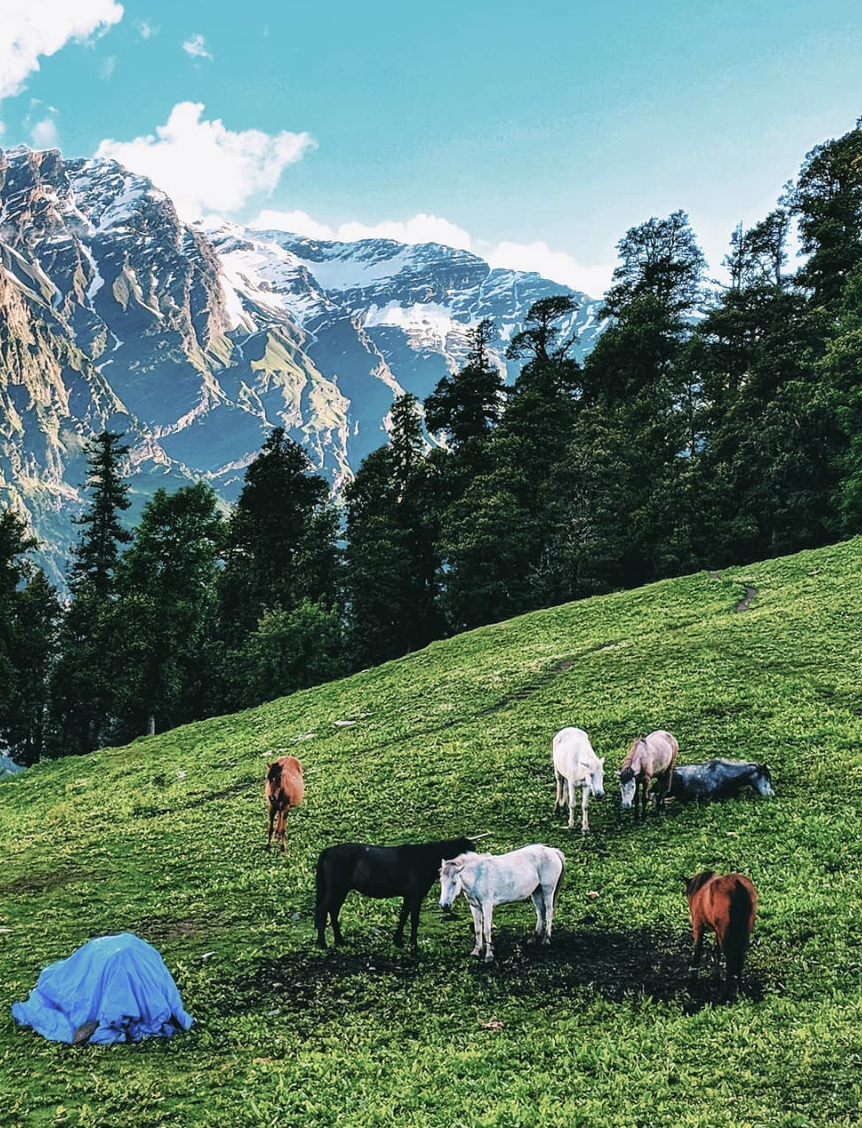 I personally, while doing the trek couldn't have asked for a better weather to start the trek on Day 1. The only challenge was to rush and reach the campsite before it rains and becomes slippery to walk. I did this trek with the 'Indiahikes' community and their camps were well organized and neat and all of us found our abode for the night, in groups of 3. I got up early in the morning, clicked a few pictures of the meadows and the skies in the morning.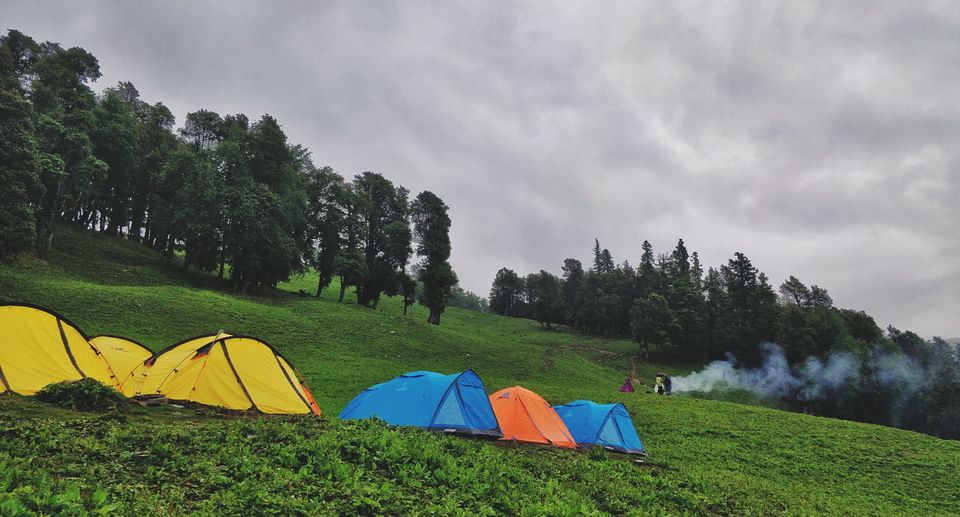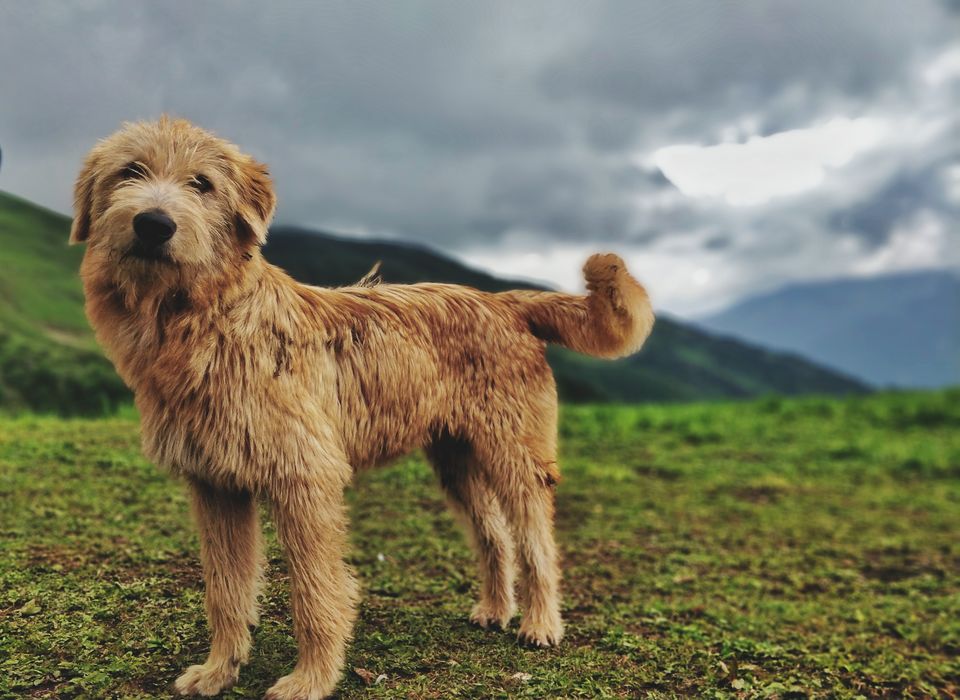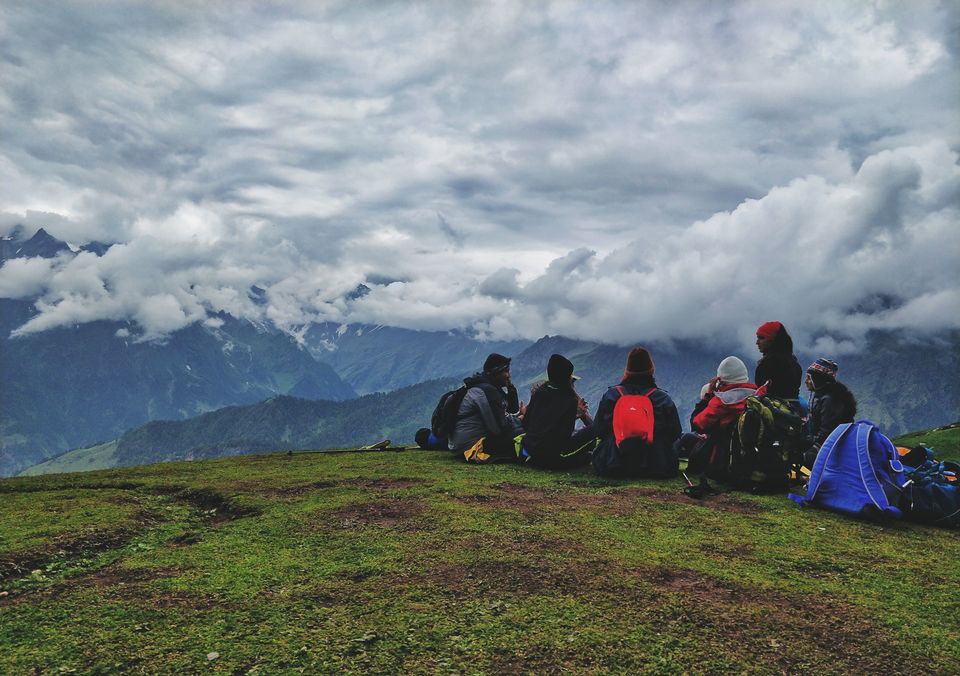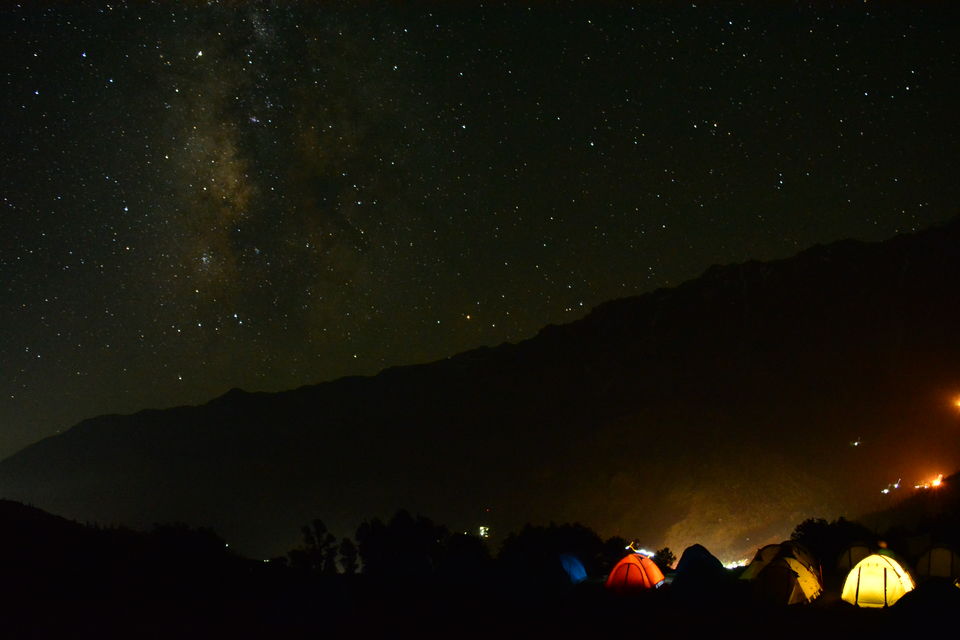 Day 2 : Jonker Thatch to Rola Kholi Campsite
Height : 12600ft
As I mentioned, I got up early and our trek leader told us to follow 7-8-9 (Get up, breakfast & leave). I was up the previous night clicking pictures of milky way and managed to sleep for 4 hours but it was worth it. After an amazing breakfast we started our day 2 trek to Rola Kholi campsite.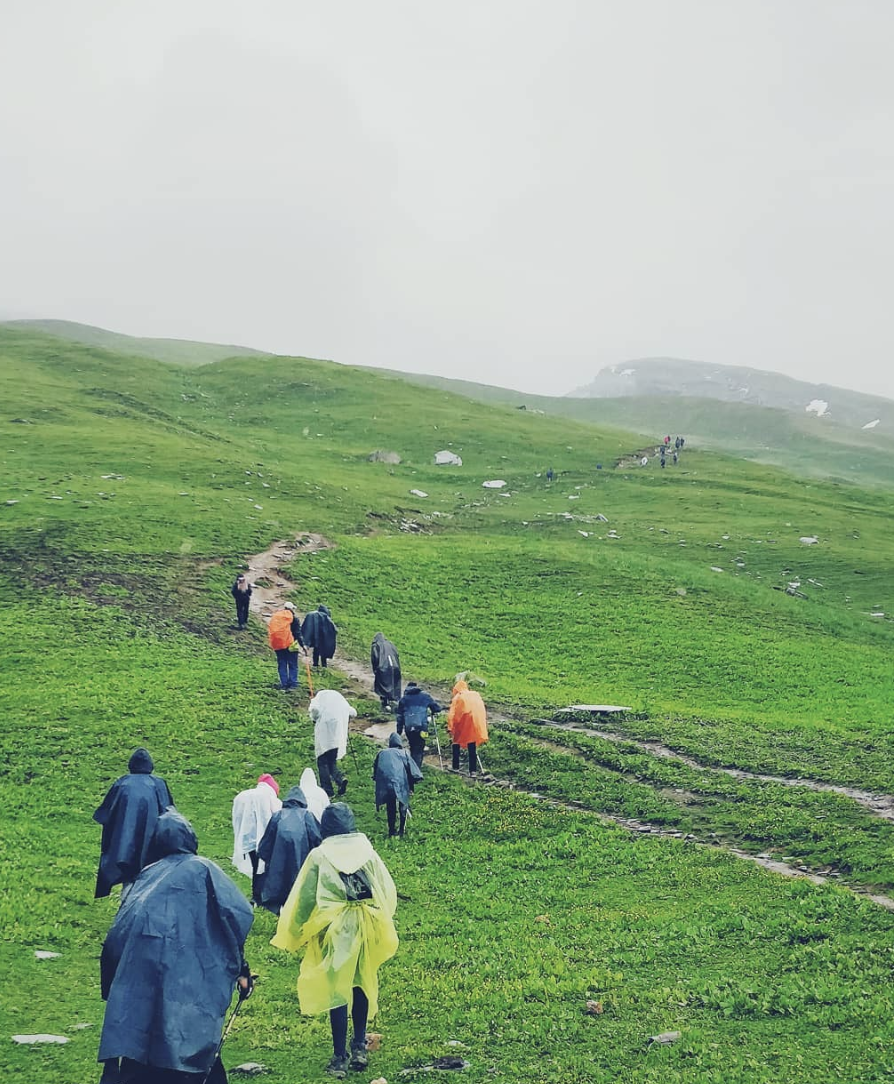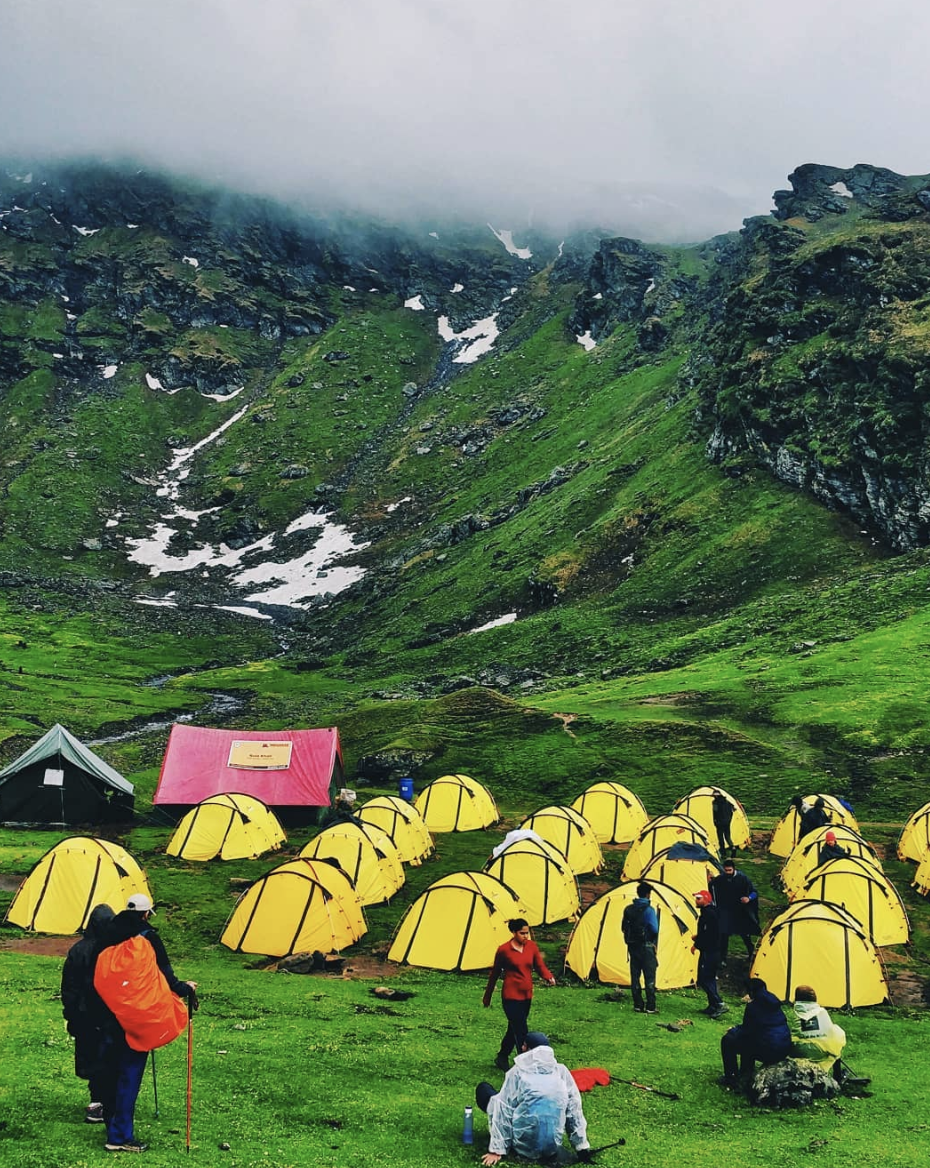 Second day starts with a steep climb for about 15-20 minutes before you see shepherds' camp around in the open grasslands. There are a lot of oak and birch trees in the stretch. After walking for 5-6 hours with breaks, you will reach the campsite with a beautiful view of Hanuman Tibba along with the seven sisters towering over the meadow in the background.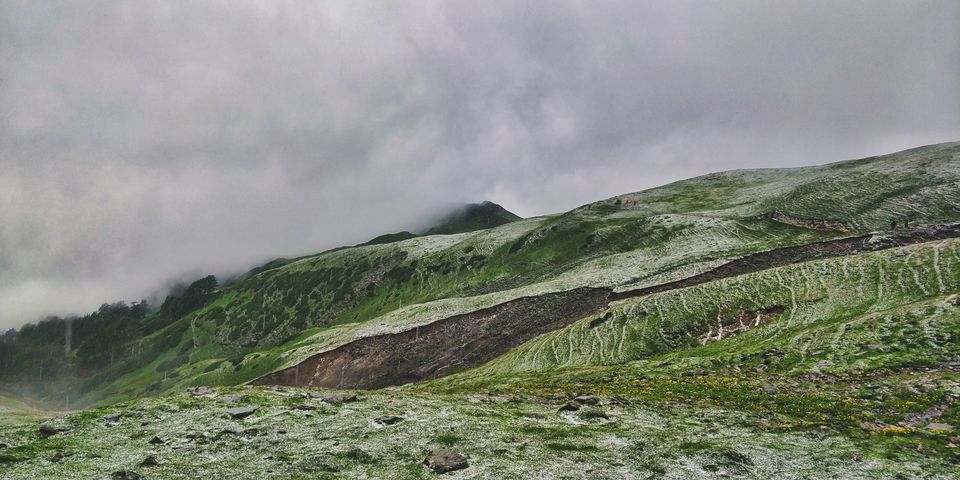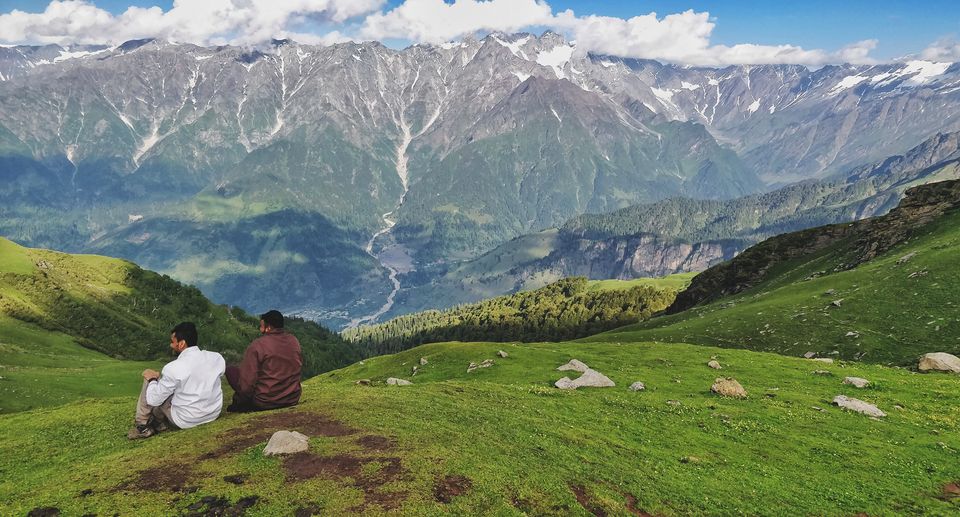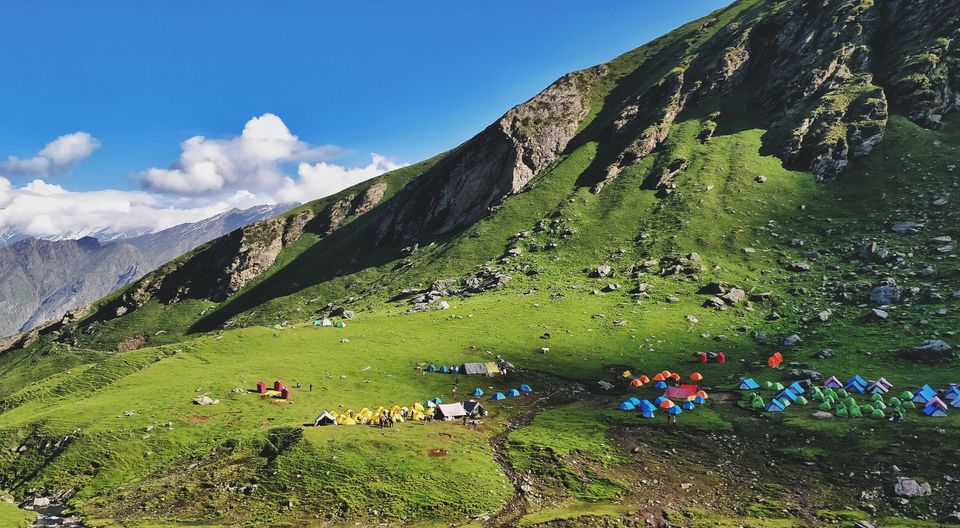 Rola Khuli is used by local shepherds as a grazing floor or their cattle. It is located at the lake base, making it an optimal camping place. Chor Nallah, running across the camping ground, is the water source here.
Day 3 : Rola Kholi to Bhrigu Lake and back to Rola Kholi
Height : 14000ft
You will have to cover a lot of distance on the third day, so the best advice is to start early. It's also good to start early so that you can avoid slippery stones on your way to the lake.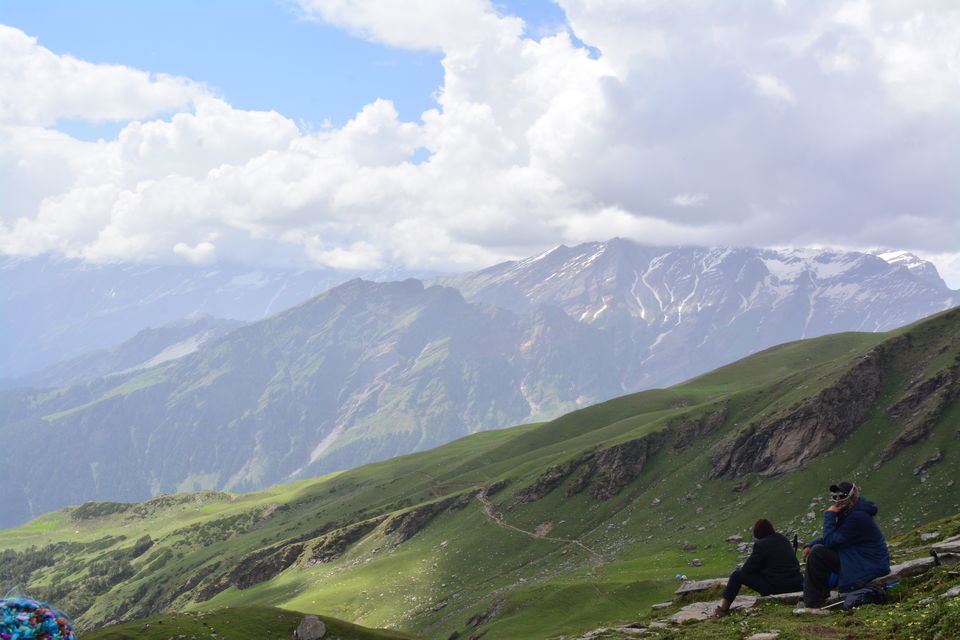 Bhrigu Lake rests between two high-altitude ridges. You begin with hiking to the first ridge, which is an hour away. In June, the trail is usually covered in snow. In July, as the snow melts on the lower reaches, you see the trail slowly turning from green to brown and white. As you reach the ridge, look for an oval glacial lake in the distance. Depending on the season, the lake is either surrounded by snow or fresh grass, along with alpine flowers.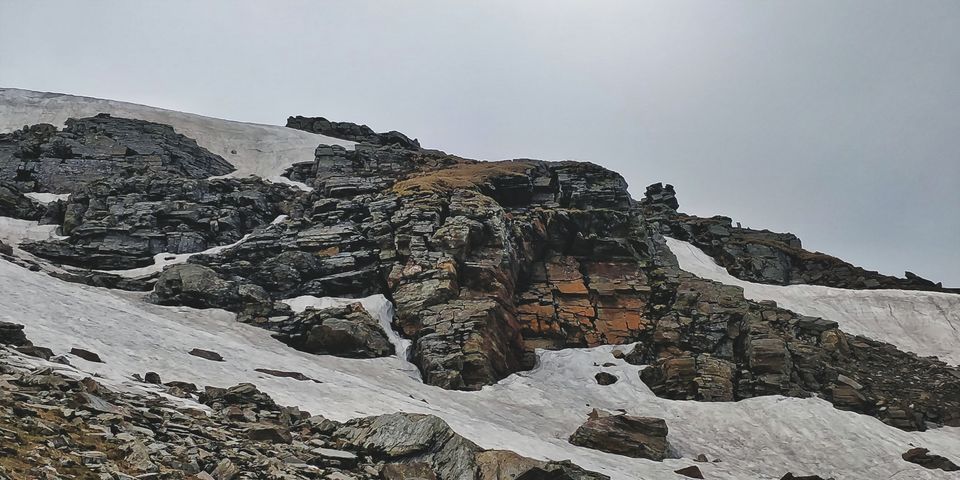 On a clear day, you can catch a stunning panoramic view of Pir Pinjal and Dhauladhar ranges. Also, major peaks such as Indrasen, Deo Tibba and Hanuman Tibba stand majestically before you. The lake is normally enveloped in fog which can make finding the route tricky. If you are not with a trekking group, it is always advisable to hire a local guide.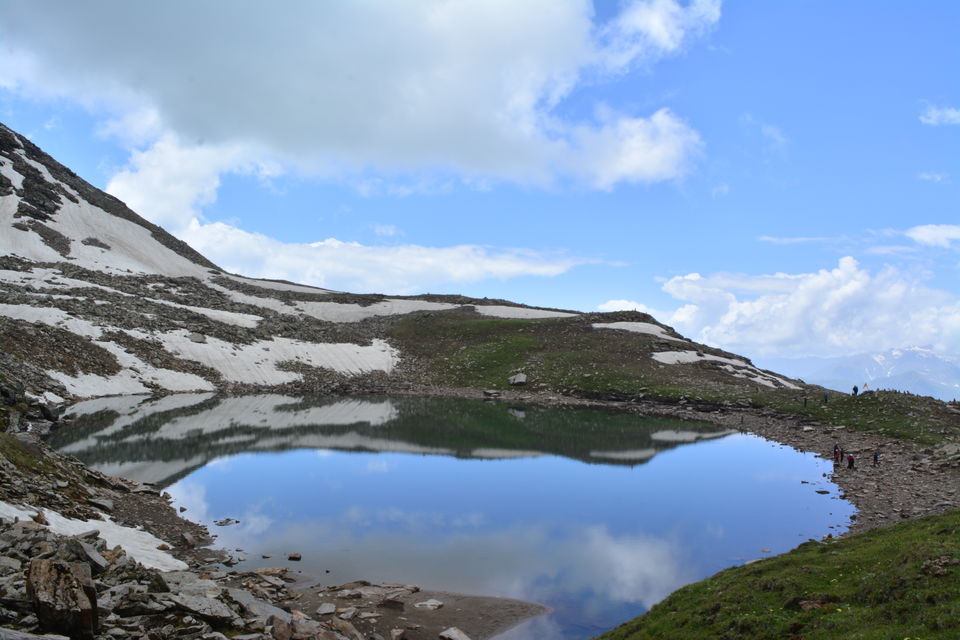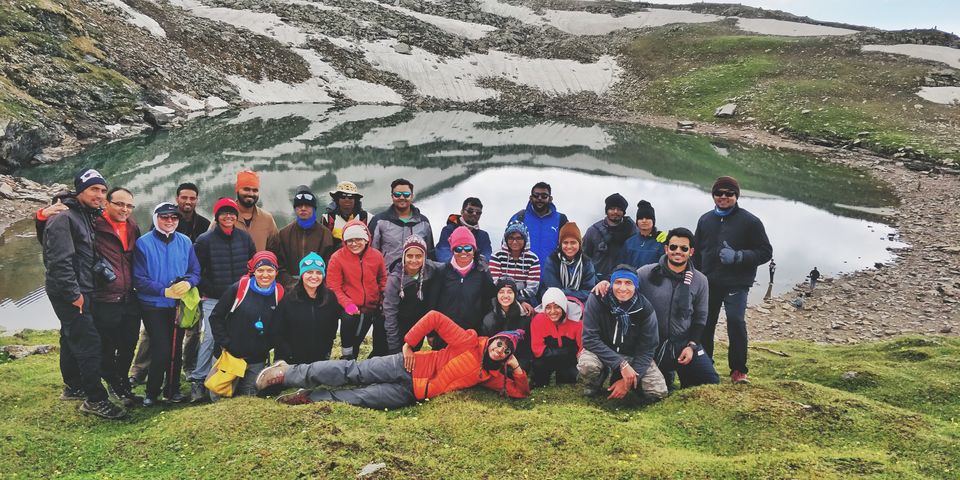 Day 4 : Rola Kholi to Gulaba
Last day's trek is an easy one. You get back to Gulaba through the meadows you came up from. The descent can be a bit steep but is good on your legs given you are always in the meadows. It takes 3-4 hours to reach Gulaba.
How to reach Gulaba?
From Delhi: You can take a Volvo to Manali or an HRTC bus and then catch a bus towards Rohtang or hire a shared taxi to reach Gulaba check post.
What to take for the trek?
Trekking Shoes,
Backpack (40-50 ltrs)
Warm Clothes with trek pants
Suncap, Gloves, Trekking Pole, Socks
You might need the Diamox tablets to keep a check on your Oxygen levels