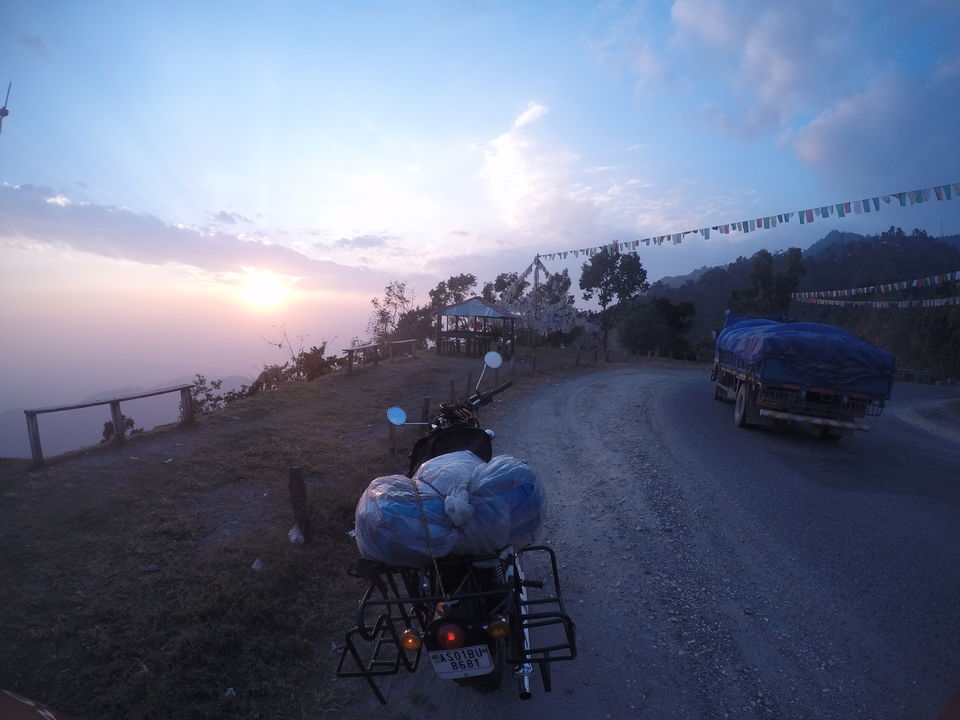 I have been receiving many queries regarding my recent bike trip to Bhutan, on how the trip was, what are things to keep in mind and so on. So I decided to put together a series of articles on the how's, where's, when's, what's, etc. of travelling in Bhutan. Hope it helps!
One of the most common queries is on how to get permit. Once you cross the border, what you are going to experience is an overwhelming number of friendly people. So don't worry too much. The process of getting permit is pretty much straight forward and officials will always help you in whatever way they can.
Prerequisites for permit application: -
Valid Indian ID: Original and copy
Photograph: You will need only 1 photograph, but carry more, you know. just in case
Permit request form: Available inside the office as well as the Xerox shop outside the permit office
Where?
Phuntsholing is the border town, located on the Indo-Bhutan border opposite Jaigaon, West Bengal. If you are flying into Paro, you can get the permit at Paro International Airport.
In Phuntsholing the Permit office ( Immigration office as its called ) is around 200 mtrs or so after you enter Bhutan gate in Phuentsholing
Procedure
Permit office: You will find 2 counters - One on the ground floor, meant for work permit and other on the 1st floor, meant for tourists.
Once you are there, you should start with the counter to your extreme right.
You will find a verification counter there; fill up the permit request form and submit it, along with one photograph and ID copy. Once verified, they will return your application and assign a counter for you, which will be marked on your form.
At the next counter, they will take your fingerprint and photo for the entry; once done, you will be assigned to the next counter.
You just need to submit the forwarded form here, and wait for them to call your name- and there, in three simple steps, you have your permit!
Permit validity
The permit you receive here is only for Paro and Thimphu and has a maximum validity of 7 days. If you want to travel to other places or if you want to extend your travel days, you will need to do that in Thimphu. For example, if you want to go to Ha or Phunakha, you need to get permit from Thimphu.
Remember, Bhutan is very strict when it comes to tourists in their country. Our movement is closely monitored. Sso make sure you show your permit at the check post, they won't stop you and ask.
Also, tourists won't get permit for all places, which you will be able to figure out once you are there.
PERMIT FOR SOLO TRAVELER
At Phuntsholing
Some days, they won't give permit if you are traveling solo. In such cases, the best solution is to join other groups or other solo travellers and submit the form together.
Even though you are submitting forms together, the permit will be separate for both individuals. So you won't have to stick together for the entire trip.
At Thimphu
It's better to apply fpr permit as a solo traveller at Thimphu, as they give a single permit for groups here. It is advisable not to combine if are planning to continue on your own.
You will be asked to submit a Letter of Undertaking which states that you take the full responsibility of your solo travel. To make it stronger you can mention someone local as your reference, that you are being guided by them (assuming you have made friends with a local tour guide or someone from there.)
**************************************************************
Writing is not part of my strength, pardon me for any mistakes. I intend to improve :)
Hope this has answered at least some of your questions. Got more? Feel free to ask and I will be happy to answer them! Or if you have any tips of your own to add, by all means do so..