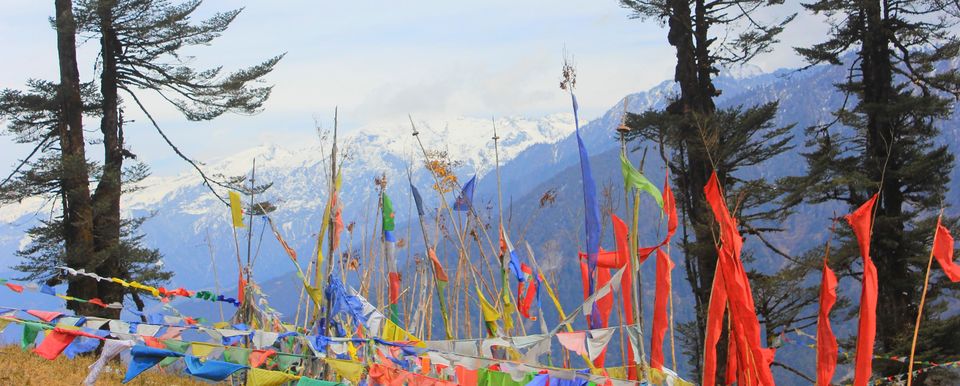 For all the places I have been, Bhutan easily makes it to top 5. Its beautiful, its green, its exotic and the air is so clean, it will feel unnatural. But the highlight is its relaxed pace, their connection with the traditional past and their empathy for nature.
I just don't want to talk about how to get to Bhutan, which you can look up on the internet enough but also, what to look for there.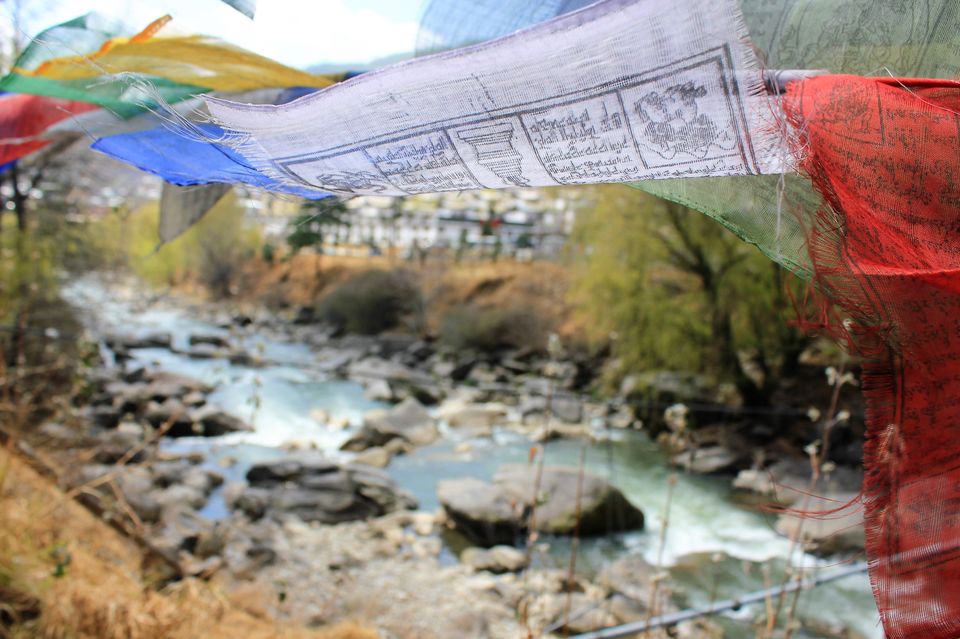 First of all it's a pretty inaccessible country. In order to conserve Bhutan's environment and culture, the minimum fee a tourist must pay the government is $200 per day per person in the months of January, February, June, July, August and December which goes up to $250 March, April, May, September, October and November. Moreover if you travel solo, you will have to pay additional $40 per day. This makes it one of the most expensive places to travel in the world. However, this does not apply to Indian tourists though.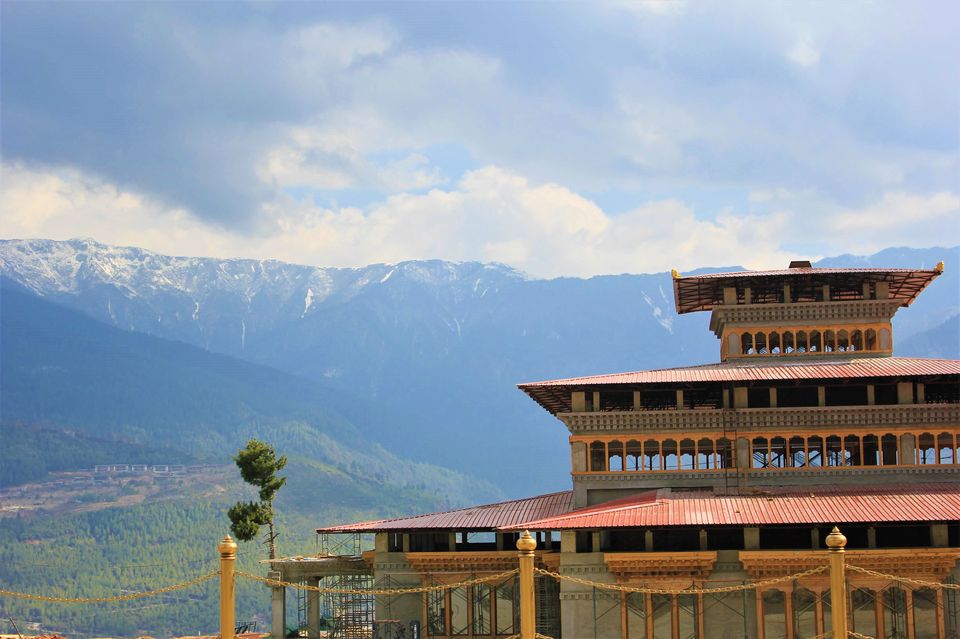 To enter Bhutan, you can directly fly to Paro. The airport is one of most scenic and considered very tricky to land since its located in middle of mountains. Another option is to enter from India, most convenient for Indians for budget traveling. Take a flight to Bagdogra and a bus to Jaigaon, which is the border city to Bhutan. I would suggest reach Jaigaon by 12pm to get through comfortably.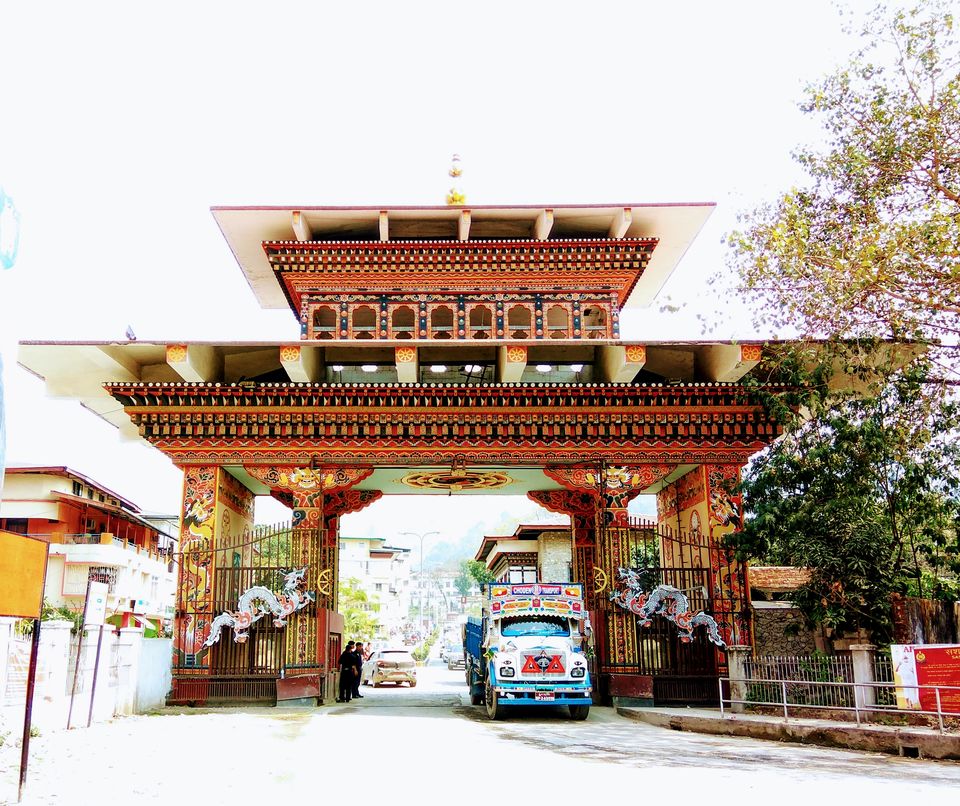 You can enter their border city Phoentsholing to get a permit for Thimphu and Paro ONLY. Do note that the permit office is closed on Sunday and post IST4.30pm. You will need around 2-3 hours to get your permit to catch the last bus that leaves at 4pm to Thimphu. Both Indian Rupee and Bhutanese Ngultrum are accepted throughout the country.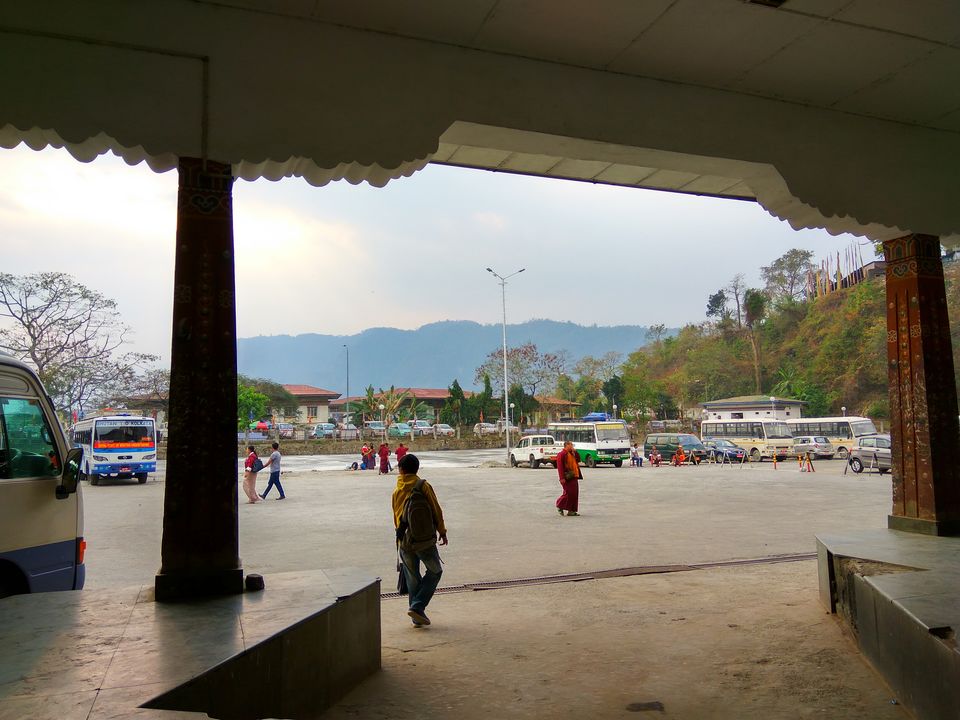 Try to book a hotel in advance since you will reach Thimphu/Paro late if going by road and most of the towns close completely by 10pm. The rooms can start from Rs.600 which have the basic amenities. You may want to ask for a room heater if it gets too cold at night.
Thimphu is a lovely town to explore. Most of it is easily accessible by walk. One of the must see places is Tashi Chhoe Dzong. Dzongs are distinctive types of fortress which in Bhutan is the center of administrative, military, religious and social centers of their respective districts. The grandeur and architecture is fabulous. Right next to it is the King's palace. If you are lucky enough you may spot the king riding a bicycle on his way to monastery or playing football with the kids.
Another popular tourist destination is Buddha Dordenma, which is a huge golden Buddha statue located high up the hills and could be seen from most of Thimphu. My most favorite would be Folk heritage museum which is located near the Dzong. I suggest you visit the museum to finish it by 5pm and take a seat in their restaurant. You can feast on traditional Bhutanese buffet paired with Dance and cultural programme in the evening. Its has been one of simplest and most exotic meals of my life. Don't forget to get permits for other parts of Bhutan from the permit office in Thimphu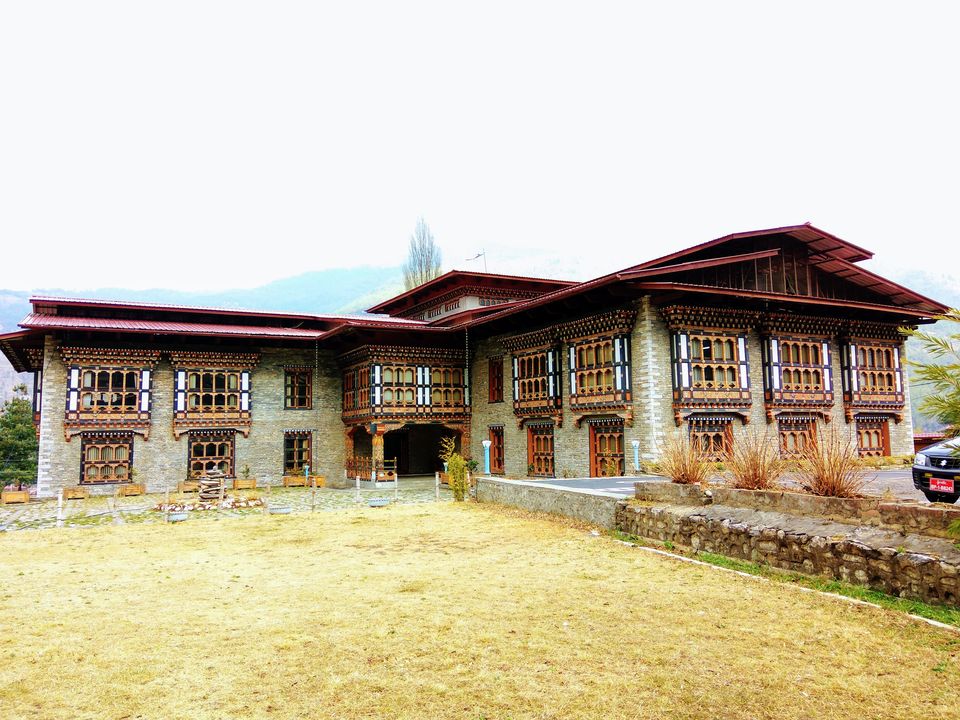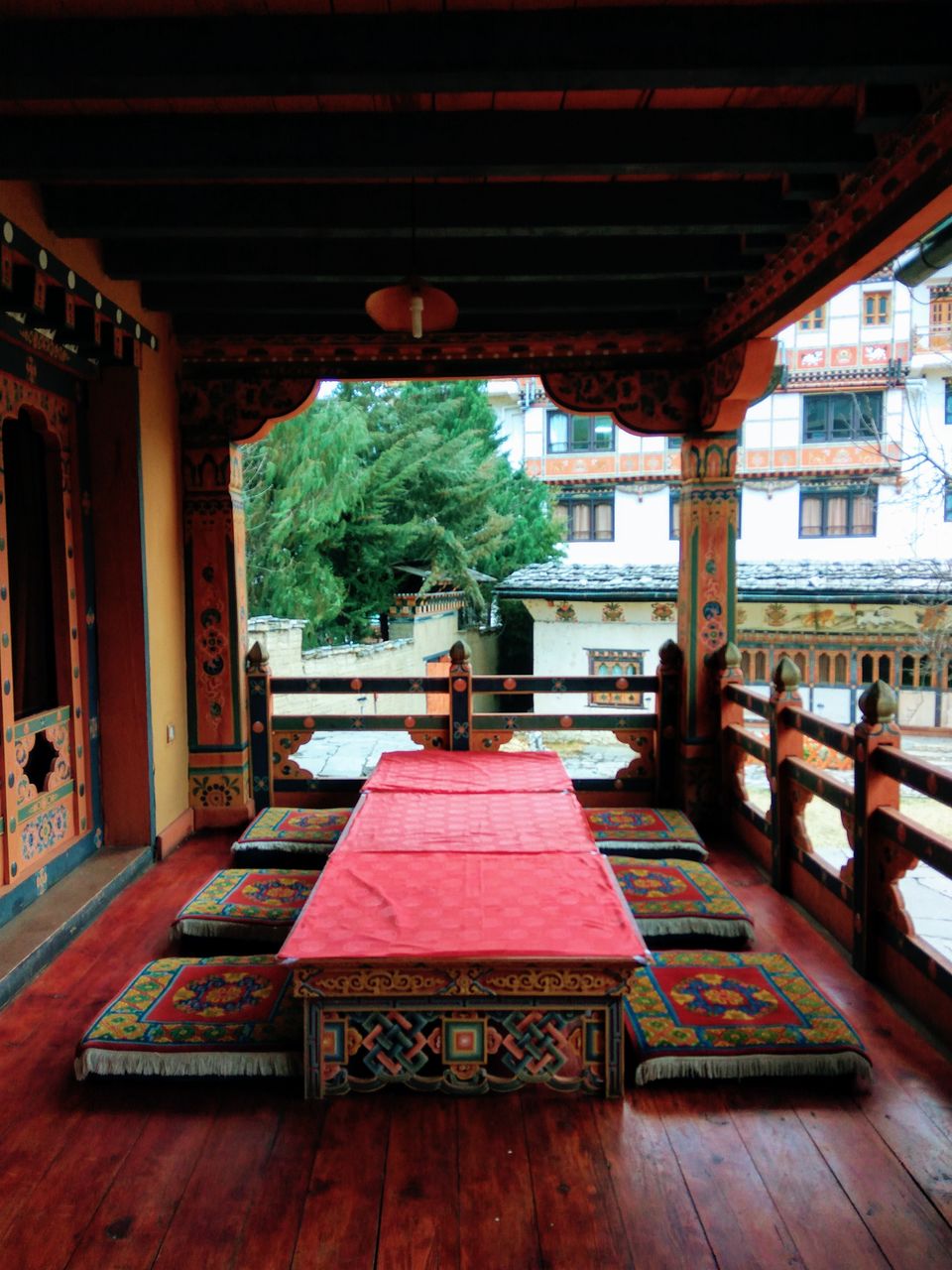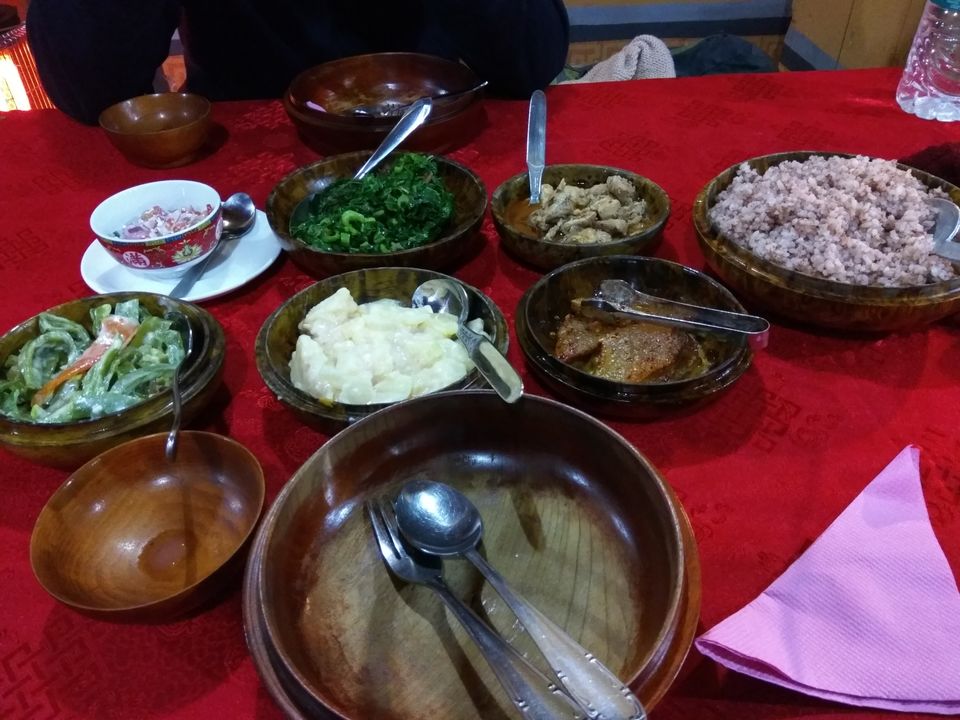 The nightlife although is lowkey but not entirely absent. Karaoke is very popular in most of the clubs and bars. You can find this is all price range – from fancy to dingy. While Dzongkha is their local language, you will find ample of people talking, and in this case singing in Hindi and English. Bollywood has found its popularity with dragons as well.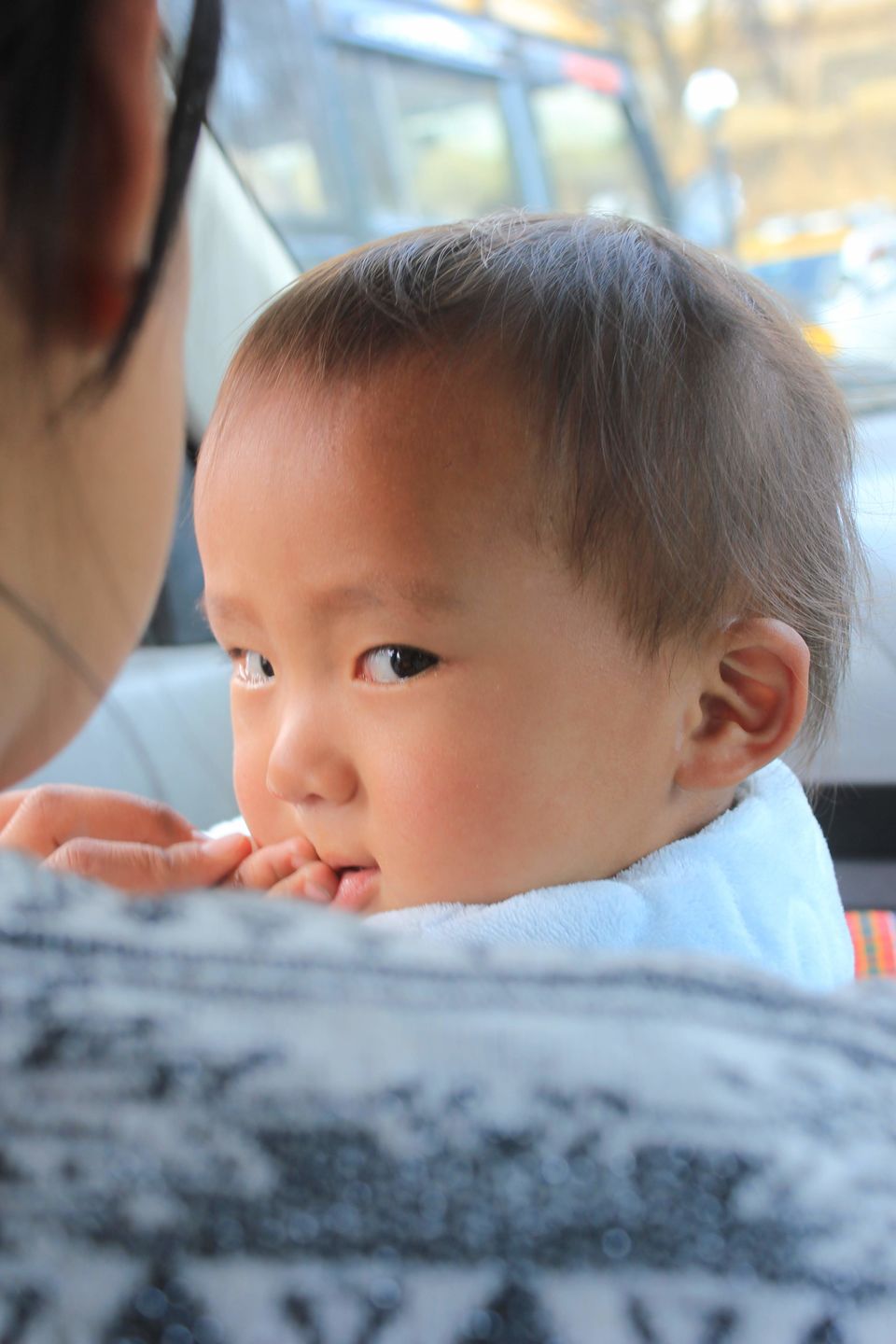 From Thimphu, we started for Punakha. It takes about 3 hours to reach Punakha. You can take either a bus or shared cab to reach this place which are both very affordable. You will also cross Dochula pass on your way. Take a halt and enjoy the place with beautiful scenery around.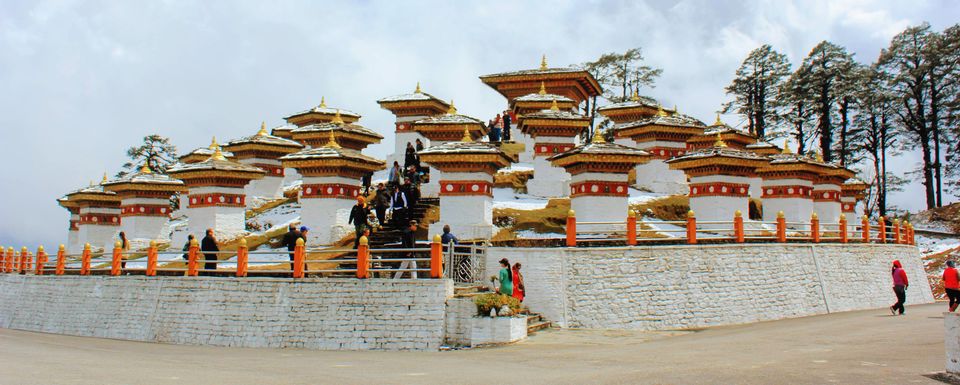 Punakha is a small town in the middle of gorgeous valley. The main attraction of this town is the Dzong which is considered as one of the most picturesque Dzongs of all located at the confluence of the rivers Pho Chhu and Mo Chhu and is located at 2km from the village. I would suggest talking a walk for this.
From Punakha, you can take a day trip to Phobjika Valley. En-route, you will get a view of range of breath-taking mountain peaks and may able to enjoy freshly fallen snow if you visit before March. Although in case of snow fall, the routes also may get blocked to the valley so check with the local taxi guys before you depart.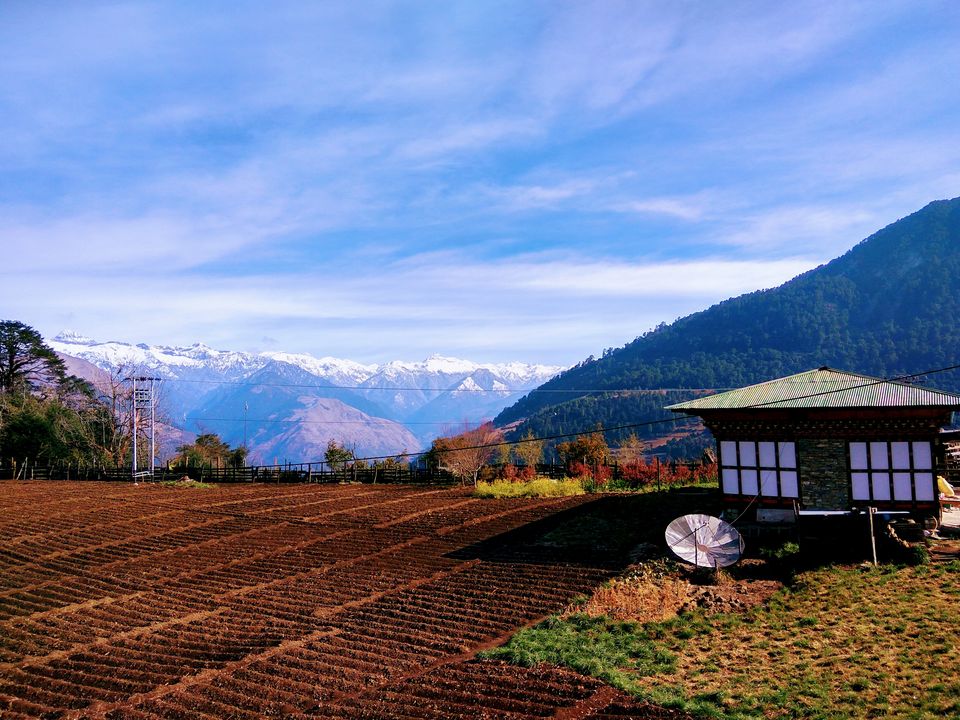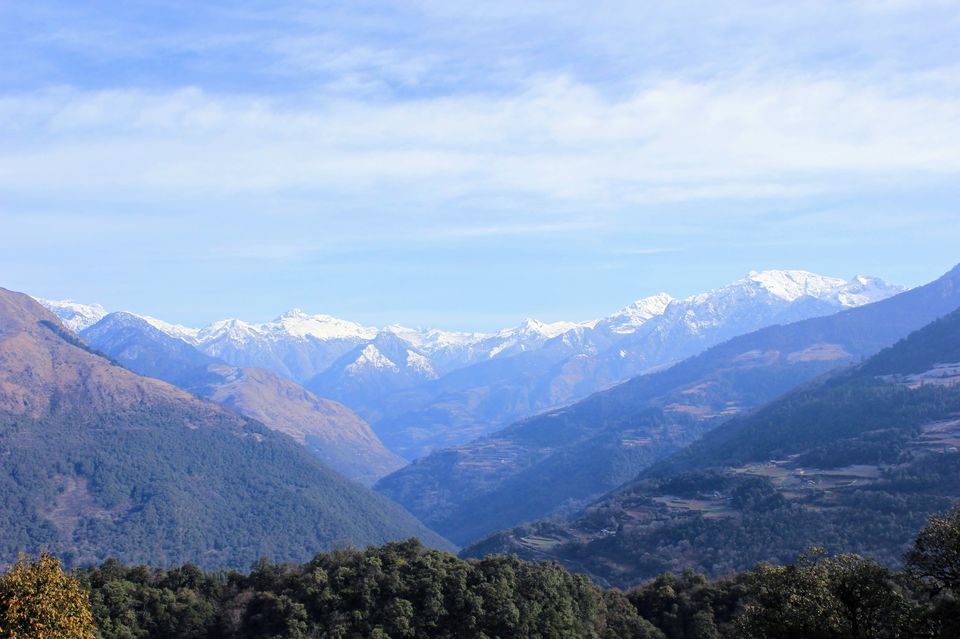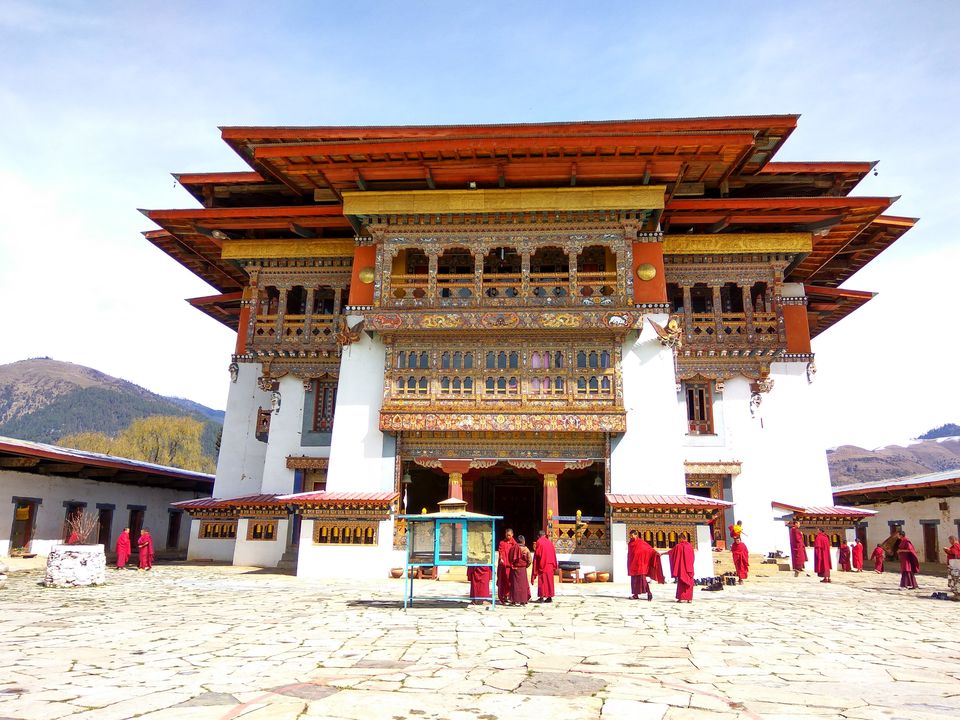 There isn't much to do in Phobjikha which is a blessing. You can spend your time relaxing and taking in the view of majestic glacial valley which is also known to be frequented by black necked cranes, in a particular season. Gangteng monastery is a must visit. Do keep an eye for the majestic yaks on your way, they are a sight to see. From Phobjikha, you can take a ride back to Paro, my last destination for the trip.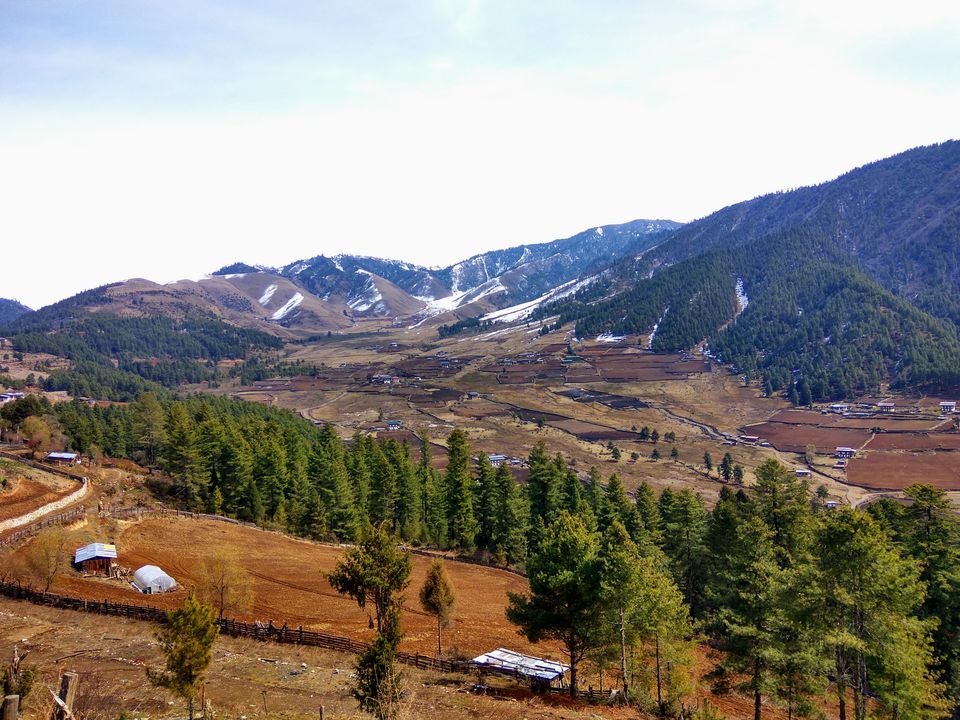 Paro could be your first or last destination or both depending if you have taken a flight for Bhutan. Paro is most famous for Tasksang monastry or tiger's nest which is a popularl Instagram spot and probably the face for Bhutan. Its an enormous structure built on top of the mountains and for several minutes you couldn't really fathom how. Its also an architectural genius. Although it looks quite hard to reach, I guess its okay since I could do it, I am sure anyone can. The view from the top is breathtaking. Legend says that the whole valley was haunted by demons at some point of time. To cleanse the valley, Padmasambhava, the second Buddha flew on a tigress back to the monastery and meditated and emerged in 8 different incarnation making the place holy and free of demons. The valley prospered thereafter. However, there are several different versions of the story.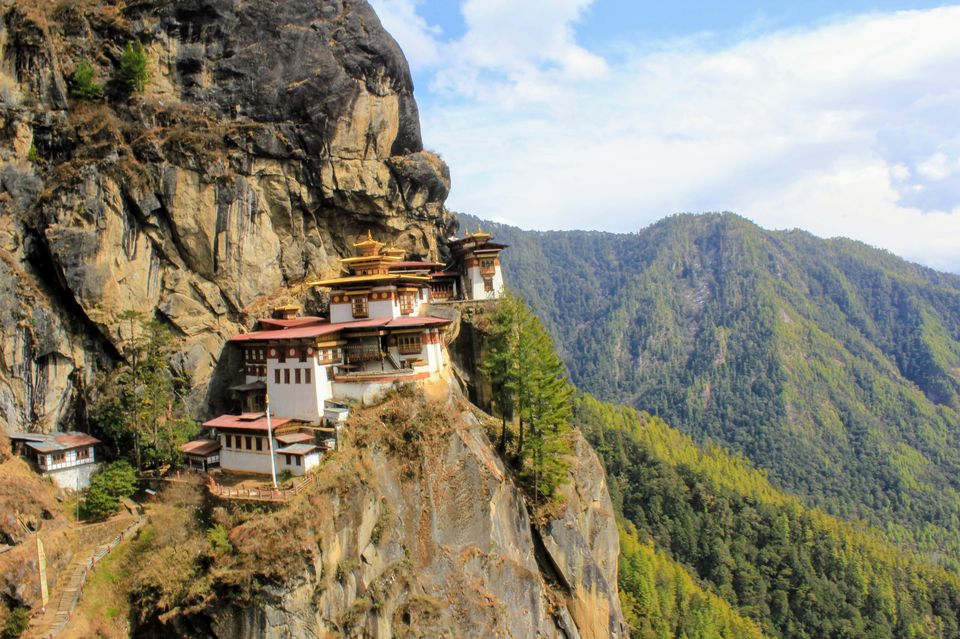 Apart from taksang valley, you must also visit Rinpung Dzong. The Dzong is lit up beautifully in the night and is a sight to look at. National Museum of Bhutan is also a great place to spend some time here. From Paro, Haa valley is another destination which is quite popular as is home to Indian defense base in Bhutan.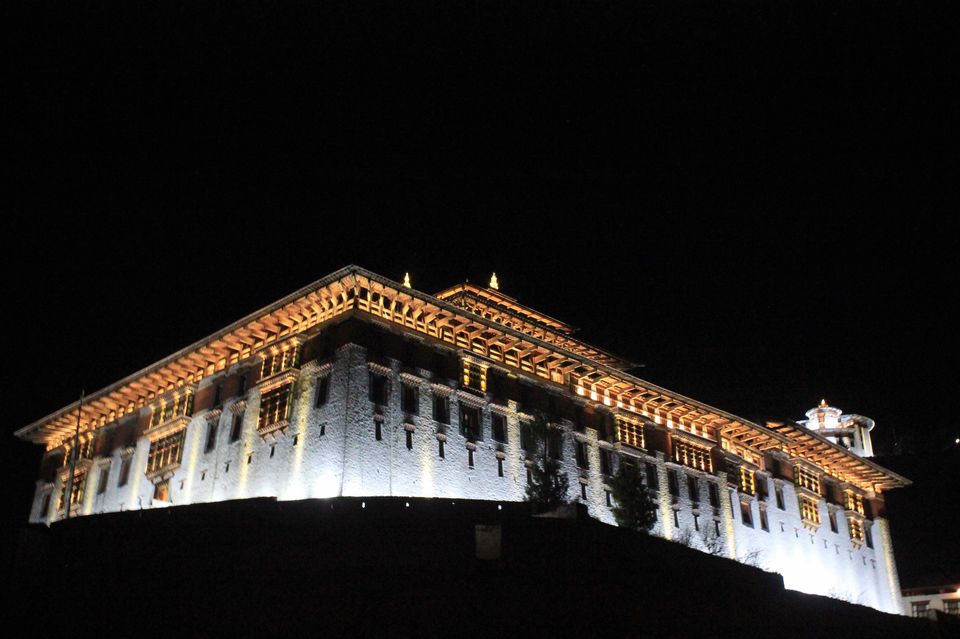 About food :- Bhutan is rich in traditional variety of food. One of the most famous dish which is very native to the country and also considered as a national dish is Ema Datshi. Datshi being a curry of goat or yak cheese mixed with different ingredients. Ema Datshi is boiled green chilis in curry with little salt and butter. Its had with brown rice mostly. Kewa Datshi and Shamu Datshi is Potatoes and Mushrooms in curry respectively.
Shakama paa and Paksha Paa are stir fried dried beef and pork with whole red dried chillies, radish and other mountain vegetables. If you are really hungry and would like to have something safe to eat without much experimentation you can opt for Koka which are simple noodles in cheesy curry. Its generally good and very filling. Another dish to try is butter tea. It's a delicacy after a meal and helps in digestion.
Here are some other Facts :
1. Like many other south Asian countries, Bhutan worships the phallus which is an esoteric symbol, understood by few and originates from the monastery at Punakha. You will find it painted on walls of traditional houses, 3D figures on top of the house door at the entrance and are known to drive away evil. They are also very popular with souvenirs, however most tourist shy away from the urban display of this and is still mostly restricted to temples, monasteries and rural and traditional houses.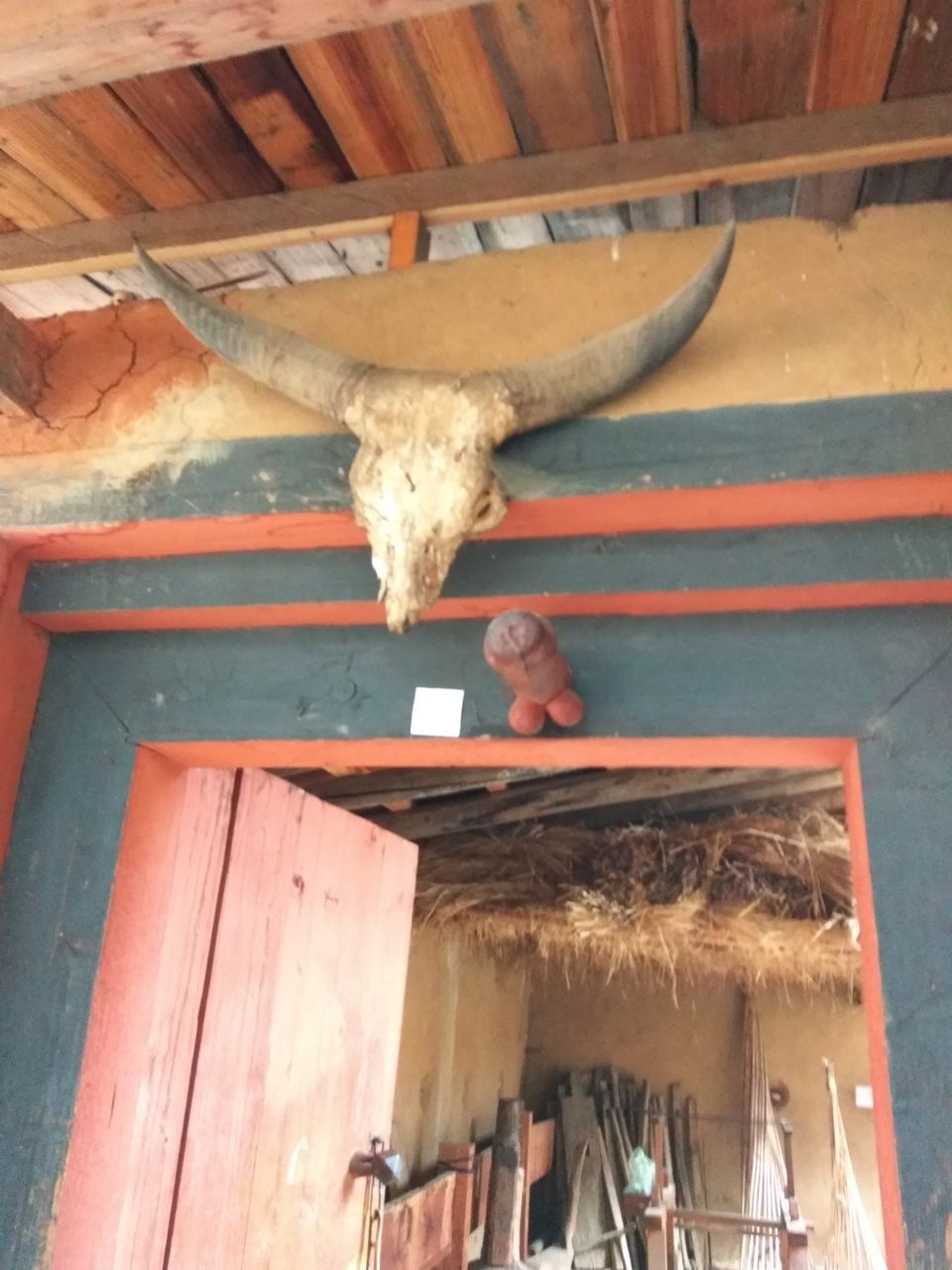 2. Polyandry, the practice of having multiple husbands to one wife was quite common in Bhutan. Quite opposite to polygamy. Its mostly practice in the highlands in nomadic women where husbands are usually brothers
3. Its majorly a matriarchal society which means that women heads the family and takes all major decisions. The husband must marry to come settle in his wife's house and the inheritance goes down to women heirs
4. This is probably quite well known. The government of Bhutan measures the development of the country in National Gross Happiness and Not by GDP as done in other countries
5. Another popular fact is that it is the only carbon negative country in the world. The people of Bhutan adore their king and to honour the birth of the heir they planted 108,000 trees for a better future
6. Its mandatory to wear the national dress of Bhutan as uniform in all schools and government offices. It's Gho for Men and Kira for women.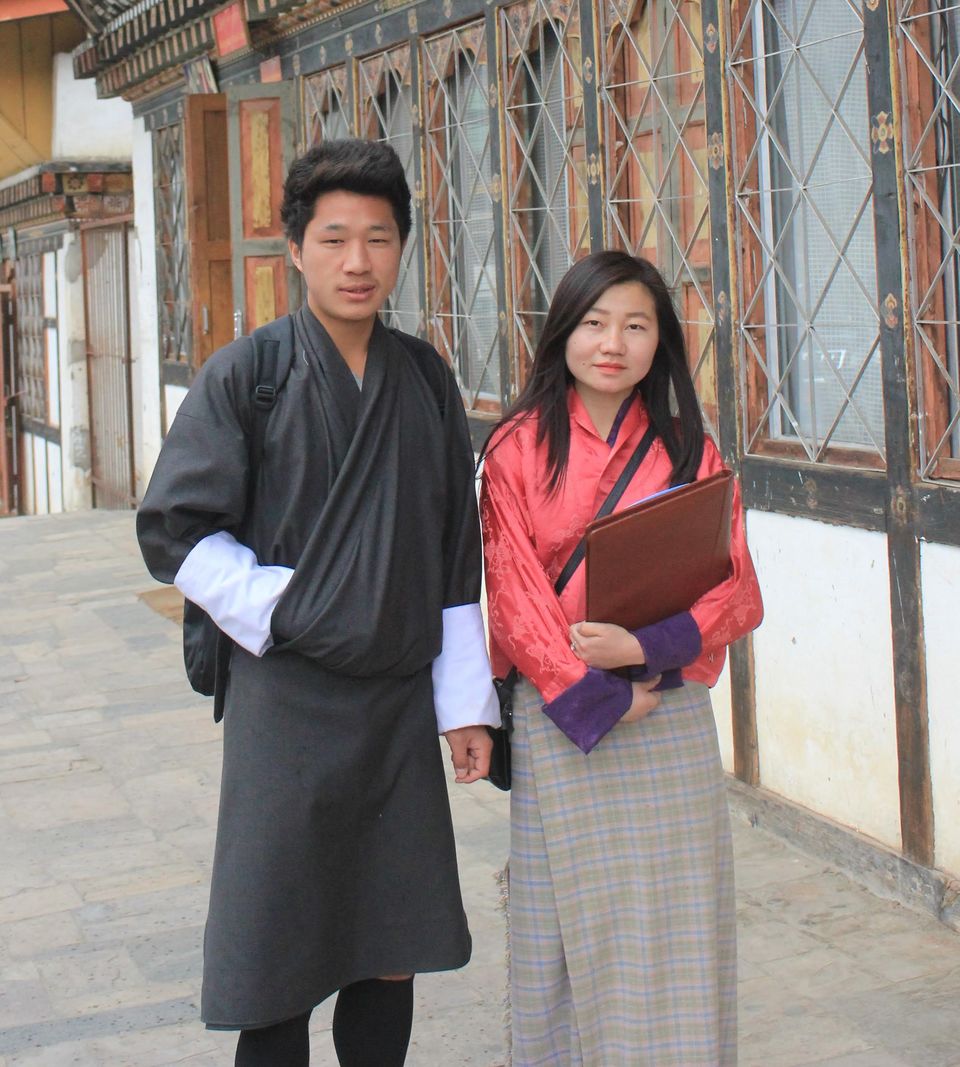 7. The National sport of Bhutan is Archery and is enjoyed in all villages as local sport. Football and cricket have now become popular overtime with the introduction of television in the common household.
8. There are no traffic lights in Bhutan. For the most populous of areas, traffic policemen helps guide the traffic till date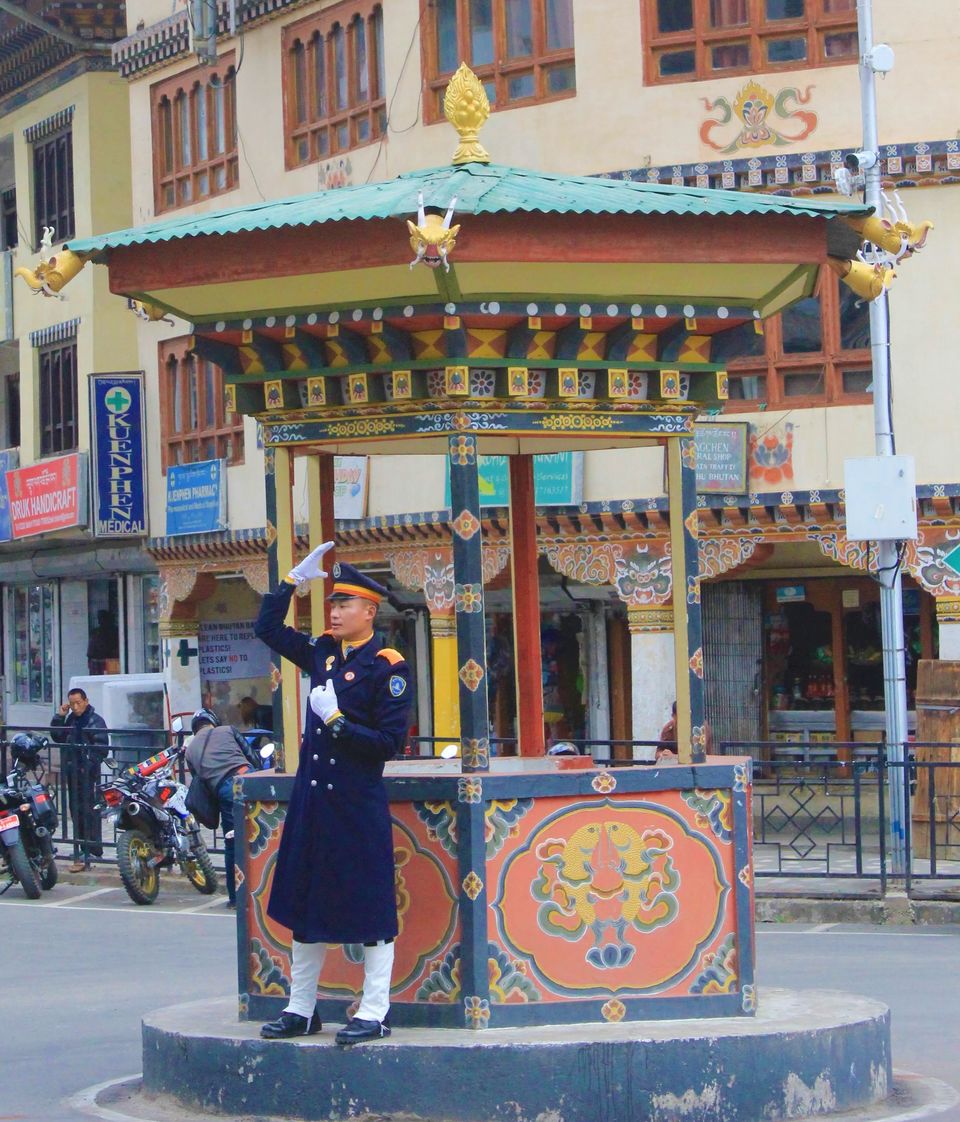 Here, we come to the end to our journey of this gorgeous country. If you are planning to visit Bhutan, I would suggest doing it at the earliest where the country is raw in its beauty and untouched by major urbanization. The people are warm and welcoming, where living a happy life precedes and dominates any other aspect of life. Looks like the world will soon be following their footsteps as well.
Join me on my journeys at Facebook, Instagram or visit my site at thestupidbear